SteriPEN
Adventurer Opti
6

reviews

5-star:

1

4-star:

4

3-star:

1

2-star:

0

1-star:

0
Reviews
In general, the product performed as expected. I wanted…
Rating:


Source: bought it new
Price Paid: $89.95

Summary
In general, the product performed as expected. I wanted a quick, lightweight method to purify water that didn't take up a lot of space in my pack.
Pros
Lightweight at 3 oz.
Quick; purifiying water at 90 seconds/liter
Small size at 6.5 x 2.0 x 1.5 inches in case
Cons
Requires expensive CR123 batteries
Requires pre-filtering of water before treatment
Requires large mouth containers.
I bought this device as a way to reduce weight and size in my pack while having an ability to purify water relatively quickly. I spent a lot time doing research online to help me determine which system met my needs.
I already own a MSR Miniworks filter unit that works flawlessly but, is heavy and bulky. I have used iodine tablets and don't care for the time to purify, taste and color of the water. The Adventurer Opti looked like what I wanted for my needs.  The unit performed to my expectations without issue.  
Here are the caveats:
I had to pre-filter the water to remove any large solids. Protozoa, bacteria and viruses need direct UV exposure to be killed. A bandana worked well although, slowed the water collection process.  

I had to use a large mouth container to allow the swirling action needed to stir around water in the container. Basically a Nalgene brand, large mouth bottle. Not exactly lightweight.

The batteries are expensive. In my area, a pair of CR 123 batteries cost over $6 dollars for two. Not a lot of money but over time, adds to the cost of ownership.
As stated, the Steripen Adventurer Opti met my needs for one or two people. However, it is more work than I want for a clean drink of water.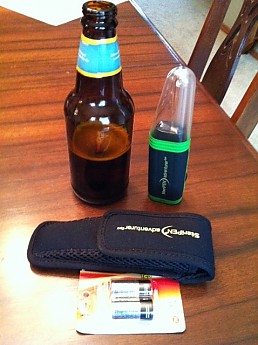 Awesome technology, and extremely popular I found…
Rating:


Source: bought it new
Price Paid: $90

Summary
Awesome technology, and extremely popular I found while I thru-hiked the Appalachian Trail in 2012.
Pros
Technology works great
Small
Lightweight
Cons
Uses CR123 batteries, which are friggin expensive
Can be finicky at times
This is what I went to after dropping my water filter. This is a very cool piece of technology.
Basically what it does is emits a UV light that sterilizes all the gnarly junk in the water, such as Giardia (you really don't wanna mess with that stuff). Let me say again, it sterilizes the bacteria, doesn't get rid of it. So essentially it's still floating around in there. But as long as you can get past that fact, the technology totally works and a lot of the time you're pulling from some pretty clean water sources anyway (that's what I found on the A.T., anyways).
These were really popular pieces of technology on the trail and for good reason. The particular model I had used CR123 batteries, which are obscenely expensive (~$13 for 2 batteries), but if I'd known I would have purchased another model called the Classic which uses AA Lithium batteries. Still somewhat expensive, but nothing like the CR123′s.
With the Classic model, the pen fits snug into the mouth of a bottle so that you're able to hold it upside down. Something I dealt with with the Adventurer model was the pen not being able to fit far enough down the mouth of the Powerade bottles for it to work, but I found that by filling the bottle literally to the very top, you could make it work.
I had a funny story dealing with the customer service of this company, but all in all a very good product and one that I would definitely use on a thru-hike. Consider carrying AquaMira drops as a backup just in case you run out of battery though.
There have been a number of SteriPens over the years…
Rating:


Price Paid: $72 on sale

There have been a number of SteriPens over the years and this, the Adventurer Opti, was new in 2011. After looking over the mostly favorable reviews of the previous SteriPen Adventurer, I bought an Opti in spring 2011 and have been pleased with the results so far after a season of use.
It is similar to other pens, light, small, uses two batteries, etc. It is compact and very easy to use. 
Just returned from a week long backpack in the Eagle Cap Wilderness in northeastern Oregon where my group of three used it daily as the sole water treatment system. When using in bright sunlight it can sometimes be hard to see whether the device is on.
Otherwise very straightforward, easy and quick. Can always use a coffee filter to filter out debris or particles. 
A good solution when water filtration isn't necessary.
Rating:


Source: bought it new
Price Paid: $80

Summary
A good solution when water filtration isn't necessary. Doesn't add/remove odor! Doesn't affect flavor!
I have waited for these UV purifiers to be around for a while, and they are now reliable. I have had mine for a year,  without fault for over a hundred uses.
A lot of people list battery cost as a con, however I beg to differ. The rechargeable model requires replacement once the lithium ion battery goes, where with this, you buy new and recycle the old. I have found the CR123 batteries to be very cheap online, and don't mind spending pocket change when it comes down to health and safety. 
It takes a little time getting the system down, but once you do, no big deal. Several people have also complained about the 90 seconds to go through the cycle, but how fast can one refill their reservoirs and bottles anyway? 
Light weight, small and easy to use. Been using First…
Rating:


Source: bought it new
Price Paid: $60

Summary
Light weight, small and easy to use.
Pros
Light weight
Small
Easy to use
Cons
Uses batteries, which even the manufacturer says are affected by temperature.
Been using First Need charcoal filter for 20 years and I know it works with all kinds of water, but one of its drawbacks was the fact you had to be close to the water source when you use it and sometimes that is a pain if you have to lean over a rock trying to get to the stream.
Anyway, now all I have to do is scoop up a bottle of water and find a comfortable spot to stir the 'Pen' for 90 seconds. Great.
People have complained about any contaminated water on the threads. I just wipe off the threads with a hankerchief.
Used it on two backpack trips and no problem.
Note, brought some iodine tablets just in case the batteries fail.
I would definitely recommend this device.
Clean - Easy - Lightx2 water for purification Very…
Rating:


Source: bought it new
Price Paid: Bought at retail

Summary
Clean - Easy - Lightx2
water for purification
Pros
Lightweight
Easy to use
Long lasting
No cleaning
Emergency flashlight
Very much like the fact that there is no counting of drops or breaking tablets or pumping (breaking handles) or multiple parts or water test strips, just a UV light to zap the bugs
This unit is very simple and should last a very long time.  One set of batteries will last way longer than most typical camping trip durations, so long as it is not continuously used as a flashlight. Flashlight though dim, does supply light in what must be its purpose as an emergency/backup light.  When it is dark it is light.
Nice little case with belt loop keeps the cap on and protects the lamp well. I can say this for a fact having crashed several times with it in its neoprene case in saddle bag.
I have used with the SteriPen Pre-Filter which is a great addition, rather than coffee filters.
Where to Buy
sponsored links
Help support Trailspace by making your next purchase through one of the links above.
SteriPEN Adventurer Opti
currently retails for:
$80.96 - $99.90
MSRP: $89.95

where to buy: