SteriPEN Adventurer

The Adventurer has been discontinued. It was replaced by the SteriPEN Adventurer Opti.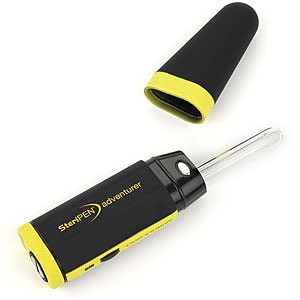 A fast, reliable, lightweight, and easy to use water purification/treatment option. It takes the fiddle factor out of having to mess with filters and pumps. I would highly recommend the SteriPen Adventurer to anyone looking for a lightweight and fast water treatment option.
Pros
Lightweight at 3.6 oz
Will treat 50-60 liters per battery set
Treats 1L in 90 seconds
Treats .5L in 30 seconds
Neutralizes all bacteria and viruses
Cons
Uses batteries
Bulb will only treat a maximum of 5000-8000 liters
Can be finicky in turbid water
Bulb has potential to break if rough handled
Does not improve water clarity or otherwise remove particulate matter
I was lucky enough to find the Steripen Adventurer on Steep and Cheap about a year and a half - two years ago. I decided to buy it on a whim, because I was very curious about it and was also wanting a treatment option for the winter when my filter pump has the potential to freeze. I have been using the Steripen for about two years now and I could not be more impressed, and satisfied with a purchase.
Construction:
The Steripen has a hard plastic shell which encloses the bulb and main body of the device. The lower portion removes easily to expose the UV bulb. On the front are the operation LEDs and a push button. On the sides directly above the bulb are two metal sensors. On the top is a screw on cover to access the battery compartment. A soft neoprene case is also included with the Steripen, which has a belt loop attachment as well. Overall it feels as rugged as a device can weighing only 3.6oz and having a "light bulb" section. Build quality seems top notch.
Operation:
Operation is easy and straight forward. You simply press the button once to treat 1L, or twice or .5L. The LED will start flashing green, and then you put the bulb in the water so that the two metal sensors on the side are under water. The bulb will turn on a moment later and will turn off upon completion of treatment. If treatment fails for any reason the bulb will turn off and the LED will begin flashing red. There are different patterns in which the light will lash to identify different error codes, these codes are referenced in the owners manual.
Once you place the bulb in the water and it turns on, it is recommended to slowly stir the Steripen inside of the container for maximum effectiveness. I found that the Steripen works perfectly in Nalgene 1L or .5L bottles, gatoraide bottles,  my Snow Peak 700ml cup, and my 1.8L Mors Bushpot. I am sure it will fit in any bottle or container of sufficient depth and a moderately wide opening.
I found that filtering my water through a bandana is all that is neccesary to remove large particles before treatment. Obviously this is only effective if the water is relatively clear in the beginning. The Steripen will not improve water clarity, and will only neutralize bacteria and viruses in the water.
Issues/ Things to be aware of:
I have only had two issues with my Steripen, neither severe.
1) The batteries went dead after treating 58L. This was easily remedied by replacing the batteries with the spares I always carry.
2) I had not used my Steripen in about 5 months and I forgot that I needed to wait for the light to start flashing green after pressing the treatment button and then place the bulb in the water. I was placing the bulb in the water and then pressing the treatment button, this caused the red LED to flash and the Steripen would not operate. After a few moments of cursing and pondering I realized what I was doing wrong and when I used it per instructions it worked flawlessly.
The Steripen does not remove anything from the water, nor does it improve clarity. In fact if the water is too turbid/cloudy, or too cold (I never experienced the too cold issue reported by others and I used this ALOT in winter in the Northeast) the Steripen will fail to operate in the water. This has been remedied somewhat with the newer model the Steripen Adventurer Opti line, with new and improved sensors. These issues with turbidity and temperature are noted in the instruction manual.
Batteries:
The Steirpen operates on (2) CR123 batteries. It is extremely important that you pay attention to what CR123 batteries you are buying. Alkaline batteries operate VERY poorly in the Steripen. The lithium batteries are the preferred. For comparison sake, the alkaline batteries will treat around 8-12 liters before going dead. The lithium batteries will treat 50-60 liters. Rechargeable lithium batteries will treat 30-40 liters.
Conclusion:
I am very satisfied with the Steripen Adventurer. No more kneeling at a stream side fiddling around with a pump. I can now scoop water up into all of my bottles etc, then treat in a matter of a few minutes and be back on my way down the trail. No filter elements to scrub, no hoses to keep seperated. Simplicity and speed. The Steripen is a perfect fit for those that are normally using already clean water that has a good natural taste.
Source: bought it new
Price Paid: $25.99

Unlike mechanical filters this kills bacteria, protozoa and viruses, but it will not filter out debris, so it is best used with clear water. Also requires batteries.
Pros
Kills all types of nasties
Cons
Cost
Needs batteries
Does not filter debris
Delicate parts
I have used the Steripien Adventurer for several mountain trips where I was guaranteed running water. I was attracted to it because, unlike other means of filtration, it also kills viruses. The idea is simple but genius—UV light disrupts the DNA of the nasties and destroys them and/or disrupts their reproductive potential. That said, it does mean they are still present in the water when you drink it! Given, this, I often repeated the dose just to be sure.
It is best used with running or clear water as it cannot filter out debris. I am not a fan of drinking cloudy water and I cannot help thinking it provides a hiding place for the nasties to avoid the "death ray." It is relatively easy to use, just work out how much water needs to be treated, press the button and leave the UV tube in the water for the desired amount of time. The water is ready to drink right away and there is not need to exhaust yourself with a hand pump. 
I found it reassuring to actually see the UV light but I found in very bright and sunny conditions I was not able to so I was not entirely sure if it was working or not. Furthermore, the UV tube is very delicate so must be handled carefully. It comes in a sturdy container which is pretty crucial. Then there's the batteries. The type needed are expensive so over time this filter is going to cost you money if it gets a serious amount of use. On the other hand, it will not need to have any parts replaced like a mechanical filter. 
Overall, whilst not my preferred method of purification, the Steripen Adventurer seemed to do the job it is designed for well enough. I did not suffer any ill effects from the water I drank which I know to contain sheep faeces and body parts. It's a bit unnerving at first as a lot of faith in science is needed to trust it is doing what it claims. That said, if the water is clear or running I would happily use it again. Just handle the UV tube with great care!
Experience
Trips to UK mountain areas where sheep farming takes place.
Source: bought it used
Price Paid: £45

Lightweight and easy to use water filtration system.
Pros
Lightweight
Compact
Leaves no taste
Quick to use (under 2 minutes)
Cons
Runs on (hard to replace) batteries
Only for clear or slightly cloudy water
I have had my Adventurer for more than 10 years. It works using a UV light. I was skeptical about this, but my dad used to design sewage treatment plants and said "oh yeah, that will do it."
The Steripen itself is very compact—about 2 inches wide and about 8 inches long. I have even stuffed it in a purse when flying across the country. This was a huge benefit over the  Katadyn Hiker pump I had been using previously in both weight (SteriPen is about 4 oz) and bulk.
However, while it is compact, you will need to carry some things that do add bulk:
You will need a wide mouth Nalgene bottle or similar.

There is a "pre-filter" (sold separately) that screws in to the top of the Nalgene bottle to catch larger pieces and dirt. Some people get around this equipment with using a bandana or coffee filter
The water gets no taste and kills viruses and bacteria. A liter is treated in 90 seconds and I have never gotten sick from drinking the water from this filter and its carry case protects the UV bulb.
Cons: If the water is too murky, you cannot use this, as the light needs to reach all the water in the bottle. You also need all the water you want to filter in your bottle to treat, so you can't just suck water out of a mud puddle and filter it right into a hydration bladder like I could do with my Katadyn Hiker. That said, most of the time I am getting water from a stream and the Steripen has worked fine for that. 
The final weakness is the battery system. The company may have changed the design since I got mine to accept regular batteries (or recharge?), but mine takes six unusual sized button batteries. I had to order replacements online, which I carry with me "in case."  
Experience
I have used it over the last 10 years in various national parks. Mostly I have used it for filtering stream water.
Source: bought it new
Price Paid: $90

This thing is so easy it almost feels like a luxury to have it, which of course is not the case. Super light-weight, at 4 ounces with batteries (another 1.4 oz w/ carrying case). I just strap this to my hip-belt on my pack and start on my way.
For those obsessed w/ ultralight packing (I am not), Gatorade type bottles have wide-enough openings for this Pen to work, and you can leave the case at home to save even more weight.
There is no real weight penalty to carrying this pen...it only saves weight compared to other mechanical options. Tablets weigh less, but take a long time to work.
NOTE: AS ON ALL ELECTRONIC DEVICES, DO NOT STORE THE UNIT WITH THE BATTERIES IN PLACE...IT WILL DRAIN YOUR BATTERIES.
I take a few coffee filters with me on trips for turbidity in water sources, and usually have a hiking partner carry tablets as a backup (they love avoiding the pumping and cleaning of their pump or gravity filters). I always have a mini pack towel handy to clean the threads, rim, and cap from splash, although limited #'s of organisms and exposure to air typically eliminates most risks.
I've used on 2 trips so far: one was clear mountain water where bottles were filled quickly and the filtration of 12 liters of water over the trip was quick and easy. Press the button, swirl it around for a while till it's done...the pen worked flawlessly in weather as cold as 36 degrees. I was even able to use it to fill my Camelback, sterilizing 1L at a time and pouring it into the bag (3L).
On the second trip, I used a filter in mildly turbid, standing water to fill the bottle. The water wasn't crystal clear, but the Steripen worked perfectly for a total of 6 liters over the two-day trip. No one has ever gotten sick, and this with lots of small organisms swimming around in the water. Water taste is not improved with this product, so keep that in mind.
I am going to buy a Guyot Designs Tapguard carbon bottle adapter to improve taste in areas with nasty water sources.
Price Paid: $49

I have used the SteriPen for over two years. It has worked flawlessly. It's like magic, just move the wand in the water. You do not have to balance yourself on a rock with a bottle between your legs and pump or be limited by the length of your pick up hose.
I have found using a collapsible bucket (4 oz Sea to Summit) to retrieve the water and sit in camp making good water more fun, plus you have extra cooking and wash water, you can camp further away form water sources, also using a bucket or bottle to retrieve water in spring run off is much warmer on your hands.
The Pen works great backpacking, on day hikes, mountain biking, just to impress your friends, and on the fly. I would recommend using SteriPen debris filter you can plunge the bottle into a lake or stream also you can pour water through it with another bottle or bucket. I have complete confidence in the SteriPen and recommend it to all. No back up necessary, all my friends use the SteriPen now or plan to buy one.
Price Paid: $100

The SteriPen meets all EPA standards for health - that should be enough. I have a friend who never filters water, and he hikes the same areas I do, and he never got sick with no treatment at all. So anything I say about how effective it is will not help. BUT the EPA seems to think it's great.
Fantastic usability - I can put the 3.5 ounce thing on my belt, then take out a water bottle and have a fresh liter in a minute and a half without even taking off my pack. I don't see a better way. If you find good water, there is no need for a prefilter - my bandanna does just fine.
By the way I backpack lightweight - 20 to 30 pounds in the Sierras.
Price Paid: $72

Excellent for lightweight water treatment. Batteries are a serious negative factor. Relying on batteries is always sketchy. I love it and will continue to use it.
Pros
Very lightweight
Only 1 minute and you can drink, unlike others that make you wait 20 minutes
Cons
Batteries
Glass rod makes me nervous of breakage.
I've had this going on my 3rd season now. Great product. I've found, though, that leaving batteries in it over the off-season (or even a couple weeks) will drain them out. These batteries are about $10 each, and you need two. That's a pretty pricey maintenance, when compared to other systems.
But the advantage is that it's super light and compact. Last time I was out it was acting funny. Going right to a red light as soon as I put the sensors in the water. I was getting nervous that I'd be unable to treat my water. But after several tries for each liter done I was able to get satisfactory results.
Upon returning home I read the owners manual and my problem was dirty sensors. I cleaned them with soap and a toothbrush, and now it works like new.
So, all in all, it is a very light and slick system, but it can be finicky and is more expensive to run over the long term.
Source: bought it new
Price Paid: $100

I recently used this product as a primary water source tool. The Steripen performed flawlessly, it was fast and compact. I brought along a 1L bottle for which to sterilize in while in camp and to fill my 2L reservoir in my pack. Just hit the button once for a 1L dose and off you go, 1.5 minutes goes by really quickly.
I would filter the water using a clean bandanna or shirt and then sterilize the water in the bottle. Dump 2 bottles in the reservoir the night before or in the morning while waiting for the other people in camp to finish eating or breaking down their things.
The only negative things to be said about this product is that the stirring action seems a bit more troublesome than the attachment that the Classic and Journey Steripens have to the prefilter bottle attachment. This allows the user to simply shake the bottle upside down instead of holding the bottle and stirring for the 1.5 minute duration. Not a very big deal but a minor inconvenience.
Also, I would take along another pen or have a set rotation for use if it is the primary source for water for group of 4 or more. It is known to eat up batteries if left in it, even while not in use so take them out if storing for extended periods.
Overall a really great product!
Price Paid: $65

Fact is, water purification is vital (I hear giardia sucks big time), yet many are reticent to either pay the expense or perhaps trust the Steripen. I opted for the Adventurer for the extended battery life and smaller size, though the Steripen original was tempting.
Previously a devotee to Aquamira solution, I'd forgotten how obnoxious the taste truly is with all Purification tablets or solutions. Bottom line, Steripen is a taste-free relatively idiot-proof method of getting clean water without the weight and hassle of a ceramic pump... (charcoal is so bad, it's not even worth mentioning)
Hugely recommended for overseas travel, and for domestic backpacking, just in terms of weight and ease... great
One drawback: need a widemouth Nalgene to insert sensors / only one liter at a time.
Price Paid: $125

I have used the SteriPen Adventurer all this year. Six trips; about 15 days on the trail. I love it. The only problem I've had was in trying to use Tenergy rechargeable batteries. They just don't work! I've gone back to using only Panasonic non-rechargeables and haven't had a problem since.
This device takes nearly a pound out of my pack (once my Katadyn Hiker is used once, the wet filter core brings its weight close to a pound). I will use my trusty old Katadyn when I hike the coast later this Fall as I figure water near the coast has the highest probability of carrying a chemical/fertilizer load, but whenever I'm hiking the back country my Steripen will always go with me.
Price Paid: $109

I bought this on a whim and now I feel like a genius! I don't even bother to carry my Katadyn Hiker or my MSR MIOX any longer. This thing weighs nothing and it's easy to use. Take it out of its cover, press the button once to purify a liter of water, look for the flashing green light, insert until the blue light comes on, stir, stop when the blue light goes out (about 45 seconds or so). Drink with abandon! I don't use rechargeable batteries -I always have several sets of Surefire batteries for my flashlight and they work in this very well. I used it all summer (roughly thirty nights on the trail) with no battery change.
Price Paid: $90

Great for 3rd world country travel (used mine in the Philippines). Very fast to use and "fascinates the natives."

Pros
Fast to use when you need safe water NOW
Easier to use than the earlier non-optic sensor model
Uses a more common battery that I also use in my PT EXOS headlamp
I bought the Adventurer with the solar panel battery charger storage case.
I love this pen but still carry chlorine dioxide tablets as a back up (and hydration bag sterilizer every few days).
Eric
Price Paid: $150

This review is based on me using the product over several months whilst cycling through South America.
Here are the problems I had with it.
Sometimes the pen wouldn't activate.This wasn't specific to my model as a friend had a different model and that wouldn't activate either.
Sometimes I couldn't tell if the pen had activated or not due to there being no light or flashing light to indicate it was processing. Also in bright sunlight you cant see the indicator LED to determine its status. Did they actually test this pen where people like me used it i.e the Ecuadorian jungle/equator regions.
Battery life is poor and you regularly need to change the batteries. You'd get 50 hits of a litre cycle then it died.
Finding camera type batteries is very expensive and difficult.
The design of the cap is asymmetrical so breaking the light rod is an accident waiting to happen . I broke my light rod when putting on the cap the wrong way round in my tent at night.
It will happen when you're tired or in the dark, or in a rush or when you think it is on the right way round but just didn't realise. A very bad and unnecessary design fault.
I would buy a Katadyn or equivalent for security and the ability to filter grit and crap as well .
I did find the Steripen convenient and light but it is unreliable. It was only useful for water coming from a tap or filtered  non gritty sources.
Not recommended for serious expeditionists.
Price Paid: $150

I bought the steriPEN in the summer of 2008 and tested it the day i received it for functionality. It worked. About 10 months later i tested it again but it didn't light up anymore. I thought that the problem was in the batteries. After all, even sitting on my bookshelf for 10 months, away from heat and sunlight, can drain a battery?
I didn't touch the steriPEN again until a few months later when i thought i needed a water purifier... so i bought new batteries and tried to power the steriPEN. Nothing.
Since it's been over a year i cannot return this item to the place where it was purchased. Several times I've tried contacting the company that makes this item for technical support through the # they provide on their site, but even during their specified "business hours" no one answers.
So in conclusion:
~steriPEN is not reliable
~no accountability from company
Price Paid: $100

My SteriPen Adventurer's battery compartment nut stripped out after the supplied-at-purchase batteries failed after only three home base tests and one field use - leaving me without any means to purify my water. The problem is partially in the design, as the nut is of super low quality and the screw is so short you can't really tell if you've properly caught the threads. Even correctly threaded, the battery compartment screw only threaded 1/2 way into the nut threads - weird!
Hopefully SteriPen will fix this simple design flaw in the future.
Price Paid: $136

Your Review
Where to Buy
Help support this site by making your next gear purchase through one of the links above. Click a link, buy what you need, and the seller will contribute a portion of the purchase price to support Trailspace's independent gear reviews.
You May Like
Want to purify questionable water while only adding four ounces (110 grams) to your pack weight? The SteriPEN Adventurer uses ultraviolet light to destroy the DNA of waterborne microbes, rendering them unable to reproduce and make you sick. It kills 99.99 percent of all viruses, bacteria, protozoa, household germs, and bio-terror weapons. It also eliminates travel risks that can cause diarrhea, dysentery, hepatitis, and Legionnaires' disease.
The Adventurer is simple to use. Push a button, place the lamp in the water, and stir until the automatic-sensor-light turns green. It purifies 16 ounces of water in 48 seconds and a liter in 90 seconds. The Adventurer will purify 1,250 gallons of water, at a cost of only 10 cents per gallon of water.
Specs
Price
MSRP: $129.00
Historic Range: $74.93-$149.95
Reviewers Paid: $25.99-$150.00