SteriPEN Adventurer Opti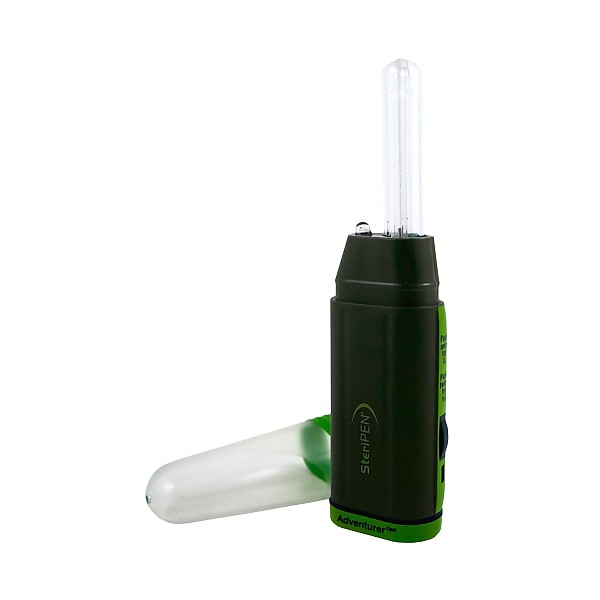 I'm sure someone out there could prove me wrong, but the SteriPen Adventurer Opti is a foolproof tool for purifying water in the backcountry.
Pros
Simple to use
Lightweight
Automatic shut off and error notification (see: foolproof)
Cons
Uncertainty of battery life
Odd (and costly) battery
Usage and Why I Bought It:
After borrowing a friend's SteriPen Adventurer Opti during a three-day trip, the ease of use, compact size, and effectiveness were the reasons I purchased my own. It's been a handy little companion during many hiking and canoeing trips, making the chore of preparing water for safe consumption much less daunting (than pumping) and quicker (than tablets) than what I had been used to.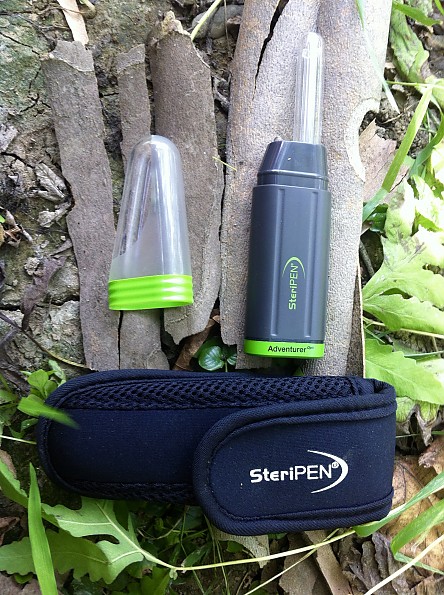 Ease of Use:
In only 90 seconds, a liter of water is clean to drink. That's not too shabby, although you have to hold the pen in the water for those 90 seconds without letting go (which doesn't sound difficult, unless you really have to pee!) Needless to say, it's a pretty simple tool.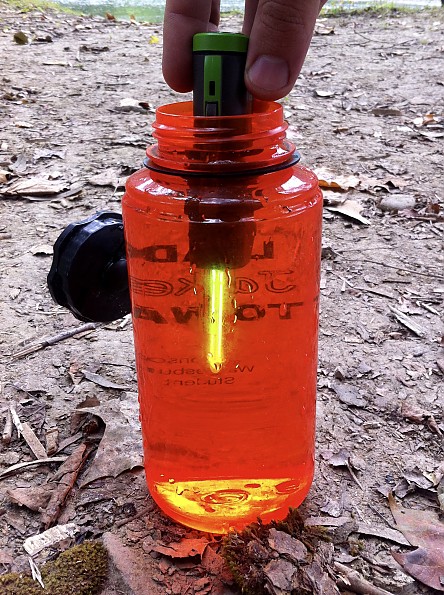 Foolproof Features:
The two dummy-proof features I especially like about the Adventurer Opti are 1) it automatically shuts off when the water is ready for consumption, which means I don't have to count to 90 Mississippi's (for 1 liter anyways) and 2) if I get fidgety or clumsy and accidentally pull the UV light out of the water before the water is ready for consumption, the a red error light will come on, telling me to try again.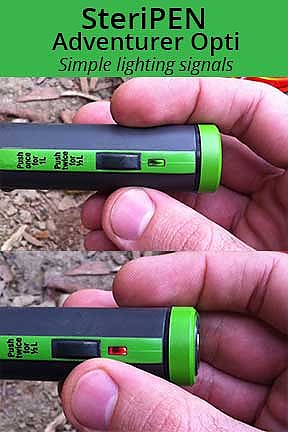 Batteries (ugh!):
The only qualm I have with the Adventurer Opti is the batteries used (CR123) and the lack of battery life indicator, which plants the seeds of fear and paranoia that the batteries will die every time I turn it on. Of course, they don't, but there is uncertainty and because the batteries are more costly and harder to come by than your average AA or AAA batteries, I don't tend to have a spare set lying around the house like I do other batteries.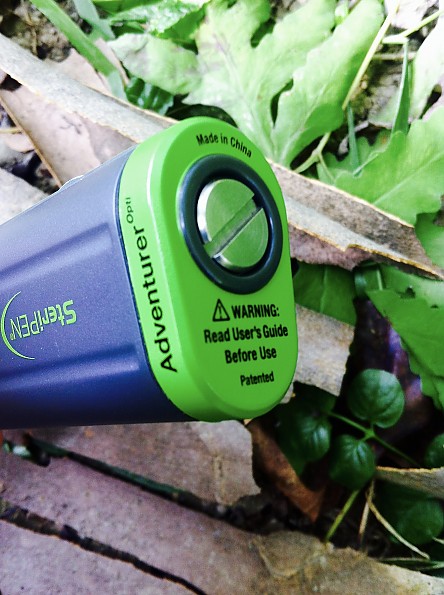 Bottle Considerations:
Because I have plenty of water bottles laying around the house from various giveaways or door prizes (I can't be the only one with way too many water bottles), I already have several wide-mouth bottles on hand to use with the Adventurer Opti, which is required, since the pen's sensor won't adequately fit in a typical narrow mouth bottle. This could be a drawback for some, but not for me, since my bottle collection is starting its own bottle collection.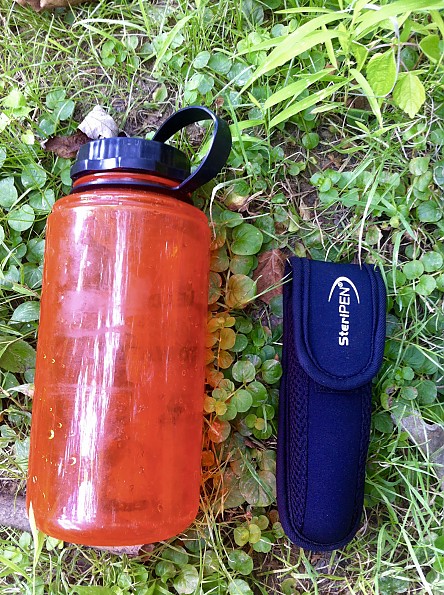 Conclusion:
If you can't tell by now, I recommend this little yet powerful purifier for those who are looking for a simple and convenient way to purify water in the backcountry.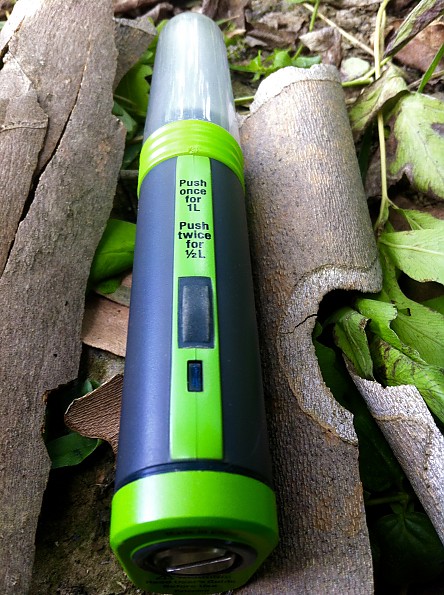 Source: bought it new
Price Paid: $80 USD

Awesome technology, and extremely popular I found while I thru-hiked the Appalachian Trail in 2012.
Pros
Technology works great
Small
Lightweight
Cons
Uses CR123 batteries, which are friggin expensive
Can be finicky at times
This is what I went to after dropping my water filter. This is a very cool piece of technology.
Basically what it does is emits a UV light that sterilizes all the gnarly junk in the water, such as Giardia (you really don't wanna mess with that stuff). Let me say again, it sterilizes the bacteria, doesn't get rid of it. So essentially it's still floating around in there. But as long as you can get past that fact, the technology totally works and a lot of the time you're pulling from some pretty clean water sources anyway (that's what I found on the A.T., anyways).
These were really popular pieces of technology on the trail and for good reason. The particular model I had used CR123 batteries, which are obscenely expensive (~$13 for 2 batteries), but if I'd known I would have purchased another model called the Classic which uses AA Lithium batteries. Still somewhat expensive, but nothing like the CR123′s.
With the Classic model, the pen fits snug into the mouth of a bottle so that you're able to hold it upside down. Something I dealt with with the Adventurer model was the pen not being able to fit far enough down the mouth of the Powerade bottles for it to work, but I found that by filling the bottle literally to the very top, you could make it work.
I had a funny story dealing with the customer service of this company, but all in all a very good product and one that I would definitely use on a thru-hike. Consider carrying AquaMira drops as a backup just in case you run out of battery though.
Source: bought it new
Price Paid: $90

In general, the product performed as expected. I wanted a quick, lightweight method to purify water that didn't take up a lot of space in my pack.
Pros
Lightweight at 3 oz.
Quick; purifiying water at 90 seconds/liter
Small size at 6.5 x 2.0 x 1.5 inches in case
Cons
Requires expensive CR123 batteries
Requires pre-filtering of water before treatment
Requires large mouth containers.
I bought this device as a way to reduce weight and size in my pack while having an ability to purify water relatively quickly. I spent a lot time doing research online to help me determine which system met my needs.
I already own a MSR Miniworks filter unit that works flawlessly but, is heavy and bulky. I have used iodine tablets and don't care for the time to purify, taste and color of the water. The Adventurer Opti looked like what I wanted for my needs.  The unit performed to my expectations without issue.  
Here are the caveats:
I had to pre-filter the water to remove any large solids. Protozoa, bacteria and viruses need direct UV exposure to be killed. A bandana worked well although, slowed the water collection process.  

I had to use a large mouth container to allow the swirling action needed to stir around water in the container. Basically a Nalgene brand, large mouth bottle. Not exactly lightweight.

The batteries are expensive. In my area, a pair of CR 123 batteries cost over $6 dollars for two. Not a lot of money but over time, adds to the cost of ownership.
As stated, the Steripen Adventurer Opti met my needs for one or two people. However, it is more work than I want for a clean drink of water.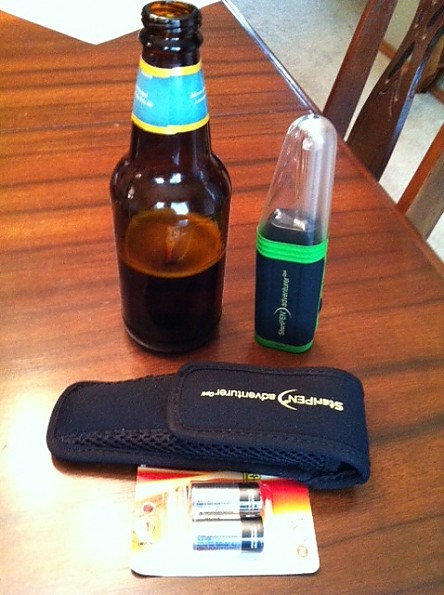 Source: bought it new
Price Paid: $89.95

Have utilized the SteriPEN Aventurer Opti now on several outings this summer instead of my pump water filter systems and found it to be very simple and effective. On previous trips (before the SteriPEN), after a rain, the rivers and streams would be full of silt and dirt. That fine silt clogged my pump filtration systems.

I tried different pump systems. I replaced filters. I backwashed the units. I found that back washing the unit once for every liter of water, no matter what pump system I was using, was very frustrating.

That frustration led me to purchase the SteriPEN Adventurer Opti. I prefilter the silt out with a coffee filter and then use the pen to swirl the rest. It works like a charm and I can get a liter of water in about four minutes.
Pros
It is lightweight and compact
Has an indication to let you know when it is finished
The replacement batteries can be found at Wal Mart
Does not alter the taste of mountain water (I like the taste)
Cons
I hear it is fragile so I do take extra precaution not to break it
One can not tell if it is working so how can you give something the thumbs up if you do not have some sort of solid evidence?
Need to always carry a back up if you are carrying some electronic device. I have tablets just in case.
Have used this device several times now in very wet and rainy conditions. For several days, drinking very muddy river water was my only choice. I prefiltered it with a coffee filter and it took out most of the mud and silt. The SteriPEN did the rest.
I found it to be much easier than fooling with bags, pumps, and backwashing filters. As long as the device keeps working this well, I am going with it.
Source: bought it new
Price Paid: About 90 dollars on Amazon

It works really well. Trusted my health with it on third world travel.
Pros
It takes a little time, but has positive results (it is all an invisible process)
It is waterproof, the battery area is sealed with a rubber gasket and screw
Cons
It is bulky
Have heard reports of the light tip end breaking off (I never had this problem)
Requires batteries, so make sure you have additional batteries on your trip
You do want to hold onto it so it doesn't drop in and have to start over
I traveled all over India from Sri Lanka in the south to the Himalayas in the north with a 32oz Nalgene bottle and my SteriPen Adventurer Opti.
Trusted this product fully with sterilizing my water. If I hadn't used the pen, I would have been sick as a dog like some of my traveling companions who risked it all and didn't heed my warning.
Just swish it around in the water for a minute or two while the UV light kills proto and giardia. It did 32 ounces no problem. It shuts off on its own when it is ready. It is an invisible process and like magic you have safe water to drink... you can trust it.
I became the go-to guy for the rest of the trip keeping everyone's water safe.
Experience
Camping and wilderness canoeing puts me in touch with lots of outdoor issues.
Source: bought it new
Price Paid: $85

A good solution when water filtration isn't necessary. Doesn't add/remove odor! Doesn't affect flavor!
I have waited for these UV purifiers to be around for a while, and they are now reliable. I have had mine for a year,  without fault for over a hundred uses.
A lot of people list battery cost as a con, however I beg to differ. The rechargeable model requires replacement once the lithium ion battery goes, where with this, you buy new and recycle the old. I have found the CR123 batteries to be very cheap online, and don't mind spending pocket change when it comes down to health and safety. 
It takes a little time getting the system down, but once you do, no big deal. Several people have also complained about the 90 seconds to go through the cycle, but how fast can one refill their reservoirs and bottles anyway? 
Source: bought it new
Price Paid: $80

There have been a number of SteriPens over the years and this, the Adventurer Opti, was new in 2011. After looking over the mostly favorable reviews of the previous SteriPen Adventurer, I bought an Opti in spring 2011 and have been pleased with the results so far after a season of use.
It is similar to other pens, light, small, uses two batteries, etc. It is compact and very easy to use. 
Just returned from a week long backpack in the Eagle Cap Wilderness in northeastern Oregon where my group of three used it daily as the sole water treatment system. When using in bright sunlight it can sometimes be hard to see whether the device is on.
Otherwise very straightforward, easy and quick. Can always use a coffee filter to filter out debris or particles. 
Price Paid: $72 on sale

Clean - Easy - Lightx2
water for purification
Pros
Lightweight
Easy to use
Long lasting
No cleaning
Emergency flashlight
Very much like the fact that there is no counting of drops or breaking tablets or pumping (breaking handles) or multiple parts or water test strips, just a UV light to zap the bugs
This unit is very simple and should last a very long time.  One set of batteries will last way longer than most typical camping trip durations, so long as it is not continuously used as a flashlight. Flashlight though dim, does supply light in what must be its purpose as an emergency/backup light.  When it is dark it is light.
Nice little case with belt loop keeps the cap on and protects the lamp well. I can say this for a fact having crashed several times with it in its neoprene case in saddle bag.
I have used with the SteriPen Pre-Filter which is a great addition, rather than coffee filters.
Source: bought it new
Price Paid: Bought at retail

Light weight, small and easy to use.
Pros
Light weight
Small
Easy to use
Cons
Uses batteries, which even the manufacturer says are affected by temperature.
Been using First Need charcoal filter for 20 years and I know it works with all kinds of water, but one of its drawbacks was the fact you had to be close to the water source when you use it and sometimes that is a pain if you have to lean over a rock trying to get to the stream.
Anyway, now all I have to do is scoop up a bottle of water and find a comfortable spot to stir the 'Pen' for 90 seconds. Great.
People have complained about any contaminated water on the threads. I just wipe off the threads with a hankerchief.
Used it on two backpack trips and no problem.
Note, brought some iodine tablets just in case the batteries fail.
I would definitely recommend this device.
Source: bought it new
Price Paid: $60

I have this and love it.
I love it; it works well. But like any new gadget it does take a few times to get the hang of it. Granted the cost of the battery is a little pricey, but you should be able to use it a year on a set of batteries. So that's not really a big deal, not like I would ever use 6,000 gallons of water hiking in a year.
It's a good packable size.
I bought this because most methods of water purification is just awful tasting and the the thought of me drinking bleach water is just nasty. I would rather take my chances with beaver fever.
Source: bought it new
Price Paid: $89

Avoid this company
Cons
Stopped working after what amounts to 15 minutes.
The first SteriPen I got, I never got to use.  I tried it at home a couple of times for a couple minutes. Packed it away for 6 months. Pulled it out when I need to actually use it and it never turned on. Charged it, etc... it just stopped working.
I think this company is no longer around because when I looked, I couldn't find any contact information. If it is, they rose from the grave.
Stay away. Great idea, but a product you can in no way count on.
Experience
First of its kind I ever used. Worked for 15 minutes tops.
Source: bought it new

Your Review
Where to Buy
Help support this site by making your next gear purchase through one of the links above. Click a link, buy what you need, and the seller will contribute a portion of the purchase price to support Trailspace's independent gear reviews.
You May Like
Specs
Price
MSRP: $89.95
Current Retail: $99.95-$119.95
Historic Range: $49.93-$119.95
Reviewers Paid: $60.00-$90.00