SteriPEN
Sidewinder
1

review

5-star:

0

4-star:

0

3-star:

1

2-star:

0

1-star:

0
Specs
Weight
16.6 ounces

Dimensions
8.6 x 5.5 x 3.8 inches

Reviews
Works well but is better suited for base camp or cabin…
Rating:


Source: bought it new
Price Paid: $96

Summary
Works well but is better suited for base camp or cabin use rather than backpacking.
Pros
No batteries
BPA free bottle
Cons
Noisy
Bulky bottle
Labor intensive
This is my third Steripen, I also use an Adventurer and a Classic. I originally bought this because it did not require any batteries  which would be one less thing to worry about. As far as basic operation goes they all work the same.
I got this Sidewinder about 6 months ago and in that time I have had no issues or problems with it at all. It works just as the manufacturer says and since I have not acquired any waterborne illnesses, it obviously disinfects as advertised.   
The Sidewinder in action.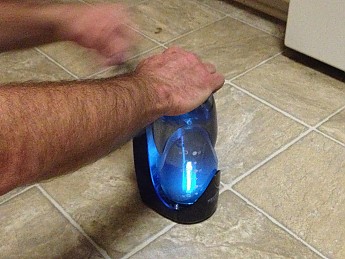 The sidewinder has two LED lights on each side of the base to indicate operation status.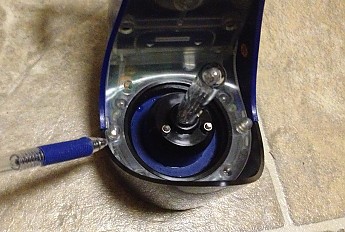 The lights illuminate red when there is a problem such as low cranking speed or failure to complete cycle and illuminates green to indicate successful cycle operation.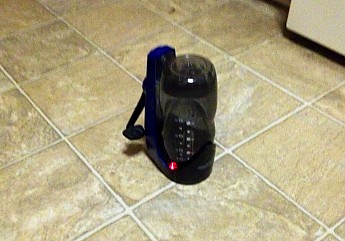 While the product works well and just as is advertised, there are a number of issues that negate its use in backpacking, and make it more suitable for use in situations as a base camp or a rural cabin.
The first issue is that it is labor intensive until you get used to the operation. The hand crank has just enough resistance to get you a little tired by the end of the cycle. It can also be challenging to maintain the continuous operational crank speed needed to maintain the disinfection cycle. Once I got used to the Sidewinder these really became a non issue though. Just a matter of getting used to something different.
The second issue is the noise. It is very noisy when turning the crank especially if you have to treat multiple liters of water. For me this is a major issue because it seems to interrupt the peacefulness and purpose of being in the backcountry. Though I wonder if it might be a good bear deterrent...
The bottle that it comes with is BPA free, which is a plus. However it is kind of bulky compared to regular sized water bottles and will not fit into some regular water bottle holders. Since it takes the standard size bottle mouth though, almost any bottle can be swapped in its place. It would also be a good idea to keep an extra bottle on hand so that one can always be mounted on the Sidewinder and thereby protecting the UV bulb from getting damaged in the backpack.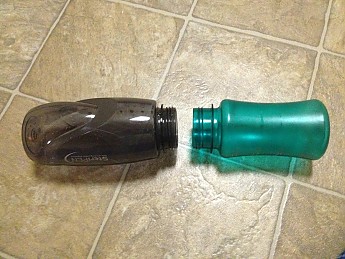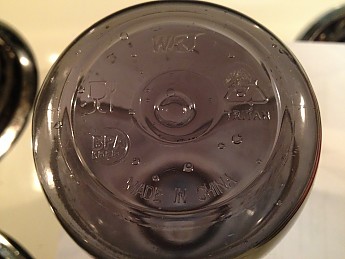 Over all I am pleased with the Sidewinder. It works well and does a good job of disinfecting water and making it safe. I just don't think it is suited for backpacking. A combination of its overall bulk and its excessive noise make it a better candidate for base camp or cabin use. 
Where to Buy
sponsored links
Help support Trailspace by making your next purchase through one of the links above.
Manufacturer's Description
SteriPEN Sidewinder is the world's first battery-free, portable UV water purifier.
The Sidewinder features an exclusive UV system that destroys waterborne bacteria, viruses and protozoa such as giardia and cryptosporidium. Its hand-powered system is as efficient as it is effective: just 90 seconds to purify one liter of water.
The Sidewinder purification system includes a SteriPEN Pre-Filter for use prior to treatment if the water contains particulates, as well as a one-liter Tritan BPA-free bottle.
The battery-free Sidewinder is extremely packable and portable. Plus, with no parts to replace or filters to clean, the Sidewinder is always ready to go. It's economical too: the Sidewinder purifies 8,000 liters at less than 2 cents per liter, about 5 cents per gallon.
Retailers' Descriptions
Here's what other sites are saying:
Always ready, the SteriPEN Sidewinder is a long-life, storable water purifier that destroys waterborne microbes that could make you sick. The Sidewinder is the first portable UV water purifier to require no batteries; the device purifies 8,000 liters of water 1 liter at a time; cranking 90 seconds for each. The long lasting Sidewinder purification system includes a one-liter Tritan BPA-free bottle and SteriPEN Pre-Filter for use prior to treatment if the water contains particulates. With the Sidewinder, you can crank up safe drinking water anywhere, anytime.
- CampSaver.com
Great for camping and emergency use, the hand-powered SteriPEN Sidewinder water purifier requires no batteries and is capable of purifying 1 liter of water in just 90 sec.
- REI
Forget about wearing out your battery unless you have tennis elbow. The SteriPEN Sidewinder water purifier runs on elbow grease to destroy (their word, not ours) bacteria, viruses, and protozoa. The Sidewinder includes a one-liter Tritan BPA-free bottle and a SteriPEN pre-filter for use before UV treatment if water contains particles.
- Backcountry.com
Fill it, Crank it, Drink it! The SteriPEN Sidewinder is the first portable UV water purifier to require no batteries and purifies 1 liter of water in 90 seconds.
- EMS
SteriPEN Sidewinder
currently retails for:
$64.95 - $99.95
MSRP: $99.95

where to buy: