Reviews
This tent is a great solo 3- or 4-season tent, depending…
Rating:


Source: bought it new
Price Paid: over $300

Summary
This tent is a great solo 3- or 4-season tent, depending on options. It is the 2nd gen. Moment, the 1st gen being a single wall version. The "DW" in the name stands for Double Wall.
Pros
FAST setup
Relatively lightweight
Moderate cost (compared to European makes)
Made in USA
Aerodynamic shape = wind-worthy design
4-season options
High quality
Great venting
Very versatile
Cons
Factory seam sealing costs extra
Factory hem stake loops costs extra
<These photos are of my "winterizing" mods>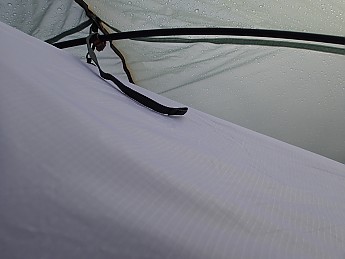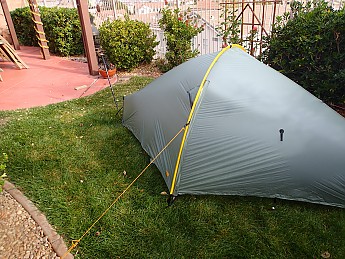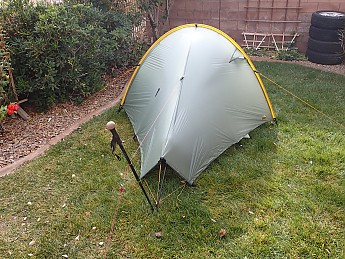 The Tarptent Moment DW solo tent is, in a sense, the Hilleberg Akto on steroids. It does derive its basic design from the Akto but has refined the shape and capabilities a lot, making it lighter yet more versatile.
Like the Akto, the Moment DW has a main hoop, but instead of the Akto's square ends the Moment has two captive carbon fiber rods at each end to form a triangle to support the canopy at the ends. And these rods have a clever stake cord arrangement that not only goes to one end stake but has two Line Loc tensioners to tension the ridge as well as both sides of the fly bottom.
Also the small Hypalon X-ing pole-end pocket is attached to the stake loop. The CF rods and stake cord design are trademarks of Henry Shires, the designer and owner of Tarptent. It is small details like this that show the amount of thought that went into the design. You see this thoughtfulness everywhere on the tent.
As with most truly lightweight tents today silnylon is used throughout the fly and floor. Of course Cuben fiber "cloth" could be used to cut weight by 40% but it would double the price. The Moment DW comes WITHOUT seam sealing and this can be easily done yourself but for a few bucks extra Tarptent will do it. Remember to seal the floor seams and corners as well.
OPTIONS:
entirely netting inner tent (3-season)

ripstop inner W/ netting top vent panels (4-season)

crossing pole for freestanding feature and better snow load resistance

four factory sewn fly hem stake loops (greatly lessens fly flapping in high winds)

factory seam sealing
Ordering the ripstop inner, fly hem stake loops and the X-ing pole gives you a very capable 4-season solo winter tent, better in my opinion than the heavier Tarptent Scarp 1. This is because of the Moment DW's more aerodynamic shape.
With two doors, end vents, sliding fly hems (on the main pole sleeve, they slide up for more door area venting) and two top vents this tent VENTS! Even with the ripstop inner you can be cool in the summer .
The Moment still retains its fast, two stake setup, hence the name Moment. Plus, if the wind shifts a lot you can pull one end stake, pivot the tent end into the wind and re-stake, all in less than a minute.
For cooking in a rain or snowstorm you can slide the floor back from the main ("front") door and have a larger cooking area. Please use only canister stoves in this situation and vent where ever possible when cooking
Two doors means two vestibules. The "back door" has a smaller vestibule good for boots, etc. but, like the "front" door, it can be slid inwards on a webbing tape. In fact you decide which door will be front or back by sliding the floor of either vestibule back or outward depending on your needs. I use a "front" door (larger) vestibule  to store my pack out of the weather and nearby for items I may want during the night. Personally I see no need for the "back door" in a solo tent but I'll take it because I can leave the fly doors unzipped on both sides for max ventilation.
The end vents have two closure flaps on each end, one on the fly and one on the inner tent. For the ripstop inner tent this is nice in winter to keep out spindrift snow. They are closed only with a three-inch strip of Velcro and I intend to sew a Velcro closure for the entirety of the free edges of the inner vent flap to keep out all snow, not just most of it. This also applies to fine, wind blown dust as I have experienced in Utah's Grand Escalante area several times.
Having used the original single wall Moment for over four years in wind and snow I appreciate the inherent stability of the design and the nice headroom of the center arch, where it's most needed when sitting up. The double wall successor Moment is my dream come true. Thanks, Henry.
The Moment DW comes with guy line tie outs on each side of the main pole sleeve and a the X-ing pole strap locations at each end of the fly roof. Tarptent's Moment DW photos show how to use hiking poles at each end for guy line locators.
BUT... you must buy the guy lines, end clips and Line Loc sliding tensioners and pre-make the four guy lines so you will have them ready when a storm suddenly blows up at O Dark Thirty and you have to run around in your undies trying to attach and stake out the guys. The end guys are the longest.
Of interest you may erect just the inner tent (using he optional X-ing pole) or just the fly. Taking just the fly and main pole and a light plastic or Tyvek ground cloth is nice in bugless areas. These options make the Moment DW a very versatile tent. 
MODIFICATION NOTES:
1. INTERNAL CROSSING POLE > I've shortened my optional X-ing pole by 5 3/4" and run it inside the fly and back to the original Hypalon pockets on the stake lines. The X-ing pole is secured inside with two double-sided Velcro cable wraps that have been sewn to the two circular exterior Hypalon reinforcements for the now-unused exterior X-ing pole straps.  These Velcro wraps keep heavy wind or snow loads from moving the X-ing pole off its center location. (Seam seal all sewing you have done.)
The re-located X-ing pole does not interfere with the inner tent setup and adds considerably to the tent's ability to withstand wind and snow loads. But in a heavy snowfall you still must get out and shovel snow away from the tent sides to keep it from pushing in and squeezing you - literally. ;o)
2. FLY HEM STAKE LOOPS > I used 3/8" wide grosgrain nylon webbing to make 4 tent loops equidistant around the fly hem for severe weather. Use button and carpet thread. (Tarptent now provides these loops as standard on most of their tents including the Moment DW.) HEAVY DUTY MAIN POLE > For a truly "belt-and-suspenders" winter mod you can order a heavy duty MAIN pole from vendors like Tentpole Technologies. Tell them the arch height and bottom width so they can figure the curve and know how much to pre-curve the center sections. Heavy duty poles (thicker walls and larger diameters) mean they cannot flex enough to make the proper arch so they must be slightly pre-curved by the vendor. If a guyed out heavy duty main pole deforms in the Moment DW you are surely in a hurricane!
NOTE: I have tested my Moment DW in recorded 40 mph steady winds with 60 mph gusts (the highest gust that day was a recorded 77 mph at the Las Vegas airport) with side and end guy lines but no X-ing pole. The tent was secure with no main pole deformation and had virtually no flapping of the fly because I had the fly hem stake loops staked down. It was this that contributed most to the tent's stability. I had one end pitched into the wind but variable gusts also hit the tent at the door with no problems. Guying out the main pole is extremely important for security in heavy winds.
There are several very good, light solo double wall tents out there, but few are as versatile and have as many important features as the Moment DW. 
Where to Buy
sponsored links
Help support this site by making your next gear purchase through one of the links above. Click a link, buy what you need, and the seller will contribute a portion of the purchase price to support Trailspace's independent gear reviews.
Tarptent Moment DW
MSRP:
$285.00

The Tarptent Moment DW is not available from the stores we monitor.
Recently on Trailspace