Tarptent
Rainbow
Specs
Weight - complete
34 ounces (965 grams)

Sleeps
1-2

Stakes (included)
6

Apex Height
43 inches (110 cm)

Floor Width
38-46 inches (96-117 cm)

Floor Length
88-96 inches (223-244 cm)

Reviews
This is a lightweight tent that is easy to set up…
Rating:

Summary
This is a lightweight tent that is easy to set up and feels very roomy. It is quick and easy to set up and take down.
I've been camping for the last few years using a bivy sack. I've used one from thunderstorms to snow, and hot/humid to just above zero. After a rough night in July, I decided to get a tent.  
Most of my camping is done out of backpacking, so I wanted a tent that was light and didn't take up much space. The Tarptent Rainbow seemed to fit the bill for weight and packability and offer a lot more room than my bivy sack. 
The Rainbow is a very good first lightweight tent experience. Going from a bivy to this tent is like moving into a palace. There is plenty of room for me and all of my gear, even with the floor pulled all of the way up.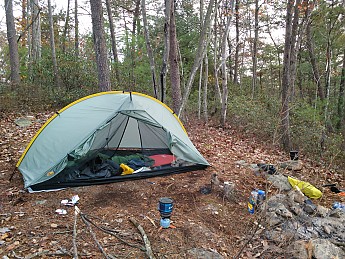 My main reason for switching to a tent was getting wet in the rain, from condensation. I used this tent for a night in steady to heavy rain and stayed dry the whole time. There was a light layer of condensation, but it wiped off easily and wasn't dripping on me. I would rate it as the most comfortable night I've spent camping in the rain.
I purchased the tent with the footprint and the seam sealing kit. Seam sealing was not a big deal and the footprint performed well on some thorny ground. I have read reviews that say the floor is slick, I will agree. I put a few light lines of seam sealer on the inside floor, but should have done several more. When set up on uneven ground I slid to to low side. This should be easily fixed with some more lines and circles on the floor.
I would recommend this tent to anyone who is thinking about getting one. The roomy interior and ease of setup make using it a real pleasure. I will update this review after remarking the floor and using the tent on a few more camping trips.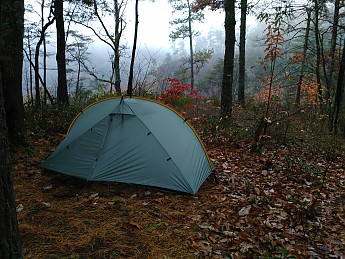 Hard to beat this tarptent. It is super light (2 lbs)…
Rating:


Design: three-season single-wall tent
Sleeps: 1
Ease of Setup: easy to setup, but a tight pitch requires some practice
Weight: 2 pounds
Price Paid: $220

Hard to beat this tarptent. It is super light (2 lbs) and super roomy for 1 (could hold 2 in a pinch) and it pitches very tight and storm-worthy.
I have been in some big thunderstorms with high winds in the Rainbow and it held up to Mother Nature's abuse and kept me dry and comfortable - VERY little wind-driven spray or splattering. I have even taken it winter camping and it did great, with better condensation control than you would expect from a single-wall tent.
You can't go wrong with the Rainbow if you're going light but want something that feels like a real tent. I have used it in a variety of conditions and it has kept me comfortable through all of them - and it requires less focus on wind position when pitching it than the other tarptents in Henry's line.
This is up there amongst the best $200 I have spent on gear and it is great working directly with Henry. Nice to have the designer/owner standing behind his product the way he does.
Tarptent Rainbow
MSRP:
$225.00

The Tarptent Rainbow is not available from the stores we monitor.
If you're looking for a new three-season tent, check out the best reviewed current models.