Specs
81 cm
Weight
44 ounces (1250 g)

Weight crossing poles
12 ounces (340 g)

Sleeps
1+

Interior height
39 inches (99 cm)

Floor area
19 sq ft (1.77 sq m)

Vestibule area
6.25 sq ft (0.58 sq m) each side

Floor width
32 inches
5 inches (13 cm) bathtub floor walls
Floor length
86 inches (218 cm)

Reviews
Extremely roomy and strong 1-person tent. I've had…
Rating:


Source: bought it new
Price Paid: About A$400

Summary
Extremely roomy and strong 1-person tent.
Pros
Interior space
4-season capable
Lightweight for the size
Cons
Takes slightly longer to pitch than smaller/simpler tents
Needs seam sealing before use
Some condensation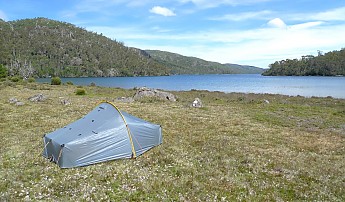 I've had the Scarp 1 for about five years now and have used it on bushwalks mostly in southeastern Australia and New Zealand.
It is enormous inside. I feel like I'm sleeping in a ballroom at times, with plenty of space on each side of the sleeping mat for all your gear. Headroom is good as well. I wasn't sure if two vestibules were needed for a 1-man tent initially, but found that you can have your pack and gear in one and use the other for entry and egress. You can also choose which tent door to open to stop the wind blowing stuff in, or if you don't want people looking into your tent.
Design-wise, it seemed a little odd at first with vertical tent ends which I wasn't sure were aerodynamic, but I've never had any issues in strong winds. The vertical ends also help create the roomy interior. It comes with two long crossing poles for heavy snow conditions, but I've not used it in the snow yet so these have stayed at home.
I've found the supplied larger diameter hollow (?) stakes to be difficult to embed in hard ground, so I've used the smaller diameter solid stakes from my previous Salewa tent. It has more stakes than some of the newer, more compact designs (like the Tarptent Moment DW) so will take a little longer to set up.
The overhead hoop pole slides into a sleeve which I found was a little tight especially when it has been raining and the pole tends to get stuck and needs a bit of wriggling around to slide through. Or maybe it needs to be made from a mesh material.
It pitches tautly but tends to sag a little by the next the morning. I've made my own elastic rope loops to connect to the stakes so the fly is under tension for longer. Wouldn't it be great if you could adjust the fly tension from the inside of the tent? I've also had to shorten the connections between the fly and the interior over the years to keep the interior taut.
I've had some problems with condensation on the inside of the fly and the small ventilation hatches don't seem to help much as they tend to shut themselves after a while. But I've found it easier to just shake the tent when packing to get rid of most of the water. I think it's a problem that affects most tents.
My tent hasn't seen particularly heavy usage, perhaps 10 days a year, but I haven't had any quality issues. One downside is the need to seal the seams yourself after buying it, not particularly difficult but hopefully it can be factory-sealed in the future. I've never had any leaks in the fly or floor, not a drop, so the material quality is excellent.
Customer support is also excellent with Henry replying to queries himself.
Fantastic tent, lightweight (1.3kg), great design…
Rating:


Source: bought it new
Price Paid: $600 NZD

Summary
Fantastic tent, lightweight (1.3kg), great design for all round strength, and the great venting features mean it deals well with condensation and help to cool the tent in warmer weather.
Pros
Strength
Lightweight
Space!
Dual vestibules
Speed of 'de-camping'
Cons
Pitching takes practice
Very minor faults from manufacture
Basic tent not freestanding (two additional poles required)
Internal poles mean you can't stuff sack it, and it always has to go as checked baggage.
The Scarp 1 has a few different configurations. This review refers to the solid interior tent without the extra crossing poles.
I am a big, big fan of this tent. The setup can be a little bit tricky at first, but the line tighteners are fantastic (I added key rings to the end of my lines to get a easier purchase on them), and once I had pitched it a few times I soon got the hang of it.
And the strength you get from the pitch is fantastic, I've slept confidently inside while the winds outside have been raging and gusting in all directions. The inner and the outer skin also stay attached and pitch as one, so even when it's raining as you pitch you'll still be climbing in to a dry home (always close all the zips vents before you take it down, not only for keeping the rain out, but also because it makes it faster to get a taut pitch)
The dual vestibules mean you've got gear storage and cooking/access space, which you can change around if the wind requires it. But what doesn't get mentioned often is they also provide an extra exit or view point, which I am a big fan of if there's dangerous wildlife about.
I also really like the space this tent gives you. I am 6 ft, so not the tallest, but still need a good amount of space and the verticle walls, and the high flat sections at the end of this tent make it a really comfortable space to be in, and to move around in.
Another big advantage of the dual vestibules fits in with another big feature of this tent — venting. There are two end vents that can be opened and secured, two top vents, the sides of the outer skin can be raised several inches from the ground, and the doors secure with clips at the bottom, meaning they can be unzipped to supply venting, but still kept closed.
And for the really warm nights you can just open and secure the outer doors and let the through-draft cool the tent down — the mesh sections on the solid interior are large enough to provide lots of venting, but high enough up that you still get plenty of privacy when you have neighbours.
The other features of the tent are fairly basic, just a couple of gear pockets, but I really like the fact that this tent focusses on what's most important, and save weight by skipping the things you really don't need.
Once I did have it up and settled I did notice a couple of faults from the hand manufacture, I'm told Henry Shires and Tarptent are fantastic for fixing problems, but all I have to deal with is a bit of a messy hem (the fault is with the trimming — the stitching all through the tent is solid), and unfortunately the tag that holds back one of the inner doors was not stitched in - a very quick fix.
The other thing to mention is that this tent is not free-standing unless you also pack the extra support poles, which are designed to add extra strength for snow-loading, as well as making it free-standing. But the only time that has ever been an issue has been when I was pitching on the wooden platforms you sometimes find at campsites — and it was just a matter of using some extra guy lines to extend those on the tent down to the ground.
But my favourite thing about this tent is how fast it comes down, I have not seen anyone else get there tent down and bagged as fast as mine — even before I've had my morning coffee (AeroPress!). And for me that is one of the biggest advantages when you are getting an early start for a big day, or when the weather is cold and nasty and you just want to get moving to get warm.
Very user friendly, roomy, easy and quick to erect…
Rating:


Source: bought it new
Price Paid: £263

Summary
Very user friendly, roomy, easy and quick to erect and a nice place to be. Capable of withstanding high winds, it quickly earned my confidence. In England and Wales we have to camp discretely so dark green would be preferable, but Scarp 1 is an improvement on the Akto, no mean achievement.
Pros
Nice light and spacious inner
Plenty of storage and cooking space in porches
Easy to pitch, even in a gale. Sensible usable pegs although the top pulled off one of mine. Pole a tight fit in sleeve, can be a bit sticky when threading and unthreading especially when the tent is wet. Never found condensation to be a problem however I tend to sleep with inner doors open if possible. I seam sealed my tent before first using it and rain never penetrates.
It is a well designed and made tent which has earned my trust. Replacing an Akto is a hard act but it seems to be as tough whilst also being a more pleasant tent having increased head room when sitting and more head and foot room when lying down. My feet would often rub against the Akto's damp inner, wetting my sleeping bag, a problem the Scarp avoids. Compared with the Akto the Scarp seems flimsy in some areas however in use it is at least as capable whilst being a slightly nicer place to be.
In a gale the Scarp is stable when foot to wind but if the wind veers onto the tent side then the pole will distort inwards. This can be reduced by use of extra guy lines tied to the loops on the pole sleeve. 
Wild camping is neither legal nor illegal in England and Wales so we have to be careful not to be discovered if permission to camp has not been given. A dark green fly would be welcomed.
I love having two porches and often lie in the tent with both doors open, giving views in both directions and superb ventilation. The door tieback for the outer tent works well but I carry a pair of clothes pegs which let the inner doors open wider than the original set up. I have lengthened the guy lines to give more flexibility in placing the pegs, a necessity in the UK.
In just over a year I have had about 8 weeks use, mostly in inclement weather. The tent shows no sign of wear although I have had to straighten the pole twice.
I love it and highly recommend it.
Tarptent Scarp 1
MSRP:
$295.00

The Tarptent Scarp 1 is not available from the stores we monitor.
If you're looking for a new four-season tent, check out the best reviewed current models.
Recently on Trailspace