The North Face
VE 24
Reviews
The VE24 has proven itself to be able to handle very…
Rating:


Source: bought it used
Price Paid: Not saying, but we were both happy.

Summary
The VE24 has proven itself to be able to handle very adverse weather conditions with durability to last year after year. Whether holding out in an Alaskan blizzard or Tropical Storm you can count on the VE24 to hold its own against the elements.
Pros
Easy setup
Handles adverse conditions with ease
Snow tunnels
Roomy
Cons
Lack of a vestibule on the 1st generation, though later one could be purchased separately.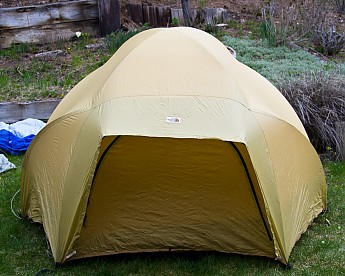 The North Face VE24 with Gen 1 rainfly.

The North Face VE24 Gen 2 rainfly which included a vestibule and additional pole.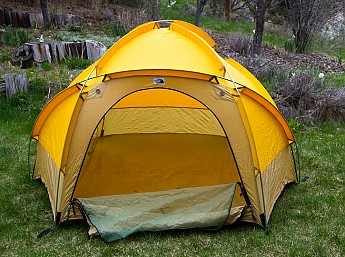 The VE24 large access door without rainfly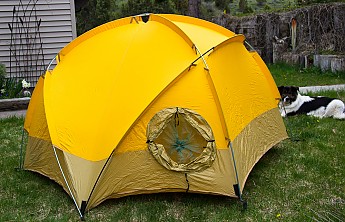 One of two snow tunnels on the VE24.
I purchased my VE24 in 2010-11 from an avid trekking couple that purchased it new in '78-'79.
I listened to their stories of the many years of adventures in Alaska, the many blizzards, snow and rain storms they weathered through in this tent. Including weathering out on the outskirts of Hurricane Andrew and the aftermath.
When I received this great "hand me down" it came with warm wishes to start out on my own adventures. Though faded, the material was in great condition. The Rain fly still waterproof.
Only the floor and side walls showed any sign of delamination and this was only due to a garage flood soaking the packed tent that had gone un-noticed. I've since completely stripped the coating off both the tent and rainfly and re-weatherproofed it all. Now, my VE24 weighs about 6 pounds as opposed to the original 9 lbs.
The North Face customer service has been great in answering all my questions regarding this tent. As well as trying to find the add-on vestibule that came a few years later for this tent. They also put a very generous offer on the table, that when I was ready, I could trade up to the new VE25 for half price.
I haven't taken them up on the offer yet. I really like the two snow tunnels the VE24 has, which the VE25 doesn't have.
Besides, my VE24 is still in great condition and even though it lacks a vestibule, this is by far my favorite tent. I love the roomy interior, the snow tunnels are fun, though, I haven't had the "real" need to use them yet. It's easy to get in and out of the front door. It's sturdy and stout, especially once guyed and staked out.
There's something about being in a tent that's seen so many amazing adventures for so many years and held up so well that makes you want to go have a few of your own.
Happy trails.
- chase -
I purchased my VE24 tent in 1978 just before we travelled…
Rating:


Sleeps: 3
Ease of Setup: easy
Weight: 9lbs
Price Paid: $350?

I purchased my VE24 tent in 1978 just before we travelled across Canada on our bikes then onward to England, Europe and the Middle East. I lived in my VE24 on by the gulf of Aqaba for two months surviving sand storms.
I still have my VE24 today and continued to use it successfully under adverse conditions. The continuation of the VE series tents speaks to excellent quality and commitment by North Face to produce equipment truly tested. I will definitely purchase another.
It really stinks that North Face made such a good…
Rating:


Source: bought it new
Price Paid: I think in the $350 range

Summary
It really stinks that North Face made such a good tent. I've been looking for all kinds of reasons to replace it, but I really can't justify replacing a perfectly good tent.
Pros
Performance
Unsurpassed quality
You would wonder why on earth one would keep a tent for 30 years plus...well it's truly made to last! It has survived two marriages, one kid, and three dogs. It doesn't leak, it withstands high winds, all kinds of snow, and it outperforms everything that's out there.
Excellent for backpacking or car camping. After many years of use the fly had some delamination, I sent it back to North Face and they replaced the fly with a VE 25 fly, which I guess had just come out. So if I could justify a new tent I'd just suck it up and get the VE 25.
At my age I'll have to leave it in my will, because it most certainly will outlive me.
The North Face VE 24
Discontinued
The VE 24 has been discontinued.
reviewers paid:
$350.00
The North Face VE 24 is not available from the stores we monitor.
If you're looking for a new four-season tent, check out the best reviewed current models.