The North Face VE 25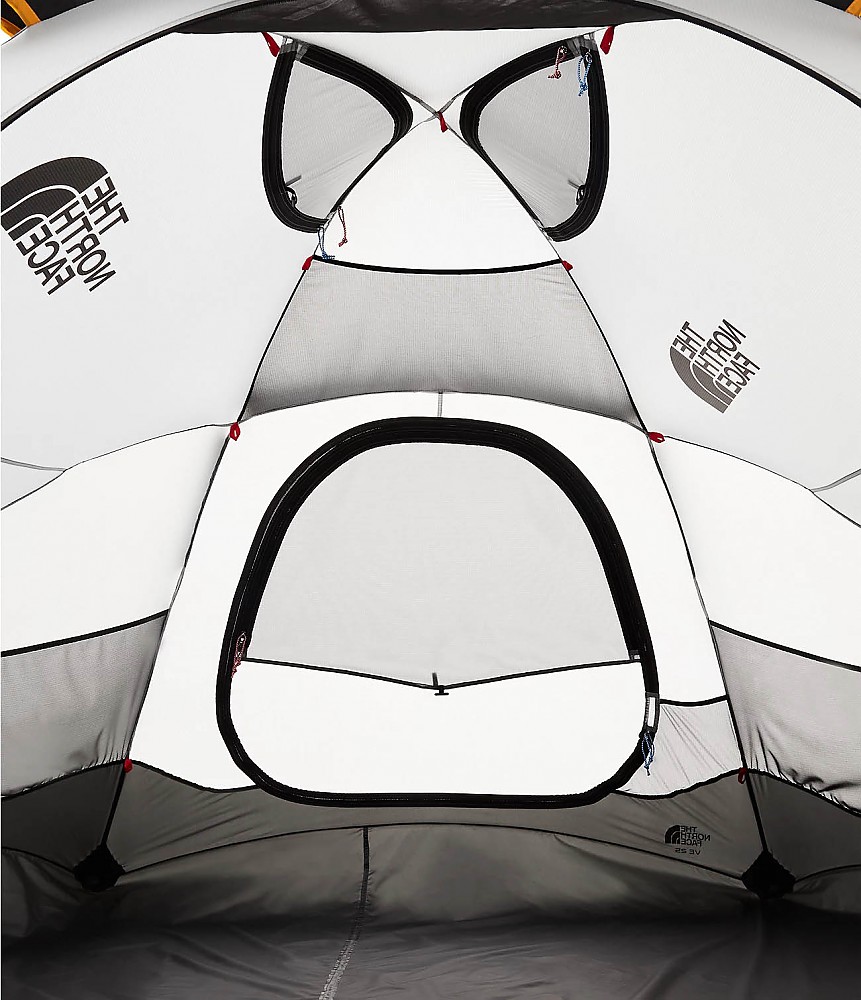 Represents a legacy of quality and customer satisfaction that I've maintained for over 35 years.
Pros
Almost zombie proof
Fantastic warranty (still)
Great customer service (still)
Cons
A bit on the heavy side for short hiking trips
Practice set up before taking it out into the wilderness
My first NF tent was the original Oval Intention which came out in 1976. I purchased mine a year later as a freshman in college. From that time the tent had been to six continents until I retired in sometime in 1988 when NF replaced it with the updated Pole Sleeve Oval. They never charged me a dime. I kept that second tent until 2010 when I replaced it after an episode involving one — possibly two — bears. NF replaced it with my VE-25 and charged me 50% of the retail price (~$600).
Setup can be tricky for the novice, but once you understand that the extended poles follow the seams (and only the seams) of the tent it takes about six minutes to set up completely. A little less if you have a partner.
Once it's set up the tent is taut as a drum. It's incredibly stable in high winds (I had mine set up in Great Basin, NV during 6 hours of 70-80 mph gale force winds.) The fly is a little more complicated than I think it needs to be and perhaps NF might try to simplify the design a wee bit, especially the system of guy lines for keeping it taut.
There's hella room for two people. Three can be... cozy but not impossible. Ventilation is well designed and one need consider using the vent ports in the roof even during colder weather in order to stave off the condensation that's bound to occur with a tent having this much surface area. As mentioned, the doors could be a tad larger for easier egress - especially during the night when you have to pee at 3 a.m.
Though there is plenty of storage space inside the tent I'd recommend purchasing a nylon ceiling basket for damp shirts and socks. Also, the optional footprint is an absolute must especially in rocky/pebbly environments.
I cannot recommend this tent enough provided that you buy it and use it for the right reasons. There are some limitations to it (mostly weight and packing volume) and there are lots of other models out there that work just as well but for the absolute bomb proof portable tent chateau you can't go wrong with this beauty.
Source: bought it new
Price Paid: ~$310

This tent is like the shark, crocodile and turtle all rolled into one. So perfectly evolved the TNF has been making it for 20 years or something.
I've had this for 14 years so I can't remember how much I paid. Been there done that in this brick @#%! house. 60-80 mph winds, heavy snow loads, pouring rain followed by heavy snow. It handles it, quietly so you can sleep. You would never know the wind was doing that until you get out to clear snow!. A little on the heavy side but three days into a full on tentbound white out and you will appreciate the extra room, warmth, and the bomber security. Room for two nutballs and all their gear. Three's a squeeze with gear but it keeps it warmer. For long wait outs two is all I would want. Once had 6 folks in mine for an ad hoch poker tournament! House advantage didn't help. I lost.
I thought about getting something lighter. I have a Firstlight for ledges but after looking at all the other 4 seasons I keep coming back to the 25. The ones that were lighter were smaller and/or single walls and I could tell they won't stand up to the stomping that this tent laughs at. TNF service is unmatched, I needed new sponges that go on the side to keep the fly from flapping so I called TNF and they sent me new ones free. I mean free, didn't even hit me up for shipping!
After many years of service mine is getting tired. I just reproofed the fly with solarproof from nikwax, another awesome product, to buy me some time. No fear though, TNF will switch poles for free under warranty, a new fly is 100 bucks and a new body is 180. Can't go wrong with this one!
I know guys going on 15 or more years in these. You go up high on Everest, Denali, Rainier, White Mountains and you will see 25's. You can't beat that. Folks that complain about it haven't been there, don't understand what this tent is about and haven't taken advantage of TNF warranty on this bad boy. You have to know what its designed for and this is designed to keep you alive up high and come home with you for the next adventure.
This ones a no brainer.
Design: 4 season free standing
Sleeps: 3
Ease of Setup: Moderate but easier with practice. Can be done alone
Weight: 10 lbs
Price Paid: $400 somethin

Can resist the worst the world can give...
Pros
Warm in the winter
Roomy pad for one person and gear
Solid build and well constructed
Cons
Heavy, long poles
Sort of hard for me to get out of, but I have bad knees.
The North Face stopped being customer friendly with what use to be a lifetime warranty.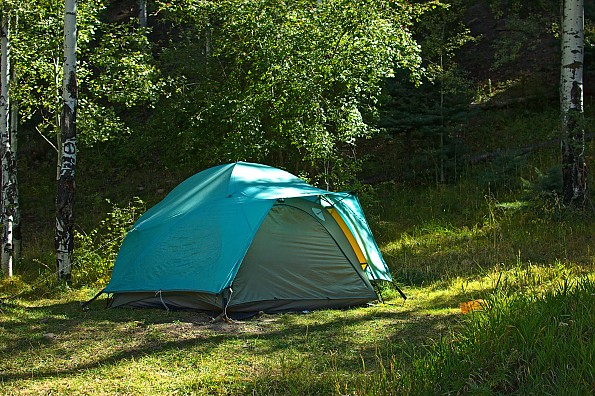 I have two of the first VE25 that came after the VE24 was phased out.
The other I just got is the full expedition model, black floor, full yellow tent and fly.
I have noticed that the two, as far as material, are not the same.
Although the floor on #2 is thicker the tent material seems thin and lightweight.
The older model had coating on the outer front door and rear door section. The newer model does not. Also the older fly the coating was on the outside and not the underside like newer tents.
North Face seems not to be so open handed when it comes to replacement parts for their tents with lifetime warranty.
The days of people saying my fly was completely torn to shreds and no questions asked, North Face sent a new one the next day. That just doesn't happen anymore.
You need poles for the bad boy. They are $280 for the full set, $250 for the rainfly.
As far as the tent, it's a small house when you are the only one living in it.
Condensation when I use a UCO candle lantern is about zero in cold weather.
Background
Weathered out some nasty hailstorms in northern New Mexico and Colorado.
Source: bought it used
Price Paid: $10 and $80

I got my special-edition PRO-Peace North Face VE-25 in 1986. I lived in it every day for 10 months as I walked across the United States. It has served me faithfully since then and only now is the UV degradation reducing it to a fair-weather friend. 
In Lincoln, NE, properly staked out, the tent, a friend, and I endured  a thunderstorm that had clocked wind gusts of 114 mph. Mostly, we just weathered lots and lots of rain, some icy cold mornings, and baking sunshine. The tent does well in all of those conditions. Set up, it will dry out in just a 15 minute break in the weather.
Especially if you actually have three people sleeping in it, on chilly and cold nights, condensation from your breath will drip back on you from the inside of the rain fly. This is not a big deal; if it's REALLY cold, it will freeze up there!
The vestibule was an uncommon special feature when we got our VE-25s, but now they are really common, because of course, they are very useful. It's great to have a dry place to put your muddy shoes.
Over time, my additions have included a small gear loft in the top (this also helps with the breath-condensation-drip issue), a piece of sheet cut the right size to cover the top of the tent to make shade on a sunny day without using the rain fly (doing so is a nice way to create a sweat lodge if you need one) and new stakes. I also wish it had sewn-in stuff pockets under the windows, but that's a minor gripe.
I had the door zipper repaired once at REI for $5. Considering the duty cycles, it seems ridiculous to expect the zippers to last forever.
On the whole, I might very well buy a modern VE-25 for my next tent. 
Price Paid: $500?

I have a good friend who has a VE 25 TNF tent. I have a Eureka K2 XT. After six years of going out with him and our buddies (five and six of us at a time, sharing tent space between us), I can say that for the money the TNF VE 25 is no better tent than my Eureka K2 XT. Mine never gives any problems, but his VE 25 sure does. I have also personally experienced the problems he had with dealing with TNF customer service. Most unpleasant.
Before I purchased my Eureka K2 XT, I invested numerous hours researching Eureka, The North Face, Marmot, Helsport, and various other tent manufacturers - looking into all the info they had to offer in respect to exactly what, where, and by whom their tents and tent materials were made by. I came to discover that all of the 4-season tents offered in the American market were made entirely in Asia from Asian parts and materials. The only exception to this was Helsport, which was made and assembled entirely in Europe (and may still be).
In fact, I also came to find out that another of the big tent names used precisely the same factories in China and elsewhere across Asia, and exactly the same materials (made by the same manufacturers) to make its top end 4-season tents as did/does Eureka for theirs. What other tents you might ask? Turn your face to the north and ask that question again.
Regardless, this Eureka K2 XT tent really is a wonderful piece of equipment - and I would choose it over a VE 25 any day. If you can only have one tent for two people, and expect the tent to stand up to pretty much any climate, any weather, and to last for many years even under heavy use - get this tent. However, please do be aware that it is not the lightest of shelters what that can be had, which is where dividing it up between two people's backpacks is the way to go. This is the price you pay for maximum duty materials and a spacious floor plan (the tent will sleep three adults without discomfort).
It would be nice, however, if Eureka (and others) would be so nice as to offer either choices of tent rain fly colors (the K2 XT is sun yellow, as are most tents of its 4 season nature) making available perhaps a snow field white fly and a camouflauge fly; or else if kits could be offered to alter or elsewise jazz-up one's rain fly on the tent.
But anyway, if you do make a smart choice and purchase a K2 XT tent, go ahead and get a net gear loft for the tent, a good foot print, and purchase some strong tent pegs, with an eye for good deals on titanium pegs on eBay.
You can spend more for a VE 25 if you are intent on throwing away $$$ on brand name hype. Be smart, buy a K2 XT from Eureka and invest the money you save into a nice titanium cookset or something. Don't waste it on TNF VE 25.
Sleeps: 3

The ultimate, bomb proof, high mountain tent.
Pros
Stays up in anything
Roomy for 2, OK for 3
Good storage pockets inside
Good size porch
Quiet even in high winds
Rarely need all the pegging points
Cons
A little heavy (but can be split easily between 2)
Not enough pegs supplied—with the supplied set you run out of pegs before points (but see pros too)
Low door, minor niggle as this helps in high winds
I've now owned my VE25 for about 20 years, bought it to replace an Ultimate Quasar, and not regretted it. This tent has been everywhere, from alpine passes (over 3500m) to tundra, Scottish summers and winters too. It's never let me down, still looks great, and is 100% proof from everything the world throws at it.
It wasn't cheap, but now it's 20, the cost/year is nothing. To have a tent that yon know will stand up to anything is amazing—I have the v1, they're now on v3—I can't actually see how you can make it better other than tiny material improvements as the tech improves.
Stayed up while everything around it was flattened more than once, kept out Scottish midges (no mean feat), withstood 15cm (6") rain in 6 hours, kept 2 of us comfortable (can't say warm) at -30C.
20 years of use, and not light use, and it still works as well as on day 1.
With practice I can now get it pitched in under 5 mins solo or around 3 with 2 that both know the tent, to begin with was twice that.
Internal storage is also well thought out, lots of pockets and space for a hanging net.
Get the footprint though, the groundsheet is fairly thin and could be damaged on stony ground.
Background
20 years, probably 500 nights, sea level to 3500m, year round, all weathers.
4th mountain tent I've owned (Vango force 10 > Peapod > Quasar > VE25)
Source: bought it new
Price Paid: 600 sterling

Easy to set up in the dark and fun to use at night due to the glow in the dark parts. Spacious, practical, has plenty of pockets, vents, skylight and double zippers.
Pros
Easy to use
Astonishing quality
Many new features
Double zippers
Glow-in-the-dark lines
Mesh and vents in the ceiling
2 vestibules
Cons
Footprint not color coordinated with the shape of the tent
Door opening could have been bigger
This is my second The North Face VE 4-season tent. My prior one is over 30 years old and is still being used. With the VE 25 you are getting a great quality tent with enough features to satisfy anyone. Vents in the ceiling, window in the front vestibule, glow-in-the-dark lines and zipper pulls are just a few novelties you get with this tent.
The tent is spacious, easy to set up and take down. Very stable under extreme weather conditions. Great in for hot summer and for very cold snowy winter. Colors are pleasant too.
The shape of the floor is a bit awkward to space mats and bags. Even hustled packing is not a problem, all parts and even additionally purchased footprint, all fit in the original bag, with room to spare. Compression straps make it so easy to stow away.
This tent is so versatile that despite the floor shape I bought the VE 25 without hesitation. Great investment for the next 30 plus years!
Source: bought it new
Price Paid: $530

This has been a solid, roomy, bombproof tent. Used exclusively for big trips as it is a heavy tent -- ideal for paddling adventures or being choppered in. Warranty experience has been positive and timely. The VE25 can handle a storm in any temperature.
Pros
Tried and tested pedigree from many accomplished outdoor folks.
Love the ceiling vents (smart).
Great customer service.
Terrific vestibule (our dog often travels with us so lots of room for him).
Cons
A few more stakes would have been handy. (hardly criticism)
Might consider making the ceiling vents larger.
My third North Face VE (VE24/VE25 and a new VE25) has been a solid, roomy, bombproof tent. I recently had it on the Keele River NWT for a 12-day paddle and it performed wonderfully. I've used it exclusively for big trips; it's ideal for paddling adventures. It is a heavy tent so splitting it up is a must for me. (I always travel with my wife or a buddy.)
Warranty experience has been positive and timely. Just had a new front zipper and screen repaired (on a 20-year-old VE25) in Calgary with an outstanding North Face contractor. Went seamlessly. I own another two-man for weekend hiking purposes. This VE25 can handle a storm in any temperature. 
Background
Extensive experience. Columbia Icefields to the Keele River to 45 days on the Churchill. Use it as a base camp for many of the Canadian Rockies mountain challenges. 50+ years :-)
Source: bought it new
Price Paid: 900$ +/-

My TNF VE-25 dates from 1994 and has been set up nearly 550 to 600 times.
Cons
Condense on the outer flysheet
I noticed that some guys do not appreciate this quality. OK, mine has not been made in the Far East, but in Scotland.
Tents have a really hard time when standing on rough ground and suffer if they are build up and are stripped down. Every setup we did is in Iceland and the high north of Norway, Sweden, and Finland. We erected the tent even on barren rocks with no possibility for using the pegs.
I changed the sealing of the groundsheet myself, zippers are still working 100%, the sealing on the outer flysheet is the original.
Two points of discussion: the groundsheet coating is gone and there is always condensation on the inside of the outer flysheet, even after a dry night. And yes, after a terrible storm at the Faroe Islands two years ago I have two poles damaged, however they are still useable. But also Hilleberg has had troubles with the poles, these broke and proved to be a fault during the hardening of the aluminium bij de provider.
I have three tents : a TNF VE-25, a TNF Westwind, and the 4 season tunnel Akka from Fjällräven. The building quality of TNF is far better than the one of the Akka, even the blind can notice this.
Source: bought it new
Price Paid: 32.000 BEF (800 €)

North Face sucks for two reasons:
1) The company sucks
2) Their gear sucks
There is a lot of cause and effect going on between those two reasons. Let me explain.
North Face is the Microsoft of the outdoor world. They are the big corporation that tries to get their hands into everything. They print their logo huge on everything they make, so that anything you buy from them, you're assured to be a walking advertisement. Their slogan should be THE NORTH FACE: Never Stop Advertising. It's near impossible to find out how to get through to an actual person in their customer service department. If you do, they are generally no help.
2) The gear is crap. Let me give you an example. My friend Paul and I get flown out by a super cub and dropped off in the middle of nowhere for the spring break of '99. I know, not your usual idea of spring break, but we were in Alaska, so what the hell else were we supposed to do. Paul owned the US $500 North Face VE-25 Expedition Tent. It's damn cold in Alaska in February, although that week it wasn't too bad, at a balmy -20°F. We were wearing these expedition mittens from Outdoor Research (OR). Those are actually pretty good, like everything I've had from OR. However, they give you the dexterity of a lobster.
First, we find out the tent has no damn zipper pulls!! So, we have to take our gloves off, and freeze our fingers on the metal to work the zipper. Where the hell did they test this tent? Their backyard in Kentucky!? Then, we find out the bungee that connects the poles together doesn't work in the cold temperatures! This is their EXPEDITION TENT! Designed for mountaineering. It was a piece of crap! I don't want to even get into the actual experience of sleeping in that deathtrap. There was a 1-inch layer of frost lining the tent on the inside every morning. Yeah, good choice of breathable fabrics. I kick myself for not just digging a snow cave on day one.
So, we get back and call the company (which takes about three hours to get a person), and they say, "Uh...send us the poles and we'll fix them". So we do that, and when we get them back we take them to OUR backyard in Fairbanks, when it was -40° -- and they still don't work! We call back and tell them this, but they refuse to give Paul a refund! Fortunately, he bought it at REI, which has the best return policy around -- they'll take anything back for any reason forever.
So, lessons learned? Don't buy anything from The North Face. The North Face's biggest competitor is not Patagonia, it is Nike, as Nike is making a large amount of outerwear outdoor crap. As for outwear, Arc'Teryx is the cream of the crop.
Design: 4 Pole Geodesic Dome
Sleeps: 3
Ease of Setup: Difficult
Weight: 10 lbs. 13 oz
Price Paid: $500 USD

Should be a great tent. Fabulous design with pockets etc in all the right places. But the fly is supplied unsealed and it leaks no matter how hard you try to seal it. TNF does not reply to email queries about this, or indeed about replacement poles. Very disappointed.
Pros
Theoretically a great design
Roomy
Easy to erect
Cons
It leaks like a sieve
It leaks like a sieve
It leaks like a sieve
Need I say more?
Lovely looking tent, easy to pitch, stands up to high winds, but needs a presealed fly, not just a tube of gunk to do yourself. We have sealed this tent over and over, and tried proofing it with various products. Whenever it rains, we get wet.
Not good enough for £500+. Buy a Vango.
Source: bought it new
Price Paid: Roughly £500

I have been a backpacker/camper for over 30 years. I have camped in most conditions/seasons. I hike/camp about 240 days a year. I also do bicycle touring crosscountry USA. I have used many tents, backpacks, sleeping bags, stoves, boots, shoes, sandals, lights, etc.
I used one tent for 28 years, the North Face VE-24 from 1978 to 2003 and took good care of it. While on a trip into the Gros Ventre Wilderness here in northwest Wyoming a young Grizzly bear literally destroyed the tent while I was on a dayhike away. I came back to it collapsed, torn into thru the door and a new door out the back. I could barely use the tent again.
I replaced it with the VE-25 tent. Basically the same tent, has a back door, bigger vestibule. Stronger 10mm floor. Cost was only 200 dollars more than I paid for my VE-24 in 1978.
The rainfly can be used by itself and I use the footprint floor saver when I do. Great for light weight summer hiking/biking.
It has a lifetime warranty. North Face replaced the poles/rainfly after my VE-24 tent collapsed under 4 feet of snow in the Sierras back in the early 1980's. They replaced the floor after I accidentally burnt a hole in it in 1979 for a minimal fee.
Design: Four season free standing dome
Sleeps: 3
Ease of Setup: Takes about 5 minutes to set up
Weight: Weighs about 12 pounds, packs to 12x9 inches.
Source: bought it new
Price Paid: $499

My VE is over ten years old. Although it's been used in the Rockies, it has most often been used simply as a camping tent.
I love the functionalist aspects of the thing: it goes up fast, is easy to work with and is especially drum-tight and unflappable inside. I find the interior to be both comfortable and aesthetically pleasing, a beautiful space to occupy.
The tent has impressively withstood the most violent western Canadian thunderstorms with reassuring invulnerability. Frequently, I reflect on the fact that this tent is an EVOLVED design which has endured for many years and that that sort of continuity is not necessarily common in outdoor equipment. It really is the archetypal source for an entire generation.
Moreover, the VE is so damn fine looking that it has become the iconic tent used in virtually all stereotypical advertising imagery promoting any aspect of the great outdoors.
I initially had problems with leakage through the fly: TNF replaced it with a radically enhanced one. A lot of the negative reviews seem based in dissing the company rather than this, one of its most integrated designs.
Design: four season expeditionary
Sleeps: 3
Ease of Setup: very straightforward after several practises.
Weight: 8 -9 lb.
Price Paid: $ 350.))

Have bought two so far, just about to buy number three. On the plus side will stand up to a lot of abuse, however would suggest the optional footprint is essential to save the groundsheet.
Main design problems is on both tents, both front and rear zips have come off the end and been repaired free of charge by TNF on two occasions; finally we sewed in a stopper to stop this happening again. Tents do not arrive with the seams sealed, so a messy job before you use them for the first time. The final design fault is the difficulty of getting the ends of the poles into the brass grommets. We use it as an initiation ceremony to do it single handed, in the dark, in a high wind with frozen hands -- impossible.
My other critism is the flysheet only comes in brilliant yellow, great in the snow on the top of Everest, however difficult to hide in the green of an alpine national park. My one comment for the Europeans is this is a North American tent, designed for North American weather, in other words, snow. Wild Country/Terra Nova range has a very similar tent, with a green fly, designed for European weather, in other words, rain. If the majority of camping you do is in the wilds of Peak District, rather than the wilds of Alaska then go for the Wild Country version. Having said which, you can't go wrong with the VE25, right time, right place, they are lifesavers.
Design: 4 season, Expedition, Geodesic dome
Sleeps: Designed for 3, 4 with summer gear OK, personal record 5 very close friends (top to tail)ecord
Ease of Setup: Takes practise - getting the poles onto the brass grommets difficult, and very difficult in high winds or with frozen or gloved hands
Weight: Very good for the size
Price Paid: If you need to ask, you can't afford it

This is a nice tent but is now way over priced for where it is made.
I used my brother's old VE 25 a few times. I don't like the yellow color. Great for snow, but forest camping you have to worry about dark tree sap and dirt staining it. Also, a little short on room inside.
North Face products are now all made in China and are not as good! If you have one of the older U.S. made VE 25 tents hang on to it! It is worth something.
Basically you are buying the name now. I think NF was sold a few years back around 2000. The North Face is now a wholly owned subsidiary of the VF Corporation, which makes everything in China.
North Face could easily lower the price, since they are making a killing on outsourcing everything. But they want to stick it to you for that extra buck the CEO needs for a new house in the Hamptons! The good name is now being whipped to death for the sake of easy profits$$$
I don't want to spend big bucks for a tent that could be sprayed with lead or some hazardous sealant material. No quality controls in China! Remember the lead on the toys and the poison dog food that killed thousands of dogs! I don't care if NF still has a lifetime warranty. I can't collect if I'm dead!
Instead I would buy something else made in China with good reviews!
The Cabela's Alaskan Guide tent is the next tent I will most likely buy. Same style as this one and built as well for half the price! Also, tent is not yellow. It comes with either fiberglass or aluminum poles and 4-6-8 man models.
Read the user reviews on this tent. It is great! Made for years the same way.
Design: dome
Sleeps: 2
Ease of Setup: hard for first timers.
Price Paid: full

I am about to purchase the second one - I lost the last one in a divorce and she was right to demand it! This tent saved me on several occasions over 10,000 feet in rain, snow and wind that other tents would not. I have spent days waiting for weather to clear in this tent. Other tents I have owned just did not stand up. After hours they would begin leaking. This tent never leaked. I have experienced ice inside at cold temperatures but other tents have done the same.
I trust my life to this tent. Before footprints I made my own and I recommend using one to preserve the floor.
I find it easy to set up but I practice with anyone I am taking with me on long trips.
Design: Freestanding dome
Sleeps: 3
Ease of Setup: Excellent with practice
Weight: 11 lbs
Price Paid: $500

OK folks, I just read the reviews. I am upset with NF because they are Sell-Outs, but let's face it...college kids have the money. NF can't make money on the mountaineers who buy a tent every 15 years.
I have sent all kinds of stuff back to them. They fix it and are great. I have spoken with them about design and tested products for them. I have busted their balls about mitten friendly tents and the ease of setting up in extreme conditions. These people live in Berkley...Remember? The few changes they have made in over 20 years are good. Color coding, reflective material, mitten friendly (kinda), and seams are good.
We all want the newest and coolest thing, but the VE-25 is damn near perfect. I have been on the tallest mountains in South and North America and thought my VE-25 was going to explode with 100+ winds. I sold it to a friend last year for $200 (18 years old), and this tent looked like it just came out of the factory.
I thought after 18 years, I would find a much more advanced tent. I keep looking, but have a feeling I will go with tent that has been at the base camp of Mt. Everest and on the side of Denali more than any tent in history...The Proud, Tried and True, Tough as hell, NF VE-25. -Eric Nourse
Design: North Face VE 25
Sleeps: 3
Ease of Setup: Nothing is easy in the wind and cold
Weight: 11 pounds
Price Paid: $500

I have been using these for two years now and boy do they take a lot of punishment. Sleeps three medium sized persons OK, lots of nice pockets inside, strong 7075 poles and an OK vestibule.
Nice taut fly too.
Used it on our last Himalayan trip and it stood up to all weather conditions including two nights at 6300 metres where we were pinned in 100 mph gust in a windstorm.
I know TNF has been criticised for not keeping up with new designs etc where tents are concerned, but this is a classsic case of "if it ain't broke, don't fix it."
Design: 4-season, expedition dome
Sleeps: 3
Ease of Setup: moderate
Weight: 9 lbs 4 oz
Price Paid: $645

I have had five NF tents starting with the original mountain a frame tent in 1972. All have been great quality and price. The VE25 has been very dependable in all weather conditions. Setup is easy except on uneven pitches where poles tend to come out of grommets. I even littered a 105 lb. golden retriver 15 miles on the fly with no damage.
A little heavy for long trips but great for family when you can split the load. NF is always my first choice in gear; they always stand behind their product (but of course you pay for that).
Design: 3+
Sleeps: 3+2dogs(big)
Ease of Setup: fair to good
Weight: 9+lbs.
Price Paid: gift

The story of my VE 24-25:
I bought a VE 24 (precursor of the VE 25) in 1986 after my tent was blown off a ridge in the Italian mountains. We camped in a heavy storm with lots of other tents (80!) at the Midi (Chamonix): only the VE's survived. I camped a total of 30 weeks in winter: no problems. They exchanged the bottom for free. In 2001 the tent blew away and fell 600 metres. Only the outer hull was damaged.
Luckily North Face found a spare VE 25 cover. Now it's a VE 25!
We still go camping.
Price Paid: ? long ago

I used the previous version of this tent for 20 years in extreme weather conditions in Alaska. That tent took me through 3 storms with hurricane force winds, and it never failed me when all other tents around me were destroyed. I finally retired it last summer after the second fly became to sun damaged to be recovered. I plan to buy another one. North Face quality has gone down in the last years, but if this one is even close to the original, it can't be beaten.
Design: four-season
Sleeps: 3
Ease of Setup: medium
Weight: ~10lbs

I have owned two of these tents ... other than booking a hotel room you will not find a drier, safer, more comfortable place to sleep. Rugged, intelligent design ... easy to assemble ... even in total darkness during a snowstorm. You will never need to buy another tent! North Face replaced my first tent (VE 24) at no charge, after ten years of abuse. Great company ... great tent! Buy one ... you won't be sorry!
Design: Four-season freestanding dome
Sleeps: 3
Ease of Setup: Simple
Weight: Nine pounds or so
Price Paid: $399

I had this tent for about a year now and I really like the thing. I use it mainly for my winter camping trips and so far it holds up to Ohio's winter weather just fine. This tent is very waterproof and the polyester rainfly doesn't sag when wet. This tent is better suited for two people. I find the tent to be well made (product of Korea and finished in China) with all the seams nicely done (unlike some tents I had) and all the fly and floor seams factory hot taped. One doesn't have to seam seal this tent at all which is a plus in itself.
Some of the few faults I have are the lack of nylon webbing stake-out loops (which The North Face starting with the '02 model decided to use cord loops in place of the nylon loops), those trendy "windows" (who needs those anyhow!) and the steep price, unless one finds one on sale like I did (through Campmor!).
All in all, I would say this is a good tent but I would find a comparable tent for less, like the MEC Nunatak for example.
Design: geodesic four season dome
Sleeps: 2
Ease of Setup: somewhat time consuming
Weight: 12lbs. 1oz.
Price Paid: $399 on sale

Good tent, but my 1997 model leaks in two places where the indoor reenforcement/clothing lines can be attached and that is a major problem.
Pros
Super sturdy tent which stood in a tornado where other tents flew away.
Cons
Leaks at two points. It's a 1997 model though, so I hope North Face has fixed this bug by now.
Easy pitching, very stable in high winds, weather resistant.
My friends walked with one in 9 months from the Trident sub base in Georgia to the Nevada nuclear test site and it only turned pale a bit but withstood all weather including tornados and never leaked and all zippers etc still function well.
Mine leaks however at two points. Good ventilations possibilities thanks to the two doors and adjustable inside zip doors. For two people + gear it's ok. A bit heavy though if you'd have to carry it on your back. 
Source: bought it new

I had the original VE 24, which was the best tent I ever had. The VE 25 I now own is great, but over-designed for my needs. But the reason I got it, is it's a great 2-person + geat tent in rain, wind and snow. With gale force winds, and I've seen this in the Rockies, Adirondaks and more, I need to sleep and very few tents will stay put and stable without flapping and air changing every othe gust. But the VE 24-25 does. You can be calm inside, and walk out to whipping weather.
Anyhow, if TNF came out with a VE 24 re-edition, or a simpler fly without huge vestibules and without the screaming yellow for the VE 25, I would buy right away. In the meantime I'm forced to be obnoxious in 'small' mountains with a great tent that's ready for anything...
Price Paid: 600 CAN

VE25 is a fortress.
Pros
Won't let you down
Dry
Roomy
Cons
Little heavy
Takes two people to raise easily
Been in this tent in wind gusts over 100 mph. Only tent in group that showed no damage. Bad solar storm with big Auroras ate fly -- intense UV. North Face replaced for free. Had it for a dozen trips in North.
Floor is in need of some work as old urethane breaking down. 5 cars have come and gone, but VE25 looks good. When everything goes wrong, a VE25 is the right choice.
Source: bought it new
Price Paid: $500 in 1993

Sturdy multipoled tent.
Good in high winds and snow and feels well put together.
However... I originally bought this to take into European mountain ranges in the summer so I (and two mates) can pitch it high up without fear.
It was a upgrade from a Roadrunner 33 (2 season) which leaked badly.
This had a small drio leak develop at the top where the clip lock in the flysheet clips onto the inner. Basically the water would soak into the material holding the clip lock on the outer and then drip down onto the inner and after a while through into the tent.
Weight ok - but remember it isn't going to be light as it is a 3 man tent!
Design: Geodesic
Sleeps: 3
Ease of Setup: Simple with colour coding
Weight: 4,5kg est
Price Paid: £320

This tent is the best for three people and expedition tents. It can survive up to -60 degrees F. My dad stayed in it in Alaska at -60 F, and was warm. He of course had a sleeping bag, but he stayed there for 3 months.
Although it is pricy, costs about $595 now, it lasts a long time. Our tent is 18-years-old and still perfect. The only thing is the dog tore a hole in the floor that had to be patched. Depending on the weather conditions and what you will be backpacking in, it's a great buy. This is an investment that will last decades, if you don't care about the latest gear.
Design: Expeditoin double Wall tent
Sleeps: 3 People
Ease of Setup: This tent is very easy to set up.. with only 5 poles.
Weight: 9 lns. 4 ounces
Price Paid: $595, but I got at it for $20 at an auction

I am an amateur but use it a lot. The reason I bought it was I owned the 1978 model and it was nearly the same.
One thing I don't like is the vestibule zipper broke the first time I used it, but I still love it and would recommend it to anyone.
It has factory pre-sealed seams, except for two, which I like, lots of vestibule room in both vestibules, and foam spacers to keep fly away from tent to reduce condensation.
Design: 4 season expedition dome
Sleeps: 3 comfortable
Ease of Setup: same size poles with color cooderation
Weight: 9.5 lbs
Price Paid: $625

This tent is a good all purpose tent. In the wind this thing is like a tank. It barly budges if you have it guyed out corectly. If you are looking for a tent that will last you a lifetime this is the one to get. All of North Face's 4-season tents are very strong and they come with a lifetime warranty. I would recommend this tent to anyone who is looking to buy a new tent.
Design: 4 seanson
Sleeps: 2 comfortably
Ease of Setup: moderate set up time for a 5 pole tent
Weight: 9 lbs 4 oz
Price Paid: a lot

Just bought this tent and overall is good. I wasn't pleased though with the space available. This isn't a 3-person tent at all if each one has a backpack plus gear. The size of the vestibule on the back door is simply ridiculous, good for 1-2 pair of boots.
Apart from this problem, the tent looks to be very strong and a good value if you still can get it for that money.
Design: 4 season expedition dome
Sleeps: 2
Ease of Setup: easy
Weight: 4.2kg
Price Paid: $350

This tent is the best all-around tent I have ever used. From the West Coast Trail in BC, to the Coastal mountains in December, this baby is bombproof! Unbelievably stable in high winds and heavy west coast snow, it'll keep you safe, warm, and dry! Basically what I'm saying is BUY THIS TENT!
Design: 4 season expedition, geodesic dome
Sleeps: 3 easily, 4 in emergency
Ease of Setup: Unless you're on the summit of Everest in monsoon season, you can set up this baby in no time, no problem!
Weight: 9 lbs. 4 oz.
Price Paid: $830 (Cdn)

This is a great tent!! However, it is difficult to set up! You better practice before you hit the trails or else you will be cursing all the saints in alphabetical order. Lots of room, for two! buy some silicon spray to keep the zippers working properly overtime.
Design: four season
Sleeps: 3
Ease of Setup: difficult to set up...its only problem
Price Paid: $600 (Canadian) with the foot print

Grommets on same strap take two poles which come out at different angles. Very difficult to bend poles into grommets. Tent is so damn expensive, why do I have to seal the perimeter seams? Why doesn't north face seal all of the seams at the factory?
Design: Four Season - Dome
Sleeps: 2 to 3
Ease of Setup: Difficult to bend poles into grommets. I bent two poles trying.
Weight: 10 pounds
Price Paid: $449 on sale at Campmor

This tent does not seem to be worth its money. Although it has a large vestabule and lots of floor space the design of the tent just seems to not work well with the conditions that it is supposed to face. The stakes on it are very poor, they seem to be some stupid triangle shape that does not vork well for placing into snow. This tent sums up in five words, "I want my money back!"
Design: 4 season expedition dome
Sleeps: 3+
Ease of Setup: Quite hard if it is your first time because it has so many poles and groments
Weight: fairly heavy
Price Paid: $500 cdn (sale)

The best tent for three-somes (no pun intended) for weight, stormproofness and reliability.
Design: VE-25 4 season
Sleeps: 3
Ease of Setup: practice 10 times and you can do it in the dark,storm or in your sleep
Weight: 8.4oz
Price Paid: $429 on sale every at the north face store

Do not trust The North Face. They no longer are the great company they used to be. Is it that hard to make a tent that does not leak?
Design: dome
Sleeps: 3
Ease of Setup: average
Weight: too heavy
Price Paid: $498

Your Review
Where to Buy
Help support this site by making your next gear purchase through one of the links above. Click a link, buy what you need, and the seller will contribute a portion of the purchase price to support Trailspace's independent gear reviews.
You May Like
Specs
Price
MSRP: $750.00
Current Retail: $524.99-$750.00
Historic Range: $348.95-$799.00
Reviewers Paid: $320.00-$645.00

Capacity
3

Total Weight
10 lbs 5 oz / 4.68 kg

Trail Weight
9 lbs 8 oz / 4.31 kg

Fastpack Weight
6 lbs 8.5 oz / 2.96 kg

Floor Area
48 ft² / 4.5 m²

Fly
40D nylon, 1500 mm PU/silicone coating, water-resistant finish

Canopy
40D uncoated nylon ripstop, water-resistant finish

Mesh
20D lightweight nylon mesh

Floor
70D nylon, 10000 mm PU coating, water-resistant finish

Stuffsack Size
24 x 9 in / 61 x 22.9 cm

Recently on Trailspace