The North Face Westwind 2

The Westwind 2 has been discontinued. If you're looking for something new, check out the best three-season tents for 2023.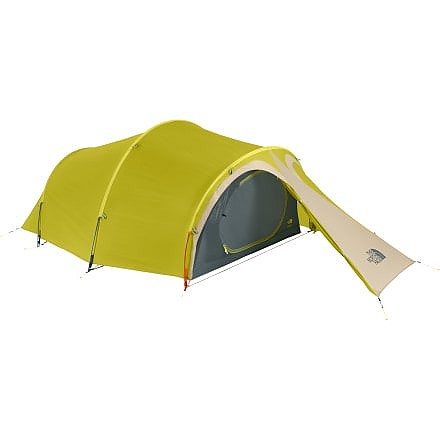 Still have my original Westwind...from 1980!
I purchased this tent in 1980 and still use it! The design is similar to the Tadpole only not freestanding, but that matters little to me. It has been well used over the years on long or weekend backpacking trips...and it is still going strong.
Obviously tent designs have changed since, but overall the concept is my preference for a tent (front entry being the main one). Weight is a little heavier because materials and design have advanced since this era, but I added mesh panels to the roof section to lighten the tent body while adding much needed ventilation for hotter days. The fly got a short vestibule added as well (not as large as the Westwind 2).
Why modify an old tent? Because it is in excellent shape despite its age and a few mods made it more comfortable in use, besides the design is not too tight for two people with some gear, plus it's bulletproof if properly cared for. How many people have a fully functional tent that they love and prefer after 35 years?
Source: bought it new
Price Paid: Recall somewhere around $300, might have been on sale tho

Brilliant tent, holds up in some very hostile weather, 80+ mph gusts once! Must seam seal though and then performs flawlessly in driving rain.
Really gr8 compact light reliable shelter for 2. Love it.
Design: 4 seaon tri hoop tunnel
Sleeps: 2
Ease of Setup: gr8 when your used to it
Weight: about 3kgs
Price Paid: £280

Greetings,
We bought our TNF Westwind, brand new, back when we were planning to thru hike the PCT. The tent held up better than we did! After 3 months and 850 miles, our Westwind had proved its merit in rain, snow, super high winds, and at altitude!!
Later, we used it on a backpack of Chitistone Canyon, and also in Denali National Park, up in Alaska, and I do not believe that ANY similar sized tent would have protected us as well as did our Westwind!! For the two weeks that we were in Alaska, we got either rain, or snow, every single day. Our Westwind kept us warm and dry, and we had no problems at all with condensation.
Once, when camped at 10,802 feet, staked out on an ice platform, in super high winds, a seam in our fly finally tore. But, despite the torn seam, our Westwind rode out the storm in style, and again, kept us warm and dry!! TNF replaced our fly, no questions asked!
The proof is in the pudding, Friends, and the TNF Westwind is one of the finest tent designs to ever come down the equipment pike, PERIOD!! We have quite a few tents, and like most of them. But, the Westwind is our favorite, hands down, and we trust our lives to it, in any kind of weather, at altitude, and anywhere we'd care to venture. That's the best compliment we can offer for our Westwind, and its performance has earned that kind of trust!!! Take care, and God Bless!
Every Good Wish,
Doc Mark
Crestline, CA
Design: 4-season hoop/tunnel tent, not free-standing/
Sleeps: 2
Ease of Setup: Extremely easy to setup
Weight: Just less than 6 pounds.
Price Paid: $350

This was and is my first tent. I bought it in 1988 and some 18 years later it's still holding off the wind and rain, though I reckon I'll replace it soon (with another one). Lightweight, compact and a cryptic sand/pale blue colour when you're camping where you shouldn't (not bright yellow like they are nowadays).

Have had the groundsheet replaced once and a new (free) pole when someone at Reading festival fell on it. Superb tent.
Design: four-season tunnel
Sleeps: 2
Ease of Setup: easy
Weight: 2.5kg
Price Paid: c180 pounds

My Westwind served well as a two-person and solo tent on a number of arctic trips in Canada. It balances lightness, design simplicity, roominess, and strength. The yellow fly made it seem cheery and cosey in the worst weather. When hit by an explosive katabatic wind and severe temperature drop in the McKenzie mountains near the Arctic circle, I was able to get my Westwind set-up quickly in spite freezing hands and violent shivering.
Alas, the fly is not mouse proof, and mine got chewed when left stored.
Considerations: Design not great for laying in the tent taking in a view. If camping in bright clear weather and long daylight hours, ie high arctic, maybe a dark fly would be better. Other designs with criss-cross poles maybe stronger vs the simplicity and lightness of the Westwind's hoop design.
Design: Four-season hoop
Sleeps: 2
Ease of Setup: easy
Weight: 8+ pounds

By far the best "REALLY BAD WEATHER" tent I've used, handles winds that flatten my buddies' tents, snow loads within limits. If you leave the vestibule open and stake out the point between the two rear stakes you'll find the condensation that others have mentioned isn't a problem.
5 3/4 pounds for a totally secure shelter "ain't" bad. A real pity it's not made anymore. I was lucky enough to obtain three so I have a spare or two. I haven't "worn" out the original if anyone needs a spare store demo. I've used this tent on the crest of the PCT between WA and Canada (bad storms), Alaska all over, and several winter camping trips in WY and MT.
Seam seal it and you'll be happy in anything. It's a bit tight for two but was designed as a final assalt tent for high altitude and it's just the best at that for the weight.
Design: Non-free standing (3) hoop
Sleeps: 2
Ease of Setup: Very easy
Weight: 5 3/4 lbs
Price Paid: $390

Since the day I owned this tent (1996), I almost forgot how it was in the earlier days, when you always had to look out for water when it was raining and rain was something to worry about when camping. This tent holds completely tight, even when you open the zippers a bit for ventilation, and I never sealed the seams yet!
I actually like rain when camping now, once I am inside the tent, because of the nice sound it makes on its walls to sing you to sleep.
Ventilation is necessary though, because condensation can be a problem in cold and wet weather, but it's not really bad. Once I left the inner tent completely closed in winter to get warmer (it worked), but in the morning I woke up with a little headache, and the lighter didn't work anymore. When I opened the tent up a bit I could light my cigarette without any problems.
If it's hot weather, you can sleep outside or leave the tent open; the dual-side opening serves as a wind-catcher then. Really a nice, minimalistic (this shows when you put up the outer tent) tent.
I use it for every type of camping, from car-camping to winter tours, although sometimes I would wish I had a little bigger tent, like a Hilleberg GT model. But, on the other hand, since I can only afford one tent at once while studying, I prefer the Westwind for its versatility. It has an extremely tiny footprint, to appreciate especially in forests, and even three people can sleep in it without lying on top of each other (although this is really on the very limit)! If I buy a bigger tent one day, it will serve as a second tent, I'll keep my Westind as long as it lives.
Design: Tunnel
Sleeps: 2
Ease of Setup: Easy for the inner, a little trickier for the outer
Weight: 2.5-3kg
Price Paid: I don't remember

I had read a spec sheet a few years before I bought this tent that revealed that it withstood winds better than anything out there, which suprised me because it isn't free standing. I believe it. It is a bomb proof shelter that I'd never trade for anything, and suprising light I think for the 4-season rating.
On a recent (clear weather) trip to Whitney, we left the tent in the car, and just went with the fly, poles, and footprint and things went just fine and were with a solid shelter at 3.75 lbs. We did get some wind, but the fly goes low enough to shelter. I think for the weight savings (we had to carry climbing gear as well) it was an excellent move, and we would have been fine if the weather had turned worse.
Design: Stake down tunnel
Sleeps: 2
Ease of Setup: 4 of 5, with 5 being easiest
Weight: ~6.5 lb, or 3.75 with just Fly and poles
Price Paid: $400 new, I got mine for $100 used.

I've hand this tent since 1985 and have used it in all seasons all around the world (though nothing too extreme) and I love it. The ground sheet gave out a couple of years ago but I sent if off to The North Face in Scotland and they sewed in another for me (as well as new zips on the doors). I even had to ring them to send me a bill!
Sleeps: 2
Price Paid: Around 200 GBP

I've had one for 15 years now and, despite its problems, would consider another. I have used it for solo backpacking in Scotland at all times of year without problems except:
1. condensation when it is cold and still -- I have several times found the foot of my sleeping bag sodden where it touched the sides in sub-zero temperatures.
2. the ground sheet gave out after about 10 years, but the use of a footprint has extended its life.
Update: April 3, 2006
Finally treated myself to a new one after 20 years with the old. I christened it in April last year on the west coast of Scotland with four days wild camping in the Highlands, from sea level up to 3000 ft, and one final wild night alone on a campsite with winds gusting to 60 mph and heavy rain. This was the only time I have ever felt the need to peg out all the guy ropes, but the tent was solid.
The condensation problem is much improved in the new model, but was still present a bit when I used it with my daughter later in the year on a cold night.
Design: 4-season tunnel
Sleeps: 2
Ease of Setup: easy
Weight: 6.5 pounds
Price Paid: £220

I love this tent, the weight of it means I can sleep solo with my gear in with me and still have ample space for a piano (should I need one). In hotter climates the double door is incredible, it welcomes every incoming breeze if pitched in the right direction. But it can also withstand outrageous abuse, me and a mate both took our Westwinds into the Welsh mountains when we first bought them to test them out, they were laughing at 70 mph winds and rain. They didn't budge an inch.
The porch adds a lot of room to store equipment, but I like to put my wet gear, boots and daysack in there. I just keep my main rucksack in the tent with me. This is a bonus in colder climates because you don't have to open any doors to access any equiptment, hence you don't get cold.
The right hand zipper for the porch door isn't really apreciated until you open it one cold morning. I think its the TNF Starburst that has the zipper running from the front to the back of the door. This means you need to reach about a meter to open it. The Westwind found a loophole around it.
All in all an incredible tent. Buy one if you find it on sale.
Design: 4 season expedition tunnel
Sleeps: 1-2
Ease of Setup: The inner goes up easily but the fly can be tricky to put on for the first few times
Weight: 2.95kg (peanuts)
Price Paid: £243

Good windshedding profile in bad winds, stable and strong when properly guyed out and an amazingly light tent for an expedition quality design. This tent has given me years of exceptional use but on a recent cold weather trip I awoke in the morning with condensation dripping from the inner.
All in all, a good little tent !
Design: 4 season, 3 pole tunnel
Sleeps: 2
Ease of Setup: Easy if you know how.
Weight: 3100 grams
Price Paid: $270

This is an extremely lightweight 4-season tent that in my opinion gives you the most shelter for every ounce. However, since it is quite liliputian as compared to the dome designs, a claustrophobic person may feel ill at ease after several days of being tent bound during a driving storm or the like. If you don't mind being a little intimate with your climbing partner then this is an excellent tent to purchase. I'm not sure if TNF still makes them though.
Design: 4 season hooped tunnel
Sleeps: 2
Ease of Setup: easy once you get the hang of it
Weight: less than 5 pounds
Price Paid: US $200+

A great four-season tent. I spent four weeks in ours during a field research expedition that included a week of downpours; inside stayed completely dry. The fly adds the vestibule, which greatly enhances tent area.
Design: 4-season hooped
Sleeps: 2
Ease of Setup: 5 minutes without fly
Weight: 5 lb.
Price Paid: $275

Just come back from a stormy weekend camped high in the English Lake District. The tent performed excellently, shrugging off the wind and rain.
The porch is roomier than I at first thought -- plenty of room for cooking, and the inner could be rolled back if preparing a banquet.
Access is easy through a zip on the right hand side of the porch.
The inner goes up easily enough. The fly is no great problem, but you have to be fairly accurate in where you peg it to get nice pitch.
Overall, it seems like a strong, reliable tent: looking forward to many more years of use!
Design: 4 Season three hoop tunnel
Sleeps: 2
Ease of Setup: OK, though flysheet is a bit fiddly
Weight: 2.6 kg
Price Paid: £300

1. it's a good expedition tent with serious inner door waterproofing and windshedding outer.
2. You need to seam seal it for perfect waterproofing.
3. It has appalling condensation problems in cold weather, mainly due to the rubberized doors encouraging water to drip onto your head and feet.
Design: 4 season expedition hooped
Sleeps: 2 close friends
Ease of Setup: reasonable, but pitching inner first is bad news in driving rain. I'd prefer the two largest poles to be colour coded too,
Weight: 3kg
Price Paid: $300+

It sheds snow great, but is way to much for spring and summer backpacking in the South where I live (Dallas). A great tent. I got it on sale for $179 at a local REI, and wouldn't trade it for any other four-season tent. It sheds water great also.
Design: 4 season
Sleeps: 2
Ease of Setup: very easy, but not freestanding, minimum 6 stakes, about 15 minutes
Weight: 6.5 lbs.(with tent, poles, fly, easton stakes, guylines, etc.)
Price Paid: $375

Your Review
You May Like
Specs
Price
Historic Range: $249.95-$389.00
Reviewers Paid: $200.00-$400.00

Recently on Trailspace