The North Face Tadpole 23

The Tadpole 23 has been discontinued. If you're looking for something new, check out the best three-season tents for 2022.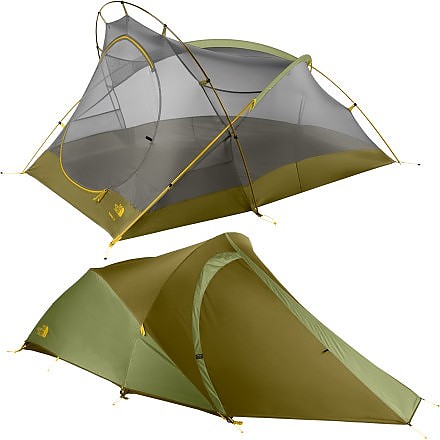 Specs
Price
MSRP: $199.00
Historic Range: $137.50-$249.00
Reviewers Paid: $10.00-$260.00

Capacity
2

Fabric
40 Denier, 240T Nylon Ripstop

Floor Area
27 sq ft / 2.5 sq m

Number of Poles
3

Pole Diameter
8.84 mm

Stuffed Size
23 in x 7 in / 58 cm x 18 cm

Vestibule Area
7 sq ft / 0.7 sq m

Trail Weight
4 lbs 2 oz / 1.88 kg

Total Weight
4 lbs 11 oz / 2.13 kg

Reviews
55

reviews

5-star:

14

4-star:

19

3-star:

7

2-star:

10

1-star:

5
I bought my Tadpole in 1994. It's the only piece of my travelling kit remaining from then. I've cycle toured in S.E. Asia extensively, France, the U.K. and Tasmania. I'm also an avid bushwalker so it's been everywhere from the gails on the west coast of Tasmania to 4,400m up in the Himalayas (without snow of course).
The cord holding the poles together has given way, a rat ate into the backside while I was in the tent (fixed with some seam sealer), I've set alight to the vestibule, pushed snow off the roof as it bent under the weight and it's still going. I've lived for up to 3 months at a time in it while travelling, and with 2 people on the longest stint. I've easily spent 18 months of my life in it. The floor has never leaked, even though I've never used a groundsheet.
To those people who say it leaks, one very important point is to guy out the sides well or you WILL be wet. If you do, you'll be perfectly dry in any downpour.
It's quite cramped with 2, but it's light and strong and I'm 6' 1" and fits me fine, even for sitting up, but only just.
I see there may be drops in quality now from other posts, so I guess some of this may not apply, but I couldn't say for sure.
Unfortunately I lost 1 pole section as a result of the broken elastic. I contacted North Face, who had replaced pole sections free outside of warranty about 8 years ago, but I didn't even get a response this time and I'd be more than happy to pay. I'll try again and hope this is a one off for their customer service.
As you can imagine, this tent is quite dear to my heart as possessions go.
Design: three season freestanding
Sleeps: 2
Ease of Setup: 14 years of experience makes it pretty simple ;o)
Weight: 1.9kg
Price Paid: $250

Unbeatable tent for one or two in bad unpredictable conditions.
Pros
Very dependable in bad conditions
Warmer than most designs
Low profile
Reasonable vestibule
Great tent, very sturdy in wind and rain. The one I have is the all interior NON-Mesh fabric built for colder climates for the North European market. Finally got round to bagging one of these cheap after 30 odd years of nonchalance. It got christened in a winter storm on Dartmoor. Did not let any water in through the ground sheet despite waking up in an impromptu stream outside and underneath the tent.
One thing to be aware of in high wind and rain; the end of the tent—where your feet are—the outside fly gets pushed up to the inner (no matter how perfectly pitched) and the bottom of your sleeping bag can get wet. It does not drip inside at that point, just moisture coming from double fabric contact. You could re-orientate the tent diferently to the wind. But for strength you really want in that position—End On To The Wind so to speak.
These days there are lot lighter and roomier tents, but I doubt most of them would be as strong and dependable in bad conditions as these classic semi-geodesic 3-pole designs. Honestly If I had to take only one design of tent for once in a lifetime type extended trips, etc climbing, bike packing etc it would probably be this.
Source: bought it new
Price Paid: £175

Took this tent on a one-week backpacking trip to Yosemite this June.
Overall, the tent itself performed fine: Easy to pitch, freestanding, plenty of room for one with gear. I'd give the tent a rating of 4 or 5 if it weren't for:
The fly. My experience parallels that of Tony C. My tent is a few years old (approx 5 yrs) and the fly has deteriorated to the point that it will be useless in rain. The fly surface has turned waxy and sticky. Unfolding it requires slow careful peeling. It is clear that the fly surface is being destroyed in the process. There are now microcracks throughout the fly that are not going to block rain. The seam tape also is coming apart.
My internet research has shown that this is not an isolated occurrence. Others have reported the very same problem, although it appears to be limited to tents made some years ago. I'm not aware of newer tents having this problem.
In the meantime I'm looking for a replacement fly and not having much luck.
Note: The tent fly has an orange/red color.
This tent I would recommend to anyone that is interested in camping/ backpacking. And when i say camping, I do not mean using an air mattress and driving your car into camp and just moving everything from the car to your tent.
After reading some of the reviews from people, I feel that people just don't understand how you should buy a product. Before I buy a product that is normally priced at 199, I will do a lot of research. I bought this tent at 17, and have been using this tent ever since. I spent over 2 months researching tents and fell in love with this tent. I pitched it in the store to make sure I had room to sleep with gear. Along with having head room. I am 6' 2" and about 175 lbs. Most outdoors stores will let you pitch tents in the middle of the store because it draws people in to figure out what all is going down in the middle of the store. People are more likely to buy products if they see other people using them.
I just recently bought the footprint, and this weekend, I tried just the frame and fly. Amazing. Only complaint was that if it was dry, you breathed in dust all night. but that is nature. I signed up for that. I have used this tent 2 times with my friend while backpacking. The first time, there was a foot of snow, and It was perfect for what I needed, fit us both with gear we didnt mind putting in the vestibule. The second time the weather was 50 at night. We just watched the stars by only using the fly and mat and leaving the vestibule open. I have used this by myself and left the fly off to watch the stars. A very nice experience.
My only problem/ biggest suggestion is that if it is very wet out, the bottom may leak a little. If you buy a footprint(mat) you will save yourself a lot of time and aggrivation. It keeps the floor in better condition, and you can also just use the fly and mat for an awesome experience.
But please. Do your research before you buy a tent or any product for that matter. I dont care if you are rich and can afford anything. Why spend money you work hard for on something you are not going to love.
Design: three-season freestanding
Sleeps: 1
Ease of Setup: Very Easy. Color coordinated poles. After setting this up a few times, I can have this up in 2 minutes in the dark.
Price Paid: $179

I will dispute every bad review I've read about this tent: I bought my first Tadpole tent in the late 1980s. It was one of the first freestanding tents made, originally rated as a 1.5 person tent. The design has changed minimally over the years with added foot space and pole attachment changes.
I had this tent until 2006 when the nylon finally started to fall apart from extended exposure from 20 years of use on adventure surf camping trips solo and double throughout the Pac-Northwest, Alaska, Europe, North Africa, the Central and South American tropics and deserts during winter and summer as well as spring-fall backpacking in the High Sierra, Cascades and Andes.
I put this tent to the test in very high winds, storms, heavy tropical downpours, hot and cold, dry and humid climates, pitched in wet depressions,rough surfaces, odd angles; anywhere and everywhere. This tent never leaked even when partially submerged or in the heaviest tropical downpours and never caved in high winds. I experienced minor condensation at times but nothing unexpected for the conditions.
The vestibule is large, two people can sleep easily though a little tight, one large person can easily lounge inside comfortably with a backpack and gear for long periods. Set up is quick and simple. This tent has excellent geometry for high wind stability and low weight but shaves overhead and lower leg space to achieve this.
Any trade-offs in function vs comfort are well worth it if you want the high versatility for weight this tent offers. Buy this tent for one person solo camping anywhere in comfort (except snow) or for two who want to go very light and don't mind getting close!!!
Design: 3 season free standing
Sleeps: 2
Ease of Setup: very easy and fast even with low visibility
Weight: 4-5 lbs

Packs to a good size, looks sharp, but could have a smoother setup.
Pros
Perfect size to fit two small persons
-Setup and take down is awkward. It's very difficult not to step on the tent during setup and take down. I'm not looking forward to setting this up in the rain; I'm sure the entire inside will be completely soaked before I can get the rain fly on.
*The floor of the tent is loose when set up, which will increase the likelihood of tearing the lightweight fabric while moving gear around inside. The tent floor needs an option to stake it at the midpoints. This would help keep a tighter floor, less likely to tear, while moving gear around inside.

-The tie downs for the rain fly are too short, and won't give enough adjustment to move the stakes around to find a good place to drive them in rocky soil. I'll need to pack additional tie down rope so I can make necessary adjustments in the field. Will also need to bring additional stakes if you want to tie down the rain fly in windy conditions.

Experience
I have quite a bit outdoors experience.
Source: bought it used
Price Paid: 175$

It is a tent that will last for years, as it will stand up to the elements and perform predictably. If you are average to big in size, and are two, then you will find it a little cramped and hard to get in and out. The quality is good, and it will be reliable.
Pros
Sturdy/strong - stands up to the elements
Dry - reliable in the rain
Easily assembled
Cons
Cramped for normal to large people
Difficult entry/exit
Collects lots of condensation
My wife and I have owned our Tadpole for several years (6-7?) now and it has served us well on many a backpacking trips. It has proven very durable and has held up to a lot of abuse over the years. Ours has seen rain, snow (unexpected), wind and sun. It has been to the ocean, the depths of Death Valley and the peaks of the Sierras. In all of the scenarios it has served us well, though not without its flaws.
One of the downsides is that it is not too roomy for a two person tent, as I am only 5'7" and my wife is a tiny 4'11" and we fit okay inside. So for two averaged sized people I could see it getting cramped really easy, and anyone larger will definitely get the sense of claustrophobia. The vestibule also becomes cramped when you try to stuff two backpacks underneath. Then getting in and out can be a challenge, especially when combining the vestibule and the door setup.
Like many people I try to avoid wearing shoes inside the tent, so I sit in the tent, take off my shoes, but then I am forced to spin around into position. This gets complicated when my wife is already in the tent. Also, if you climb inside in the opposite manner it can also prove a little difficult. Therefore I am not the biggest fan of the door/vestibule design.
Another issue is that the rain fly breathes poorly (the tent breathes wonderfully as it is all netting), so in the morning it is drenched with condensation.
What is great about the tent is that, as aforementioned, it is very sturdy with the three pole design, as can adequately handle wind and snow. It is easily assembled, and can be done in the dark, so long as you don't confuse the one of the longitudinal poles with the transverse one. Finally, it will keep you dry, and is not too heavy.
Source: bought it new
Price Paid: $200+?

I can say that I really like the tent. However, I just spent a weekend motorcycle camping and I was very unhappy to find that the rain cover is breaking down.
This tent is a couple years old, and lightly used. No problems with tears, or zippers, but the inner surface of the rain cover is very sticky, it appears that the waterproofing is breaking down. In addition, the seams are cracking and crumbling what appears to be a wax like sealant.
I'm not very happy, no more than 2 stars because of this. I'm going to try and have it replaced.
Sleeps: 2
Ease of Setup: Very easy
Price Paid: $150+

In short, I purchased my 20+ year old Tadpole that clearly has been used quite extensively. Just two nights in it with a very light rain and breeze and I was bone dry. I won't speak to others' experience, but I would buy a few more for the price I paid. Did I mention I paid $10 for it?!

What can I say? I love it for just myself and I'm 6'5", lbs.
Pros
Rediculously easy to set up
I would encourage anyone to purchase a Tadpole. Check it out before buying.
Experience
Zero
Source: bought it used
Price Paid: $10

Great tent, lightweight, quick setup, and excellent ventilation. Small packed size and weight helps to keeps loads in your pack light and tight. Nice vestibule area for packs. Great for extended solo trips or lightweight 2-person trips. I would recommend this tent to a friend.
Pros
Samll packed size
Lightweight
Sturdy
Great ventilation
Luxurious for solo shelter
Cons
A bit tight for two people, but doable.
This tent has been my solo shelter for years for solo trips or trips when I don't feel like having a tent-mate. It's luxurious for one person and plenty or room for your pack in the roomy vestibule.
It'll hold two but I suggest you make the second your wife, girlfriend, or someone you don't mind being quite close with. It is a little tight for two people. The Bullfrog would probably be better than the Tadpole 23.
It's weather worthy and pitches quite taut. Great warm weather lightweight option is leaving the tent at home and set up with fly/tarp/footprint for ultralight bliss. Poles are a bit too flimsy for me, but I've only had to replace one since 2003 and TNF sent it to me free even though it was out of warranty. 
Source: bought it new
Price Paid: $190

This reasonably weighted backpacking tent is great for room, visibility, and ease of use. If this tent is at the higher end of your price range, I recommend buying it. However, if this tent is at the low or medium end of your price range and if weight is a major concern, consider purchasing something more expensive.
Pros
Visibility
Good space vs weight
Light...
Setup: Setup is easy as far as footpring, poles, fly, and stakes are concerned. Also one of the better freestanding tents as far as that goes. Without stakes the pole do a good job of keeping the tent in place and the overall design makes cleaning very easy - just pick it up and shake it out while it's still assembled!
Stability: It pitches very tautly. Not a lot of experience in the snow but it handled wind and outside moisture well.
Weather resistance: With some care to prevent inside condensation, the tent handled moisture well. I've never subjected it to sustained assault from water, however.
Ventilation: The tent has great ventilation without the rain fly.
Room & storage: I'm six feet tall and shared the tent with a partner. I found the tent to be fairly roomy for the weight. There was decent room for our bodies without being smashed together as well as a decent amount of gear and clothing.
Packability:  Great packability.
Ease of use: The tent is fairly straightforward without a lot of gimmicks, which is something I appreciate.
Features: One of the better freestanding designs I've seen in so far as it kept good tension even unstaked.
Construction and durability: The durability of this tent is good given its weight, it could be more durable, but will hold up under responsible use.
Conditions: I've used this tent a few times only but was really satisfied with it.
Source: borrowed it

I have used this tent a lot in many different weather conditions and just love it.
Pros
Light
Sturdy
Rain proof and good in the wind
No sagging at any points
I have used this tent on backpacking trips, canoe wilderness trips and river trips in all types of weather and have had absolutely no problems with it. I also have 7 other tents (some single wall) and for the weight and size its great. 
I have not had any problems with fly as others have. I am guessing that some of their suppliers got a bad batch of coated silnyon from the manufacturer.
Source: bought it new
Price Paid: $135

Absolutely loved this tent for a few years (occasional/light use) — would be 5 star for this period — until I found the fly sheet had deteriorated with the waterproof seam-tape disintegrating and flaking off and the inner surface of the fly left feeling sticky, probably due to the glue from the seam tape? This brings my rating down to a generous 2 stars, and I will be chasing North Face for a replacement/solution.
Pros
Low weight
Nice design features
Spacious vestibule
Performed great in wind/wet for a few years
Cons
Can feel cramped, but it's a lightweight backpacking tent so....
MAJOR disintegration of the fly sheet waterproofing after a few years
I used a friend's previously and was very impressed so bought my own. I loved everything about this tent for a few years of occasional/light use.  My experience in this period was:
Very quick and easy to pitch 

Very stable and resistant to wind and rain

Highly vented inner although the outer always gets heavy condensation adding to day-2 weight unless you shake it well dry

I can't compare to other competitors but think that sleeping and storage space is an adequate compromise for a lightweight tent

Packs very small and the weight can be divided nicely in 2 for expeditions
HOWEVER, on recent use, I found the described problem with the fly sheet which is causing it to leak (drips form seams) during wet weather. Some online research found several similar reports and I checked with another friend who bought one around the same time who had exactly the same issue.
I have always been extremely careful to dry the tent fully after use and have taken care of it. This is NOT an acceptable lifespan for an expensive product from a company like TNF. I could cope with a slow and gradual deterioration of performance over the years but a sudden and inexplicable failure like this (and apparently widespread) is not acceptable.
I will be pursuing this with TNF for a replacement fly sheet or other solution. I couldn't recommend or buy this tent again on this basis.  
Source: bought it new
Price Paid: £150

Love this tent! Proper storage is vital.
Pros
Easy to pitch
Warm and dry in the cold
Airy in the summer
Cons
Rain fly needs special care
My tent has proved cool in the summer, warm in the cold, and dry in the rain. It's easy to pitch and once up, has pockets that are easy to access without having to squat down and crawl inside.
However, after several years the rain fly is now useless — eliminating the warm and dry factors of my beloved tent. My understanding is that the deterioration is a result of mold/mildew and storing it incorrectly. When not in use, keep the tent in an interior, dry closet, and do not roll it up or put it back in its bag. Lightly fold it, making sure it is completely dry and dirt free first.
I have not been able to replace the fly to test this, but I wonder if those who have not had a problem with deterioration can speak to it?
Source: received it as a personal gift

No tackiness yet.
If I'd seen these reviews regarding the sticky situation with the rainfly coating, I wouldn't have purchased this model, but at the time (about three/four years ago), it was one of the first all-net canopied tents available at our local REI store.  I jumped on it, ostensibly to use for overnights in nice weather (without the fly) for mosquito protection.  
Alaska is bear country, and it's reassuring to be able to scan 360 degrees with the spotlight from inside the tent, after hearing twigs snapping, or some other weird noise that goes bump in the night, as, invariably, in a regular nylon tent, the sound comes from the direction of a solid sidewall rather than the door. (This nifty feature only works without the rainfly, obviously.)
My Yam Orange and Nickel Brown model hasn't developed any of the tacky/sticky qualities mentioned by other owners; don't know if that's an age-related problem, environmental factor, or just bad quality control at the factory in China, but so far, so good.
With a half-dozen other tents for varying conditions, I wouldn't intentionally use in crap weather (however, this is Alaska, so even the best forecast can turn into a week of rain ) but will edit review for changes in condition or performance, as they occur.
Source: bought it new
Price Paid: $219

Great tent. Very roomy in the right places (for one person—not two). Lots of pockets, full mesh.
Pros
screening
pockets
toughness
ease of setup
Cons
should have a covered vent built into rainfly-otherwise condensation problems if not careful
Nice tent. Easy setup, no stakes needed. Nice and taut maximizes space inside. Great for one person to spread out. Too tight for two unless an intimate partner.
Lots of nice pockets inside. Very roomy vestibule to store boots, etc under rainfly. Get a footprint. Has full mesh. With rainfly, must stake out or condensation problems. Rainfly really needs a covered vent slot on top.
Durable. Very quick setup. Get green tent if you stealth camp or else orange will advertise where you are. Decent overhead room. Slightly on heavy side — but no issue for bike camping. Well worth the price!!! I paid $150 on sale.
Source: bought it new
Price Paid: $150 (sale)

Shocking tent :/
Cons
Leakage
Deterioration of fly and waterproof taping
I bought the Tadpole 23 dl in 2009, and it has coped beautifully on the numerous trips until a few weeks back when I woke up by the dripping of water on my face.
What makes it worse is that my £20 tent from B and M bargains has yet to leak on me, but my £250 tent can't handle a bit of British drizzle!
I now look upon all North Face products with disdain as I feel cheated out of my hard earned cash, which being 13 at the time of purchase was more than my yearly earnings!
Don't buy this tent; you will be severely disappointed...
Source: bought it new
Price Paid: £250

I've had this tent for about 5 years. In warm locations it is great. Check the weather report and you can leave the fly at home. Nice and breezy and you don't have to worry about snakes etc etc coming too close while you watch the stars.
I used it twice when it was below 0 Celsius. It wasn't snowing so I can't comment. When you pitch the fly make sure to pull it out a far from the tent as you can. Otherwise the water will build up around the floor and walls of the tent and you will get damp.
I've had to apply some water resistance spray to it (atsuko was the name). After a few years the factory waterproofing will come off. You notice it starting to peel off the fly sheet.
I'm 183cm and 90kg so I find it to be comfortable for 1. I can easily have my kit spread around the tent. For 2, it is a bit of squeeze but it's manageable. I'd rather have the squeeze than lug around a bigger tent. 
It's got plenty of pockets inside and things you can tie a light to. There is space on the outside under the fly which can protect your equipment. I try not to so I don't have to worry about spiders and such getting into my pack and boots.
Overall, I am very happy with this tent. It's quick to setup and packup. The weight is great, maybe almost ultralight when not using the fly. I know the quality is good after 5 years of use.
This is my first tent so I can only compare it to my friends' tents. Their tents are bigger than my backpack with all my camping equipment. If you buy one, take a bit of time to read about how to set it up properly and you won't be disappointed.
Cheers & Beers.
Price Paid: $200

My husband and I purchased this tent in May 2011 as a two-person, three-season car camping tent (although it's light enough that it could easily serve as a backpacking tent). He also owns a four-season expedition tent by TNF that has held up well over the course of about 10 years, but we wanted something more breathable, lighter, and newer (his was getting a bit musty).
Unfortunately, when we took the tent on its inaugural camping trip to Acadia, Maine, a few weeks later, it leaked badly even though the fly was properly staked out and we had a ground sheet. Some dampness seeped through the floor (although that may be due to a small puddle forming on top of the ground sheet). 
More problematically, though, the fly itself leaked. It began dripping on us from above before it even started raining — drops of water from damp trees were enough to start the leaking, which we thought may have just been condensation dripping down from inside.  Later, during a brief, 20-minute rainstorm, it began dripping more steadily on our heads and shoulders and it was clear that this was not due to condensation.  The fly was leaking heavily.
Maybe this tent was just a dud, but we'd recommend keeping your receipt until you've tried out the tent in a moderate rainstorm.  We were disappointed and plan to return ours.
Price Paid: $170

I've used this tent in a rain lashed Yorkshire and the Lakes a couple of times, in hail and driving rain. It feels secure and for the money vs. weight, it's bombproof and great value, easy to live with with nice design touches.
I'm 6ft and its OK for two, not masses of spare room but very livable. If I had a niggle; yes, the door feels a bit airy, being all mesh and the 8 steels pegs you get with it should be swapped for alloys. I also extended the 2 side pegging points with two small loops of 3mm perlon so the fly sits better and is more weathertight. Porch is good for storage although only opens one side.
Instantly felt like the right choice.
Design: 3 Hoop dome
Sleeps: 2
Ease of Setup: Very easy
Weight: 2.3kg
Price Paid: £135

Unlike the other reviewers, I have been impressed by my Tadpole tent. Knocking down the rating for a 2 person tent because it isn't big enough for you and your buddy to blow up queen air mattresses in is bad form. This is why you research gear before you buy it.
This is a very comfortable 1-person tent with room for gear inside, or a very sensible 2-person tent for NORMAL sized guys with gear in the vestibule. I am 6' and 170lbs, and have shared this tent with many backpacking buddies about the same size as me. Obviously, if you are 7' and/or 250lbs, you CANNOT expect to sleep two in this tent. Just like you can't have a size 11 foot and wear a size 8 shoe.
I have not had leaking problems, but I use a footprint that I made out of 4-mil painter's dropcloth from Home Depot.
The screen roof is amazing for hot nights or stargazing when rain is not expected. Toss on the fly (or pitch it by itself if you're a minimalist) and you're good to go for rain.
I generally do not like North Face products as my experience has been that they are expensive, "trendy", and usually lower quality than other brands. Despite that, I'm impressed by this tent. They even thought of the little things... like glow-in-the-dark zipper pulls.
Bottom line: this tent is a bit heavy if you're an ultralight guy, but the performance has been excellent for me from river trips to woods camping to cross-country driving trips where I couldn't afford a motel.
Sleeps: 2
Ease of Setup: Very easy half-sleeve/clip combo. Poles are sturdy and good design.

I bought this tent several years ago and it's had its ups and downs. It is nice that it's freestanding and I haven't had any of the leakage problems that many others have reported despite dozens of trips through all kinds of weather (including light snow).
I have had some quality issues, including a pole that snapped and some seam tears despite taking really good care of my gear. But even that wasn't a big deal since I have gotten a lot of use out of the tent.
The biggest cons for me here are the size. It is barely a 2 person tent, really only suitable for couples since its hard to lay straight in anyways so you will be spooning.
Also, it's kind of bulky when packed despite its moderate weight. It's kept me dry, but I wouldn't recommend it to a friend.
Design: Three-season freestanding
Sleeps: 2
Ease of Setup: Very Easy
Price Paid: $149

I have owned this tent for about one year now. It has been used for over twenty nights in the back country. It has been used in the UP (Porkies), New Mexico's Gila Wilderness, Isle Royale and in southern Illinois in the Shawnee National Forest. It has seen a lot of rain and wind. It has never leaked a drop of water and has fended off 45 mph gusts on Isle Royale just recently. It sets up fast. Some mornings there is condensation on the inside of the fly, that is to be expected when the humidity is 85% with a dew point in the 60's.
It only gets 4 stars as it is really a luxurious solo tent vs 2 person. The vestibule is a little small and as a solo it is a bit heavy. I love my Tadpole it has been bombproof.
Design: three-season freestanding
Sleeps: 1
Ease of Setup: quick
Weight: I weighed it at 5lbs 5oz packed
Price Paid: on sale at REI

I bought my Tadpole 23 in 2005. I've been camping for more than ten years and owned and used many tents, including the 1999 Tadpole model. For me this tent is emblematic of the decline of The North Face's quality. I used it only one time and one time alone last year. When I inspected it before an upcoming trip I found the inside of the tentfly extremely sticky and the seamtape started to crumble and peel. This didn't happen to the other two tents in my closet.
I put it away clean, dry and folded neatly and I can't think of a plausible explanation for it other than that the materials were hi-tech but of inferior quality. I also had problems with two other North Face products I had bought along with this tent: the Patrol Pack Duo and the Venture Hyvent Jacket.
Design: three-season freestanding modified dome
Sleeps: 3
Ease of Setup: Easy
Weight: 4 lbs. 14 oz
Price Paid: $209

I'd rate The North Face Tadpole 23 as four stars. Why not five, when it's light (just over 4 pounds), sturdy, easy to set up (three-poles/free-standing), and compact? The answer: It's just so-so as a two-person tent because of the limited square footage (37 square feet), steep side walls, and headroom limited to one end of the tent. If you're going to share the Tadpole, it had better be with someone you're closely related to or sleeping with...just good friends isn't going to cut it.
But this is GREAT one-man tent and that's how I'd recommend you use it. I've pitched it on the Appalachian Trail, in western Maryland and West Virginia, and in the Rockies, while solo-packing. Rain fly prevents condensation even around dew point conditions; vestibule (7')is roomy, allowing you to stow gear outside (freeing up living space inside); free-standing design means you can pitch this beauty on solid rock if you have to (and I have) and not regret it.
Design: three-season, free-standing, modified dome
Sleeps: 2
Ease of Setup: easy--even in the dark using a headlamp
Weight: approx. 4.4 lbs
Price Paid: $130

I've just returned from a two-day hike across Dartmoor. The weather was absolutely terrible as it rained continually for the whole time. Normally I would take a Vango Hurricane as I know it is bomb proof from use in all conditions but I wanted to go lighter so I purchased the Tadpole 23 for the trip. On setting up in high winds my confidence was sapped due to how flimsy the tent felt.
I felt a sleepless night coming on. After pitching I sat inside it just watching in horror as the rain and wind hammered against the outside expecting any minute to see water dripping through and all my kit soaked but nothing.
This is one ballsy little tent and bear in mind this is a 3-season not 4, but I would now use it in any conditions as I spent two nights in relentless rain and 40mph winds in the middle of the Moor and I was bone dry the whole time.
I would not say it is a two-man, more a one-man with kit and a comfy night's sleep, two cramped, good cooking area, enough headroom for me. I sat up fine. I'm 5ft 10". Guy lines I found a bit of a pain as you pull in what you think is the direction to tension it and it loosens. Takes a bit of getting used to.
Excellent poles, easy to pitch, colour coded fly to inner. Need another two pegs to peg out fly properly.
Overall I can't really find anything negative to say as this is a cracking bit of kit that I would highly recommend for year round use in the UK.
Sleeps: 1
Ease of Setup: Easy, except in a 40mph wind
Weight: 2kgs
Price Paid: £190

I think I have the 2004 model of this tent, as I can't remember exactly when I got it. Overall I love this little backpacking tent. As a summer camp trip leader my tent is where I live for the summer. I also have lived out of this tent on drives cross country.
The tent is light for a 2-person tent, and in a pinch you can *just* squeeze 3 people in, as long as everyone rolls over at the same time. It is *tight* but doable. I have gotten to the point where I can set or break camp in under 5 minutes, which is useful when guiding a group of kids or when constantly on the move, getting in late at night and heading off early in the morning.
It is important to tighten down the fly properly, which is the problem I suspect some of the reviewers have had. It has held up well to very high winds and driving rain. Again, with the latter, make sure you tighten down the fly properly.
I have spent a lot of time using this tent as a "solo plus gear" tent. I am currently looking for a solo tent, as I'm tired of schlepping around an extra 2.5 pounds, but the extra gear space is quite useful. This is a fairly short tent. I am 5'8" and have no problems, but can see how people in the 6'+ range would have problems.
The vestibule is fairly large, and if you are careful it is possible to pee under it in rain storms, keeping you dry.
I have had some condensation issues on the floor of this tent, but mainly when there were 3 of us packed in during a torrential downpour.
When pitched without the fly most of the tent is mesh, which is great for hot, mosquito filled nights in the north woods. Directly overhead is mesh, allowing for a great view of the night sky.
My mate bought this tent a year ago and since then we have used it on numerous trips. Our first trip was to the lakes, within hours of walking we got stuck in extremely wet weather. The water appeared to come through the groundsheet and the flysheet and come morning both me and my friend were damp and miserable. I think the problem has to be the tent has no vents so condensation is terrible.
Next trip was Canada. Two days in and we were in a snow drift, the flat top of the tent collected the snow and we had to take rotas in the night to get the snow off or the tent would have crushed.
I feel sorry for my mate for buying such a rubbish tent, but the value isn't bad and for summer trips in Europe the tent will do. Since then however I have bough a Hilleberg Nammatj. This tent was expensive in comparison but it so much better in quality and design.
Sleeps: 1
Ease of Setup: difficult
Weight: 2.2

This is roomy for a light tent. Properly set up, it provides a terrific weather shelter. I spent two days alone in a blustery October gray-out storm in the Appalachians' Shenandoah National Park, with night temperatures around 30 and in the day around 50. I was warm, dry, and fairly comfortable.
The two-star review preceding this one is unfair, her tent was clearly not set up properly. One cannot be careless with any tent's setup in foul weather. Other reviews criticizing moisture ventilation are fair, but should come with disclaimers. Yes, the thin sil fly does a great job of condensing moisture in low temps, which is not a great thing. The fly will be damp come morning in those conditions. Users of single-wall sil tents will be familiar with this property, but here we have a two-wall tent. No need to get wet.
The shape of the tent prevents any condensed water from pooling, and the moisture runs down the fly's sides. So, since the fly sides are close to the tent body near the base, it is important to stake out the fly in the given locations when expecting moist conditions, which causes moisture to drop outside the tent, not in. Side staking also increases ventilation, and the front fly zipper has a flap over it and double zippers allowing it to be opened about six inches at the top as a roof vent. It is a pretty good design. Pitching the tent with the feet facing the wind and the fly door cracked, keeps most moisture moving out of the tent and not collecting on the walls, but collect it will when very cold and damp outside.
The tent weighs about one pound more than small solo tents, making it a roomy alternative to a solo. The shape does dictate that one can only sit up near the door; this is true of this form of tent in general -- look at the many other frog shape solo tents with a hooped door. This one, unlike those, is freestanding and comparatively roomy. It is more wind-stable than two-pole pure dome shapes. Good compromises.
I and my equipment were completely dry after two days of cold wind and rain. Use a groundsheet and select your spot; if I ever pitch one in a ditch with no ground sheet I should get what's coming. The taped seams worked. I did not need to seam grip the floor. The fly has three inside velcro loops for attaching to the poles at the guy-out points for wind stability. They are separately taped, but I never trust the tape at those sorts of things, so did seam grip mine on both sides (using the silicon formula). As my tent subsequently did not leak even a single drop in some really bad weather, other owners might also consider it.
The vestibule is surprisingly large for a tent this size, larger than my other 2-person tents which are larger/heavier. Very useful to cook in and keep boots and gear under.
I am 6'3" and fit along the floor plan okay. Not exceptional room at the feet, but okay.
I was grateful to TNF for this light and reliable shelter and recommend it to those with similar requirements of high weather reliability, medium room and lighter weight.
Design: Three season three-pole frog shape
Sleeps: 2
Ease of Setup: Easy
Weight: 4 lb 14 oz with a dozen stakes and guyline
Price Paid: $189

Thankfully I got this on sale. What is The North Face thinking of? It's the same weight as other tents in its class, but smaller- I'm 5'6'' and can't sit up in it, which is a real pain--I thought it wouldn't bug me, but it does. You can't pitch it in the rain as the fly sheet is so separate -- and if you pitch on damp ground the damp comes through the base, unless you get an extra footprint. Put two people in here and you'll have claustrophobia in seconds -- VERY cramped.
This is basically designed to be used somewhere really hot -- it's too chilly for use in spring summer (I've just come back from damp cornwall in late Sept/ early Oct and had a miserable time. I don't accept you're supposed to rely solely on a sleeping bag to stay warm. I think the tent should be more protective than this is.). I'm about to get a new one. I like the titanium poles, but that's it really. Doesn't come with enough tent pegs(?!) and the bag -- made of the thin fly sheet fabric, split to shreds. I will never buy anything else from North Face. What next -- a jacket without the left arm???
Design: 3-season thin long thing.
Sleeps: 2
Ease of Setup: fine
Weight: 1.9 i think
Price Paid: £70.00

I purchased this tent two years ago as "last season's" model, saving some money over the usual price. It is super light, and packs super small. The first time I set it up, it seemed small, especially compared to other "backpacking" tents I'd used. But after a single night with the tent, it proved to be more than enough for sleeping, changing clothes, and lounging. On solo trips, I keep gear in the tent, but otherwise the vestibule is plenty big enough to hold two people's gear.
The tent sets up quick, even faster if two people are working together. I've never had any problems with its construction. I highly recommend a groundcloth to keep the tent floor clean and dry. The rain fly will collect condensation, particularly when it's cooler outside, or with two people in the tent. This hasn't been a real problem, as it dries quickly. The fly does an excellent job of keeping the tent dry in the rain.
You can pitch the rainfly and the ground cloth together like a tarp tent, but at less than 5 pounds, you'd have to be desperate to lose weight by giving up the true tent.
Glow in the dark zipper pulls are probably my favorite luxury, adding no extra weight but immensely functional. The mesh cargo pockets inside the tent are located in the perfect spots, allow for damp clothes to dry, and keeps flashlights and other items close by during the night. The mesh top and side panels give you a great view on clear nights without the rain fly attached.
Design: some kind of modified dome
Sleeps: 2
Ease of Setup: damn easy
Weight: less than 5 pounds
Price Paid: $180

I bought a Tadpole about 15 years ago and it's still going strong. Easy and fast to set up. You can pre-attatch the poles tothe tet before you set out for faster set up. If you're camping on a dry weekend, save the weight by pitching the fly only. The poles velcro to the fly so you can leave the tent behind if you like.
The only problem I've had with this tent is water wicking up through the webbing at the foot of the tent in very heaavy rains. It's never much more that a couple of tablespoons of water though. Keep the tent clean and store it dry and it will last you a long time. A great freestanding tent with a great weight-to-space ratio.
Update: September 19, 2011
I bought this tent 20 years ago when I first got out of college. Since then I've been in all sorts of rainstorms and the tent has kept me dry for the most part. In the heaviest rain it can spray a drop or two from the apex of the cross hoop.
Also, I had to seam seal the entire seam along the base of the tent as well as where the webbing is sewn into the base. If you don't, water will wick through and leave about a tablespoon of water. You have to be careful getting in and out when it's wet because rain can drip off the fly and into the tent. 
Overall, it's a snug but comfortable fit inside. I bought this tent because I wanted the lightest freestanding tent I could buy. It's very easy to set up. On the model I have, you can even stuff the tent with the poles attached. Makes setup a breeze. 
For 20 years it has held up pretty good. The elastic in the door pulls is shot but they still work fine. I have one snag on the netting on the door but it's too small to worry with. I've had not issues with the fly. I hit it with some silicone spray every year or so but nothing major. Last time I set it up I did notice a tiny crack near where two of the tent poles meet. It's not worth fixing yet though. 
Overall, I've been happy with the performance of the tent. I would refer something with a bit more interior room though.  
Design: Three-Season Freestanding Dome
Sleeps: 2
Ease of Setup: Very easy setup
Weight: approx 20 pounds
Price Paid: $200

I've owned this tent for more than two years. I would say I've seen 25 nights in it. I have only recently started appreciating it for the sub 5lbs weight, fully packed with groundsheet. It is nothing if not light.
Many of my impressions of this tent have already been mentioned, but I'll list the major ones that come to mind: TIGHT for two. My girlfriend and I spend a lot of time in this tent together now. I had been using it alone. Incredibly comfortable, spacious even, for one. Two fit, spooning. All kidding aside, don't sleep in this with anyone but your companion.
The vestibule is large, almost cavernous. At Bonnaroo music festival this year I fit a LG size duffel full of all sorts of gear and two 50L+ backpacks plus shoes and sandals galore. The gear was leaning against the door of the tent and it was heavy, but the vestibule kept it all dry and the tent had no problem supporting the weight.
I've found it to be nearly weatherproof. As people have mentioned, it's great in the rain. I've never felt a drop in some VERY bad storms, but the double wall design doesn't breathe as well as I would like when the fly is really latched on. Reflective pulls on all the zippers is nice. Reflective touches all over the fly are useful as well. Not enough internal pockets (4, 1 large 1 small on each side).
I find the stuffsack to be reasonably well made, but not up to the quality of Marmot and Mountain Hardwear tents I've seen. Without the fly, this tent breathes wonderfully. Lots of screen space with awesome sky views from the "head space" of the tent.
I feel like I got a great deal, and as I look for a new tent this summer, it's with the purpose of getting a tent for the winter. I have no intention of replacing this in the near future. Oh and it's held up well through pretty good care. No holes, no leaks, no scuffs, two bent stakes.
Design: Blue with yellow pole sleeves
Sleeps: 2
Ease of Setup: Easy for 1, Eye-shut easy for 2
Weight: -5lbs
Price Paid: ~$120 Gander Mtn Grand Opening Sale

I've used this tent in Rumney, N.H., over July 4th 2006, and in The Gunks in New Paltz, N.Y., three times and in Yosemite over Thanksgiving 2005 and have not had any real problems. Overall, I like the tent but have a few gripes about it. Read on:
Pros:
1) Easy to set up
2) strong construction
3) lightweight
4) glow-in-the-dark zipper pulls
5) Great vestibule space
6) fly/footprint only option
7) Tent did very well in HEAVY rain and did not leak.
8) Condensation is nowhere to be found.
Cons:
1) Tent could be taller - I'm 6 foot and can only sit up in this if I am against the door and my head still presses against the roof)
2) Tent could be longer - When sleeping 2 peeps and I can't lay across the tent, my head and feet are pushing the material against both ends of tent
3) More like a 1.5 person tent. Great for 1 person.
4) Guy lines are black - not reflective.
5) footprint stake-out-tabs are SLIGHTLY larger than the tent stake-out-tabs, so staking it out means the footprint isn't taut. (this is not a big deal tho)
6) Footprint MAY not be waterproof. I'm pretty sure that it soaked through, but it's possible that it was run off, so i'm not entirely sure.
7) Tent stuff-sack and bag that holds the stakes are WAY too flimsy. I know this was done to save weight but I think this is a bad idea to use such lightweight material for the bag that protects the tent. Somehow I've gotten several holes in the stuff sack however I've treated the tent gingerly, always packing it carefully, keeping it away from any heat source, etc. The ONLY think i can think of is that since the bag that holds the stakes is kinda weak, the stakes must have made the holes by causing stress points in the stuff sack when this is packed.
Design: 3-season freestanding 1.5 to 2 person
Sleeps: 2
Ease of Setup: very easy
Weight: lightweight 4lbs and change
Price Paid: $200

The Tadpole 23 is the ideal lightweight backpacking tent for those who live in climates where both screening and a rainfly are a necessity in any weekend or week-long pursuit. It has a mono-entrance large front door, with extremely roomy vestibule -- sufficient to hold two packs, boots, etc. (it can also double as a doghouse if you have another way to cover your packs!) It sets up in few minutes and when fully staked and guyed feels completely bomb-proof.
The ceiling is low and can feel restricting if you have to do much more than sleep in there. It's not a tent for playing cards in as the evening rolls on. The bright color and open feel of the meshy interior keep things feeling dry and airy. Probably not best to use this in the winter -- too much ventilation. You can also set up the rainfly with the optional footprint for a much roomier bivy shelter.
I highly recommend this tent to anyone who is looking for a lightweight, fully-featured, well-constructed sleeping shelter. If you go solo in this thing you will feel like a king, and its weight wouldn't prohibit it from falling into the one-person category.
Design: three season, three pole, A-type
Sleeps: 2
Ease of Setup: easy for one person.
Weight: ~4 lbs.
Price Paid: ~$200

I bought this tent in 2007, used it 2 or 3 times each year, and the fly became sticky and is not waterproof anymore since 2 or 3 years. I contacted TNF. They told me it is out of warranty.
But sure I am not even thinking about buying products from them.
Cons
Poor quality product
Use it a few times and you can buy a new one
Expensive
Source: bought it new
Price Paid: 200$

Same problem with sticky fly, velcro straps, and tapes falling off. Water coming in. Pitching inner only is great on hot, dry nights. Bought UK 2008.
Anyone know if TNF have brought out an improvement on the fly? Or will repair/replace?
email me at johnmcglade@hotmail.com
Source: bought it new

I just purchased this tent from our local store and tested it immediately at Camp Voltaire in Cuenca, Batangas, Philippines. During the night, some strong winds hit the campsite but the tent withstands pretty good.
A day after, rain started to fall and left some droplets on top of the rainfly. I thought it will penetrate since the droplets stayed on the top, but by just giving a little tapping and shaking and it's bone dry again.
I am starting to love this tent.
By the way I already used some other tent brands too, like Moss, Salewa and Coleman.
Price Paid: more or less $240

Version reviewed: 2008
Poor quality tent, becomes quickly unusable.
Pros
small footprint on the ground
quite light
Cons
unusable tent fly
velcro straps fall off
seam tapes fall off
This review applies to 2008 version of the tent.
After two years of light use the tent fly became extremely sticky and the seam tape started to peel. The fly is sticky on the inside part due to coating deterioration. Additionally, most of the velcro straps on the fly are now ripped.
I saw many other users accuse the coating problem also.
Finally, TNF replaced the tent with a "new" one. Which had a velcro strap missing. Unbelievable. TNF tents are no longer an option for me.
Source: bought it new
Price Paid: Bought on sale

I bought this tent 6 years ago in '05 for backpacking, after an afternoon-midnight downpour w/snow in the Sierras, and 3 people stuffed in a 2-person tent. I've used it only three times, once in the rain but not on the trail, just stationary camping, and I can't see any problem with it.
I recently changed my approach to 3-season backpacking, and now just use a bivy bag. I always preferred sleeping free of enclosures anyway when not under the city lights. I haven't used my Tadpole since '07 though.
I am holding my breath about the de-waterproofing issue that other reviewers have mentioned. Until that happens I will remain a big fan of this tent. 
Price Paid: $200

Firstly, matching the poles was a pain. Then, bending the fiberglass arch pole was a pain and seemed way too tight...I was waiting for it to snap. Thirdly, I got claustrophobia in it. The fly was pain to put up. Way too cramped inside. Used it once in a hurry before setting it up at home. After one night I got a cabin. Poor design. It even looks like a coffin.
Design: 2 person 'coffin' !
Sleeps: 1
Ease of Setup: A pain
Weight: no problem/light
Price Paid: Redeemable Credit Card Points from Citi

Easy to put up, light and able to withstand most wet weather. Great for a hike. Bad ventilation and flat spots might lead to leakage if not pitched perfectly. I was sold this by a guy who said it was an American style design in that you put up the inner first. Does it rain in America??? Outer first seems logical to me.
Design: 2 person dome free standing
Sleeps: 2
Ease of Setup: easy
Weight: 2.7 kilos???
Price Paid: 220 GBP

Since I got my Tadpole 23 fly !world is save. I am not kidding, this tent since 3 years with me and no problem so far. I went all national parks in California, always it made me and my girlfriends happy :)
Tadpole 23 show how to fly...
Peace, Niko
Design: 3 season
Sleeps: 2
Ease of Setup: not more than four minutes to set up.
Weight: 4 kg
Price Paid: 240,00

I bought this tent a year ago for a trip that didn't push through. I got to try it this year though on a backpacking trip in Yosemite National Park and it did okay.
Ease of pitching was one of its good points but roominess is definitely not of them. I am 5'10" but I did have trouble dressing up inside the tent (can't imagine how taller guys would fare..).
Weight was reasonable, considering it is a 2 person tent (a personal preference to store more stuff inside the tent) and the reflective zipper pulls and guylines was a nice feature. The aluminum stakes were flimsy.
Design: 3 season freestanding
Sleeps: 2
Ease of Setup: sets up fairly easy for a fusion design (sleeves and clips)
Weight: @ 5 lbs total
Price Paid: less than $200

Have backpacked through Italy with this tent where it survived mosquitoes, blazing sun and a thunderstorm which left me floating in six inches of water. It didn't leak a drop. And it's stood up to rain and gales on the Outer Hebrides of Scotland without a problem.
Great tent, packs very small and light. Easy to pitch, handy pockets inside, glow in the dark zip toggles, decent room inside for two and a good bit of space in the porch for storage.
Can't fault it!
Pure and simple, this is a bad design. It is way too fickle, and the thing leaks badly. The flat top does not naturally shed water and it doesn't take much more than a good morning dew to get the thing leaking. The fly touches the tent itself in the flat top area and you better go for your raingear and I'm not kidding. Just as I said, a bad design.
Sleeps: 2
Ease of Setup: easy
Weight: 3 or 4
Price Paid: $50 used

This tent has never let me down. I have been through moderate to heavy rain with no problems. I have also seen some light snow and hail in this bad boy with no complaints.
This tent is said to be a two man tent, but I have actually slept three in a pinch with NO ROOM to spare. We slept head to toe, to head. This tent has a spacious vestibule that is great for storing gear or even cooking during a storm.
I'm giving the tent 4.5 stars because I believe nothing is perfect, there is always room for improvement.
Design: Three-season freestanding
Sleeps: 2
Ease of Setup: Easy
Weight: Around 5LBS
Price Paid: $175

that hillbilly bruce houston is totally wrong. i was with him on those trips. the tadpole held up to some pretty rough weather. the only minor problem is it has little ventalation so u do get quite a bit of condensation inside the tent in the morning. it is also more of a 1 man tent but can fit 2 if neccesary.
Sleeps: 2
Ease of Setup: easy

Mine is a 2005 model.
Very good design, the details are lovely. But the quality is BAD!!
I treat my gear good, clean and keep them in a dry and cool place after I use every time.
The first time I used this tent, it was great. The second time, the inner fly became sticky, but still okay. Then when I used it third time, it was a nightmare. The inner fly is extremely sticky, the seam seal was falling down! I couldn't believe it is a TNF product, it never happened in my other tents... and that day is a rainy day, and I swam in my tent all night!
Ironically, the tent fly is not included in the warranty.
Disappointed!!
Design: three-season freestanding
Sleeps: 2
Ease of Setup: easy
Weight: few lbs
Price Paid: ~ US $260 with footprint

I just got back from spending five days in the North Cascades here in Washington State. I had just bought the Tadpole from REI for this occasion. On the first night we had heavy rains and 2" of snow. The tent leaked badly.
When I got back, I called REI and they said to return the tent, I will. I was brand loyal to TNF and had heard they had problems but had cleared them up. Obvious to me they lack in quality. I won't be buying their tents any longer.

Design: three-season
Sleeps: 2
Ease of Setup: Easy
Price Paid: $169

This tent kept us dry despite a prolonged period of heavy rain (12 hours+)-- but the following night (which was dry and cool) the inside of the tent was drenched with condensation. This tent is probably better suited to the warmer areas of the Americas than the cold damp ones of Ireland and the UK.
Also very cramped for two people as two packs won't fit into the vestibule without touching the sides.
Design: Three season semi geodesic
Sleeps: 2
Ease of Setup: Very easy to set up
Weight: 2.2KGs
Price Paid: €325

I am surprised at all the positive reviews for this tent. I found it to perform very poorly in the rain. The problem is the gap between the fly and the tent towards the back -- there essentially is no gap and the slightest bit of moisture sees the fly sticking and acting like a wick for water. We returned this one to the shop, where they agreed that it was poorly designed and refunded our money. Not recommended.
Design: three season semi-geodesic
Sleeps: 2
Ease of Setup: easy
Weight: 2.2 kilos
Price Paid: £220

I love this tent. I have owned it over a year now. I had a very small solo tent before this one and was always cramped. The Tadpole is really roomy for one and tight for two (advertised as a 2-man), but set-up is a breeze and it really keeps the rain out. The vestibule is plenty big enough for placing your boots and backback outside yet covered.
My only wish is that they made this tent a little smaller in a true one-man to bring the weight down under 4lbs. No complaints. Great tent!
Design: three-season freestanding
Sleeps: 2
Ease of Setup: very easy
Weight: 5 lbs with footprint
Price Paid: $155

I just came back from a three-day hike and the TNF Tadpole 23 proved to be an excellent tent. It would probably be cramped for two but I was solo so I was able to keep my pack and gear inside. The vestibule has adaquate room to cook under since I spent almost a complete day inside of the tent in a thunderstorm. It rained for 14 hours straight and not one drop inside. I would recommend this tent for anyone looking for a roomy solo or sleeping with a loved one.
Price Paid: $189

I am completely satisfied with the Tadpole. This was my first backpacking tent purchase and if I were to do it all over again I would purchase this tent. The tent is lightweight and durable with no seam sealing required.
The first trip I took my Tadpole on in the Central Cascades of Washington it rained hard for 16 solid hours, both my buddies were wet in their tents but I remained completely dry. This tent is roomy! I'm a 6 foot 250 pound guy and had plenty of room for myself, 45 pound pack and boots.
Design: three season, three pole
Sleeps: 2
Ease of Setup: piece of cake
Weight: 4.5 pounds
Price Paid: $140

You May Like