The North Face VE 24

The VE 24 has been discontinued. It was replaced by The North Face VE 25.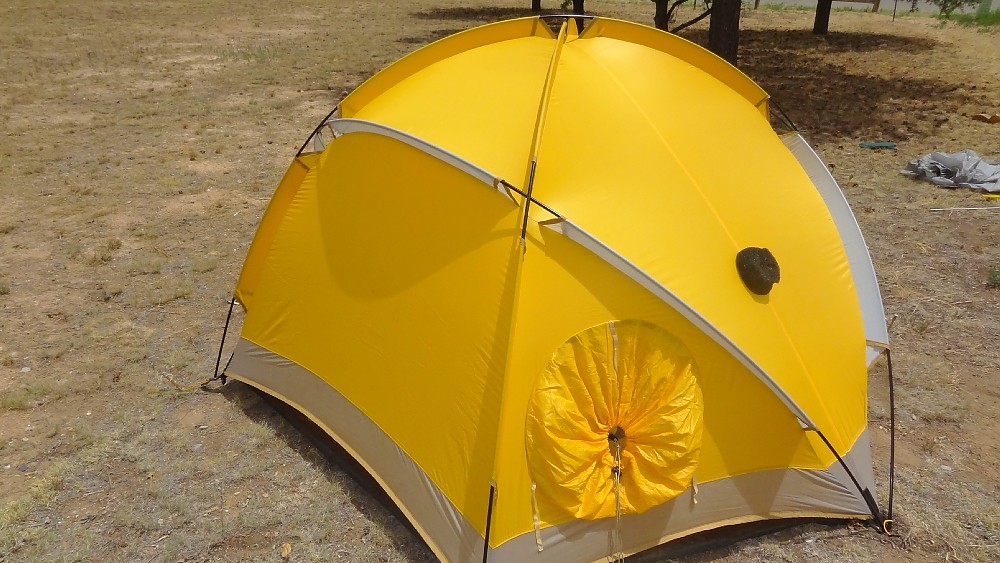 These older NF VE tents are brutal beasts. The newer models, as I have reconditioned two, are not made with the same quality.
Pros
A bunker of a beast
Plenty of room for two
The geodesic shape makes this one of the best high-wind, cold-weather tents around.
Cons
They don't make them like they use to.
Heavy for packing
And North Face plays games with their lifetime warranty now...
 Latest find a rare The North Face VE-24 made in Great Britain in the early '80s.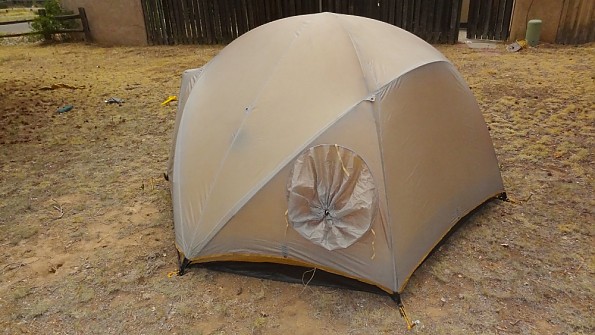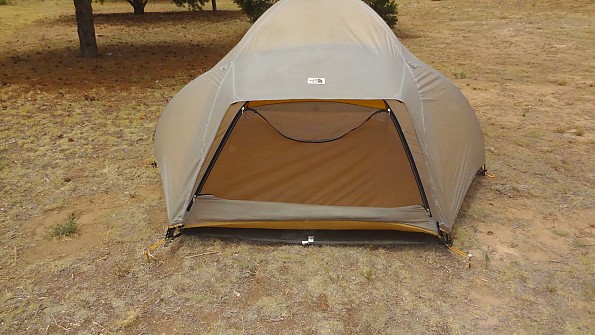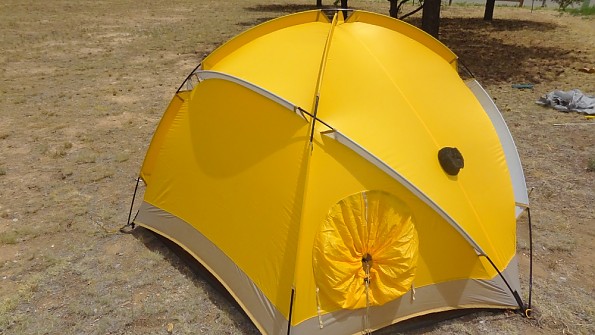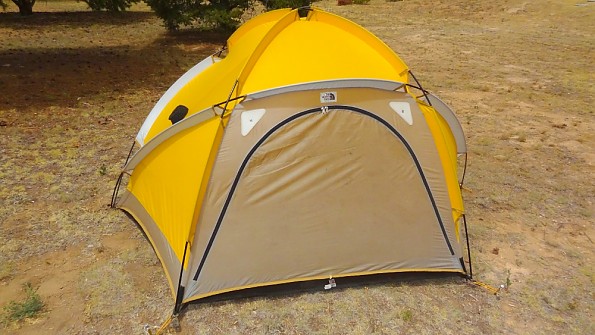 Just picked up a smelly VE24 today. No poles, but I have plenty of parts poles to make a set. Needs some patching to the pole sleeves, some floor sealer, and she's ready for another 10 years.
I have the first of the original VE25's and it's my go-to tent 85 percent of the time when I motorcycle or winter camp. Can't stand up in it, but plenty of headroom for sitting in a camp chair.
Has anyone seen a VE-24 with charcoal-colored lettering The North Face logo, says Made in Great Britain? I just bought one off Facebook in supreme condition, gray rain fly.
Background
None in this tent so far, but no doubt it will be like my older VE25 without the snow holes.
Source: bought it used
Price Paid: $100

GREAT TENT! Have one of the first ones from the '60s or early '70s—I can't recall. It survived a 200' flight in a windstorm with stuff in it. Busted a pole, but that was it. Urethane starting to break down—starting to smell like cheese or old socks, but still bomb-proof.
Pros
Solid, well-engineered quality
Cons
Stinks somewhat, these days
It's been: rained on, blown away, frozen, cooked in the desert.
For two people it's ideal with plenty of room for cold weather gear.
Been to: Saline Valley, Arizona, the High Sierras, various Nevada hot springs, Canyon Lands, six states in northern Mexico, Bob Marshall Wilderness, etc.
Pitches fine, just remember to stake it down well BC it flies real good too. Haven't been rained on a lot, but what rain it's seen has been handled just fine—no leaks or "surprises."
Mostly used in the deserts, so the biggest condensation problem is winter-time ice.
Packability is better than normal, I think, for a four-season tent, but not having owned another one for around six decades, my judgement is limited to observations on how other friends' tents compare in use.
Other than the 'cheesy' pong given off by the aging urethane coating the whole shebang has held up remarkably well: better than I have. Everything still works—zippers, bug netting, etc.
My weirdest experience with it was to use it as a shelter, while caving, in order to escape an army of blood-hungry: Cone-Nosed Kissing Bugs. All in 90-degree humid, summer weather near Lampazos de Naranjo in N.L. Mexico. They were tracking us somehow from downwind and our only refuge at night was inside my VE-24. In the morning, we found hundreds of them, hanging like Christmas ornaments all over the tent. But nary a one inside. These babies carry Chagas Disease, so this was not a trivial concern.
Source: Bought it new, as a sales demo sample.

Version reviewed: WindyPass VE24
Great tent for winter, spring, and fall camping. Super stable, fits two comfortably. Easy set up and break down. No vestibule, but that wasn't a thing in 1986.
Pros
Roomy
Warm
Resists mother nature like a beast (or it did)
Super stable pole structure
Easy to set up by one person
Cons
Tent opening gets stepped on because it is the old style door that rolls down.
Snow tunnels aren't really useful if you aren't using it in the arctic
Too warm to use in summer
Front of rain fly canopy is held up by two short poles that are easy to knock out of place.
We actually have the WindyPass VE24 from 1986. Great tent. Roomy for 2, haven't attempted 3. Enough space for two sleeping pads with room on the sides for small bag of clothing and shoes.
Great for winter camping as it stays warmer than outside. It is super stable during thunderstorms. We live in the Midwest and extreme camping is not the norm here, so we haven't tested it in heavy snow. We winter camped in the Blue Ridge mountains for years in this thing and it was really warm. 
Condensation in this old tent is a minor issue. Nothing too bad. We don't like using it in summer because it holds the heat...which is what it was designed for. So we bought a lightweight three-season bike packing tent for summer use.
It is super easy to set up. We still have the original aluminum tent poles which are in great shape. I don't like how the front of the rain fly sits on two short poles that are set into snaps on the front of the tent. It is really easy to knock one out of place getting in and out of the tent.
This tent just started leaking during heavy rains, so now to figure out how to seal it back up. If we can get it sealed up the next step is to use a separate tent tarp to create a front vestibule to keep the inside dry in rainy weather. 
Background
We own two MSR tents—a three-person bike packing tent and a six-person cabin tent. We use this tent the most as it is easy to carry and set up for winter camping. We have used this tent many times over the past 36 years.
Source: bought it new
Price Paid: $300

My VE24 is almost 50 years old and still going strong. Four-season tent for the High Sierras, but worked fine in the Cascades and Shenandoah Valley. Now outfitting a second generation of backpacking climbers. You might find a lighter tent, but you will not find anything as durable as an old NF (from the days of lifetime warranties).
Pros
Durable 4-season tent
Expedition rated
Can withstand 60 MPH blizzard or a Northeast soaker and still keep you warm and dry.
Cons
Slightly heavier than newer tents
Worth the effort to keep it clean, dry, and re-treat sealants (base, seams) when needed.
My TNF VE-24 is nearing 50 years old. Purchased in the early '70s when I was going to Cal and backpacking/climbing in the Sierras. It is a comfortable and roomy tent. Perhaps the low humidity West added a number of years, but it took a beating above the timberline in Yosemite.
Even in snow, I could assemble the tent in 60 seconds. The shock corded poles are still in perfect condition. If memory serves me, these tents were made in Berkeley (not outsourced to China) and included a lifetime warranty. They had to be good!
As with all synthetic tents, the waterproof coating will fade. However, I've only recoated once in 50 years! Be good to your tent: clean with water and let dry after each use. Store out of sunlight in a non-humid environment (not an attic or garage).
The VE-25 isn't as well built as the 24. Other than the Mountain Tango 4 ($1100), I've yet to find a more durable, quick setup and functional replacement.
If you need a tent for long weekend or 2-week trek, this was AND still is my go to equipment. For short weekends and good weather, you'll find cheaper and lighter, but not better.
Background
Used to lead backpacking and scrambling events into Yosemite and Eastern Sierras. Have used this and related equipment at least over 1,000+ backpacking days and nights.
Source: bought it new
Price Paid: $400

Benchmark design, tent making paradigm shift for the time.
Pros
Too many to list, all the others plus!
Bought ours at the North Face factory store in Berkeley, CA, as a second, great discount! Problem was that one of the low side wall panels was turned inside out, big deal, I'll take the discount!
Agreed with all the reviewers, awesome tent.
My con is how heavy it is! Compared to today's tents, it is a barge, but then again those other lightweight tents are timed for destruction, will not take the wear and beating of the VE24.
Beware of the front door zipper.  It is curved and loooong. Mine has gone out twice so far even though it was kept silicone lubricated nicely, it still blew out and without that much use. Maybe the newer versions have a stronger zipper. Guessing ours to be one of the first produced when ever that was a long time ago. Gotta run the zipper slow and easy!

BTW, historically, if I am thinking right, it was the very first free standing tent ever designed and marketed the rest is history! Can anyone confirm this or set me straight?

Source: bought it new
Price Paid: $150? For sure, don't know, a deal!

It really stinks that North Face made such a good tent. I've been looking for all kinds of reasons to replace it, but I really can't justify replacing a perfectly good tent.
Pros
Performance
Unsurpassed quality
You would wonder why on earth one would keep a tent for 30 years plus...well it's truly made to last! It has survived two marriages, one kid, and three dogs. It doesn't leak, it withstands high winds, all kinds of snow, and it outperforms everything that's out there.
Excellent for backpacking or car camping. After many years of use the fly had some delamination, I sent it back to North Face and they replaced the fly with a VE 25 fly, which I guess had just come out. So if I could justify a new tent I'd just suck it up and get the VE 25.
At my age I'll have to leave it in my will, because it most certainly will outlive me.
Source: bought it new
Price Paid: I think in the $350 range

Purchased '80 or '81, used backpacking, canoeing rivers, conducting training schools in survival, winter hiking Mt. Mitchell, minus 20 below temps. All this it never failed. Also used in wilderness hunting, all over East Coast states. This tent is as trustworthy as my Smith & Wesson 686 Revolver.
Pros
Love shape
Ease of use
Colour
Lasts forever
Cons
Rubber coating coming loose on floor.
Set up with ease, very stable, never leaked in 35 years use. Plenty inside room. Could not have designed a better shelter. Looks great, like new, today.
Source: bought it new
Price Paid: $350

My VE-24 I bought in 1980 was a bad-ass tent that survived undaunted for two decades of constant use and abuse! The VE-25 I bought to replace it around 2004 was ENTIRELY a piece of junk in comparison! Two years of mild use and it was falling apart everywhere. It permanently soured me on anything by TNF.
Pros
Absolutely THE BEST tent I ever owned
Cons
No longer available...if it was and the quality was the same I'd immediately buy one. :-(
My VE24 was outstanding...my VE25 was junk.
All of you know what I'm talking about.
Background
Decades of trouble-free use.
Source: bought it new
Price Paid: $299

Quality!
It's so cool to hear stories about this tent. I think I bought mine in Honolulu in 1976 or so, so that makes it almost 40 years old. It's been in the Cascades, Rockies, the Wasatch, in snow and rain, and still does the job.
After all this time, the elastic in the poles is still hanging in there!  A little looser, like me, but holding the fort together! Zippers still zip. The only flaw is my own fault when I flew it like a kite in the Santa Fe wind, and it got a tear from some thorny bush. But we sewed the screen up, and it's part of the character.
I can't bear to let it go!
Source: bought it new
Price Paid: $250??? It was 1976. Hard to remember.

North Face guarantees everything they sell, and they back it up. The BEST QUALITY I HAVE EVER SEEN!!!
Pros
QUALITY, QUALITY, QUALITY
I had a North Face Oval Intention winter tent. The floor delaminated. I took it to North Face and they replaced it with a VE-24.
I had two Holubar goose down -10 rated sleeping bags, that lost a bunch of down, the guy told me that North Face took over Holubar. I brought the two bags in and they gave me two NEW bags !!!!! They rock!!!!
This is a great tent that easy fits two people, and fits three when using the vestibule. But I need to find replacement poles for it. They got all bent up and North Face does not make them anymore. Is there a company out there that makes custom tent poles?
Source: bought it new
Price Paid: $500

Survived the test of time.
I purchased my tent in the late '70s and used it in all conditions—backpacking, car camping, and many cross-country and cross-state motorcycle trips. My kids occasionally use it nowadays.
I was just asked to accompany a friend on a motorcycle trip around Nevada, Utah, and Arizona. Out comes the VE-24. I think some of the smartest decisions I've ever made was to buy quality and the VE-24 is pure quality. Oh yeah I'll bring along that Swiss Army knife from the late '70s.
Source: bought it new
Price Paid: $500

I purchased my VE24 tent in 1978 just before we travelled across Canada on our bikes then onward to England, Europe and the Middle East. I lived in my VE24 on by the gulf of Aqaba for two months surviving sand storms.
I still have my VE24 today and continued to use it successfully under adverse conditions. The continuation of the VE series tents speaks to excellent quality and commitment by North Face to produce equipment truly tested. I will definitely purchase another.
Sleeps: 3
Ease of Setup: easy
Weight: 9lbs
Price Paid: $350?

Best tent ever.
We bought our tent in 1984 in Germany, and it cost us 1,400 German Marks then (about way over $1,000 USD) but it was worth it. NF replaced fly door and floor of tent over the years under warranty. Would like to replace the fly though but cannot find a newer one. Awesome tent!
Source: bought it new
Price Paid: 1.400 German Marks

I bought my VE 24 back in 1976. What a quality product. Camped all over California then onto Europe, Australia, and New Zealand.
I recently rediscovered my VE 24 but can't find the poles. Can someone measure a pole for me? I may get lucky and find replacement ones here in NZ. Cheers.
Source: bought it new
Price Paid: $250

Tent has great stability when the guy lines are all tied down. Very good weather resistance.

Pros
Great tent that has stood up to the best or worst of storms
I was wondering if anybody would know where I could find a footprint and a rainfly with vestibule for my Vintage VE-24 dome tent? Thanks for any help you might provide.
Source: bought it new

Bought my VE24 in the mid '80s—still have it. These tents are heavy, but this is a tent that will hold up in any type weather. It is an expedition tent used in the Himalayas. If you are in a storm you can rest assured it will be standing in the morning.
Background
Used it in the High Sierra, California.
Source: bought it new
Price Paid: $500

Your Review
You May Like
Specs
| | |
| --- | --- |
| Price | Reviewers Paid: $100.00-$500.00 |
Recently on Trailspace