Trail Designs
Sidewinder Ti-Tri
Reviews
This is a 3-in-one Caldera Cone stove with a difference.
Rating:


Source: bought it new
Price Paid: over $100

Original Review: March 11, 2012

Summary
This is a 3-in-one Caldera Cone stove with a difference. It can burn alcohol (burner provided), ESBIT fuel tabs in a special holder, and wood in the optional Inferno gassifier insert. The main parts of the stove are made of sheet titanium and will roll up and fit into the mating pot with the other components except the alcohol burner.
Pros
The Sidewinder's small packed size and light weight make it a viable option for long trips when using with either ESBIT fuel tabs or wood (where permitted and available.)
Major parts fit in Tyvek sleeves and in the mating pot, excepting the provided alcohol stove.
ESBIT cooking actually does use about 1/3 less fuel than the best alternatives I've tried.
The optional Inferno woodburning insert makes the Sidewinder a TRUE gassifier wood stove that burns most of the gasses emitted in initial combustion. It burns HOT and thus the need for titanium in the outer cone and inner Inferno insert.
The Inferno insert, with its larger opening for feeding wood, can take a larger fuel load than the Bush Budddy and
Thus one can step away from the task of feeding the fire for about five minutes.
Cons
As with other Caldera Cone stoves you must buy a mating pot for the stove
It's a bit pricey due to the titanium construction.
For best alcohol use you should stick with the provided Trail Designs' burner
Be prepared to clean pots and stove when burning ESBIT or wood.
The Trail Designs Sidewinder stove system is a true system. It's called the Sidewinder because you wind or roll up the two cones and ti ground protector and insert them in a Tyvek sleeve which stores in the mating pot. Only the provided alcohol stove will not fit on most pots with the other components.
The "whole enchilada" consists of the titanium outer cone, mating pot (various sizes available), alcohol stove, "GramCracker" ESBIT fuel tab holder, Inferno woodburning insert of inverted ti cone, bottom screen and screen stand. The two cones, outer and Inferno inverted cone and ti floor sheet, roll up together and fit into a Tyvek sleeve that nestles tightly in the mating pot. Beneath the rolled up cones lie the woodburning screen and stand in their own flat Tyvek sleeve. Thus the pot interior is protected.
Perhaps the best feature of the Sidewinder, aside from its packability, is that it saves fuel in every mode, alcohol, ESBIT or wood. For best results at all altitudes use the provided Trail Designs alcohol burner. They put a lot of time into developing the optimum alky burner.
The tiny ESBIT GramCracker holder works with the provided small aluminum ground sheet but I prefer the larger ti ground protector. The Gram Cracker tab holder and outer cone provides, in my own experience, 1/3 better efficiency in terms of fuel needed.* This is a true lightweight long distance stove setup that lets you carry less weight per BTU than alcohol.
But for the ultimate in a lightweight stove the optional woodburning Inferno insert is the way to go, especially in winter. No fuel to carry, only tinder. The design creates a double wall gassifier type woodburner that, given the efficiency of the outer cone/pot combo, is a truly light way to go — provided you have the available wood and the permission to burn it.
It is a HOT stove and thus the need for titanium cones and steel screen parts. For the winter chore of melting snow for water I use a larger JetBoil pot whose bottom fins fit outside my particular small Sidewinder stove top. This seems to work quite well as the heat-exchanger fins capture heat from the cone's top vents. BUT... one needs to remove the JetBoil pot's neoprene cozy cover before use!!
Trail Designs has created a true stove system with the Sidewinder. Did I mention it's efficient in all fuels? 
* My previous ESBIT stove was a Vargo TRIAD alcohol stove base and MSR windscreen.
Update: June 15, 2014

Summary
This stove can burn ESBIT tabs, alcohol (12-10 alky stove included) and wood with the optional Inferno kit. The ti sheet metal construction is excellent. The Gram Cracker ESBIT tab holder and cone give THE best efficiency of any ESBIT stove. The Inferno insert makes the stove a highly efficient and HOT "gassifier" wood burner that rivals the Bush Buddy.

Stove is very light and compact when rolled up for storage.
The Sidewinder Caldera Cone stove has several differences from the original aluminum Caldera Cone stoves:
Titanium construction to withstand high heat from the wood burning option

Shorter cone to enable it to roll up and fit into its own pot

Optional Inferno wood burning insert

 
You can set a larger pot on top of the cone and still cook, or set a smaller one on the two provided titanium shepherd's hook stakes run through the 4 holes in the cone but you will lose some efficiency as the pot only sits down inside the cone about 1/2".
For solo backpacking I bought the smaller 3 cup stove to fit their 3 cup anodized aluminum pot. It's perfect for cooking for one and it is about the maximum size and shape for efficient ESBIT cooking. After years of trying to make a more efficient ESBIT fuel tablet stove I experienced ESBIT "nirvana" with the Sidewinder's Gram Cracker tab holder and cone stove.
** And now, with Brian Green's modded Gram Cracker tray all the liquid residue from the burning tablet is held in the tray to burn, ALMOST DOUBLING THE BURN TIME! (See "Brian's Backpacking Blog" for details).
The combination of the Caldera Cone and Brian Green's modified Gram Cracker ESBIT tab holder makes this stove much more efficient in terms of fuel weight (for trips more than 3 days) than any of the alcohol stoves that can be used in the Caldera Cone.
If Trail Designs' titanium Sidewinder (and larger TRI-TI stove) were just very good in one of the 3 fuels it burns that would be reason enough to buy it but it is better in all 3 fuels. BRILLIANT!
After 30 years I have finally found a stove I can…
Rating:


Source: bought it new
Price Paid: $130

Summary
After 30 years I have finally found a stove I can enjoy. I have been through Bluet canisters, various white gas and multifuel, Jetboil, Sierra zip stoves, and others but this one does the trick for me. Excellent with alcohol and wood burning modes. To be honest, I haven't even tried the esbit mode yet. If you just want a quick boil with no fuss consider the alcohol version only.
Pros
Lightweight
Versatile
Stable
Cons
Set up takes a little practice
Pricey for just alcohol mode
Update 3/26/15: I still think this is the best stove I have ever used.  Each time I take it on a trip, I get more used to it and appreciate its flexibility more and more. New comments in italics.
I absolutely love the Sidewinder Ti Tri. I am not a fan of freeze dried meals for the most part, so usually simmer cook my own dehydrated and store bought dishes.
I have always enjoyed the camping aspects of backpacking and really like the wood burning option on this stove. It has replaced the occasional fire and cooks really efficiently. On a recent trip to Mt Rogers, VA, I used the wood burning option in the evening in gusting 30 mile an hour winds. With the right fuel picked out from around camp in a couple of minutes, this little stove made dinner a snap. Boiled quickly and then simmered over mostly coals with an occasional boost for 10 minutes.
See photos below for shots of the stove quickly coming to a boil and then simmering over coals for 10 or more minutes as needed with just an occasional boost. It took about two short trips (2 to 3 nighters) to get used to adjusting the wood burning mode. I enjoy it immensely and often throw a few more twigs on and keep the fire going for a while and eat beside it (last photo).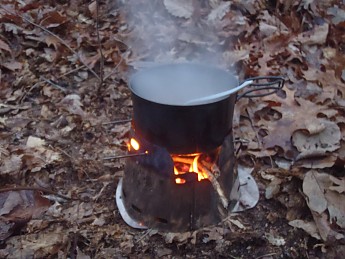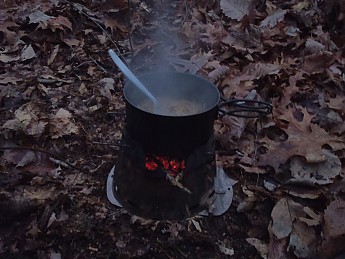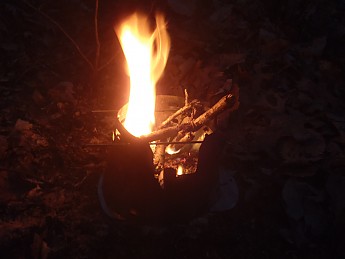 You can't adjust the flame quickly, but with practice you get used to the right amount of fuel to use and when to let it burn down. To get a quick start in the morning, I switch to alcohol mode for coffee and oatmeal, and am on the trail.
See below for a shot of the stove in alcohol mode. It sits further down in the cone and with the specific fit to the pot, the efficiency and heat retention is incredible. Makes afternoon tea a quick stop...
At just about 5 oz, the Ti Tri is light but stable as the wind screen is sized for your pot. Setup takes a little getting used to, but becomes routine quickly and packs down really small. Having the option of wood burning or alcohol at this weight is a real benefit. Both the wood burning and alcohol modes meet and exceed my expectations.
I spent the extra money on the inferno insert and floor, which helps efficiency and makes it acceptable to leave no trace standards (no scorched ground). I haven't timed a boil in the field, but at home it brought a liter of water to boil in just under 5 minutes.
Timed a boil (roughly) in 40 degree weather. Cup and a half of water boiled in 3 minutes once I put the pot on (after starting the fire). Will update in the future if I remember to time the alcohol mode.
This certified (certifiable?) stove collector is officially retired!
Where to Buy
sponsored links
Help support this site by making your next gear purchase through one of the links above. Click a link, buy what you need, and the seller will contribute a portion of the purchase price to support Trailspace's independent gear reviews.
Trail Designs Sidewinder Ti-Tri
reviewers paid:
$130.00

The Trail Designs Sidewinder Ti-Tri is not available from the stores we monitor.
Recently on Trailspace