Vargo 1.3 Liter Titanium Pot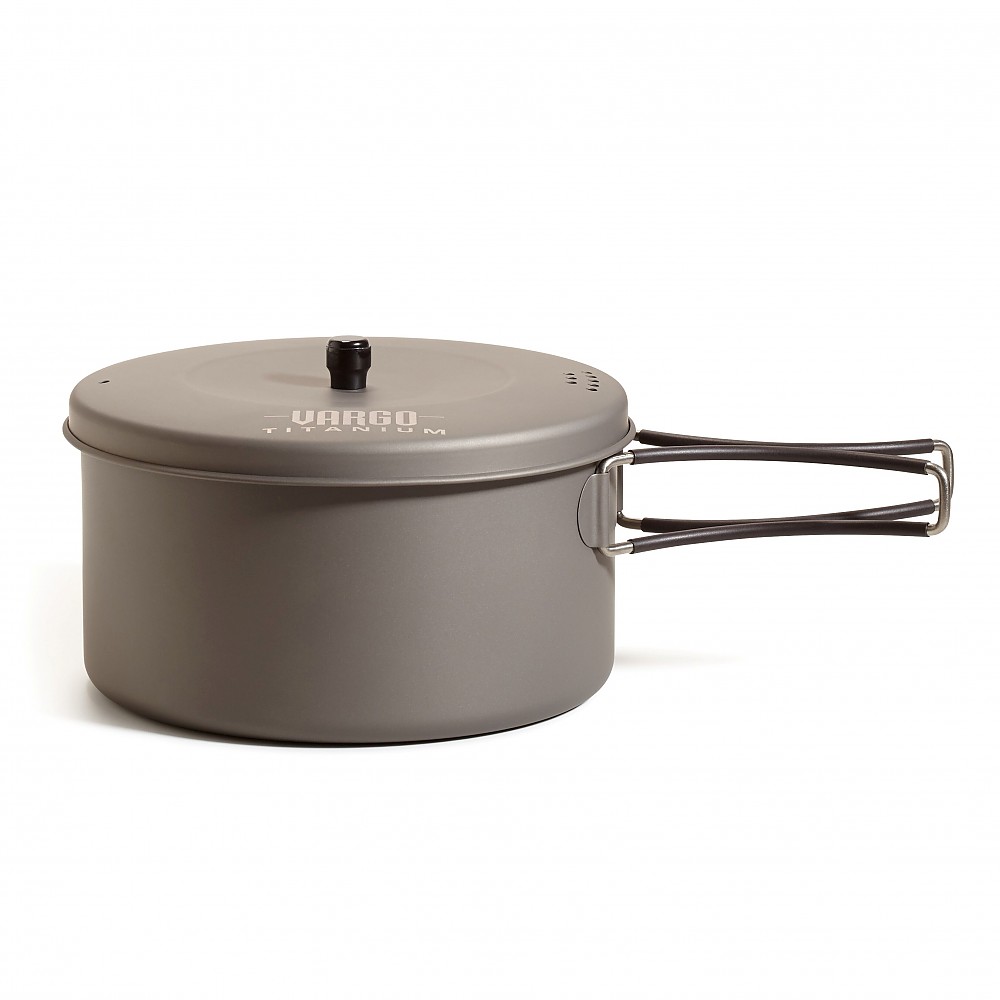 This is an excellent lightweight pot that has been very durable over the last two years. Heats relatively evenly, and has several thoughtful features including sturdy handles and vent/drain holes. I have used this over wood, alcohol, and Esbit tabs and the pot performed well. A slightly loose lid fit and not quite foolproof non-stick surface are the only negatives.
Pros
Durability
Heat retention/distribution
Handles are sturdy and lock well
Drain and vent holes
Cons
Slightly loose lid fit
Rubber coated handles can melt over fire
Note of Clarification:  I initially posted this as the "non-stick" pot as my memory failed me that the previous version of this pot was non-stick (lid on the inside and no handles). The available information and reviews when I purchased it were of the old version, so I approached it with this expectation. As correctly noted by Northward in the comments below, this is not a non-stick pot. I have left the original review intact below except for changing the name and removing non-stick from the cons for the most part (although keeping the food sticking issue in the discussion). I did not change the rating, as the lid fit still warrants a 4 in my opinion (a pot only has two main parts so it is worth a point if they don't fit snugly). Please keep this in mind as you read below.
I bought the Vargo 1.3 liter titanium pot as a package with the Trail Designs Sidewinder Ti Tri stove about two years ago. My previous favorite pot, an aluminum artifact from the '80s had finally acquired enough deep dents that I didn't trust my ability to clean it thoroughly.
Since the Ti Tri is custom fit to individual pots, it seemed like a good time to upgrade. I initially looked at the Evernew 1.3 liter which is extremely popular and may be even better than the Vargo. I settled on the Vargo due to the drain and vent holes in the lid which makes pasta and other meals a little easier.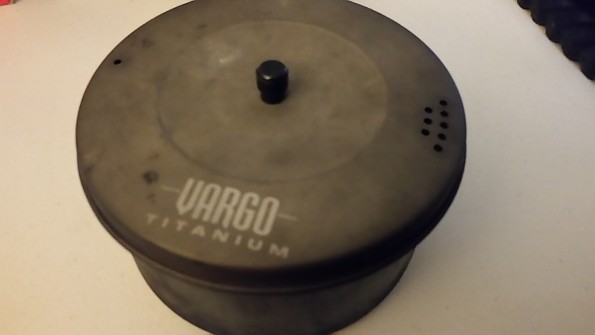 Note that this is the post-2012 (or thereabouts) Vargo pot with handle and lid fitting outside the pot. The earlier version I think was missing handles and had a lid fitting just inside the pot.
The Vargo 1.3 L is large enough to provide dinner for two when my wife and I backpack together, but not too large for solo trips. At 3.5 inches tall, and about 6 inches diameter it packs well, stores a useful amount of gear (see photo below).
There are a series of holes in one side to drain off water, and one hole on the opposite side to vent. These work well when draining pasta etc, and also seem (my unscientific opinion) to help reduce boil overs when you are simmering a dinner.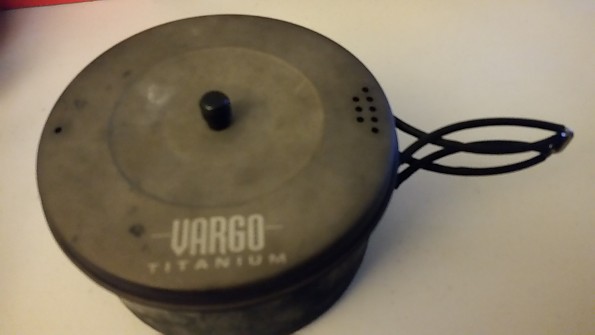 Vargo (and Trail Designs) list the pot at 5 ounces with lid. I don't have the original weight available, but after two years of use and numerous wood burning stove meals, mine has accumulated a solid charred outer surface.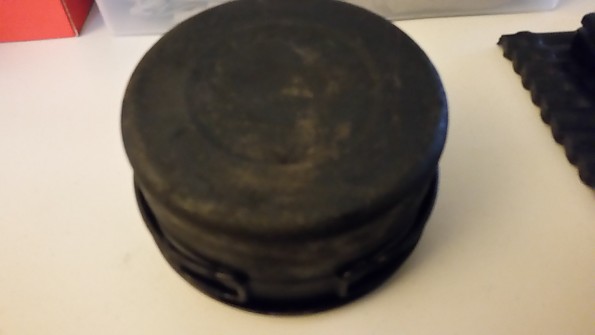 It now weighs 5 and 1/8 ounces. That extra ounce is not noticeable to me, and I like the heat retaining layer of residue on the outside.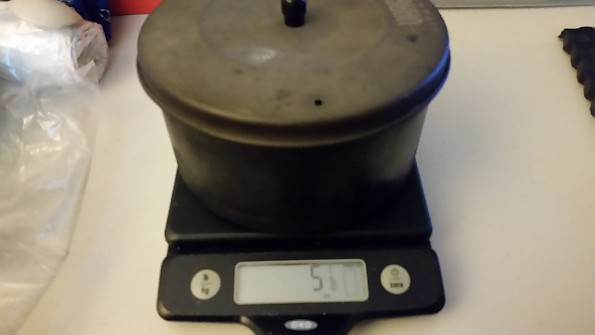 The handles are very sturdy and lock together well. They have a rubber coating that insulates the metal handles well, although they are susceptible to melting over a wood burning stove or fire if you are not careful. I make sure they are always turned away from the main feeder opening of the Ti Tri in wood burning mode but still have experienced a minor amount of melting closest to the pot. When separated rather than locked/overlapped, the handles make a great resting spot for my spoon and also can hold the lid when you don't want it covering the pot entirely.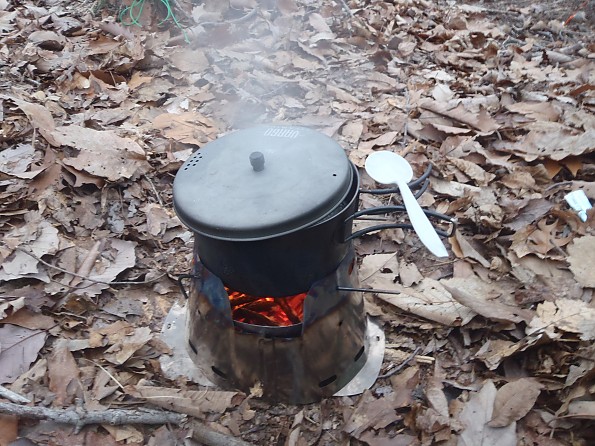 Since I'm on the lid topic, that is one of the two main flaws as it doesn't fit quite as tightly as I would like.  However, that is a double-edged sword as my last pot lid fit a little too tightly and sometimes needed a knife blade to wedge it open! The handle for the lid seems to do a good job of insulating and I have never burned myself.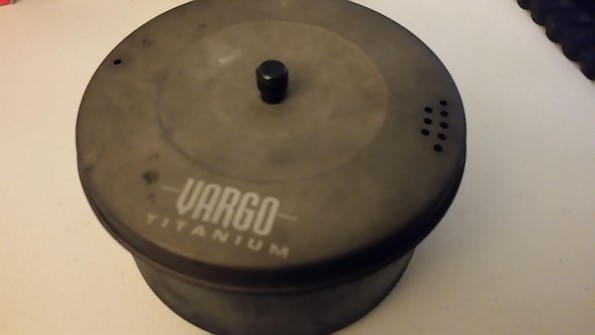 Here is the pot on the Sidewinder Ti Tri in wood burning mode.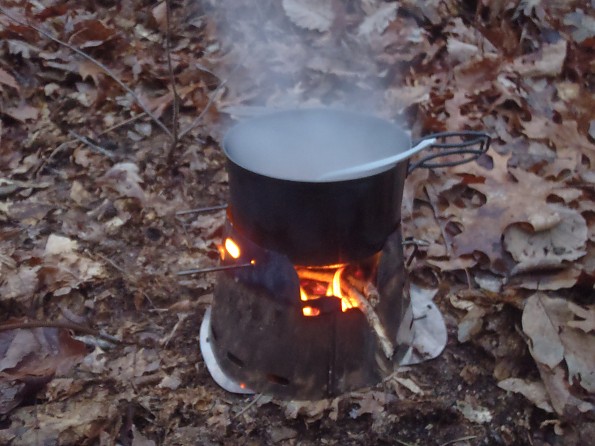 The pot seems very durable as I pack it full of the stove parts and other items which fit tightly but don't seem to warp the sides or affect the fit of the lid. There are no dents or dings that I can find even after two years of steady use and cramming into the backpack. It retains its shape very well.
Heat distribution seems to be similar to other pots that I have used. Boiling does not occur across the entire pot at first, but that is primarily due to the location of the flame in wood burning stove than anything else. The heat spreads very quickly and I haven't really noticed any problems except one night when I got a little distracted by wildlife and left spaghetti sauce simmering over coals for 15 minutes as it dried out.
That caused a significant burn spot on the bottom, but it has never caused me any other problems since then (over a year ago) and still retains similar heating and other qualities to the rest of the pot. Not sure if this is common in titanium pots, but just having a bit more care has prevented it from happening again.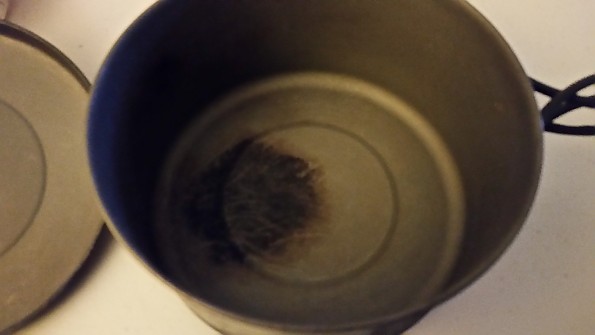 The titanium seems to work decently but isn't non-stick like the previous version. It does stick at times depending on the food you are cooking and how long/how hot, which is the only other flaw. However most of my meals don't stick...I rarely do freeze dried and simmer cook most meals although I also add a dash of olive oil most nights that probably helps.
The occasional overcooked meal has had some sticking, but it easily comes off with a quick wipe or at worst scrape with my teflon spoon. Cleaning the surface has been easier than any other pot I have owned (mostly two aluminum models and a dabble with stainless steel for a while).

Here are a few more photos of the pot in action—sitting at alcohol stove level in the Ti Tri...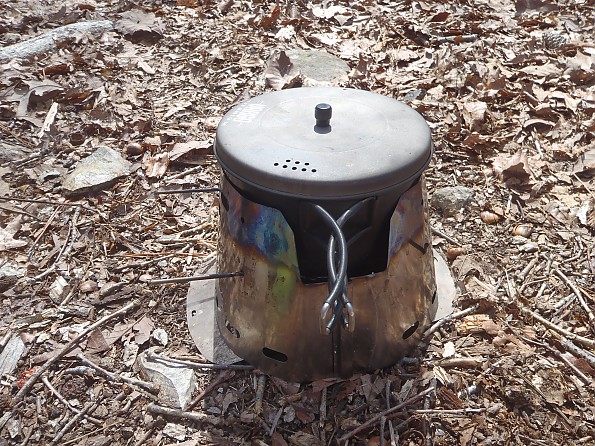 And again at wood-burning stove height with the lid on...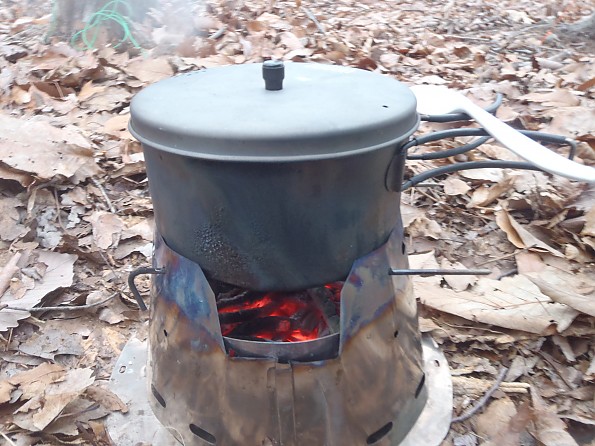 I would guess that I have used this pot for almost two years on at least eight different trips ranging from 2 to 6 nights in temperatures from just above 0 to 80's.  It has been packed directly into my pack and also stuffed into a bear canister several times.
Overall I would recommend the Vargo 1.3 L (and highly recommend the Ti Tri!) to anyone looking for a pot that can handle meals for two but also be light enough to handle solo trips. It is well built, durable, distributes and retains heat, and has other thoughtful features. The lid fit and minor sticking issues have not impeded its performance significantly for me. 
There are probably other pots (like Evernew) that are equal and may be better, but the Vargo 1.3L doesn't disappoint and met or exceeded my expectations in most areas and has held up well.
Source: bought it new
Price Paid: $60 I think (in bundle with Ti Tri stove)

Your Review
Where to Buy
Help support this site by making your next gear purchase through one of the links above. Click a link, buy what you need, and the seller will contribute a portion of the purchase price to support Trailspace's independent gear reviews.
You May Like
Specs
Price
MSRP: $69.95
Historic Range: $55.99-$69.95
Reviewers Paid: $60.00

Weight
5.4 oz / 153 g

Size
6.2 x 3.5 in / 157 x 89 mm

Capacity
1.3 L / 44 oz