User Review:
Trangia 27-5 UL
Rating:


Source: bought it new
Price Paid: $79

Summary
Cheap, quiet, very light.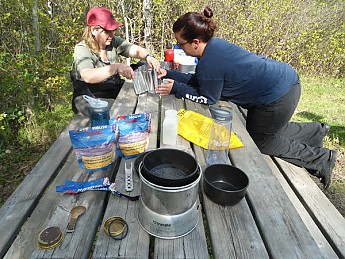 Photo: Non-Stick Trangia for Two People in Action
I have two Trangias, one is the Mini which I use just for myself, and the other is the two-person kit. I started with the Mini and was so happy with it, I got the larger kit for group trips.
Some concerns with alcohol stoves is that they don't work well in a wind because there's no pressure to create a jet of flame, and that they're slower, but that's been partially taken care of in this design. 
What's nice about the two-person stove is that it comes with a stand that integrates a windscreen into the design that actually uses any breeze to improve the performance. The stand is turned towards the wind, which comes in and is directed up the outside of the burner. That creates a jet effect and makes the stove more efficient. The wide base also provides extra stability.
It takes a bit of practice to get used to the simmer ring, though - once the water has boiled, I usually set it about 3/4" open and see how that works. Boil-in-a-bag suppers work fine, but doing a package of Kraft Dinner can be touchy. And when you're done, make sure the stove has completely cooled down before closing the lid. The o-ring can get wrecked if you close the stove up while it's hot, and it can start leaking fuel all over.
At elevation, you're still looking at 7 minutes or so to boil a litre of water. I usually just get one pan going, then top it off as needed until I have enough for what I want. As for time, I've often found I've had supper ready while those with pressurized stoves are still troubleshooting that stuck valve or leaky o-ring! (See photo) Besides, on a mountain overnighter, I'm never in much of a rush anyway, and the absolute silence of the stove lets you enjoy the wilderness all the more.
The kit comes complete with two non-stick bowls with frying pan, a handle, the stove and a two-section stand. Very light and very compact. I carry a 250 ml Nalgene of fuel, and that's usually enough to last me for a long weekend. I've had this one for three years, and it's still going strong.
Nothing to break, nothing to fix, and absolute reliability.
Where to Buy
sponsored links
Help support Trailspace by making your next purchase through one of the links above.