Vasque
Breeze 2.0 Mid GTX
Where to Buy
Reviews
I love these boots for several reasons. The #1 reason…
Rating:


Source: bought it new
Price Paid: $149

Summary
I love these boots for several reasons. The #1 reason would have to be the ankle support. The #2 would have to be the suction like grip on the luggy soles.
Pros
Killer ankle support
Great luggy grip in the soles
Excellent cushion
Cons
Seems to run about half a size small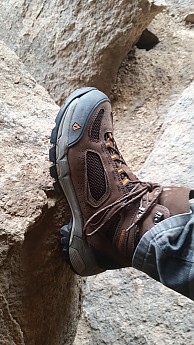 Let me start off by saying that these are the first hikers I've purchased since I broke my ankle in February '15. Anyone out there that has had the unfortunate experience of a severe ankle injury knows... once you heal, ankle support is a huge deal. And the support in these boots is excellent.
I broke three bones, and tore a tendon on top of it. So, even the occasional small rock that angles my foot to the slightest degree would stop me in my tracks. But the support I get with these dogs buffers that more so than any shoes I currently wear. 
If that's not the perfect reason to give em shot, you gotta dig the lugs on these grippy boots. Especially for those of us that love to rock scramble in the canyon lands. Wear did Vasque come up with these soles? Spiderman? They grip like the kraken. 
Although I will say that they run like a half size small. And though most of my trips in these have been on the arid dry side out west; I did do a bit of rock hopping across Sipsey River. And they did take a dunk in the water. And the Goretex lived up to expectations. As it should. 
Overall, I'd have to say they are by far my favorite hikers to date. Way to go, Vasque! 
Unsurpassed comfort and quality. That's what I look…
Rating:


Source: bought it new
Price Paid: $170

Summary
Unsurpassed comfort and quality. That's what I look for in a serious backpacking boot and Vasque delivers. They are so comfortable I wear them for my 30 min. training hill climbs barefoot! Without even a rub.

With my old boots, on that same daily hill climb when it's wet, I would be slipping all over the place. With my new Vasque Breeze boots I go up at almost full speed. And they're light as a breeze! Best for medium to moderate (40 lbs.) backpacking on any trails.
Pros
Comfort
Quality
Workmanship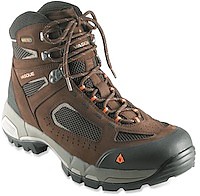 Wow. I fell in love with this boot the first time I wore them. I wasn't used to such a lively boot — it felt like I had springs strapped on. They are so technical and yet so well crafted — and light! My first hill climb they provided great traction even though the surface was wet (springtime Oregon coast rain!). They kept my feet dry in the heaviest rain and they felt exactly the same going downhill as they did going up - and they weren't even cinched up. 
They are so comfortable I can wear them barefoot (at least for half an hour). I have fat pad atrophy in my feet so I thought I would need sport gel insoles. Naah! These insoles are already jellin'. 
I wore them for a ten-mile hike through Silver Falls State Park. So comfortable I didn't even think about them. Rain, waterfall mist and puddles, forget it. They kept my feet nice and dry all day. I purposely left my sticks at home to see if I would come back with "hammer toe". No worries. These boots fit like a glove, going uphill or down. All this at only 2 lb. 9 oz.!
The engineering is spectacular. The combination of Gore-tex liners and Vibram soles is just the start. The nubuck leather and the nylon mesh are the real marriage. The tongue is padded to protect you from the lacing pressure. The footbeds and mid-soles are built to absorb shock and return energy back to your feet. Embedded plastic plates provide stability. Man they sure have learned a lot about making boots at Vasque.
What else can I say. These boots are headed for Yosemite!
A comfortable, good looking, waterproof boot that…
Rating:


Source: bought it new
Price Paid: $89.99

Summary
A comfortable, good looking, waterproof boot that is great to wear day in and day out. Did I mention well priced? It's come a ways from its 1.0 version but has continually been just as comfortable. I would recommend wearing thick socks because the boot's main flaw is no padding in the tongue which is slightly bothersome. Additionally the new laces on this version magically slide apart and unless double knotted will come undone. Overall a good boot for the money. [Please read detailed review for more information].
Pros
Waterproof
Comfotrable
Apperance
Cons
No padding in shoe's tongue
Laces come undone unless double knotted
I was originally introduced to the Vasque Men's Breeze '1.0' version, and after a 15 months of daily use the boot had significantly worn away; including failure to the Gortex lining due to repetitive motion at certain points which overtime pulled and ultimately failed the stitching. Additionally the rubber sole was wearing away and failed to stay intact with the main frame of the boot. Overall though, I enjoyed the 1.0 version so an upgrade to the Vasque Men's Breeze 2.0 Mid GTX was a must.
First off, appearance... This boot looks much better than its original go around. The darker shades make this boot blend in better with any clothing and give it a more sophisticated look. I wasn't as embarrassed to wear this around despite whether I was on the trail or in the grocery store.
Comfort, 9 out of 10. Like the shoe before, the level of comfort is excellent. Firm but comfortable support even after wearing up to 12 hours a day. No pinch points or blisters from this boot. Good support for the ankle as well.
My only critique would be the 2.0 version has made the 'tongue' of the shoe with nothing more than a flimsy piece of cloth. I preferred the older boot that actually filled the tongue with some material to give it cushioning when you laced up tightly. It sometimes feels like there is nothing between the laces and the front of my ankle...
Additionally, the smooth laces that come with this boot come undone unless you double knot them. Frustrating if you're in a rush or have a pack on and forgot to double knot them in the morning.
Overall a good looking, comfortable, fair priced boot I will continue to wear unless a higher end boot ends up going on sale.
Where to Buy
Vasque Men's Breeze 2.0 Mid GTX
currently retails for:
$135.96 - $170.00