Vasque Sundowner

The Sundowner has been discontinued. If you're looking for something new, check out the best backpacking boots for 2023.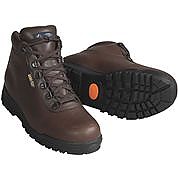 I've been reading a lot of negative reviews of the Chinese Sundowners. I just bought a pair four days ago.
In a week I leave for a month-long backpacking trip through Greece. These boots that I plan on using for my trip were very stiff for the first 2 days. However, breaking them in quickly was easy. The best way to break in these boots quickly is to wet them completely with water then wear them during a run or workout until they dry.
Do this every day, and they will be broken in within a week. My Sundowners feel like different boots already. My complaint so far is that they have an obnoxious advertisement for GORE-TEX sewn into the seam near the lacing eyelets.
I would have liked to try the Italian made version; I hear they are pretty nice. However, for $170, I am happy with the Chinese Sundowners. I will be carrying about 60 pounds on my back during my upcoming trip. I will write a follow up when I return from Greece in July.
Happy Hunting!
Daniel
Update: December 17, 2007
I'm back from Greece, here is my report:
Backpacking over several mountains, very rough, rocky terrain, with thick brush, and extremely hot desert conditions, and urban environments with a 50 lbs. for 1 month continuously, The Sundowners (Made in China Model) performed decently, with a couple of key problems ---
Breathability: GOOD
Even with the Gore-tex lining, my feet never over-heated, and temps frequently exceeded 100 F (FYI I cut the obnoxious Gore-tex advertising off). I wore Smartwool trekking socks or standard rag wool with a coolmax liner and my feet stayed relatively cool.
Durability: EXCELLENT
The boots are very durable - I suffered no technical problems with the boots, no loose seams or soles, everything stayed intact even though they suffered extensive abuse. The boots go on easily and tie up nicely with that good solid "locked down" feeling. The original laces have not frayed. The leather uppers got scratched up a good bit, especially towards the bottom, however, this is to be expected if your using these over rocky terrain. The leather is definitely Chinese quality - looks and feels cheap.
Comfort: POOR
Most important quality in a boot. These boots were somewhat comfortable at first, but after about a month they started to hurt my feet, legs, and lower back. The steel shenk is too long, and interferes too heavily with a normal walking gait to be functional. From reading some other Sundowner reviews, this is a reoccurring problem. To be fair, I was in these boots pretty much all day every day for a month through Greece, which is obviously more than what they were designed for, or the money I paid for them (a modest $170). The tongue was also a source of discomfort for me since it tends to pinch the anterior of the ankle. I've run in these boots for training and to break them in, about 5 miles, and it hurts like hell when you stop. Poor arch support.
Looks: GOOD
Decide for yourself. I've worn them with dress pants and I think they look fine in the snow, at work, or at class. If you cut the stupid Gore-tex ad off then they actually look quite casual.
Conclusion: NO-GO
Don't buy this boot if your looking for something serious (unless you invest in a good pair or orthopedic quality insoles) There is much better value out there. The once Italian-now-Chinese-made Vasque Sundowner is more of a beginners boot, or a designer boot. Best suited to light hiking and general purpose field work. These boots are cheaply made and will frustrate you sometimes with leg, foot and back pains.
Materials: Leather
Use: extended backpacking
Break-in Period: 1 week
Weight: 3.4 pounds
Price Paid: $170

Rejoice everyone! Vasque has finally heard us! The Sundowner is BACK!
Pros
High quality US tanned Red Wing full grain leather uppers
Built on original Italian lasts provides the fit we know and love
Unsurpassed comfort and stability regardless of the terrain.
Cons
Pricey MSRP $219.99
The Red Wing leather is stiffer than the Italian leather of the originals
Vasque proprietary soles instead of Skywalk (although the mold was cast from the first generation Skywalk soles)
I have been wearing Vasque boots since I mowed grass all summer long to buy a pair of Montanas back in 1983. I bought my first Sundowners in 1992 and they lasted 15 glorious years.
My last pair of Sundowners was bought about 4 years ago and it was my first experience with the Chinese boot. I was very saddly dissapointed with the fit and feel of them. I didn't wear them long enough to experience any of the quality issues most complain about as they just weren't comfortable. I then got a pair of Clarion GTX's They were completely different from the Clarions I had in the '90as but have nonetheless been a good and comfortable boot.
When I found out about the Fall 2015 "Re-Boot" of the Sundowner I IMMEDIATELY bought a pair. After 6 weeks of everyday wear they are breaking in nicely! AAAAAHHHH!!! My old friends are back! Although they are constructed in Vietnam, the leather is good ole' American Red Wing, and it shows!
Thank you so much, Vasque! I am THRILLED with the new Sundowners! The leather on these seems thicker and sturdier than I remember in the Italian models, but as these are breaking in I think this is a good thing. The soles are the exact same pattern as my first pair (1992 models) with the grippy rolled heel that disappeared in the mid '90s but they seem a bit "luggier" than I remember but not heavier so this isn't a bad thing.
The color is different though. They were quite famous for the "cordovan red" leather hue, but the new ones are called "Red Oak." It's more of a reddish brown, but honestly a more contemporary look.
So far I'm thinking Vasque has hit a home run that will, with a little time, put them back in their rightful spot as the best boot on the trail. Even though the trend has been toward lighter and faster, those of us who know that the most important piece of gear you have is what is on your feet realize that some things just can't be skimped on and now that the most beloved boot ever is once again available, there is just no reason to spend $100-150 every year or so on lug soled running shoes.
Add SuperFeet inserts and you just may never take them off!
Source: bought it new
Price Paid: $219.99

The toughest product I have ever owned.
Pros
Tough and durable
Waterproof after two decades
Cons
Stiff and need breaking in before they can be worn on a regular basis.
I bought my Sundowners in the mid-90s at REI. At that time it was one of the more expensive pieces of footwear I had ever purchased. And now 25 years later they would have been worth twice the price.
After reading some of the other reviews it makes me wonder how many contract builders Vasque has used over the years. My experience is fantastic. Without a doubt, my Sundowners have been the toughest, most durable product of any kind that I have ever owned.
When I first got them they were not comfortable. Like a pair of Redwing work boots, they needed to be broken in. I slathered them in mink oil and only used them for yard work at first. Once they loosened up a bit I started using them as motorcycle boots as well as yard work boots. After a while, I wore them at work in the motorcycle shop I was a mechanic at.
I took them on every camping trip I have ever been on and lots of hiking in the Colorado Rockies. And they have done all of those things flawlessly. They still have the original Skywalker soles. Where one person said they destroyed a pair in a few weeks hiking Alaska, I have been unable to wear mine out in 25 years and I have not been kind to them.
Of course, each experience is different over time. My experience has been perfect.
Background
I had this pair for 25 years. In the past, I would destroy a pair of Hi Tecs in 6 months.
Source: bought it new
Price Paid: About $150

This is a very strange dilemma. I was looking for a pair of light to medium weight hiking boots. They had to be well made, waterproof and comfortable. Those were my only real requirements. A friend of mine has a pair of 10-year-old Sundowners that looked just right for me. They met all of my requirements and were quality made in Italy.
Unfortunately, I couldn't find those boots anywhere. The only ones that were like them were made in China. The new generation (MX-2's) were not quite the same. They were made in Italy (although I hear they will be made in Romania next year) but they were bulkier and not quite as comfortable to me. I even had to wonder if they were in fact made in Italy as I saw an earlier pair that were nicely made and a later pair (still marked as "made in Italy") that didn't look as well made to me. Hmm...
As luck would have it, I found a pair of the classics on e-bay that were brand new in the box. They were the old ones, made in Italy, exactly like my friend's pair. Got them last week and I can't believe how comfortable they are. Everything about them just works.
It begs the question...why would Vasque take a perfect product that is critically acclaimed as "the most popular boot in the world" and do ANYTHING to alter the state of this product? All I can think is that it is driven by the need to save money. Either Vasque is in financial trouble, or they are jumping on the bandwagon that many of the other manufacturers are -- how to make a cheaper product and increase profits. I don't know about anyone else, but as a consumer, this is unacceptable to me. In addition, it's not like they lowered the price to accomodate the cheaper process. In fact, the quality decreased and the price remained the same and in some cases increased.
I will say no more in criticism of the current day Vasque business model. For, if they choose a cheaper manufacturing process and continue to increase profits in the process, then all the power to them I suppose. However, I highly suspect that over time, sales will drop off and profits will decline. Perhaps then, they will return to the old school methods that their original reputation was based on. I would hate to be known as a company that "used to" create quality products.
Materials: Burgundy Leather - OLD SCHOOL CLASSIC
Use: Short day hikes and to sleep in, it doesn't matter
Break-in Period: Not applicable. No break in required.
Price Paid: $135 on E-bay

Version reviewed: 1998
I picked these boots after deciding that I wanted one piece leather, Gore-Tex, medium duty boots for a ten day hike on the AT. After trying them on, and liking them, I bought them and the sales lady at Hudson Trail told me that they were the most popular boot for their own employees so I went home feeling satisfied. A few days later, after wearing them and water-proofing them I discovered this page and read many many bad reviews on the Sundowners. Honestly, if I had come across this info before getting the boots started on their break-in, I probably would have taken them back. I would have regretted it. Nervous about their reliability, I gave them another coat of waterproof and ran super glue into all of the stitching and hit the trail with reservations. The day of the trip, the trail was entirely under water and I walked right through it. The second day brought snow, which turned to slush as the day went on. For these two days, and every one after, not ONE DROP of water found it's way into my boots. My partner, unfortunately, had lower quality boots on (Sorry Karim) and got wet very quickly. He consequently had problems with wet socks for the rest of the trip and, while I felt very bad for him, was extremely glad that wet feet were not one of my problems. I did get two blisters, both minor, which healed quickly and with almost no pain as we hiked. The third day of the trip brought severe rocks along a ridge and I found the ankle support excellent. And so far the durability is excellent as well, with some scuffing at the toes from all of those rocks, but no other problems as yet. The boots are also light enough that you don't feel like you're walking on air when you take them off at the end of the day. I was also concerned about the sole not being Vibram, which is supposed to have excellent wet rock performance but, even after more wet rocks on the trail and stream crossings than I can remember, I don't recall slipping at all and certainly never fell. All in all I was incredibly satisfied with the Sundowners. The only thing I can think to explain the criticsm in here is that these boots are so popular and maybe considered too average because of it. Don't believe it.
Materials: One piece leather
Use: Medium duty
Break-in Period: It took me about a week
Weight: Not sure, but pretty light
Price Paid: $198

After reading the other reviews, I'm glad that I have an old Italian made pair of these boots. I wanted a pair for years after noticing that many other hikers and backpackers wore them. I bought them as a gift to myself after I got my first "real job" after grad school.
They are a medium duty boot, not suitable for very heavy loads. But that's not a problem for me because I weigh less than 110lbs and I can't carry more than 30lbs because more than that gives me severe hip joint pain. (Luckily, my much larger husband doesn't mind carrying all the heavy stuff.) I like the fact that they are not as heavy as the boots made for heavy-duty backpacking.
My feet are narrow, but only a size 6, and the boot's narrow sizes start at 7, so I my boots are medium width. I wear them with a Spenco insole to take up some room and very thick wool socks and thin liners. The ankle support is good which I appreciate because I have loose ankle joints that sprain easily due to multiple ligament tears back when I was on my high school's cross-country team.
It was a long time ago that I first bought these boots, but I seem to remember that they required almost no break-in time at all. However, I wouldn't wear these for street wear, although I've seen it done, because they are too stiff to be as comfortable as normal street shoes for regular walking conditions. I also prefer a lighter and softer boot for day hikes, especially during hot weather when I like to have more ventilation. But I will wear these boots for shorter hikes that are likely to be wet since their Gore-tex liners do keep my feet dry.
The Cambrelle liners are better at keeping the boots comfortable than the leather liners of the boots I had before. The liners are probably one reason that the whole boot dries out quickly if it gets completely soaked. I wore these while walking from Rock Island to Washington Island (Wisconsin, Lake Michigan) during a dry summer when the water was only hip deep. But of course not even Gore-tex can keep water from pouring in from the top when the boot is completely submerged. However, I was pleasantly surprised to find that they dried completely overnight (with the insoles removed, of course).
Materials: leather, gore-tex
Use: backpacking in Sierras for 3-7 days
Break-in Period: almost none
Weight: don't know
Price Paid: ~$150 18 years ago

I've used Sundowners for decades for long-distance trail hiking as well as outdoor work (tough off-trail conditions w/ light to heavy pack). I thought I'd never have to search for another boot in my life; they fit my difficult-to-fit feet (very wide forefoot, very narrow heel) perfectly, broke in quickly, and lasted long. However, the past few years their quality and fit has declined dramatically. I've had to turn in two pairs early due to quality control problems and an apparent change in the fit, resulting in serious chewing-up of my feet. These were the models now being made in China, and the boot fitter I go to told me he's been hearing more complaints about Sundowners since the switch to China. He told me some of the more expensive Sundowner versions are still made in Italy and seem to be of better quality, so I traded for a pair of those. They are better than the China-made ones, but it still appears they've tinkered with the fit. Now they are very sloppy in the heel, a problem I never had with Sundowners before. While people's feet can become wider with age, I doubt my heels have become narrower! They also take much longer to break in than they used to-- perhaps they are using a new (cheaper?) process, or lower-quality hides.
My husband, who also used Sundowners happily for years, bought a new Italian-made version recently and the sole wore out in less than year despite the fact that he doesn't use them heavily.
Sundowners were wonderful boots for decades but in my opinion they are losing it big-time. Vasque needs to get the production back to Italy from China and go back to whatever methods and fit they were using in the past. I think they are trying to keep the cost down, and I realize that's important for many people, but I can't do my work properly if my boots don't fit and wear well. I am willing to pay more for good quality and fit. It's with great regret that I am now searching for a different make of boot and will never go back to Sundowners unless Vasque goes back to the good old days.
Materials: leather medium-weight boot
Use: trail w/ heavy pack; rugged off-trail field work
Break-in Period: about 1 month
Weight: about 3-4 lbs
Price Paid: about $200

WATER RESISTANT? HA!!! Gore be d****d. The Sundowners would make better buckets than they do hiking boots. As long as you're only gonna step in a puddle every now and then, I suppose they'll keep your feet dry. But if you have to hike in the rain (and who doesn't?) expect to feel the seep begin after about half an hour. Then expect your feet to stay wet from then on. Not only does the Goretex not keep out the water, but after it allows the water in, it doesn't let it out.
On top of the poor waterproofing, the pretty maroon leather scuffs like crazy. I've treated my Sundowners with NatureSeal so many times I'm sure there's absolutely no porosity left to the leather, yet one trip in the rain and I'm looking at wet feet AND furry toes.
Finally, the Skywalk soles are totally ineffective. They're just downright slippery. I've even slipped on dry rock, so you can imagine how they perform on wet rock.
For the money and all the hype, I expected a lot more. I'm sure the blurb I read about them touted them for their relatively light weight and water resistance. Or maybe it said lightweight water resistance. At any rate, for my two hundred bucks I'll go back to One Sport Moraines. They don't have Goretex, but that 2.8 Nubuck leather provides big-time water resistance. The Moraines weigh a little more, but then again, a Sundowner full of water weighs a lot too.
Materials: Leather
Use: Ballroom dancing?
Break-in Period: outa the box
Weight: about 3 lbs.
Price Paid: about $200

First off, I would like to say to the people who wrote the reviews about the "made in China" boot are clueless. I have been born and raised in the Rockies of Colorado and I have been hiking on these boots for about 20 years. I have never had the pleasure of having "Italian" Sundowners and I keep buying the same boot the Sundowner.
Second, to the people writing reviews about having hiking boots that need no break-in are delirious! These boots are the all around best boot for a day hike or a month long pack trip, no matter what you do, they NEED to be broke-in and yes they will hurt for a day or two until the leather is stressed to form to your own foot, so put them on and wear them around the house and to work and right away you will feel the comfort and difference in them. I mean really the only thing I never break in are a pair of sport shoes and they break in as well, but not made for the trail, right, and if you want to wear those on the trails go for it, but take the time give them a couple shots of nikwax and truck around in them before you hit the trail and you will love these boots, made in China and all!!!

Materials: leather Gore-tex
Use: all around
Break-in Period: 3-5 days
Weight: 200 lbs
Price Paid: $90

Version reviewed: 1995
First trip in these boots was a three day, two nighter in December 1995 to Virginia's Mount Rogers. Over a foot of snow, subzero temps and about 50 to 60 mph winds. Every piece of gear we had was frozen and ice encrusted.
I wore my boots practically straight out of the box. Over several hours of being inundated with snow and ice the sundowners never flinched. Even though they were practically frozen solid, they never caused so much as a hot spot. Handled a winter load of 60 pounds like a champ. I've had only a few blisters with them since, usually on hot weather trips. If that's the worst thing you can say about a pair of boots after 600 + miles in them, you invested wisely. Only complaint is that they redesigned them and still didn't incorporate Vibram soles. Skywalks are made from a bit too soft a compound and tend to wear fairly quickly if you don't tread lightly. I wore a pair of Merrells before this pair they butchered my feet on every trip, even dayhikes. Best combo of stability to weight ratio I've found. I can't believe the negative comments, but maybe I've just been lucky. I have, however, heard about a lack of quality customer service in recent years. This coming from Thru hikers about repairs and replacements, so guage your usage accordingly.
Materials: Full Grain Leather
Use: Rough trail w/ moderate to heavy loads
Break-in Period: constant wear about 2 months
Weight: 2 lbs 8 ounces
Price Paid: $179 (1995)

I have owned two pairs of these boots over the last 10 years. The first pair was made in Italy, the second in China.
The Italian boots did not require ANY break in and I wore them trekking on Europe when they were brand shiny new. They were incredible boots.
I purchased the second pair because I loved the first ones so much. I wanted to have a backup when the original pair died.
The second pair looked the same from the outside, but when I put them on, the fit was horrible. I put them back in the closet and kept wearing the original pair. When my first pair had to be semi-retired (not failed or damaged or broken, just very worn looking and the soles had worn down), I took out the second pair and started to break them in.
This second pair (made in china) took several months of uncomfortable (painful at times) use to break in so they were comfortable. I'd say it took a good year of use before they were enjoyable to wear.
If I could guarantee that every pair fit as well as the first ones I had, I'd never buy another model of boot. Unfortunatley, my next boots will not be sundowners due to this bad experience with the chinese made boots.
Materials: leather and goretex
Use: all kinds of hiking and trekking, hunting

I bought my old style sundowners (the ones without the crybaby ankle collar) in 1990 and wore them till they were falling apart in 1997. These boots probably had over a thousand trail miles on them. Additionally, I used them for field work in some of the toughest terrain around while working on my master's in the Buffalo National River. Those boots were just torn up from all of the chert off the trail, but the NEVER LEAKED A DROP despite many stream and river crossings and repeated storm events.
When I realized that I would have to replace them finally I went straight to the outdoor shop and grabbed a pair of NEW Sundowners. I wore them that night. Guess what? I found I could not wear my beloved Sundowners anymore. When they added the ankle yoke they moved the position of the grommets and they dug into my foot terribly. After wearing them that one night I could hardly walk with shoes for 2 days. I took them back and bought some Garmont boots. Several other people I know also experienced the same problem when trying on the new style sundowners. Too Bad for Vasque. Why did they have to go and change a perfect boot. Maybe they will get a clue: If it ain't broke don't fix it.
Materials: leather/welded sole
Use: Heavy trail, backcountry field work
Break-in Period: none on old style
Weight: unknown
Price Paid: ~$170

First off, I would like to state that I am talking about the classic Italian made Sundowner. If you can find a pair of these hold on to them, they are the best hiking/backpacking boots that were ever made. They are put together very well and offer extremly good comfort on and off the trail. One thing that makes these boots so good is not only are they great for hiking, but there good for just everyday use. Aside from being well made and lightweight, they look good and are very low profiled.
Unfortunatly they don't make these boots anymore. Vasque stoped making these around 1997. The pieces of shit they make now are made in China and worth about $2!!! These boots piss me off so bad I can even discribe it in words. Vasque was once a great company who made a great boot. Now they're a bull shit company who make Wal-Mart quality boots and charge a lot of money for them! Take my advice, dont touch the modern Vasque Sundowner with a 60 foot pole!
If you ever find a classic pair on E- bay in your size, don't let them get away!
Price Paid: $175

For the first two month (despite a somewhat long-break in period) these boots were great. I was doing field work in the San Gabriel mountains after a huge fire followed by heavy rains (read very wet and muddy). Then they went with me to a rainy winter in central california. From there to the Mojave desert. I stayed dry and happy. I've been doing field work in North Carolina, during one of the wettest summers in history. Not only are my feet soaked after five minutes of walking through wet grass, the soles have separated from the boots. If I was treating them unusually roughly, I wouldn't be surprised, but I've only had them for 6 months. I clean them after use, and waterproof them regularly. I contacted Vasque about the problem and they told my to talk to STP. I have yet to contact them, but hopefully they will replace them. If it weren't for this, I would be very happy with the boots. This may just be a fluke, but that seems like somewhat shoddy craftmanship to me. Other people seem very happy, so I hope to straighten this out.
Materials: leather, w/ gor-tex liner
Use: field work, hiking
Break-in Period: 2 months or more
Price Paid: $75 at STP

I am beginning to wonder if there is something to this "Made in China" thing about these boots? My husband very carefully shopped and bought me a pair of these for Christmas because I need a wide boot. I twisted my ankle last fall and he felt I needed something with more support. I don't want to tell him I am absolutely miserable wearing them.
I have been careful to wear them for short periods of time with good wool socks and even added polypro liners to the mix. I have probably worn them a total of about 10 hours total now. Some reviewers seem to believe the Made in China boots are inferior, others are saying they are not. Obviously, if I want to try to return them, I have to have a good reason for it, otherwise they will not take them back already worn.
I don't know how many more times I can put them on, my feet hurt from them so much! I know leather has a break-in period, but is 10 hours enough?
Materials: Leather Gore-tex
Use: Short day hikes
Break-in Period: Longer than 10 hours
Price Paid: Gift

I've owned many different brands of boots. From red wings (for work) to $250 timberlands. Someone i knew had a pair of vasque boots, so i thought i'd give them a shot. I purhcased these boots about 2 years ago. Now i am a contractor, and work in wet environments, mud, stone, etc. I've subjected these boots to above and beyond punishment. I've even pressure washed driveways while wearing them. I did though, treat them (cleaned them, and applied mink oil.) I wear them every single day (including sundays), and have to say, they're the most comfortable boots i've worn yet. Yes, they took a bit of time to break in, and i cannot compare them to the italian models. I can , though compare them to all the other boots i've had before. The $200 + timberlands that i had tore from the sides...these boots will soon need resoling, they are scuffed here and there, but they've yet to leak. It's incredible that a product nowdays does what it claims, fortunately this boot does just that.
Break-in Period: 1 month
Price Paid: $170

I just retired a pair of Vasque Alpha GTX boots that I purchased about five years ago when I worked at Eastern Mountain Sports. I loved these boots! The fit was great and they were a great boot for dayhiking or overnight trips.
Now, to the Sundowners. I was given a pair of these as a Christmas gift this year and after wearing them around the house for 6+ hours, they are going back to the store. They are the "made in China" model. The fit is terrible and there is a pressure point just above my ankle that is unbearable! I can't see wearing these to walk to the store up the street from me, nevermind on a dayhike!
I was considering bringing them back to the store to exchange for another pair to see if the fit might be different, but I think I'll just return them outright and try ebay to see if I can find a pair of the Italian ones in my size.
Materials: Gore-Tex
Price Paid: $165

I thought this boot was a little above my price range. Then I found a perfect fit at a second hand shoe store in Louisville. The best news: they had never been worn!
On sale at a local outfitter for $179.99 plus sales tax, I found the same exact boot for $125, tax included at Second Step. BEND THIS BOOT TO BREAK IT IN! The boot will pinch at the base of your toes if you do not flex the boot really hard. Don't give up until the pinching stops. I used liberal amounts of Kiwi Mink Oil several nights in a row and wore the boots for several days to my office, just to get the boots softened up. If I had worn them on the trail right away, my feet would have been killing me. No wonder these boots are so popular. The leather is heavy duty yet they have a finished look that can fit in with khakis and a blazer while you break them in.
Materials: Leather Medium Duty Hiking
Use: Rough Trail and Backpacking
Break-in Period: Two weeks in town
Weight: see the Vasque Web page
Price Paid: $179.99

I have had my Vasque Sundowners for almost 10 years. I have used them in the mountains of Idaho to the beaches of south Georgia. I absolutely love these boots. I am planning to purchase my second pair at the end of this year and the only reason that I am doing it now is my foot has gotten a little bigger and I really need a half size larger. I know several people who have a pair of these boots and all I have heard from them is good things.
My pack normally weighs in around 40 lbs or so and I normally don't have problems with blisters and the ankle support has saved me numerous times. I would recommend these boots even if you just wore them around town. I lived in Idaho for less than 2 years and I wore these boots just about everyday. They were great in the snow. My feet never got wet. And I haven't really used much water repellant.
Craig Fincher
Materials: Leather
Use: Rough trail/w heavy pack
Break-in Period: Week
Weight: 2 lbs ?
Price Paid: $150 at the time

Extremely comfortable with no break-in needed. But the soles do not get good grip in mud or slick vegetation, and they peeled off after only a few hundred miles. The soles also wore out quickly. Now on the second set of soles, and these are wearing out quickly too. I have seen other people's soles peel off under mud suction. The uppers are very waterproof (use Tectron Leather spray or Nikwax Aqeous to condition the leather) and have not leaked. They do not offer enough support for heavy backpacking, but I have used them for that anyway. They are good on dry trails, but when things get wet, traction becomes questionable. With Vibram soles these would be truly great. Too bad you can't buy them with Vibram soles.
I have used these virtually every weekend for almost two
years, with several backpacking trips and many climbing
approaches. Probably over 800 miles on them, and the uppers
are still fine.
Summary: very comfortable waterproof boots with bad soles.
Materials: Full Grain Leather/ Gore Tex
Use: day hikes to rough-trail, medium pack
Break-in Period: none
Weight: 2 lbs 12 oz
Price Paid: $180

I have worn Italian Vasque Sundowners for over 15 years. At the start of the Sundowner they had heavy shoulder cut leather all the way to the top. Hard to beak in but once you did these boot gave firm tight ankle support great for advanced hiking and backpacking trips. These were the best boots ever.
Later they started putting a cushy collar on the Italian boots to make them break in sooner, this took away the ankle support and the leather is a thinner cut. They also started using different glue on the soul and the sole would start to come lose very early.
Now the (China) Sundowner is total junk. You may think they are ok..only because you never owned the true Italian boot. The China version is a thin leather, cushy top collar has no true ankle support and if you really use the boots in the woods the soul will come lose at the toe.. My .02 cents
Materials: Vasque China made "JUNK"
Use: Throw them away!!!
Price Paid: $165

I've had these boots for about four years; I bought them as winter dayhiking boots and summer backpacking boots. They have never failed me. Nice roomy toe-box. They have never leaked, are in good shape except for scuffed toes (and if I cared about that, I wouldn't be a hiker --- who cares if your boots are scuffed?), my feet have never been cold as long as I stayed dry, and they have never given me a blister. If they do get wet on the inside (the only cases of this have been when I was in deep snow without gaiters or water washed in the tops when someone who shall remain nameless performed a less-than-graceful stream crossing, they do stay wet. Now, I wear gaiters in the winter. :-) I guess they're getting a little slippery on wet rocks, going downhill, come to think of it, but I still think they're great boots.
Materials: leather
Use: all trails, daypack, backpack
Break-in Period: zero
Weight: Don't know
Price Paid: About $180?

Well, they happen to fit me right on. I blew out my first pair after about 600 miles on my AT thru-hike last year, and I did a week of 20+ mile days with the replacements "right out of the box." There has to be a good match between your idiosyncratic foot and a boot for this, and I was lucky.
Despite the hype, I like 'em. I have found the design to be the among the most versatile around, and they offer a lot of support for their weight.
The Skywalk sole isn't as grippy as Contragrip, nor as durable or grippy as Vibram. The only minus is the limited life, as compared to other premium boots, and the midsole cushioning is severely lacking.
Like any boot, it is a good boot if it FITS. Just 'cause the magazines and armchair adventurers like them, doesn't mean they'll work for you if they don't fit.
Materials: leather
Use: general backpacking
Break-in Period: none (for me)
Weight: 52 oz/pair on a scale
Price Paid: $165

This review is about the new Sundowner (now made in China) and not the previously made Italian version. I would not recommend this boot to anyone! I have heard great things about the Sundowner for some time, however, all of the great things have been about the Italian made version...not this one.
This boot gave me blisters during break-in where I've never had blisters before. Terrible fit in the heel area, where even using special lacing techniques I could not alleviate the heel slip. Overall, I was very unhappy with the boot and it seemed like the more I wore it, the more I noticed that I did not like.
Fortunately, REI has a bombproof return policy and took them back no questions asked. I think Vasque will regret having their Sundowner model made in China -- especially as more folks purchase what was once their flagship backpacking boot.
Price Paid: $190

The pair I have now I've owned for three years and the first two of those I wore the boots regularly (street & trail). The fit for me was an A+ (w/ Superfeet insoles). I had to have both boots in the repair shop b/c the double stitched seams along the heels came loose. Lightly coating these seams, and others, with seam grip or other adhesive can help prevent unraveling. Another problem: heel seams on inside of boot came undone (caused blisters) and needed repair. The vibram soles are begining to show much wear - not worth resoling b/c the leather part of boot is much expanded and will not fit new sole. Mine stayed waterproof with treatments of Nik wax. I suggest these boots if you plan only to use them on day or less than week overnight hikes. I upgraded to asolo 535 (lighter and higher support).
Materials: one piece leather (nubuck)
Use: moderate to lighter backpacking
Break-in Period: several weeks (relatively quick)
Weight: approx. 2.75 lbs.
Price Paid: $190 USD

About a six months ago I bought a pair of Vasque Sundowners and have only had the opportunity to put about a hundred miles on them. I must say that the boots performed well on rough terrain and provided good ankle support and excellent traction. The one-piece full grain leather upper and Gore-Tex bootie provide excellent protection against water leakage and the sole is stiff enough to provide support for heavier loads.
I only have one complaint about these boots that will keep me from buying another Vasque product. Today I noticed that the sole was coming detached from the upper. When I pulled slightly on the sole at the heel, half of the sole easily pulled away from the rest of the boot. I'm sorry, but for $200.00 this should not happen to any boot. Needless to say, I am a little disappointed with my Sundowners.
Materials: Full Grain Leather
Use: Moderate hiking with a medium weight pack
Break-in Period: 50+ miles
Weight: 3 lbs.
Price Paid: $189

The Vasque Sudowner Italian version has been my only hiking boot for 15 years and many, many miles. I change my boots out every year. It was always a 5 star. It took me awhile to figure out what the problem was with a new pair of boots....I even tried two pairs thinking that maybe I just got a lemon...Unfortunately, the Italians now have their boot made in China.
It's a lousy imitation. I would give it only 2 stars for a boot. The Chinese don't work with leather like the Italians do. The Chinese version just doesn't feel right out of the box, won't break in, is a major blister boot, gives me plantar fascitis....etc...It sucks! I recently got one of the last Italian pairs. It was back to a 5 star. Vasque Sundowner Chinese model is not worth it...SKIP THE CHINESE VERSION.
Materials: leather, gore tex
Use: short day hikes to heavy backpacking
Break-in Period: years
Weight: ? medilum weight boot

I've had my Vasque Sundowners for 17 years. I just wore through the left sole. I only water proofed them once when I bought them and my feet have always stayed dry!
Pros
Durable
Comfortable
Waterproof
I've had my Vasque Sundowners for 17 years. These are the best boots you can buy, don't skimp trying to save a buck, dry feet and sturdy ankle support are worth it!!  
Source: bought it new
Price Paid: $175

tough hunting, hiking boot. I PUT ANOTHER COAT OF BERRY DANNER DRESSING ON THEM TODAY. KEEPS THEM SOFT AND GOOD LOOKING. I HAVE HAD THESE BOOTS FOR 5 YEARS.. WORE THEM EVERY DAY FOR THE FIRST TWO, BUT NOW, I JUST WEAR THEM AROUND TOWN WHEN RAINING, LIGHT HUNTING. NEVER HAVE LEAKED, BEST PAIR OF BOOTS I'VE OWNED. MUCH BETTER THAN ANY OF THE 4 DANNERS. SO IMPRESSED I BOUGHT A PAIR OF VASQUE KITAMATS FOR ELK HUNTING, HIGH TOP 10IN GOOD FOR DEEPER SNOW. NICE COMFORT BOOTS, BUT NOT AS LONG LASTING. I NEED TO GET ANOTHER PAIR OF SUNDOWNERS AS THESE ARE JUST ABOUT WORE OUT.. ONLY LASTED FOREVER. NOTE BREAK IN TOUGH LEATHER AROUND BACK OF ANKLE. NEED SADLE SOAP OR BASEBALL GLOVE OIL TO SOFTEN, KILLS YOU UNTIL THEY BREAK IN.
Materials: leather
Use: backbacking, mule deer hunting, elk hunting, heavy
Break-in Period: 1 month
Weight: medium
Price Paid: $125

Version reviewed: 1995
I purchased my first pair in 1995, I still wear that pair of Sundowners almost every day. On the other days I'm wearing the Eclipses. I have backpacked in Colorado, Missouri, and Arkansas. These are the most comfortable boots I have ever owned. With the full Gore-Tex bootie, the only time my feet have gotten wet is when water has come in from the top. I will admit that after a long day my feet are kinda sweaty. They do scuff pretty easily but with regular sealings, and polish that sill look brand new. I wear the Eclipses every day in my profession as a paramedic, the soles wear quite a bit faster on the pavement, but that's to be expected. I will be replacing them with another pair if they ever wear out!!!!
Materials: Full Leather
Use: Med
Break-in Period: 2 weeks
Weight: 210
Price Paid: $190

I purchased my pair of Vasgue Sundowners in 1989? They had no break in period. I put them on to go hunting over fairly steep terrain and not a blister to be had. They have worked well while kicking around in the snow and provided good support for my backpack and day hiking trips. I took them into the Saw Tooth Mountains in Idaho two years ago and hiked about 25-30 miles round trip with a 45 lb pack. Included in the pack was a tube of shoe goo. The sole finally started to come off, but with a couple of repairs, I made it in and out with no problems. Thank you Vasque. I have a pair of MX2s now, and will submit a review after our Idaho trip this year.
Materials: Leather Upper
Use: All around use.
Break-in Period: None
Weight: 3 lbs
Price Paid: $175 ? in 1989?

Problems exist with this boot.
1) now made in China. While this may not bother some I suspect that the Italian made Sundowner was a superior boot for several reasons. Reason 1) These boots are taking forever to break in. they are unbelievably stiff. I have bought expensive inserts to help but still bad.
2) Quality. I had to return the first pair I bought from REI (great company gave me no problems with return when I had lost receipt) due to one of the shoe string rings coming off after only 10 months of light hiking.
I recommend a very very selective fitting be done before buying this boot. It may not be right for everyone. I had an older pair of Clarion Goretex boots from Vasque which were excellent excellent boots.
Materials: leather, goretex
Use: light hiking
Break-in Period: infinite
Weight: fairly light
Price Paid: $175

A very comfortable boot from the start, but it got better after a few day hikes. My foot is wide (9 1/2 EEE US), and the wide Sundowner was a perfect fit. They worked great on a 2 month trip of the US with a great deal of hiking involved. Extremely comfortable, stable with a multi-day pack, gore-tex takes care of the elements.
I did have one problem with one of the boots (well after the trip was complete) - something was building up in one of the heel cups, and started digging into my heel as I walked. Fixed by the retailer (REI), and things have been going great since.
Despite that problem, I would have no problem buying these boots again - they fit my wide and irregular foot spectacularly.
Materials: Leather
Use: Trail with multi-day pack
Break-in Period: Minimal
Price Paid: $190

If you can still find a pair of the old style boots on clearance in your size, try them! The ankle collar is a bit stiff at first (hence the change in the new model), but when it gives in it will offer you some good support. I put a little sealant on mine to help protect the leather, even though the boots have a full GoreTex bootie. And these things are lighter than a lot of comparable boots! I tried some fabric/leather combos that were heavier. Their lightness makes them work for dayhiking and everyday walking as well. I was lucky because Vasque makes such a nice narrow size as well. If you can get the fit in these boots, I think you'll be pleased with them.
Materials: Leather
Use: Off trail, good-sized pack
Break-in Period: Not a whole hell of a lot
Weight: 2 lbs, 10 oz or so
Price Paid: $160 for mine

Absolutely the best boots for all around hiking/packing and off trail abuse. I have slogged over 2000 miles in mine since 1988. I just re-soled them last year and I expect many more years of use/abuse. The leather does scuff quickly but I'm good at kicking rocks. Never had wet feet. I do treat with either REI's Ultra-Seal or Sno-Seal. Light weight means I can wear them on short walks or week long treks. Love them. I have tried several other boot manufacturers(One Sport, Raichle, and Hi-Tec) They work ok, but don't seem to hold up. I expect that I will supplement my Sundowners with some Vasque Alpines or some other heaver boot (I'd at least like to try them out).
Highly recommended.
Materials: Full-grain Leather (smooth-out)
Use: Off trail and packing/hiking
Break-in Period: Very short, estimate 1day or so.
Weight: 2lbs 8oz. I believe.
Price Paid: $135 (1988) now $190

I read a few reviews about these boots so I went out to try them...
They felt as though they were already broken in right out of the box and have felt great ever since. I wear them constantly, all day long, and they have never given my feet pain. The leather conformed to my feet and has stayed there ever since. My only complaint is that the leather scuffs up too easily so they don't look spctacular (but nothing a little polish can't fix). Also when I used to kneel down, the leather pushes into the top of my foot, but that has gone away. I'd recommend these boots to anyone who wants reliable footware, and isn't worried too much money.
Materials: Full-Grain Leather
Use: bushwacking w/ heavy pack
Break-in Period: Very Short to none
Weight: 2 lbs. 12 oz.
Price Paid: $199.99 (retail)

The Vasque Sundowner, Newbrier, and Eclipse are all the same boot with the only difference being the leather. The Newbrier is brown nubuck while the Sundowner is burgundy full grain leather and the Eclipse is black full grain leather. All three boots are Gore-Tex, and despite my constant abuse of my Newbriers and Sundowners they have never leaked. They are a great all around boot. I use my Newbriers for crusing around town and I have reserved the Sundowners for backpacking. Some complain that the ankle is a little stiff, but it eventually breaks in. The new Sundowner II's have replace the "stiff" top of the ankle with a softer leather collar.
You cannot lose by buying one of these boots!!!
Materials: leather
Use: Medium to Rough trail with a medium weight pack
Break-in Period: 3-4 days
Weight: 12 lb 12 oz
Price Paid: $170-180 US

This is not the almighty of boots, but it is a good medium weight boot. Take care of it, and it will take care of you. Read some other reviews that complained about lifespan. My bet is these people don't know how to take care of boots and/or using too light of a boot for their needs. Soft skywalk soles aren't meant of pavement pounding, that's why they wear out. Mine are trail only boots and soles are still fine. Also, use aqualseal, not sno-seal, aquaseal maintains leather breathability and doesn't soften the leather. This is the stuff recommended by Vasue, or so I was told. If they scuff, and they will, polish them! Aquaseal and polish are compatible.
Materials: Full Grain Leather Goretex
Use: Moderate Everything
Break-in Period: Out of the Box
Price Paid: $180

This is the ONLY boot for me. My wife and I bought our first pair of Sundowners 20 years ago. I still wear mine today. In fact I just applied a coat of Sno-Seal on them. My daughter is now wearing my wife's old pair. Our friend owns a Red Wing shoe store and he ordered us new ones, but they were from China. I had him send them back. He called Vasque and they sent us two pairs of Italian made Sundowners, one burgundy and one brown. After reading these posts I think I will be paying him a visit tomorrow and see if he can get another pair from Italy, just for spares.
Materials: Leather/Gore-Tex
Use: Use them for work to the mall to backpacking the Beartooths.
Break-in Period: NO break in period AT ALL
Price Paid: $169

They are wonderful, comfortable boots that fall apart *very quickly.*
I like the way these boots fit, particularly with an innersole. However, the sole came completely detached as I was climbing last weekend. The boots were two years old, but didn't have that many miles on them. I was not happy. Customer service seemed glib and uncaring when I called them.

My *former * pair of Sundowners lasted for many years, by the way.
Source: bought it new
Price Paid: around 200 bucks

Worth every penny I paid. I wear these boots everyday as my feet hurt in anything else and they hold up as if they are made of iron. I have had them for 3 years and they barely show wear. I suggest putting one coat of REI ultra seal on once a month if you wear them everyday as I do. The ultra seal keeps the leather waterproof while at the same time keeping the leather and stitching from wearing. i like these boots so much I purchased the Nubriars (the nubuck brother to these boots) so I could rotate as I wear the boots daily and on the trail.
Materials: leather
Use: moderate trail
Price Paid: $180

Version reviewed: Nubuck
I LOVE THESE BOOT!!! AS FAR AS I AM CONCERNED THEY ARE THE BEST THINGS I HAVE EVER BOUGHT!!! THE BOOTS ARE GORE-TEX WITH A ONE PIECE FULLGRAIN LEATHER EXTERIOR (NUBUCK). I HAVE HEARD SOME PEOPLE COMPLAIN ABOUT THE RIGID HEAL, AND I MUST AGREE TO AND EXTENT. BUT ONCE THEY ARE BROAKEN IN, THEY WILL BE THE MOST COMFORTABLE PIECE OF FOOT WEAR YOU WILL EVER OWN WETHER ITS A BOOT, SHOE, SANDLE, ETC. YOU HAVE MY WORD ON IT!!!! I PAYED ABOUT $200.00 FOR MINE SO NOW THAT THE SUNDOWNED II HAS COME OUT YOU CAN GET THE ORIGINAL FOR ONLY $140.00, WHAT A STEAL!!!
Materials: one piece fullgrain Leather
Use: THREE SEASON USE
Break-in Period: A COUPLE OF TRIPS TO COLORADO, ROCKY MOUNTIAN NATIONAL PARK (LONGS PEAK - UP AND DOWN IN SEVEN AND 1/2 HOURS)
Weight: NOT LIGHT WEIGHT BUT NOT HEAVY
Price Paid: NOW ONLY $140!!!!

Version reviewed: 1999
I wore these boots backpacking through England and Scotland for a month. after the break in period, they felt extremely comfortable. recent backpacking in colorado and the northwest they have left my feet completely dry, except when they got wet on the insides (no gators). wet and stayed wet. after three years of wear the insides look brand new, but the soles are gone. i recent two day trip with about 30 miles of hiking w/ a 45lb pack left my arches and legs aching. for heavier packing i recommend a more sturdy boot. for the light stuff they are top of the line.
Materials: leather
Use: light backpacking
Break-in Period: couple of weeks
Weight: 2 lbs.
Price Paid: $190

I've had this pair for fifteen years now and have thoroughly enjoyed them. They've seen the moors and highlands of scotland, the trails of algonquin park and the muskoka's and a whole lot of canadian winter snow. After 15 years of ecceptional comfort I want another pair!
They take the hits well. I am surprised that I didn't overheat during the summer months and stayed warm in the cold months too. Just can't say enough about them.
They finally lost thier waterproofness this last easter long weekend on our canoe trip in frontenaque park ontario.
I definately got my money's worth.
Materials: hiking medium duty leather
Use: medium to rough with medium pack
Break-in Period: that was 15 years ago!

I bought my first pair of Vasques in 1990 for a trip to Yellowstone and I am still wearing them. They have seen so much abuse I can't believe they are still together. I am pretty cheap so I refuse to buy another pair of boots until they fall off my feet. It has been over almost twelve years now and they are still going. Rough looking, but they fit like a glove and show character. I have never gotten a blister wearing these boots and they have never leaked until just this year. I recomend them to anyone.
Materials: leather/gore-tex
Use: rough trail/off road motorcycling
Break-in Period: none
Weight: about 4lbs
Price Paid: $139

This is a follow up to my previous review of the "Made in China" Sundowners. I returned those to the store and found a pair of the Italian ones on Ebay brand new in my size AND width (apparently the made in China ones are not available in widths) and for $20 cheaper than the other ones. All that I can say about the Italian ones is BRAVO! These fit great and the sole feels like they might have used a bit of a stiffer shank in it. Now, THESE will be great to hike in!
Materials: Leather, Gore-Tex
Use: Dayhikes and extended trips
Break-in Period: None
Price Paid: $135

This was far and away the most popular hiking boot amoung AT thru-hikers in 1999. I wore them for the first 1500 miles; my wife made it all the way in her pair. They are a nice fitting, waterproof boot but I would caution serious hikers prone to pain in the balls of the feet or people planning to carry over 40 lbs against investing in this boot. The 3/4 length shank causes the boot to bend abruptly right at the balls of the feet, leading to excessive exertion on those joints and surrounding tendons and nerves.
Materials: Leather, full grain
Use: light hiker/backpacking
Break-in Period: 20-30 miles
Weight: 3 lb/pair
Price Paid: $200

Version reviewed: 1995
I bought mine in '95 for a trip to the UK. During that trip, I carried a 50 lb pack and never had so much as a blister. They kept my feet dry and comfortable. I thought they were well broken in after that trip, but just keep getting better (I wear them a lot)! The soles are showing some wear and the lovely oxblood leather is pretty scuffed, but I have definitely gotten my money's worth -- I'll still be wearing them when I go back to the UK next year!
Materials: Full Grain Leather
Use: Medium Duty
Break-in Period: Not bad right out of the box -- and just keep getting better
Weight: 2.2 lbs
Price Paid: $149 (sale)

Getting paid to hike and work trails is not a bad way to wear out a pair of boots. My Sundowners have been the best boots for long hikes with a light 30# pack in the Utah canyons. After 3 seasons and hundreds of miles the welt on the heel has pulled loose so these dudes are toast.
I have just bought a pair of Merrell M2 Wilderness and can only hope they can stand up to the Sundowners but hey they were on sale for 75 bucks so their worth a try.
Materials: leather hiker
Use: trail work
Break-in Period: week or 10 miles
Weight: 180
Price Paid: $150

Unbelievable boot. I've had two pairs with a total of four soles in the past adn am now stating on my third pair of "old style" sundowners. I guess the sole does last a little less than a Vibram sole but they are resole-able (65 bucks)
as long as you have cared well for them. I have never had a drop of water come through the boot. I am terrified that they have changed this boot. I think I'll buy a lifetime supply of "old style" before they are all gone!
Materials: leather
Use: everyday with some light hiking and
Break-in Period: 1 day average use
Price Paid: $175 on sale due to new model

I have had these boots for three years and they still function perfectly. These boots have been through wet caves, snow, floods and have never failed me. They are one of those rare pieces of gear that you trust completely. I have never worried about water leaking through or slipping off off anything. In fact, I generally try to step right into the middle of puddles just to taunt friends with lesser boots. Do not overlook these boots because they are too popular; they are popular for a reason.
Materials: leather
Use: medium duty
Break-in Period: week
Price Paid: $190

I bought these boots two years ago in Crested Butte and have worn them daily. They have worn through in the leather on the front and the tread is almost gone. The boots have served me well but they seem too narrow in the toes. The boots have not leaked but I am disappointed in the life of the boot. I have just purchased a pair of LOWA Trekerrs, hoping they will serve me well along the never-ending trail.
Materials: leather
Use: Day hikes with carrying son in pack
Break-in Period: minimal
Weight: medium
Price Paid: $179

These boots are the best. They've made it through Carolina mud, California heat, and (currently) Maine's salt and snow. They are not too light and not too heavy. They need to be oiled a lot, but then again, I wear them a lot. With a pair of Vasque insoles, you'll feel like your wearing your favorite sneakers (but with kick-ass tread). Buy the boot, take good care of them, and they'll last forever. Oh, and they look good too!
Materials: leather
Use: day hikes, long hikes, (can't seem to take them off!)
Break-in Period: not even a week
Weight: maybe 2lbs??
Price Paid: $185

These boots have been dissapointing in performance and durability. I've had mine for two years and never been truly sturdy. The Skywalk sole abrades quickly and offers little traction. Gore what? Had to use tons of Nikwax to survive even the slightest puddle in El Yunque (Puerto Rico's rainforest). Some of my friends have had problems with other models of Vasque boots, such as Super Hiker 2s; Alpines and Skywalks. Your best bet? Buy Raichles or La Sportivas.
Materials: leather gore tex lined
Use: trail backpacking with moderate load
Break-in Period: about a month
Weight: three pounds
Price Paid: $190

I have a pair of Sundowners that I have been wearing for 10 years now. The soles are nearly gone, the leather worn and folds like a glove but I still love these boots. They are excellent for medium duty backpacking and excellent for trail hiking. I have noticed that the collar and tounge padding has been cut down on newer models and other minor alterations but it would be safe to say still an excellent light duty boot.
Materials: FG Single Piece Leather
Use: Trail to Rough Trail with Moderate Pack Load
Break-in Period: Next to none
Weight: 2.8 lbs
Price Paid: $180 US

This has been an outstanding boot. My best friend and I purchased comparably priced boots at the same time about 6 years ago. We travel off trail, through sharp sierra granite and extended periods in water and snow, averaging about 30 days a year. His boots are in the trash, my sundowners look practically new. They are warm, rugged, and suprisingly comfortable. You can bet that I'll buy another pair (in ten years or so when mine wear out).
Materials: Leather
Use: off-trail w/ medium pack
Break-in Period: a couple of days
Weight: about 2 lbs.
Price Paid: $125 (sale)

I purchased this pair of boots based on Vasque's impeccable reputation for quality. Unfortunately, I was disappointed. This comfortable, stable boot suffers from what seems to be poor workmanship. I have two major complaints: the sole is separating from the leather uppers and the rear seam in the inside of the boot that attaches the leather to the liner has separated - I have only put one year of moderate trail use on these things!
Materials: full grain leather
Use: heavy hiking
Break-in Period: short
Weight: ????
Price Paid: $180

Version reviewed: Nubuck
I have owned mine for 9 years and they've been great. My only complaint is that the new ones are made in China. I have nothing against China except the fact they do not have the years of experience making these quality boots that Italy does. It will definitely be a factor in whether or not I buy another pair of these. I don't think I can be convinced that the workmanship is the same.
Materials: leather w/gortex
Use: w/heavy pack or not
Price Paid: $170

I wore Sundowner for years before they got greedy and changed making them in Italy and now are being reproduced in China, Nowhere near the boot they once were. If anyone knows of a comparable Italian made Sundowner by Vasque I would really be grateful! I have been trying other Redwing boots with no satisfaction. They really messed up a good thing. The China Boots Are Not Even Close To The Same!
I have owned two pair of these boots. The first pair lasted only six years! The second pair is going strong after four years. I bought these boots for hiking etc. and ended up wearing them as my every day boot! love em! will wear these boots till the day i die! one question, why did they change em? I only hope the new boots are as good as the old ones!
Materials: leather
Use: EVERY STINKIN DAY!
Break-in Period: about a week..
Weight: not too heavy.
Price Paid: lots

The Vasque last fits my foot well and these boots required zero break-in. I have used them on moderate backpacks (3-4 days, 30 lb pack) in the Rockies and New Zealand rainforest and am quite happy with them once I wax waterproofed them (mine are not Gore-Tex lined).
They probably won't last as long, nor are they as rugged as my heavy duty ancient Raichle's....but they are sure more comfortable.
Materials: leather
Use: moderate trail
Break-in Period: none
Weight: 2.5-3 lbs
Price Paid: $100 on sale

Great boots!!! I have had mine for three years and I have worn them just about every day. I have packed in them just about every where in the country. After three years all that I have had to do was snowseal every couple of weeks.
The only other thing that has happened was relacing the laces a few weeks ago. Luv them. Too light for carring a heavy pack.
Materials: Leather
Use: Med Weight
Break-in Period: A few days
Price Paid: I paid $175 3 years ago

I have had my Sundowners for about 12 years and they have served me well. I have put on many miles of wear and tear. They fit perfectly right out of the box. The only replacements I have made has been to replace the soles a couple of times, but at $50 it's been well worth it. I would recommend these boots to anyone!!
Materials: gore-tex inners
Use: Hiking and daily
Break-in Period: None-wore right out of the box
Weight: about 4 pounds
Price Paid: approx. $240

Great Boot - Just returned from an 11-day backcountry expedition along the Tennessee / North Carolina border. Carried 50+ pound pack through the often rough off trail terrain. Got no blisters of hot spots. The boots never leaked dispute often being up to the ankle collar in water.  
The Vasque Sundowner is superb both on and off the trail. 
Price Paid: $175

I've had them for a couple of years...It's a good all around light hiker..they're perfect for the weekend or week out in the mountains. but if I had to get another pair...go with the Fabiano Rio..much stiffer,,and no GORE.
LOSE THE GORE>>>>>>MY FEET SWEAT>>>IT CAN BE WATERPROOF WITHOUT The GORE>>
Materials: leather
Use: LIGHT BACKPACKING
Break-in Period: 2 WEEKS
Weight: 2.5 IB
Price Paid: $190

I bought a pair of these years ago - made in Italy - and destroyed them in 6 weeks, hiking in Alaska. The rep was shocked when he saw them. I am a relatively short woman, not some big guy. They did not hold up, and I have never bought another pair of Vasque boots since.
Price Paid: unknown

A very comfortable, well made all around boot. I am on my second pair. They stay pretty dry. I wore mine on the trail out of the box.
Update: May 6, 2000
A comfortable boot with no break in. I have had 2 pairs. they are lined with gortex. They are comfortable and rugged.
Materials: leather
Use: day hike and light backpacking
Weight: not sure
Price Paid: about $190

Version reviewed: 1995
I have had these boots for a year and I absolutely love them.
They are pretty scuffed up but they are ungodly comfortable.
I wear them every where school, home, trail.
i highly recommed them.
The new style has a padded collar and a achilles notch but have same specs.
Materials: 2.4 mm full grain waterproof crocetta leather with gore-tex stormsock
Use: Trail use with approx. 55 lb pack
Break-in Period: several days
Weight: 2 lbs 11 oz
Price Paid: $179.99

Very comfortable boot. Wearable staight out of the box with no break in, no leaks and very durable. I'm completely sold on them. Only one very minor complaint. It seems to be impossible to cure the "creaking" leather sound emanating from the tounge area.
Materials: Leather
Use: General hiking
Break-in Period: None
Price Paid: $164

Good boot: no leaks, no failures of any kind in 8 yrs.
Heel box a bit too wide-> blisters unless preventative measures taken. Duct tape on heels really works.
Somewhat lightweight for conditions and loads but still adequate.
Materials: full grain, one-piece
Use: trail/cross-country/bushwhaking/mt.climbing
Break-in Period: 2 wk.
Weight: maybe 3# total
Price Paid: $150 ?

I have had these boots for 3 years and have done some fairly heavy backpacking in them. They are worn out now, and offer very little support. I am dissatisfied with them as a long term boot.
Materials: one piece leather
Use: light backpacking
Break-in Period: very short
Weight: 3 LBS aprox.
Price Paid: not sure

Extremely comfortable, waterproof, full leather boots. Definately worth the investment. My only problem is the soles aren't vibram. If Vasque fixed this, they would have just about the perfect boot.
Materials: Leather
Use: Rough trail w/ heavy pack
Break-in Period: very short (under 1 week)
Weight: 2 lbs, 12 ozs
Price Paid: $190

I think that Vasque Sundowners are great. I'm about to buy my third pair (in about 10 years). They're very comfortable, sturdy, and they maintain their waterproof qualities well.
Materials: leather
Use: rough trail
Break-in Period: 3-4 hikes
Weight: ?
Price Paid: $190

Great boots so comfy and heavy duty, I wear them all the time... Just wondering if I should use some kind of conditioner or oil on them?
Price Paid: $180

These are not for the serious backpacker. I tore them apart after seven hundred miles and I laughed at them. Vasque boots are shyte.
Materials: leather
Use: rough trail with heavy pack
Break-in Period: quick
Weight: 2+
Price Paid: $190

Can't believe some of the bad reviews. I love mine--had em close to ten years--use em for weekend hiking with light pack.
Materials: leather
Use: light trail
Break-in Period: short
Price Paid: $110 in 1988

I am officially stating that Vasque boots are pieces of shit. If you buy them, don't say I didn't warn you.
Materials: leather
Use: supposedly rough trail with pack
Break-in Period: not long
Weight: 2 lbs. 11 oz
Price Paid: $190

Very durable, good looking boot. I love mine and plan to buy another pair shortly.
Materials: Leather/Gore-Tex lined
Use: Medium weight boots 40-45 pounds max. pack weight
Break-in Period: Virtually no break-in required
Price Paid: $190

A durable boot, but far too expensive.
Price Paid: $82

Your Review
You May Like
Specs
Men's
Price
Historic Range: $100.00-$159.99
Reviewers Paid: $75.00-$240.00

Women's
Price
Historic Range: $79.95-$109.95
Reviewers Paid: $150.00

Kids'
Price
Historic Range: $34.97-$64.95

Recently on Trailspace