Vasque Montana

The Montana has been discontinued. If you're looking for something new, check out the best backpacking boots for 2023.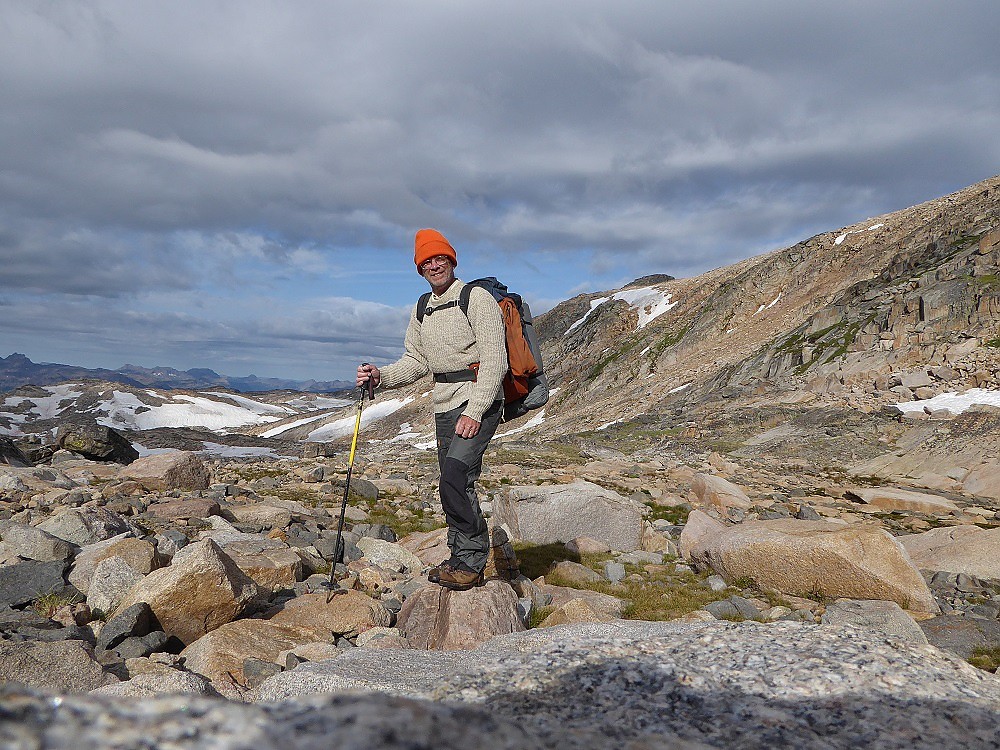 Pros
Quality, durable, and still going after 35+ years!
Cons
Heavy, but builds calf muscles!
These Vasques have carried me from the South Pole, McMurdo, Palmer, all over New Zealand, up to within a few miles of the North Pole, entire Chugach Mountain range and around the world twice.
Amazing boots that are sadly no longer made. 
Experience
Fantastic boots!
Source: bought it new
Price Paid: About $400 in the late '80s.

These boots have held up for decades of hiking.
Pros
Tough
Durable
Superior support
Crampons OK
Cons
May take some time to break in.
These Vasque Montana Boots, Italian name Montagna meaning mountain, are a full grain leather boot with 3/4 shank which allows the toe to flex for comfortable hiking yet provide superior ankle support and adhesion to varied terrain. A tough durable boot, crampon-compatible. Up rock cliffs, slog thru rivers. The ultimate in foot protection with superior support on trails, rock ledges, wherever, all with carrying a full pack.
I use Sorbothane Classic Full Sole Insert footbeds. They are very durable and have the right density to absorb punishment so your feet don't have to.
I wear two pairs of socks with these boots, a heavy-weight mid-calf New Zealand merino wool sock and an outer thin sock. I like a wool sock: for example you wade thru a river or break thru the snowpack into subsurface water.  With wool you can wring the water out of them, put em back on and keep going. Your feet will warm back up in no time.
Update June 2019: There for sale on the web was a pair of original Vasque Montana boots, correct size, VG condition, Vibrams near new. Have given them several soakings of Biwell. They fit like old friends.
Update August of 2019: Traveled over 50 miles thru the Montana Beartooth Mountains, mostly off trail. Not bad for an old guy in his 60s, thanks to Vasque Montagna:)
Experience
Nearly 40 years of using Vasque boots. Countless miles, countless peaks summited, all day hiking thru the rain, glacier crossing with and without crampons (not the best idea).

I added a photo of the Vasque Boots at Hawaii traveling thru the Pahoehoe and Aa Aa lava, the molten rock was 2000 degF, I mean hot; and a second photo of the boots with the Villard Spires in the background. I added a couple extra photos since you'll never see these boots new again.
Source: bought it used
Price Paid: $130

This is my second pair of these boots. They require new soles every once in a while but are otherwise bomb-proof and work well with crampons. While you can use running shoes on well-worn hiking trails, these boots are good for rugged off-trail and winter backpacking in rocky terrain.
Pros
Bomb-proof
Excellent traction
Excellent waterproofability
2,000 mile boot (re-sole required)
Cons
Very heavy
About $100 to re-sole
Expensive
I saw some people looking for this boot. As I understand it, Vasque was the exclusive distributor for Gronell until sales of this product dropped off for the cheaper / lighter boots in the late '90s. These boots go by the name of Montagna (Italian for mountain) and are still sold in Italy by Gronell. They list for 269 Euros (about $540). You will find them at their website gronell.it Look under "tradition."
Source: bought it new
Price Paid: $280

I purchased a pair of Vasque Montana boots in 1972 and had them for over 20 years. In fact when I moved to Texas in 2003 I still had them.
Pros
Everything.... great strong, well made, and lasting.
Cons
The only con is that they are no longer made.
I purchased a pair of Vasque Montana boots in 1972 and had them for over 20 years. In fact when I moved to Texas in 2003 I still had them.
If comfort is was your thing, these boots molded the die and fit like a glove and never caused me any pain. I called them my shit kickers because I used them in every condition and walked most of California with them, eight times over. 
I loved these boots and was very angered that Vasque no longer made them. I paid $65 dollars and tried to buy another pair in 1999 for $400 dollars but they were no longer produced. I wore these boots every day and usually even went out to dinner and other places in them.  I purchased the Alico boots but they are not as heavy and tend to bite me when tightened up.
When wearing the Montanas, I felt like my foot was encased and protected... I kicked many a rock and crossed many a waterway and never had any problems with them. I wore out the soles and had them resoled, made them tighter and my foot had grown. I still tried to wear them but they no longer fit.
Very hurt when I had to give them up!!!
Source: bought it new
Price Paid: $65

I bought a pair in 1987. I got WIDEs. They are in my opinion "the best" boot.
They broke in with no blisters and were tough as nails. Solid heavy boot. I wore the soles out way before the boot and the resole job was not done well and they were never the same. If I could get another pair I would go for it tomorrow at any cost.
I moved to other Vasque products over the years and they were OK with the early Sundowners, but over the years like everyone else in this world they moved to cheap materials, cheap overseas manufacturing.
Bring back Italian made Montanas.
Bought some Vasque Montana from A16 years back. I have wide front foot with narrow heel. Stupid me, listened to the shoe tech who said it would "break-in".
Dumb ass me, many heel blisters later gave them to my brother and he sold them at a swap meet (he wasn't into hiking).
I bought a pair of Raichles in Sedona and have nearly worn them out. Those Vasque sure were heavy duty feeling though, but not for me.
Price Paid: $220

I was looking for a solid pair of hiking/backpacking boots I could use for anything. I have always preferred leather lined boots but they are hard to come by these days.
I saw these on ebay and bought them -- greatest boots I have ever owned, Solid, I got lucky and they had not been broken in yet. Easy break in period and comfortable as hell.
I highly recommend them if you can find them. 
Price Paid: $190

I absolutely love these boots I have two pairs. One pair is 26 years old. I also have and like Raichle, Asolo, Scarpa. I would love to buy more Raichle or Vasque Montanas size 12d or medium.
Materials: full grain leather
Use: every day!
Break-in Period: takes 6 months

I bought my Montanas in 197??? 1, 2, or 3. I have used them for every purpose imaginable--hiking, snowshoeing, 10-hour days on the concrete floor of a GM manufacturing facility, tearing down barns and roofing. They are about half gone and I am kicking myself in the butt for not having bought a new pair on close-out when I had the chance. Of course with globalization I think that $79 was easier to come up with than the $250+ was just a couple of years ago.
Materials: Leather
Use: any time vital protection is an issue
Break-in Period: 3-4 wks
Weight: 3.5 lb
Price Paid: $79

Best boots I have ever owned. They never wear out or lose shape! I wear mine for everyday use, at work, hiking, hunting, everything. The Norwegian welt design is awesome, wish they still made boots like these. Had bought a pair nearly 20 years ago and they finally wore out -- lucky to find another brand new pair (in 2003) on eBay which should outlast my life! :)
Materials: heavy duty leather
Use: Everyday use at work
Break-in Period: Month, if you wear them everyday
Weight: 4.5 to 5 pounds I'd say
Price Paid: $250

I cannot recommend these boots for any real hiking at all.
I bought a pair of these for an extended trip through Africa and Asia, figuring the stitchdown style would be good if they blew out somewhere remote. After two weeks the soles started to separate from the midsoles on both shoes. They were pretty gutless from the start, actually: very weak midsole for a heavy boot, and the leather was too soft to provide real protection for my feet. They were so soft I couldn't get them tight enough for any real clambering.
They were a major disappointment, but Hudson Trail Outfitters gave me my money back no problem, even though I didn't get them back to the US for a year. In Africa I picked up a pair of Hi-Tec (yeah, I know) McKinleys, which are supposedly made by Garmont and are a great old-style light mountaineering boot. I used them for 7 months with stiff use almost every day and they were as good as new at the end of the trip.
Materials: leather stitch-down
Use: purportedly rough trail, light mountaineering
Break-in Period: 3 days
Weight: not too heavy
Price Paid: ~$250 US

I can't say enough great things about this pair of boots! I have a wide foot, and most other boots are just too tight for me. This pair is about 12 years old, I've just had them resoled. Don't misunderstand, I've put this pair through the paces, I've been on glaciers in the Canadian Rockies, hiked throught rocks, mud and the like. I'm very hard on boots, and these are simply the best pair of boots I've ever owned. They wear great, there's still a lot of life left in them, and if I ever wear them out, I'm buying another pair.
Materials: Heavy Leather
Use: Rough Trail
Break-in Period: sever weeks
Weight: 5 lbs
Price Paid: $300

Bought these because I could not find a pair of Asolo Yukons, and I like the old style norwegian welt one piece boots with the folded tongue. These boots are fairly stiff when new, but they become very flexible with use. I have had them for 3 years and they bend much too easily for hiking with a heavy pack. The leather is very thick and full grain, but I swear it has stretched and stretched to the point I can barely use them. I have a good friend who also bought a pair and his have done the same. These boots are for people with wide feet, and because I have wide feet up front with a narrow heel this yields beacoup heel blisters for me. I've been kind of disappointed with these compared to my Yukons which I no longer have.
Materials: Heavy leather
Use: Heavy backpacking
Break-in Period: They are still growing
Weight: 5lbs/pr
Price Paid: $265

This boot is like a tank, nothing can destroy it! I have had mine for three years and have worn them very frequently, yet the sole is barely worn. I found them hard to break in because the leather is pretty thick and the sole is very rigid. They are a tad bit on the heavy side but they provide good support for the ankles, the rigid toe is also a plus. If you are into serious backpacking and are looking for a no nonsense boot the Montana is the choice for you.
Materials: Thick Leather / Vibram Sole
Use: Heavy Backpacking (emphasis on Heavy)
Break-in Period: 2-3 Weeks
Weight: 5lbs
Price Paid: $330

Your Review
You May Like
Specs
| | |
| --- | --- |
| Price | Reviewers Paid: $65.00-$330.00 |
Recently on Trailspace