Vasque Clarion GTX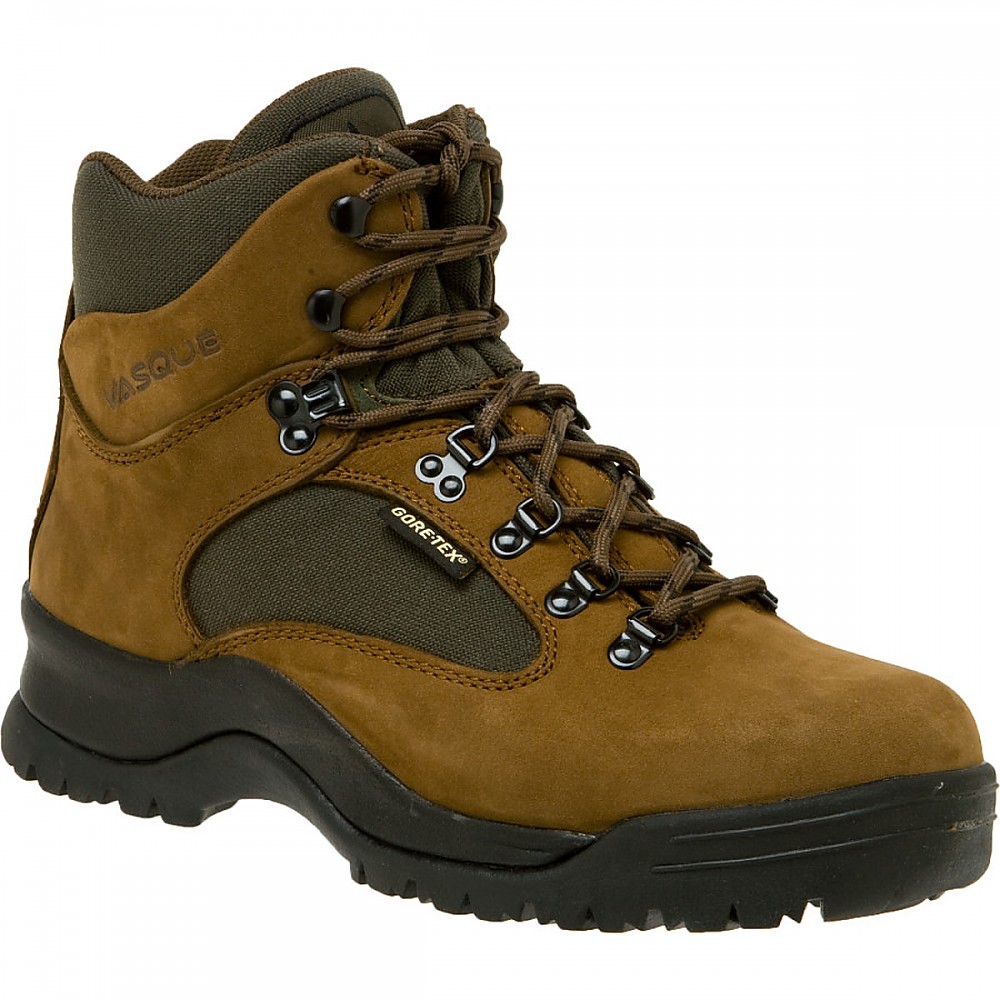 Purchased these in 2010. 5 stars until yesterday during Hurricane Florence, both soles split apart. Boots have had very light duty—no overnight trips—and now I find in other reviews this is a common problem! Almost wore them on difficult NC mountain hike last week. Glad I wore my Raptors! Will not replace with Vasque.
Pros
Stable and water tight until soles fall apart!
Cons
Soles deteriorated for no reason
I would have rated these five stars for fit, comfort, support, water tight, and stability on all surfaces. However with both soles falling apart while walking and clearing drains in neighborhood during Hurricane Florence I can not recomend these boots.
I have had them for 8 years and they have only done day hikes—average 2-3/year max. They have always been stored in my clothes closet or in a "boot bench" with Sorels, Bean boots, and riding boots—indoors in basement. No quality gear should fall apart like this. The Sorels haven't and I bought those in 1987 and the Bean boots have some repairible tears, but bought them in college in 1976!!
Source: bought it new
Price Paid: Approx $165-180

I owned these for two years and on day one of a three-day hike in the sSerras the sole delaminated from the boot. It was miserable.
I found out on the net that this is a problem with Vasque boots. They are now made in China.
Buy anything but these and if you're serious you should invest in a good pair of Italian made hiking boots.
Price Paid: $150

I purchased these boots about four years ago. I have used them for several backpacking trips and some cold weather casual use. They are very comfortable and water tight.
I do not have a great deal of time in them, but it appears that both soles are separating from the upper part and the interior cushion part has turned in to a black power. It would appear to be dry rotted or a poor quality of rubber sole.
Price Paid: $139

Worst blisters I have ever had on my heels - almost down to the bone after a 15 mile hike. Shame because they are comfortable otherwise. Noticed there was a seam in the back - that's what did it - poor construction.
Very comfortable. These fit my feet perfectly, and didn't take long at all to break in. They have provided excellent protection from wet weather, and they allowed my feet to breath.
The main downfall is how quickly the tread is wearing down, as well as the toes. I have several gashes on each toe which is causing the fabric to wear faster than normal. I'll likely only get a couple more years out of these before the traction isn't sufficient enough.
These felt great out of the box. No break-in period necessary for me. I would have given them more stars, but they wear rather quickly. The Nubuck leather is really chewed up. Minor scrapes on rocks leave deep gouges, especially on the toes. At first I thought is was me, but realized that the leather on my 15-year-old worn out suede boots are in better shape.
The rubber soles are really sticky in wet conditions, way better than my Vibram soled boots. But the soft rubber has worn out quick too. I would expect them to last longer for the cost.
Materials: Nubuck with GoreTex lining
Use: Backpacking
Break-in Period: none
Weight: few pounds
Price Paid: $145

Got these boots at Campmor, because everyone I knew and their mother was using Vasque and I'd outgrown my Asolos which I loved. The Asolos were Globalines, almost light mountaineering boots, and I put them through everything and they still had killer tread left and showed almost no wear. I loved them so much I wore them until they were a full size too small!
Maybe I have poor footwork or something when I backpack, but after way less, lighter duty use, the Vasques were really chewed up in the toe and started leaking. We are talking about very different kinds of boots, here, but in the same price range, and so I'd say the Asolos were way more durable and supportive for less money. The Vasques just felt squirrelier on rough NY terrain. On the plus side, there was almost zero break-in, and they were very comfortable.
In the end the Vasques were a disappointment. They weren't worth the money when really high quality all-leather heavy backpacking boots can be had for a few dollars more.
Materials: leather w/ nylon and gore-tex
Use: light hiking, occasional backpacking, winter hiking
Break-in Period: none
Weight: 155 lbs
Price Paid: $135

I agree this is not as well constructed or as comfortable as the original Vasque boot of this type. The original of this type five years ago was one of the best boots you can buy, not anymore. I was dissapointed that it does not fit as nice and feels stiffer. Still a decent boot but does not meet the typical Vasque standards, like most boots now a days, this one is just okay.
I just had to chime in on this boot. Let me say that my first Vasque purchase, the old Clarion Impact II's were a fantastic boot! But of course, Vasque discontinued them in lieu of these boots here. What a mistake. I cannot express how disappointed I was in these boots.
They had a harsh, extensive break-in period, a poor fit and leaked water at the upper and sole joints within six months of purchase! The combo of using the Cordura inserts with the nubuck leather is a huge blunder in design. This material not only fails to hold its original shape but also causes uneven stress on certain areas of the boot which contributes to its poor fit, uneven wear and general discomfort.
Additionally, the ankle collar on these boots is downright pathetic. I never had so much trail debris enter my boots as with this model. Sure, not a big issue if you're going to wear gaiters. But if you choose not to, you can count on every rock of every size you kick up landing within! Plus you lose the support of a good ankle collar design. I can't tell you how many times on casual power walks around the country roads I would be forced to stop and clear rocks out out these boots.
And speaking of support, this boot gets a zero rating. It took me six years of hard use to wear out my Clarion Impact II's. I replaced these dogs within the first year of ownership.
Now... to show you that I'm not just picking on Vasque, I have since purchased both a pair of the original Sundowners and have recently replaced them with the Vasque Sundowner II (the Italian made single piece upper). I can't tell you how much I enjoyed owning and wearing the Sundowner II. And yes... there is a difference in quality between an Italian-made pair of boots and a pair made in China! Again... do your feet a favor and stay away from the Clarion GTX's. Your feet will thank me later.
Price Paid: $135

These boots are great! I wore them on a 5-day Grand Canyon rim-to-rim-to-rim hike, and did not get one blister. In our group of 8 hikers, I was one of the few with no blisters at all.
Price Paid: $139

For a light backpacking boot the Clarion GTX's are awesome. I have had mine for three years and taken them on numerous backpacking trips as well as long day hikes. For the shorter backpacking trips they provide plenty of support and are comfortable for the long haul (with superfeet insoles). On the day hikes they are light enough to not stress the knees or hips but provide a little extra support for confidence. I just did Half Dome in them about a month ago and they held up beautifully. It is time for me to re-sole them but the soles held up to some serious punishment. Despite having a nice pair of Merrell Day Hikers I always go to these. Great boot!
Use: Backpacking & longer day hikes
Break-in Period: superfast
Weight: a little heavy for sprints
Price Paid: $155

I love these boots, whether for hiking, yard work or trecking through the snow these are the best boots I have ever owned. I can't even remember a day that I left without them! Today, after at least eight years of wear and tear I need to retire the left boot forever. These boots have kept me high and dry through rain, snow, sleet and hail and have seen me reach tops of many mountains - and they have supported my feet so well that I can honestly say I have never had foot aches after even the longest of climbs. I highly recommend these boots!
Materials: gore-tex
Use: rough trail and snow hiking
Break-in Period: 4 months
Weight: 155pounds

Use: rough trail w/ heavy pack lots of mud and snow
Break-in Period: 3 weeks
Price Paid: $200

First i got some really nice asolo's that costed me 210. Damn those where nice boots. However they were to thin for my foot so i took them back to rei.
Then i bought some sundowners. Well i got them online, i got the wides cause i have wider than normal feet. They were too wide. So i sent them back. Finally (three times a charm) i got some clarions GTX. I finally broke down and went to a redwing store (buying online sucks unless you KNOW something is going to fit you) and got a really good fit. I just finished about a 5 mile hike today and i must say that these were great boots. I broke them in wearing them to work and around town for a week. Actually they really only took about a day's worth of walking to break in, if that. So anyways, i just got back from a fairly good hike up and down in some washington backcountry. Well ok i wish it was backcountry , but it was pretty close. The terrain i encountered was great because i really got to see what these boots could do.
I am impressed. My feet didn't hurt at all and they felt good the whole time. Climing about 1000 feet total they did great. It had rained alot today so walking through knee high wet grass got the outside of the boots soaked. None leaked through though so that was good. I am pleased with these boots. They offered alot of support also. One thing though, when hiking on wet rock close to a 300 ft drop off BE CAREFULL, these boots don't hold very much traction on wet rock. Then again what does though? I recomend these boots. They are really comfy around town and do great on hikes. Don't use them to walk on concrete alot though as i have suspicions about the sole holding up. It's probably ok for dirt and the ocasional rocks but concrete is another animal altogether. anyways, hope this helped. happy hiking.
Materials: gore-tex nubuck nylon
Use: medium backpacking
Break-in Period: 1 hike
Weight: 3lb. 1oz.
Price Paid: $150

Excellent boot.
Use for hiking and working on farm year round. When hiking, I'm usually carrying my son in a backpack. He's 38 lbs now and the boots seem to be giving me plenty of support.
I have wide feet and have had trouble finding a boot that fits well. The width on these is good, even with heavy socks.
Good toe protection although leather is getting a bit chewed up.
Comfortable padding on tongue and uppers.
No problems with the gore-tex liners.
Only problem is with the footbed. Foam with some fabric glued to the top. My feet get REALLY hot & sweaty and the adhesive that holds the fabric to the foam softens and allows the fabric to travel and bunch-up.
Materials: leather, gore-tex
Use: hiking/farm work
Break-in Period: none
Weight: ??
Price Paid: $120

Dollar for dollar, I have never had a nicer boot.
I'm 6' tall weigh 200lbs wear size 10 1/2.
Mine had the original V-Lug sole. Work's great for hard packed dirt. I've owned them for eight years and had them resoled once. I've spent days with them submerged panning for gold, the Goretex never failed.
As for hiking/hunting, I average about five miles a trip (I'd say average 15 trips a year), but the only trails here, are the ones you make (or deer trails). As for comfort, Never had a blister or sprained ankle. The Vasque innersole is replacable, so you can get different inserts to better fit your foot. I also use them for snowshoeing. The soles "self clean" so you don't have mud build up like a Vibram style sole. I'm buying another pair this year cause the shank in the sole is getting soft and bending, but I've jumped on a million rocks (basalt and A'a A'a lava) so I'm not complaining. I recommend these boots to anyone who does outdoor activities.
Materials: Nylon / Leather Outer + Goretex
Use: Rocky Mountains , Lava rock
Break-in Period: Three , day trips
Weight: 1 lb.12oz each
Price Paid: $129 (on closeout)

I used these boots for a one season of very light hiking and they preformed admirably. Though my heels are typically prone to blisters, I never even got a hot spot in these. However, in their second season of use, I traded the daypack for a 40-lb pack and hit VT's Long Trail. On rough terrain they are a recipe for disaster. I was incredibly dissappointed when i suffered a serious ligament-damaging ankle-sprain despite the heavy boots. Also, skywalk soles seem to degrade very rapidly. After 2 years, the front of the sole is almost bald and several lugs have torn out. Finally, the skywalk soles make wet rocks like walking on ice. Overall I was quite dissappointed when i put these boots to the test.
Materials: leather/gtx
Use: extended backpacing/40-lb pack
Break-in Period: 2 years
Weight: >5lbs
Price Paid: $110

This is my fourth pair of Vasque Clarion's GTX's. Actually I don't believe they had the GTX denotation that far back. Anyways, I have hiked hundreds of miles in these things all over the state of Arizona ranging from desert terrain (both summer and winter) to our higher mountain elevations. They have absolutely proven to be very comfortable, waterproof, and not suffocating on the feet.
The only area that I have always had problems is under wet conditions and hiking over rock. These boots do not grip well at all under wet conditions on hard surfaces. Also they do not grip well in snow on inclines. When desert hiking, the rough desert conditions (cactus) will tear these boots up. I literally ruined a pair in one winter hiking and bird hunting in the upper deserts here. I would not recommend these boots for hiking in wet/snowy conditions with fair gradients in the trail, or desert hiking. Although, my feet held up well in these boots in +100 degree heat primarily due to the Gore-Tex liners and Nubuck exterior.
Materials: GORE-TEX
Use: ROUGH TRAIL DAY HIKES
Break-in Period: NONE
Price Paid: $160

I've been wearing the Clarions for about a year and have found them very versatile and comfortable. I carry pack loads up to 40 pounds on rough trails and they provide good traction on any surface. Ankle support is great, but there could be more padding around the ankles. If you wear thick socks for cushion it isn't much of a problem anyway. Break in time was minimal, but, as with any boot, they are much more comfortable after the first year than freshly broken in. Waterproofing is excellent with the gore tex booties, and the cordura panels help with breathability. The nubuck scuffs and nicks noticeably especially on rocks, but I have been very happy with them overall. Great value general duty boot.
Materials: leather/ cordura
Use: medium duty
Break-in Period: 2 weeks
Price Paid: $159

The boots made my feet the only comfortable thing on a Smokies trip when EVERYTHING else was soaked. If any salesman EVER says you don't NEED Gore-tex, hit him in the mouth!!!! I'm soooo cheap and used redwings (very sturdy and long lasting boots,for work that is, on the trail and they were comfortable but LEAKED. BUY GORTEX. Did I mention that the GORTEX made all the diff in Florida too where wading was part of the program.
Materials: leather/gortex
Use: Appalachian Trail/Smokies(unmaintained side trails) and Florida Trail
Break-in Period: 3 weeks arount town
Weight: not too heavy
Price Paid: $180

Both my brother and sister have had Vasque Sundowner boots, so they had very good recomendations for this boot. Really, I was looking for anything cheap with GORE TEX. Here in MN, the snow and puddles are abundant, and the GORE TEX does the job. This is my third GORE TEX boot. I have had H.H. Brown and Rocky, but neither of them were as rugged as the Vasque. These boots have worked great for tromping around campus and the light trails in the area. I can't wait to tackle new trails with these boots.
I am very impressed with these and at 107 bucks, I couldn't love them more.
Materials: Leather
Use: Light Trail
Break-in Period: 2 weeks
Weight: 2.xx lbs.
Price Paid: $107 (sale)

This is my first Gore-Tex boot, and i am unimpressed. Although it keeps rainwater out, it keeps sweat in. I much prefer a well-built full-grain leather boot for waterproof/breathable footwear. That said, the Clarion GTX offers pretty good support for its weight (and for having big cordura panels on the side). Traction was quite good, i especially like the 'rocker' shape of the soles. Unfortunately i took them rock scrambling once, and it took off chunks of the lugs and scraped the top of the toe area up a lot. The fit is for medium to large volume feet. I have narrow heels, and i felt the heel area to be too loose and the forefoot area to be too tight. (the latter problem disappeared after breaking in, however). The laces don't stay tied very well. The midsole is becoming rather flexible, so this isn't a serious off-trail boot. Finally, after wearing them every few days for the past year, the uppers are beginning to lose support and sag.
Final conclusion: If you have mid to high volume feet and need some good rough trail waterproof/breathable boots, then get the Vasque Clarion Leather (the full leather, non-goretex version). and consider buying some new laces that stay tied.
Materials: nubuck, split grain, cordura, gore-tex
Use: trail with medium-weight pack
Break-in Period: 20 miles
Weight: 2lb 12oz
Price Paid: $159 US

I got these boots about four years ago, and they're still as comfortable as ever. They're a great pair of boots for the money. I can't recall ever getting blisters in them, and with the gore-tex, my feet stay fairly dry. They do a good job keeping me comfortable in a wide range of tempretures (mid-November in Montana to August in South Carolina). They are probably the most durable pair of shoes I've owned.
Materials: leather
Use: general backpacking
Break-in Period: A couple of weeks around town
Weight: ??
Price Paid: $160

I certainly would recommend these boots. I replaced a pair of Vasque Skywalker boots with these, and I am much happier with the all leather. I have used these in the High Peaks of the Adirondack Mts. I have also used them in Vermont and New Hampshire. I have used them with a daypack and also with a heavy backpack and they have performed very well! I think that they are a very good boot and I would recommend them.
Materials: Leather
Use: Rough Trail with Heavy Pack
Break-in Period: None
Weight: Approx. 3lbs
Price Paid: $165

Contrary to some of the other reviews, this boot is absolutely capable of backpacking. I used them for a weeklong trip in the Smokies on the Appalachian trail with a 45 pound pack with lots of elevation change and never had any trouble, discomfort or complaints. I bought these right before my trip, and did not have too many complaints with break-in period, except for the bunching of the tongue gussets by my ankle. This can be avoided if you make sure that you fold them the right way the first time you use them, so they mold that way forever.
As for stiffness, mine are quite stiff and can nowhere near fold them over. This stiffness can probably be accountted for by the fact that my boots are 98 model, and the guys in the other review are older. The tread is great, and keeps traction even on steep grades with a heavy pack. The Gore-Tex layer is also great, and makes it fun to walk through deep puddles. However, if you do get water inside the boot, it takes forever to dry out.
Overall, a very good boot that can be used for light to moderate backpacking.
Materials: Leather
Use: Tough trail w/ heavy pack
Break-in Period: Practically none!
Weight: ?
Price Paid: $165

I have backpacked in Tennessee, North Carolina, Vermont, New Hampshire and Maine with these boots. They needed no break-in period. They fit my foot which is extremely wide. In all this time, they have never caused a single blister. The two times that my foot submerged in water above the boot, I found that it took a full 2 days for the inside of the boots to dry out. The boots can take tons of abuse without being destroyed.
Materials: Gore-tex
Use: Medium Pack
Break-in Period: none
Weight: 2 pounds 12 ounces
Price Paid: $158

I am sick of paying two hundred dollars for boots and the toe wearing off, scraping and nicking in a matter of a month.
Materials: Leather
Price Paid: $189

Ablosutely the best boot for the money. I had a pair of La Sportiva Makulas and took them back because I wasn't satisfied. I climbed the Minerets in these last spring and they preformed flawlessly. Hiking in ice and snow are no problem. These boots kept me dry and warm in 0 degree weather. My friends call the Clarion GTX the "shitkickers" because nothing can stop them.
Materials: Nubuck and Goretex
Use: Heavy packing in snow
Break-in Period: 1 week
Weight: 3 lbs
Price Paid: $165

I purchased these boots to replace my first pair of Vasques which I had for 7 years. I broke them in on some trails around home but their first big test was the Minong Ridge Trail on Isle Royale. The ankle support was great on this difficult trail and after logging 50 miles in 9 days I had not a blister! I probably should have had a heavier boot for this trip but the Clarions did the job. I strongly reccommend these boots.
Materials: leather
Use: moderate/difficult trails with 50 lb. pack
Break-in Period: 3 weeks
Price Paid: $160

I got these boots on sale for 100 and have been very plaeased with their performence. A little hot in the summer due to the GTX.
I logged 32 miles in Grand Canyon Nation Park in a remote area of the canyon on a trail not even wildlife would dare to use. The tread held great, and the rubber toe cap is a big help. I would highly recommend these boots to anyone.
Materials: leather, nylon
Use: rough trail w/moderate pack
Break-in Period: 1 week+
Weight: 2.5?
Price Paid: $130

Both my wife and I have these boots. My wife for 3 years, mine 1.5 years. I replaced a pair of Danner goretex. This is an excellent boot. Very comfortable. I used them hiking in Rocky Mountain National Park this summer and they performed extremely well.
A little warm in the summer. Nice and warm in winter. If you hike in the Northeast or Northwest you need Goretex. The retails stores seem to be down on Goretex and will tell you it isn't necessary. Spend a day on the trail with cold wet feet and you will never hike again without Goretex boots.
Materials: leather/nylon
Use: dayhikes, some short backping trips, snowshoes
Break-in Period: none
Weight: 2.9 lbs
Price Paid: $140

First off, these are great day hikers. They are light weight, supportive, flexible, and extremely comfortable. I love them for wearing around campus, and day hikes on all sorts of terrain. That said, these are *not* backpacking boots! They are only slightly more than a glorified solid sneaker. The uppers are too flexible and low for support on anything but completely flat terrain when carrying a substantial pack. And the soles have far too much flex -- it's very easy to bend them almost full circle with your hands. Supposedly they have steel shanks -- but it must be awfully thin steel. I have the model just before the black rubber toe cap came out -- that's why I got them at such a good price.
Don't get me wrong -- I'm really pleased with these boots -- but I see too many people using them as backpacking boots. Go with something a little more substantial. And made of one or several pieces of leather, and not little bits of nubuck and cloth sewn together. Assuming they'll only be used as day hikers, my only complaints are toe abrasion, which could easily be fixed with a bumper on the front of the sole, instead of the toe cap on the newer models, and the goretex liner. The liner is an option, so I shouldn't complain. But it impedes breathability, and my big toe quickly wore a hole through it (on top of the nail).
Anyway, overall I'm pretty pleased. Fit, incidentally, is relatively narrow, although it can be adjusted with Vasque's sized footbeds.
Materials: leather
Use: trail hiking (not backpacking!)
Break-in Period: none
Weight: ??
Price Paid: on sale: $120 Can.

Reviewed 9/97.
I got these to replace a 15 yr. old pair of Danner boots that had a Gore-Tex liner that always kept me dry. Gore-Tex was a must for me.
I got the all-leather version of this boot, which looks better after the leather has been treated and smoothes out.
I bought them at EMS in Chicago, just before my trip and was worried about the break-in time but pleasantly surprised. I wore them to and from work for a few days and did one quick 5 mile walk over a weekend, and they held up pretty good. I used them in West Canada Wilderness Area of Adirondack Park (perhaps "Wilderness Area" is a bit extreme of a term). The use was not terribly strenuous, only moving a few hours a day for four days over fairly dry, easy trails. But I was very impressed with the quick break-in, even given the not-quite-strenuous use they got.
I recommend them.
Materials: leather
Use: moderate trail with 35 lb pack
Break-in Period: 9 days, 15 - 20 sidewalk miles
Weight: 3 lbs / pair approx.
Price Paid: $140-ish

My wife had a pair of Vasque and got to spend the money on these and that is why i married her... These boots make my feet feel good. No matter how far or long I hike. The sole is rugged I have hiked through the rockies and montana. The boot is incredibly waterproof. I live in Seattle and hike the Cascades never have my feet been wet. The stiff ankle support makes me feel I can walk over anything.... I have purchased these boots for my father and all my uncles and they love it too...BUY THESE BOOTS THEY ARE GREAT!!!!
Materials: Leather with Nylon in places
Use: rough trail w/heavy pack for weeks at a time
Break-in Period: nearly none
Weight: 2.5?
Price Paid: $145 REI

After wearing out several pairs of Merrill Eagles (which, sadly, are no longer made), I decided to purchase a REAL hiking boot....Gortex and all. After reading some reviews and shopping around at my local outfitter, I decided to go with Vasque, due to their strong reputation for fit and durability. I got a chance to take the boots to Tennessee's Great Smokey Mountains in May, 1997. I logged 32 miles over a few days of hiking on some very rough trails. The Clarions gave me extremely good traction and tremendous ankle support. I felt like there wasn't any trail condition that this boot couldn't handle. I was lugging around a 30 lb pack for the most part. Foot fatigue was minimal, which was a miracle since I haven't been hiking in a long time. I suffered NO blisters, either. Vasque offers accessory insoles to custom fit your boots, which came in handy for me since I have narrow feet with a high arch. I have only the best of things to say about this boot.....for the price, I doubt you would ever do any better with anything else.
Materials: Leather, Nylon, GTX lined
Use: Rough Trail-Up to Heavy Pack
Break-in Period: 20-30 miles
Weight: 2.9 lbs
Price Paid: $150

This is the first "real" boot I have owned and I am very pleased with it. I have the men's boot because I have a very wide foot and it fits perfectly. They are very sturdy and rugged. I have mainly been using it as a winter boot and it has good traction in snow and keeps my feet warm and dry. When I was using it on trails back in the fall it was very supportive and never bothered my feet. They broke in quickly and never caused me any problems even though I have bad feet and have to wear orthotics inside them. I have waterproofed them once which changed the color of the nubuck. Overall, I am extremely happy with these boots.
Materials: Nubuck/nylon/Gore-Tex
Use: Multipurpose; up to moderate-rough ground with heavy load
Break-in Period: about 10-15 miles
Weight: not more than 2 lbs.
Price Paid: $150

Your Review
Where to Buy
Help support this site by making your next gear purchase through one of the links above. Click a link, buy what you need, and the seller will contribute a portion of the purchase price to support Trailspace's independent gear reviews.
You May Like
Specs
Men's
Price
Historic Range: $76.67-$180.00
Reviewers Paid: $107.00-$200.00

Women's
Price
Historic Range: $49.99

Recently on Trailspace