Western Mountaineering
Apache MF
Specs
| | short | regular | long |
| --- | --- | --- | --- |
| Weight | 1 lb 14 oz / 850 g | 2 lb 0 oz / 905 g | 2 lb 2 oz / 965 g |
| Fill weight | 1 lb 1 oz / 480 g | 1 lb 3 oz / 535 g | 1 lb 5 oz / 595 cm |
| Loft | 6 in / 15 cm | 6 in / 15 cm | 6 in / 15 cm |
| Temperature rating | 15 F / -10 C | 15 F / -10 C | 15 F / -10 C |
| Fill | 850 fill-power down | 850 fill-power down | 850 fill-power down |
| Shape | Mummy | Mummy | Mummy |
| Max user height | 5 ft 6 in / 165 cm | 6 ft 0 in / 180 cm | 6 in / 200 cm |
| Shoulder girth | 59 in / 150 cm | 59 in / 150 cm | 60 in / 152 cm |
| Hip girth | 51 in / 130 cm | 51 in / 130 cm | 51 in / 132 cm |
| Foot girth | 38 in / 97 cm | 38 in / 97 cm | 38 in / 97 cm |
Where to Buy
Reviews
The Western Mountaineering Apache is an outstanding…
Rating:


Price Paid: less than retail, used..

The Western Mountaineering Apache is an outstanding all purpose bag. Rated for 15 degree 3 season bag.
I tested it on a trip to Jefferson National Forest where the temperature was on average 45° F. The bag was so warm. I had to leave it unzipped and used it like a comforter.
My second trip was to Shenandoah National Park where the temperature was 20-35 degrees. I took a core temperature of the bag alone at 22 degrees with windchill. My sleeping bag was at 80 degrees with body heat after a core temperature check after an hour.
Pros
Warm to 15 degrees
Excellent construction and stitching
Cons
Narrow bag, not made for broad people
Warm, lightweight, compact, and luxurious: this is…
Rating:


Source: bought via a "pro deal"
Price Paid: $200 pro deal

Summary
Warm, lightweight, compact, and luxurious: this is one of my favorite pieces of gear!
Pros
Warm
Lightweight
Compresses well
Fabric feels great
Hood fits well
The Apache MF was a large investment. At $450 MSRP ($200 pro deal), it's by far the most expensive piece of gear I've ever purchased, but each time I use it, I know I made a sound investment.
I've used the Apache twice so far in very different conditions. Once was in early May 2012 at the Buffalo River in Arkansas. The temperature ranged from mid-40s to mid-50s at night with high humidity and rain. The bag remained lofted and warm every night.
Obviously a 15° bag was overkill for such a trip, but I had just gotten it and had to take it for a spin. I was surprised at how I did not overheat, the down doing a great job keeping me comfortable and the footbox venting well. I used it again in late February 2013 for an overnight at Dinosaur Valley in Texas where lows at night dipped into the low 30s. I stayed cozy and warm all night using a Big Agnes Insulated Air Core pad.
I'm 5'8" and 165lbs and the bag fits great. It is a narrow cut, but I have plenty of room to be comfortable while maintaining efficiency.
The microfiber (MF) fabric is a ripstop polyester. It feels great against the skin, and when combined with the already awesome feel of down, it feels like heaven when you get in it. The fabric seems delicate, but I'm always careful with it and haven't had any issues. The tight weave and DWR are great for moisture resistance; I poured a bit of water on the shell upon receiving the bag and it rolled off like a duck's back. The smooth fabric also makes stuffing the bag very easy. The bag compresses to about the size of a soccer ball in the compression bag I use, but it could probably go smaller.
The weight is about average for a bag of its temperature rating in its class. The Mountain Hardwear Phantom 15 is 2 lbs 1 oz and the Marmot Plasma is 1 lbs 15.96 oz.
The zipper moves well, but can be tricky to get the last 3 inches or so when you're inside — doesn't stick, it's just a weird angle. The zipper has a full-length stiffener that pretty much eliminates snags. A thick draft collar is awesome and the opening of the bag has two cinches — one around the shoulders on the draft collar and one at the hood to really seal in all the warm air. Velcro on the collar and hood keeps zippers closed during the night.
My feet are always cold, so I regret not ordering an over-stuff on the footbox (available if you order direct from Western Mountaineering), but no frigid feet yet; I'll update once I take it closer to the lower temperature limits.
Overall, an awesome bag that I hope to have for many years to come!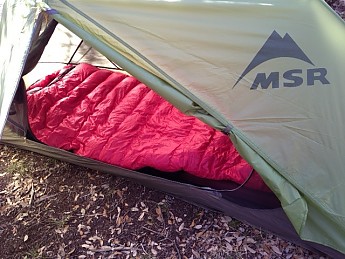 This bag is amazing! I just spent New Years, Jan 1,…
Rating:

Summary
This bag is amazing! I just spent New Years, Jan 1, 2015, in the Utah desert. It got down to 12°F in my Springbar. This bag didn't just keep me not cold, but with the draft collar and the hood all the way cinched I stayed toasty warm. This bag will definitely put any other three-season bag to shame.
Pros
Warmer than 15°
Comfortable to sleep in
Highest quality construction
Cons
Constant jealousy from other campers
Other people try to take naps in it
You'll have to start wanting something else
I spent four nights in this bag in the Utah desert on New Year's Eve in freezing cold temperatures and stayed completely and totally warm at night in the sleeping bag.
The draft collar works amazing the hood is perfectly shaped. The 15° rating is generous. The quality and construction is unmatched and any use with the proper sleeping pad could easily be used as a four-season bag.
Absolutely worth every penny.
Where to Buy
Western Mountaineering Apache MF
currently retails for:
$524.95 - $539.05