Wilderness Systems
Pungo 120
2

reviews

5-star:

1

4-star:

1

3-star:

0

2-star:

0

1-star:

0
Reviews
This is a great all around boat. Super stable, tracks…
Rating:


Source: bought it new
Price Paid: $749

Summary
This is a great all around boat. Super stable, tracks well, and has decent speed. Comfortable seat and spacious cockpit, lots of storage space. Would recommend a flotation bag in the bow and a spray skirt in choppy conditions,
Pros
Stability
Comfort
Tracking
I have used my Pungo 120 for 5 years and I am very pleased with it. The Pungo is very stable, tracks well and is easy to get in and out of due to the spacious cockpit.
The seat is very comfortable and adjustable, you can recline in it like a lazyboy and put your legs up. The large cockpit also allows me to take my dog along for a ride. There is a sealed compartment in the stern for stowing your gear with a water tight hatch. There is room in the bow for a flotation bag or equipment stored in waterproof bag.
The footbraces are easy to adjust thanks to an innovative system. When I bought my Pungo it only had one bungy on the front deck (like in the picture) so I added more which now is standard on the new models.
I tried a lot of other kayaks before deciding on the Pungo and it was a good choice. I have taken it on a variety of bodies of water in a variety of conditions and the boat has performed superbly. For what it was designed for the Pungo is first rate and I would highly recommend it.
Update 5/15/12
I want to add to my review as I have had the Pungo in some scary spots over the last two seasons and it handled the waves superbly.
I live at Lake Tahoe which is a big body of water with tempermental winds that can come up in minutes. Normally the best time is early mornings or evenings unless there are afternoon thundershowers then you want to be off the water.
Last summer (2011) I went for an evening paddle with some friends for what was going to be a 3 hour tour (where have I heard that before?). There were some clouds forming on the other side of the lake, 12 miles away, but we didn't think they would come over to our side.
Well we were wrong! We had just made it to our destination and where turning for home when the wind started to blow directly at us and quickly there were white caps on the lake. We ducked into a sheltered bay and waited to see how long it would last. After about 20 minutes the wind lessened but there were still 1-2 foot swells.
As it was getting dark we decided to make a dash for our put in spot about 45 minutes away. Well the Pungos performed magnificantly, riding the swells with ease. We were supremely confidant in our boats and made it back without mishap other than a little bit of water in the cockpit.
The second incident occured this past Sunday and again we were on Lake Tahoe. When we put in at 9:30 am the lake was like glass, very little boat traffic so it was a glorious paddle. Our destination was the Upper Truckee River Marsh about an hour away. By the time we neared our destination the power boat and Jet Ski traffic had increased creating some chop, but nothing severe.
We arrived at the marsh and paddled up the river a little ways enjoying the wildlife along the way. By the time we returned to the mouth the wind had picked up and again there were white caps on the lake. The wind was blowing out of the Northeast and hitting our boats on the starboard stern. This made the boat want to go to starboard which is not were we wanted to go. So it required some hard paddling to keep the bow pointed in the right direction. A rudder or a skeg would have helped but other wise the Pungos again were super stable and we had confidence we would get back, tired but safe. We even had fun surfing some of the waves.
We made it back okay and I just have to say that I love this boat. It has never let me down and I cannot think of any reason to get a different kayak. I highly recomend it to anyone looking for a awesome all around kayak.
Until it got stolen this past summer my Pungo 120…
Rating:


Price Paid: $600

Until it got stolen this past summer my Pungo 120 was my boat of choice for over 8 years.  It was the perfect mix between touring kayak, and recreational boat.  I would pack it up with 5 days worth of gear and some luxuries and hit the water and she performed brilliantly from flat water lakes in wind to small twisty rivers with some class 2 and below rapids.
The seating system is fantastic, the hull design tracks dead straight, and is surprisingly fast out on the water.  Paddling this boat was not a chore as most recreational boats are. You could easily store a weeks worth of gear in it.  I hope my boat turns up again in the near future.  I loved this boat like no other.
I have a 17' touring kayak, a 10' creek boat modified into a whitewater expedition boat, a couple of river runners, a 10' rec boat, and another 12' kayak. None of them compared this boat. I miss my Pungo!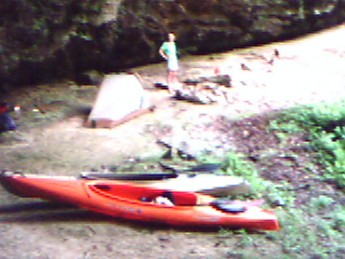 Where to Buy
sponsored links
Help support Trailspace by making your next purchase through one of the links above.
Manufacturer's Description
Visit Wilderness Systems's Pungo 120 page.
Retailers' Descriptions
Here's what other sites are saying:
Nimble and fun, the Wilderness Systems Pungo 120 kayak builds great memories on the water thanks to its easy-to-paddle design.
- REI
Wilderness Systems Pungo 120 Kayak - The Pungo 120 from Wilderness Systems is one of the best-selling kayaks in the world. Beginners can climb in and go where they aim, and more experienced paddlers can extract remarkable performance from these boats. Phase3 AirPro outfitting allows you to set up your seat to precisely fit your body type. The sealed bulkhead and Orbix hinged hatch covers make access to gear easier than ever. A removable Kayak Konsole easily attaches to the cockpit rim for even more storage and convenient access to gear. Striking the perfect balance of size and manageability, the Wilderness Systems Pungo 120 is quick, stable, and provides ample storage. It's also a great size for one person to handle, portage and car-top. Pungo 120 is 12 ft long by 29 inches wide. It's cockpit is 57 inches by 22 inches and has a deck height of 13 inches. The Pungo 120 weighs 49 lbs and will carry up to 325 lbs.
- Outdoorplay
Pungo 120 Kayak A pleasure to paddle, especially for beginners, this midsize recreational kayak is very responsive and has a roomy cockpit. The hull's keel line and multichined shape provide great stability, easy steering and straight tracking. Sealed stern hatch provides dry storage space and maximum flotation. Durable GEN2 polyethylene construction holds up to rocky landings. The Phase 3 Air Pro seat features contoured perforated foam to increase ventilation and comfort. All adjustment straps are easy to use and are located forward of the paddler no more reaching behind to awkwardly pull on straps. Gear bag attached to seat holds snacks, water bottle or anything you want to keep close at hand. Bungee cords let you fold seatback down flat if you transport your boat bow-down on top of your car. SlideLock foot braces adjust to customize the fit to your comfort, even while you're under way. USA. Adventure Technology Odyssey Carbon Paddle Premium paddle features lightweight carbon construction and slightly larger blade, adding durability and power without flutter. Two-piece design is easy to transport and store. Imported. Cockpit Cover Keeps out rain and insects while your boat is in storage. Imported. KAYAK Dimensions Overall 12' x 29"; Cockpit 57" x 22". Capacity 325 lb. Weight 49 lb. PADDLE Weight 1 lb. 12 oz. Length 230 cm.
- L.L.Bean
Phase 3 AirPro Seating SystemDeck RiggingMade in the USAStern BulkheadOrbix Stern HatchComfort Carry HandlesSlideLock Foot Brace SystemKayak KonsoleThigh and Knee Padding SpecificationsLength: 12' / 366 cmWidth: 29 / 74 cmMax Capacity: 325 lbs. / 147 kgDeck Height: 13 / 33 cmWeight: 49 lbs. / 22 kgCockpit Length: 57 / 145 cmCockpit Width: 22 / 56 cm
- River Sports Outfitters
Wilderness Systems Pungo 120
currently retails for:
$694.93 - $895.20
MSRP: $829.00

where to buy: