Asolo
Piuma
1

review

5-star:

0

4-star:

1

3-star:

0

2-star:

0

1-star:

0
Reviews
A light, flexable, breathable, welcome departure from…
Rating:


Source: bought it new
Price Paid: $189.50

Summary
A light, flexable, breathable, welcome departure from Asolo's traditional offering, with a wide toe box and well supported heel. May be perfect for light backpacking, dry summer hikes, or long-distance hikes where a quick-drying boot is desired.
Pros
Not waterproof
Fast drying
Asolo's new "Natural Shape"
Cons
Not waterproof
No cushioning in footbed
Background:
I've hiked 1,318 miles of the AT, and innumerable day hikes over the last couple of years, mostly wearing Merrell Moab trail runners, and Salomon Fastpackers. The Fastpackers are high-top, Gortex-lined boots that are really like high-top trail-runners. They never fit my heel very well, and I kept trying different lacing techniques to lock them in.
The Moabs are very comfortable, and fit me well, though I would invariably get a glister in my little toe, calluses in the sides of my heal, and sometimes blisters under the calluses. I also experienced tendon pain around my heal and ankle. And I twisted my ankle really badly three miles into last year's section.
Now, I'm not blaming the boots for all those issues. I am nigh unto 60, and often start hiking without the benefit of a rigorous training regimen. I consider myself a lightweight backpacker, generally carrying 24 lbs with food and water. Whether a high-top hiking book actually provides meaningful ankle support is controversial, and I tend to subscribe to the idea that feet need to work naturally for balance and to make sure the rest of the skeleton works as it's supposed to.
I also have decided that for me, "waterproof' boots are not very useful on long-distance hikes in the Appalachians.  When they get wet, they stay wet, and that sets up all kinds of foot problems.  Better to have a boot that dries quickly. Imho, hyoh, etc …
I hiked into Outdoor Trails outfitter in Daleville, Virginia, last year with a pair of Moabs that were ready for the trash bin.  They had a great selection of hiking shoes, and they indulged me in trying on all kinds … Till I walked out with a new pair of Moabs …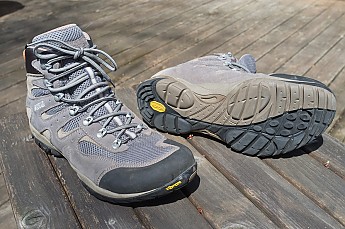 A New Kind of Asolo - In the process, I saw these new Asolos, and was intrigued. They weren't like any Asolos I'd seen before. Asolo is an Italian company, tho the Piumas are made in Romania, and their boots are well known and respected in the hiking community.  Typical Asolos are sturdy, medium-to-heavyweight boots with a narrow fit.  These Piumas were light, flexible, and had a wide toe box. And they cupped my skinny heels too! I almost bought them then and there. But you know, better the devil I knew …
But when I got home, I started researching the Piumas. Asolo calls their basic design a "Natural shape," "Light Hikers." They tout a natural shaped footbed and last, that together are designed to mirror the shape of the foot, cradling and supporting it. A flexible sole and wide toe box is designed to allow the foot to move naturally.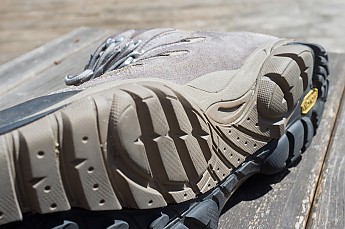 The uppers are constructed of a water-resistant suede and nylon mesh.  a velveteen lining is designed to wick away moisture. Classic lacing with really nice, metal hooks and eyes, padded cuffs for the ankles, gusseted tongue, and hard rubber toe fenders. They are not waterproof, and reviewers said they are fast drying.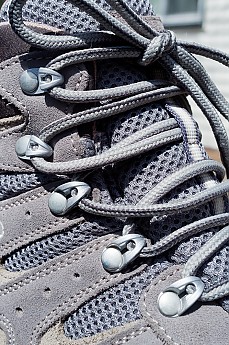 The outsole was developed in conjunction with Vibram to support their new "Natural Shape" fit. They claim the multi-layer design reduces stress on the main points of impact, and that its structured shape offers support and improves foot control on the sides and the back. The bottom sports self-cleaning lugs, designed for optimum performance on varying types of terrain.
I was intrigued enough to push the button.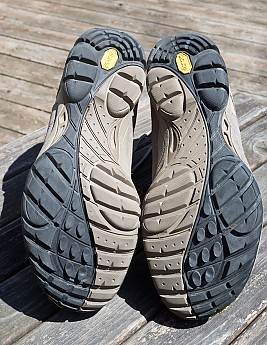 My limited Experience:
The fit on my feet is astounding. The wide toe box allows my toes to spread, without excessive movement, and my heal is cupped perfectly, and without any slippage. I've been wearing them on daily walks on sidewalks, and day hikes in trails around Western Michigan. I love the way they seem to roll from heel strike to push off, while still allowing my foot to flex naturally. 
The footbed itself does not seem to have any cushioning, tho the outsole does seem to do its job in reducing shock. I have been wearing well-cushioned hiking socks, and they've been comfortable. The uppers do feel supportive. No blisters or soft tissue injuries, but I haven't worn them with a 25 lb pack in the mountains yet either.  I'll get back to you on how the soles grip in that environment.
I'm kinda disinclined to put any footbeds in them, cause I want to give that "Natural Shape" the benefit of a good trial. But I might put a pair in my bounce box …
The mesh in the uppers, definately lets them breath.  I could feel a breeze pushing thru.  Nice on a hot day. Probably not the best boot for a cold wx hike ...
Piuma is Italian for Plume, by which I assume they mean feather, So, of course, I had to put them on my scale, and they came out to 16.75 ozs ea. For comparison, My Moab mid-heights with original footbeds are 16.51 ozs ea. Light as a feather is all relative, eh? [Shrug]
I'm thinking these are going to be great for hiking and light backpacking in summer and shoulder seasons.
Where to Buy
Asolo Piuma
currently retails for:
$185.50 - $189.50