Merrell Moab Ventilator Mid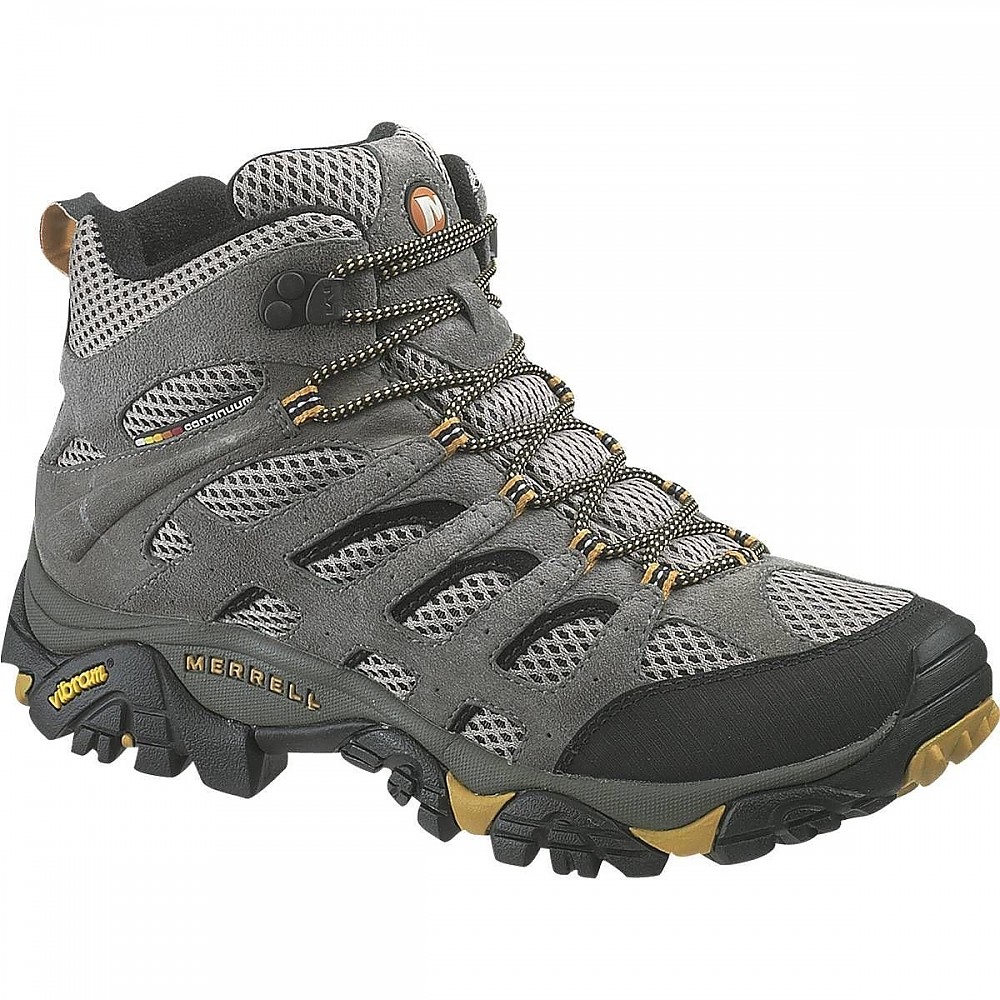 I would highly recommend these! Used only two pairs on my thru-hike of the Appalachian Trail in 2012.
Pros
Breathable
Extremely durable
Merrell has good customer service
Quick-drying
Comfortable right out of the box
I could not recommend these shoes enough. Let me explain.
I had no idea what to do for shoes while prepping for my Appalachian Trail thru-hike, and I spent a ton of time researching. I had a list of a dozen or so different brands, styles, sizes, etc.,  and I knew that I wanted a mid size because I thought it would be a good compromise between ankle support, weight and sturdiness. I came across these Merrells which retail right at $100, but I happened to find a good deal somewhere online for only $60. So I bought them. I think I tried them on maybe once at REI, but that was about it.
They came in the mail, and I was pleasantly surprised. Right out of the box they are extremely comfortable. That doesn't tell you much until you start hiking for 8-12 hours a day in them though. So when that started, I was again pleasantly surprised. Normally you'll have to purchase boots several weeks in advance, and then spend that time breaking them in, but honestly I didn't do a bit of breaking these bad boys in.
They're pretty breathable and so dry out fairly quick. As a side note, definitely do not get a Gore-Tex boot, because those will take days to dry out and will make your feet miserable.
These Merrells had another couple of awesome surprises. My first pair lasted for 1600 miles all the way until Massachusetts. In fact, they looked brand new all the way until I got to the awful state of Pennsylvania which pretty much shredded them. When I was in Virginia, a fellow hiker had told me about a deal that Merrell had specifically for AT thru-hikers, in which they would replace your boot for free one time only, and send it to you anywhere on the trail. Let me repeat. Fo' free. 
Mine were sent to Dalton, Massachusetts and my second pair lasted all the way to Katahdin. So I essentially spent $60 on two pairs of boots. I heard of people having to purchase 3-4 pairs of shoes, spending upwards of $300. These were extremely popular on the trail, and I saw dozens of other hikers with these exact same shoes.
I'm very happy with them, and combined with my Superfeet insoles, they made for some extremely happy feet.
Source: bought it new
Price Paid: $60

Moab Ventilator Mids are very comfortable, relatively wear resistant, provide decent foot support, and traction, and dry out quickly. These traits are somewhat offset by the quality of construction, lack of strong ankle support for a mid-height boot, average insoles (typical for many brands), limited lacing options, and potential long term durability issues.

They are a decent hybrid between waterproof boots and quick-drying trail runners for those transitioning to lightweight footwear or wanting a boot that doesn't make you sweat.
Pros
Very comfortable
Initial durability
Traction
Drying time (compared to boots)
Price
Easy maintenance
Cons
Construction quality
Lacing options limited
Ankle support average
Standard insoles
Drying time (compared to trail runners)
Durability—over the long haul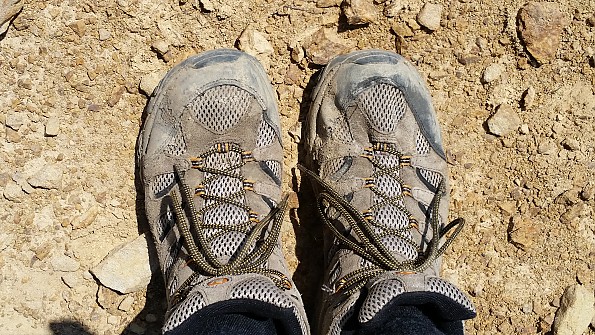 NOTE: These are the original Moab Ventilators which seem to have been discontinued this year. I decided to upload this review as the Moab Vent 2 have replaced the Ventilators, but there are still some great deals on these floating around the internet!
Also, several of the previous reviews of the Ventilators have mentioned their lack of water proofing. I think these reviews are likely for the Moab Waterproof Mids that I have also reviewed.  Merrell has multiple Moab models that can get confusing.
Why I Chose These Boots
I purchased the Merrell Moab Ventilator Mids as my first serious experiment into non-waterproof breathable hiking footwear. I have previously used mostly waterproof boots of some kind including original Vasque Sundowners, Asolo 520s, Merrel Moab Mid Waterproofs, to name a few. However, with a plan to hike across Scotland and a history of sweaty feet and continuously damp waterproof boots on many of my trips, I decided a quick drying non-waterproof option would be something worth testing.
While I considered the low version of these boots and other options like trail runners, I chose the Ventilators for two reasons: weak ankles due to multiple soccer injuries and convenience of limiting trail crud getting in my boots on relatively easy trails where it's too hot for gaiters. Well, OK, they were also on sale…
Testing
I purchased these boots in February 2017 and have tried to put them through their paces despite some health issues keeping me off the trail for a couple of months. Testing included:
5 backpacking trips (1-3 nights) totaling approximately 180 trail and off-trail miles:

Off trail slogs through mountain bogs and scrambles through rhododendron thickets
Rocky terrain including VA Highland areas and the White Mountains, N.H.
Muddy trails from the White Mountains to Dolly Sods, W.V.
Post-hurricane trails in western N.C. with 2-4 inches of water

Multiple day hikes of various lengths on a variety of trails and surfaces.
An average of three days a week for work including usually two office (primarily standing desk and walking) and one field day. The field work usually included walking along roadsides and undeveloped areas through cutover timberland up to full forest as well as brier thickets, wetlands, and stream channels.
Almost daily use on my elliptical for an hour—this was not in the plan but the boots are so supportive and comfortable they are my preferred exercise shoe!
Cleaning consisted of spraying the boots thoroughly inside and out with a hose then drying on my boot dryer.  Some scrubbing with a soft brush was uses to dislodge ingrained dirt.
Product Description & Specs
Each boot weighs in at 1 lb 1 oz for a total of 34 ounces (which matches the online specs). I didn't weigh them with my Superfeet insoles inside and probably a lot of trail dirt hidden around the crevasses so expect some creep in the weights as time goes on.
The boots are patchwork—made of leather and nylon for breathable uppers with support. They have protective toe bumpers made of rubber that wrap around the toe several inches—more than enough to cover my regular "scuff" areas. The patchwork leather and nylon mesh are arranged so that there is support throughout the shoe, but the bottom drains through a series nylon mesh "holes".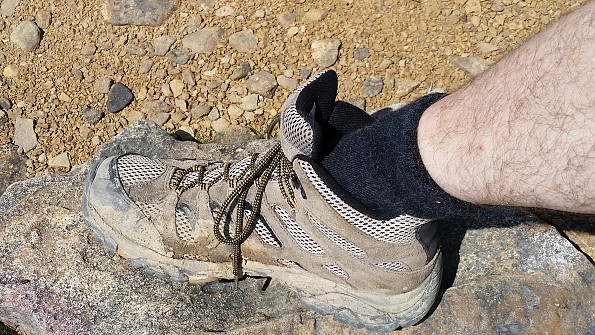 Lacing is in the new standard pattern for the Merrel Moab line…a series of five fabric loops with the last (highest) set back on the boot, followed by one metal open hook for ease of use.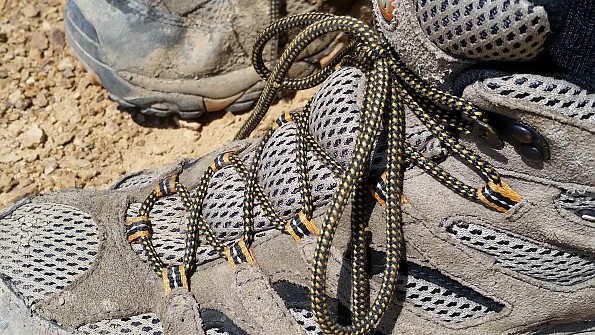 The gusseted tongue is attached relatively high on the mid-length boots to keep debris and trail crud from working in at that height.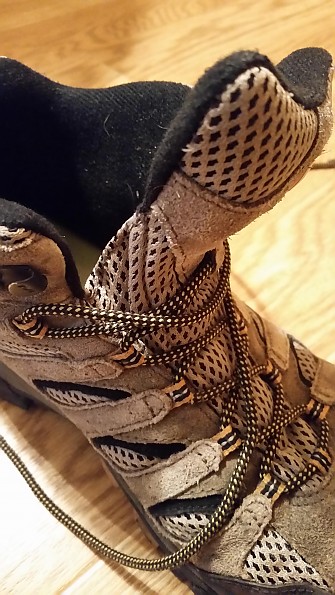 The Moabs all have EVA midsoles and Vibram outsoles—in this case with a 5mm lug depth. They come with a contoured footbed that I immediately replaced with Superfeet although Merrel says their insole is supportive and odor controlling. It is the same insole that came with my Moab Mid Waterproof which I didn't find very supportive for my shape of foot.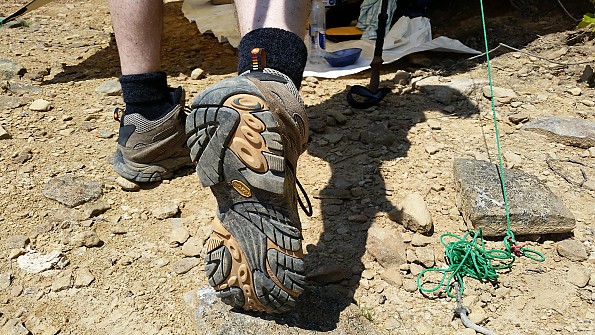 Fit and Comfort
Right out of the box the Ventilators fit extremely well and did not need any break-in. I have thin heels and a wide foot, but the cut of the Merrell Moab line is one of the reasons I like this model. The standard 11.5 size fit great from the get-go and it is still one of my most comfortable pair of shoes I will regularly wear for work.
The lacing is limited in its adjustability as only the last upper eyelet is an open hook (the rest are fabric loops). This deters your ability to switch between lacing patterns, which I prefer to do on my full grain leather boots that have hooks on the upper three points. However, the Moab Ventilators fit so comfortably I never really felt the need to adjust that much—just tighten or loosen the upper laces as the day or activity warrants.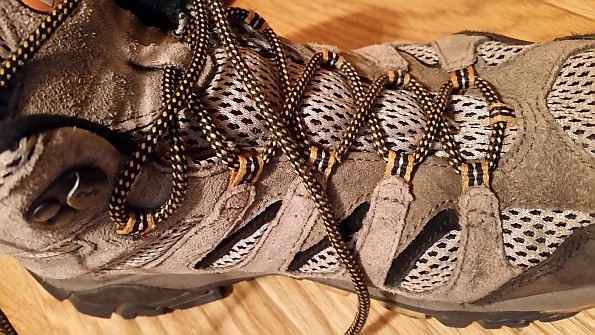 The gusseted tongue does a good job of keeping dirt and debris out of the boots, but I also tend to wear low gaiters on anything except completely open trail. The tongue is padded enough that tight lacing didn't bother me.
Support was well above average for my foot along rough and rocky trails. The EVA midsoles and Vibram Multi-Sport outsoles allow a decent "feel" of the trail while preventing the pounding from rocks and roots. Merrell touts the Air Cushion heel pockets for shock absorption—I can't disagree with them as the Moabs do take a lot of the beating for your feet. Traction is good even though the soles are not deeply lugged. Over wet, rocky and muddy terrain I had minimal slips due to traction and no more than I would typically expect from similar style of boots.
Ankle protection is good as the upper wraps that well with comfort. Ankle support is average as the soft comfort does not supply a lot of rigidity, and the fabric lace loops don't make alternative lacing patterns very easy.
Heel loops on the back were something I didn't initially like about the Moab model, but now I really appreciate the easy on/off and limited wear of the back of the upper.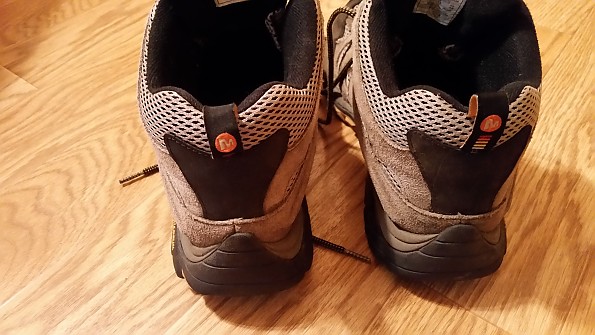 Breathability & Drying
The Ventilators really live up to their name. The boots are extremely cool to hike in and the breathability is excellent. The mesh inner lining seems to absorb water and keep it off my feet. Walking up streams and through muddy puddles, there is some sloshing for a minute as the boots drain, but they dry out (obviously) much quicker than other boots that are not designed to vent.
After several trips where I was constantly walking up streams or along muddy trails, the boots felt dry within an hour of walking. When arriving at camp in wet boots and not having hiking miles to dry them out, the Ventilators felt what I would describe as "sock dry" the next morning…in other words they felt damp to the touch but my feet stayed dry with a decent pair of hiking socks.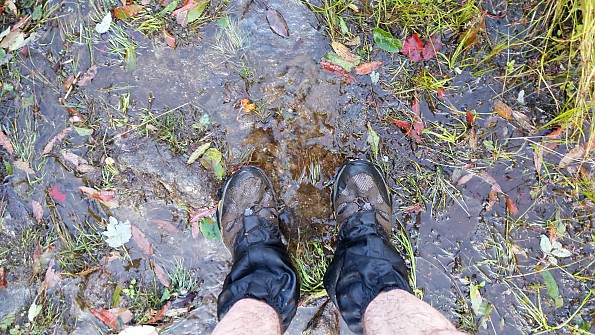 I consider these a good balance between really light trail runners and waterproof boots. I have briefly tried some trail runners that are much lighter and seem like they would drain faster, but the solid support that I get from the Moabs, and the fact that they fit me well, have kept me from going for ultra-light shoes.
Maintenance
As mentioned above, my maintenance regime consisted of thoroughly spraying the Ventilators with a hose outside and inside, followed by a night on my boot drier. This is occasionally supplemented with some scrubbing to remove more stubborn trail (or off-trail) dirt. I am pleased with the way the boots clean and dry. There are no odors, and after 6 months of steady use I can still wear these to work in the office.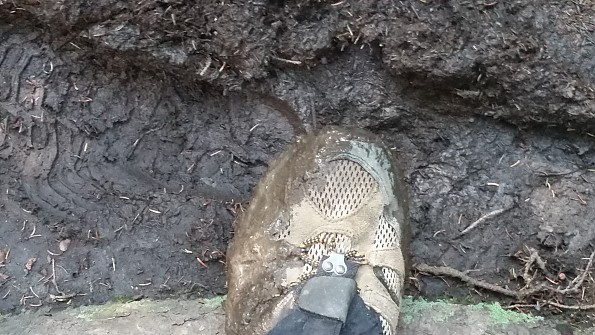 Even after a really muddy adventure, the Moab Ventilators shed dried mud much better than my previous waterproof pair as you can blast the dirt out from the inside and out.
Construction & Durability
Ventilator construction is slightly suspect. I initially bought a pair and within a week the top fabric lace loop snapped open—one end was not attached well to the boot. I anticipated that occurring again and was ready to make use of a generous return policy, but so far so good—maybe that one was just a lemon. The mostly glued soles and toe protectors are two areas I was watching with interest. 
There is also lots of visible stitching along the uppers where the mesh-leather transitions back and forth, and a made in China label.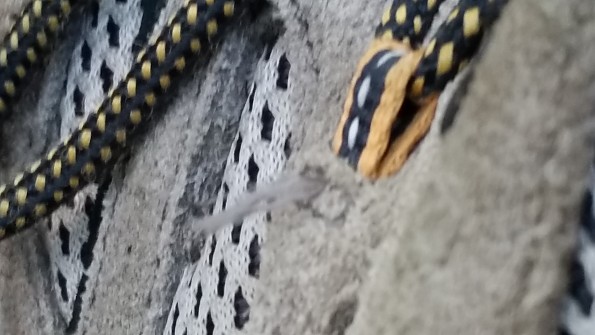 There are a couple of loose threads on the toe protector areas and upper stitching, but they have been there since I bought them.  I see very few other current issues beyond some slight separation of the glued soles on one side but nothing that affects function. I plan to wear these out until deep winter so will update if things change...it will be interesting to see how long they last.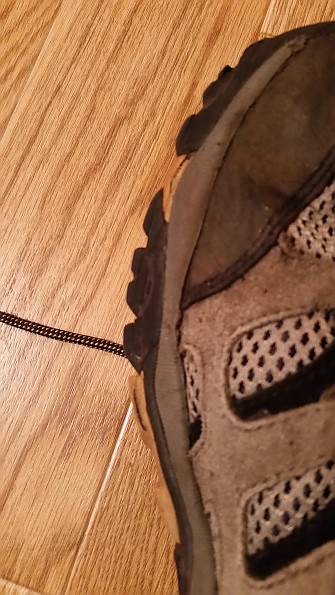 Again, I consistently use gaiters off trail and in areas where abrasion often occurs, so that may have provided a significant level of protection to the upper portion of the boots.
Recommendation
I would recommend these boots, at a decent price, to those folks like me that generate a lot of heat and tend to soak waterproof boots in most weather except deep winter. If you are not a convert to trail runners but want some light boots with at least some ankle protection/support, I would give these a serious look. The long-term durability and construction quality is questionable, but the comfort and breathability outweigh this for me.
Source: bought it new
Price Paid: $80 ($110 list prior to being discontinued)

There is no breaking in time with these hikers and they are great for wet or dry terrain. I have recommended these hikers to others because they are so comfortable.
Pros
Wear well
Comfortable
Look good
Affordable.
Cons
Laces come untied unless double-knotted.
I belong to an all ladies hiking group and we hike trails in the Ozarks. I hiked 6 mi. on the Buffalo River Trail in the Boston Mtns. and my new hikers performed flawlessly! My old Merrells wore out after 3 yrs. and I purchased a new pair at the Merrell Store in Foley, AL. while vacationing there.
My feet were comfortable with all the elevation changes, especially the rocky downhills and water crossings. I wear a 6.5 x-wide and purchased a size 7 and the hikers fit well when I first put them on. No breaking in. I have recommended these Merrells to other hikers and 4 in our group have these. We love them. 
Source: bought it new
Price Paid: $100

These boots have done it all for me including taking me up to the top of Iztaccihuatl's glacier in Mexico (17,000+ feet).
Pros
Gore-tex
Traction
All purpose
Cons
Probably not great for EXTREME cold
I'll start by saying I don't necessarily always use products by the book and tend to make things work outside of what they're necessarily meant for. However, I've had these boots for 2 years now and they've really done it all for me!
The Goretex, which I had previously read "wears out," has been amazing and has always kept my feet dry even in creek crossings (I just wouldn't go trudging through water, but for a slip up here and there they've kept my socks dry!).
They're great for hot weather with their breathability, and I've also managed to use them quite successfully in cold weather as well. I'll note that their cold weather use has been limited to late fall in the U.S. Midwest, so maybe down to just below freezing at night... and an Iztaccihuatl trip in Mexico which does have a  permanent glacier and requires crampons, however the summit was not EXTREMELY cold either.
Source: bought it new
Price Paid: $100

Very comfy. Wear out quicker than other shoes.
Good grip on trail, fit true to size.
Source: bought it new
Price Paid: $99

Purchased these two months ago, paid discounted price, £64, from Go Outdoors, (Amazon showed this price, Go Outdoors matched it plus further discount). Have worn them six times, three occasions 20+ mile hikes, rough country, South Shropshire.

Not good on descents, as toes hit boot front, lacing limited in making difference. Supportive, cushioned but not waterproof. Cannot really complain, as we all know that only leather boots (apart from Wellingtons) are waterproof.
Pros
Cushioning
Grip
Protection
Cons
Poor waterproofing
Limited lacing options
Source: bought it new

Great summer hiking shoe, lightweight and instantly comfortable. Affordable!! I have a narrow heel and it fits me well.

Pros
Affordable
Comfortable
Lightweight
The shoe fits my narrow heel well. I sometimes have a problem finding shoes that fit me. I feel like when I lace it all the way up it gives me more than enough ankle support for any activity that I want to partake in. The boot is ultra comfortable I never felt like I had to break it in.  
I have had some ankle injuries in the past and I always feel confident in this boot. It is not designed to be water resistant, I haven't had it in a wet situation yet. But I have a feeling it will dry faster than most because of the mesh.
I have great traction on both wet and dry surfaces. This boot has great ventilation; my foot stays cool throughout the day. I can actually feel a breeze..if there is one.
BUY a whole size bigger.
UPPER/LINING 
• Dura leather and mesh upper 
• Bellows tongue keeps debris out 
• Synthetic leather toe cap and heel counter 
• Breathable mesh lining treated with Aegis Antimicrobial solution maintains foot comfort 
• Ortholite Anatomical Footbed 

MIDSOLE/OUTSOLE 
• Molded nylon arch shank 
• Compression molded EVA footframe provides cushioning 
• Merrell Air Cushion in the heel absorbs shock and adds stability 
• 5mm Sole lug depth 
• Vibram Multi-Sport Sole/TC5+ Rubber 
• Weight: 1 lb 8 ozs 
Source: bought it new
Price Paid: $90

Comfortable; okay for day hiking; inside ankle material not very durable.
Pros
Comfortable
Goretex
Look nice
Cons
Inside ankle/heel material not durable
Support only so, so.
I have had two pairs of the Merrell Moab Mids. They were my daily work boots (FS recreation program manager) and for weekend hiking. I typically tie the laces loose at the mid way point so that I can slip them on and off without tying and untying them (my Korean wife insists on the traditional oriental no shoes inside policy, :-) ). 
I wore out the material on the heel/ankle rather quickly on the first pair. I was much more conscious of how I put on/off the second pair so that I would not prematurely wear out the second pair. However, the second pair is now torn apart in the same area.  Basically, the material for the inside ankle/heel area is not very durable. 
I think they are comfortable for schlepping around town and for day hikes. I think they do not provide a lot of support and are overall a rather soft mid boot. They are warm enough for Oregon winter wear, albeit the Goretex liners eventually do not provide much protection from rain or wet snow.
For serious backpacking I have found the Salomon XA Comp 6 mid boots are much more supportive, surprisingly durable, also Goretex, fit my narrow feet better, and consequently have become my favorite replacing the Moabs as my backpacking boot.  Still, I continue to wear my broken down Merrell Moabs as my around town and my dog walking shoes.
Source: bought it used
Price Paid: $65

Excellent hiking boots for day hiking in dry climates, such as where I live in Wyoming. I don't get blisters, my feet stay cool thanks to the ventilation, and no sore spots. I highly recommend these for day hikes.
Pros
Ventilation
Lightweight
Looks
These lightweight hikers fit my feet very well. They offer good arch support and the laces stay tied. I did not need to break them in. They felt great the first time I tried them on.
They're not the best at keeping out dirt, but I live in a windy, dry climate so the sand tends to creep in after a long day.  The boots support my feet and ankles very well, I feel stable on rocky terrain.  
I've had these boots several years and they are very durable. I only use during the summer hiking season, but they've held up very well.
Source: bought it new
Price Paid: $100

I bought a pair of Moabs because the store didn't have the Chameleons I wanted. As everyone else has correctly pointed out, they are very very comfortable!
As most mistakenly say, these shoes are Not true to size! You will most likely need a size bigger then you normally wear, especially if you get the Goretex.
As with the other 5 styles of Merells I own, durability is not a strong suit of the brand. The Vibram soles are indestructible. But the uppers separate from the sole and the inner lining turns to toilet paper quickly and the foam comes out.
If you want a pair of comfortable shoes to wear out to the coffee shop, these shoes are great. For anything resembling hard use, look elsewhere.
Price Paid: $89

I bought these boots a year ago this November and I have been unsatisfied with their performance. Although the boot has been gore-tex proofed, I have had a major issue with leakage.
I used this boot as a camping boot and as a hiking boot in appropriate weather. The boot, as I have found with many Merrell boots, were very comfy and good ventilators. I was unhappy to find out that the upper front of the boot came away from the sole, reading previous comments on this boot this seems to be quite a common problem, design fault maybe?
Another issue I have with the boot is they always seemed to lose heat. This issue may be related to the fault of the upper front and sole. I have found that the boots had fairly good traction but overall I was disappointed because I have previously owned Merrell boot and shoes and they have been outstanding.
I wouldn't recommend these boots and this experience has unfortunately put me off buying Merrell boots.
Price Paid: £90

Out of the box on Monday, six miles on Tuesday.
I am a 64 year old kid who likes to hike, camp, and ride motorcycles. This winter I had to replace my summer boots and wanted a pair that would be both practical for all three activities and comfortable to wear all day long. You see, over the years I have put on about 60 extra pounds and have developed some kind of problem (heel spurs?) that make my size 14 feet hurt after being on them very long. Over the years I had discovered that some shoe/boot brands may feel comfortable in the store but can cause a lot of discomfort after brief use and that a few brands cause more discomfort than others. Therefore, I wanted to find a summer boot that would cause the least amount of discomfort.
I knew that I wanted a boot that was cool to wear in the hot summer months here in the deep south so I decided up front that boots with waterproof liners were out of the question. But I also knew that I would likely get caught in a few rainstorms on my motorcycle and wanted a pair that would dry quickly.
After a few weeks of reading boot reviews, I decided to buy a pair of Merrell Moab Ventilator Mid Hiking boots. They have side mesh panels that go down to the insole that reportedly allow water inside the boot to drain quickly and they reportedly dry very quickly after getting soaked. They also have a Vibram sole that provides secure traction on wet streets—this is good for motorcycle riders.
They arrived in the mail Monday afternoon and were surprisingly lightweight and comfortable. They felt like a pair of moccasins or sneakers. To break them in, I decided to wear them to work on Tuesday. After work, my feet still felt good so I decided to walk a short distance and my feet still felt good. So I continued the walk and completed a brisk six miles with no hint of a problem. These boots felt like a pair of running shoes and I think it is the beginning of a beautiful relationship.
Materials: Leather and mesh
Use: Hiking, camping, and motorcycle riding
Break-in Period: None
Weight: 2 pounds, 6 ounces
Price Paid: $90

Used them for two weeks on the AT and didn't have any blisters and they were dry on the inside every morning even after 4 days of rain due to the excellent breathability. LOVE them!!
Use: 2 weeks on the AT
Break-in Period: logged about 7 hours in them and even those were painless

I bought these as summer dayhiking boots. I've bashed them on many SW trail miles, and they have protected my feet fairly well. They are light, and as breathable as they look, but they are much sturdier than their mesh/suede construction would suggest. The Vibram soles are solid, handling wet talus with no problem. These boots feel nimble, yet have a great stride. I have found a new go-to boot for dry weather.
Use: rough trail dayhikes
Break-in Period: from the box
Price Paid: $85

A very versatile boot! I left my GTX hikers at home when I trekked in Arctic Alaska with these boots and it proved a wise choice. I wanted excellent water drainage due to many stream crossings for which changing to waders was impractical. The vents go right down to the top of the insole, so there was no chance for puddles of water inside. (When water has breeched the top of my GTX boots, I was walking in water buckets.) After 10 minutes of hiking out of streams, my feet were wet but warm, and I found these boots dried overnight (I know that would not have been the case with leather and GTX).
I tested all this in Chicago winter weather, so I know the boots stay warm while wet down to the low 30s. My only concern is that traversing talus slopes, the sides of the boot uppers were not so stiff that my feet would slide well off-center of the soles, but in fairness I should note that I greased my feet with water-repellent cream. I actually preferred having these more flexible uppers compared to leather. The overall weight savings compared to my other boots was 1 pound, and that's sweet. It's a great choice of boot where you cannot fight off getting wet feet, so you must manage the situation instead.
Break-in Period: None needed in my case
Weight: 170 lbs
Price Paid: $65

Your Review
Where to Buy
Help support this site by making your next gear purchase through one of the links above. Click a link, buy what you need, and the seller will contribute a portion of the purchase price to support Trailspace's independent gear reviews.
You May Like
Specs
Men's
Price
MSRP: $95.00
Historic Range: $49.83-$110.00
Reviewers Paid: $60.00-$100.00

Weight
1 lb 15 oz

Sizes
7 - 12 (Half Sizes) 13, 14, 15 and Wide 7 - 12 (Half Sizes) 13, 14, 15

Materials
Dura Leather and Mesh Upper

Women's
Price
MSRP: $95.00
Historic Range: $49.83-$110.00
Reviewers Paid: $100.00

Weight
1 lb 13 oz

Sizes
5 - 11 (Half Sizes)

Materials
Dura Leather and Mesh Upper

Kids'
Price
MSRP: $60.00
Historic Range: $25.73-$64.95

Weight
14 oz

Sizes
10 - 3 (Full Sizes)

Materials
Suede and Mesh Upper

Boys'
Price
MSRP: $60.00
Historic Range: $41.97-$52.47

Weight
14 oz

Sizes
3.5 - 7 (Half Sizes)

Materials
Suede and Mesh Upper

Recently on Trailspace