Merrell Moab Mid Waterproof

The Moab Mid Waterproof has been discontinued. It was replaced by the Merrell Moab 2 Mid Waterproof.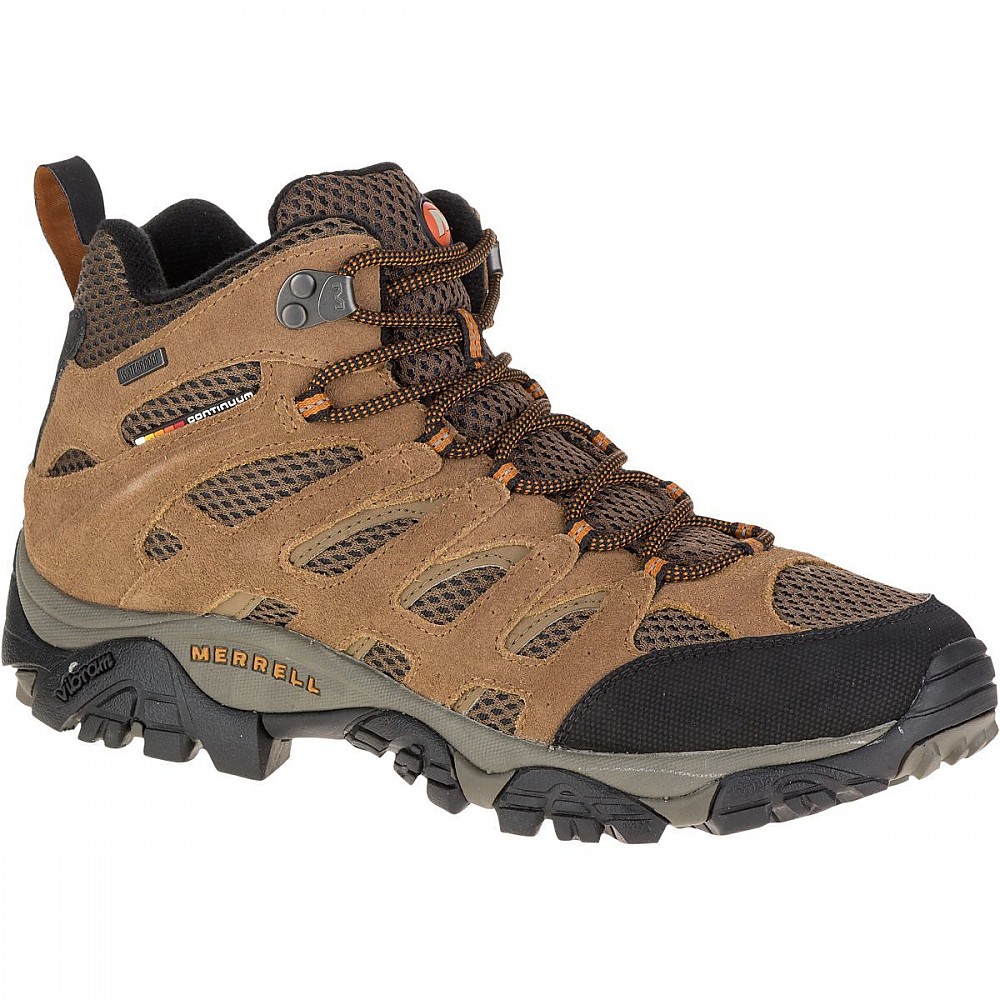 The Merrell Moab Mid Waterproof upholds the manufacturer's good reputation, except for one major issue. They are very comfortable, relatively wear resistant (considering it is a lightweight boot), and provide excellent support and traction on the trail, but are not in my experience waterproof after the first 6 months.

I will continue to use my Moabs for fair weather fun, day hikes, and work, but will not rely on them for keeping my feet dry over multi-day trips.
Pros
Comfort
Price
Durability
Traction
Cons
NOT Waterproof
Not easy to clean
I got the Merrell Moab Mid Waterproofs basically for free (OK not really — we replaced an elliptical that was worn out with a new one two years ago and got "free" dollars to spend at the sporting goods store after dropping about 1K in there!). 
I had been considering dropping back from my heavy 10-year-old full grain leather (FGL) Asolos that have seen many hundreds of trail and work miles (I spend 2 days a week at least in the woods for work as well as playing in my off time). Going with the lighter boots (1 lb 15 oz total for the pair is the manufacturer's claim) seemed like a no-brainer since I didn't actually have to shell out any more cash, so I could gamble with an experiment of a lighter pair of "waterproof" boots for winter hiking (falling back to my FGLs for poor weather and snow). 
These lighter boots also run much cheaper than FGLs for the most part ($120-130 retail). The sporting goods store had limited selection, but did carry Merrell so I ordered these.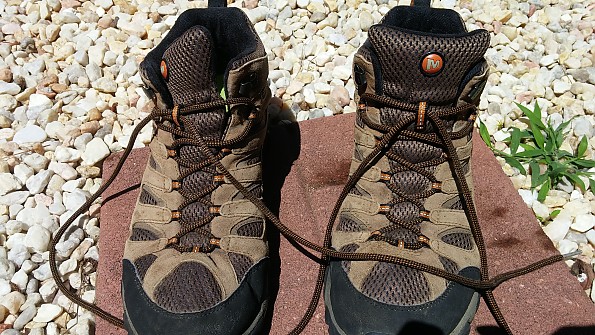 Note:  I wish I had taken some photos of these boots "in action" but in looking back saved the SD card space for views etc...all the photos in this review are of the boots today after two years of use described below.
I have worn these boots in a variety of situations over the last two years including:
Multiple 2-5 night backpacking trips in weather ranging from the low teens to mid 70s. Trips ranged from 15-20 mile short outings to 50+ miles over 5 days. 
Trail conditions included wide open, well maintained (Appalachian Trail and others), as well as rocky terrain, mud soaked over-used horse trails, and a significant amount of bushwacking through scrub areas with brush tearing at the boots.
An average of 3 days a week for work including office and field days along roadsides and in undeveloped areas through cutover timberland up to full forest.
Right out of the box they fit extremely well even though I have thin heels but a wide foot. The standard 11.5 size fit great from the get-go and it is still one of my most comfortable pair of shoes I will regularly wear for work.  I didn't actually weigh them when I got them because they felt so light and comfortable, but just put them on the scale and found that each weighs 1 lb 5 oz with Superfeet inside and probably a lot of trail dirt hidden around.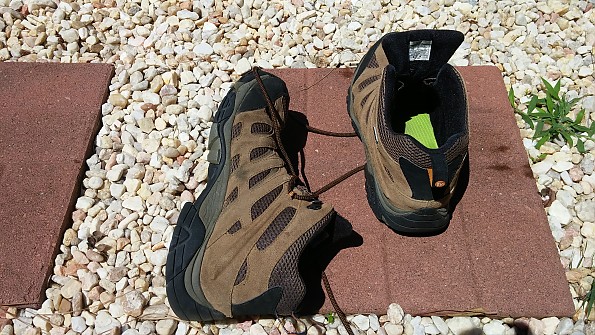 I added the Superfeet insoles to the boots immediately as I am used to wearing those, so can't speak to the support of the original manufacturers insole. Lacing is limited in its adjustability as only the last upper eyelet is an open hook (the rest are fabric loops). This deters your ability to switch between lacing patterns, which I prefer to do on my FGL boots that have hooks on the upper three pairs. However, the Moabs fit so comfortably I never really felt the need to adjust that much.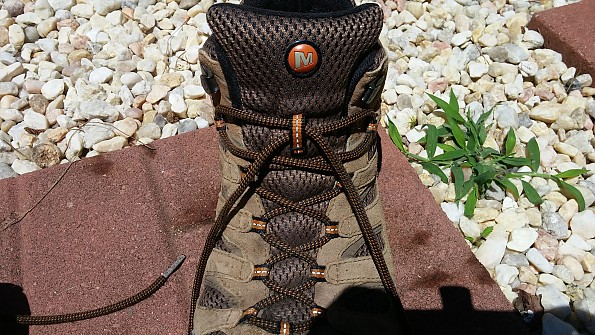 I did break them in around the office and home for a week or two before really putting them to the test, but I am not sure it was necessary. At first, I though they might "crease" a bit just below the toes, but the boots are so flexible this never really became an issue.
The gusseted tongue does a good job of keeping dirt and debris out of the boots, but I also tend to wear low gaiters on anything except completely open trail so it is difficult to really assess that. The tongue has lots of padding so even tight lacing did not irritate my bony feet.
Support was excellent when the laces were tight. When a little loose, the ankle support (which I prefer due to an old recurring soccer injury) was not as good as my FGLs. It did allow my weak right ankle to "tweak" a few times until I got the lacing right. The soles supported my feet well (note above the Superfeet insoles affect that analysis), and I feel there is a good balance between "feeling" the trail and protecting the feet in these boots.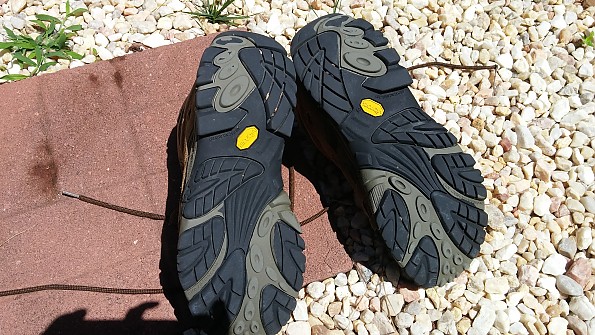 Traction was good — these are not super lugged soles but I can't recall slipping on anything that any other shoe or boot I have worn wouldn't do the same (slick rocks in creeks etc). I had full confidence in the traction on steep and rocky trails even when they were iced over in the winter, with the appropriate care in where I step.  Even after two years of use, including rocky trails and a lot of walking on roadside concrete and asphalt for work, the soles provide similar traction as they did new.
I feel the boots are a bit warm, and seem only slightly more breathable than my FGLs. However, I bought these for the cooler seasons so wasn't too concerned by this.
Another issue is the mesh and leather "patching" of the uppers makes it difficult to fully clean them. If this doesn't affect functionality I am not concerned, but I do wonder if that contributed to the wearing down of the "waterproofness" over time.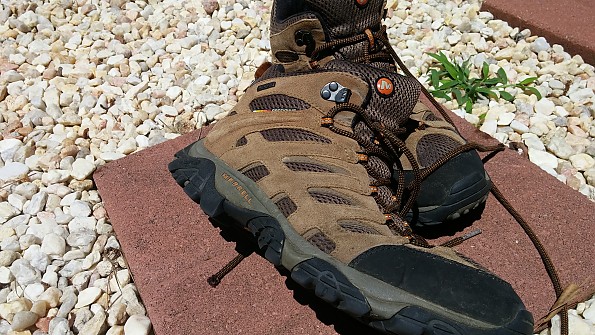 Construction seems a little cheap—mostly glued soles and toe protectors with lots of visible stitching along the uppers where the mesh-leather transitions back and forth, and a made in China label. That said, I expected these to last a very short time but have been proven wrong. There is no separation yet along the soles, and the uppers are in good shape even considering my tendency to bushwack which runs me into brush that scrapes along the boot.
Again, I consistently use gaiters so that may have provided a significant level of protection. Overall I am surprised but pleased by the durability considering a lot of other reviews say that they fall apart and have sole separation issues.
By far the biggest issue is that the "waterproof" label (literally on the side of the boot) is, in my opinion, false advertising. I tested this thoroughly in streams, rain, and wet grass. Merrell claims these have a "waterproof leather and mesh upper" using their M Select Dry technology.
Based on my testing this was true only for the first few months at best. Through rainstorms and mud soaked ankle-deep trails as well as stream crossings I was extremely pleased with how dry my feet stayed for the first six months or so.
At some point this began to wear off even with meticulous care of the boots (see photos after two years of full and regular use). Now walking through just wet grass allows moisture into the boots. A full rainstorm can be felt in the toes below where my gaiters cover. And to make matters worse, as expected the "waterproof" construction seems to prevent the boots from drying out quickly once they get wet. I would classify these boots as "Water Resistant".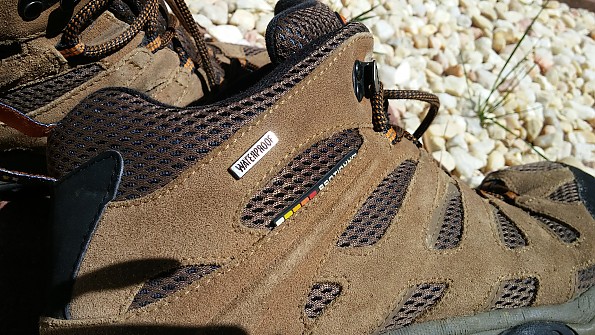 I would recommend trying the non-waterproof version of this boot, if you are looking for a light boot with support.  The additional money for the waterproof feature seems to be a bad investment. There are older versions that have the GoreTex label which may be better on the waterproof side, but just a quick check on the internet shows that some sources advertising this have the wrong construction. Look at the small grey tag (newer ones say "Waterproof" while older say "GoreTex") before spending the cash. If you can find a real Goretex pair, it may be worth the gamble to try them as in most other areas these are excellent boots.
If the Moabs were not advertised as "Waterproof" I would give them 4.5 stars, but the fact that Merrell clearly claims this feature led me to the significant drop in rating. I will continue to use them for good weather hiking and work as they are probably the most comfortable boot I have owned in 30 years, but will rely on my old FGLs or a different pair of ventilated but quick drying boots (stay tuned) for winter/summer hiking respectively.
Source: bought it new
Price Paid: Nothing (used "free" coupon dollars)

A good boot suitable for spring, summer, and autumn wearing in the hills and coastal paths. Comfortable straight from the box and are light on, although they have a sturdy but flexible sole.
Cons
A little narrow for my feet, but so are many others.
I normally wear leather boots, but find because my feet are a little wide I can't get anything comfortable for me. I have tried many boots ranging from the very expensive to really cheap and struggle to find a good fit. The most comfortable ones I have found are fairly cheap Regatta boots.
A friend had asked if I tried some of the softer dura leather type boots from Merrell. I hadn't, but as I was buying for the summer I thought it was worth a try. I ordered from Amazon and with a free returns it was a good option. 
They duly arrived the next day and yup, comfortable straight out of the box. I walked around the house for the next few hours and apart from a little tightness width wise they seemed great — a true taste was a proper walk.
Two days later I was off to give them a good test—12 miles of the Black Mountains.
I was about 3 miles into a hill climb and stopped for a rest and to take some pics. My mate asked how I was getting on with the them. It was only then I remembered I had new boots on!! It was going well so far but  I would wait till I got back to really judge.
On the flat I noticed that my left heel seemed to sit a little flatter but it wasn't bothering me. This was probably more to do with my gait. I suffer with ingrowing toenails, but so far so good. Downhill would be a good test of the fit. The support of a mid boot suits me, higher boots feels awkward and restrictive to me. I was able to use the lacing system to ensure that there was little movement on the down slopes and this certainly helped with my toe problem.
It was fairly warm day and the terrain at times was boggy. I didn't notice any hot spots and when I took them off at the end of the walk my socks were a lot dryer than I thought they might have been—another plus point.
That was just under a month ago and I have taken them on two more walks—a 7-mile coastal path walk and a short 5-miler which had plenty of places that their waterproofing would be tested—they passed the test easily.
I look forward to seeing how they fare in the coming months  but in the meantime Month 1 passed the test easily. I would award 5 stars apart from I don't think it's long enough to award top marks.
Source: bought it new
Price Paid: £65

These WPB membrane "Mid" height boots are great for three-season backpacking
Pros
Relatively light for the category
Good WPB membrane sock
Very durable construction
Natural colors
Vibram brand sole
Virtually no break-in required
Cons
Small webbing eyelets difficult to thread new laces
I'm now on my second pair of Merrell Moab Mid boots with a WPB liner. The first pair (with GTX lining) is still useable, but for dry conditions because the waterproofing is going away.
After having similar Danner boots have a sole CRACK right across the ball of my foot and one other Danner heavy all leather boot's steel shank get loose I tried Merrell boots and shoes and never looked back. I now have two pair of boots and two pair of shoes.
The problem geezers like me have is finding light(er) boots and shoes that have protective soles so we don't feel every rock. Merrell hits that sweet spot for me. Yeah, SUL backpackers won't want even the Merrell low cut shoes let alone the boots but let them suffer with wispy soles and less durability.
My Merrell Mid WPB boots also work well in snow when temps remain above 20° F. For these conditions I use a 3mm closed cell neoprene diver sox (with thin poly liner socks) for a warm VBL. Also I add knee high GTX gaiters. This combo keeps me warm. The WPB membrane keeps outside wet out and the closed cell neoprene VBL keeps sweat from compromising the boots' inherent warmth. I prefer US Divers sox B/C they are factory seam sealed and more importantly have a Right and Left foot which avoids bunching of the sox. 
Below 20° F. I need insulated boots unless I keep moving. 
I had to special order these boots from REI as they only carry Medium widths in the stores. No charge for shipping to the store. 
Source: bought it new
Price Paid: $120 from REI

These are lightweight, comfortable, waterproof, and breathable, which translates to cool in the heat.
Pros
Lightweight
Waterproof
Traction
Comfort
I've only had these for a few months, but we had springtime temperatures for a couple of weeks (highs in the 70's and 80's) so I can attest to their comfort in those temperatures. I've worn these all day and other than normal trail dust had nothing to tend to when I got home. They have good traction on most surfaces even when the surface is a flat rock in running water.
Which brings up another feature, they're waterproof. As long as the stream is below ankle deep you don't need to stop to break out your water shoes. I've enjoyed wearing these all day on the trail. I guess the best thing I can say about their comfort is that at the end of the day, with camp set up and a nice fire going I didn't think, "man, I can't wait to get these things off." The arch support is great for all day use.
Final thoughts: I was a little resistant to this purchase (due to usually preferring leather uppers) until I tried them on in the store. They felt like slippers even after walking around the store for about half an hour. I found that same comfort on the trail and at $110 I tend to think I got a good deal. I don't know how my local store can beat online prices, but I'm glad they can.
Source: bought it new
Price Paid: $110

Used the Merrell Moab (both mid and reg) and the usual result is 1,800 miles out of each pair. Used these while hiking the AT, PCT, CDT, and the ECT. Even ran a 101.8 mile race with them and had no blisters.
Cons
After 1,800 miles, when they start to die, they die fast.
Insoles are pitiful. Immediately must install something more substantial.
I use the Merrell Moab for hiking, biking, and a clean pair for everyday use. If in the mountains and/or snow for extended amount of time I like the mid cut  and use the low cut for gentler terrain.
Used the waterproof material once and found it takes longer to dry out plus the extra price isn't cost effective. I find the shoe gets equally wet whether gore-tex or not. On any pair it seems the shoe strings don't like to remain tied for very long. 
Also, when I first notice the shoe is deteriorating, it is time to start looking for a new pair because they die fast, but that is usually around the 1,800 mile mark. I love my Merrells! 
Source: bought it new
Price Paid: $90

These boots feel like a cross between traditional hiking boots and trail runners. The insoles are soft and the boots need no break-in period. They offer good ankle support as well.
Pros
No break-in period
Super comfy
Soles grip well on granite
Cons
Not terribly waterproof
Gave me blisters in odd places
Mid soles didn't last very long
When I first got these boots, I loved them. They were super comfortable and felt really good on my feet. The soles gripped well on granite and on the rugged trails up here in Maine. But as I wore them for longer hikes, I began to get blisters on my toes, the pads of my big toes, and even on the sides of my heels. The only way I could wear them comfortably was to tape all those areas with Leukotape. If I did that, I could hike in comfort.
After a multi-day trip on the AT, where it rained heavily, my boots were very wet. The waterproofing seemed to keep water in and not out. They never dried out and got really stinky. This was a definite disadvantage. After just one season of hiking I began to notice that the midsoles were getting flatter and seemed to be losing shock absorption. I was feeling more and more rocks on the trail.
Based upon the cost of the boots, I expected they would last longer. I did replace the insoles with Superfeet, as the stock insoles don't have much arch support. The ankle support was good and never gave me issues. I was delighted that they needed no break-in period, but then being plagued with blisters and hot spots, I began to dislike them more and more.  
I don't know if it is just the type of foot that I have that made these not the boots for me. I see plenty of folks on the trail with these same boots and they seem to love them. They just weren't the ones for me.
Source: bought it new
Price Paid: $120

Nice day hike boot, but not as comfortable right out of the box as my other Merrells. Good support for a narrow foot.
Pros
Waterproof
Good grip bottoms
Nice looking boot could be worn for any outdoor activity
Good ankle support
Cons
Somewhat stiff when new
Narrow footbed
I purchased these to replace my favorite pair of Merrell Moab Ventilators that were completely worn out and coming apart. These are a good boot but not as comfortable as other Merrells have been right out of the box, so they do require a break in period. They are a narrow boot so if you need a wide toe box or have flatter feet they are not for you.
They are waterproof which I put to the test on the first time out with some high wet grassy areas. They have good ankle support and a decent arch, and a good grip surface on the bottoms. I was surprised to find they are not very breathable and made my feet hot and sweaty, a price you pay for them being waterproof I suppose.
I have only owned them for about 6 months but they are holding up well with many summer hikes.
Source: bought it new
Price Paid: $100

Good, light hiker for day hikes or "light" backpacking. But not enough support for my Achilles.
Cons
Not enough achilles support
I wear 11 1/2 and these were a fairly good fit. I am used to wearing leather hikers with two pairs of socks, but found that two pairs of socks with these was too much. Through trial and error I have found that my padded running socks are just right.
Have used these for many day or few hour hikes and they have been comfortable. Would like to try them on a backpacking trip with maybe 25 to 30 pounds max to see how they do.
I don't like the fact that the only metal lace points are one pair at the top of each shoe. No problems yet, but seems to me that the material lace points would be prone to breaking. If that happened, I would just have to bypass the broken one. 
Source: bought it new
Price Paid: $99

Great value, comfortable, visually pleasing.
Pros
Very comfy
Waterproof
Easy to lace/tighten
Got a great deal on these at a Gander Mountain Close-Out sale. It's my second pair of hiking boots since I began hiking about a year and a half ago with my boyfriend. I wore out the first pair of boots (some lower end ones that we bought on sale to see if I even would enjoy hiking).
I've been wearing these to work to break them in before hiking in them. I have to say they really didn't need any breaking in. They've been a comfortable fit from the start. Ready to take them on the trail now.
I think the two greatest benefits so far are that they are easy to lace and tighten up (my old pair would become loose by the time you got to the top to tie them) and they are waterproof (previous pair was not).
Source: received it as a personal gift

A great boot, breaks in fast and lasts along time. Would recommend these boots, I own my second pair. Product is great for hiking.
Fit suits my foot perfectly. A little break-in is needed, but only for a couple of days. The support is great for all foot arches. Not great in the waterproof department.
Traction is great in the woods, but does not do well inside on wet surfaces. It keeps your feet cool in the summer. The mesh in the boot keeps your foot dry and cool.
The boots starts to fail in the seams between the soul and the leather boot. Old pair was run into the ground, lasted just over a year, just got new pair.
Source: bought it new
Price Paid: $119

Poor shoe not fit for purpose. The sole comes away from the boot after minimal use.
Pros
Light
Comfortable
Good fit
Cons
Leaks and the sole comes away from the boot
Only 1-year guarantee :(
Don't buy
Construction & Durability: Poorly made and the sole came away from the boot.
I have had them two years with minimal use
Source: bought it new
Price Paid: £80

I liked these boots a lot when i first bought them. They started leaking after a few weeks. Took them back to the store and after a month they changed for new ones. That was 6 months ago.
They have never been 100% waterproof, but I put up with that because they are very comfortable. Now the soles are coming away from the uppers at the front and i've lost my receipt.
I will never buy another pair, which is a shame as I also have a pair of Merrell sandals which are great.
Use: short hikes, maybe a couple of hours
Price Paid: £89

Don't buy these boots with the expectation of having completely dry feet.


Cons
They are not waterproof as advertised
Although these boots were very comfortable, they are not waterproof. The seams that hold the boot together are done by machine and in the process, the waterproof "bootie" is punctured.
Save your cash, and get a boot that is not made in an Asian country.
Source: bought it new
Price Paid: don't recall

Your Review
You May Like
Specs
Men's
Price
Historic Range: $52.73-$130.00
Reviewers Paid: $90.00-$120.00

Weight
1 lb 15 oz

Sizes
7 - 12 (Half sizes) 13, 14, 15 and Wide 7 - 12 (Half sizes) 13, 14, 15

Materials
Waterproof Dura Leather and Mesh Upper, Synthetic Leather Toe Cap and Heel Counter

Women's
Price
Historic Range: $44.73-$130.00
Reviewers Paid: $100.00-$120.00

Weight
1 lb 13 oz

Sizes
5 - 11 (Half Sizes)

Materials
Waterproof Dura Leather and Mesh Upper, Synthetic Leather Toe Cap and Heel Counter

Kids'
Price
Historic Range: $20.97-$34.98