Merrell Moab Mid Gore-Tex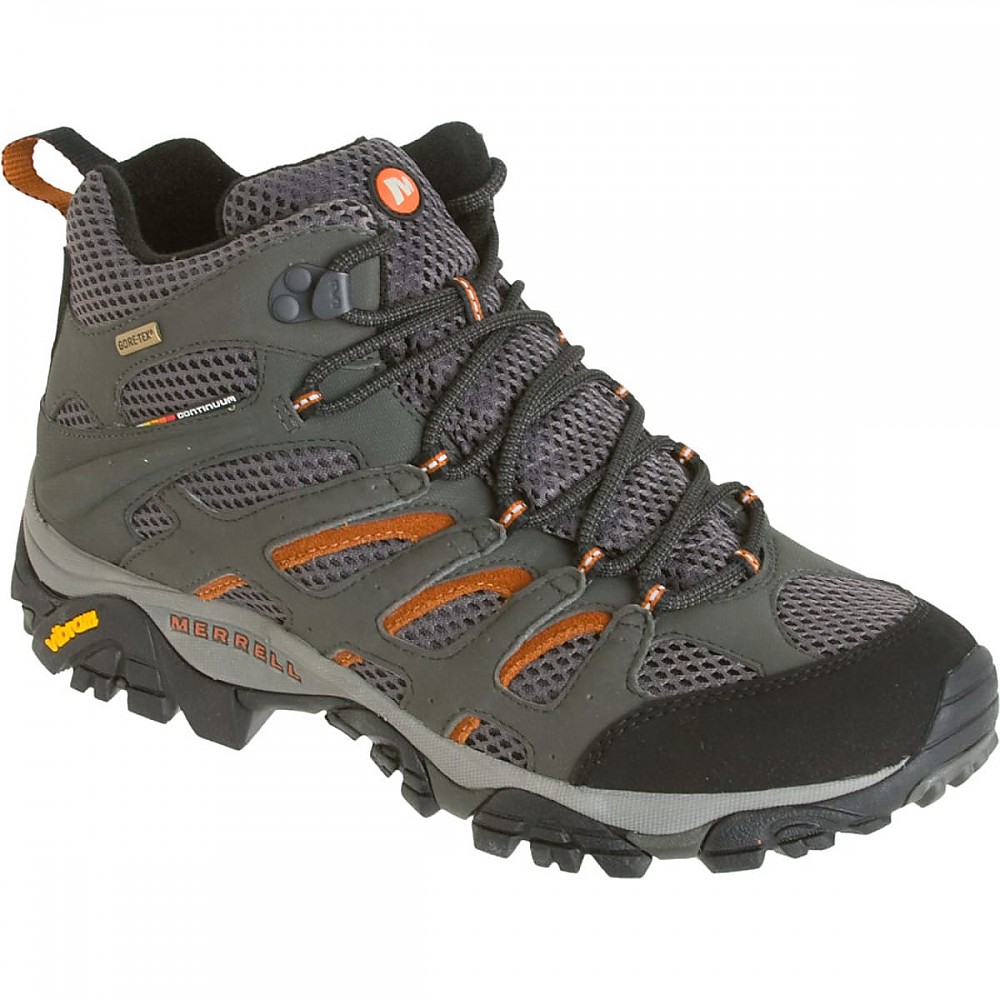 These mid-height GTX versions of this boot model from Merrell are relatively light and very durable. They have a Vibram sole and leather/mesh tops with a rubber toe cap. Merrell also makes a non-GTX version and low-cut versions in GTX and non-GTX.


Pros
Relatively lightweight
Very durable
A good range of widths and sizes
Very comfortable
Cons
Needs a larger toe cap to cover vulnerable toe area mesh
I bought these boots after returning a similar pair of Danner mid GTX boots to Cabelas when the right side CRACKED all the way across at the ball of the foot with only 200+ miles on them.
I use my Merrell Moab Mid GTX boots mainly for rainy and mild winter conditions and for hunting in Nevada's northern mountains.
As noted the toecap needs to be modified cover ALL of the toe area that is now partially mesh. When the mesh began to fray I had to coat it with SHOO GOO and color it black with a permanent marker. Now this vulnerable area is well protected and I have had no further problems with it.
For some SUL backpackers these boots are too heavy, but for decent durability and footbed protection against rocks Merrell has struck a good balance between weight and durability. If you want an SUL boot look elsewhere and be prepared to buy them much more often. 
In winter conditions down to 10° F. I use these GTX mid boots with the following additions:
1. knee-high Gore-Tex gaiters (gives another 10 to 15° F. warmth and keeps snow out of the boots)
2. diver's thin neoprene sox (seam sealed) over light polypro liner sox (both a VBL and excellent insulation)

As you can see, these boots can be used in a wide range of conditions. I cannot stress enough the usefulness of the seam-sealed thin neoprene diver's sox for warmth and keeping the boots' interior dry. The best brand I have found is from U.S. Divers.
** I recommend hand washing these boots with Nikwax soap for GTX, thoroughly drying them for several days then spraying them liberally with Granger's or ReviveX spray for WPB garments.
However I must also mention that, living in the Mojave Desert, I most often use the Merrell Moab low cut, non GTX shoes. Again, durable and comfortable and needing the same toe mesh protection mentioned above.
Source: bought it new
Price Paid: about U.S. $120 from REI on special order for my width

Comfortable and ready to wear without break-in period. Vibram soles provide needed grip on the trail. GoreTex keeps feet dry. Ideal for hiking.
Cons
May not be best for extreme cold.
Comfortable and ready to wear right out of the box. No break-in period required. Ortholite foot cushion insole comfortable, but may need to be replaced after 2 to 3 years. Inserted a new pair of insoles from Merrell after 3 years and comfort was restored to that of a brand new pair of shoes.
Vibram soles provide needed traction and grip on the trail. Mid height provides good ankle support. GoreTex works both ways to keep feet dry and comfortable all day. Moisture from sweat is wicked away from feet while outside moisture from rain or shallow streams stays outside. Ideal for hiking.
May not provide needed support though for carrying heavy packs but did not use for backpacking. Not insulated so would not recommend for winter hiking in extreme cold.
Have worn the Moab hiker for 4 years hiking and canyoneering in the southern half of Utah and very satisfied with them. Found the regular width to be slightly narrow for my foot so settled on the wide width which proved to be ideal for my foot. Otherwise the size was true to fit.
Source: bought it new
Price Paid: $140. Couldn't find these to be on sale online.

I bought these for a scout trip to Philmont. They were my second boot choice after a couple Garmont boots did not work out. They were very easy to wear with virtually no break-in period. They did not feel especially cushioning when I first put them on, but never had any foot issues.
I wore them for 10 days on the trail 4-8 miles a day with a 60 lb. pack. They worked out very well, as I was the only adult in our party who never got blisters.
The only issue was that the insole slides back about 1/4 inch every time I hike in them. Called Merrell and they sent me some replacement insoles. I don't know why Merrell shoes are so expensive, but in this case, they were worth it.
Materials: Gore-Tex
Use: 80 mile plus hike
Break-in Period: 1/2 hour
Weight: 185 lbs.
Price Paid: $104

This boot is very good for both day hikes and longer backpacking trips. I would definitely recommend it.
Cons
Wish it was more water resistant.
This is a good boot. It has a good fit and is comfortable to wear. They didn't need to be broken in. I wore these all throughout the winter last year in Vermont and they always kept my feet warm. They are relatively lightweight and have held up like new over a year of use.  
The only complaint I have with these boots is that they are not completely water resistant. The next pair I buy will be completely waterproof.
Source: bought it new
Price Paid: $150

These are great hiking/casual boots. Suitable for all types of outdoor activities.
Pros
Waterproof
Good ankle support
Great traction
Comes in wide sizes
Cons
I wish there was a version of these an inch or two higher.
I wear these boots almost every day, year round, in interior Alaska, at work, hunting, fishing and everything else. Very comfortable and tough. Light, "running shoe" feel. I have worn out two pairs of these in the last 10 years, am on my third pair.
I have found no other hiking or similar shoe or boot that can match these Merrell Moab Mids!
Source: bought it new
Price Paid: $95

Great boot for dayhikes in wet conditions. Very waterproof for their weight.
Pros
Very waterproof
Rugged design
Good tread
Lighter than most boots of similar design
Cons
Not as much support with heavy loads as other boots.
Don't dry out easily
These are a great pair of boots.
They felt comfortable from the first time I put them on and are comfortable up until you carry loads of above 35 pounds. They are very waterproof and I have never had any problems with leaks or breathability. The boots grip well on most surfaces except wet rock (which most boots can't handle anyway).
Even in summer the Gore Tex membrane breathes well and I rarely get sweaty feet. The boots also hold up well to wear and tear, in 4 years I have never had any problems with their durability.
In just over 4 years with almost weekly use, these boots have stood up well to any challenge I could throw at them.
Source: bought it new
Price Paid: $175

Great specs on paper, disappointing in real life.
Pros
Lightweight
Very cushioning
Cons
Poorly implemented Gore-Tex
Not supportive
I had this boot for about 3 month and I'll just say the first week was great. Then i noticed that it was very soft and comfortable in an office environment, but on the trail, it was apparent they were not cut out for the job. I'm a bigger guy, but there was no support in these things at all.
I threw in the towel of hoping I'd fall back in love with them when during scout camp they wouldn't provide enough support walking up the hill to our site and the Gore-tex liner failed.
Gore-tex was awesome and honored their warranty, while Merrell did not. Gore-Tex replaced them with a different pair of boots (different manufacture and model) and I haven't looked back.
Source: bought it new
Price Paid: $99

Very good looking and comfortable but that is about it.
These boots are great looking and comfortable, no break-in needed, traction is good, true to size. From the first time I had them on if you flexed your toes upward wou could hear the liner inside like sticking and unsticking to itself (just sounded noisy, annoying and cheap).
I wore them for about a month untill I got them wet one time and they leaked like I had no shoe on at all after that. I sent them back and got a no charge new different pair.
Merrell does stand behind their prouducts as they sent the new pair with no questions asked and at no charge to me.  Hope this new different pair last longer.
Source: bought it new

Comfortable but not for dry feet.
Firstly, the boots are very comfortable, but after around 12 months they started leaking water in around the heel and sole. Stupidly, because of the comfortability I bought a second pair. These began leaking even quicker than the first pair. It's Berghaus for me next time.
Source: bought it new

Tough, light, comfortable — no complaints, they are just what I needed.
Pros
Comfortable
Tough
Waterproof
Light
Perhaps the perfect middle-ground between a trail shoe and the "waffle stomper" of old, the Moabs offer super comfort, solid ankle support, and an aggressive sole in a lightweight package.
They will seem a bit stiff in the store, but will quickly adapt to your feet and be ready to go. I wore mine around the house for a couple of days and then set out with a light (20 pound) pack up the 9 mile Old Rag loop. No chafing or hot spots. The Moabs were great on the trail, and the tough, "grippy" sole excelled during the 1 ½ mile boulder scramble on top. Waterproofing was a big plus for 2 creek crossings. 
They run a bit tight — I went up a half size and am very pleased.
So far, no complaints on trails, logging roads, asphalt, mud, granite — and they look good in town.
Source: bought it new
Price Paid: $120

Boots came apart after 3 months of walking to work 4 miles a day.
Cons
Seam came apart
Cost too much
First I have to say how I think it is pretty cool that Merrell takes the time to plant reviews on this page, AWESOME, HIKED A THOUSAND MILES UP A MOUNTAIN BOTH WAYS AND CROSSED A RIVER, GREATEST BOOT EVER CREATED BY MAN.
Ha, anyway, I am very disappointed that I got a pair of boots for $99 (ouch) that came apart in just 2.5 months of walking to work in dry weather on a paved trail.
Thinking ECCO next.
Source: bought it new
Price Paid: $99

Tested the boots for waterproofness 15 minutes after the UPS guy handed them to me.
Left boot was completely dry, the right boot leaked.
Boots went back to the retailer the next day.
Note: Gore-Tex guarantees that their bootie will not leak. It is rigidly tested before leaving the factory.
Unfortunately, the bootie can be screwed up when it is sewn into the boot.
If a Gore-Tex bootie is properly installed — makes no difference what material the boots' upper is constructed of — it should not leak.
If your boot does leak, contact Gore-Tex. They will ask you to send your boots to them, they will deal with the manufacturer, and get things right for you.
Price Paid: $125

I have had these boots for about 100 miles or so. They are extremely comfortable and breathable. My feet normally sweat quite a bit but they are just fine in these. They also held the water at bay through small creeks and in the rain.
The Moabs are my favorite boots for almost any of my adventures.
Price Paid: Bought new

Bought the Moab Mid Gor-Tex XCRs about a week ago and, so far, I like them. I realized that any boot with a mesh top is going to allow water to enter it, regardless of any Gore-Tex liner or gasket that the boot claims to have.
Naturally, I didn't buy these for their waterproof capabilities. Jeez, use your head. If you want a truly waterproof boot, don't buy something with mesh upper.
That being said, these boots are very comfortable, lightweight and provide excellent traction. Only time will tell how durable they are.
Price Paid: $90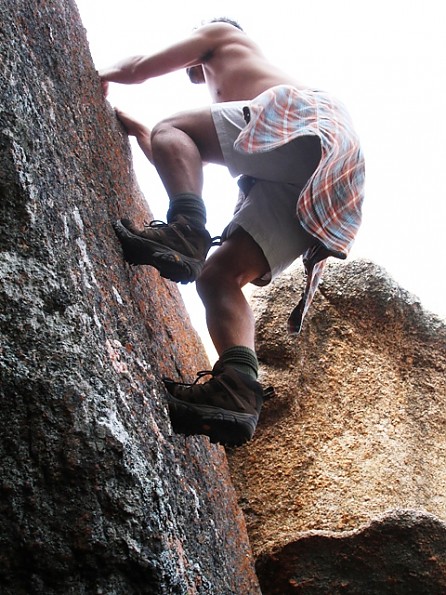 When shopping for a new set of boots, I was looking for a boot that would be water-resistant, relatively light, mid-cut, and performed like a sneaker.  I'm a weekender and generally hike about 2 to 5 miles before setting up camp and once camp is set up, I'll hike and climb all day with maybe a small day-pack.  The Moab GORE-TEX XCR seemed to fit the bill, so I was excited to hit the trail with them.
While breaking them in around the house, I noticed some discomfort right below the large knuckle on my big toes. When the weekend arrived, the pain hadn't really subsided, but it wasn't anything more than a nuisance. 
What a fool I was. The first day, shouldering a 35lb pack, they felt fine. Having arrived late, I ate dinner and hit the sack. The next morning when I slipped them on and hit the trail, the pain was back and a little more pronounced. It faded as the day went on so I thought they might have finally broke-in.  The start of day three was ridiculous.  I could barely walk in them, so I skipped additional hiking, packed up camp, and gingerly made my way back to the trailhead.
If you're thinking about buying these boots, try them on in person first (I did), but more importantly, see if the shoe rep will be kind enough to let you walk and shop around in-store with them for a while.  If they don't hurt, buy 'em, because honestly, I'm bummed that I can't wear them.
Price Paid: $100

I had to return my first pair due to them leaking water at the toe end of the boot from the first day.
I was given a replacement pair that I have similarly returned after a weeks wear. They too leaked from day one.
Otherwise they were/are the most comfortable boots I've had in years. I suffer from Plantar Faciitis and have to walk my three Belgian Shepherds 5 miles a day and they are the only boots to give me a comfortable walk.
Pity about the leakage.
Materials: gore-tex
Use: 5 miles every day plus day hikes at weekends
Break-in Period: 1 week
Price Paid: £100

The good, the bad, and the, well, the bad....
Good - Fits great right out of the box. My waterproofing on the first pair of boots was solid, was able to cross shallow streams with no problems.
Bad - The waterproofing didn't last long. Water started pouring in around the back of the heel.
Bad - Second pair of boots (yes, I was silly) started coming apart after about 50 miles of hiking, trail hiking, not backcountry hiking.
Bad - Tread isn't great for slick conditions.
So, no, don't buy these. Go with Keen Targhee II's instead. Better tread, great waterproofing, and same price range.
Materials: gore-tex with mesh upper
Use: Day hikes
Break-in Period: none
Weight: 2 lbs
Price Paid: $105

I am not a hiker or rambler but I do go shooting and fishing and i wanted a light pair or walking shoes that where comfortable and would keep my feet dry when walking through grass fields and in rain.
I got these shoes on the evening of 10th November 2009, they where very comfortable and with the Gore-tex guarantee to keep you dry, I was confident in my purchase would fit my needs.
I walk to work and I normally just wear normal shoes but I have over past few days been wearing my new Merrells as its been wet out and wanted to see what the grip was like. Today the 12th November on my walk home from work it tipped it down, I was so pleased I was wearing my new walking shoes so I could see if the Gore-tex is as good as my coat.
Unfortunately I was heavily disappointed as my toes started becoming wet, bear in mind that these are supposed to be walking shoes that are guaranteed to keep you dry, they failed miserably and that was while walking for 20mins on pavements in the rain.
Once I got home I took them off and got some new socks on, but when feeling inside the boots it had appeared more water had managed to soak through as they where saturated inside seems it takes time for the water to soak through properly.
I took them back to go outdoors in Loughborough where I got them from 2 days ago and the manager said it must have been water coming over the top of the boot!! and refused to take them as they where still damp. I tried to explain that while walking on pavements its very very unlikely the water came over the top of the boot, and the fact that only the toe and top of my sock was soaked and not anywhere around the ankle would back this up.
Anyhow as they where still damp they would not take them no matter how much I tried to explain the problem, I have been told if I take them back dry they can send them off to Gore-tex for them to test them and if they agree the fail the waterproof tests then I can have a refund or replacement but this will take 4 weeks!!!! UNBELIEVABLE
I need a pair of waterproof shoes this weekend looks like I'm 80 quid out of pocket and may as well wear sandals.
DO NOT BUY THESE SHOES IF YOU NEED SOMETHING WATERPROOF GET SOMETHING ELSE THEY ARE A JOKE!!!

Materials: gore- tex
Use: walking
Break-in Period: 2 days
Price Paid: 81

These great boots lasted 1,000 miles this summer on the PCT.
Break-in Period: almost none
Price Paid: $90

hey were great for the first month, then they began to leak water. this is my second pair in two months. i definitely don't recommend merrels to anyone. many of my co-workers have had the same problems.
Materials: gore-tex
Use: hiking everyday from 5 to 6 hors
Break-in Period: one day
Weight: 150 pounds
Price Paid: $95

I arrived at Great Smoky Mountains National Park only to realize that I had left my hiking boots in Louisiana. Panic set in. How was I to hike in Mountains without well broken in boots?
I set out to find a decent pair of hikers, and after trying on several, settled on the Merrell Moabs. I was somewhat apprehensive, but I was well pleased. I hiked for several days, up to 13.5 miles per day and an elevation gain of up to 3100 feet without so much as a hot spot.
The only problems I had were that the left shoe lace kept coming undone on the downhill slope (and that was probably from not being broken in), and I found that the ankle support was not as hefty as I was used to. I was using a day pack (10 - 12 lbs) not a backpack, so not sure how they would preform under a load on the downhill slope. I do know that for most of my backpacking in MS and LA they will work great.
Materials: Gore-tex
Use: rough trail w/ day pack
Break-in Period: none
Price Paid: $95 + tax

I used to wear heavy leather hiking boots. Not any more. I always heard that shoe weight was important, but never realized how important until I did my run in heavy boots! It wore me out! So I looked for the lightest Gore-tex boots I could find, and this is the boot I bought.
I just got back from hiking the Sierras, including a two day trip to the top of Mount Whitney with a 35 pound pack. The trails are pretty rough, and it rained for a few hours one day. These boots held up well, kept my feet dry, and never once caused a blister or hot spot anywhere on my feet.
OK, so these boots are downright ugly. But they are great boots!
Materials: Gore-tex
Use: day hikes, backpacking
Break-in Period: 0
Price Paid: $94

Awesome! That's all that needs to be said.
Price Paid: $94

I have worn them 5 weeks straight since I got them.
They are very comfortable and the Gore tex is excellent. I stood in 3in of water for 5 min too test them and it worked fine.
Use: everyday and trail
Break-in Period: none
Price Paid: $99

Your Review
Where to Buy
Help support this site by making your next gear purchase through one of the links above. Click a link, buy what you need, and the seller will contribute a portion of the purchase price to support Trailspace's independent gear reviews.
You May Like
Specs
Men's
Price
Historic Range: $59.95-$150.00
Reviewers Paid: $81.00-$175.00

Weight
1 lb 15 oz

Sizes
7 - 12 (Half Sizes) 13, 14, 15 and Wide 7 - 12 (Half Sizes) 13, 14, 15

Materials
Waterprof Dura Leather and Mesh Upper, Synthetic Leather Toe Cap and Heel Counter, GORE-TEX

Women's
Price
Historic Range: $1.00-$150.00
Reviewers Paid: $150.00

Weight
1 lb 13 oz

Sizes
5 - 11 (Half Sizes)

Materials
Waterproof Dura Leather and Mesh Upper, Synthetic Leather Toe Cap and Heel Counter, GORE-TEX

Recently on Trailspace