Merrell Moab Ventilator

The Moab Ventilator has been discontinued. If you're looking for something new, check out the best trail shoes for 2023.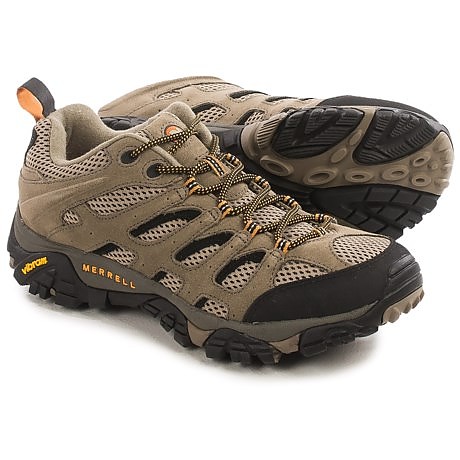 I have lowered my rating of these shoes by a full star following the disappointing performance of my second pair. While the first pair I owned served me well for many hundreds of miles, the second pair began wearing out in the heal about 8 months after purchasing them. This has led to this updated review.
Pros
Lightweight
Comfort
Priced less than many shoes
Breathe well
Cons
Not waterproof
The durability of my second pair was unsatisfactory
I bought my first pair of these shoes for a week-long hike on Isle Royale National Park. It was a cold rainy week, but these shoes held good traction on slick rock with a 40lb pack on my back. My feet stayed dry, but we were not hiking in a deluge. That pair lasted me for five years. I hiked hundreds of miles them.
In addition to that first trip, I did many weekend trips with them. Plus I wore them constantly on day outings into the woods (I work outdoors and hike a good 3-5 days per week). I only retired that first pair after the soles wore off all the traction. The uppers remained in good repair.
My second pair wore a hole in the heal after 8 months and less than 200 miles.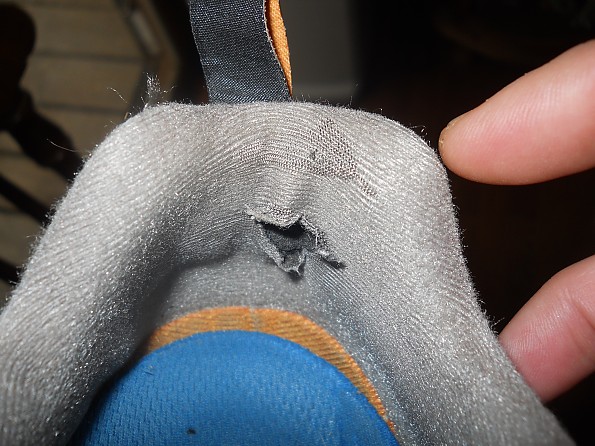 Since first discovering Moab Ventilators, the price has essentially stayed the same. My THEORY is Merrell is holding the price down by cutting the quality of the uppers. I don't know that for a fact, but it would account for the reduction in quality.
So while I once promoted these shoes as worth a look, I am now hiking in other, better shoes. I still am wearing this pair for every day use around work, but they won't be out on the trail with me again, and I won't be buying a third pair.
My advice to Merrell (If they were to ever read this review), at one time Schwinn was the #1 ranked bike company in America. Then, they began cheapening their products in order to stay low price/competitive with the crappy bike companies. Today, Schwinn is a shadow of what is once was. Don't follow this course of action—or you'll become the company that "used to sell good equipment back in the '00s."
Source: bought it new
Price Paid: $75

I wear these shoes daily and during hiking. I highly recommend these shoes, especially if you wear a larger size shoe.
Pros
Great fit
Tough on dirt and mud
Breathable
Cons
Slight tearing of outer layer of leather at pinch points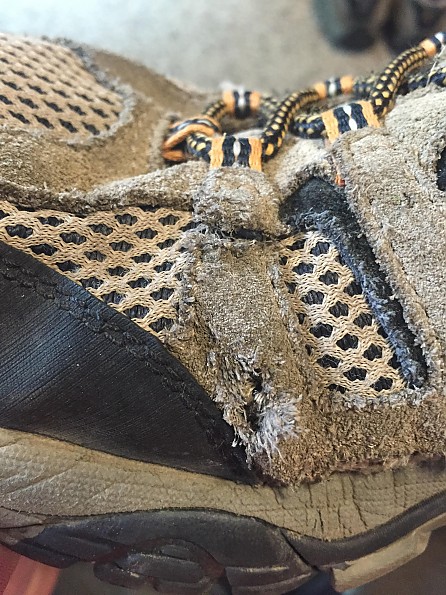 These shoes fit true to size. I wear a size 12 and these shoes have fit my foot better than any other hiking shoe I have tried. I tried Salomons and they were very narrow for my size of foot and I do not have a wide foot.
The laces last for years. I am on my second pair and I still wear my first pair that I bought at least 5 years ago and the laces are still intact. No break-in needed. The shoe does not keep out debris but I would expect you would need gaiters for that anyways.
This shoe is not waterproof, but I have not been soaked wearing these even after stepping in low water and sloshy mud. These shoes offer fairly good traction new but slowly lose traction as you go on, which may take a few years!
The only negativity I have with these shoes is the tearing of the outer leather at the pinch points. The first ones did not do this but this pair is. This may just be an odd pair.
Other than this, these shoes are great for everyday and outdoor use. Even when mud gets on them I have a hard time finding a stain on these. 
Source: bought it new
Price Paid: $100

A satisfactory trail hiker when used for light day hikes along well-cleared trails. Absolutely NOT designed for backpacking with any weight - will not provide much support or underfoot protection. Negative reviews by those using them for this purpose are meaningless as this is not what the shoe is constructed for.
Fit true to size (unlike most Merrels it seems which fit small). Wide toe-box, medium volume bordering on the high side. Comfortable EVA midsoles, but poor underfoot protection against hard objects like rocks, stones and sticks due to a lack of shank and soft midsole. Little to no arch support, nylon arch shank is not-apparent what-so-ever.
If you over-pronate, like most of the population, you will find the shoe allowing your foot to flatten substantially and turning inwards. An aftermarket insole with a rigid arch-support (e.g. superfeet) corrects this, but a shallow heel pocket may raise your heel a bit high, increasing the likelihood of slippage. My Superfeet orange JUST barely works with this, but is necessary for me. Stock foot-beds are initially very cushioning but compress in days, and provide little support or cushion after this.
Vented design works okay, my feet which generally sweat a lot still sweat in these quite a bit, but if there is a stiff breeze or you are moving fast the ventilation is great. So far durability has been good, but they have seen only mild trail use and mostly street-use. Vibrams outsoles are sticky and very grippy even in wet-conditions. The trade-off is that they wear very quickly, especially on pavement.
If Merrell improved the arch design with a stiffer arch shank and provided a light-duty nylon half or 3/4 shank for better overall stability, these would be a fantastic shoe. A slightly taller heel pocket would be appreciated.
Would consider buying again, but competition with Keen Voyager makes this a tough call.

Materials: mesh panel fabric, suede
Use: Short-day hikes, street wear
Break-in Period: A couple of days general wear
Price Paid: $115 CAD

This is one of the best trail runners in every aspect you could hope to review: value, comfort, and durability. On the Appalachian Trail, my pair lasted around 900 miles before they started to hit the edge of their limitations. I'm now on my second pair and this year's is even better than the last.
Pros
Ventilated to keep your feet dry in hot weather
Extremely fast dry time after puddle jumping
Not as expensive as other brands in the same cross trainer market
Great for hiking and trail running
Ventilated to keep your feet dry in hot weather
Cons
Can be cold on chilly, wet walks
The toe bumper has a tendency to peel off with time. Circumvent this by making a shoe goo toe cap
Can be cold on chilly, wet walks
I was about halfway done with my thru hike of the AT when I first put on a pair of Moab Vents. I had been riding out a pair of Keen mids for as long as I could when a friend gave me his old pair. They were the wrong size for him but fit me perfectly. It was a match made in heaven.
Now they are the only shoes I wear. Whether it's a quick trail run, a quick traverse of Franconia Notch, or your next long trail, these shoes are what you want. It's easy to see why they were undoubtedly the most popular shoe on the Appalachian Trail in 2013.
Source: bought it new
Price Paid: $90

Great lightweight shoe for short mid-range trips.
Pros
Light
Breathable
Comfortable
Stable
I was very pleased with these shoes right out of the gate. I wore them in comparison to several others including The North Face Hedgehog which was the shoe I was leaning towards at the time. Ultimately this shoe fit me better and felt a little sturdier in my test walks.
The shoe hugs my foot well without causing discomfort which has been a major issue for me with hiking shoes in the past. I am able to lace it tight enough to keep my heel snug with no sliding and not feel overly tightened or constrained.
I wore these on about 9 miles of hiking in Bryce Canyon a week after purchasing them and they were comfortable from the get go. I had no hot spots, no stiffness but still felt snug and supported in the shoe.
The Vibram sole was VERY sturdy and I never felt any of the rocks or issues even when I was a little off the beaten path in the Escalante area. I still had considerable movement and support while feeling comfy inside the shoe.
My feet did get a little warm but I was hiking in a little heavier merino wool sock in 80 degree heats so I chalk it up to poor choices on my part. For the most part I was really comfortable the whole time I was hiking.
Source: bought it new
Price Paid: $89

I wore these on the Camino, from Le Puy en Velay to Finesterre — put over 1,000 miles on them and only had problems (sore balls of my feet) near the beginning and near the end, which was no fault of the shoes.
Pros
Lightweight
Extremely comfortable
Cons
Takes a bit of time to dry out
I picked these out after trying on a multitude of shoes. Had to replace the liners twice, in probably 800 miles. I bought them 1 1/2 sizes too big to allow for feet swelling and double socks. When I got back I gave them to my husband and he has been wearing them since, for two years, with probably another 500 miles on them, with barely signs of extreme wear.  
The fit was right on. Remember, I got them big for purposes listed above.
Extremely comfortable. I did what one shouldn't do and I didn't allow much break-in time, which didn't really matter. No rubbing, no pressure points. I did not wear gaiters and didn't have much trouble with debris in the shoes.
They are not waterproof, not meant to be. When I did hike through rain, I stuffed them with newspaper and that helped dry them for the next day's hike.
I hiked through several types of surfaces, from dry road to wet, slippery tree roots, to mud to dry trail. Traction was good on all surfaces.
Heat control — possibly a little warm when the temperature was above 90 degrees F.
The shoes held up terrifically. They are still in use. After my hike was over I handed them over to my husband. Construction is solid and durable.
I hiked for 2 1/2 months in these, through France and then Spain, on the Camino. I went through rain, cold, and hot desert conditions. The total distance was over 1,000 miles.
I would buy these again. I liked them that much.
Source: bought it new
Price Paid: $80

I like these so much I'm on my second pair. They are comfortable, fit right, and hold up well.
Pros
Comfortable
Sizes for larger feet
Ventilation
Traction
Cons
Laces come untied
Thin Insoles
I'm on my second pair of these shoes since I discovered them. I have a hard time finding shoes in my size, and these fit my 13 EE foot great.  
My two biggest complaints are that the shoe laces seem to always want to come untied, so it is necessary to time them in a double knot at times.  The insoles are also a bit on the thin side, but that's something I change in almost every pair of shoes I buy.
I have put a hundred or so miles on my newest pair (about six months old at time of writing) and they are holding up very well.  There is hardly any noticeable wear on them.  Both pair are the Bark Brown color, and they are great for not showing dirt.
My older pair I had for close to two years and I have walked a few hundred miles in them.  They are still holding together, but I had to switch because my feet started to widen.  
The tread held up and is holding up well to the miles of abuse.  The terrain in my area is often rocky, rarely to a I feel a sharp rock poke into my foot, when I do it is usually at one of the mesh sides and not through the bottom.  
Because of the ventilation they are a great summer hiking shoe.  If you are looking for something more water resistant, you may want to look elsewhere.  Otherwise, these will help keep your feet cool and make the hiking experience more enjoyable.  
Source: bought it new
Price Paid: ~$100

Pros
Lightweight
Breathability
Comfortable fit
This shoe grabs the foot like a glove, solid grip on heel (no lift at all, and I usually have lift problems), wide enough for my moderately wide feet. Roomy toe box. Virtually no break in time needed. Great vibram sole. Only problem is that the insole feels pretty flimsy and decorative. Replaced it after a while with aftermarket insole. 
Important: I bought the non-Goretex version, which is made of a material which is much more pliable and comfortable than the Goretex version.
Personal issue: I bought half a size up because of my slightly wide foot. This caused my foot to slide down a bit on steep descents, but the aftermarket insole solved that completely. For anyone else considering an insole - make sure its not too thick or it will result in heel lift.
Source: bought it new
Price Paid: $90

Comfortable hiking shoes. Vibram rubber soles give these shoes excellent grip. Breathable membranes sacrifice water-resistance.
Size: Men's 9
Color : Walnut
Primary Use: Hiking
I have owned my Merrells for a little over a year and I love them. They are my go-to hiking shoes.
They pretty much felt broken in after the first couple 5-mile hikes I wore them on. They have been just as comfortable for my 15-mile weekend hikes as well, but I have not yet worn them for 30+ miles at a time yet.
My feet sweat probably the same as the average guy, and these shoes do well to keep my feet ventilated. I have slightly narrow feet and a big arch and these shoes fit me well, but I will probably change out the soles for when I wear these for longer hikes for added arch support.
I live in the mountains and these shoes do me well here. The rubber soles are pretty grippy on the bald rock faces. However, during stream crossings I have gotten my feet wet more than once as they are not waterproof and they take their sweet time drying.
They are also still a shoe, so if you are trooping through brush or kicking up leaves in the fall you're bound to get things in your shoe as well.
Overall I give these shoes 4.5 stars for getting my feet wet. :P You just can't have everything in one shoe.
Source: bought it new
Price Paid: ~$80 on sale

I'm giving these a 2. They are really comfortable shoes. But the traction is terrible.
Pros
These shoes feel like they where made for my feet.
Cons
Poor traction
Poor durability
Way too expensive for what they deliver.
I feel so out of control hiking steep trails. It's work to keep my feet from slipping and thus it takes more effort to hike. These are best for hiking rolling hills, logging roads and fairly low angle trails. 
I have La Sportiva trail runners and Salewa Firetail that feel like wearing suction cups on my feet, super grippy; I can hop up and down scree slops and not feel like I'm going ice skating. The Moabs for the price are terrible for durability. After just two months of owning the, there are holes already where my toes flex and the area where the ball of my feet are are just abut warn flat.  
Merrell has really gone downhill, I would expect that kind of shoe for $30.
Source: bought it new
Price Paid: $99

I have very flat feet. I've tried inserts and specialty shoes. These are the best I've found hands down. Great support and style that I wear out as often as I do on the trail.
Pros
Fantastic support. Great style.
Grips the trail for secure footing.
Adapts with ease to slight swelling from longer hikes.
Short of custom made orthotics, I've tried everything I can think of to help my flat feet, but still my left ankle would swell and lock. Inserts, different styles and brands of shoes, you name it.
A friend recommended these and I've logged more miles in them than any shoe in a long time with more comfort, indoors and on the trail.  I'm already looking for my next pair, not because I need them yet, but because I may never wear another brand. 
Source: bought it new
Price Paid: $70 in outlet store

Solid outsole, ventilates well, comfy.
Cons
Laces come undone
Cosmetic
Color choices
I've had these shoes for about 2 years now and they are in great condition. I mainly use them around town or on Disney World trips in the Florida heat. They have a mesh upper that ventilates well and they have a stiffer footbed which is good for my plantar fasciitis.
i'm not crazy about the design or the colors though. They are just kind of blah. The laces seem to come undone easily, but that could be quickly fixed with replacement laces or just a double knot.
Source: bought it new
Price Paid: $80

Bought on reputation. Returned because they sucked.

Cons
Fell apart. Seams ripped, water-proofing failed
Toe cap peeled back, rubber lining cracked
I wore these on the Tour du Mont Blanc and by the end of a one month holiday they were wrecked. I took them back, got a different brand, never again.
They were comfortable, that much is worth a star. But the water-proofing (I sprayed and followed the instructions) failed and it was wet feet after a few days. There was visible damage to the soles and the outer stitching began to come apart. The front was visibly cracking and the rubber toe cap peeled back.
Very disappointed.
Source: bought it new

Very comfortable shoes. Have put over 1,200 miles of trail hiking in them and not one blister. Blisters were the downfall of me. They dry very fast also. Will stick with them when I do the JMT and then the PCT.
Pros
Dry quickly
Feels like I'm walking on air
Price
Cons
The only problem I had was my fault, edema, but I should have bought one size up
Source: bought it new
Price Paid: ~$100

Bought these shoes because I worked in an outdoors store and everyone said how good they were. After wearing them for three months in the store and mildly outside I watch the leather and upper materials just rip and fall apart. When I used them for campsite shoes while backpacking, you felt most rocks or objects under your feet digging their way through.
I am very disappointed in the quality of the product and comfort, and I do not feel that they came close to all the hype. The best thing I can say about the shoes is that the laces last longer than the rest of the shoe.
Use: in-store and general walking
Break-in Period: 0

I have owned two pairs.
Pros
Good price
Lightweight
Breathable
Well, I have worn theses shoes for years now because I got the second pair for half price, which I thought was a good deal. Lots of miles, I wear them as a street and outside shoe all year long.
Source: bought it new
Price Paid: don't remember

Excellent, lightweight hiking shoe that really helps with my over-supination (wear out the outsides of sole). Breeze flows right through the mesh upper and the nice, wide heel feels very stable even on very uneven ground.
I hike 3 to 5 miles daily on semi-groomed uneven trail. I encounter gravel, sand, grass and rock surfaces on my hike and this shoe handles it all very well. Highly recommended, especially for people with over-supination like myself.
Materials: leather, mesh
Use: moderate day hikes
Break-in Period: 1 week
Price Paid: $89.99 CDN

Very comfortable and good stability, found the shoe rigid enough for my 30 lb pack load.
My backpacking this week consisted of the Flat Tops in Colorado and required many stream and bog like conditions in the meadows. What I found was that the shoe held water weight more then I would like, was slow to dry and holds bog and mud scent after several washings.
I would assume that since this shoe is so well padded that would be a consequence however for Moab type environments, would recommend, just concern for high altitude conditions of snow pockets and moisture retention if weather is colder.
Materials: nylon and leather
Use: backpacking
Break-in Period: one month of constant wear, several short hikes
Weight: 185 of myself, pack is usually 35 lbs for extended trips
Price Paid: $78

Your Review
You May Like
Specs
Men's
Price
MSRP: $85.00
Historic Range: $34.73-$139.95
Reviewers Paid: $75.00-$100.00

Weight
1 lb 8 oz

Sizes
7 - 12 (Half Sizes) 13, 14, 15 and Wide 7 - 12 (Half Sizes) 13, 14, 15

Materials
Dura Leather and Mesh Upper

Women's
Price
MSRP: $85.00
Historic Range: $26.44-$100.00
Reviewers Paid: $70.00

Weight
1 lb 13 oz

Sizes 5 - 11 (Half Sizes)

Materials
Dura Leather and Mesh Upper

Kids'
Price
MSRP: $55.00
Historic Range: $23.73-$59.95

Weight
14 oz

Sizes
10 - 3

Materials
Suede and Mesh Upper

Recently on Trailspace