Asolo TPS 520 GV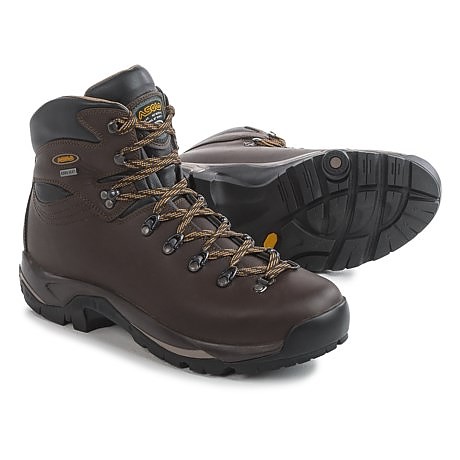 Great foot and ankle protection for multi-day trips with a heavier pack. Excellent performance off-trail. Brand confidence overall is positive for footwear in the middle-upper price range.
Pros
Great support of foot/ankle when hiking
Leather has long lasting performance if cared for
Little to no break-in time required (no blisters/hot spots!)
Cons
Weight—this pair of boots weighs more than my tent
Toe guard is minimal—frustrating for an otherwise durable boot design
Multiple reviews (with photos) within the last several years with negative performance (i.e. issues with sole separating from boot)
Cost—$$$
Ah hiking boots. One of the most difficult backpacking necessities to purchase and review.
Specifics: This review is for Asolo GV 520 LW size 10. These boots were purchased from REI.
Weight: Ridiculous = 4.2lbs (pair)
These are backpacking boots for multi-day trips and heavy packs, over the ankle, lace-up, full-grain leather with a Gore-Tex membrane/nylon dual density molded polyurethane boot that can be re-soled.



Sizing: I wear 9.5 but purchased a 10W to accommodate thick hiking socks, so if you prefer a thick sock buy a half size up. Many stores don't carry wide width boots so you may have to purchase online.
Overall Appeal:
Solid brand name and performance of prior styles is positive.
Leather, when cared for, is usually a top performing option and that's true for these boots.
I don't like the "Chestnut" color or the striped laces.
Misc. info about these boots:
I have read multiple reviews of Asolos that have soles that separated from the boots (delaminated). It has not been my experience with either this pair of boots or my prior pair of Asolos (that I've had for 8 years) and I don't know whether to attribute it to just a bad manufacturing batch, but that would be my guess and to avoid receiving a pair of these boots I wouldn't purchase from a retailer that doesn't have generous return policy. These are expensive boots and should last for multiple years; a sole separating from a boot is unacceptable in my opinion.
Field Performance:
This pair of boots has fewer than 100 miles on them so I hesitate to give them a great review for durability and longevity. That being said I have found them to have little to no break-in period without any issues with blisters/hot spots on the trips I've taken them on.
I dislike the lack of a toe guard. I had scuffed the toes of the boots just wearing them around before my first hiking trip to break them in. I use a beeswax mixture for protecting my boots. There are multiple choices out there and since that's not what I'm reviewing I won't promote a brand. However, I would recommend using some kind of protection on the leather because even with gentle use these boots will be susceptible to damage near the toe box due to the lack of protective design.
These boots perform as I want them to. They keep my ankles from rolling on off-trail terrain, they haven't caused blisters, and the one time I immersed them during a water crossing they dried out very quickly (less than 15 minutes). I wish they weren't so heavy, but at the same time I respect the protection they provide.



For day hikes with a light pack I don't know that these are necessary but for a multi-day trip with a heavier pack and/or off trail terrain I wouldn't leave home without them.
Durability:
I can only base this on my prior experience with Asolos, which was phenomenal. They lasted more than 8 years (and an estimated 1,000 miles). The only reason I don't still wear them for multi-day trips is that the leather has broken down so much that even morning dew soaks them completely.
So far these boots have been durable with the exception of the leather upper toe-box that doesn't have much protection and may need addition attention.
On a scale of 1 to 10 I would rate these boots an 8. I would take off 1 point for the lack of toe protection and 1 point for the numerous reports of this boot style (520 GV) with issues with sole separation/delamination. While I haven't experienced it personally it does concern me on multi-week trips where losing a boot can be a devastating proposition. 
Source: bought it new
Price Paid: $251.99 after 20% coupon at REI

One of the best backpacking boots out there. Great for heavy loads over rough terrain, these boots are totally waterproof, fit like a glove, and if you're like me and need ankle support, these boots are the ones you've been looking for!
Pros
Comfortable!
Waterproof
Great arch and ankle support
Perfect for heavy loads over long distances
Warm in the winter
Good looking (yeah, I know - superficial)
Cons
Heavy
VERY warm in the summer
Expensive
Let me get the cons out of the way so I can get to the good stuff. 
First, these boots are heavy - over 3 lbs.  If you're looking for lightweight hiker, then keep looking. 
Second, as almost anyone who's familiar with Gore-Tex knows, it can be very warm.  I broke them in snowshoeing in temps as low as 0 F (with a liner and SmartWool socks) and my feet never got cold.  I've also backpacked in them in temps as high as 95°F (liner only) and they're the first thing to go when I make camp. 
Third, I've seen other reviews which mention poor laces and they're right - I replaced mine within a couple of months.  Finally, at nearly $300 ($289 retail), they're on the expensive side but when it comes to outdoor gear, experience has taught me that you almost always get what you pay for.
One last thing that I'm not listing as a con, but other reviews have mentioned it - there is no rubber toe guard and you will scuff the leather on the toes.  So what!
Okay, now for the reasons you need a pair...  They are COMFORTABLE!!!  I've had Vasques, Merrells, The North Face, and several other brands of boots, and all of them have required a longer break-in period.  I've always purchased backpacking boots in the late Fall and break them in snowshoeing, and these Asolos were broken in after my first snowshoe trip. 
Hands down, these are the most comfortable pair of backpacking boots I've ever owned. The fit can be dialed in by the way you lace them. I've worn them with liners and SmartWool socks during the winter, and liners only in the summers and have never had an issue with hot spots. Do yourself a favor though - regardless of the boot you have, get some really good insoles (Superfeet are my favorite).
These boots are waterproof. The gusseted tongue comes up high enough to keep out both water and trail debris, and I've never had a leak during creek crossings or snowshoeing. Don't let water go over the top though because just like any Gore-Tex boot, they'll hold the water and will take forever to dry out.
The Vibram soles are sticky enough to give you great traction on and off trail and have held up great in spite of what some reviewers have said about them coming apart. The only caveat is that they can be a bit slippery on a wet, rocky trail, but I've never had an issue with slipping during stream crossings.
Overall impression:  These are easily my favorite backpacking boots so far.  I've had them for 2-1/2 years and have probably put about 200 miles on them by now.  Even the cons seem pretty insignificant compared to all the pros, and when they finally reach the end of their life (no signs of it so far) I'll gladly shell out another $300 to replace them.
Source: bought it new
Price Paid: $269 on sale

Probably some of the best boots on the market. If you plan on hiking/backpacking a lot, they are worth the investment.
Pros
Durability
Water protection
Ankle support
Sturdy
Cons
Laces can loosen over time
Insoles
I've taken these boots all over North America and the longer I have them the more I appreciate them. I purchased these boots as a relatively new hiker. Many reviews I read said they were very comfortable and didn't give many blisters. However, if you are in the same position, you should probably know that many hiker's feet are probably tough and calloused over, which prevents some blisters from occurring.  
Anyway, for quite some time these boots did give me some blisters (mainly on my big toe and the back of my heel) after miles of hiking...though they do feel very comfortable. Once your feet become accustomed to a sturdy boot, these boots will be perfect for your feet. In the meantime, wear sock liners along with your wool socks in order to prevent blisters. With sock liners, the above mentioned problem is hardly a problem at all. You can also buy a better pair of insoles which can help also.
These have great ankle support. With a pack at 50lbs+ I have nearly rolled my ankle many times but these boots have allowed me to "catch myself" with no injury. They very waterproof. You can step into a stream that comes up above your ankle without any seepage.  
Lastly, the shoelaces can loosen over time. It's not a big problem. However, the shoelaces' eyelets are quite small. So if you try to buy different laces (perhaps leather ones which grip better) you might have trouble finding some that will fit.
Source: bought it new
Price Paid: $220

Very comfortable, but poor quality.
I bought the boots at REI in 2010 for $210 (after a 20% discount). The boots fit VERY GOOD. Almost no break-in was necessary. I took a few day hikes in different types of terrain and felt good.
The first multiday hikes in the Sierra Nevada in (JMT)  showed some of the problems. The SCUFFING was a lot more that I would expect from a boot at this price, I was very dissapointed. The fit and support while carrying a 50 lbs plus pack was very good.
A month ago I went to Yosemite and began a multiday trip from the valley floor up Yosemite Falls. During this trip was my biggest disappointment. The SOLE BEGAN TO COME APART during the descent. This should not happen for a boot like this.
I found an REI in Fresno and replaced them. The return was painless, thank you REI. I also noticed that the price had gone up to $290 (This is a 16% increase in two years base on the pre-discount cost, what happen to the recession?).
I chose to exchange it since the fit is very good and I enjoy using them in the winter time since they are warm. I do not know if I can trust them for long hikes if they are going to fall apart. 
Source: bought it new
Price Paid: $210

Asolo are supposedly a top brand boot, and my last pair lasted 14 years of some multi-day trips. The current boots are a poor reflection on what was a great product
Pros
Instant comfort and no need to break in
Cons
Quality has been compromised by cutting costs
My first pair of Asolos lasted 14 years with one replacement sole. Great boots! Many multi-day tramps and summits.
I bought my next pair in 2013. Beautiful boots with great traction, comfort, and support.  I always dried, cleaned and G-waxed them after every trip. However after two years of use, mainly day tramps in New Zealand, the soles of both boots came away from the upper.
Even though they were out of warranty, the NZ distributor sent them of to be fixed, which was really appreciated. Great, I thought.
Six months later, the leather started to tear in one boot around what I think is called the rand [where it attaches to the sole]. Not fixable. So the boots I thought would see me to the end of my tramping days will be thrown out next week in the rubbish.
Will never buy or recommend Asolo boots again.
Source: bought it new
Price Paid: $NZ 399

High ankle, heavy-duty hiking boot for women.
Pros
Waterproofing
Ankle support
Cons
Heavy
Hot
Toe leather easily gouged
Edit 10/19/16: Upon further use and review, my opinion of these boots has definitely improved. They remain hot and heavy, and, lacking a taller lip of rubber at the toe, the leather got banged up pretty quickly. That being said, they were comfortable for the entire trip and gave me lots of support. These boots feel like they're really made to last, so I'm sure I'll be enjoying them for years to come.
**********
I recently acquired these for an insanely cheap price at a Zappo's outlet, and couldn't pass them up. I've only used them for one weekend trip so far, but found them to be decent enough, if not exactly fabulous.
The boots are a good fit, and I like the design of them. They're comfortable to wear, and come up a little higher than some other boots I've used, giving a really sturdy feel with lots of ankle support. In fact, sturdy is just an all-around good description of these boots.
I didn't give them much of a water test, but the puddles and mud they did encounter were no match. Feet stayed dry the whole time.
My biggest problem with these boots is just that they're really heavy and hot. In addition to the leather, there is a lot of extra padding inside that helps with comfort, but also overly insulates the foot. I was wearing them in late spring, when it was still cool enough for a light jacket or sweatshirt during the day and my feet felt like they were roasting the whole time. I've used all leather boots for a long time, and haven't had this trouble with my Vasques.
All in all, I think I will like these boots and get lots of good use out of them, but I'm glad I didn't pay $250 for them.
Source: bought it new
Price Paid: $75

*Paid $172 thanks to REI's 20% off sale.
A little of my boot history:
I had a pair of all-leather (inside and out) Italian made Fabiano Trioncs for 20 years. What great boots! After 20 years my foot dimension changed too much and I had to move on for the Fabianos could only form so much.
First the good:
Very comfy right out of the box.
Need very little break-in.
Well made and NOT from China.
Great to walk around in with a lively sole.
Nice quality full-grain one-piece leather as opposed to some other China feels like vinyl-leather boots that I tried on.
The OK:
Ankle support. For a full-grain leather boot, I would expect a bit more support. I think the little cut-ot in the leather where there is padding impacts this. It's a trade - comfort enhancement for support. I just prefer the support.
The Bad:
This is not against Asolo but against all boot makers (the Asolo 520 GVs just happen to fall into this category)...Gore-tex + FULL-GRAIN LEATHER OUTERS = FOOT PUDDLES.
Folks, if you get a full-grain leather outer boot, properly treat it, it will be water resistant for anything but fly-fishing. Full-grain leather outers along with Gore-tex DOES NOT allow ones feet to breathe despite what boot makers say!
After 8 of 11 miles on the maiden hike, I started to get a hot-spot under my big toe. I sat down to address this and when I pulled the boot, my sock flopped over under the weight of accumulated sweat. When I squeezed the sock, my hand was full of moisture! This probably added an additional two ounces of weight to each foot.
Folks: Do not be suckered in by the Gore-tex hype with full leather boots! Gore-tex has its use, but not here.
REI is GREAT! I took the boots back, explained my dis-satisfaction and they credited me. I applied the credit to an ALL-leather boot (inside and out which very sadly is becoming more and more rare due to the Gore-tex monster) which is made in Germany and I LOVE THEM! I will always go with ALL leather boots.
Materials: Leather with Goretex
Use: 10+ mile hiking
Break-in Period: Very Short
Weight: 3 lbs. - 10 ozs. (without sweat)
Price Paid: $172*

All and all a solid boot. A little hard to break in though, I wore the boots two weeks to work in and still were not comfortable enough for a two or three day hike. The soles have no grip on slick wet surfaces, rock hopping a creek can easily become a quick swim. Now with those two minor cons out of the way I have to say this is an excellent boot. They are warm while hiking in snow even after a dip in the creek. I have had no issues with blisters, it is a well fitting boot.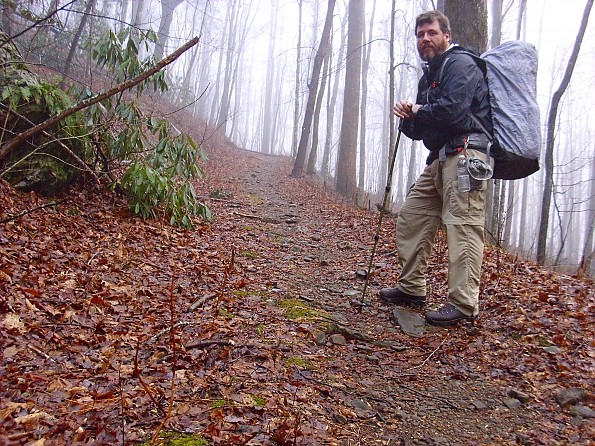 Me and my Asolo TPS 520 GV's on the Beech Creek Trail in the Southern Nantahala Wilderness.
Materials: leather, Gore-tex
Use: Witer hiking w/ heavy pack
Break-in Period: Two weeks working/ 50 + miles on trail
Price Paid: $ 248.00

These boots put my life in danger in the backcountry in winter.
I guess these boots are hit or miss—mine missed.
I see the 5-star ratings and I wonder how many of you have had the midsole delaminate and the tread sole come off. Not good.
I think they should stop production and confirm that their adhesive and midsole material is not defective. I paid top dollar and got Walmart performance. Their boots were backpack specific, for trail only, and had a soft life. Never used for work or exposed to chemicals. I SAY DON'T BUY THEM.
If I weren't experienced and knew to take my tent ropes and lash the sole to the boot this could have been a toe loss journey.
Source: bought it new
Price Paid: $300

I use these boots for day hiking and backpacking. My previous boots were the Merrell Wilderness, to give my frame of reference. I had the Merrells for more than 20 years, and I've had these Asolos for about 3 months/roughly 60 miles on trail.
I love almost everything about these boots. They fit my feet extremely well, they took essentially no break-in time at all, they feel quite light compared to the Merrels, and not to sound corny, but they put a spring in my step. My feet seem eager to go up and forward with these boots on. I haven't had them long enough to comment on durability, but no warning signs yet.
The one thing I really dislike about them is how soft the tongue is. There are two heavy leather pads on top of the tongue, but a large space between them where the laces cross over the instep in two places. To me, this is the most important place to have the laces tight, to ensure the heel stays in the heel cup. The tongue in this area is very soft, thin leather with very light padding. When I tie the laces tight like I prefer, the laces feel like they are cutting into my instep.
I would recommend these to someone who does not like to tie his or her boots tight, but I really see this as a big weakness. Sometimes you need to really cinch them down, like on a steep, prolonged downhill, or if your socks are wet. I had to do this on about a 5-mile steep descent, and it was a very uncomfortable walk.
I miss the heavy tongue on my old Merrells, and I may be returning the Asolos because of this weakness.
Materials: FG Leather w/Gore-tex
Use: day hiking and backpacking
Break-in Period: Essentially none
Weight: 4 lbs
Price Paid: $230

These boots are perfect for rough terrain. The solid leather construction is durable enough to take on any hike, and the level of comfort is exceptional.
Pros
Solid leather construction
Goretex lining for waterproofing
Tough Vibram rubber sole for excellent traction
Cons
Price, but you have to pay a lot for a good boot
Need time to break in before hike due to solid leather construction
Heavyweight
Me and my husband are planning a mule deer hunting/backpacking trip to Colorado in the fall, and I needed a tough durable boot that will stand up to the elements the Rockies will provide. After weeks of careful consideration and a couple of try-on trips I broke open the piggy bank and purchased the Asolo TPS 520 Hiking Boots.
After a short hiking trip through the hills and hollers I was pleasantly surprised at the comfort level these boots provide fresh out of the box. I am really excited to see how comfortable they are when fully broke in. The boots are full grain leather with a vortex lining for durability and waterproofing. They also have a nylon lining to help wick moisture from your feet while hiking.
Normally high top boots hurt my ankles but the extra padded support these guys have make that concern non existent. The sole of the boot is Vibram and also has low density polyurethane cylinders in the mid sole to help with support.
So far I am very pleased with these boots.
Source: bought it new
Price Paid: $298

Backpacking and hiking boot for anyone who needs a good solid, sturdy boot, to avoid a rolled ankle. I highly recommend these to anyone who wants to guarantee they can hit any terrain with confidence.
Pros
Comfortable
Waterproof
Supportive
Tank of a boot
Cons
The toe scuffs up
Heavy and warm
I purchased a pair of these for the South Coast Track down in Tasmania, Australia. An 85km (52 miles) track that goes over some very harsh terrain, from mountains to deep rainforest.
These boots did not disappoint me. They were comfortable from the start, waterproof (unless of course your entire foot gets submerged like mine did), could take on any rock or boulder (even managed to break one in half with a kick, with no damage to my foot), and saved me from potentially countless rolled ankles that the track dealt my way.
The TPS520's are a well constructed boot that keep your feet intact no matter the harsh terrain and I barely even got any rub on them, which was very surprising. I need the ankle support and these boots fit perfectly and kept me upright.
Overall, I was very happy with these boots and will continue to use them on all my hikes around Australia. 
Source: bought it new
Price Paid: $400 (AUD)

I have owned two pairs of these fine Asolo boots. Unlike many hikers, I am a large man...6' and 280lbs. I don't hike long distances, but I do hike frequently. I also fish just about every month of the year.
I live on a small ranch. The terrain on which I wear these boots varies from concrete to pasture land to heavily wooded forests and rocky lakesides. I frequently carry up to 60-70 lbs of gear, or ranch equipment. My oldest pair are about 9 years old, and they are still functional. In fact, I frequently wear them on the ranch, or a trip to Wal-Mart. They're just plain comfortable.
The newest pair are used for hiking, fishing (I frequently fish from the bank, and walk all around lakes and creeks) and working on my ranch. They have stood up to ALL the punishment I have given them, and with the Superfeet custom molded insoles, they're comfortable enough to wear for anything. I even wore them walking all day at the State Fair on concrete.
The place where they wear out for me the most is in the stiffness of the ankle area. I want that area to be really stiff to protect my ankles, and that area of the leather softens faster than any other.
I have NO complaints with the durability of the soles. These boots stand up really, really well for a guy my size. The only areas I don't like to wear them are wet/slippery surfaces or mud. Mud just cakes up in these soles.
If you buy these boots, prepare to have very happy feet. I'd really recommend Superfeet insoles as well.
Price Paid: $250

Moderate to heavy backpacking, summer to early winter boot. Great ankle support, Gore tex lining. I would recommended for people with med to wide feet, sizes run true.
Pros
Heavy leather uppers
Gore tex lining
Vibram soles
Bought my first pair for a hike thru the Smokey Mountain National Park on the AT. They take awhile to break in due to the heavy leather uppers but form to your foot like a protective glove once they are broken in. I fitted mine with Superfeet custom foot beds to compensate for my high arch.
The Goretex lining work superbly. Only way to get wet feet was to submerge your foot totally into a cold mountain stream. Used these boots for a few years finished them up on the John Muir trail 200+miles of high altitude hiking, carried a pack averaging 55# for this hike never a sore foot or ankle.
Bought my second pair and to my surprise they had changed the sole. No complaints with the new sole and the rest of the boot was as solid as my first pair,.Both of the soles provided excellent traction, I even used strap-on crampons with them while doing minor glacier travel in Washington state a few times.
Overall great boot, long lasting, tough, waterproof, breathable, comfortable.
Source: bought it new
Price Paid: $250+

A heavy boot, but among the most comfortable and most water resistant I have ever worn, but due to the catastrophic failure of the sole material these can be a dangerous boot for tough hikes
Pros
Great comfort and support
Cons
Unreliable sole material leads to catastrophic failure
As a mature tramper/bushwalker from New Zealand a lot of our tramping is in wet and muddy conditions. When I first tried on the Asolos I thought, at last, a boot that feels as though it was made for me.
Over the first few years of occasional tramping they felt great, till today's tramp, an easy, four-hour lowland bush trip. All was fine when we stopped for lunch but over the next two hours the sole of the left boot in the heel region disintegrated with the the foam cushioning breaking away and collapsing the heel. Within another hour the entire heel of the sole would have come off. 
The tread on the sole is still in excellent condition so clearly they have not had a lot of hard use. This is not what I expected from an expensive "high quality" boot.
So, beware of this potential problem if you are out in difficult terrain, especially on a multi-day trip. This type of catastrophic failure is, at best, highly inconvenient and, at worst, could be fatal.
Source: bought it new
Price Paid: around NZ$430

Hands down these are some of the best boots I have ever owned. In the past I have always had Vasque Sundowners but replaced them a year ago with Asolo 520s due to the better fit and comfort. I also was put off some by the newer Vasques being made in China while the Asolos are still made in Europe (Romania).
I live in Mid-Norway and wear these boots probably 360 days out of 365 for everything from getting to work and around town to back country hiking and have not once been disappointed. We get a lot of rain, wet snow and ice here and my feet have always stayed dry and warm when paired with a good set of Thorlo or Smart Wool socks.
For some people the weight might be a deterrent, especially if wearing them all the time. But I am used to it and prefer boots over shoes any day. Even that being said though, the weight and support is just right for back-country use. They strap tight to your feet and give a lot of support to the ankle.
While a bit stiff at first, they broke in quickly and the overall fit is great. I used to have a pain in my arch from other boots that seemed to persist no matter what I wore. After a month in the 520s it disappeared. Given my experience with them I suspect that when I eventually wear these out I will replace them with another pair.
Materials: leather gore-tex
Use: back country hiking, short hikes, every day wear
Break-in Period: relatively short
Price Paid: 230 USD

Great until the sole split apart from the boot. If I pulled down where the sole material is missing, it pulls apart from the upper part of the boot.
Pros
Fit great
Feet nice and warm and waterproof
Cons
Sole came off the bottom of boot
Heavy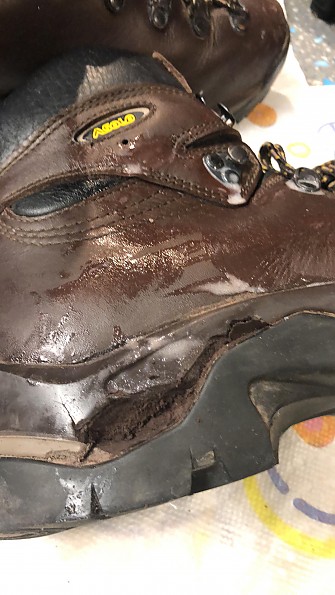 Unfortunately I have the same issue as others have with this boot. It was awesome while it lasted. I hiked to the bottom of the Grand Canyon and out again with them years ago and did some minor hikes after.
I was getting them cleaned up today and noticed the sole coming off the main boot. I was going to wear these on a hike to Mt. Everest Base Camp next year. Guess I will be getting new boots now. I don't even want to resole them for fear of them coming apart again on the big hike.  
Source: bought it new

Dangerously poor durability leading to multi-mile barefoot hike over rugged lava. Not suitable for guide work or forestry, unless you carry a spare pair!
Pros
Very comfortable
No break-in time
Also very pretty
Cons
Total delamination of right sole after 7 months
Terrible customer service from REI and Asolo
Cobbler resoled right boot/1 month later left boot delam'ed
No trust/no use
This is the second pair of Asolo 520's I have purchased from REI. The first pair performed well and outlasted any other boot I have used in my professional guide/forester occupation.
This second pair of Asolos has suffered a complete delamination of the right boot after seven months of similar use. The failure occurred mid-hike and resulted in my walking several miles over A'A lava, barefoot, to get back home. 
I would never recommend that any outdoor professional use these boots for their work. The 15 tourists I was leading were impressed with my durability but not the boots. The current lack of any customer service by any company only makes this issue worse.
Source: bought it new
Price Paid: $315

Incredibly short break-in time, extremely comfortable, and durable boot. These are the best and longest lasting boots I've ever owned.
I use these boots as both hikers and my daily work boots. My last pair lasted 2.5 years of everyday use both on the trail and in a chemistry lab. I've thrown everything at these boots from rocks, trees, and chainsaws; to industrial solvents like acetonitrile and methanol.
The only reason I needed a new pair was because a solvent spill finally ate a hole in the Goretex and I have no double that if these were purely a trail boot that they would have lasted for many more years.
That being said the boot does have some flaws, mainly the laces and the price. The first thing I did with these boots was buy a sturdier pair of laces with metal tips. They lasted the lifetime of the boot. I'll admit that these boots are fairly expensive at around $300 direct from manufacturer, but in my opinion they are absolutely worth it.
Source: bought it new
Price Paid: $300

Bought the boots about three years ago, walked 50 km on established bushwalking track, cleaned and stored them in a dry cupboard inside a suitcase for about two years, used them for 1 hour this weekend and both soles detached from the boot.
Pros
Looked good when I bought them
Cons
Glue detaches from the sole after 50km walk
I purchased a pair of Asolo TPS 520 GV around the end of 2015 and probably only walked about 50 km on established bush tracks. I then had a 2 1/2 year period where I was unable to use them so I cleaned them and stored them in a dry cupboard inside my house.
I went only on an easy trail walk this weekend and to my disgust, both soles detached only one hour into the walk. The trail was dry and established.
I was a very regular weekend hiker and have trekked in the Nepalese Himalayas, even summiting Mera Peak. I used a much cheaper leather boot which lasted about 5 years, so I'm quite annoyed that my Asolo TPS 520 GV boot have fallen apart so easily.
Source: bought it new
Price Paid: $349

My review might be a bit skewed, as I did not purchase these boots new, but was lucky to find a pair at an REI scratch and dent sale in my size.
That being said, these boots were simply amazing. They lasted for a little over 2 years of what I would call severe duty hiking and farm work. The weak spot seems to be the sole, as I have a friend who has these same boots and his soles blew out as mine did. I am now looking into getting them resoled as the uppers are still in excellent shape.
I have owned several pairs of hiking boots, including many lighter ones, but my problem with the lighter ones is that they lose grip after a couple months of wear. This is very important to me as I do lots of bushwhacking and scree running. These boots maintained a comfort inspiring amount of grip even until the bitter end when the toes blew out on the soles.
I have always been a stickler for "you get what you pay for" so I was not surprised to learn how much these boots cost brand new, they are worth every penny. I will be buying another pair if my current ones cannot be resoled.
Use: Bushwhacking, Farm Work, Scree Slopes
Price Paid: $34

I'm compelled to write a review of these boots, 1) because I love them, and 2) because reading these reviews helped me in my purchasing decision and I want to give back to the community.
I can't praise these boots enough. I've worn them this year in as diverse of terrain and loads as possible. From Arches National Park in Utah with a daypack, to 14,000 feet up in Colorado's San Juan mountains with 50 pounds on my back, to the old stone of the White Mountains in New Hampshire. Through heat, cold, mud, and water these boots have kept my feet comfortable and dry. The ankle support is superb, the grip on rock (wet or dry) is phenomenal. Break-in period was minimal.
For the past two seasons I've had serious pain along the sides of my knees and shooting down into my calves while on long descents. I thought I would need surgery to get past this. But X-rays showed no deterioration of the bone. This year, with the Asolos, the problem disappeard. The $172 I paid (on sale) for them is a lot cheaper than surgery! They probably just lined up my anatomy better than the old boots.
For any hike where the footing may be uncertain, I can't recommend these boots enough.
Materials: Leather and Gore-Tex
Use: Backpacking, any long hike over rough ground.
Break-in Period: Minimal (wore them to work for a few weeks).
Weight: 3 lbs/pair?
Price Paid: $172

Sturdy, waterproof, and great ankle support. Highly recommend the boot when carrying a heavy load.
Pros
Sturdy
Waterproof
Durable
Quick and easy break-in
Cons
Not good on slick surfaces, logs, or rocks
Maybe a bit heavy
This is my second pair of Asolos and my daughter has the same pair. Out of the box comfort. Found zero break-in time required.
I typically carry a heavy pack, >40lbs, and also have weak ankles. This boot offers the sturdiness that I require and solid ankle support. I can understand that some may say that they're a bit heavy, but no issues for me.
I will tell you that they totally suck on wet surfaces such as rocks and logs, but that's the compromise that I decided to make for the benefits that I have mentioned. I waterproof mine and my daughter's every year and they keep our feet totally dry.  
Source: bought it new
Price Paid: $235

I've owned these boots for about a year now, and I've used them for everything from winter snowshoeing trips to summer ascents of Mt. Washington. They've proved to be durable, comfortable, and all around just good boots. They provide plenty of support, very good traction, and an excellent ability to repel water.
My only issue was with the lacing. Early on, I used all of the eyelets on the front of the boot. The last set of eyelets on the front/bottom of the boot (the D-ring shaped ones) pulled in the leather around my narrow foot, and created a spot where the leather kinked inwards and irritated my foot. I resolved this by propping the kink outwards with a small stick and soaking the boots in a tub of water (partially submerged only). This softened up the leather and formed it back into a comfy shape. Then I tied a square knot to isolate those last two eyelets.
Other than that, these are excellent boots, and that is the only negative I can find about them. Since this is really just a personal fit issue, I would recommend them to a friend.
Materials: Leather
Use: Generally rough terrain, light to moderatly heavy packs.
Break-in Period: A few weeks of on-and-off wearing.
Weight: Heavyish but reasonable for a boot this solid.
Price Paid: 250$

I have a fairly narrow foot, so finding the right boot was difficult, until I found Asolo. I knew I wanted a Gore-Tex liner and the 520 GTX was just what I was looking for. Fortunately for me, the color I was looking for (dark brown), wasn't going to be made again until spring. I guess Anthrasite is the other color used. Anyways, when I ordered the boot I received the new 1998 model. This new model is a little stiffer than its predecessor. As well, it offers quit a larger sole design with better traction. The sole is still made by Vibram. If you can wait, buy the new 1998 model.
Being very impressed with Asolo as a company, I threw away my Timberlands that I wore for casual use and replaced them with Asolo's Rainier boot. ($100) I've owned these boots for about a week now and their great.
Asolo makes an outstanding boot for whatever your needs may be. If you're looking for a new boot, try Asolo first. It will be the last company you ever buy from. Try Superfeet insoles as well. They make your Asolo boot all the more comfortable.
Materials: Leather w/Gore-Tex
Use: Rough trail with or without pack
Break-in Period: Roughly 2 weeks
Weight: 2.5 lbs
Price Paid: $185

Footwear is very personal I find. You can read about how this and that gets the Editor's Choice Award on Backpacker mag, but that's their feet, not yours. I (unhappily) went through a few boots before I found these Asolo, and I am so glad I did.
The fit is superb, it wraps my feet like second skin. The comfort level is off the chart. Support is incredible. For a week in the Sierra through rocky terrain with 50lb pack and grade 2-3 climbs, on 7 hour days... my feet just kept marching on in these boots with minimal fatigue and no discomfort what so ever.
The grip is excellent also, never slipped on rocks, even on a grade 3 climb (w/o a fully loaded pack), it stuck on the rock face, no problem. I would buy another pair any day. Haven't worn it in the summer, so not sure how breathable these boots are in the heat. Break-in time for me was surprisingly minimal... like almost none!
Remember though, boots are a personal thing, go try them on before you buy. These boots are available pretty much anywhere.

Materials: full grain, gore tex lined
Use: backpacking, on/off trail
Break-in Period: minimal
Weight: on the heavy side
Price Paid: who cares, it's great

I purchased these on the advice of an experienced retail outlet in the USA. I had particularly wanted something for WET mountain conditions, and these were highly recommended.
I have had them out on 5 trips now in my home area of western Norway, and am not at all satisfied.
These boots are hopeless on even slightly wet rock, even at mild gradients. Also they do not perform well on rock generally. I have lost all confidence in them and consider them a liability on anything other than areas of gravel or vegetation.
This is sad, as they are the most comfortable and waterproof boots I have yet owned.
My pair are being sent back to ASOLO via a local distributor hopefully for ASOLO to have a look at.
Since the comments in this list are so varied, ranging from "excellent" in clearly difficult terrain to the same experience I have with lack of grip in the wet, I can only suppose the is a quality control issue at ASOLO.
If you buy these, beware, and try them out on some wet rock quickly after purchase.
My boots just broke down this summer and I am holding off buying new ones until I can get this same make and brand again.
First off, I am a tree planter and so these boots were put through some of the worst abuse possible. The average life of planting boots is in my experience is less than a full season. I got two out of these boots.
They were always incredibly comfortable, took almost no time to break in at all. They suited my hiking during the rest of the season and I even began wearing them to work and school at any opportunity because they were simply that much more comfortable and provided so much excellent support for my feet.
After the two years of hard abuse, I ripped the toe very badly and the inside fabric around the heal area became worn and ripped.
I also had a friend with the same boots and he too noticed that the inside material began to tear around the heal area at about the year mark (also a tree planter).

Materials: leather
Use: treeplanting, rough trail w/heavy pack, short day hikes, wet trails, early winter day hikes, school
Break-in Period: it was love at first step
Price Paid: $230

These are good boots with a couple small issues for me.
Cons-
1. No toe cap. This makes them look a little nicer..at first.. but I did slice the first layer of toe leather open on some ice in the first two weeks I had them.
2. They are the most slippery boots on wet rocks and ice I have ever used.
Pros-
1. 100% water-proof. Even with the hole in the leather, I stood in water up to a centimeter of the top for 10 minutes and had no leaks. (they had been treated with nikwax)
2. Very short break in period. They were comfortable out of the box. Just took a bit for my heel to settle in.
3.Great heel cushioning. I have had trouble for a long time with my heels,but these keep me hiking.
4. I like the lacing. It is easy and stays tied.
I've had these for less than a year so I don't know how the longevity will be, but the craftsmanship looks solid so I'm expecting good things.
Materials: Full grain leather uppers. Gore-tex lining
Use: 10-20 mile hikes with 30lb pack in New England weather.
Break-in Period: less than a week
Weight: 2lbs/boot
Price Paid: 200 usd

Pros - very good waterproof uppers (assisted with some Nikwax(TM) treatments). Comfortable, no break-in required for my high arches. Large enough to fit my custom orthotic insoles.
Cons - the TPS soles started falling apart :( within a few months of normal use (no trail hiking yet). Especially bad separation of the Vibram(R) outsole on the inside heels of both boots :( Unacceptable lack of durability.
Compare this with the last pair of Asolos I purchased 16 years ago, with the solid, one-piece Vibram(R) sole - these lasted and lasted, finally the sole wore through from a summer of road walking, so that there were no more sole tread and the inner grid reinforcement pattern started showing through.
I wish these new boots had the solid Vibram(R) outsoles - durability is a better feature for me than any "shock protection" provided by three different types of sole material, inexpertly bonded together that fall apart quickly.
Price Paid: $180

Leather upper is fully waterproof. Soles have shock absorbing technology and are replaceable. Hiked for over 10 hours without stopping and these boots were comfortable throughout.
Pros
Sturdy
Shock absorbing soles
Lacing eyelets are very sturdy
Cons
Insoles are so-so, upgrade for better experience
I'm a big guy and I like to hike so I wanted a boot that would withstand a beating and stay comfy. These boots do not disappoint! The soles are super supportive and have three shock absorbing points per foot. The lacing system is also well done. I greased these boots a few times for extra waterproofing and man oh man, keep on trekkin! 
Original Review: June 25, 2011

I've used Asolo TPS 520 GV boots for years now.  I wore out one pair although they're still very useable for day hiking and so on.
The plus sides are that for most people they fit correctly right out of the box.  They're tough, waterproof, supportive, and warm.  I find them to work well on rocky trails and off-trail use, snowshoeing, and long, wet winter hikes here in the Pacific NW.  I've used these boots in the Cascades, Wyoming Rockies, Canadian Rockies, North Cascades, high Sierras, and several minor ranges in the American west.
The downside is the sole.  It doesn't have the best of grip on steep spring snow and when the soles wear out not just any boot repairer can replace the soles.
To solve the first problem I use Kahtoola Microspikes.  I've found a shop in Seattle and one in Colorado that can replace the soles.
Update: July 1, 2011

Pros:  Comfortable right out of the box. Good foot and ankle protection even when good-sized chunks of rock trap the foot.  Require very little care.  Last a long time.  Good lacing system.  Warm for snowshoeing and cold weather hiking.  Very waterproof.
Cons:  Expensive to have soles replaced.  Most shops can't do it. As the person from Scandinavia wrote above, they don't have great traction on wet rock. They also don't bite into spring snow really well like my first Asolos did (Yukons). I wear Kahtoola Microspikes for those conditions and that works really well.
One guy wrote that they're hot. I wouldn't recommend them for warm weather hiking, but I tend to avoid warm weather as much as possible. Good socks (SmartWool) are a must. 
Price Paid: Pro deal

Got these boots new in 2013 for hiking/hunting/tactical (SWAT) use. As of today they went in the trash, soles and side supports have completely come off.

Don't waste your hard/earned money on these crappy boots, even their website says they are prone to dry-rotting and overall degradation. Wish I had seen that years ago. Our tactical (SWAT) operators will no longer buy them and REI has been notified.
Source: bought it new
Price Paid: $250 + -

Hello folks!
Since I rely a lot on web reviews for choosing a product, I felt I have to give my 2 cents to the community.
These boots fitted my needs for my hiking and backpacking. Very sure-footed, good shock absorbtion. For some folks weight might be an issue, but I like them this way. Combined with CoolMax socks, they are even better in warm and mild weather.
The break-in period was not the shortest, for me, because I bought the same measure as for my street shoes (could not find the next measure at that moment).
Even on rocky terrain they get away with little scratches.
I treated them from new, and now at the beginning of each season with NikWax waterproofing and leather maintenance cream.
All in all, they get 5 stars on my scale!
happy trails
Materials: leather + gore-tex
Use: dayhikes, rough trails, multi-days trips, medium weight pack
Break-in Period: medium
Price Paid: EUR 170

A friend hiked half the AT in the Gore-Tex version and raved about them. I wore these on part of the AT in Maine and on the Annapurna Sanctuary trek in Nepal.
The boots have excellent tread, and a nice, high collar but the full length nylon shank is wimpy on rough and rocky trails -- especially with a heavy pack. It tends to twist when you hit rocks on the edge of your soul and the bottom isn't as hard as it could be -- to protect your soft foot from the hard rocks. The high collar, about 6", was irritating to my achilles despite a deep notch. The upper leather is pretty thin too and won't give a whole lot of ankle support over time.
This is a good boot for lighter day hikes.
Materials: leather
Use: rough trail w/medium pack
Break-in Period: about 6 miles - almost instantaneous
Weight: 2 lbs. 10 oz.
Price Paid: $150

Abhorrent quality. The shoe did not last more than a few months.
Cons
They stitching doesn't wear well and breaks easy.
They took me 20km to wear in.
Heavy
I am a researcher who does fieldwork in an alpine environment. I've had two pairs (one on warranty) and the stitching has frayed and broken three months into work both times.
Old colleagues recommended these shoes as they were unbreakable. Obviously in the 5 years since their purchase the quality has dropped immensely. $200 shoes from Kathmandu have lasted better than this $500 shoe. Take your business elsewhere. 
Background
High amounts of experience wearing this shoe.
Source: bought it new
Price Paid: $500

These are great boots! Among other duty, these boots just returned from two weeks in the Canadian Rockies where it even snowed on July 3 (50-60cm), along with plenty of rain. Many of the trails were still snow-covered and most were very wet and/or muddy -- my feet stayed bone-dry.
The traction is very good on all but the most slick surfaces. Support and comfort is great as well. They needed absolutely no break-in period -- I never got a single hot spot or blister.
The only gripe I have with this boot is that there is no toe guard -- they get very scuffed up around the toe area (maybe I just can't walk properly).
I highly recommend these boots for any hiking and/or moderate backpacking.
Materials: Leather
Use: Day hikes and/or moderate backpacking
Break-in Period: Absolutely none
Weight: < 3 lbs.
Price Paid: $150 (year old model)

I bought these boots last year for a volunteer postion at Mt. Rogers National Recreation Area. They performed great with no problems or blisters ever. I put 700 miles on them in three months. Then off to Gates of the Arctic NP in the Brooks Range. The total test. Boots one year old over 700 miles, they had to give out under the extreme demand of the arctic. So far with 300 miles of water, heat, snow, and bushwacking they are still kicking wanting more abuse. They have been soaking wet for the majority of the time as well. They will go for many more miles of life. The last boot I will ever own. Just do proper boot maintenance. They are tops in my book.
Materials: leather w/Gore-Tex liner
Use: On and off trail with packs over 65lbs
Break-in Period: one week
Price Paid: can't remember

I have narrow feet; I generally wear an A width. I tried a ton of boots on at REI and finally decided on these along with SuperFeet insoles. These boots are absolutly awesome, on and off the trail they can take a pounding and keep your feet protected perfectly. The craftsmanship that goes into these boots is superb.
I recently wore them in Yosemite on a hike to Half Dome, 18 miles round trip, not a single blister and dry as a bone. Asolo has a customer for life. I highly recommend you check these out. They are every bit worth the price I paid and more. Get yourself some NikWax for them and they break in, in no time at all.
Materials: Leather with Gore-Tex liner
Use: backpacking, long dayhikes, rough trail
Break-in Period: short
Price Paid: $210 USD

Some of the best boots on the market. Been using them for 9 years+. Everything else falls apart. Work on a ski hill cutting/trimming trails and other Rocky Mtn Ski area stuff (it's some rough stuff under all that snow). We wear out the sole before the leather. The company buys us a new pair every year (so no reason to get resoled). If you consider we are in them 40 hours a week all summer (June-Oct.) they last plenty long enough for someone hiking on the weekend on worn trails. Very waterproof but treat them when new to get it to last and retreat as needed to keep them going.
Also have used the 650. A little heavier but better ankle support.
The soles of both boots fell off three miles into a five-mile hike and the boots had seen very little use. No support from the manufacturer.
I've had two pair now and the soles have fallen off of each pair. Happened just the other day three miles into a five-mile hike. No support from the manufacturer.
Background
Many trail miles in these boots, including Mount Washington and Yosemite Half Dome.
Source: bought it new
Price Paid: $330

Soles delaminate after only 250 miles. Don't buy these boots!
Pros
Initial fit and comfort was excellent.
Cons
Soles came off with minimal wear.
I bought these boots four years ago and maintained them very well in a controlled environment. I've hiked in Cascade Mountains approximately 250 miles but during a hike in Grand Canyon in March 2019 both soles came off within 10 minutes time.  
If you purchase these boots at a premium price save money to buy several rolls of Duck Tape to finish your hike.  You'll need it.
Background
Previous Asolos boot from 15 years ago were great and long wearing. Newest boots are 100% junk.
Source: bought it new
Price Paid: $300

Comfort, good traction, but moderate durability.
Pros
Good traction on wet rocks
Comfort
Support
Boots last for 3 years but actually for 30 days of trekking — I used them once a year for advanced routes only. Boots perform well on wet rocks, that makes them outstanding from most of hiking boots on the market.
After 30 days Vibram rubber outsole disconnected from both boots.
Source: bought it new
Price Paid: $250

This boot is everything an outdoorsmen is looking for in a boot. When I put these heavy duty leather monsters on I feel like I can kick holes in trees... My pair have taken me to the PEAK of the Gudalupe Mountains and the Continental Divide. My Asolo GTX 520's still look brand new and my feet have been warm dry and happy all along. They only have one down side: THEY MAKE ME AGGRESSIVE. I feel like I am stronger and tougher. I love my GTX 520's so much that I even sleep with them.
Materials: all leather, Gore-Tex and Vibram
Use: super heavy trails, high peaks and deep snow
Break-in Period: 2 days
Weight: super light
Price Paid: $200, $150 REI

I really wish that I could give these boots a better review, because I loved these boots while they lasted. I have backpacked some serious, off trail, mountainous terrain with heavy loads and never had a complaint. My feet were always dry and comfortable, but after only ten months the soles have delaminated quickly.
Three days ago I noticed some delamination near the toe, nothing serious, and in three days the sole has come half way off. They are done and I am still searching for the best boot I can find.
Materials: leather-gortex liner
Use: daily, hunting, heavy backpacking
Break-in Period: brief
Weight: ?

I completely wore out two pairs of Asolo boots model #AFX 520 GV. I ordered and just received Asolo's more recent model TPS 520 from REI. The soles on the TPS 520 are considerably different than the soles on the older model. The new boots have a more aggressive arch support, and I am unable to wear them because of that. The boots fit my right foot ok, but my left foot fit is painful. Apparently the AFX 520's are no longer available. I will have to return the TPS 520's.
Use: Hiking
Price Paid: $169

I bought these boots for 3/4 season backpacking trips. They were fine right out of the box with no blisters or hot spots. They were very dry without any signs of water leakage. I took them to the top of Mt. Washington at -26F in December without being even slightly cold.
But I do have one main problem with the boots. For some reason, the sole design causes me to roll my ankles outward. Because of this, I have had to purchase a new pair of boots.
Materials: Gore-Tex
Use: Backpacking rough trails with snow
Break-in Period: Quick
Weight: 880 g
Price Paid: $168

Amazing boot! Has held up for nearly 3.5 years. I walk approximately 7 miles a day in them.
The only issue that I did have was in extremely cold Cleveland weather they were not as warm as some of the other reviewers had said they were. Other than that they were nearly indestructible until the sole blew out yesterday. They held up extremely well In almost 5 inches of water with absolutely no leaks.
Great shoe for what I paid but a little sketchy about paying full price. Aloha.
Materials: Leather gore
Use: Long hikes
Break-in Period: 1.5 weeks
Weight: ?
Price Paid: $185

The shock of my hiking life.
Pros
They look good and feel good.
Cons
They are unreliable. Bring bungee cord to to strap on your soles.
My soles snapped off—on both shoes—two miles into a 15-mile hike. The shoes were 5 or 6 years old, but little used. This was their first time carrying a guy humping a pack.
I was shocked. So were all of my hiking companions. After reading other reviews, I see this happens with Asolo.
Background
Huge bummer
Source: bought it new
Price Paid: about $250

I've had my Asolos for, oh, 10 years now. They are still trail worthy because of proper maintenance. A little saddle soap and some mink oil every few weeks, new vibram soles every year or three. Time for new laces now (the first change of laces to date!)
I'm in the market to buy another pair of boots cause I was mail bombed with the tax return bug, you can bet the next time you see me I'll be truckin' in another pair of Asolos.
Materials: Leather/Gore-tex
Use: you name it, day hikes, rough trails and heavy pack, or building a garage.
Break-in Period: As I recal they were stiff for 3 days to a week. not bad really
Weight: I dunno
Price Paid: $150 or so

My feet blister easily and I have a high, but these boots felt great right out of the box (I did add superfeet insoles). I did blister on my first trip out in them, but that was due more to the sock I was using. After switching to a polypropylene liner with wool sock, I haven't had any problems. My feet have stayed dry (great Gore-Tex! Don't ever buy a boot without it) and comfy, and the footing has been sure. Great boots.
Materials: Full grain leather
Use: Rocky trail, 35 pounds
Break-in Period: short
Weight: ???
Price Paid: $189

WOW! Through the bogs of the outer Hebrides to the lower altitudes of the Jim Bridger range these boots take it all. Although still a little funky on wet snow (better than previous Asolo soles) this boot chews up the worst of terrain and keeps you BONE dry. Bootie bunched once or twice on severe downhill slopes but that was the only trouble so far. Put my Vasques away in reserve. I will never buy a different boot. I may never need one!
Materials: leather/GTX
Use: med/heavy w/heavy pack
Break-in Period: ouddabox
Weight: 2.75+
Price Paid: $179

I bought these and after a week break-in I went for a short 5 mile hike with a full pack to see how they were. GREAT idea after five miles my feet ached and I could barly walk the next day.
I ditched the insoles and bought Superfeet Green, no complaints since the except in freezing weather the boot freezes and becomes hard as a rock, but I fixed that by bringing a shopping bag and sleeping with them in my sleeping bag.
Materials: leather Gore-tex
Use: rough trail heavy pack
Break-in Period: 1 week
Weight: 3 pounds
Price Paid: $210

Best boot I ever had. Mine are four years old and I have never treated them with any waterproofing. They do not leak, are comfortable and tough. Just a great boot. No break-in period. $210 is a steal for these boots. Get one size bigger than your normal shoes. All Asolo boots work that way for me, anyway. Iweigh 270 lbs and am a surveyor and put a lot of miles on these babies. The bottom is about worn off smooth, but still comfortable.
Materials: Leather, Gore-Tex
Use: Work and play
Break-in Period: None
Weight: 3 or 4 LBS.
Price Paid: $210

Best out of box fit ever! Backpacking with heavy loads in the Rockies is no problem. I have a serious mid foot problem and these boots allowed me to continue hiking. I inserted my custom orthothics and no looking back. I had my foot measured and the boot custom fitted by Frank Abissi at Higher Ground in Grand Rapids Michigan using the Phil Oren Fitsystem. I suggest you have a professional fit you. Your feet will thank you mile after mile.
Materials: leather and gore-tex
Use: long slogs with a heavy back and dayhikes
Break-in Period: NONE
Weight: fairly heavy
Price Paid: $200 US

-Beautifully crafted Italian boot with Gore-Tex bootie
-Easy break in and good support, very comfortable
-Extremely waterproof and durable
-Good for 2 to 7 day backpacking trips
-Needs better footbeds though such as Spenco etc.
I have C width feet and am stuck between regular and narrow sized boots.
These Asolo 520 GTX's fit my feet very well with a new, thicker footbed and I would recommend them to everyone! I've worn them in snow, mud, heat and rain without any problems!
Materials: Leather
Use: Heavyduty/rough trail
Break-in Period: 2 weeks??
Weight: ~3.0 lbs
Price Paid: $185

I have really loved these boots. I have had them almost two years now, and have only just now seen a bit of a tare on the rubber on the left sole, but nothing some glue wont fix. This company has been good to me since I was 16, and I will never buy from another boot company.
If you decide to use these in the wet, get some gaiters so that they will be completely waterproof.
Materials: Goretex
Use: Heavy pack boots
Break-in Period: short
Weight: 155
Price Paid: $220

I love these boots. I have owned over 5 pairs since I owned my first ones over 7 years ago! They can hold up to anything. Camped out in -5 degree weather on the AT two weeks ago and everyone complained about cold feet...not me.
The only downside is that they are heavy and not too grippy on wet rocks, but since for it's the only thing I wear when I hike...it doesn't bother me anymore.
Materials: Leather, Gore-tex, Vibram sole
Use: section hiking AT with heavy pack
Break-in Period: 1 week
Weight: don't know
Price Paid: $240

Love these boots! Use them for everything and they feel like tennis shoes to me. I've got about 60 miles on my first pair and I am very pleased.
I have wide feet and didn't get the wide model so it took a few days to get the leather stretched out enough to be ultra comfortable. However, once the leather softened up, they were very nice.
I would recommend these boots to anyone.
Price Paid: $205

I must say that these boots are awesome. I've had my pair for about 3 years now.
No issues except one: There is no toe cap. Why would you ever want a boot without a toe cap? I ended up solving my problem by making my own cap.
Other than that no complaints. You can read the other reviews to get an idea of their warmth and performance.

Materials: leather, gore-tex
Use: multiple week expeditions, day hikes, heavy load backpacking trips, all year usage
Break-in Period: 30 miles
Price Paid: $205

I used the Asolos in the Spanish Pyrennes and they performed wonderfully. The toe area on the outside of the boots are somewhat scuffed up but I guess that's to be expected. I've really enjoyed my Asolo 520 GTX's however. They're the most comfortable boot I've worn. I sometimes just wear them around town also and have had no problems with them. I highly recommend these boots. Thanks.
Materials: Leather Gore-Tex
Use: Moderate trail
Break-in Period: 2 weeks
Weight: 2-3 lbs.
Price Paid: $180 approx

These boots are superb! I bought my first pair in '95 and hiked about 800 miles on the AT. My partner wore a pair of Sundowners and complained of soggy feet and blisters often. I stayed dry and had NO blisters. After putting over a thousand miles on that pair, just caught a sale and bought my second pair for $130! Can't wait for spring!
Materials: Gore-Tex
Use: Extended heavy packing
Break-in Period: none
Weight: 2lbs. ??
Price Paid: $185

Great boot, only one drawback, the aluminum Gore-tex logo on the side. In the old 520s they used a brass/bronze?? logo and it was mounted at the ends, now mounted in the center so they break off leaving a sharp edge. Talked with the U.S. Asolo reps and hopefully they'll come up with a better plan in the next 520 rev.
Materials: Leather/Gore-Tex
Use: Rough trail dayhikes
Break-in Period: Short for fit but they stay stiff a long time
Price Paid: $209

Terrific boot. I'm 59 years old, feet aren't what they used to be, and these boots were flawless. Used them for three hikes in one month, latest was Mt Kilimanjaro in Africa!
Boots helped me all the way to Uhuro Point which is 19,340 ft. asl. No blisters, no moisture, none of the -15f cold either.
Best boots I've ever worn. Recommend.
Materials: leather, gortex, tlc
Break-in Period: 2 short hikes, but none really required
Weight: approx 3 lbs a little on the heavy side but worth the sacrafice
Price Paid: $135, lightly used ebay

I fully agree with JFR's assessment of these boots. They're great. However, unless JFR has ususually small feet, the weight he quotes is highly optimistic. Mine are US 11 1/2 (EUR 46), and weigh 4 lbs, 3 oz (1.905 kg) as measured on a scale accurate +/- 1 gram. For those of us concerned with weight - who isn't? - this may be a consideration.
Materials: leather/Gore-tex
Use: all manner of hiking, trails, training
Break-in Period: minimal
Weight: 4 lbs, 3 oz (1.905 kg)
Price Paid: $180

I use these boots for everyday use on the job and for hiking somewhat. They broke in easily and conform to your foot which makes them very comfortable. Best boots I ever owned and that's lots. They are four years old now and need a resoling, but uppers are in good condition. Highly recommend!
Materials: leather
Use: every day
Break-in Period: short
Weight: 3 lbs
Price Paid: $200

Absolutely the best boots I've ever owned. I'm close to buying my third pair in a row which I can't say for any other boots. They are a great, comfortable, sure-footed, no blister, I can dish it out and take it, pair of boots. I use my old ones for caving trips.
Price Paid: $210

Great boot for heavy loads. The support and fit are excellent. A bit stiff at first but break in time is very short. Most durable boots I have ever had. The downfalls are they are too heavy for use without a pack and traction suffers in wet; rocks or snow.
Price Paid: $200

They fitted my wide-toes narrow heel foot well, and supported my ankles well. Break-in period is relatively short. Unfortunately, the boots are not breathable enough and my feet felt very hot in them at 50F hiking. I don't know if this is because of the gore-tex liner or smth else.
Price Paid: $180

I had my first pair of ASOLO since 1998 - purchased for a trek through the Andes. They are a great fitting bomb proof hiker. I just retired them and replaced with the TPS 520 GV. - Only slight drawback is grip on slippery wet hard rock conditions or river forgings.
Materials: leather
Use: rough stuff under heavy loads
Price Paid: $179

Great boots. Very comfortable, needed no break-in period. Very waterproof -- I crossed streams and even stepped in the Chesapeake Bay without even a drop seeping thru.
Great support -- my feet felt fine even after a 4-mile uphill hike with a pack! No blisters, either.
Materials: Leather with Gore-Tex liner
Use: on/off trail with and without pack (weighing about 40 lbs)
Break-in Period: none
Weight: ??? about 2.5 lbs?
Price Paid: $130

Got these boots for $25 at at REI garage sale. Probably the deal of a lifetime.  I'm cheap, and even I would pay at least $150 for these.  
Amazing fit, amazing durability. I doubt I will have to buy another hiking boot for another decade.
Price Paid: $25

Worst pair of boots I've ever owned. Caused bruising and abrasions on the front of my ankles and I had to dump them out after moderate rain.Finally returned them. Very surprised and disappointed due to the reputatiuon of Asoslo boots.
Materials: Leather with Gore-Tex liner
Use: rough trail w/heavy pack
Break-in Period: Did not break in
Weight: don't know
Price Paid: $199

I've trashed a pair of Vasque leather boots in the Adirondacks in one season. So far these boots support and wear better than the Vasques. They are absolutely waterproof which is a real plus when you hike in Adirondack mud.
Materials: Leather w/ Gore-Tex
Use: Moderate backpack
Break-in Period: 2 day hikes
Weight: 2.5 lbs
Price Paid: $185

Absolutely the best feeling boots you will ever put on your feet. Your feet stay perfectly dry in any weather. I have worn mine all winter and they are still good for another season, at least.
Very durable, I've recently returned from a two-week backpacking trip in the Northern Cascades. I summited three peaks with these boots so far and they preformed suberbly.
I would recommend these boots to anyone.
Materials: Gore-Tex
Use: 2-week backpacking trip and future use.
Break-in Period: 4 or 5 hikes
Weight: 3 lbs. 12 oz.
Price Paid: $215

Best pair of boots I've owned!!!! They usually last me over two years for heavy use and backpacking for long trips (week long)!! I'm purchasing my third pair this XMas ('05). Excellent BOOT!!
Materials: Gore-Tex
Use: Rough Trails, heavy packs, Long Periods of time
Break-in Period: week or less
Price Paid: 215

Awesome comfort in rocky terrian and very warm in the winter. It stayed cool in mild weaher, too. The sole holds up nicely. The materials are superb. Worth every penny.
Materials: leather, Gore-tex
Use: hiking, climbing, and moderate weight pack
Break-in Period: none
Weight: 225
Price Paid: $200-ish

I have had these boots for seven years and they have yet to fail me. Great fit from the day I bought them. Nothing bad to say!!
Price Paid: $250

These are the most durable and comfortable backpacking and hiking boots I've ever bought. They are also very nice looking... I even wear them about-town with jeans.
Materials: leather
Use: 5-6 day backpacking, hiking, causal wear
Break-in Period: none to one hiking day at the most
Weight: they are a bit weighty
Price Paid: $150

Found some barely used on Ebay. Couldn't be happier. Great boot. Not one blister yet.
Materials: leather
Use: dayhikes and overnighters
Break-in Period: o
Price Paid: $125

I hiked Isle Royal in these. Simply perfect. The best hiking boot there is.
Materials: leather
Use: trail with/without pack
Break-in Period: none
Weight: 2.5lbs
Price Paid: $185

The support and absorption that these boots offer are superb. I love them.
Materials: Leather, Gore-Tex, Vibram
Use: Short dayhikes, everyday use
Break-in Period: About one week
Weight: 781 grams
Price Paid: $209

Your Review
Where to Buy
Help support this site by making your next gear purchase through one of the links above. Click a link, buy what you need, and the seller will contribute a portion of the purchase price to support Trailspace's independent gear reviews.
You May Like
Specs
Men's
Price
MSRP: $275.00
Current Retail: $360.00
Historic Range: $57.98-$360.00
Reviewers Paid: $25.00-$500.00

Women's
Price
MSRP: $275.00
Current Retail: $360.00
Historic Range: $74.83-$360.00
Reviewers Paid: $75.00-$298.00

Recently on Trailspace