Black Diamond
Storm
6

reviews

5-star:

2

4-star:

4

3-star:

0

2-star:

0

1-star:

0
A waterproof, lightweight headlamp that you can easily…
Rating:


Source: bought it new
Price Paid: $50

Summary
A waterproof, lightweight headlamp that you can easily bring with you on any adventure.
Pros
Waterproof
Multiple lighting options, including night vision
Power meter
Lightweight
Cons
Uses 4 AAA batteries
Short battery life when used on max power
I presently live in a cabin off the grid with no consistent source of electric, so this headlamp gets a lot of use indoors and out! I've enjoyed the sleek, lightweight design, as I'm able to carry it with me wherever I go. I also appreciate the variety of lighting options: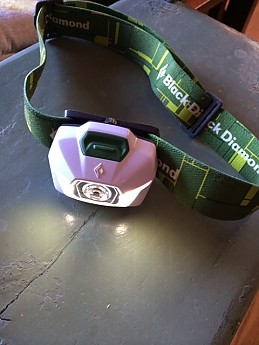 Proximity lighting from 2 SinglePower LEDs
Distance lighting from 1 TriplePower LED
Night vision from 2 SinglePower red LEDs

I love being able to switch between lighting depending upon my activity. There is a dimming option as well, which improves battery life. The one downfall I have found is that the Storm uses 4 AAA batteries. As I use this headlamp quite often, I tend to go through batteries pretty quickly unless I'm careful to use the dimmer when I can. However, the power meter is a nice feature. It lets you know what your remaining battery life is so that you can plan ahead and avoid being suddenly stuck in the dark. 
I bought the Storm this winter, and therefore haven't had the opportunity to use it in the water. However, I'm really looking forward to taking advantage of the waterproof feature for kayaking and paddle boarding this summer. Moonlit paddles without the risk of not being seen by boaters will be all the more relaxing!
With 100 lumen output, the Storm generally provides sufficient lighting. There are certainly brighter options out there, but they are likely to be larger and more expensive. For some reason, the strap has a tendency to stretch out when I wear it for long periods of time. This may be operator error. However, if you plan to use it on longer excursions, you may want to test it out to be sure the strap is fitting securely. 
Overall, this is a headlamp that has worked well for multiple uses ranging from lighting the pages of a book to illuminating a hiking trail at night. 
Good spot distance, variable output, solid retail…
Rating:


Source: bought it new
Price Paid: $50

Summary
Good spot distance, variable output, solid retail pricing.
Pros
Variable output
Able to be locked from turning on
Comfortable headband
Cons
Flood is too dim
Uses 4 AAAs
I cannot complain about this headlamp. It's comfortable, offers the selection of its entire range of brightness in both spot and proximity modes, and has good coloration.
The ability to lock the headlamp from turning on — accomplished by holding the power button for several seconds — is a great plus. I believe in bringing extra batteries, but one should never go into their backup based on accident or stupidity.
The only drawbacks I've found are it being 4 AAAs, which is nitpicking, and having slightly too soft proximity lighting. That being said, the proximity lighting is usable for chores and cooking.
Good all-around, all-weather choice. Have used this…
Rating:


Source: bought it new
Price Paid: $40

Summary
Good all-around, all-weather choice.
Pros
Brightness
Good in all weather conditions
Cons
A bit pricey
Weight is not the "lightest" out there
Have used this headlamp for several years with no problems. Held up well to abuse. Put out good light, good range of options/modes including a fairly bright red output. Nicely sealed against wet weather. 
This is a great all-weather headlamp with variable…
Rating:


Source: bought it new
Price Paid: $50

Summary
This is a great all-weather headlamp with variable output, dual beam shape, and red-light function. Good for hiking and up-close work in camp or around the house. Also, good for a cycling light.
Pros
Variable output
Flash setting
Red light
IPX-7 rating
Spread or focused beam
Cons
Requires 4 batteries
No BD brand compatible rechargeable battery
I've used this lamp a few times and I love it! I started with the Black Diamond Spot (a solid lamp itself), but for $10 more, the Storm offers an IPX-7 (vs. IPX-4) rating and 100 lumens of output (vs. 90).
The Storm performs very well in all conditions. Even in 20 degrees and winter rain, the lamp stood up and stayed on (on my head and turned on). The precise variable output is a must for me now. The ability to go from long-distance spotting on night hikes to reading in the tent at night with the push-and-hold of a button is awesome, and something I won't be able to live without. The one-button design is easy to use and switching between modes only takes a push or hold of the button.
The lock-out feature (hold the button for 6 seconds) is also invaluable: I'll never have to open my stuff sack to find an illuminated and half-drained headlamp again! I've had the same set of AAA batteries in the lamp since purchasing it in fall 2011 with intermittent use since, and the output is still great.
The casing is plastic and seems pretty hefty, but I haven't been too rough on it yet, so no comment on the durability quite yet. The gasket-sealed battery casing is held shut with a small hand-tighten or flat-head screw and feels very secure. The screw receiver is plastic, so I am worried about the threading eventually stripping. The headband is elastic and comfortable so far and stays tight over hats, beanies, or directly on the head.
I have used the lamp for cycling to/from work at night in Dallas, and it performed wonderfully. I was able to rig it to the front of my bike using the strap and it was great!
Overall, it's a great headlamp that I would recommend to anyone looking for a good value, mid-high output lamp for all-weather use.
I purchased the lamp from Whole Earth Provision Co., where I work. This review is in no way affiliated with Whole Earth Provision Co. and my opinion of the product does not reflect that of Whole Earth Provision Co.
Great headlamp for all things. I bought this after…
Rating:


Source: bought it new
Price Paid: 34.99 USD

Summary
Great headlamp for all things.
Pros
Adjustable beam
Bright
Sturdy
Durable
I bought this after many reviews of other headlamps and all I can say is this thing is a great piece of gear to have for any backpacker, hiker, camper, etc. I have used it on numerous backpacking trips and I must say that the red lights for night vision are great, didn't wake anyone at all....The main beam is so bright but you can turn it down so you don't kill the batteries since it does take four (comes with 4 though).
When I'm not using it for backpacking I just use it to read a book in my bed at night which the two led's turned down are perfect for. I think its a great product for [$] more from the Spot plus it's water resistant. What more could you ask for!
Best headlamp i've ever had.. super bright!! This…
Rating:


Source: bought via a "pro deal"
Price Paid: $35

Summary
Best headlamp i've ever had.. super bright!!
Pros
Bright
Nice colors
Red light
Waterproof
This Black Diamond headlamp is really bright.. with 100 lumens you get what you buy.
Has a strobe mode, red light and a powerful distance illumination.
Where to Buy
sponsored links
Help support Trailspace by making your next purchase through one of the links above.
Black Diamond Storm
currently retails for:
$36.46 - $49.95
MSRP: $49.95

where to buy:
Specs
Weight
110 g / 3.9 oz (with batteries)

Lumens
160

LED Type
1 QuadPower, 2 SinglePower

Max Distances
[QuadPower LED] 70 m (230 ft)

[SinglePower LED] 7 m (23 ft)

Max Burn Time
[QuadPower LED] 200 H

[SinglePower LED] 125 H

IPX Rating
7

Batteries
4 AAA