Petzl Zipka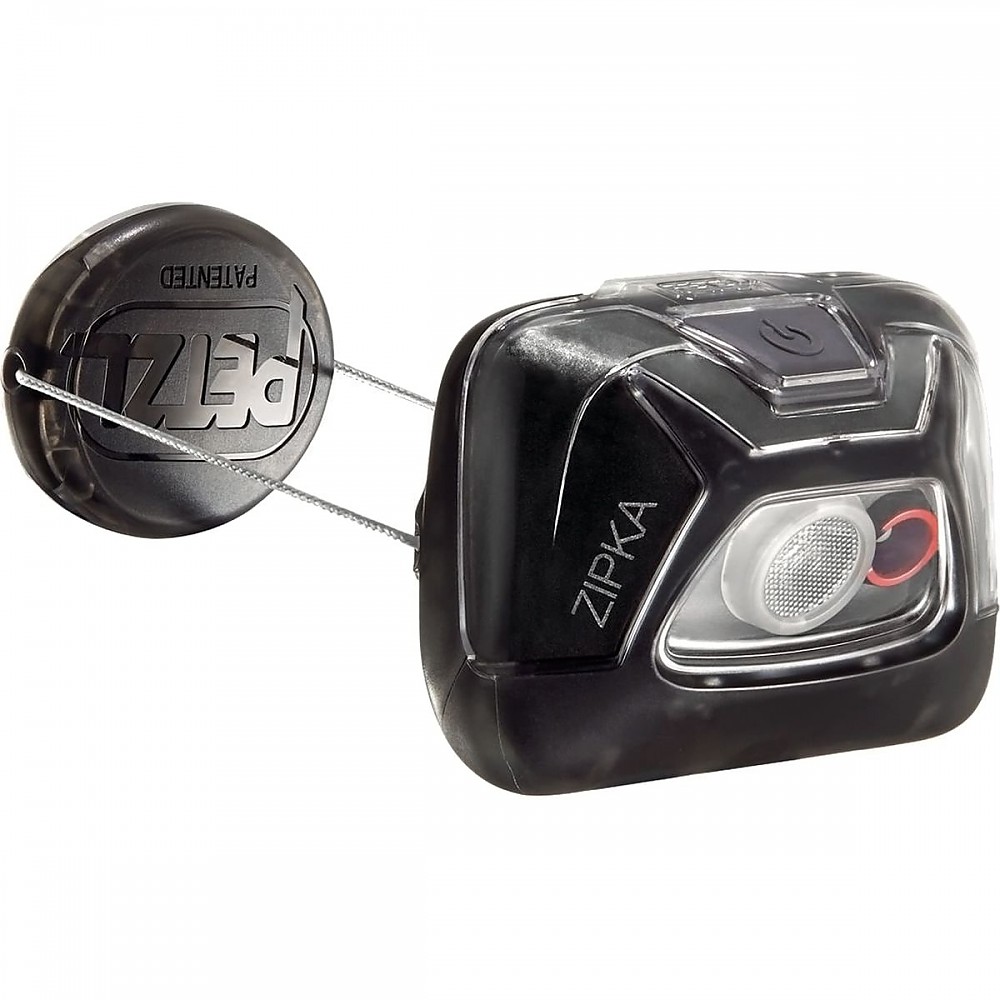 Version reviewed: 2
The Zipka 2 is a great little, and I do mean little, headlamp that will serve hikers who are not prone to find themselves walking long after dusk. And for almost two years my little Zipka has traveled with me every time I've been out.

The Zipka is well suited for around camp chores, late night latrine trips and reading a book in the hammock. When I replace this one it will be with the latest model, I simply love it.
Pros
Size 2.25" x 1.75" x 1.75"
Light weight 2.2 oz
Multiple functions/output
Great battery life
Cons
Not a flame thrower
No red LEDs
I've carried the Zipka every time out for a year and it's never let me down. It's compact and lives in the left hip pocket of my pack with the camera and a few snacks. Its 40 lumen output is ample for light or minimal walks at night and would get you down the trail if needed, but this is not a light ideally suited for those who churn out the miles after dark.
It's three output levels aid in walking thru campsites with others for minimal disturbance and it has a flash mode. The light can be turned off with a single push of the switch after a 10 second pause between button pushes which I find very convenient.
I don't put in miles after dark so this light suits my hiking style to a tee, and I love it for reading in the hammock. I wear hats and this reveals one of the Zipka's three weaknesses, but if you wear ball caps all you need to do is reverse the hat and you're golden the difficulty is the lamps angle is fixed. Still I find that negligible, but it should be noted as some could see that as a deal breaker.
The second "weakness" could be the lamp's output which is a scant 40 lumens, but again it suits me fine but secretly when I have to replace it I will enjoy the additional brightness. And at this time I do plan to purchase whatever new version is available when this one bites it or I change my hiking style.
The third weakness is the lack of red LED's which Petzl offered a solution in a pack of replacement lenses in red, green, and clear. Wish I'd picked up one of those, but it would be another piece to loose so I'll get over it.
The Zipka 2 is well designed and is in a sturdy enclosure that really functions exceptionally well. The retractable mechanism has never failed and performed flawlessly. The battery cover does however require attention when reinstalling, but with the great battery life you wont need to do that very often unless you remove your batteries between uses.
I did not include pics of it in use or beam patterns since pictures of lights in the dark since this is not the current model and a quick look at the Petzl or your favorite outfitter's site should get you all the information needed to review how it could fit your hiking style.
Overall I think the Zipka 2 find a great balance point of features for the money. The compact size is what got my attention. The total package is what keeps it in my pack.
Source: bought it new
Price Paid: ~$25

I've had one for about two years. The picture doesn't show how it works. To attach it to your head, pull on the small plastic pad at the back. This extends the two very fine cords from each side of the back of the lamp to form a loop which can be slipped over your head so that the lamp is located on your forehead. When it's time to put it away, just take it off, and the cords wind themselves back into the body of the lamp.
At first, this design looks like a manufacturer's own-goal. Surely the lamp will be too tight, or too loose so that it falls off, and that fine cord must break or fray.
No so. This is so lightweight (60 grams including the 3 AAA batteries) that I can forget I am wearing it. I have used it several times a week for two years, and that fine cord has never broken, or even frayed. The cord tension is tight enough to hold the lamp in place even if I deliberately try to flick if off my head (I've just tried unsuccessfully to do that) but not so tight as to be uncomfortable. I do get a 'line' left by the cord along both sides of my forehead if I wear it for more than a few minutes. So, if you are interested in looking cool after taking it off, don't buy one. It can, of course be worn on your arm, or leg, as required. I wear glasses, and the light can illuminate the inside of the frames, which can get irritating over long periods.
It has three LEDs. They produce a 'pool' of light rather than a 'beam'. The level of illumination falls off rapidly so this is not for looking at anything more than four metres away. It does an excellent job of providing enough 'local' light for reading, cooking, avoiding obstacles in the dark etc. The battery consumption is almost unbelievable. The level of illumination falls off slowly over the life of the batteries, but this is well in excess of 50 hours, even using rechargeables. For the first 15 hours, there is easily enough light to read comfortably, even for someone like myself with rather poor eyesight. I found it quite fiddly to fit the batteries, but once installed, everything clicks together very soundly. If you are a 'lighter is better' freak, this is for you.
In summary, this is a tiny, robust, reliable, lightweight, durable device that earns its place in your kit. I recommend it unreservedly. The only negatives are that the batteries can be fiddly to fit, it shines on your glasses, it leaves a line on your forehead, and it's expensive. As usual, you get what you pay for.
Price Paid: About £25 uk

A great little bit of kit. I used to use a Petzl Zoom which is a bit like carrying a floodlight attached to a brick. I will still use the Zoom if I need flood light quality lighting, however for most of the time you just need enough light to see where you are going and read a map and here the Zipka scores big time.
The Zipka weighs next to nothing and is tiny so you can happily carry it with you all day and not worry about space or weight. It is very easy to use and has incredible battery consumption. On its highest power mode you get about 50 hours and on a lower power mode you get nearly three times that much !!! The light is easily bright enough to use for most tasks, reading included, but since it is from LEDs not bulbs then you don't get as much distance illuminated. The plus is that the LEDs don't break like bulbs do, so no need to carry spares.
This is an extremely lightweight headlamp that easily adapts to fit your head, hat or helmet (kinda). This model replaces the headband model Tikka (which is actually very comfortable albeit a little hot) for a light weight cord which is lighter but a little less stable in extreme activities. No doubt this is an upgrade to a classic but unfortunately you have great (one of the best) short range illumination but Petzl has yet to add medium range illumination (mri) to its LED headlamp line.
Uses: general, camping, hiking.
Pros: Long battery life, light weight, outstanding short range illumination (sri), comfortable design, good placement of switch, fair cost, reliable.
Cons: lacks both medium (mri) and long range illumination (lri), lacks button battery back up, thin cord that could end up around neck not always the best idea, changing batteries gives every first user the impression that they just broke it.
Small, bright, light weight, good battery life even without using battery saver mode. Had mine for over 5 years with no problems. String retraction still strong, with no signs of fraying.
Tried bigger lights with straps, buckles, elastic bands, etc. but I'm a red-head and like to keep it simple. I go as light (no pun intended) as possible without being fanatical. Used in deserts of CA, Yosemite, Yellowstone, and Glacier, and several back country treks throughout CA and Montana.
If you have ever dropped your flashlight during a late night bathroom run you'll really appreciate this light. Also great for inside-the-tent duties as well. Gave one to my brother-in-law and he loves his as well.
A good little light. The only flaws I feel could be improved is to make it waterproof and that the lines used to hold it will cut into your skin over time if you're not wearing something under them.
Your Review
Where to Buy
Help support this site by making your next gear purchase through one of the links above. Click a link, buy what you need, and the seller will contribute a portion of the purchase price to support Trailspace's independent gear reviews.
You May Like
Specs
Price
Historic Range: $11.83-$44.00
Reviewers Paid: $25.00

Weight
68 g

Beam Pattern
wide

Energy
3 AAA/LR03 batteries

Battery Compatibility
rechargeable Ni-MH

Certification
CE

Watertightness
IP X4, weather resistant

Recently on Trailspace