Petzl Bindi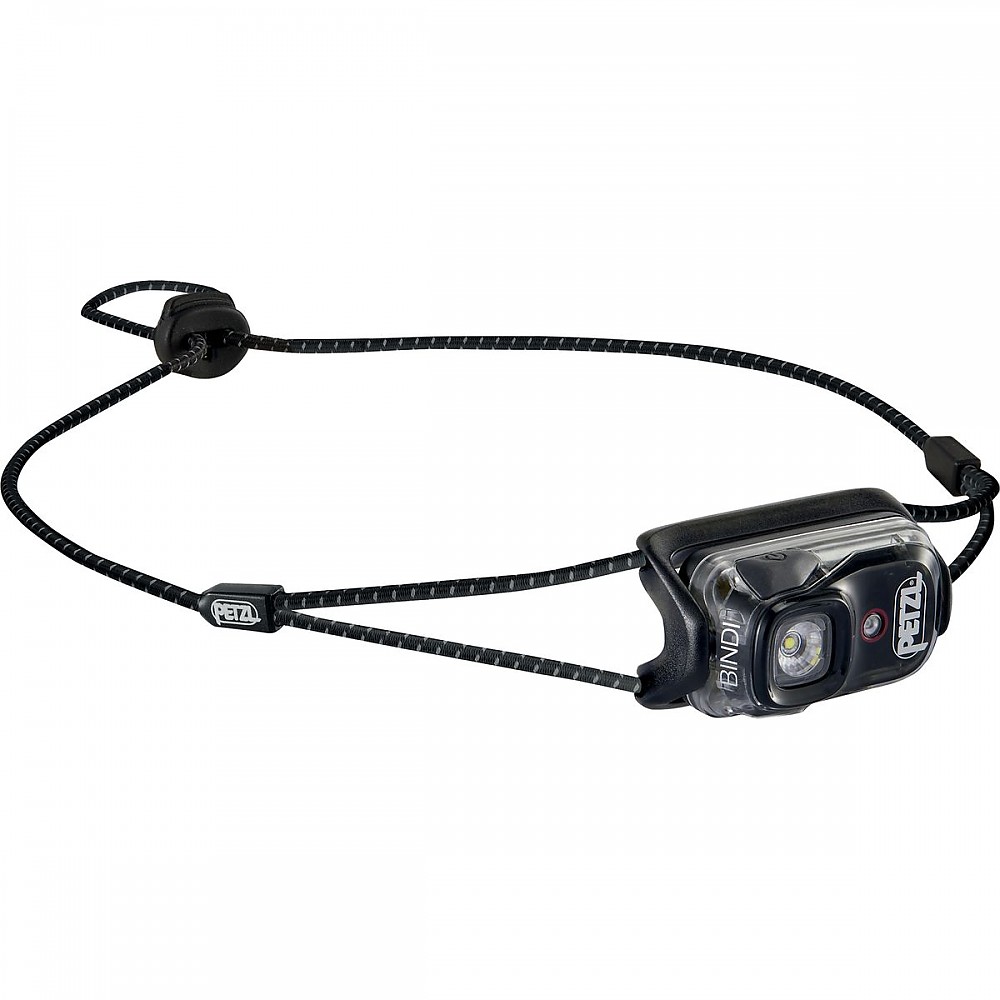 A small, rechargeable headlamp that takes up minimal space.
Pros
Rechargeable
Battery power indicator
Two lock mechanisms
Multiple light beam modes (three white beams, red solid and red blink)
One-hand adjustments
360-degree rotating head
Minimal weight (35g/1.23oz)
Minimal bulk
Cons
Pressure from band
Short charging cable
Long charging time (4 hours)
Modes and Run Times:
Three white beams: 5 lumens (50 hours run time), 100 lumens (3 hours run time), and 200 lumens (2 hours run time)
Two red beam options: solid and blink
For a small, compact headlamp, these modes are pretty good, with my only complaint being the noticeable difference between 100 lumens and 200 lumens of the white beam is very minor. I'd personally prefer to see the 100 lumen option nixed for something more akin to 50 lumens. 
The run times have been tested and I have every reason to believe they are accurate, and maybe even generous. For example, when I tested the 100-lumen option from a full charge, it lasted longer than the manufacturer's three-hour claim. The 200-lumen option was about right and the 5-lumen option was difficult for me to accurately test from a timing standpoint. 
Range: 
Petzl's claim for light ranges are 5 lumens (6 meters or 6.6 yards), 100 lumens (23 meters or 25.2 yards), and 200 lumens (36 meters or 39.4 yards).
Below is a test I ran using approximate distances.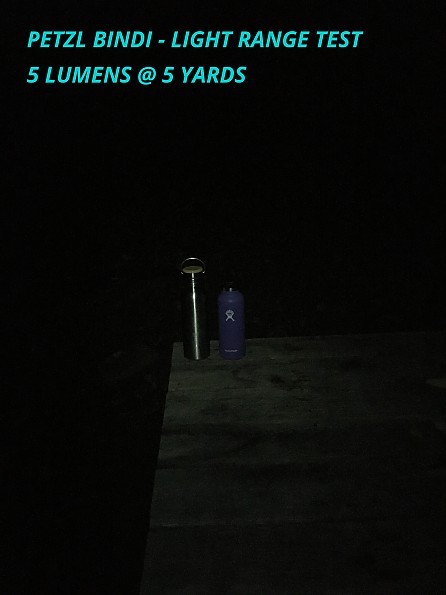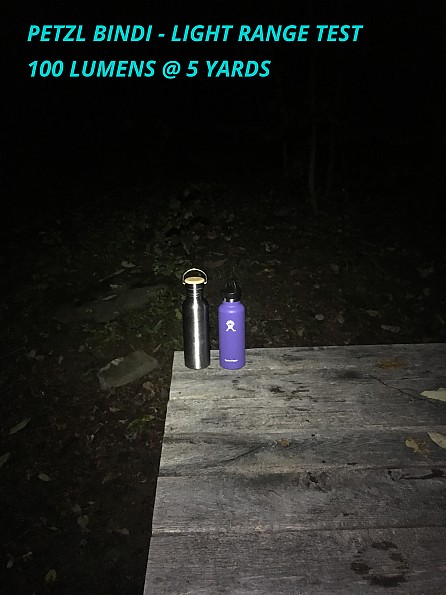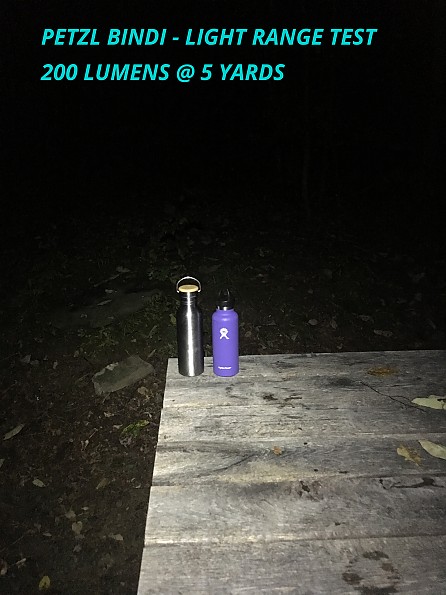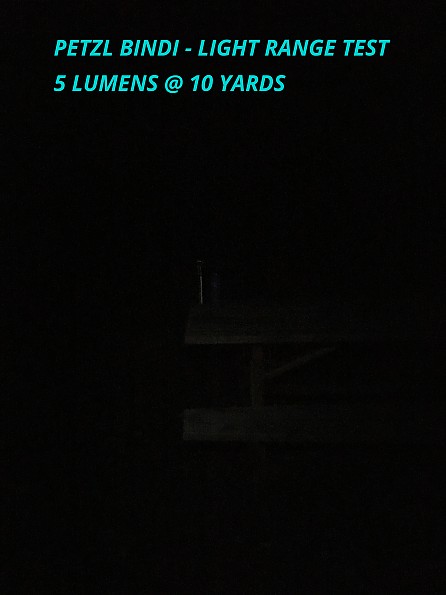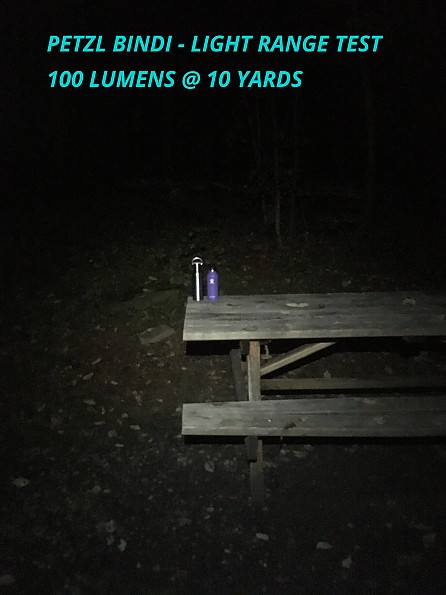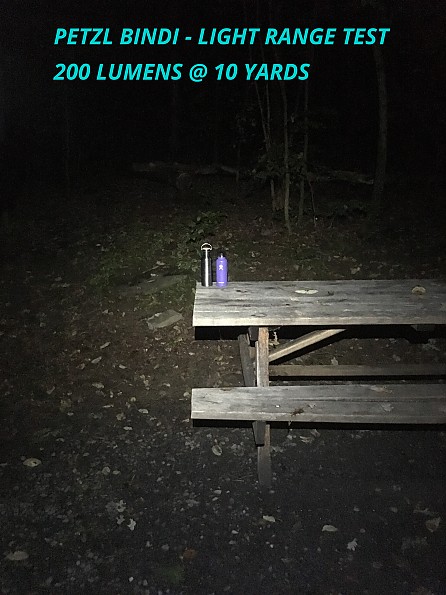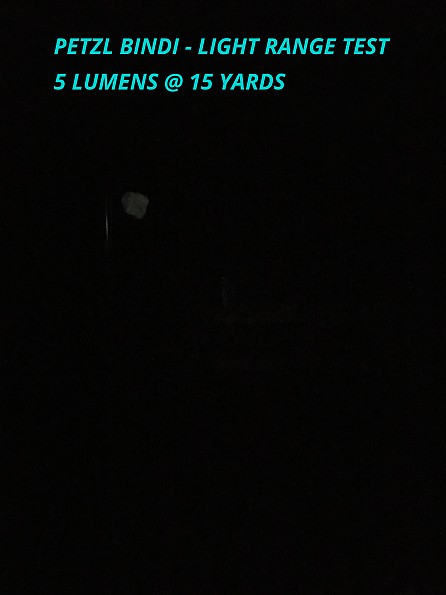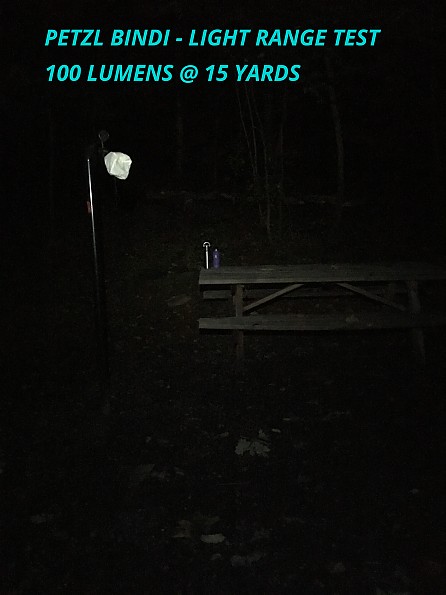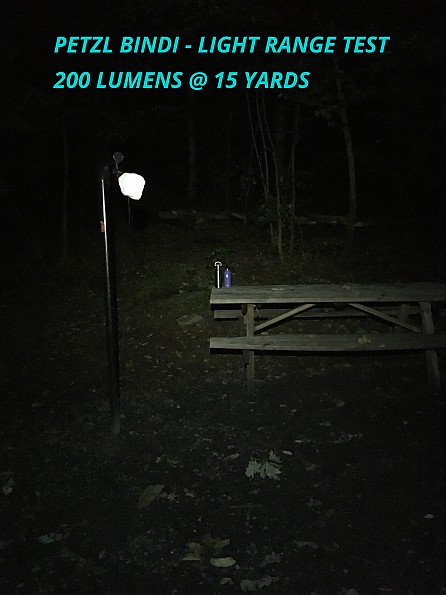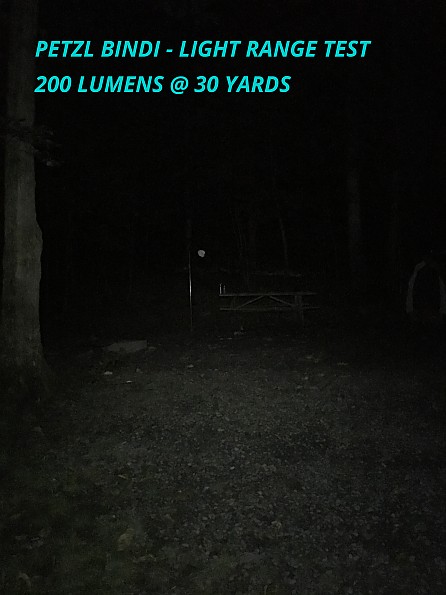 Beam:
As a lightweight headlamp that is geared toward active users (e.g. runners, hikers, climbers, etc.) it is no wonder the beam is fairly wide and not pinpointed. The wide beam, for general active uses, works well. The only complaint I've heard is from my wife while I was using the white beam to read in the tent and she was trying to sleep, "Can't you turn that thing off?" Good thing for red mode...haha.
Power Source:
The manufacturer claims a four-hour charge time from empty to full, which is pretty difficult to test given that I can't independently test the capacity of the lithium ion battery. Taking Petzl on their word, four hours for a full charge seems awfully long, particularly if you're trying to charge mid-trip of a multi-day adventure off a portable power supply source. However, all of my charging has been done at home or in the car with plenty of time to spare.
A positive is that the light can still be used while charging, but only with two of the three white beams and no red beam. 
Weather and Temps:
The Bindi has an IPX4 rating, meaning it can withstanding sprays of water but not immersion. It should be able to withstand most weather conditions, except for the torrential flood. I've had it in the rain several times this summer (it's been historically wet) and the light has been fine and dandy. 
As for temp ratings, Petzl says the best conditions are between 50°F to 113°F (10°C to 45°C), and the rechargeable batteries can withstand -4°F to 140°F (-20°C to 60°C), with the ideal storage temps being 68°F to 77°F (20°C to 25°C). I haven't pushed the limits with the temps and in most circumstances I find myself in, would never need to, with the only possible time being in winter hunting or hiking conditions. 
THE GOOD FEATURES 
Inter-modal Operation (ie. changing the beam and light color):
Switching from one mode to another is pretty straightforward on the Bindi. Simply clicking the button (yes, there is only one button, which is bonus) changes within the same color mode. Holding the button in for three seconds changes the color mode (i.e. white to red or red to white) to change. Holding the button in for five seconds will power down the light and lock it. To unlock, it's just a matter of holding it in for three seconds. I particularly appreciate the fact that it has a mode memory, so if it was last turned off in red mode, it will turn on in red mode (and the same with white), and when turning on the white beam, it always starts at the 5-lumen beam, thus protecting your fellow tentmates from being absolutely blinded. 
Two Locking Methods:
The power locking, as described in the previous paragraph, prevents the light from turning on when the power button is bumped. Theoretically, it would unlock if the light's power button was pressed up against something (say when crammed into a pack). However, a second locking mechanism can be used to prevent the power button from being vulnerable to accidental bumps. When pivoting the head there is one spot in the 360 rotation that catches a little bit. This is on purpose because it catches the head at the exact spot where the power button is protected from accidental bump. The combination of the two locks means no more reaching into your pack to find a dead headlamp...a huge bonus for me.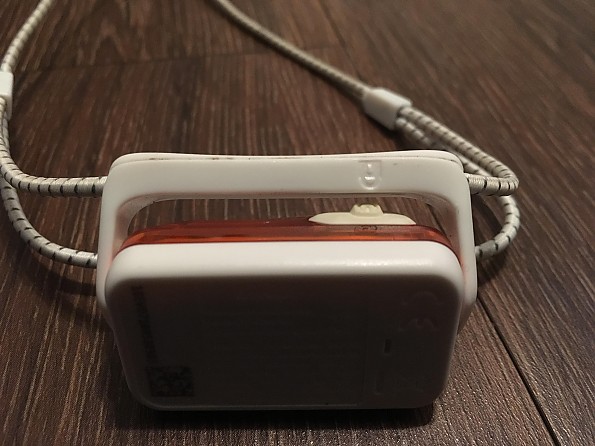 Battery Life Indicator:
My absolute least favorite part of any headlamp is the uncertainty of when the batteries are going to die. With a battery life indicator on the Bindi, my fears are put to rest. The indicator is fairly straightforward (at least for those of us who are not colorblind. Not sure how effective this would be for those with color blindness). When turning the light off, the indicator will either show green (full charge), yellow/orange (half charge), or red (running low, charge soon). 
In testing how long the light will run even after the red indicator light shows, my testing revealed at least another hour (and likely more) of run time at the 5-lumen white beam, which was delightfully surprising.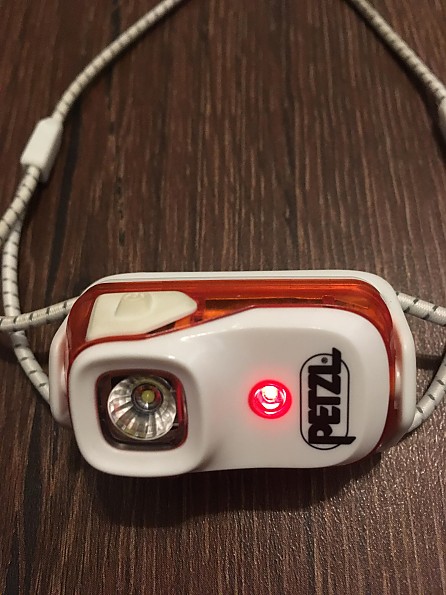 Sizing/Adjustability:
I have a pretty large head, measuring 24 1/4 inches or 61.6 cm or 7 3/4, depending on which measurement you use and some headlamps I've used in the past max out right around my head size. The Petzl Bindi has a bunch of spare room and even fits easily when I wear a hat (ball cap or beanie) so I believe it would fit almost any size head. This truly is a one-size-fits-all headlamp. 
AREAS TO IMPROVE
Headband: 
The thin elastic headband is lightweight, flexible, and easy to adjust so it has its benefits. However on my bald head, the thin cord squeezes and puts more pressure on my head than a wider elastic band does. Of course, the band's tightness is adjustable with a plastic toggle in the rear, but even when loosened up, the pressure is still there. Perhaps this is due to having a bald head and maybe it is a concession to make for cutting weight and bulk. One solution to this pressure problem is that when wearing a hat, I don't feel the pressure as much.
Charging Cord: 
The USB-to-mini USB cord is 12 inches long (30.5cm), which is fine if charging from a computer or in a car, but far too short if charging from a wall outlet. I recognize that there is no perfect solution here, because too long a cord would get easily tangled and be hard to manage, but too short of a cord leaves me placing the headlamp on the ground to charge (risk having it stepped on) or having to pull out a mini-extension cord (pain in the butt).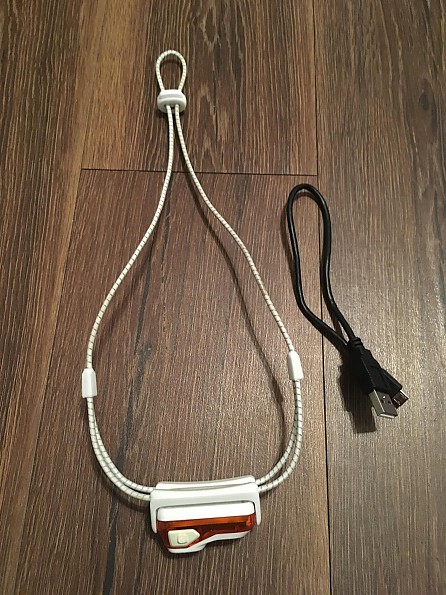 Conclusion:
I have a half dozen light sources and I've found this one to be among my favorites. No, it's not perfect, but the areas in which it shines (no pun intended) include its low weight/bulk, rechargeability, and trustworthy locking mechanisms. While I'm not an ultralighter myself, I do greatly appreciate being able to shave weight and bulk while not compromising on usefulness. 
Experience
I've tested the Petzl Bindi for three months in a variety of conditions, mostly dark ones. My best guess for total run time is approximately 50 hours and I've recharged it a handful of times, sometimes from fully dead and sometimes from mid-battery life. It has been exposed to temperatures ranging from 40F to 95F (4C to 35C) and some damp conditions but nothing extreme.
I have 4 other headlamps and 2 additional light sources I rotate through depending on situational needs.
Source: received for testing via the Trailspace Review Corps (Sample for testing and review provided by Petal)

Your Review
Where to Buy
Help support this site by making your next gear purchase through one of the links above. Click a link, buy what you need, and the seller will contribute a portion of the purchase price to support Trailspace's independent gear reviews.
You May Like
Specs
Price
Current Retail: $33.71-$49.95
Historic Range: $33.71-$59.95