User Review:
Black Diamond Ultra Distance
Rating:


Source: received for testing via the Trailspace Review Corps
Price Paid: sample provided by Black Diamond for testing and review

Summary
Designed with the long distance thru-hiker, fast-packing ultra-lighter, or trail runner in mind, the Black Diamond Ultra Distance trekking poles are very light (9.2-9.7 ounces per pole) and yet strong enough to provide the support expected and needed from a trekking pole.
During nine weeks of testing and 42 miles, these poles, which come in four fixed lengths, proved to be a very lightweight option for hikers who are looking to save ounces and are willing to accept the tradeoff of non-adjustable poles. These poles are best for thru-hikes or other applications where compact, lightweight poles are desirable.
The Ultra Distance poles perform just like any other trekking pole I've used, providing plenty of support and balance on both easy trails and rugged climbs, with the exception of not being adjustable for ascents or descents. However, the extended EVA grip allows you to reposition your grip lower on the pole for ascents.
The Ultra Distance trekking poles are made of carbon fiber and are the lightest of three designs offered in Black Diamond's Z-Pole series, which also includes the Distance and Distance FL. The Z-Pole design consists of three pole sections connected by a cord, very similar to the design of an avalanche probe or shock-corded tent poles, but with a unique and secure locking mechanism.
The poles are not adjustable, but are available in four lengths. People on shorter hikes who may not be as concerned with weight may prefer a pole with an adjustable length that can be made shorter for ascents and longer for descents.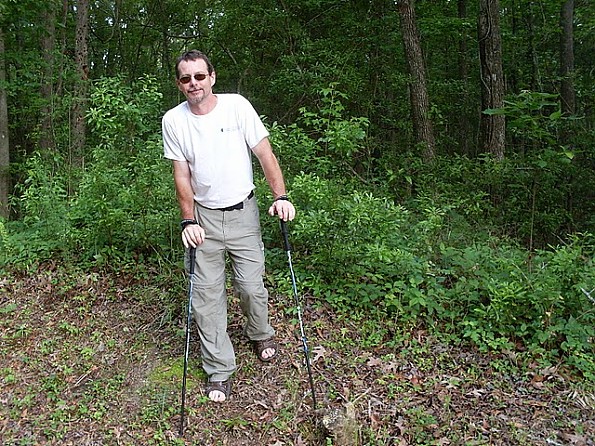 Trouthunter tests the Black Diamond Ultra Distance poles.
Pros
Ultra lightweight at 9.2 oz / 260 g (100 cm length); you have to hold them to believe it
Amazingly fast set-up with one fluid motion and a single click
Compact length when folded
Interchangeable tips
Pole sections cannot collapse once set up and locked
Cons
Not adjustable for length
The EVA foam grips are minimal and not as ergonomic as some grips I've used
Interchangeable tips can be difficult to unscrew by hand
The basket is small, allowing the poles to sink easier in mud, sand, etc.
Best For
The Ultra Distance poles are best for thru-hikes or other fast and light applications where compact, lightweight poles are highly desirable.
The Poles
The Ultra Distance poles I tested are one of three pole designs in Black Diamond's Z-Pole series, which also includes the Distance and Distance FL poles. They're made of carbon fiber with extended EVA foam grips, adjustable straps, interchangeable tips (rubber or carbide), and are extremely light.
The Ultra Distance poles are not adjustable, but come in four lengths: 100 cm (9.2 oz), 110 cm (9.3 oz), 120 cm (9.5 oz), and 130 cm (9.7 oz). My 100 cm pair arrived for testing in a mesh bag with a small pocket containing a pair of interchangeable carbide tips. I tested the poles using both the rubber tips and the carbide tips.
Set-Up
The Black Diamond poles are made with three sections that fit together using an aluminum ferrule (see photo below) and are connected with a single cord, similar to an avalanche probe or tent pole.
The upper portion of the pole where the EVA grip is located has a second section of pole that telescopes out of the grip. It is this section that locks the other pole sections into place as it is extended, placing tension on the cord, and locking in place.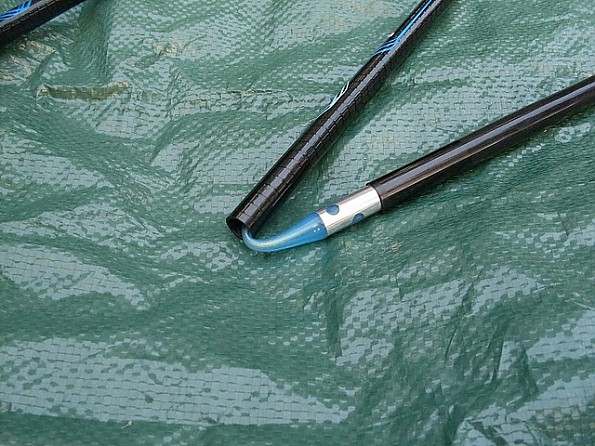 The cord is housed in a silicone tube that has a cone shaped section at each joint, which acts as a guide allowing the sections to slip together with ease.
With a little practice (about five or six times), I found I could unfold the pole and, while holding the pole upright by the grip, use my other hand to firmly slide the locking section down out of the grip about six inches until it clicks. This is easy to do in one motion.
Set-Up Evaluation
When I first got these poles to test, I thought set-up would be time consuming. After using the poles a few times I discovered that set-up was one of the poles' strong points.
Since these poles are designed similarly to aluminum tent poles or an avalanche probe, they have a stop built in and cannot collapse the way a poorly tightened telescopic pole can. Likewise, it is important to make sure the lock is fully engaged on these poles, verified by an audible click.
These poles are similar in design and set-up to the Leki Micro Stick trekking poles I'm also testing (review forthcoming). The Black Diamond Ultra Distance poles are slightly quicker to set-up than the Lekis, thanks to their automatic lock, which doesn't require tightening, twisting, or anything. (You can watch a basic how-to video about Z-Poles by Black Diamond at the bottom of this review.)
Both systems are quick and easy though.
Once set up, the Black Diamond Ultra Distance poles are as rigid as any other pole I have used. Because of the design, they cannot collapse until you push the lock button to release tension on the cord that holds the sections together. Each pole section slides onto a one-inch long aluminum ferrule that is fixed in the other pole section and this seems to provide plenty of strength.
This design allows for a pole that is smooth, sleek, and light. It has no external locking mechanisms or protrusions except for one small button tucked under the grip, smaller in diameter than a pencil eraser.
Grip
The grips on the poles are made of lightweight EVA foam with a four-inch foam extension on the pole shaft below the grip for changing hand positions during ascents. I found the grips adequate, but slender, and lacking some of the form-fitting profile found on other poles, which have a fuller, more ergonomic, grip. Some users might consider the grips too slender, compared to other poles, but I quickly became accustomed to them, though it would help if the grip extensions were another inch longer.
While hiking, I thought the grips were comfortable even when wet with sweat or rain, which happened several times. Grip slippage was not a problem for me. The grips conform to your hand after some miles on the trail.
Straps
Straps have always been a sticking point with me. Most times they help me hold onto the poles on a difficult ascent or stream crossing, but sometimes they are trifling, depending on how they feel and how they fit my hand.
I do not like anything irritating, uncomfortable, or requiring constant adjustment on long hikes as the problem seems magnified, especially when I'm tired. It's like a good pair of boots, but with that one irritating spot that starts to wear on you mile after mile!
These Black Diamond straps are soft and absorbed moisture fairly well while hiking. This is important to me because our South Carolina summers are hot and humid, not to mention the afternoon thundershowers.
Each pole strap is marked either L for left or R for right. Mine also were marked S/M, which appears to mean small to medium size. My hands are not large, but even at the straps' loosest setting, they were fairly tight when I wore a thin pair of gloves.
For adjustment, each strap uses a hook and loop section to allow for quick adjustment and fit. However the hook and loop doesn't work well when wet, frozen, or excessively dirty.
Each strap is attached to the pole by a small black cord running through a stitched loop on the strap and then through the pole itself. The straps are replaceable and available with instructions from Black Diamond.
These straps weren't entirely comfortable, because they were on the small side. Nonetheless, they held up fine and did their job of securing the pole to my hand and allowing me to loosen my grip on the flatter, easier parts of the trails.
Locking Mechanism
The Ultra Distance poles have one push-button lock. It engages automatically with an audible click as the poles are assembled and disengages only when you push the small silver button located just below the grip. I had no malfunctions with the locking system on these poles while testing them during four hiking trips.
Some fine sand did get into the button area a couple times. Although not a problem for me, I can see why this, or freezing rain, may cause the lock button to stick if not cleaned. The telescopic section of pole that slides out of the grip section and the hole where the push button is mounted are both manufactured to a tight tolerance. I think it would be hard to get enough dirt, dust, or sand in those areas to cause a problem that could not be cleaned on the trail.
I followed Black Diamond's instructions for cleaning and oiling the button and kept hiking.
Shaft Strength
The Ultra Distance poles are carbon fiber sectional poles fitted together with an aluminum ferrule that extends into each pole section about one inch. They are not telescopic like traditional collapsing poles. Rather, these pole sections come apart and fold up like a corded tent pole or avalanche probe.
I found the Ultra Distance poles just as stiff and strong as any one of my aluminum poles at roughly half the weight. I tested them by placing the tip firmly into the ground and applying a significant amount of lateral pressure to the pole with my hand on the grip. I did this with all the poles I have including a set of aluminum Leki Micro Stick poles I'm testing. I did not have another set of carbon fiber poles to compare these to.
I also tested the Ultra Distance poles by placing the shaft between two tree stumps and applying pressure. Again the Black Diamond Ultra Distance poles offered as much resistance as the aluminum poles I have. I did not push any of the poles to the breaking point, so I do not know how they compare at excessive levels of force.
Baskets
I've never had a set of poles with such small baskets. The Ultra Distance's baskets are rectangular and measure roughly 1 1/8 by 1 1/4 inches. They have a round cutout for snapping them onto another pole section while folded, although I found a better way to accomplish that (described in the storage section below).
On packed earth or hard surfaces basket size doesn't matter, but in sand, snow, or mud it does, as I found out. Many of the trails near where I live are sandy or muddy, at least part of the year. Poles that sink up to six inches into the mud are not much help.
If I could pick only one thing to change about these poles it would be the tiny baskets. I realize the poles were designed to be ultralight — I get it — but it would be nice to at least have the option to use larger baskets.
Technically, the small baskets that come on any of the Z-Poles are replaceable, in case of breakage. The entire basket and tip are one piece to keep down weight and, says Black Diamond, to steer users into using their Z-Poles as three-season poles only.
Replacing broken baskets involves melting the glue used to affix them and re-gluing new baskets on. Though possible, it's fair to say it's inconvenient to replace the baskets, and in any case, a larger spare basket is unavailable.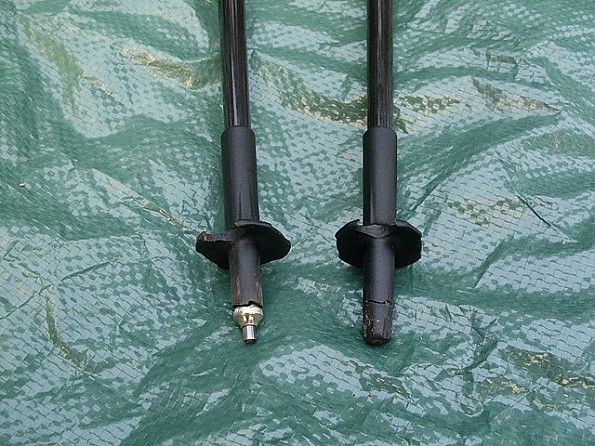 Ultra Distance pole tips and baskets. Standard carbide tip on left; optional rubber tip on right.

Tips
The Ultra Distance poles came with two sets of interchangeable tips, one rubber and the other carbide. I like to be able to replace or change out pole tips.
It should be noted that these tips do not come off easily. The mating surfaces of the pole and the tip have an interlocking edge to keep them tight. They are designed this way on purpose so they do not come loose and fall off on the trail. Removal of the tip requires either a fantastic grip with your thumb and forefinger or a pair of pliers (the route I took.) You unscrew the tip counter-clockwise until it comes off and simply screw on another pair.
I tested the poles with both rubber tips and carbide tips installed. I found the rubber tips seemed to get better traction on hard surfaces with less noise than the carbide tips, but they look as though they will need replacing much sooner than the carbide tips. On softer surfaces like sand and dirt I couldn't tell a difference in performance or noise.
For you ultra-lighters, here are the weights of each pair of tips:
Carbide: 12 grams per pair
Rubber: 8 grams per pair
Folding and Storing
All of the poles in the Z-Pole series are not telescopic, but fold up like corded tent poles. There's nothing complicated here, but you are dealing with three sections, not one single collapsed section as with standard poles. The poles measured 13 inches (or 33 cm) collapsed for the 100 cm poles I tested. They're slightly longer collapsed for the other lengths (100 cm: 13 in / 33 cm; 110 cm: 14.4 in / 36.5 cm; 120 cm: 15.6 in / 39.5 cm; 130 cm: 17 in / 43 cm).
Despite their short packed length, the poles are slightly bulkier than telescopic poles and take up a space roughly 1 1/2 inches in diameter by 13 inches in length when folded. The short length does make it easier to stow these poles away in the side pockets of a pack, or even in the back or cargo pocket of your pants, which I did on several occasions.
I also found that the strap can be wrapped around the folded pole to secure it together for easy handling and access. You simply undo the hook and loop section of the strap, wrap the strap around the pole sections so that the hook and loop section is turned out, twist the end of the strap 180 degrees, and stick the hook and loop section together.
The poles can also be stored together in the mesh bag they come with and tucked away in your pack or clipped on somewhere.
Finally
I hiked with the Black Diamond Ultra Distance poles for more than 40 miles in varied terrain and I found them to be an excellent piece of compact, ultralight gear. I wouldn't hesitate to recommend them to ultralight hikers who want to cut ounces and reduce fatigue on long thru hikes, or to anyone who could use a pole that can be carried inside a pack for shuttle rides or plane trips home.
For day hikes or short backpacking trips I would still use my regular poles, or the Leki Micro Stick poles I'm testing whose feel and swing I preferred. But for longer trips with high mileage days or for thru hikes, the Ultra Distance poles are so light, simple, and sturdy, they would be my pick.
Testing Notes
I tested the Black Diamond Ultra Distance poles on and off trail. My hiking trips were in the coastal plain of South Carolina about 35 miles inland in Berkeley County, and in the mountainous region of upstate South Carolina in Pickens County along the Chattooga River.
I hiked more than 30 miles with these poles in the coastal plain, and I did one 12-mile hike in the mountains, for a total of 42 testing miles. I hiked with these poles mostly during March and April in moderate temps ranging from 40°F (4.5°C) to 75°F (24°C) with significant rainfall at times.
Surfaces ranged from soft sand and mud to hard mossy rock and the occasional log, boardwalk, or wooden bridge. Small sections of trails at parking areas were paved.
I tested the 100 cm length poles. Other lengths available are 110, 120, and 130 cm.
According to Black Diamond, the 100 cm poles weigh 9.2 oz (260 g) per pole. Weighing them on my digital scales, storage bag included, they weighed: 9.4 oz (269 g) per pole.
You can watch Black Diamond's "How To Video: Black Diamond Z-Poles" below for operating basics:

Where to Buy
sponsored links
Help support Trailspace by making your next purchase through one of the links above.