Leki Micro Stick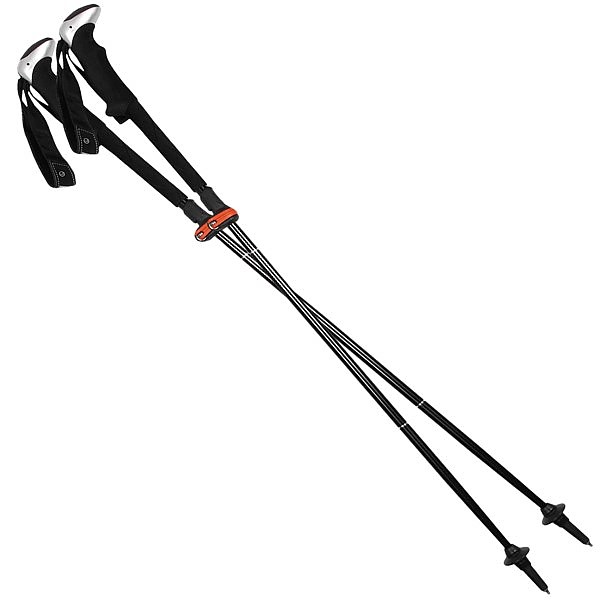 The Leki Micro Stick is a departure from the standard, telescopic trekking pole design. Instead, it's a three-section, folding pole, much like a corded tent pole, but with an ingenious locking system. I found the Micro Sticks faster to setup than a typical telescopic pole.
The poles are very lightweight (8.9 oz per pole), sleek, and sturdy.
Like the Black Diamond Ultra Distance Z-Poles I recently tested, the Micro Stick is designed for fast and light hiking and is available as a pair in three fixed lengths: 110, 120, and 130 cm. Since the Micro Stick is not adjustable, this may be a problem for someone who needs a specific length pole to set up ultralight tarps or tents, or who must adjust poles longer for steep descents.
The five-inch grip extension is nice, allowing you to grab the pole below the grip during ascents or when climbing over boulders — in essence shortening the pole. This is a big help, but not being able to adjust the pole requires that you order the right length for your needs and accept this as a tradeoff for a lighter, more compact pole.
Leki's adjustable strap system is the best on the market, in my opinion. It's quick and utilizes a cam in the top of the grip that can be operated easily even with gloves on. It has plenty of adjustment to allow for users wearing winter gloves.
The Micro's round baskets are small at 1½ inches in diameter (the poles are designed for ultralight hiking). My test hikes included sections with sand or mud where the poles sometimes sunk significantly, so this is a small problem. It would be nice if the poles came with an optional second, larger set of baskets.
The Micro Stick poles measure just 15 inches (39 cm) in length when folded and fit in my pack's side pocket with room to spare. Since the Micro Stick is a folding pole, sections can clank or rattle while hiking if they aren't strapped tightly or tucked away securely. I solved this problem by using an elastic hair scrunchie from my wife to wrap around the poles.
I liked being able to stash these poles inside my pack or under the pack lid while driving to the trailhead, or for flat sections of trail where I wasn't using them. For people who actually adjust their poles while hiking an adjustable pole may work better, but I often don't stop and take the time to do so myself.
After hiking 36 miles on sand, mud, and rock, crossing streams, and climbing steep slopes, these very compact, sturdy Micro Sticks proved to be great lightweight trekking poles that fit in backpack pockets or back pockets.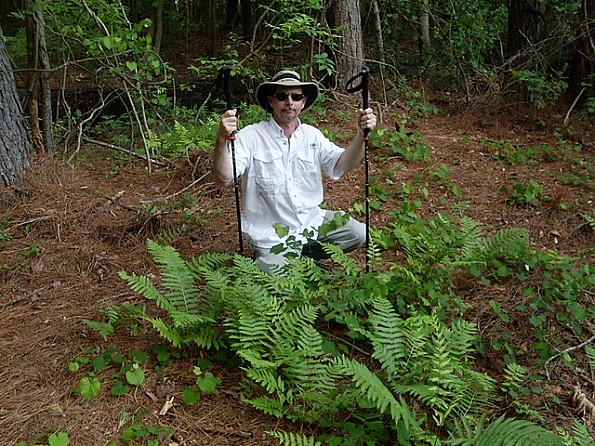 Trouthunter using the Leki Micro Sticks.

Pros:
Lightweight at 8.9 oz (253 g) per 120-cm pole, or 17.8 oz (507 g) per pair, according to my scales

Nice grip with five-inch extension for grabbing the pole below the molded grip

Quick and secure adjustable strap with plenty of adjustment to make room for gloves

Quick and secure setup
Cons:
Not adjustable length

Folded pole sections can rattle in pack if not packed or lashed tightly

Small baskets can sink in mud or sand

Flex tips' replacement price; although durable, should you need to replace them tips currently cost $13 to $15
Best For
The Leki Micro Sticks are best for distance hikers who need ultralight, compact poles and are looking to shed ounces. They also would be great for hikers flying to their outdoor destinations or who need to pack the poles in a small area.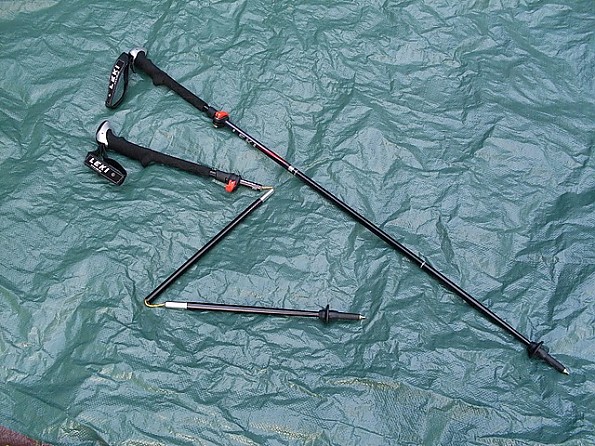 The folding, three-section Micro Stick
The Poles
The Micro Stick is one of three pairs of trekking poles in Leki's new-for-2011 Micro series, a lineup of lightweight, compact poles for fast and light hiking, which includes the Micro Stick, Carbon 4, and Dural 4. The Carbon 4 and Dural both lack a SpeedLock, making them even lighter. The Micro Stick originally was designed for speed climber and mountaineer Ueli Steck.
The Micro Stick is a three-section, aluminum, folding pole, rather than a traditional telescopic trekking pole. Each of its three distinct sections are linked together by a single cord, similar to a corded tent pole (technically there are four sections, since the upper grip section has a short telescopic section inside it).
The upper section includes an Aergon Thermo XL grip with integrated strap adjustment system, a short telescopic section, and a single SpeedLock. The middle section is a simple straight section. The bottom section includes the basket and carbide tip.
My poles arrived with carbide tips and a clear plastic tip protector; also available are rubber tips that slip over the poles carbide tips to protect delicate surfaces and reduce noise.
The poles are not adjustable, but come in three fixed lengths: 110, 120, and 130 cm. I tested the 120-cm length poles.
Setup
The folding Micro Stick has a different, faster setup procedure than a typical telescopic pole. Setup has a short learning curve, but after a few times you can learn to do it twice as fast as with a telescopic pole.
To assemble the pole, hold the pole by the grip in the upright position, allowing the other sections to dangle below. With your free hand, undo the single SpeedLock located just below the grip extension and pull down on the telescopic section about six inches. The pole sections should slip together, thanks to the cone-shaped ferrules that guide the sections into place. With the sections now butted together, tension the cord by pulling down firmly on the telescopic section and lock the SpeedLock.
With a little practice you can do this in one single motion and be hiking before your friends are finished adjusting their telescopic poles.
The ferrules Leki uses extend out of the pole section 1 1/2 inches and are conical. This allows the sections to practically guide themselves into place as you tension the telescopic section and lock the pole. It is impossible for the sections with a ferrule to collapse since the pole/ferrule connection is a butt joint, like with corded tent poles.
It's a nice system for those willing to trade adjustability for a lighter pole.
The Leki Micro Stick is very similar in design to Black Diamond's Ultra Distance poles that I also tested. Although Leki and Black Diamond use different locking systems, the motions used to assemble the poles are similar, though the Black Diamond Z-Pole system is slightly faster and easier due to its automatic lock button.
Setting up the Black Diamond poles only requires you to grasp the pole with both hands, holding it upright, and pull the telescopic section out until it clicks; that's it. The Leki poles work pretty much the same way with the exception of having to manually operate the lock.
Both systems are quick and easy though.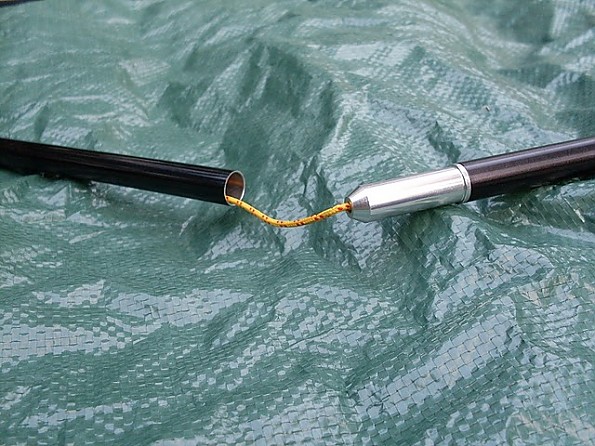 Leki Micro Stick ferrule and cord

Grip
Leki's Aergon Thermo XL grip is very comfortable with ample profile molding to fit the hand, which allows you to loosen your grip a bit. The grip includes a five-inch checkered extension below the main grip so you can re-grip and change hand position on the pole for ascents, but this requires you to take your hand out of the strap.

I encountered no problems with the grips on the Micro Stick during testing. They were comfortable, and the grip extension really helps. While using the grip extension, I was able to let my hand slide down and stop against the SpeedLock reducing how hard I had to grip; this was a big help on steep ascents.
In hilly terrain I sometimes didn't use the straps, so that I could switch my grip as needed more easily. This is much faster than adjusting poles, thought not as effective. The way these grips are shaped made them easier to hold onto if it was raining, if my hands were sweaty, or I was tired.
The foam is comfortable even with dirty, gritty hands, seems to dry out fast, and when it needed cleaning, rinsing with cold water did the trick.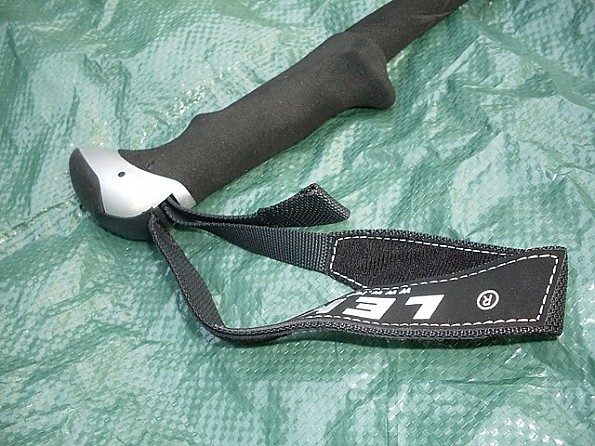 Leki Micro Stick grip and strap
Straps
I love the straps and adjustment system on these poles. Leki's strap adjustment system is the best on the market, in my opinion. Adjustment is quick, easy, and accurate.
Leki uses a locking cam in the top of its grip to adjust the length of the straps. The upper section of strap is connected to the cam via a small screw, while the other end (lower section) of strap passes through the grip and back out allowing for ample adjustment. Leki's design allows for plenty of adjustment for gloves.
To adjust, simply pull up on the upper section of strap unlocking the cam, pull the lower strap to adjust, then pull down on the upper strap to lock the cam back. I found I could do this easily with gloves on or when tired. I haven't tried it in extremely cold conditions.
The straps were a bit stiff at first but softened up quickly with use. I found them absorbent and quick drying following several afternoon showers.
According to Leki, no replacement straps are available. But, replacement straps from some other models might fit.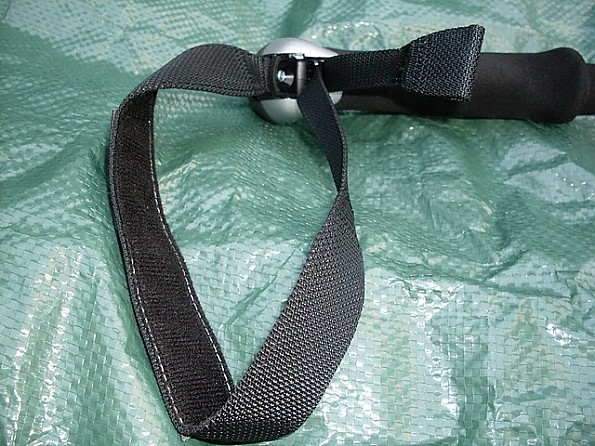 Locking Mechanism
The Micro Stick design employs a single SpeedLock located just below the grip extension that locks the single short telescopic section in place for assembly or disassembly of the pole. My poles arrived adjusted properly, and required no adjustment during testing.
After I learned how to set the pole up, I planted the tip firmly into the ground and pulled down on the pole by the grip hard. It held fine and the locking mechanism did not malfunction during testing.
Operation of the SpeedLock is very simple, even with gloves. To disengage the SpeedLock, pull the red lever open to about a 90-degree angle to the SpeedLock, or as soon as it loosens; you will be able to tell easy enough. To engage the lock, just push the red lever closed, back against the SpeedLock.
The SpeedLock has an adjustment to increase or decrease how tight it clamps the pole section. To adjust the lock you turn the small clear nut opposite the red lever. Clockwise tightens, counterclockwise loosens. The nut has a knurled exterior that can be turned with bare fingers, and also a slot for a key, coin, knife, or similar object.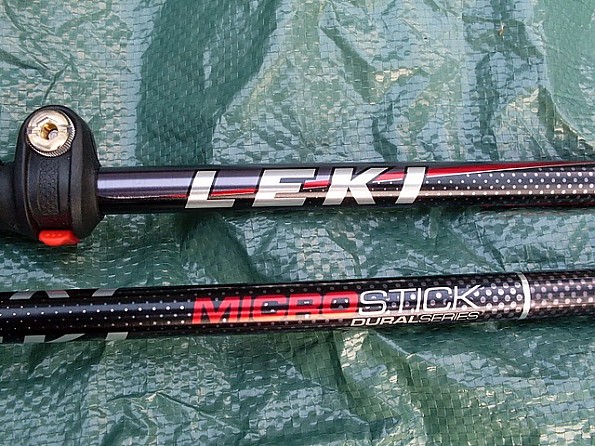 Leki Micro Stick SpeedLock

Shaft Strength
My testing showed these poles are just as strong as any other design I have used. To confirm, I set up my pair of Leki Makalu trekking poles with Super Locks to compare. I made sure both poles were the same length (120 cm), and that the sections on the Makalus were adjusted to match those of the Micro Stick I was testing.
I tested each pole one at a time by placing the tip against the ground and flexing the pole, then side by side using both hands — Micro in the left, Makalu in the right — then switched just to be fair.
Both models flexed about the same amount. I put a lot of lateral pressure on both poles and they felt the same. To add to that, the two butt sections / joints on the Micro Stick cannot collapse no matter how hard you push down on the pole, and the ferrules Leki used look heavy duty.
During testing I did not push any pole to the breaking point, so I don't know how they would perform in that regard, but the Micro Sticks are plenty strong enough for use in rough, steep, or rocky terrain.
Baskets
The trekking poles I have owned in the past had baskets nearly twice the size of the Micro Stick's baskets, which are smooth and round with a diameter of 1 1/2 inches. In comparison, the baskets on my Makalu poles also are round, but with a larger diameter of two inches and V-shaped teeth around the edges; the baskets on the Black Diamond Ultra Distance poles are rectangular and even smaller, measuring roughly 1 1/8 by 1 1/4 inches.
The baskets on the Micro Stick also are somewhat stiffer than those on the Makalus.
Baskets are a big help when climbing steep slopes with soft soil and wet leaves. The smaller basket doesn't save much weight, but it can affect performance on very soft surfaces like mud and sand.
The baskets can be removed and replaced by grasping the basket and pulling down hard (very hard) while twisting them clockwise. Some users may want to replace the Micro Stick baskets with larger ones from Leki. It would be nice if the poles also came with larger spare baskets.
However, the baskets held up fine and did not tear or come off during testing, although the plastic is a little worn and stringy on the edges from normal wear.
Tips
The poles use Leki's Universal Flex Tip, designed to flex up to 30 degrees to alleviate some of the stress normally placed on the bottom pole shaft while hiking and to prevent the last section from breaking.
The Flex Tip has an embedded concave carbide tip for gripping rock and ice, but it also can be fitted with a set of rubber tips. The rubber tips are made to fit over the existing carbide Flex Tips to reduce scarring of delicate surfaces and noise.
If you need to replace the tips, they currently cost 13 to 15 dollars a pair. I have gotten long life out of my Leki tips in the past, but I did misplace a pair awhile back when cleaning gear and had to order some.
Folding and Storing
When folded, the poles (120 cm) are only 15 inches long, but are bulkier than traditional poles and will take up a space roughly 1 1/2 inches in diameter for each pole. I found that storing the poles together instead of separately helps reduce their bulk.
During testing I lashed the poles to the outside my pack only to have one of the sections fall down on one occasion and dangle by its cord until I was annoyed enough to stop and strap them more securely.
It helps to have a rubber band or a piece of shock cord to wrap around the poles to keep them from clanking together. I used a hair scrunchie from my wife!
Leki recommends that you dry the poles before storing them.
Finally
After hiking 36 miles with the Micro Sticks, I found them to be a great lightweight, very compact, sturdy trekking pole that fits conveniently in backpack pockets or back pockets.
Of the two folding poles I tested — these Leki Micro Sticks and the Black Diamond Ultra Distance — the Micro Sticks felt more substantial (despite being a fraction of an ounce lighter) and had the better grip and strap.
While the Ultra Distance was so light, simple, and sturdy it would win my gear pick for a thru hike, or a longer trip with high mileage days, I would prefer the Micro Stick for regular day hikes or three- to four-day backpacking trips because I like their feel and swing.
The Leki Micro Sticks are a great choice for hikers needing a strong, compact pole that can be carried inside a backpack or luggage.


Testing Notes

I tested the Micro Stick trekking poles both on trail and off trail, plus hiking down an old abandoned paved road and on top of a gravel dike system. I tested these poles in the coastal plain of South Carolina and in the mountainous section of South Carolina.
I hiked 23 miles with the Micro Stick in the coastal plain, a 10 miles in the mountains, and three miles on the old road bed for a total of 36 testing miles in temps ranging from 35°F to 75°F, with misty mornings and afternoon thunderstorms.
Hiking surfaces ranged from deep sand and soft mud (including "pluff mud" or quicksand), to hard mossy rock, wet leaves, creek crossings, and a couple of wooden boardwalks.
The poles I tested were:
Micro Stick T6332071
120 cm length
Weight: 17.8 oz (507 g) per pair, or 8.9 oz (253 g) per pole, according to my digital scales. Leki claims a weight of 8.8 oz per pole for the 120-cm length poles.

Source: received for testing via the Trailspace Review Corps
Price Paid: sample provided by Leki for testing and review

Your Review
Where to Buy
Help support this site by making your next gear purchase through one of the links above. Click a link, buy what you need, and the seller will contribute a portion of the purchase price to support Trailspace's independent gear reviews.
You May Like
Specs
Price
MSRP: $149.00
Historic Range: $49.95-$159.95

Weight
8.9 oz

Collapsed Length
15 in / 39 cm

Recently on Trailspace