Black Diamond Ultra Distance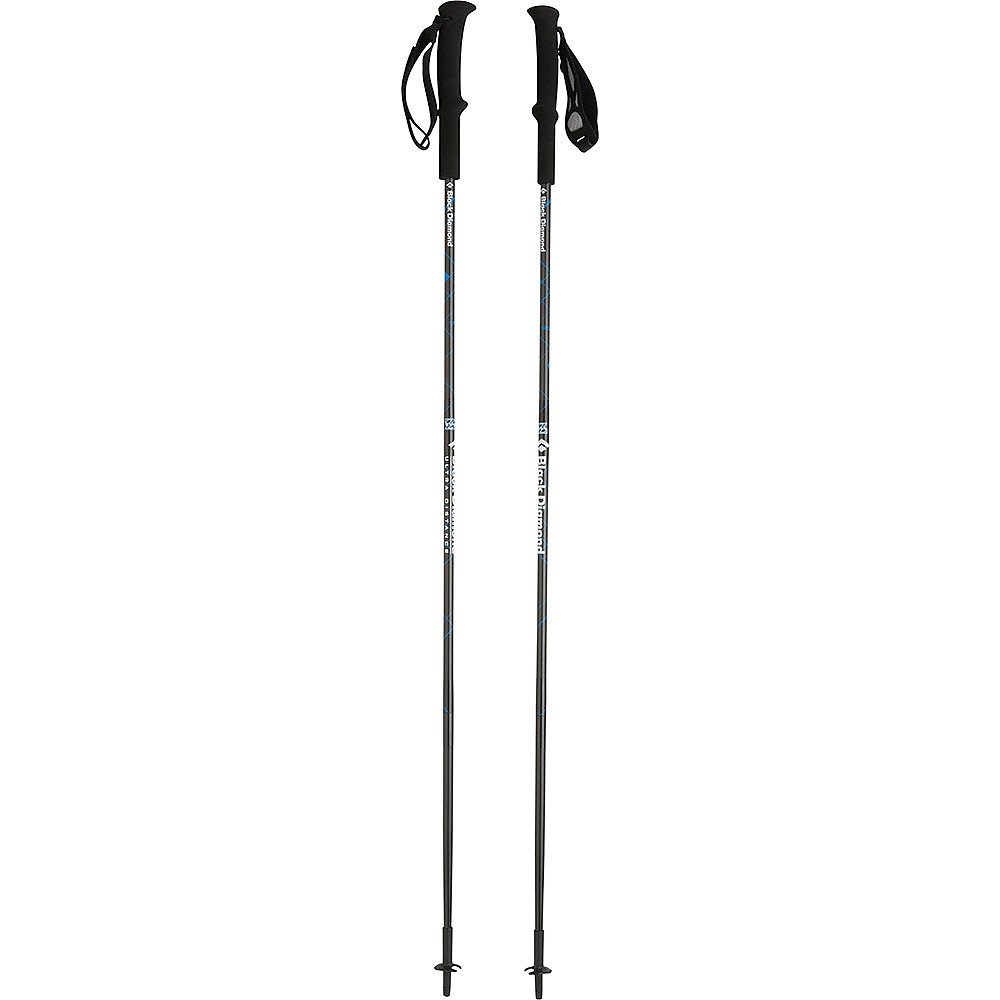 These lightweight poles have extended my hiking into an age where arthritis has wrecked my knees.
Pros
Amazingly light
Fold up compactly for travel
Cons
Small baskets
Non-adjustable length
Let me start by saying that Mike Gartman's Killer Review on these poles really can't be improved on. I sat down to write a detailed review and discovered I was just echoing Mike. Instead, let me focus on why I love these poles....
I came back from an 80-mile hike in March 2013 with my knees shot. What I thought was simple "hiker's knee" turned out to be osteoarthritis. On this trek (and all previous ones) I had carried a home-made wooden hiking staff, that was more for effect than as a hiking aid. To be honest, I thought of trekking poles as trendy, unnecessary, and silly looking.
Based on a suggestion from my physical therapist, I purchased these poles on a whim from Steep 'n Cheep and immediately set out to see if they could "save" my hiking. They have! I have not had a recurrence of knee pain since I have started using them--that's roughly 4-5 trips and 100+ miles of hiking in hilly, uneven terrain. 
The light weight is fantastic. I expected to finish my days with tired, worn out arms. Instead, I hardly notice them. My arms are no less fatigued than simply swinging my arms at my side with a pack on. Ascending hills is much easier than with my wooden hiking staff.
Although, I listed non-adjustability as a "con," I can't say it has been a problem for me. The foam grips are long enough to allow a variety of holds, and on descents, my hands simply slide onto the very tops. I think taking the time to readjust the lengths would drive me nuts on the ups-and-downs of Shawnee's hills. I suppose on a long accent or decent that might be a benefit.
I've played around with other poles at my local REI. I haven't found anything in the sub-$100 range that compares, and some of the obscenely expensive poles haven't impressed me.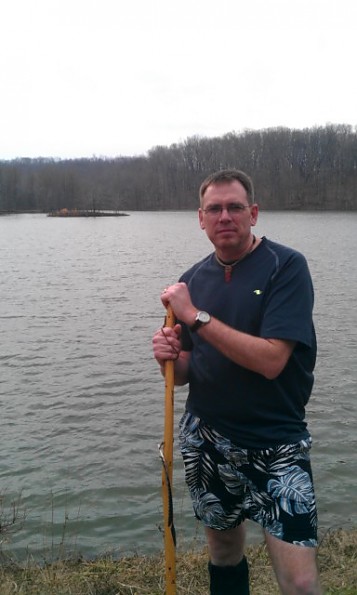 My homemade hiking staff. My knees always hurt after a 10 mile day.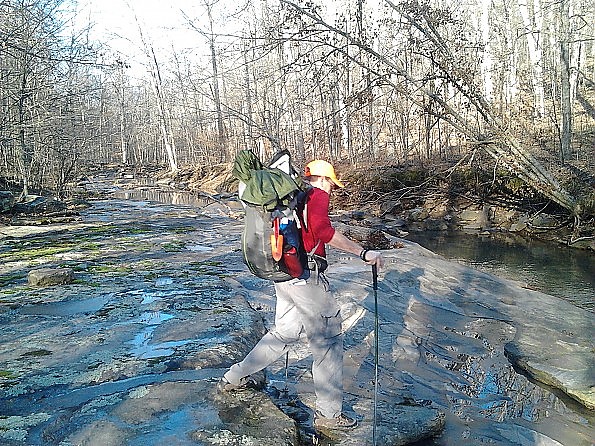 Another great day with these poles!
Source: bought it new
Price Paid: $50

Summary
Designed with the long distance thru-hiker, fast-packing ultra-lighter, or trail runner in mind, the Black Diamond Ultra Distance trekking poles are very light (9.2-9.7 ounces per pole) and yet strong enough to provide the support expected and needed from a trekking pole.
During nine weeks of testing and 42 miles, these poles, which come in four fixed lengths, proved to be a very lightweight option for hikers who are looking to save ounces and are willing to accept the tradeoff of non-adjustable poles. These poles are best for thru-hikes or other applications where compact, lightweight poles are desirable.
The Ultra Distance poles perform just like any other trekking pole I've used, providing plenty of support and balance on both easy trails and rugged climbs, with the exception of not being adjustable for ascents or descents. However, the extended EVA grip allows you to reposition your grip lower on the pole for ascents.
The Ultra Distance trekking poles are made of carbon fiber and are the lightest of three designs offered in Black Diamond's Z-Pole series, which also includes the Distance and Distance FL. The Z-Pole design consists of three pole sections connected by a cord, very similar to the design of an avalanche probe or shock-corded tent poles, but with a unique and secure locking mechanism.
The poles are not adjustable, but are available in four lengths. People on shorter hikes who may not be as concerned with weight may prefer a pole with an adjustable length that can be made shorter for ascents and longer for descents.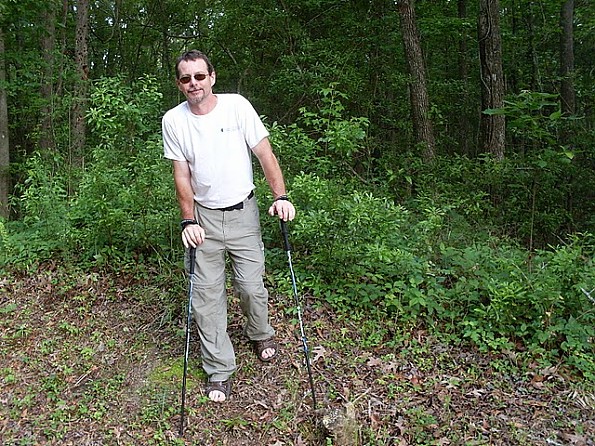 Trouthunter tests the Black Diamond Ultra Distance poles.
Pros
Ultra lightweight at 9.2 oz / 260 g (100 cm length); you have to hold them to believe it
Amazingly fast set-up with one fluid motion and a single click
Compact length when folded
Interchangeable tips
Pole sections cannot collapse once set up and locked
Cons
Not adjustable for length
The EVA foam grips are minimal and not as ergonomic as some grips I've used
Interchangeable tips can be difficult to unscrew by hand
The basket is small, allowing the poles to sink easier in mud, sand, etc.
Best For
The Ultra Distance poles are best for thru-hikes or other fast and light applications where compact, lightweight poles are highly desirable.
The Poles
The Ultra Distance poles I tested are one of three pole designs in Black Diamond's Z-Pole series, which also includes the Distance and Distance FL poles. They're made of carbon fiber with extended EVA foam grips, adjustable straps, interchangeable tips (rubber or carbide), and are extremely light.
The Ultra Distance poles are not adjustable, but come in four lengths: 100 cm (9.2 oz), 110 cm (9.3 oz), 120 cm (9.5 oz), and 130 cm (9.7 oz). My 100 cm pair arrived for testing in a mesh bag with a small pocket containing a pair of interchangeable carbide tips. I tested the poles using both the rubber tips and the carbide tips.
Set-Up
The Black Diamond poles are made with three sections that fit together using an aluminum ferrule (see photo below) and are connected with a single cord, similar to an avalanche probe or tent pole.
The upper portion of the pole where the EVA grip is located has a second section of pole that telescopes out of the grip. It is this section that locks the other pole sections into place as it is extended, placing tension on the cord, and locking in place.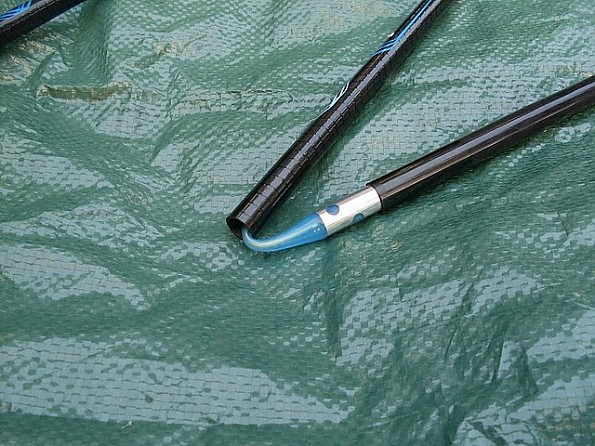 The cord is housed in a silicone tube that has a cone shaped section at each joint, which acts as a guide allowing the sections to slip together with ease.
With a little practice (about five or six times), I found I could unfold the pole and, while holding the pole upright by the grip, use my other hand to firmly slide the locking section down out of the grip about six inches until it clicks. This is easy to do in one motion.
Set-Up Evaluation
When I first got these poles to test, I thought set-up would be time consuming. After using the poles a few times I discovered that set-up was one of the poles' strong points.
Since these poles are designed similarly to aluminum tent poles or an avalanche probe, they have a stop built in and cannot collapse the way a poorly tightened telescopic pole can. Likewise, it is important to make sure the lock is fully engaged on these poles, verified by an audible click.
These poles are similar in design and set-up to the Leki Micro Stick trekking poles I'm also testing (review forthcoming). The Black Diamond Ultra Distance poles are slightly quicker to set-up than the Lekis, thanks to their automatic lock, which doesn't require tightening, twisting, or anything. (You can watch a basic how-to video about Z-Poles by Black Diamond at the bottom of this review.)
Both systems are quick and easy though.
Once set up, the Black Diamond Ultra Distance poles are as rigid as any other pole I have used. Because of the design, they cannot collapse until you push the lock button to release tension on the cord that holds the sections together. Each pole section slides onto a one-inch long aluminum ferrule that is fixed in the other pole section and this seems to provide plenty of strength.
This design allows for a pole that is smooth, sleek, and light. It has no external locking mechanisms or protrusions except for one small button tucked under the grip, smaller in diameter than a pencil eraser.
Grip
The grips on the poles are made of lightweight EVA foam with a four-inch foam extension on the pole shaft below the grip for changing hand positions during ascents. I found the grips adequate, but slender, and lacking some of the form-fitting profile found on other poles, which have a fuller, more ergonomic, grip. Some users might consider the grips too slender, compared to other poles, but I quickly became accustomed to them, though it would help if the grip extensions were another inch longer.
While hiking, I thought the grips were comfortable even when wet with sweat or rain, which happened several times. Grip slippage was not a problem for me. The grips conform to your hand after some miles on the trail.
Straps
Straps have always been a sticking point with me. Most times they help me hold onto the poles on a difficult ascent or stream crossing, but sometimes they are trifling, depending on how they feel and how they fit my hand.
I do not like anything irritating, uncomfortable, or requiring constant adjustment on long hikes as the problem seems magnified, especially when I'm tired. It's like a good pair of boots, but with that one irritating spot that starts to wear on you mile after mile!
These Black Diamond straps are soft and absorbed moisture fairly well while hiking. This is important to me because our South Carolina summers are hot and humid, not to mention the afternoon thundershowers.
Each pole strap is marked either L for left or R for right. Mine also were marked S/M, which appears to mean small to medium size. My hands are not large, but even at the straps' loosest setting, they were fairly tight when I wore a thin pair of gloves.
For adjustment, each strap uses a hook and loop section to allow for quick adjustment and fit. However the hook and loop doesn't work well when wet, frozen, or excessively dirty.
Each strap is attached to the pole by a small black cord running through a stitched loop on the strap and then through the pole itself. The straps are replaceable and available with instructions from Black Diamond.
These straps weren't entirely comfortable, because they were on the small side. Nonetheless, they held up fine and did their job of securing the pole to my hand and allowing me to loosen my grip on the flatter, easier parts of the trails.
Locking Mechanism
The Ultra Distance poles have one push-button lock. It engages automatically with an audible click as the poles are assembled and disengages only when you push the small silver button located just below the grip. I had no malfunctions with the locking system on these poles while testing them during four hiking trips.
Some fine sand did get into the button area a couple times. Although not a problem for me, I can see why this, or freezing rain, may cause the lock button to stick if not cleaned. The telescopic section of pole that slides out of the grip section and the hole where the push button is mounted are both manufactured to a tight tolerance. I think it would be hard to get enough dirt, dust, or sand in those areas to cause a problem that could not be cleaned on the trail.
I followed Black Diamond's instructions for cleaning and oiling the button and kept hiking.
Shaft Strength
The Ultra Distance poles are carbon fiber sectional poles fitted together with an aluminum ferrule that extends into each pole section about one inch. They are not telescopic like traditional collapsing poles. Rather, these pole sections come apart and fold up like a corded tent pole or avalanche probe.
I found the Ultra Distance poles just as stiff and strong as any one of my aluminum poles at roughly half the weight. I tested them by placing the tip firmly into the ground and applying a significant amount of lateral pressure to the pole with my hand on the grip. I did this with all the poles I have including a set of aluminum Leki Micro Stick poles I'm testing. I did not have another set of carbon fiber poles to compare these to.
I also tested the Ultra Distance poles by placing the shaft between two tree stumps and applying pressure. Again the Black Diamond Ultra Distance poles offered as much resistance as the aluminum poles I have. I did not push any of the poles to the breaking point, so I do not know how they compare at excessive levels of force.
Baskets
I've never had a set of poles with such small baskets. The Ultra Distance's baskets are rectangular and measure roughly 1 1/8 by 1 1/4 inches. They have a round cutout for snapping them onto another pole section while folded, although I found a better way to accomplish that (described in the storage section below).
On packed earth or hard surfaces basket size doesn't matter, but in sand, snow, or mud it does, as I found out. Many of the trails near where I live are sandy or muddy, at least part of the year. Poles that sink up to six inches into the mud are not much help.
If I could pick only one thing to change about these poles it would be the tiny baskets. I realize the poles were designed to be ultralight — I get it — but it would be nice to at least have the option to use larger baskets.
Technically, the small baskets that come on any of the Z-Poles are replaceable, in case of breakage. The entire basket and tip are one piece to keep down weight and, says Black Diamond, to steer users into using their Z-Poles as three-season poles only.
Replacing broken baskets involves melting the glue used to affix them and re-gluing new baskets on. Though possible, it's fair to say it's inconvenient to replace the baskets, and in any case, a larger spare basket is unavailable.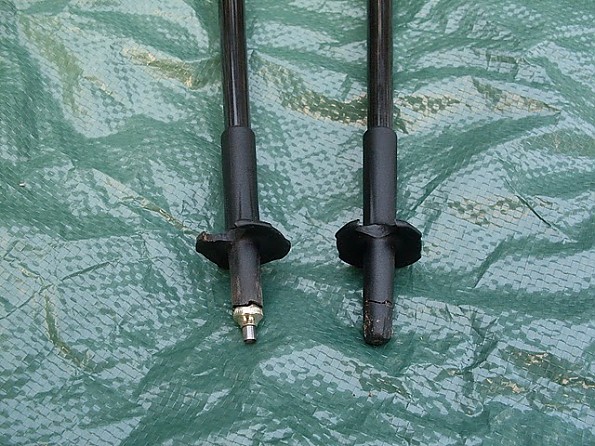 Ultra Distance pole tips and baskets. Standard carbide tip on left; optional rubber tip on right.

Tips
The Ultra Distance poles came with two sets of interchangeable tips, one rubber and the other carbide. I like to be able to replace or change out pole tips.
It should be noted that these tips do not come off easily. The mating surfaces of the pole and the tip have an interlocking edge to keep them tight. They are designed this way on purpose so they do not come loose and fall off on the trail. Removal of the tip requires either a fantastic grip with your thumb and forefinger or a pair of pliers (the route I took.) You unscrew the tip counter-clockwise until it comes off and simply screw on another pair.
I tested the poles with both rubber tips and carbide tips installed. I found the rubber tips seemed to get better traction on hard surfaces with less noise than the carbide tips, but they look as though they will need replacing much sooner than the carbide tips. On softer surfaces like sand and dirt I couldn't tell a difference in performance or noise.
For you ultra-lighters, here are the weights of each pair of tips:
Carbide: 12 grams per pair
Rubber: 8 grams per pair
Folding and Storing
All of the poles in the Z-Pole series are not telescopic, but fold up like corded tent poles. There's nothing complicated here, but you are dealing with three sections, not one single collapsed section as with standard poles. The poles measured 13 inches (or 33 cm) collapsed for the 100 cm poles I tested. They're slightly longer collapsed for the other lengths (100 cm: 13 in / 33 cm; 110 cm: 14.4 in / 36.5 cm; 120 cm: 15.6 in / 39.5 cm; 130 cm: 17 in / 43 cm).
Despite their short packed length, the poles are slightly bulkier than telescopic poles and take up a space roughly 1 1/2 inches in diameter by 13 inches in length when folded. The short length does make it easier to stow these poles away in the side pockets of a pack, or even in the back or cargo pocket of your pants, which I did on several occasions.
I also found that the strap can be wrapped around the folded pole to secure it together for easy handling and access. You simply undo the hook and loop section of the strap, wrap the strap around the pole sections so that the hook and loop section is turned out, twist the end of the strap 180 degrees, and stick the hook and loop section together.
The poles can also be stored together in the mesh bag they come with and tucked away in your pack or clipped on somewhere.
Finally
I hiked with the Black Diamond Ultra Distance poles for more than 40 miles in varied terrain and I found them to be an excellent piece of compact, ultralight gear. I wouldn't hesitate to recommend them to ultralight hikers who want to cut ounces and reduce fatigue on long thru hikes, or to anyone who could use a pole that can be carried inside a pack for shuttle rides or plane trips home.
For day hikes or short backpacking trips I would still use my regular poles, or the Leki Micro Stick poles I'm testing whose feel and swing I preferred. But for longer trips with high mileage days or for thru hikes, the Ultra Distance poles are so light, simple, and sturdy, they would be my pick.
Testing Notes
I tested the Black Diamond Ultra Distance poles on and off trail. My hiking trips were in the coastal plain of South Carolina about 35 miles inland in Berkeley County, and in the mountainous region of upstate South Carolina in Pickens County along the Chattooga River.
I hiked more than 30 miles with these poles in the coastal plain, and I did one 12-mile hike in the mountains, for a total of 42 testing miles. I hiked with these poles mostly during March and April in moderate temps ranging from 40°F (4.5°C) to 75°F (24°C) with significant rainfall at times.
Surfaces ranged from soft sand and mud to hard mossy rock and the occasional log, boardwalk, or wooden bridge. Small sections of trails at parking areas were paved.
I tested the 100 cm length poles. Other lengths available are 110, 120, and 130 cm.
According to Black Diamond, the 100 cm poles weigh 9.2 oz (260 g) per pole. Weighing them on my digital scales, storage bag included, they weighed: 9.4 oz (269 g) per pole.
You can watch Black Diamond's "How To Video: Black Diamond Z-Poles" below for operating basics:

Source: received for testing via the Trailspace Review Corps
Price Paid: sample provided by Black Diamond for testing and review

My first non-telescoping trekking poles, they have quickly become my favorite poles of all time.
Pros
Extremely lightweight
Compact
Functional
The very excellent and thorough review by tester trouthunter convinced me to buy these and I have not been disappointed. There's not a whole lot that I can add to trouthunter's review other than to confirm his findings.
I have used telescoping type poles for years and was unsure if I would like this design. After quite a few day hikes and backpacking trips, I have come to really love these poles. The light weight is the most prominent feature. They barely feel like anything in your hands. Sometimes when I want to move fast, I'll choke up to the midsections and just run with them, swinging them like a baton. They hardly get in the way.
But the other prominent feature is the ease with which they set up or break down. I find this to be much faster than telescoping poles. When broken down, they are also a lot shorter than telescoping poles, making it easy to stick them inside any suitcase or backpack. I even mailed them in a flat rate box along with some other carry-on-prohibited items so that I wouldn't have to pay a checked baggage fee flying from FL to CO. The 120 cm just fit in a medium box if placed diagonally. These get a huge A+ for travel convenience.
The small fixed baskets are perhaps the major detractor. I don't find them to be too much a problem but they have taken a beating from my hikes in rough terrain. The carbon shafts have also sustained some deep scratches from rocks but so far nothing fatal. It's really easy to wedge these into holes when hiking scree fields, probably more so than with trekking poles having larger baskets. You just have to be careful.
Finally, many may be concerned about how much strain these will hold up to. My advice is just don't be disillusioned about your size and weight. If you are a heavier-set person, then maybe these just aren't for you. I am pretty slender, so I don't put a lot of strain them. But when I have leaned into them, they have always felt study enough for my weight.
I would hate for BD to beef them up just to satisfy those that call for more robustness. There are plenty of more robust options out there to choose from, so please BD, continue to think of us petites out there and provide lightweight options!
Source: bought it new
Price Paid: $100

Very, very, very light — and compact poles.
Require bit more care.
Pros
Like a feather so light
Store quick and compact
Fixed length
Deploy fast
Cons
Requires bit more care
Three season use only
Fixed length
The last three years I have used and abused three section Leki poles once or twice a week in the local mountains. As I do more scrambling and running now I decided to check out the Black Diamond Ultra Distance Z-Poles, and.. kind of fell in love. 
Features:
The Ultra Distance poles are made of carbon shafts, and all the rest is paired down to a minimum to create the lightest pole possible. Light straps and small basket at the bottom make sense to me as this often adds up the weight. Thanks to the Z-Poles construction these stored down super compact, much smaller than any two or three section pole does.
My poles are 110cm (43") and collapsed down come to a bit under 37cm (14,5"). They weigh 279gr (9,8 ounce) — for the pair (!). They deploy super fast, as might be clear from the other reviews here or Black Diamond's videos. It is simply the easiest and the quickest way to go from storage to trekking and vice versa.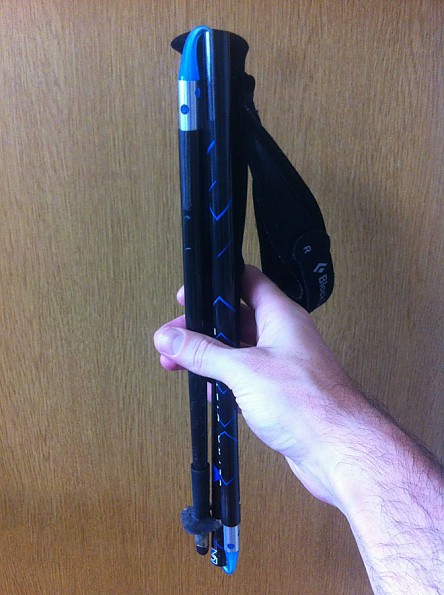 Super compact when folded, you can store them inside your pack, or luggage when travelling.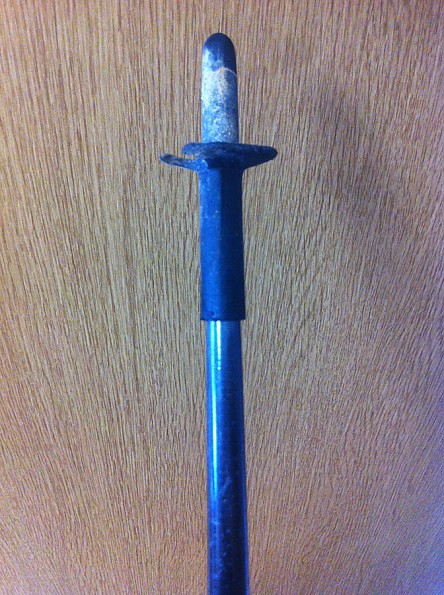 Small, non-interchangable baskets, not for snow use
Blow Away Light:
I recently took these Ultra Distance poles on a speed climb of mount Fuji. When I took a break a bit above 3000m (10.000ft) I had to remind myself to put these poles between my shoulder straps and my pack. I didn't at first and the poles would just get blown away by the wind they are that light. 
In the early summer I often have to wade myself through spider webs and caterpillars hanging from the overhead leaves. I can certainly tell the difference when I hold these in front of me trying to swipe webs out of the way (the ones I can not judge dodge sideways, I prefer to leave them alone). Part of this is the material. The carbon is significantly lighter than the aluminium I am used to. But part of it is also the fixed length design of the pole. With telescoping poles you always have extra length of tube inside the poles that adds weight, especially around the bottom end. 
I like that with the Ultra Distance poles I carry what I need, and nothing more.  
Ergonomics:
The straps feel good. They feel better than my Leki's, which I thought were perfectly fine. I really use my straps (looping my hands into them from underneath), and almost don't grip the poles with my hand at all. There are many people that have better results by cutting straps off and just holding the poles. But for me personally this is the most energy efficient and comfortable:
Insert hand through bottom of loop, let side of palm and thumb bear the weight. Hardly close fingers around grip.
The fixed length is a tradeoff. I like it. If you know what you want it is great. I used to always adjust length on my older Leki's and really appreciate I could do that at the time. Since last year though, I found that I almost always use my trekking poles at one length, and adjust my grip on the downhill to lengthen the poles somewhat. If you find yourself adjusting the length of your poles a lot, these are not for you obviously. Also, if you use your poles to support your tarp you have to get a pole extender or go with a longer pole. 
Overall:
I am not sure if I think this is a good general pole, or a good first pole. It reminds me of going with a cuben tarp or backpack. There are great benefits, and they can be a great first choice too. But you have to know you want it, what its benefits and trade-offs are, and in some cases treat it with a bit more care or adjust your usage. 
The straps I am pretty sure will not last me three years. With the longish days I do, I will be surprised if they make it through one year. They can be replaced, but it's something you need to monitor. 
The same goes for the collapsing system. If you get sand or salt deposits (sweat that then later dries out) on the top section of your pole and collapse them, this can work its way inside. I had this happen with one pair which I returned because the poles wouldn't open anymore. This could have been a problematic pair, and the height of the humid summer here is somewhat extreme, but I'm making sure to immediately clean my poles right after climbing before I store them away. Like with the straps, something to monitor. 
Carbon, if it fails, generally will fail catastrophically. I.e. an aluminium poles might bend when stressed too much, while if you take a carbon pole too far it will break/shatter. 
Decisions:
These for me are not issues that put me off these poles. I know this is not a hummer or a tank-like pole that you can abuse anyway you want and never look at. This is a very lightweight, strong, compact, easy to store, and quick to deploy pole. I love it.
Lightweight also does not mean it can't take anything. I largely ran down Mount Fuji, and a large section is over this volcanic gravel route where you sink to your ankles in the little stones. My poles for sure took a continuous one and a half hour beating of gravel and bigger stones/rocks to the lower sections. There are superficial scuff marks all over but they held up just fine. 
Black Diamond also makes the Distance FL Z-Poles that are similar to these, but made of aluminium, and with a length adjustable top section. They are roughly double the weight, but could be a good alternative if you are not looking for the lightest thing out there, or if you do like to change the length of your poles on the ups and downs. Black Diamond also make the Ultra Mountain Carbon Trekking Poles, which like the Ultra Distances are fixed length, but four season use (you can attach winter baskets to the bottom) and with thicker, more robust looking straps. Again, they are heavier but they might be a good option.
If the weight savings are what you are after, and you want the lightest, quickest to deploy poles out there, then these are a joy to use, feather light and quite honestly pretty incredible. Highly recommended. 
A great product — seriously light and very comfortable to use. Quick deployment and small enough to stow out of sight.
Pros
Ultralight
Ease of deployment
Comfortable grip
Comfortable strap
Cons
Lack of shock absorption makes extended walking on concrete not so good
I've hiked with these poles for about 550 miles (900km) on a range of terrain - deep mud, dirt trails, well formed tracks, city streets and rocky paths. The poles were sensational and on very many days I was very thankful for them.
They are so lightweight that you are shocked when you pick them up and they fold down so small that they stash in any pack - even a small one. I found this useful when staying at places that insisted that poles be left in a communal pole bin away from sleeping quarters.
These poles folded small enough for them to be in my pack and I could keep them with me. I found the fixed length of no concern (I hadn't used fixed length poles before) and found they were comfortable and I didn't even need to use the lower part of the grip on steep uphill climbs (two mountain ranges were crossed in the 500 mile journey).
I found these to be great poles and have bought a pair as a gift for a friend I was so impressed.
Source: bought it new
Price Paid: $149

If I could rate a 5 I would! The Black Diamond Z Pole Ultra Distance is supremely light and comfortable.
Pros
Super lightweight.
Collapses quite small.
Super comfy wrist straps and grip
Cons
Cannot be used in snow as there are no baskets.
A tad pricey but soooo worth it.
I used to hike with inexpensive poles from Walmart. I liked them just fine. Until....one day I was at Clair Tappaan Lodge in the Sierras and they were offering Black Diamond Poles to demo.
These poles are made from a super lightweight Carbon material. The poles came in fixed lengths and I chose the 110 cm based on my height. I am 5'4". The guide states for heights of 5'1" to 5'7" the 110 cm is the length of choice. What struck me first was how LIGHT they are. Each pole weighed just 4 and 3/4 ounces on my kitchen scale. Ultra lightweight. 
When hiking, the poles swung from my wrists as if there were feathers. Not an iota of fatigue. Next was how soothing it felt when my palms were nested against the foam grips. The wrist straps (designated left and right) were equally soft and comfortable, with a Velcro piece to adjust the length of the strap.
To collapse the poles, just push in the metal button just under the foam handle and slide the handle down, then pull part each of the two sections to fold up. Easy peasy. When collapsed, they are a scant 15 inches long. Very easy to stow away in a side pocket of a pack if you need both hands free for scrambling. Would also be a great size to fly with in a pack or carry-on luggage.
I longed for these poles. I dreamed of these poles. I knew that I just HAD TO HAVE these poles!! I put these poles at the very top of my Christmas list.
This may not be the pole for you if you like an adjustable length to hold up a tarp, or if you like to adjust your poles to different lengths when hiking uphill or downhill. This also may not be the pole for you if you like one all-season pole to also use in the snow as there are no attachable baskets. And if you are squeamish about spending $150 on poles when you are used to the $24 poles at Walmart, this may not be the pole for you.
BUT, if you want to experience near weightlessness and mind boggling comfort in a pole, then put these bad boys on your gift wish list.
And did I mention how incredibly LIGHT they are??
Source: received it as a personal gift

Where is the "stop/lock" button?!? My set doesn't have this. I've gone to REI (purchase place) twice about this; agents clueless. Web query doesn't help at all. Purchased ~3 yrs ago and used greatly—but in squishy surface, the trek pole unhinges and you have a floppy thing in your hands, not a trek pole. There is no stop/lock button or any other feature to secure the pole when opened.
Source: bought it new
Price Paid: dk

Black Diamond is known for making hardcore gear for rock climbers and backcountry skiers. This product is one of the few from BD that is targeted to the everyday trail user (though lightweight gear aficionados will love them). Great for those who aren't using their poles for every step of the way too, or as a backup pair that is light, durable and compact.
Pros
Lightweight
Simple deployment
Reliable
Field reparable
Reasonable price
High quality
Cons
Non-adjustable
Tip is a bit skiddy
The Black Diamond Z-trekking poles weren't on here in any other review, so I figured I'd share the good news.  Most BD gear is targeted to the hardcore climber... these poles, though, take the BD design ethic through to everyday trail users. Though one may sacrifice adjustability, there just isn't a trekking pole setup as light, simple to deploy and compact as these, especially at a decent price. Recommended for light-gear freaks of all shapes and sizes. 
These were put to the test recently on a 25-miler over Kearsarge Pass to Vidette Meadows and back, with some short side trips off trail. The poles were great to take the edge off the pounding on the downhill, as well as engage full body musculature on the up.
Two things really stood out with these poles to me. First, they were very easy to deploy or store; since this kind of trip doesn't require hours of using the poles in adjusted mode (off-piste skiing and traversing, for example),
Second, the ultralight and simple construction was perfect to simply tuck back and forget you are even carrying them. I could see how they would be too simplified for backcountry skiing, but I have poles for that which are beefier, adjustable and have powder basket and probe options. The one-time adjustment for length on these required some trickery that wasn't completely intuitive, but it's a one time maneuver. 
Lastly these poles seem very easy to field repair if necessary, with the internal rubber/plastic 'ferrule' design. Of course not breaking to begin with is even more crucial, and the BD poles held up admirably in that regard; a more trustworthy hardgoods manufacturer I cannot name.  But since I've personally broken poles in both backcountry and frontcountry settings, I pay attention to the field repair quotient more than most. 
Source: bought via a "pro deal"

Your Review
Where to Buy
Help support this site by making your next gear purchase through one of the links above. Click a link, buy what you need, and the seller will contribute a portion of the purchase price to support Trailspace's independent gear reviews.
You May Like
Specs
Price
MSRP: $149.95
Historic Range: $48.73-$159.95
Reviewers Paid: $50.00-$149.00

Weight
8.8 to 9.8 ounces per pair (depending on length)

Sizes
100, 110, 120, 130 cm

Recently on Trailspace