User Review:
Deuter ACT Lite 65+10
Rating:


Source: bought it new
Price Paid: $199

Summary
The Deuter ACT Lite 65+10 is, as the name implies, relatively light for a pack of its size (though not ultra light). Some comparable models can weigh a pound or two more. It provides more features (pockets, straps, compartment divider, etc) than a similarly-sized ultra-light pack. This pack does have a few relatively minor shortcomings, but overall has worked out well for me on trips ranging from overnighters to up to 10 days between re-supplies.
Pros
Relatively lightweight vs comparable packs
Solid and stable even when heavily loaded
Adjustable suspension
Includes pocket on hip belt
Durable pack body
Reasonably priced
Cons
Poor quality fasteners
Heavier than advertised
Possible fit issues for some users
Some questionable design decisions
Background
I originally decided on this pack to replace an aging external frame pack for a John Muir Trail through-hike in 2012 (this review is in June 2013).  I took the pack on one 3-night trip before that, then on the 30-day JMT trip.  I've used it on several 1-4 night trips since then.
Features
The ACT Lite 65+10 has some features of note:
The suspension system:  The pack has a system Deuter calls "Aircontact Lite". Basically it consists of breathable padding on the back, shaped anatomically in order to ventilate as one walks.  There is also a metal "x-frame" to add rigidity (the metal material is not specified).  The suspension is adjustable to accommodate various torso lengths.

The "+10" in the name consists of a fold-up extension to the body of the pack. This provides additional capacity when needed.  If it's not needed, it can be folded down inside the pack.
Durability
The pack is constructed of "Deuter-Duratex Lite" (500 denier weave Duratex) and "Deuter-Ripstop 210" (210 Denier Nylon).  So far I have found the pack body to be very durable.  However in at least a couple cases the little plastic fasteners on the outside of the pack have either come apart or fallen off. 
In one case I was able to jury rig the fastener by tying a knot in the remaining bungy cord.   In another case I found the connector that had come off and was able to re-attach it. 
I've been concerned that a more critical fastener might break (like the belt buckle) but fortunately they've held up so far.  I try to mitigate breakage by treating the plastic fasteners gently (for example I try to relieve the load on the belt buckle before unfastening it).
Otherwise, the pack has stood up well so far.  Even after the 30-day trip there aren't any real signs of wear to speak of.
Comfort
One of my reasons for trying the internal frame pack is that I never found the external frame pack comfortable.  There are advantages to the external frame style for sure, but comfort isn't one of them - at least for me.  When I first used the Deuter ACT Lite 65+10, I carried something under 35 pounds, and I found it to be very comfortable. It was the first time I could recall backpacking & not returning with bruised hips and shoulders.
On a longer trip, however, I carried more weight (ranging from ~38 lbs to the upper 40's depending on the length of my food supply). While still relatively comfortable, I suffered some back pain.  It felt like it caused a strain in my mid and lower back.  It feels like it would be more comfortable if it rode higher on my back rather than pressing into my lower back and upper buttocks.  I tried the strap and suspension adjustments recommended in the setup video by Deuter, and every other setting as well, and never resolved the back strain issue. However if I keep the load down to the mid 30-pound range (including food, water, etc) it feels pretty good.
In terms of the suspension's claimed ventilating capabilities, it's a little hard to say since I sweat wearing any pack, but it does seem to do a decent job.  I don't feel any sweatier wearing this pack than I did wearing my old frame pack which had much more open space around my back.  That's probably saying quite a lot since this is an internal frame pack that mostly presses against one's back.
Organization, Accessibility, Ease of Use
This is a fairly standard internal frame pack design with a separate sleeping bag compartment at the bottom and a top-loading upper compartment.  The separator between the two compartments can be zipped open (but is not removable).  There is also a stretchy pocket on the back of the pack - this is useful for small items one wants easily accessible.  I use it to carry a first aid kit, small water filter, map, and a few emergency items.  There is a water bottle pocket on each side, as well as a removable lid with a sizable storage pocket on top.  There is also a flat zippered pocked on the underside of the top cover.  The number and location of pockets and compartments works out well for me and I haven't had any issues with them.
Concerns
One disappointment with this pack is that it's significantly heavier than advertised. I selected it, among other reasons, for its weight. Deuter advertises it as 3 lbs 14 oz (62 oz). In reality mine weighs 66 ounces.  That may not seem like much of a difference, but it's a full quarter pound heavier than advertised.  Since it is targeted at those seeking a lighter pack, that's significant.
I've seen comments elsewhere that this pack seems smaller than its rated capacity. While I haven't measured the capacity to say for sure, I do fill it fully, even though I've only used it on warm weather trips (above 30°F).  I don't see it being large enough to use in the winter when I'd need to carry extra bulky clothes.  There simply isn't any room left to add anything.
One slight inconvenience is that the zipper on the bottom compartment can be difficult to operate when the pack is loaded.  There is a heavy fabric flap along the length of the zipper, and it can interfere with its operation.  This can be mitigated by squashing the pack contents to loosen up the fabric in that area.  
Another little annoyance I have with this pack is that the sternum strap isn't adjustable, so it's "one size fits all".  It's not possible to adjust it to control the tension on the shoulder straps.  Additionally, it seems to me it attaches to the left shoulder strap on the wrong edge.  Instead of attaching to the inside edge, it attaches to the outer edge.  Logically this doesn't make sense because the goal of the strap is to pull the two shoulder straps toward each other.
Lastly, I have run into a situation where the bottom compartment collects water if the pack is set down on the wet ground (i.e. when hiking in the rain).  It appears there is a double layering of material on the bottom, and water collects between the layers.  While it's understandable that the bottom would get wet, the water between the two fabric layers makes it difficult to dry.  Fortunately I pack my sleeping bag & clothes in the bottom compartment in waterproof plastic and would strongly urge other hikers to do the same.
In spite these few shortcomings, overall I am satisfied with this pack.  It is durable, if not the lightest pack around, and reasonably comfortable if not loaded too heavily.  It has worked out well for me on trips ranging from 1 to 30 days.
The images below illustrate various points made in this review.
Here's what the pack looks like on my back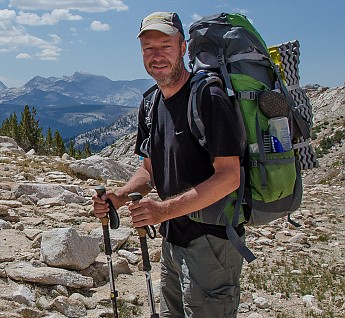 Here's a view into the pack, with the upper portion extended.  The bear canister is a (small) BV450.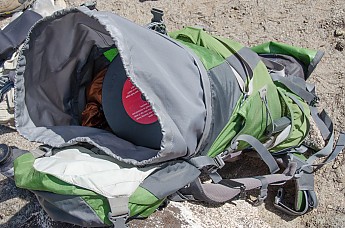 This is the sleeping bag compartment.  It's large enough to hold a Marmot Helium sleeping bag (in a sack much larger than that supplied by Marmot) plus several clothing items.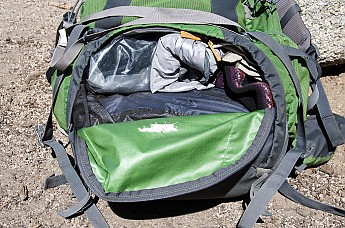 Here the pack is fully loaded including a Bearikade Expedition canister.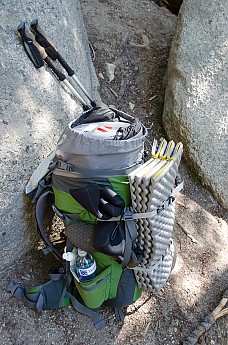 Why does the sternum strap fasten to the outer edge of the shoulder strap? And why does it have the stretchy material in the center (where it's bulged out). It can't really stretch anyway because there's also a solid piece of webbing in that section. And, most importantly, why isn't it adjustable?  Please note the metal bracket on the strap in the upper right corner of this photo is NOT part of the pack.  It's a Capture Clip used to carry a camera.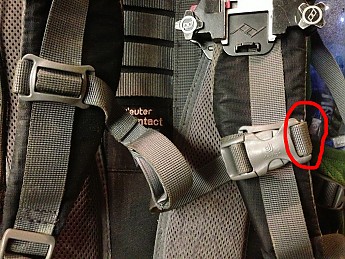 This is an example of the poor fastener quality. I had to tie a knot in the stretchy cord since the fastener that held the ends together fell off.

Here is where water accumulates in the bottom section between the two layers of fabric.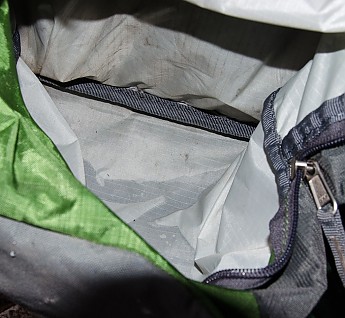 Here's where the zipper tends to bind up under the fabric flap.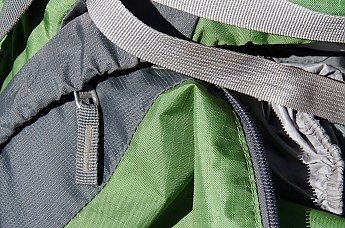 Where to Buy
sponsored links
Help support Trailspace by making your next purchase through one of the links above.