Deuter Aircontact 75+10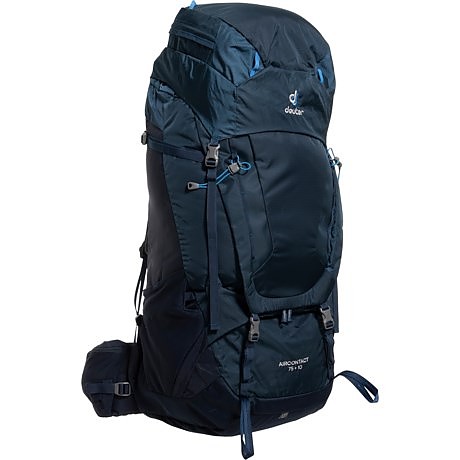 Great expedition backpack. Works exceptionally well under heavy weight for long distances. Pack is very adjustable, giving me the confidence to carry a heavy load and navigate over tricky mountain terrain. Very good construction and materials, creating a durable and strong pack. Looks good.
Pros
Highly adjustable
Large volume capacity
Internal frame, shoulder straps and hip belt design
Comfort under heavy load
Quality of construction and materials used
Light for its capacity to load
Cons
Better design for hydration bladders
Map pocket is located on front of pack. I use an alternate location for accessibility.
After research on the Deuter Aircontact 75+10 and discussion with others on the mountains. I made the purchase last fall and have come to love this backpack and give it monumental trust.
I noticed a prevailing negative feature on other reviews for this pack is the heavy weight. I will discuss this point first and then move to other positive features.
The pack is Deuter's solution to an expedition pack. Our expeditions typically are four days plus. This is where the Aircontact 75+10 excels — and it justifies the 'bit on the heavy side' comment. In other words, if the Aircontact 75+10 is used for its purpose then weight is not on the heavy side, but actually a lightweight pack.
Why light weight? On our extended day and distance trips our packs will weigh in the 45 to 55 pound range. This pack excels as it can pack and carry this weight range and go the extended distances. Benefits: high capacity, very adjustable (allowing for adjustments to carry a heavy load over very uneven terrain), durable and well thought out and accessible pockets.
My best review of this pack is from the multiple treks through the Canadian Rockies between Alberta and British Columbia—testing grounds like no other. The pack performed exceptionally and without any flaw. The bag compressed the loads exceptionally well for different landscapes.
The Back System—Breathable padding is strategically placed throughout the back plate, shoulder straps and hip belt. Moving air makes it very cool on the back, shoulders, and hips. The adjustable stabilizer straps, hip fins, and anatomic frame allow for optimal position and comfort.
Bottom line is that the pack is capable of carrying a heavy weight comfortably. This allows me to navigate tricky sections of the trail with confidence with a heavy load. The pack has a contoured head mold that keeps the pack out of the head area; substantially reducing neck strain.
An internal rain cover is stored in its own pocket at the bottom of the pack. The rain cover works. We hiked in consecutive days of rain and the cover kept the pack dry. Side bellow pockets have been added (3 litre) — pockets are large and are under zipper.
The only consideration here is that if the bellow pockets are to be used for hydration bladders, be careful for what types of bladders are used. The side compression straps (2 on both sides) cross over the bellow pockets and can provide direct pressure over the contents.
The front of the pack has daisy chains for gear attachment and two integrated ice-axe loops and straps for secure carriage, which easily converts to carriage loops and straps for trekking poles.
Useful pockets include two side pockets (I've used for water bottles and for my fly rod case which is placed inside the pocket and secured under the side compression straps). There is a zippered pocket on the hip belt (love this pocket for my digital camera).
Material composition of the body of the bag is 80% Nylon and 20% Polyester. The benefit of the materials include:
Strong and durable.

Does not snag on tree limbs or sharp rocks.

Keeps relatively clean and provides for easy cleanup.
All zippers are YKK and large tooth design. Front map pocket zipper is taped (to seal out dust, dirt and moisture). All zippers work flawlessly.
Bottom Line — Deuter has designed a trekking backpack that beckons to be used and provides the benefits of a thoughtful design and manufactured with high quality as their standard. The Aircontact 75+10 is the largest in their design and capable to pack weight for long distances. The bag looks good and proved to be complimented often along the trails.
This pack competes with the best of expedition packs on the market and does a good job holding its own. The biggest compliment and review that I can offer is that a few of my hiking mates have replaced their packs with the Aircontact 75+10.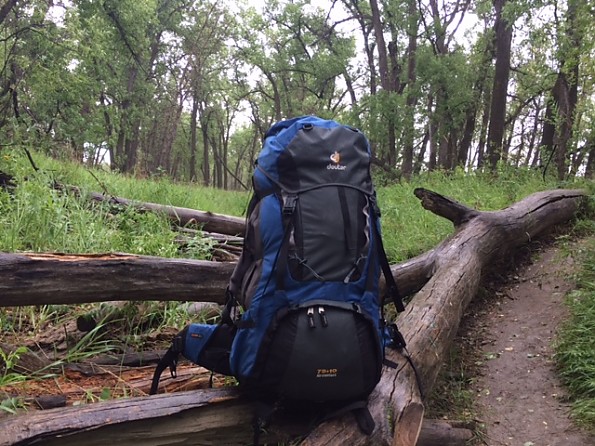 Packed for two days, one night. Weight is about 35 pounds.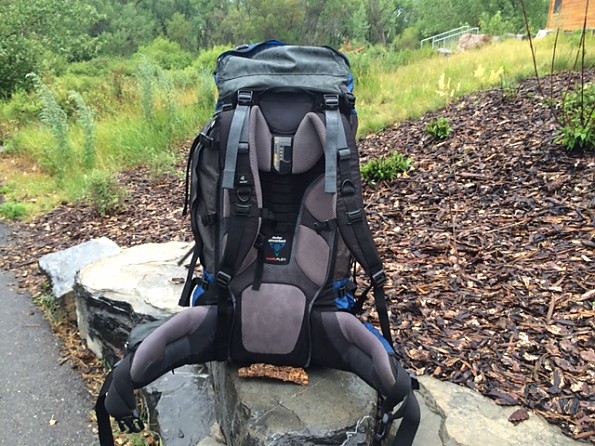 \
Very comfortable internal frame, shoulder straps, and hip belt.
Source: bought it new
Price Paid: $280 CDN

The Deuter Aircontact 75+10 is extremely comfortable, especially when it comes to ventilation for such a large pack. It has a huge carrying capacity, easily capable of hauling 60+ lbs for multi-week or week long treks. Multiple compression straps let you adjust the pack for anything from expeditions sized loads to weekend getaways. The X-frame stays also do an exceptional job of distributing weight to the hips.
Pros
Bombproof construction that should last a lifetime
Huge carrying capacity
Multiple external lash points
Integrated rain cover
Easy on-the-go adjustability
Very comfortable
Cons
Not enough external organization.
A little on the heavy side at 6 lbs 6 oz
I'll start by saying; 1) this is not a pack for ultralighters since it's a bit large and on the heavy side for that purpose, and 2) I have a Kelty Coyote 4750cu/80L and the one thing I love about it is multiple external pockets that make organization so easy — a feature lacking on the Deuter. Okay, I have the only negatives I could come up with out of the way, so on to the good stuff...
Capacity: This pack is the equivalent of a walk-in closet and will easily hold all your gear.  Even better, it will hold all that gear with excellent weight distribution and comfort, making 60+ lbs feel more like 40 lbs. 
The lid alone holds my water filter, first aid kit, camera, rain gear, a book and a small pair of field glasses, with room to spare.  The sleeping bag compartment easily holds my bag, a 3-man tent (with fly and footprint) and a Big Agnes insulated air mattress, and the main bag compartment holds everything else.  And beware - with so many lash points on the outside, you might be tempted to bring along the kitchen sink too!
Construction:  I've always liked it when my packs get that slightly used, broken-in look, but the construction of the Deuter is bombproof and shows no wear after a full season-and-a-half of backpacking (nearly every weekend from May through September). I've rubbed against decomposing granite while scrambling, had it roll about 60 ft down a 45% incline before being stopped by a tree, and had it soaked during a creek crossing, and it still looks new!  I expect it will last forever.
Comfort: Wow - and I thought my Kelty was comfortable!  The Deuter has incredible adjustability thanks to the multiple compression straps, the Variflex hip belt that moves with your hips, the v-shaped channel that pumps air up your back, ample padding and mesh on the back, hip belt and shoulder straps, and the super-easy Variquick adjustment on the harness (I've adjusted it with my bag stuffed to capacity).
Misc:  I like the integrated rain cover although some people might not. It detaches from the pocket on the bottom of the bag so you can go with or without it.  I'm not a big fan of the map pocket since it's difficult to access with the bag stuffed and the compression straps cinched tight.  However, the pocket on the hip belt is big enough for sunblock, lip balm, multi-tool, compass and a trail bar.
All in all, the Deuter Aircontact 75+10 is worth every penny of the suggested retail of $289 but you can find it for closer to $200 if you shop around. This is a super load hauler that surprised the hell out of me with its comfort and quality.  Way to go, Deuter!
Source: bought it new
Price Paid: $225 on sale

Awesome pack!
Pros
Flexible fit for nearly anyone
Fantastic design
Carries like a dream
Rugged beyond belief
Great compression for bulk
This shares with my Kelty 75 the honor of being the best pack I have ever carried. Bear in mind that I have owned and carried a vast number of packs, so that is saying something.  
Now I have not carried loads north of maybe 35 pounds in this pack, but this pack is designed for much more. The maker designates this as an "expedition" pack, whatever they may mean by that. The sleeve gives another 10 liters and both measurements seem accurate.
The design is sophisticated and can hardly be improved upon. Great belt and harness. Incredibly versatile adjustability that allows a big man (5' 11" with a long waist) and a small woman  (maybe 5' 3" at best)  with the stature of a junior high student to both carry this pack with ease and comfort. Friction mesh is where it should be and is of a type that does not offend my bare back, shoulders or hips.
I have used this for loads just north of 30 lbs. (maybe 35 lbs. or so) and currently use it when the weather permits for off-season exercise. I load it with a case of individual water bottles (24 pint bottles, weighing about 24 lbs.) plus, of course the weight of the pack, total tare about 30 lbs. I carry this as much as six days a week, distances of 7/8 mile to about 4.5 miles when work and weather permit. As a result I have put in a lot of time carrying this pack loaded, although mostly on pavement and suburban trails.
I have not put it on a scale, but I would think that it tips the scale around 5 lbs. It is a weight well worth carrying in my view, whatever the UL crowd would say. It carries like a dream and is well worth the weight of the pack and frame. That weight also gives it a ruggedness which in the old days of light weight pack cloth that we would have been dreamt of.
This is likely the best pack I have ever owned (although it is a nose to nose finish with my Kelty 75).
Is any pack worth $299? Well, if you have enough money and plan to spend a lot of time carrying a pack, the answer is yes. If you can afford to take six months off work and spend from $4000 to $7000 to hike the Appalachian Trail, I would think that $300 would be a sound investment. You might note, that either this pack or the aforementioned Kelty is likely to be intact and useable at the end of the summer. Many, perhaps most UL packs will be Goodwill bait soon after you reach Katahdin.
Me? I am broke; without miraculous finds at Goodwill, $300 packs are out of the question, no matter what the need. I am told that the $500 Gregory line is worth the bottom line too, but I have driven cars that cost less than that.
Source: bought it used
Price Paid: $3.50 (but I did pay sales tax!)

Pros
comfortable
great customer service
long lasting
***EDIT*** I just wanted to add that in 2010 I hiked the entire Appalachian Trail with this pack. In doing so I have a few things to add in this review.
The stabilizer and tightening straps after awhile began to slip constantly... most other people's packs did this too after 6 days of 95 degree heat at 15 miles a day :) but these slipped the rest of the way to Katahdin, constantly adjusting the whole way:( Halfway through the AT at Harpers Ferry the bottom rung of the height adjuster ladder on the back snapped off, but the company sent me a new pack free of charge!!!
Overall I carried about 55 pounds average and had very little discomfort other than the strap slippage.  Still think it's a great pack but going with an ultralight pack for the PCT.
This pack is amazing for extended or multi-day use. I have packed it up to 50 pounds and felt very little discomfort over a 3 day trip to Kentucky's Red River Gorge.
It fits perfectly to most if not all body types, being that it is fully adjustable to height and girth. I have a relatively bigger upper body than my lower body and am only 5'9" and it adjusted with ease and stayed comfortable every time I've used it.
It has a feature I find to be very useful, the pouch up front that I have used for rain gear and other waterproof items that take up lots of room inside. The divided compartment for sleeping bags at the bottom is a must in my eyes. The built in rain cover (it's on the bottom in its own pouch) is a godsend when rain starts quick and you don't want to dig through pack to get the cover. The pocket on the hip belt comes in handy for small items that you use often i.e. chapstick, compass, whistle etc.
The only downfall I have come across is that it is a little heavier than some other bigger packs.
Altogether this has been a great pack so far and I would recommend it to any one trying to carry a pack that is not ultralight.
Design: Top loading with divided sleeping bag compartment
Size: 85 liters
Number of Pockets: 6
Max. Load Carried: 50 lbs
Height of Owner: 5' 9"
Source: bought it new
Price Paid: $189.99

The Deuter Aircontact 75+10 pack is a great pack. It is a very comfortable pack with tons of features. The suspension is great and can carry a very heavy load comfortably. Best used for week+ trips or family backpacking trips. I love this pack and highly recommend it.
Pros
Great suspension
Very comfortable hip belt
Rain cover included
Great access to the main compartment
Lifetime warranty
One thing that really sold me on this pack is the adjustable torso length. I love this feature. If you have family members who like to borrow your gear, this pack is great because it can be adjusted to just about any length. This makes the pack fit very well.
This model is designed for men. Deuter makes a model designed just for women as well. The comfort is amazing. The hip belt is very thick and great for people who are skinny and don't have extra cushion on their hips. The venting is good.  
This is a large pack: 75+10, so you have 85 liters if you need them. It seems like a bottomless pit, you can put so much gear into it. The sleeping bag compartment and large U shaped zipper in front make the pack very accessible and easy to organize. The suspension makes it very stable and comfortable even with a very large load. If you don't need to use all of the 75 liters the pack compresses nicely with compression straps on both sides.  
The pack is very easy to use and works as expected. I've had this pack for a year now and it seems to be very durable. The construction is very good, typical of German products. I normally use this pack on trips that are multi-day or when I take the kids and I carry some of their gear.
Overall I love this pack and recommend it to everyone. It is very comfortable and built to last.
Source: bought it new
Price Paid: $289

I'm a woman who has used this pack for many years. Its adjustable straps and padded harness are super comfy.
Pros
Fully adjustable harness
Well balanced pack
Lots of room
Flexibility of use
Cons
Pouches on the sides are almost useless
This backpacking mother needed a pack to carry my gear and most of my (at the time) young son's essentials. This pack is the most comfortable one I own.
It has velcro adjustments for the length of my back, a fully adjustable harness and a removable/replaceable hip belt. The cushy padding on the hip belt becomes essential with a heavy load and the extra 10 was acres of room for all we needed. The pack is not waterproof (it's water resistant) but the attached rain cover is hidden underneath and it does its job.  
A small drawback is the side pouches. One would think they'd hold a one litre jug. No way! They fall out. This is annoying as they are a bit hard to reach while wearing the pack. Now I only use them for stuff I can strap in. My solution for water is a Platypus. There is a pouch for that inside the pack. 
I've owned this pack for more than 10 years and it has held up really well. I continue to use it even though I don't fill it like I used to. Luckily the gear straps cinch the pack in for a smaller load and keep it nicely balanced. Additionally it has ice tool loops, so it has even more useful options.
When it is time to retire this pack I will consider this line again.
Source: bought it new
Price Paid: ~250 cdn

Great pack for carrying heavy loads comfortably.
Pros
Great looking
Lots of room for gear
Many adjustable parts for custom fit and carry
Comfortable with all weights
Great price
Solid quality
Attached rain cover in bottom pocket
Cons
Have experienced slight slippage of front straps when under heavy weight.
Map pocket is at back of pack. I use top packet instead.
Pack is heavy
My 3rd pack.
My favourite by far.
A little bit heavy, but I recently carried gear for a family of five, including two tents, two bags, two pads, and much of the food and water. Eish, about 60 lbs, but it carried very comfortably.
This is a large pack that is adjustable for regular sized to very large people. I'm 5'10" and my Friend is 6'3" and we both have one. We both are fans of this bag (I bought it because I witnessed his 1st trek with his new bag, and how comfortable it was for him). At completely different sizes and girth, our bags adjust to our respective sizes and we both find the bag to be very comfortable.
It says 75+10 and it absolutely holds it.
I've used my pack about 6 times in the last 6 months and the pack still looks like it has come off of the sales floor, however, I don't baby my gear. This bag is well built.
The construction is solid, stitching great, it carries great, can be easily packed. I love this pack.
Source: bought it new
Price Paid: $200

I researched thoroughly and determined this model was my best bet for strenuous, multi-day expeditions.
Pros
Suspension system distributes weight efficiently and comfortably
Organization of pack's compartments helped me stay organized
Emotional value of everytime I utilized my bag I was reminded of how good this pack is
Adjustments to suspension system allow for shifting of weight distribution which keeps muscles from being taxed to exhaustion
Love the rain tarp and it having its own pocket! Very convenient!
Cons
Maybe it is a little heavy, but it is a comfortable workhorse
The water bladder's velcro strap to hold the bladder up is not adequate for carrying the weight...eventually velcro fails and the bladder drops low into its compartment which is not ideal for load distribution
Wish it was made in either Germany or USA
Not enamored with my color options (I have green) but may grow to appreciate it
A trip on the Appalachian Trail confirmed that it is well-designed, comfortable, rugged and comfortable. The pack revealed its strength as the trip went on. Compartment organization was superb for me (I like to find gear when needed). It may not be a superlight, but the suspension system helps to lessen the pain of a heavy load.  Pack showed little wear after a demanding week.  
I expect to have my Deuter for a long time. Looking forward to my next trip with this high performance pack!
Source: bought it new
Price Paid: $220

I purchased the pack as it was allegedly the best the shop had. Quite frankly I don't think it is good enough to take the washing. Deuter was good but now that they source product from Vietnam you get 3rd world lack of quality at developed nations' price. The brand is not worth the price anymore.
The zippers catch, one zip was broken during the trip, a 6-day trek in northern Thailand. The straps look like they belong to a deformed octopus and catch on any tree within range. Put some retainers on them Deuter!
Stitching was rubbish.
I threw it away after the trip.
I recommend it to my enemies.
Design: top loading internal
Size: 75+10 cubic inches
Number of Pockets: many
Max. Load Carried: 70 lbs
Height of Owner: 183 cm
Price Paid: $190

This thing is a comfortable tank! It's heavy. If you're looking to go lightweight, this is not where you need to be looking. However, if you're looking for a solid, well made pack with all of the bells and whistles, this is it. I prefer to use mine when I'm packing bulkier loads in colder weather or when I know it will be days before I can resupply.
The pack carries great. I have lighter packs that save weight, but this one really manages the load well. I've carried 60 lbs in this pack more comfortably than 25 lbs in lighter packs.
The suspension is highly adjustable and offers lots of options. The hydration access works well. A cover is actually included and attached. The pockets and compartments also allow you to load your pack in all sorts of different ways while still retaining access. I really hate the weight penalty, but I love the stability and comfort.
Design: multi compartment internal
Size: 75 + 10
Number of Pockets: 6
Max. Load Carried: 70 lbs
Height of Owner: 72 inches
Price Paid: $239

Workhorse for expedition backpacking. Most comfortable pack I ever put on.
Pros
Flexibility
Ruggedness
Capacity
Comfort
Adjustability
Attached rain cover
Cinches down if you have a light load
Overall design
Cons
Hip belt could use 2 pockets
Hydration hanger not up to the job
Colors are... odd
Most comfortable pack I ever put on. Used it for dozens of backpacking/hiking/camping trips. Once, in NM, I swapped packs with someone else and even with re-adjusting, his pack just felt wrong and heavy, even though mine actually weighed more.  
For me, comfort is everything and this pack delivers. It's about 5 years old and may last longer than I do.
Source: bought it new
Price Paid: $265

Wonderful backpack. Very comfortable. Had a lot of room inside and many straps outside that you can attach you gear to them. Will advise that backpack to everyone.
Pros
Strength
Volume
comfortable
The best backpack I've ever had.
Source: bought it new
Price Paid: £169

I hiked a ton of gear high into the mountains to set up a base camp and climb a 14,000' peak. This pack performed flawlessly. It held everything I needed with room for more, including the bear canister. Very comfortable pack. The pack cover performed well during the downpour after we set up camp. Important since backpacking tents don't really hold all your gear. I was able to clip all my climbing gear to the daisy chain webbing on the back along with trekking poles and a tripod. I plan to use this on all my treks for many years to come.
Design: top-loading with bottom compartment and side pockets
Size: 5200 cubic inches
Number of Pockets: a lot
Max. Load Carried: 60 lbs
Height of Owner: 5' 9"
Price Paid: $239

A hiking bag that is more spacious fits to my size. I could take all of my gear and I could camp for more than a week.
Its aircontact also makes me comfortable especially on tropical weather here in Philippines. I could also use this not just for hiking but also for my out-of-town travels.
I'm very happy and satisfied with my Deuter Aircontact.
Design: rucksack
Size: 75liters
Number of Pockets: 5
Height of Owner: 6 ft.
Price Paid: $193

Perfect backpack!!
The best I have owned for years... The hip belt is great, and takes all the load from my shoulders. Perfect anatomical shape! Awesome ventilation, my back stays cool after hours of walking. Very large, a lot of pockets, strong construction.
I love my Aircontact!
This pack is very easily adjustable for torso length and hauls heavy loads easily with comfort. The hip belt fit me very nice and is well padded and rigid enough to take the weight off my shoulders. This is a heavy pack that looks bomber proof.
Design: top loader
Size: 85 liter
Max. Load Carried: 35 pounds
Height of Owner: 5' 11"
Price Paid: $229

Your Review
Where to Buy
Help support this site by making your next gear purchase through one of the links above. Click a link, buy what you need, and the seller will contribute a portion of the purchase price to support Trailspace's independent gear reviews.
You May Like
Specs
Price
MSRP: $289.00
Current Retail: $310.00
Historic Range: $143.40-$319.95
Reviewers Paid: $3.50-$289.00

Weight
6 lb 6 oz / 2900 g

Capacity
4580 cu in / 75 L

Size
35 in x 16 in x 12 in / 90 cm x 40 cm x 30 cm

Material
Deuter-Duratex

Recently on Trailspace