Kelty Coyote 80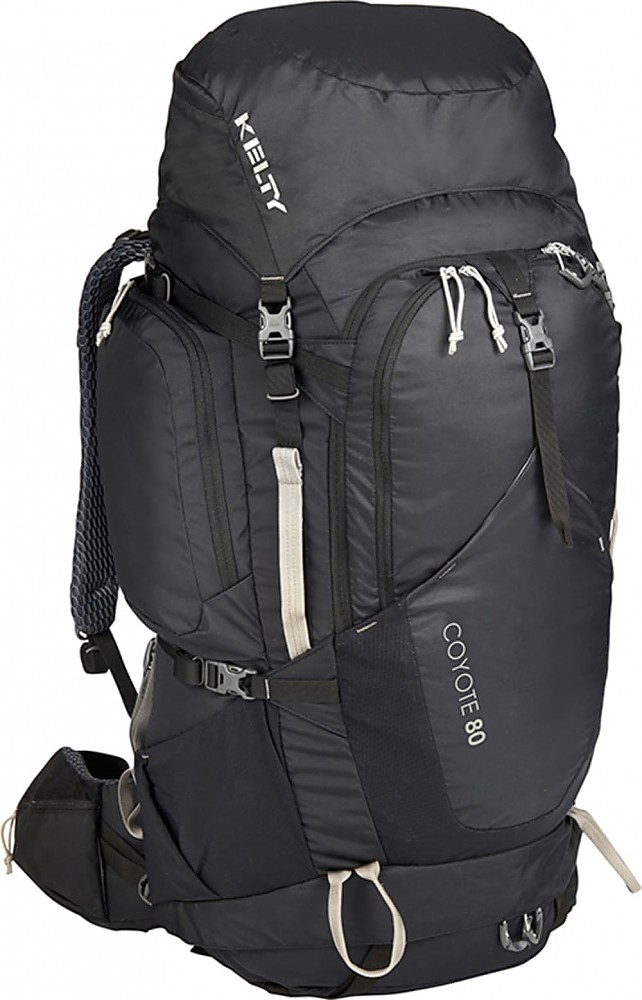 A great backpack that is comfortable and roomy. Has multiple points of access and a good range of adjustment.
Pros
Multiple access methods
Sturdy
Won't break the bank
Very comfortable
Lots of pockets
Cons
May be too heavy for the serious ultra light crowd
I bought this backpack after a lot of research and hemming and hawing. I'd used the same Camp Trails external frame backpack since the early 1970s and loved it. But it's too small, the padding in the straps and belt dried up, waterproofing gone. I was able to get a set of replacement shoulder straps and hip belt (from Kelty) but it was only a matter of time before the zippers failed. When one of the main zippers tore out, I bit the bullet and went shopping.
I was tempted to get another external frame pack but wanted more of the streamlined convenience of an internal frame pack. I don't, however, like the way most internal frame packs load through the top like a duffel bag requiring you to unload everything to get at what's on the bottom of the bag. I also like external pockets (creature of habit, my old pack had five plus one on the flap). I also needed something larger than 50L as I do a lot of winter camping and a 0-degree bag and three-man, four-season tent take up a lot of room.
After much research into different packs that had features I was looking for: top AND front loading, external pockets, and 70+ liters, I headed off to REI to test drive a few models. I must have spent three hours driving the salesman crazy. (Kudos to REI in Rochester, NY) I tried out backpacks by Osprey, Deuter, Gregory, and of course the Kelty. The first three were all in the $350-$400 range, the Kelty is $199 at REI. Price was not the issue. I'm not rich, but I believe in buying stuff that will last (like my 40-year-old Camp Trails pack).
I found the Kelty fit me the best. The others swayed a bit to much for my liking. They were comfortable but when I stepped left, they went right and vice versa. Only one had any external pockets to speak of, one had an integrated rain cover (which is nice), and none had front access. Several have detachable top flaps that become sling day packs.
The nitty gritty. The Kelty Coyote is like most other backpacks in that it is a top loader. It has a sleeping bag compartment on the bottom with a removable divider. There's a divided front pocket, not too deep, where I keep eating utensils (plate, bowl, knife, fork, spoon), backpacking towel and have some room to spare. There's a flap in front of the pocket to stuff things you need in a pinch like lightweight rain gear. Behind the front pocket is a zipper that opens into the body of the bag so you can grab out things from the middle or bottom (above the sleeping bag compartment) without unloading everything from the top.
It has two long zippered side pockets big enough to fit a liter nalgene bottle; they also have pass-through backs for poles or whatever. Below these pockets are two smaller stretch pockets (non-zippered). I'm not crazy about them because they lack zippers. You really can't carry a bunch of things in them and they do best with something like a water bottle or snacks that you want quick access to. If zippered, they'd be perfect for small items, e.g., batteries, toiletries, headlamp, etc. The top flap has a slit pocket with a key clip and a larger pocket. The whole thing comes off to become a sling pack. There are also two small pockets built into the hipbelt. The pack is set up with a hydration sleeve too.
It's got more compression straps and suspension adjustments than I know what to do with. The load levelers are nice and there are also ice axe loops plus grab handles in several places. A nice touch for those of us used to strapping things to the outside of a pack are the straps and attachment points on the bottom of the bag. These allow you to either exceed capacity or better yet, carry a wet tent or rainfly without sticking it in your bag. The frame has a lot of adjustment and the bag is very comfortable. I typically carry loads between 30 and 50 lbs, and have had no issues. The back panel has a ventilated mesh that's ok and is designed to provide ventilation.
One thing I have to mention, and I apologize for the length of this review, is Kelty's customer service. It's honestly pretty amazing and has made me a loyal customer. It's one of the reasons I started out looking at Kelty backpacks. Without going in to too much detail, these folks are there to help you and go to incredible lengths to make sure everything is what you need. Can't say enough about them.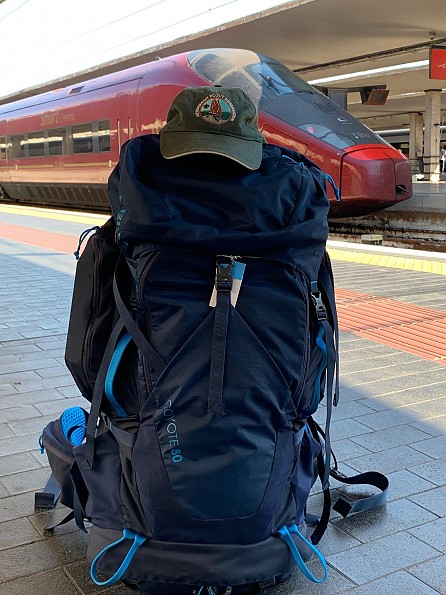 Experience
I've had this backpack for going on two years. Bought a second for my son who outgrew his first pack. Probably 15 trips in the US and Europe (it also withstands baggage handlers) and 100s of trail miles. This pack has gone from planes and trains and urban streets to the Adirondacks and northern Catskills in all seasons.

It's my first backpack of this type (internal frame) but my son's second so I got to experiment with him. I also have a Redwing 32 day pack.
Source: bought it new
Price Paid: $179

A bomb proof pack that does it a little on the heavy side. This product is best for 2+ day expeditions in any terrain. I would recommend this to a friend with a larger waist.
Pros
Its durability and unique back support
Cons
The waist strap is too large for me.
The pack fits excellent and true to size. I however have a smaller waist and even with the straps fully tightened it is a little too big around the belt.
I have hiked with this pack on multi-day treks and it is very comfortable. Everything is adjustable. The torso adjustment came in very handy seeing I have a longer torso.
I think this pack has more than enough capacity with surplus side pockets and mesh pockets. In addition after having a pack with waist zip pockets on the waist belt I will never buy one without them again.
I bonus is the brain of the pack comes off to use as a large fanny pack.
The many zippered pockets and spaces allowed me to not have to individually pack things like hygiene supplies in a smaller bag they had their own place in the pack itself. The volume is true as advertised as well. 
The compression straps helped keep all my gear close to my back even when carrying 40 lbs the pack felt very manageable and concise.
This pack has been all over the New England White Mts. and even when my fingers were frigid and I was tired, I was still able to operate the tasseled zippers and straps no problem.
The secondary main pocket has a mesh inside that will hold your stuff in even when it's open allowing you to handle gear and get inside without having to unload the whole pack which is nice. The only thing I think it could use is a built-in rain cover and sleeping bag compartment at the bottom of the bag.
Source: bought it new

Outstanding workhorse pack for the price, will not let you down.
Pros
Durability
External pocket space
Tie down points/webbing
Compression straps tighten the bag for smaller loads
front loading panel offers good access to the pack interior
good range of adjustment to torso size
Cons
High base weight
Ergonomics of back padding could be better
I have been using this pack heavily for the better part of 4 years now and I have nothing but good things to say about it. The pack has not shown any substantial wear signs whatsoever, despite being taken out on the trail quite a few doxen times.
This pack offers an excellent balnce of affordability and quality for backpackers looking to get into the sport, looking to replace a worn out pack, or simply looking to avoid breaking the bank. Its not absolutly top notch, it wont compete with the ergonomics, lightness, or fit of a $300 beauty, but its shortcomings will be hard to detect on any but the longest trips with the heaviest loads.
Firstly, lets talk durability. all ripstop nylon, thick webbing, strong buckles and straps. the seams are well stitched and i havent had issues with fraying or tears anywhere in the pack. the hip belt especially is very solid, and i have no problem at all letting much of the weight in the pack ride at the waist.
The external pockets offer nice space options. a large pocket in front of the front pannel, 2 side pockets, and two roomy pockets in the upper "hood" or "brain" of the pack, offer plenty of space for lights, maps, water purification, snacks, and all other trail accessories. also note small mesh pockets on hip belt.
The front of the pack has a vertical strip of webbing which can be used comfortably to attach objects to ride on the external, as can the two rows of webbing on the bottom of the pack (ideal for a tent, pad, or sleeping bag). one of my favorite features is the velcro opening inside of the side pocket panels, which allows you to carry longer objects such as an axe, a foldoing camp stool, hiking poles, or a collapsable fishing rod securley allong the side outside of the pack.
The pack has a hydration pouch with ambidextrous hose openings and a clip to support your bladder, located on the inside along the back panel.
4 compression straps let this bag function as an expedition pack down to an overnight pack, but i would highly recommend a 35-45 liter assault pack in your arsenal as well for shorter trips, as the coyote is a fairly heavy and bulky pack.
Great hip belt padding and support, chest strap keeps load close to back ridding comfortably. the back padding could fit a little better, on long distance multiday treks I occasionally notice pressure points (ie lower lumbar area), but to an extent fit like that is a personal issue, as everyone is shaped differently.
I find this pack to be outstanding, even as a dedicated backpacker, having taken it on many trecks, and it is highly recomended to anyone who is willing to sacrifice a bit of base weight for a durable and affordable workhorse pack.
p.s. does not come with rain cover, I use REI Duck's Back 80.
Source: bought it new
Price Paid: $139

It's like being hugged by a green friend. Very much adjustable to fit YOU. Top and front loading for easy filling and access. Sweet side pockets with bottom seams that velcro to the pack to allow for easy stowing of poles, fireworks, yard beer glasses or anything. Feature rich for the price!
Pros
Adjustable torso length
Adjustable frame
Easy access to the main compartment
Opening for hydration resevoir
Simple, easy adjustmnents
Great weight distribution
Firmly cushioned waist belt
Two waist belt pockets
Cons
No easy access for a water bottle
Daypack does not have simple quick release buckle
No rain cover
I don't know much about backpacks. I tried a couple on in REI which was about the full extent of my research.  Well, I talked to friends but really, packs are pretty personal and everyone seems to want something specific to their needs. So, I ventured out and looked for something inexpensive.  I ordered and returned two others that cost about two times the Kelty.
I found the Kelty pack pretty comfortable out of the box with that new pack smell.  I took the pack out for a couple hikes. Empty at first then adding around 25 lbs. Not knowing how to adjust the pack, I basically read the small booklet that came with the pack. They recommended adjusting with 35 lbs.  Are you kidding me?  35 lbs?  Sure, like never. Never came about a week later as I kept adding weight until I was at 35 lbs.  
I did all my later adjustments at 35 lbs. I bent the frame, adjusted the torso and figured out the top weight aligning straps in a few minutes. I still don't know how to best adjust the shoulder straps so I just do whatever feels best.   I am up to 50 lbs and the weight sits on my hips pretty well. I like the stiff waist strap as I am a bit rounder in the middle and the pack tends to slide down.  Where it rests, I tighten it up and the soft but firm straps hold it there off my shoulders.
I am following the booklet for loading it.  Lighter stuff at the bottom, heavier in the middle.  I have my bag, tent, down shell, rain cover, inflatable sleeping pad and pillow.  In the middle I have a full bear can, and 8 lbs water.  On top another 10 lbs of dumbbells. At 50 lbs, it seems to just conform to me and while 50 lbs is a lot to me, A couple 5 mile hikes were fine.  
I am planning 9 days in the Eastern Sierras. I have the pack loaded with just about everything I am taking and still have quite a bit of room.  The capacity is great.  I could easily fit a couple six packs in there and I have not loosened the expansion straps.  I don't know what others bring but I can't imagine it not fitting in here.
I really like the quick access to my Payday bars via the top opening looking right at the top of my bear can.  The front zippers make it easy to access everything like my Aerolite chair.  There are actually two zippers for front access.  There are side pockets as well as mesh pockets.    I just wish I could easily slide a water bottle in a pocket.  There is a convenient internal pocket for my hydration pack with slots at both shoulders for the sippy tube to slide through.
So far, I can't find a real problem with the pack.  It seems well made and the seams are tight and look solid.  No signs the material will tear away or easily rip.  Well, it could use a jet pack attachment for the a quick descent from Mt Whitney.
Summary.  Great, inexpensive pack that will make you look younger and better.
Source: bought it new
Price Paid: $99

Big pack but not like strapping a bus to your back. Very durable and a great price point.
After trying many packs it was tough to find the right mix of size, comfort, and price. This hits all three perfectly for me.
Source: bought it new
Price Paid: $200

The Kelty Coyote 80 is a sufficient pack for most light-duty, overnight applications. At the comparatively lesser price point compared to other brands, it is a pretty decent value.

I think it's a pretty good pack for Scouts. The suspension is comparatively not as well designed as what you'll find with some well known manufacturers like Arc'teryx. I recommend not loading it past 35 pounds.
Pros
Lots of pockets
Ready for a water bladder
Lots of adjustments for the suspension
Cons
Too heavy (5.5 lbs)
Too tall
Too wide
Construction is not as "bomber" as I expect given the weight
Materials change, so manufacturers need to change with it:  
When I was a kid (some time ago), the design and concepts of usage regarding backpacks had changed. Instead of using canvas backpacks (most with no frame), backpack designers were moving toward the external aluminum frame providing improved support and shifting the weight of the load to the hips rather than all on the shoulders / back. Heavy canvas was replaced by synthetic materials.
The result: gear was more water repellant while having a support system allowing the hiker to move with less fatigue. Or, do more with better results. Great!
In the following decades, load lifting, improved materials, sternum straps, internal frames and improved belt design have made packs even better (though not lighter). The Kelty design team and subsequent product lineup seems to be stuck in this last phase, and the Coyote 80 is not only no exception, but perhaps a key example of how innovation has stopped with some manufacturers.  
When I look at what Kelty is offering, I see a company that is fixated on retail-friendly products that sell based on brand recognition rather than performance. I don't remember Kelty having these kinds of roots. I remember a company that was a conceptual trail-blazer and that provided the right quality with best-of-class performance. That's why our family bought two of these Coyote 80 packs about a year ago.  I trusted Kelty.
What is the Kelty Coyote 80 like, and what will it do for you?  
First of all, these packs weigh roughly 5.5 lbs.  That's just the pack: heavy. Now, the support systems are great and the adjustments are near endless.  If you know how to use them all, that's a huge plus for this pack (might be useless for most kids). If I wanted to pack in 80 lbs of gear for a month-long stay somewhere, this pack would be a decent choice.  But I don't want to pack 80 lbs anywhere, or for any reason. 80 lbs on my back sounds awful.  
What I do want is a pack that allows me to bring me and my gear to remote destinations and allow endless adventure. This pack will do that, though slowly. What I mean is, because it's heavy and poorly balanced, I have to hike slowly with it. If I use a smaller pack that fits closer to my body (think of combining center of gravity with the need for athletic body mechanics), then I can move much faster. If I move faster, I get further. If I go further, more adventure awaits.
Also, if I use this pack then my body mechanics are all wrong for any athletic movement. When I need to bend forward, the relatively high Center of Gravity (CoG) essentially throws itself over my head. If I move side-to-side then the wide CoG throws my back around. End result: I have to slow down because of the pack, and no adjustments to compression straps will change that need.
The problem is not just Kelty. I'm giving Kelty a pretty hard time here. They are really not the problem — I just happened to buy two of their packs, so they're getting the blunt-end on this. It seems that most of the established manufacturers found in typical retail are all still making their packs the same way as Kelty. And if you want an awkward and heavy pack, then Kelty is, in my opinion, better than most.
However, if you want more from your limited time than a slow and torturous slog through the wilderness, then I'd recommend looking past typical retail and established manufacturers.
I hope this helps get your wheels turning.  Happy adventuring!
Source: bought it new
Price Paid: $125

This is a great pack with lots of features. I would rate it higher if only it had a rod holder and built-in rain cover.
Pros
Good quality
Rigid construction
Great price
Cons
Could not find any packs this size geared to hunter/fisherman
Prior to this pack I lived in BWCA area and you use canvas and leather Duluth packs on fishing trips but i found them to be to heavy when i moved to southern Minnesota and began hiking trout streams. First i bought an external frame pack that wasn't quite big enough then i got this and it is slick i carry a tent, waiters, sleeping bag, food, rods, tackle, cook ware and all my other misc. trail gear with no shoulder and back strain.
The waist straps are more rigid than a lot of packs i tried.  i think that is a plus for a guys body shape that lacks hips. it also has adjustable length on the back that is very easy to use. plenty of pouches and access points.
Source: tried it in the store

This pack is one I would buy again in a heart beat. For the low price, you can't find a better quality pack. The versatility and comfort definitely put this pack in the ranks with some of the more spendy pack names out there.
Pros
Two entrees into the main compartment
Flow thru side pockets
Pack lid pocket converts into day pack
Hip belt pockets
Easy adjustments
Weight distribution
Cons
I wish the convertible lid had quick release buckles.
I bought this pack new in January and the handful of times I've used it, I have been extremely impressed with it. There are tons of features on the pack that stick out from a lot of other packs.
My favorite feature is the flow thru pockets on either side of the pack. These give you the ability to easily pack fishing poles, a rifle, easy stowage for trekking poles and a just about anything else you can think to put in there.
Another great feature is the packs lid that converts into a day pack. Once you get your camp set up you can remove the lid and use it for small hikes around your camp. The only downside to the lid is that it does not have quick release buckles but rather threaded connections.
While wearing the pack the weight is evenly distributed and rests well on your hips. The padding makes it extremely comfortable to wear and the cloud lock suspension system makes it easy to adjust to to any torso size.
The pack also has two entree points. One at the top and one in the front which makes it easier to grab items stuffed deeper into your pack. On the hip belt, one of the main features I was looking for was the pockets on both sides. These are great for quick grab items like a snack or camera.
Overall I think that the Coyote is an awesome edition to any backpackers gear and it is definitely one that I will recommend to others.
Source: bought it new
Price Paid: $89

A lot of quality and more features than the price could tell.
Pros
Affordable
Pockets everywhere, daisy chain and front load capable
Comfortable and adjustable
Cons
They could impove the colors
The front load capacity is very nice, but the should extend the zippers to make it wider
Kelty is all about quality and small prices.
The Coyote is my very first pack and it has not let me down: has a lot of room for gear, huge side pockets with a very important feature: "float through" to let you put the trekking poles or maybe a rifle, or a knife. 
It has two top pocket with the ability of teking the upper part off, kind of like a big fanny pack. It has all the adjustability to conform to your torso and has one of the most important features: front loading.
This pack is very tough, versatile and comfortable and has very little things to improve.
P.S. Buy a huge rain cover for the pack.
Source: bought it new
Price Paid: 80 dollars, in clearence :)

This thing is baller. Straight up delivers durability and comfort, promotes good posture very ergonomic fit fully adjustable and accomadates a fair bit of gear modestly.
Pros
Durability
Dependability
Stability
Cons
Almost too big
No, I guess I'm not picky enough to have any real drawbacks with this equipment
Fit: very nice
Comfort: hip belts and shoulder belts, sternum straps fully comfortable and adjustable as well as venting terrifically.
Capacity: very larggge
Organization and accessibility: solid.
Evenly distributes weight and adjusts well to different loads with all kinds adjustments everywhere.
Source: bought it new
Price Paid: MYOB i got a good deal

I loaded this bad boy up with 55 pounds of food and gear for a week long trip in Utah's Uinta Mountain range. Based on the cost, I was a little worried about how well it would stand up to that kind of load and even more concerned after losing the trail and bouldering and bushwhacking 5 miles on the first day of our trip. That evening in camp, I carefully checked all the seams thinking I'd definitely have to do some repairs. The pack still looked like it came straight out of the box and I feel like I got the deal of a lifetime!
While not the lightest pack on the market, you can count on this workhorse to stand up to heavy loads and terrain that would shred most other packs. With an adjustable suspension, wicking mesh back panel, and dual density foam hip belt, you'll be able to comfortably carry up to 50 pounds without splitting seams or feeling like you fell off a mountain at the end of the day. 
Finally, for under $200 you're getting a terrific value without spending what the big name guys want.
Source: bought it new
Price Paid: $150

Your Review
Where to Buy
Help support this site by making your next gear purchase through one of the links above. Click a link, buy what you need, and the seller will contribute a portion of the purchase price to support Trailspace's independent gear reviews.
You May Like
Specs
S/M
M/L
Price
MSRP: $165.95
Historic Range: $62.39-$219.95
Reviewers Paid: $80.00-$200.00

Weight
5 lb 9 oz / 2.5 kg
5 lb 9 oz / 2.5 kg
Capacity
4750 cu in / 78 L
4750 cu in / 78 L
Width
16 in / 41 cm
16 in / 41 cm
Length
34 in / 86 cm
34 in / 86 cm
Height
16.5 in / 42 cm
16.5 in / 42 cm
Suspension
Adjustable
Adjustable
Torso Fit Range
14.5 - 18.5 in / 37 - 47 cm
17.5 - 21 in / 44 - 53 cm
Recently on Trailspace