Dirty Girl Gaiters
Gaiter
Reviews
Since I have taken to hiking and backpacking with…
Rating:


Source: bought it new
Price Paid: $20-ish

Summary
Since I have taken to hiking and backpacking with low-cut hiking shoes, I wanted a way to keep debris from accumulating in the shoes and causing discomfort. I tried another more commercially available brand gaiter, but they were very short lived, quickly developing holes to the point of no repair. Having tried Dirty Girl gaiters, I'm sold on them and plan to use them as long as they're available. Further cementing this decision is the fact that they have proactive customer service — something I've never experienced until now.
Pros
Lightweight
Effective at keeping debris out of shoes
They are a conversation piece (if selected in bright colors)
Cons
Hooks not securely fastened
Don't repel water
They are a conversation piece (if selected in bright colors)
Background:
For as long as I've hiked, I've experienced the discomfort of sand, pebbles, and twigs getting into the top of my hiking boots and shoes.  It was only when planning for an extended trip (30 day through-trip of the John Muir Trail) that I finally caught onto the idea of wearing gaiters.  I had used gaiters for snow conditions, but hadn't used them in the summer, but figured it was worth a shot.
How they Work:
There are various styles of gaiters.  Most, like the original set I bought from another brand, have straps that loop around under the shoe to hold the gaiters in place.  Dirty Girl does away with that and uses a hook on the front of the gaiter and a piece of hook & loop material on the back.  The hook catches on the cross of the shoe lace.  The hook & loop patch requires a complementary piece of hook & loop material be attached to the shoe.  Dirty Girl provides adhesive-backed hook & loop patches to take care of this.  This design helps keep them light & there isn't an under-shoe strap to wear against rocks on the trail.
I should mention also that this design means you need to remove your shoes to take them off.  The gaiter is like a collar over your ankle (some others zip or hook & loop open in the back).  This may or may not be a concern depending on your point of view.
In terms of sizing, it's a little tricky.  I wear relatively large shoes (10.5-11), but have thin ankles.  Based on shoe size I should have ordered Large.  However due to my thin ankles I ordered Medium, and they are just right.
At first I wasn't enamored with the idea of attaching hook & loop patch to my shoes.  And my pre-hike research gave me a less-than-optimal experience with Dirty Girl pre-sales (in spite of providing lots of detail and actually sending a photo of my shoe annotated with measurements, they couldn't tell me what size to order... so I didn't order any).  But I ended up with Dirty Girls anyway, sort of by default (and I'm glad I did).  Midway thru my JMT trip, the original "other" brand gaiters had worn out.  I happened to notice that at one of my resupply points, the Muir Trail Ranch (MTR), they had Dirty Girl gaiters for sale in the store.  I decided to give them a try.
… About the colors:
Dirty Girl gaiters are well known for coming in vibrant color schemes.  They do also carry some more subdued colors, including plain black, but the majority are … well, flamboyant.  MTR carried a modest selection - there was a more subdued color pattern that I actually didn't like.  So I threw caution to the wind and got the flamboyant ones :).
The colorful patterns are good, or not so good, depending on your mood and the situation.  I must admit they got a LOT of looks while on the trail.  Some were looks of approval (often from women).  Others (often from men) weren't so approving.  MANY people commented.  The comments ranged from, "I love those gaiters!", to "aren't those for bicyclists?" and "don't they make gear for women?".  Well, in spite of the name (and available colors), Dirty Girl gaiters are unisex.
Frankly, although it was fun for a while, the comments got old after a while.  It seemed like I couldn't hike a day on the trail without someone commenting on my gaiters.  This isn't necessarily what I'm after when I go hiking.  When I ordered a subsequent pair I got them in plain black.
Here are my original pair (before one was stolen by a large rodent):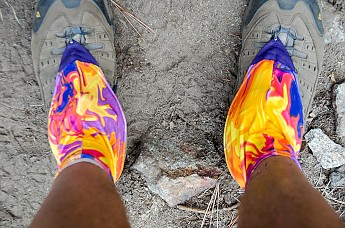 Function:
This is actually the important part.  These gaiters work very well at keeping debris out of my shoes.  They're lightweight, so they don't add a significant load.  They're also breathable so I don't notice any significant increase in foot temperature.  I guess the only downside is they don't repel water, so they they don't keep out water when it's raining.  There is also still a residual amount of dust that creeps through - but they're still well worth using.
One point to note has to do with the hook & loop fasteners on the back.  They worked fine for me.  However if you have a boot that doesn't have a smooth surface on the heel area, you may need to take extra steps (use a strong glue) to affix the hook & loop patch.
Durability:
Unlike the "other" brand, the Dirty Girls stood up very well.  I was actually surprised they held up so well, because they are made of a heavy lycra material.  I expected it to wear out like the first (heavier) pair.  However I used them for the remainder of my JMT trip (~110 additional miles) and they looked as good (except for the dirt) at the end as when I bought them.  The one exception is the metal hooks on the front of the gaiters aren't fastened very well.  One came off & required re-sewing.  The same thing happened again (to the other one) on a subsequent trip.
Here they are laid out awaiting a campsite repair session to re-attach the hook on one: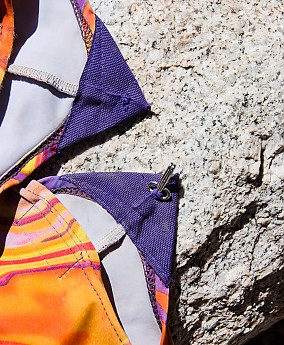 Field repair completed!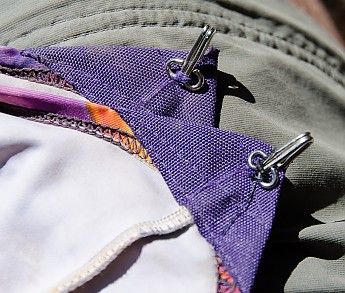 Customer Service:
Here's where I was rather shocked.  After my JMT trip, I posted a forum message on Trailspace regarding my use of the Dirty Girl gaiters, including a bit about the hook fastener issue.  A short time later, I received an email from Dirty Girl, offering not just a replacement, but "two replacements".  At first I didn't think it was for real.  So I followed up with them, and it was in fact a legitimate offer. 
I did end up taking them up on it - I gave one of the new pair to a friend, and kept the other for myself (though this one was in black :).  As it turns out, I'm glad I did, because on a later trip I also discovered that rodents like Dirty Girl gaiters, as one stole one of my originals.  Kudos to the Dirty Girl people for proactively going after me to address the small issue I had with their product - no call required - they found me.  Too bad more companies don't do this.
Summary:
If you're looking for lightweight gaiters to keep debris out of your shoes, look no further.  It would be worth your while to do some extra sewing of the metal hooks before taking them on the trail, but other than that they are a good choice.  They're also very reasonably priced at around $20.  I do recommend these gaiters for the purpose I described.  While I had a rocky start with Dirty Girl pre-sales, their product worked great for me, and their proactive  customer service later was awesome - so in the end it all came out well.  I'll definitely buy another pair if anything happens to the one I have now.
About my Score:  
I gave these a score of 4.5 out of 5.0.  They would have been a 5, but even factoring in the exemplary customer service, I had to deduct something for the hooks coming off - we don't want our gear to fail on the trail.
Note the Dirty Girl gaiters are the most colorful piece of gear on my person :)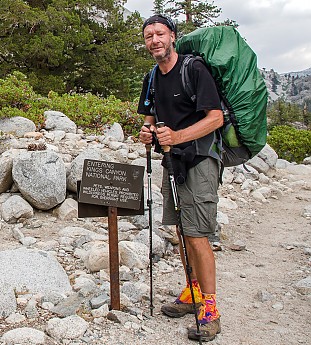 Finally got over my gaiter-phobia with these lightweight…
Rating:


Source: bought it new
Price Paid: $20

Summary
Finally got over my gaiter-phobia with these lightweight and easy to use gaiters.
Pros
Fit great
A bargain
Easy to use
Breathable
Cons
Had trouble getting them clean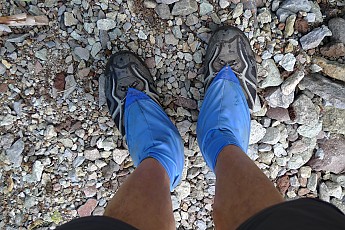 I have never been a big fan of gaiters, even though I knew they would be helpful, and the last time I wore them was on my Kilimanjaro climb in 2004. They always seem heavy and hot and uncomfortable. And I have always found it hard to find any that fit my gargantuan size 14 shoes. But since I have switched to lower cut shoes for hiking and backpacking, detritus in my shoes has become a problem.
I've heard about Dirty Girls for some time, and finally decided to give them a try. The first thing I noticed, is that they actually make them in a large size (in my case, they refer to the size as "DANG"), so that was promising. I'm boring, and ordered just a plain blue color, though they come in all kinds of wild designs. 
Your shoes require a bit of preparation to use them. Instead of the typical string/strap under the sole of the shoe, the back of these gaiters attach to the shoe via a "velcro" strip you install on the back of the shoe. This took a few minutes to do, and then they were good to go. At the front of the gaiter is a small metal hook which attaches to your shoelace. They are pretty tight and require one to open a bit with a screwdriver blade.
Once all of the preparations are made, they are super easy to get on and off. You just put the gaiter up on your leg, put your shoe on, and attach the gaiter. Once attached, they stayed put very well.
The fabric is soft and supple, and I never felt conscious of having them on. Breathability is top notch, even as sweaty as I usually get (which is a lot). The fabric is NOT waterproof, but I sprayed some DWR on them before using, and it was very helpful on wet foresty mornings on Mount Rainier.
The only complaint I have is, that when I got home from my Rainier trip, they were pretty filthy. I washed them twice, but some of the six days of trail dirt seems to be permanent. Aside from that, they seem well made, and so far, show no distinguishable wear.
All in all, I love the gaiters, and use them all the time. Highly recommended.
NOTE: Dirty Girls are only available directly from the manufacturer, as far as I can tell: https://dirtygirlgaiters.com/shop/
The bomb for keeping trail debris out of your shoes!
Rating:


Source: bought it new
Price Paid: $20

Summary
The bomb for keeping trail debris out of your shoes!
Pros
Lightweight
Easy to use
They really work
These are the bomb! I was always struggling to keep the pine needles from working their way into my shoes and stabbing me in the feet and ankles. I didn't want a heavy, hot gaiter and these are none of that. The material is very lightweight and dries quickly when it gets wet.
It attaches to the back of your shoe with velcro (provided with your purchase) and then hooks to the front of your shoe laces. It is important to measure your ankle correctly using their guide so you buy the proper size.
I wear these with both my mid height boots and my trail runners and nothing has ever snuck under them to stab me in the foot. I wear them all the time and they have held up well. If they get too dirty, I just throw them in the washer.  
There are a multitude of patterns available—everything from plain colors to wild patterns, so everyone can express themselves on the trail.
I've had a pair for 2 years and they're still going…
Rating:


Source: bought it new
Price Paid: $20

Summary
I've had a pair for 2 years and they're still going strong.
Pros
Light
Many colors and patterns to chose from
Breathe well
Great for keeping cheat grass and stickers out of your socks.
Where to Buy
sponsored links
Help support this site by making your next gear purchase through one of the links above. Click a link, buy what you need, and the seller will contribute a portion of the purchase price to support Trailspace's independent gear reviews.
Dirty Girl Gaiters Gaiter
MSRP:
$20.00

The Dirty Girl Gaiters Gaiter is not available from the stores we monitor.
Recently on Trailspace