Fjallraven Abisko Trekking Tights


The Fjällräven Abisko Trekking Tights are the perfect solution for comfortable and durable trekking pants as well as a thermal baselayer, all wrapped up into one. They feature functional pockets and robust construction, providing so much utility that one may find that no other pants are ever needed.
Pros
Durability
Comfort
All-around utility
Good pocket design
Cons
Insufficient waist drawcord to prevent slouching
Can get a bit smelly after prolonged use
Specifications:
Design: Reinforced Knees/Rear, gusseted crotch, articulated knees, and flat-lock seams
Knees/Rear Material: 62% polyamide, 16% aramid, 12% elastane, 10% polyester; Stretch material: 82% polyamide, 18% elastane
Pockets: 3
Weight: 265 g in size small (my sample, size small, weighs 9.7 oz/276 g)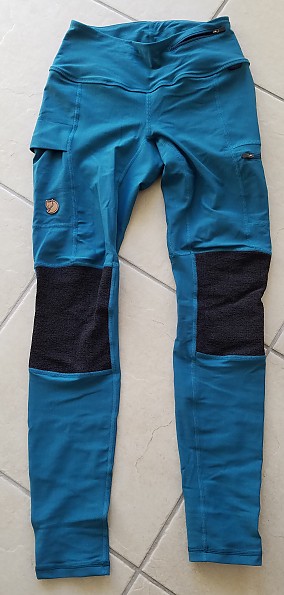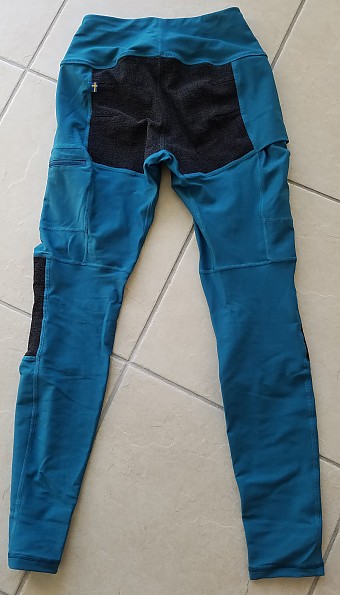 Conditions of Test Period: When I say that I lived in these tights for four months, I am not exaggerating much. These were the only pair of pants that I brought during a thru-hike of Te Araroa, New Zealand's long pathway.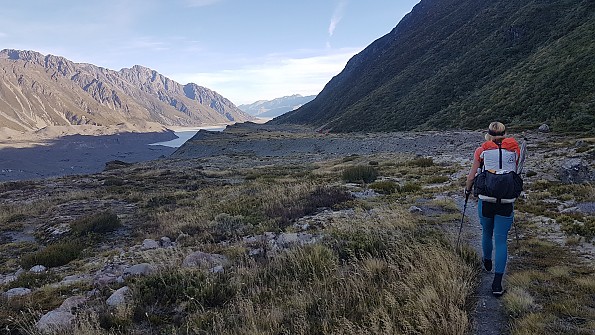 In achieving a baseweight of less than 12 lbs, I tried to keep excess clothing to an absolute minimum. I wanted a pair of bottoms that would serve not only as trekking pants, providing protection from sun, wind, bugs, and abrasion, but also as a thermal layer for cold conditions and for sleeping in at night. In total, my bottom clothing consisted of the Abisko tights, a Purple Rain hiking skirt, and a Zpacks DCF rain skirt. That's it!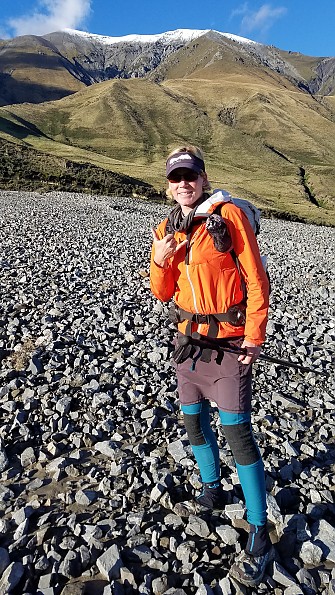 Versatility is a hallmark of items carried during a thru-hike and this combination served me perfectly over 3,000 kms and widely varying conditions (sub-tropical to alpine). New Zealand is known for its temperamental weather, difficult trail conditions, and rugged terrain. I bashed through head-high tussock, wallowed through mud, and scrambled across rivers, trees, and rocks in these tights. I also biked over 200 kms and was surprised at how well-suited they were for this activity, too. I can think of many other activities where they would be useful, such as horseback riding and skiing.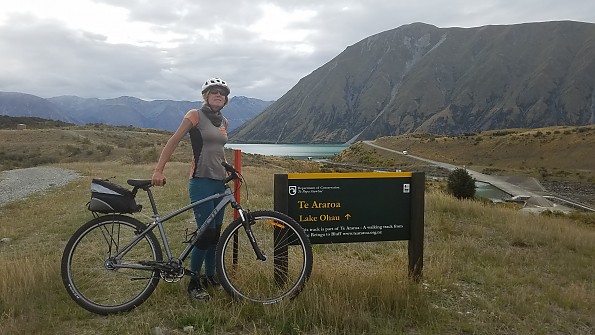 I began my thru-hike December 3rd, 2017 on the north tip of the North Island, where sub-tropical summer conditions made it impossibly hot to hike in anything but my skirt. But as I steadily moved South, I found myself sleeping in the tights most nights. They also offered just the right bug protection from the pesky New Zealand sandflies.
Cooler weather finally hit on the South Island, where I wore the tights every night for warmth around camp and inside the huts. By mid-March, 2018 (the equivalent of September in the northern hemisphere), I began wearing the tights well into the morning and eventually throughout the day for temps into the low 30's F. Their final test was a rugged alpine traverse over Ball Pass, near Mt Cook. It was a great opportunity to see how they stood up to a lot of boulder scrambling and butt-scooting down rocks.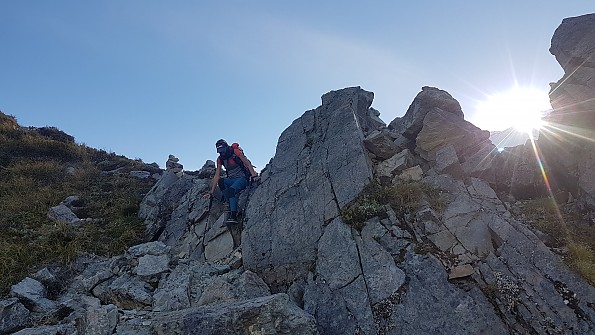 Design, Fit & Comfort: I discovered awhile back that I prefer tight-fitting hiking pants as opposed to the standard boot-cut kind that end up swishing loudly and loosely around my ankles and thighs, all the while getting coated in dirt and mud. Regular hiking pants also tend to wrap and bind uncomfortably when they get wet, which is inevitable in the outdoors. Some hikers have stumbled on the idea of hiking in tights and/or yoga pants. After all, a tight-fit-solution offers superior comfort and performance for many activities, hence the abundance of lycra-clad athletes the world-over.
Fjällräven has run with this idea to design trekking-specific tights that have all the fit and comfort advantages of standard tights, with the durability and utility of hiking trousers. Namely, the knees and rear of the Abisko tights are reinforced with a tough, non-skid layer and there are several pockets. The overall material is also quite robust. You'd be correct in calling these tights a technical piece of clothing, even though the basic principal is incredibly simplistic.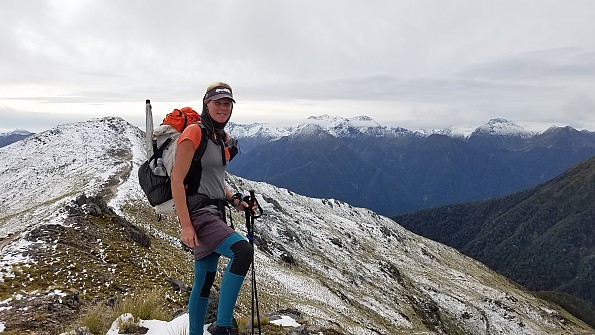 I found the fit to be true to size, though shorter women will probably find the inseam to be long. I especially appreciated this generous length, as most pant legs are far too short on me. I guess because of Swedish aesthetics and/or proportions, these tights were made to fit my skinny waist and long legs. (I'm 5'9" and hover between 125 and 133 lbs). The cuffs extend to my ankles, making it possible to tuck them into my socks and/or gaiters for full coverage from the bugs, cold, or vegetation.
The Abisko tights are very comfortable to hike and sleep in. When moving, my legs felt free of any constraint. The wide waist and flat-seams make the tights comfortable under a pack hip belt, as well. At night, the tights provided good insulation and a cozy feeling. None of the zippers, seams or pockets ever bothered me in any position. The reinforced areas do not rub or cause discomfort on the inside, as they are well lined with the regular stretchy fabric. The extra material in the seat even provided a little padding during the stretches where I rode a bicycle.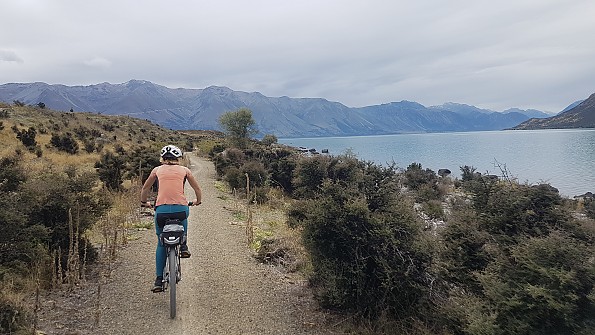 Because of weight-loss (described in next section), I sometimes had an issue with the knee panels slipping too far down my knees. I simply had to work the waistband up, pulling the fabric up around the knees as well. A minor annoyance but it did not affect my comfort too much.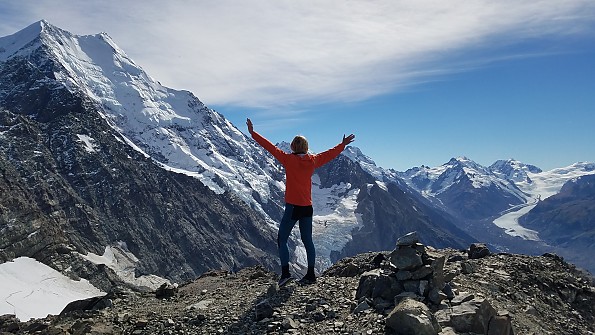 Adjustability: Besides being made from a 4-way stretch material, the only adjustment feature is a simple elastic drawcord at the waist.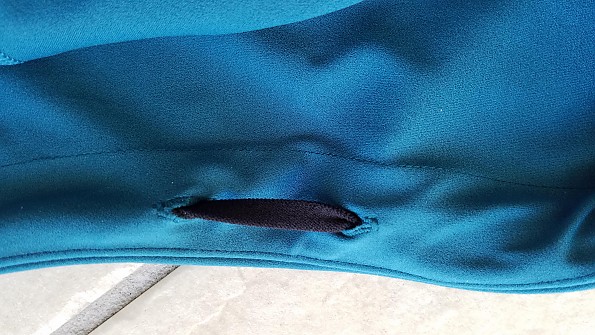 By their nature, tights are supposed to be form-fitting and therefore need little adjustment. However, during my thru-hike, I did experience a 10lb weight loss and by the end, found the tights working their way down my waist. I tried pulling the small elastic band tight and trying it into a knot. This was as a last-resort, as tying and untying a knot is cumbersome.
There needs to be some sort of mechanism to secure the band. A low-profile barrel cord or cleat device could be added, but this might interfere with the comfort. There are also no loops on the waistband in order to add a belt (the men's version has this feature). Again, given the stretchy material and a close-fit, these tights shouldn't generally slide off. My experience in losing over 10 lbs is not a normal testing circumstance, though it is a common occurrence among long-distance thru-hikers.
Water Resistance, Breathability, and Moisture: These tights are not touted to be water resistant (only the reinforced areas have this claim) but I did find that they repel water to an extent. They also do not hold much water and dry quickly. I put them on wet after washing on numerous occasions and they always dried within a half hour just from my body heat. I also sweated from time to time while hiking uphill, but never noticed that this moisture became uncomfortable. I would rate their breathability and moisture-wicking abilities to be good, even though the material lies close to the skin and does not allow for much airflow. All in all, they are pretty comfortable to wear in wet or humid conditions.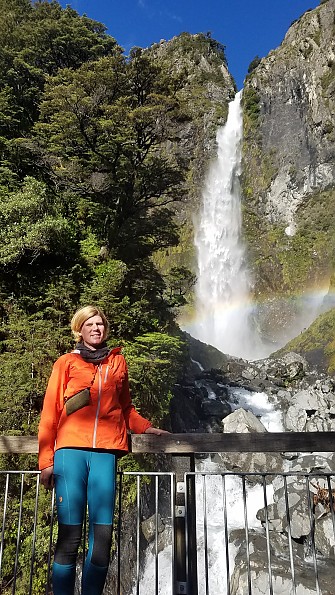 Warmth: I took a chance that these tights would be sufficient as my only baselayer bottoms and I was not disappointed. They provide decent thermal insulation and comfort around camp and for sleeping in at night. The material is not super thick, so I did feel a chill at times. If need be, I could always use my quilt to cover my legs around camp.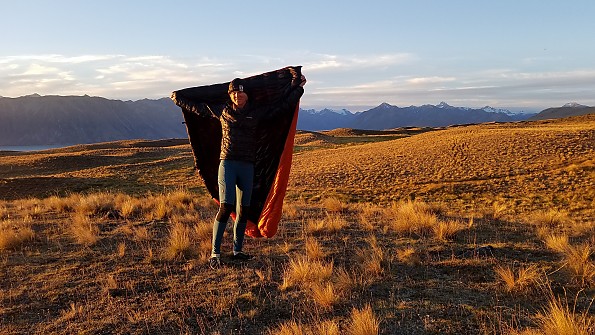 In following with their Swedish origins, the Abisko tights are generally too warm to hike in when temperatures are above 50 degrees F. In late March, there were several days when temperatures hovered in the mid 30's to low 40's F. These were the conditions that I found the tights to be most comfortable for hiking. I'm a hard-charger and need little insulation when backpacking, as long as I am moving constantly during the day. When moving more slowly or taking frequent breaks, the tights would be comfortable to wear in warmer temperatures.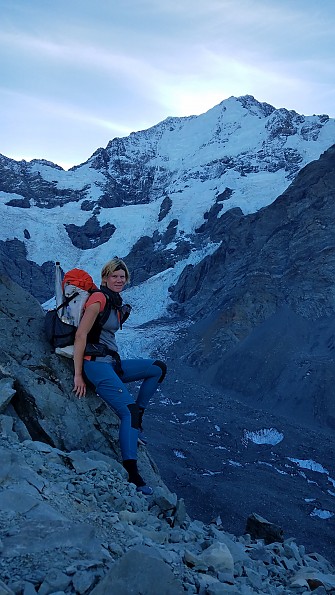 Layering: While I did not personally have the arsenal to add pant layers over the tights, their snug fit would make it easy for anyone to wear rain, wind, or winter pants, in conjunction. Since I prefer hiking/rain skirts, I routinely wore my skirts over the tights. This made it very easy to add or take off the tights, as needed for layering. (Skirts also facilitate discrete clothing changes, which is important in public living situations such as huts or shelters.)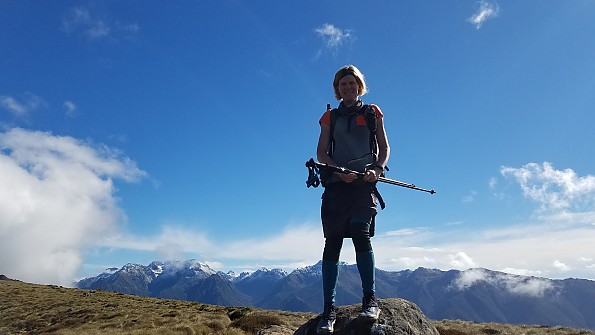 Function/Features: I love the pockets on the Abisko tights. I found the right-side pocket with flap to be perfect for storing my cell phone (or battery cell, in the case of the pictures). It is marketed as a pocket for storing maps but we all know what it is really used for these days.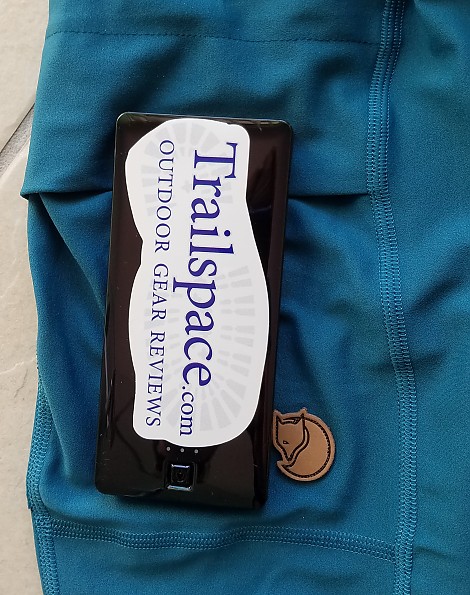 The top flap adds just enough security to keep a phone in place while still providing easy access.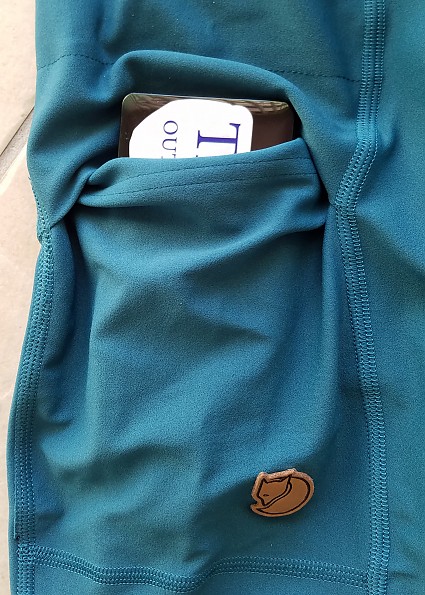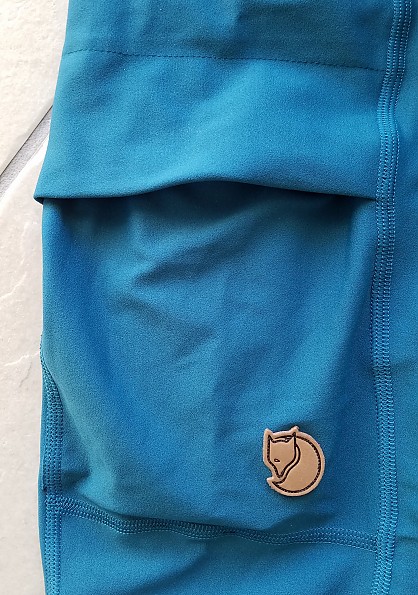 The zippered left side pocket provides a smaller but secure place for other items like cash, credit cards, bars, etc., while the very small zippered hip pocket is perfect for chap stick, keys, and pocket change. There is also a small loop for hanging items, though I didn't ever use it.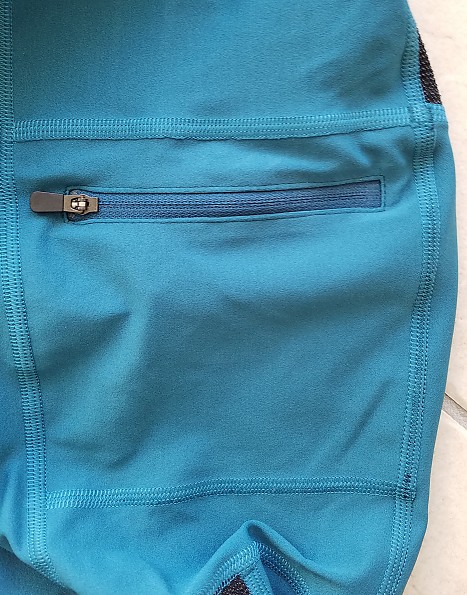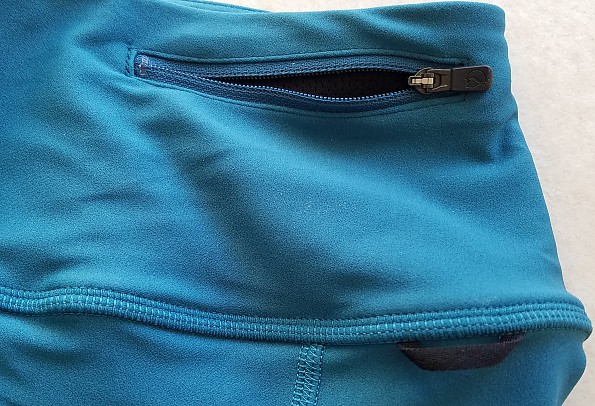 The insides of the pockets are lined with mesh, so I did find that moisture/sweat would sometimes transfer to my phone, but it wasn't a big deal since my phone is water-resistant.
One nitpicky feature that I would like to see added is a small piece of fabric sewn over the far end of the zippers, effectively creating a zipper-housing. This would prevent the zippers from causing any damage to a sleeping pad or bag, due to friction. I know that I've used these tights for a wider-range of activities than they were designed for but this small measure would be a nice touch.
Ease of Use: I will quickly note that tights, in general, require a bit more time to pull on as compared to regular trekking pants. This is even more exaggerated when you or the tights are wet. It was sometimes a bit tedious trying to get into the tights when I was wet, cold, or being attacked by sandflies. The best tactic is to sit on the ground and gradually work the material up each leg. Trying to put them on when standing leads to frustration and/or some clumsy maneuvers. This slight inconvenience is more than made-up for by the comfort.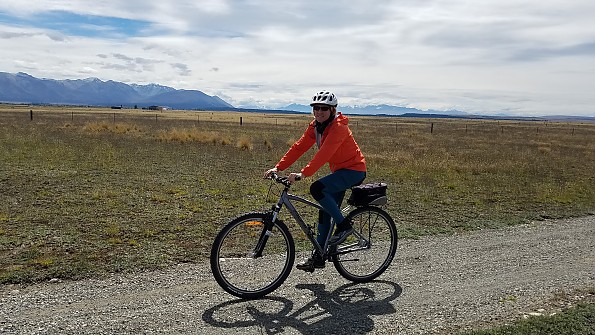 Construction, Durability, & Abrasion: As marketed, the Abisko tights shine in this area. From the flat-lock seams to the reinforced knees and rear, a lot of quality details went into the construction of these tights.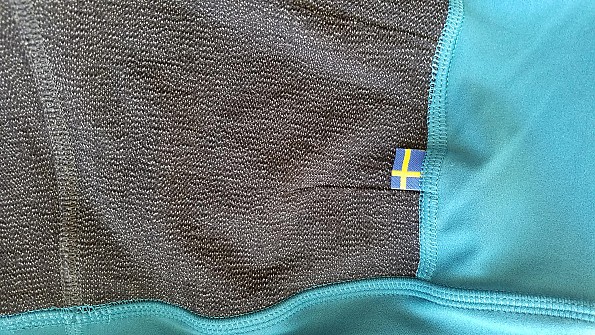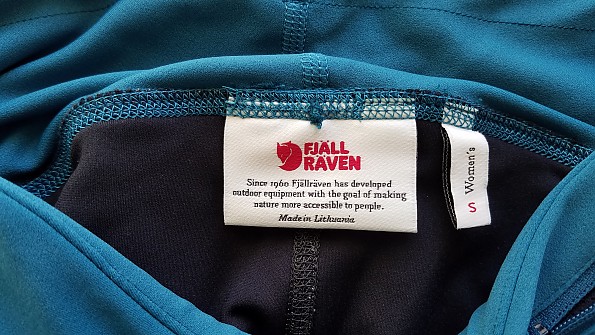 After four months of near-constant use, there are only a few signs of wear. I mention them not to point out any failures in the durability, but rather to support just how good they are in standing up to a lot of use.
First, there is some very, very minor pilling around the inside of the lower legs. It is almost so insignificant as to not even be noticeable.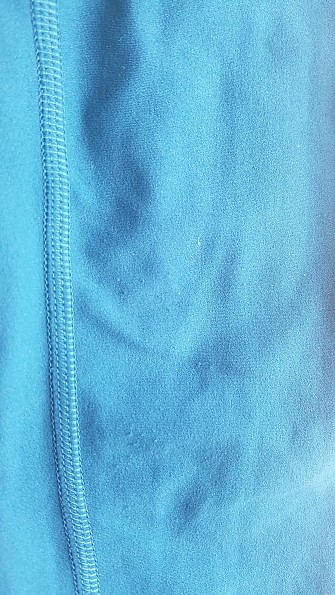 Also, there are a few thread pulls, abrasions and breaks, but nothing substantial enough to cause the slightest unraveling of the seams. The biggest distress is to a small divider seam that keeps the elastic waistband in place. It is a non-essential seam, so this is not a big deal. I left it alone and it has not gotten any worse over time.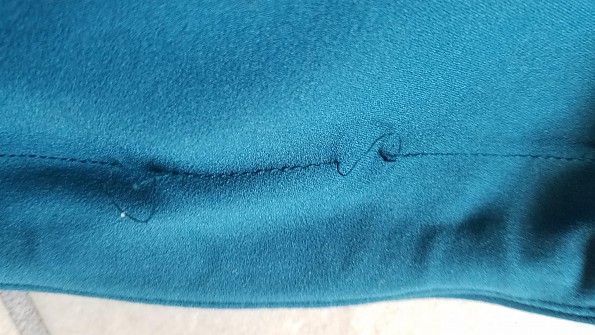 The other area is some abrasion around the inside leg cuffs. Despite breaks in the thread, there is no evidence of the seam unraveling.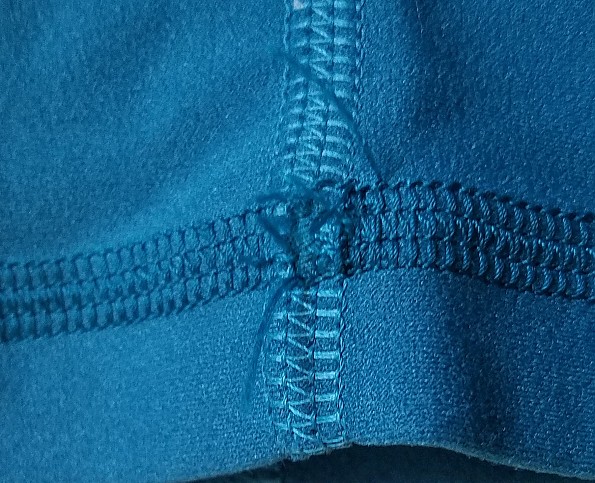 I don't know much about seams and their construction, but the stitching appears pretty bomb-proof and professional. From the beginning, I was most impressed by the lack of any loose threads or inconsistencies in the stitching.
I subjected the tights to a fair amount of abrasion and friction from thorny plants, rocks, deadfall, and other trail hazards. They also suffered the daily onslaught of my hands with dirty, jagged fingernails pulling them on and off my legs. Normal tights would have a myriad of holes and runs after such abuse but there is not one rip or run in these.
I was also pleased at how well they laundered. As with any synthetic material, they do get stinky after prolonged use (as in daily wear without laundering for 1-2 weeks). But they clean up well. Even chain grease from the bicycle washed out easily. They have probably been through at least 12 machine washings so far, with no apparent wear and no stains.
Value: Fjällräven commands a hefty price for their products but it seems in following with the quality and design of their line. These tights retail for $175 USD, which took me aback, at first. But this one garment fills many niches and is very durable, so I would be comfortable paying retail for these tights. They are one of the few clothing items that I not only wore throughout the whole trail, but can continue to wear post-trail, as they are still as good as they day I received them! I foresee several more thru-hikes in their future.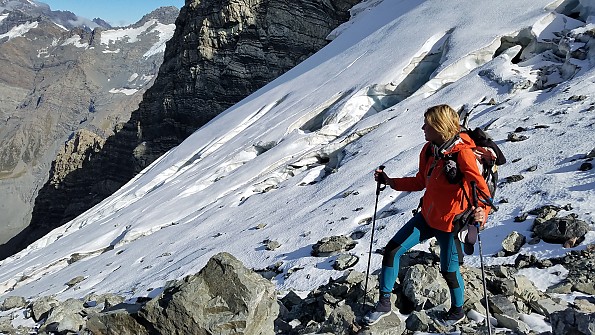 My thanks to Fjällräven and Trailspace for the opportunity to test the Abisko Trekking Tights. This was the only item that I took a chance on testing for the Review Corps during my thru-hike, and they quickly became an integral part of my essential gear list. Had I to do it all over again, I wouldn't change a thing.
Source: received for testing via the Trailspace Review Corps (Sample provided by Fjallraven for testing and review)

Your Review
Where to Buy
Help support this site by making your next gear purchase through one of the links above. Click a link, buy what you need, and the seller will contribute a portion of the purchase price to support Trailspace's independent gear reviews.
You May Like
Specs
Men's
Price
Historic Range: $87.48-$175.00

Women's
Price
Current Retail: $107.26-$130.99
Historic Range: $70.39-$175.00

Recently on Trailspace