Purple Rain Adventure Skirt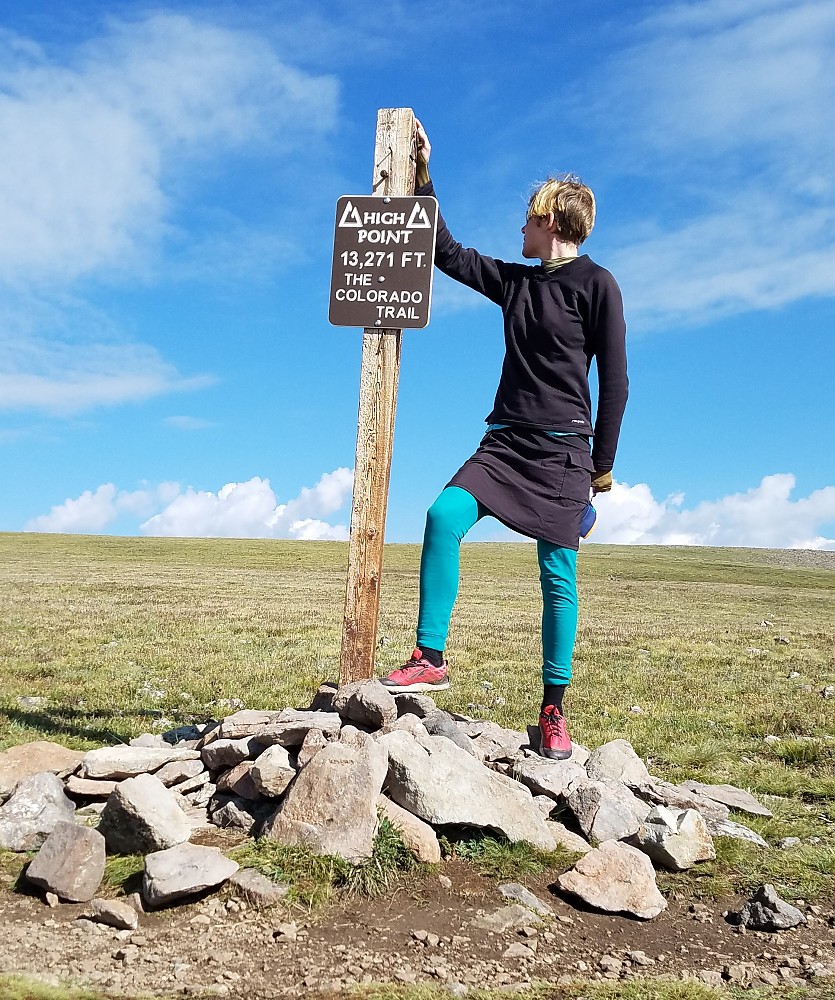 The Purple Rain Adventure Skirt has become one of my all-time favorite pieces of clothing for its functionality, versatility, comfort, and durability. What sets it apart from all other hiking skirts are the functional cargo pockets and a stretchy yoga-style waist band. It is the kind of garment you can eat, sleep, bathe, swim and walk thousands of miles in, never once having needed to take it off. This versatility makes it an ideal candidate for long-distance hiking and other endurance activities.

It gets my highest honors by being a part of my ultralight equipment for multiple thru-hikes/section-hikes this year. It's so good, I couldn't resist buying a second one (even though the first still has many years left in it).
Pros
Made in the USA by a fellow long-distance hiker
Yoga-style waistband = comfort and adaptability
Excellent ventilation
Facilitates easy movement
Multiple pockets perfect for carrying cell phones, maps, snacks, etc.
Made of functional, long-lasting materials
Cons
Limited colors and combinations
On its own, a skirt is not suitable for certain trail conditions
Hiking skirts: a brief background and intro (please scroll down for just the skirt  review):
My interest in hiking skirts was first sparked by a Review Corps product I received for testing, the Sierra Designs Silicone Trail Skirt. Despite the skirt being a little too short and large at the waist, I really grew to like it. Here are some of the many benefits of hiking skirts for women (many apply to men too!):
Ventilation is supreme. Pair with a set of merino undies for odor-free bliss.
Freedom of movement…no restriction around the knees and no annoying swish/swish around the ankles, as commonly experienced in pants.
Easier to answer the call of nature and still maintain a level of coverage/discreteness.
Makes it easy to change underwear and pants. This is especially nice when staying in shelters/huts/hammocks.
Good for hiking in the rain, when paired with a rain kilt. Or just let your lower half get wet….it will dry quickly once the rain stops.
Great for bathing, without stripping down naked. Also makes stream/river/mud crossings easy.
Ok, are you sold yet? Before you run out and buy a hiking skirt, do consider some of the downsides (most of which can also be said for shorts). Keep in mind, because it's so easy to layer under a skirt, adding a pair of tights or long pants solves most of these problems:
Cold conditions: just wear tights or long pants underneath until it warms up. Or don't wear a skirt to go snowshoeing/skiing…duh.
Buggy conditions, i.e. ticks, mosquitoes, flies, ants, etc: go with long pants if expected for the majority or the trip…this is especially important in Lyme Disease areas! Otherwise, have ready a pair of permethrin-treated tights for certain areas/times where the bugs are thick, i.e. gathering water/hanging out at camp.
Overgrown trails/bushwhacking plus exposure to poisonous vegetation and snakes i.e. poison ivy: again, wear tights or long pants as needed. I have certainly suffered my fair share of scratches and even blisters due to poison ivy, but I still think the benefits of a skirt outweigh these risks.
Sun exposure: because of the angle, exposed legs don't suffer all that much from sun. Even the intense sun in the high-elevations of Colorado didn't bother my legs much…but I sure needed coverage everywhere else, especially my arms. There's always sunscreen or tights for the sunniest or most exposed days on the trail.
Thigh chafe... I have no solution for this. You either get it or you don't, and if you do, a skirt is probably not for you.
Accidentally flashing your private business at other hikers…OK, this can happen but it's not a concern of mine. I wear underwear, which I occasionally strip down into to go swimming anyways, so what's the big deal. I have met plenty of hikers that wear nothing under their skirts/kilts, enjoying total freedom. Find out what works best for you.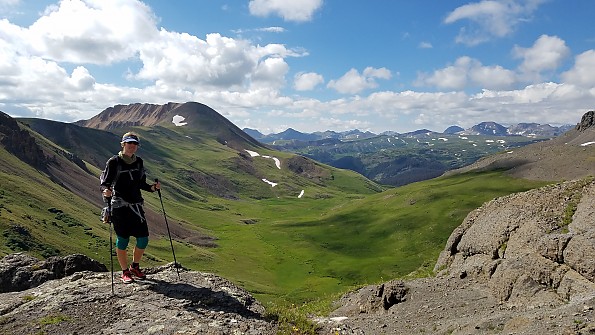 About Purple Rain Adventure Skirts: The company is founded by a long distance thru-hiker, Mandy "Purple Rain" Bland. Like many in her situation, she couldn't quite find what she wanted off the shelves so she made her own clothes. Several famous hikers, such as Anish and Liz Thomas, have also championed her skirts. Evidence from my own hiking suggests that they are really catching on.
Mandy sells the skirts through her website, on Etsy, and makes appearances at some of the common AT/PCT trail events. Her stock materials/colors/combinations are limited but she can do custom orders for sizing, reasonably assuring a perfect fit for anyone. She also sells kilts for men, though a number of guys just wear the "women's" skirt. One of my best friends from the Colorado Trail, Bam, is a big fan of the kilt.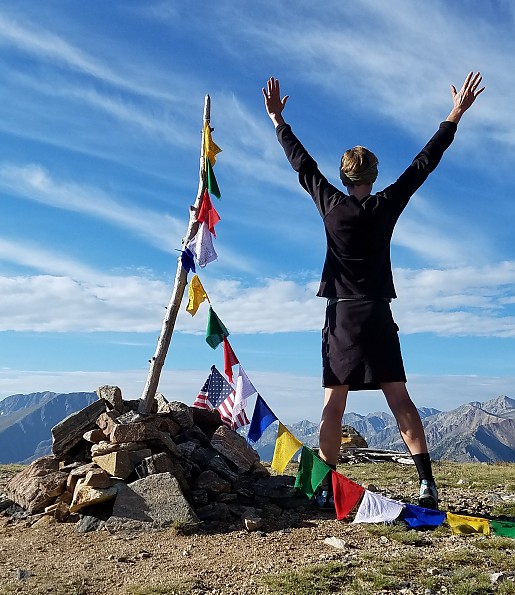 Two features that set PRA Skirts apart from all other hiking skirts:
Stretchy, 4"-wide, yoga-band waist. I was a bit skeptical of this at first, fearing it (or my lack of hips) wouldn't hold the skirt in place. But if you are careful to get the right size (or have one custom-made), this shouldn't be a problem. This is the feature that makes the skirt so comfortable and versatile. For a long-distance hiker, it's a special ability for a garment to adapt to a drastically changing body over the course of a thru-hike. I lost 10 pounds in 1 month, so any of my pants would have been sliding down to my knees. But this skirt comfortably hugged my waist throughout. Likewise, when you inevitably discover hiker-hunger during the course of a thru-hike, you will be glad this stretchy band can accommodate a rapidly enlarging belly at an All-You-Can-Eat restaurant.
Four side pockets: the skirt has 2 cargo hip pockets and each of these consist of an inner and outer pocket, the later having a Velcro flap.



The two inner pockets are open to the top and sizable enough to easily fit my Galaxy S7 phone, which is where it resides almost all day when I am hiking. The pockets are also placed such that a pack hip-belt does not interfere (unlike many shorts/pant pockets). My phone has never come out accidentally but is very easy to access for frequent picture taking and GPS-consulting. In fact, the one time I was carrying the phone in my backpack chest pocket, it slid out when I bent over and cracked the screen protector. My phone is pretty integral to my hiking, and a big reason why I like the skirt so much…the pockets just work perfectly for it.
If I could change one thing about the skirt, it would be to add zippered outer pockets instead of the Velcro flap. This might make the skirt heavier and uncomfortable to sleep in, though. There's nothing wrong with the current design...nothing has ever escaped the outer pockets but the flap requires two hands to open, so I find that I use these pockets less frequently. They are good for securing small items like chapstick, trash, and cash/ID.

Quality, Durability, and Materials
Each skirt is handmade but looks as professional as any machine-sewn product. Plus, I feel a lot better knowing my skirt is produced by a real person in the US, and a fellow thru-hiker to boot. My first skirt has held up to a lot of use so far, without any indication of the hems or stitching coming lose or undone. I have noted the stitching around the corners of the pockets has stretched a little (because of the constant weight of my phone) but I also see where Mandy has reinforced these corners pretty well.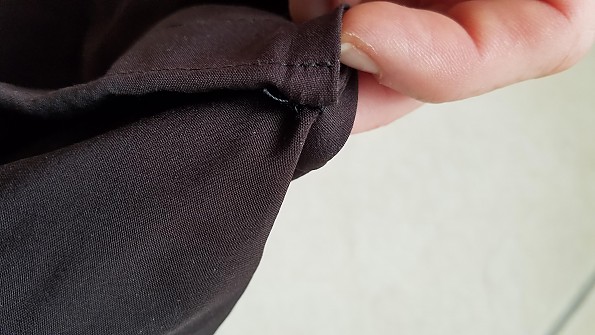 (it's hard to tell in this picture but this is the corner of the pocket where the stitching is a bit stretched)
As further testament to the quality and durability, I met an AT thru-hiker that had been wearing her skirt for over three years, including the 2000+ miles of trail time on the AT. I was surprised to see that there were no holes and no places she needed to re-sew. The only indication of wear was that the waistband had become over-stretched. She was hoping to send it back to Mandy to have a new band sewn on and continue using this same skirt. Usually any article of clothing worn during a thru-hike gets completely trashed, if it even makes it the whole hike! But it would appear these skirts can indeed outlast a thru-hike, maybe even multiple ones.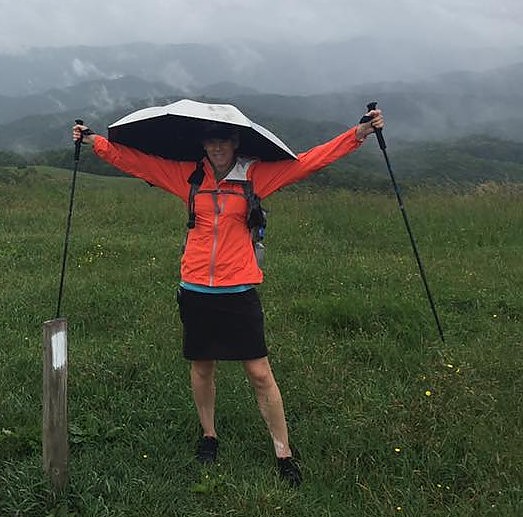 Mandy also uses really good materials. My first skirt is made of a 95% Polyester/6% Spandex blend with DWR finish. The band is similar, but with a higher spandex content. It does shed water well, dries very quickly, and even shucks off dirt and pine sap. The material is slightly stretchy but thick enough to provide a really comfortable, durable feel. My second skirt is made of a slightly thicker/heavier mid-weight Nylon/Lycra with DWR finish. I couldn't resist the beautiful pacific blue color! Each weigh around 5 oz but the black skirt is the lightest she makes (mine is closer to 4 oz in size small). All skirts are machine washable…actually this isn't stated anywhere but I've put mine through machines a lot, so far so good.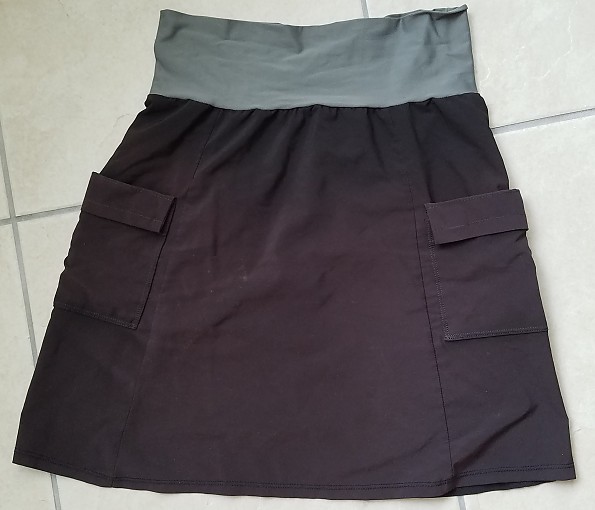 (My first PRA skirt. It's a bit faded, but still good as new after 800 trail miles. I'm really impressed that most of the pine-sap stains have come off in the wash)

Fit/adjustability: I've covered a lot about the fit in previous segments, but I wanted to add that standard skirt lengths are: 4" waistband + 16" skirt body = 20" overall  (or whatever you like for a custom order). I find the standard length to be just perfect. The waist band can be hiked-up high to shorten the length or it can be pulled down around my hips if I want the skirt longer. For such a simple design, it's really amazing just how adjustable this skirt is.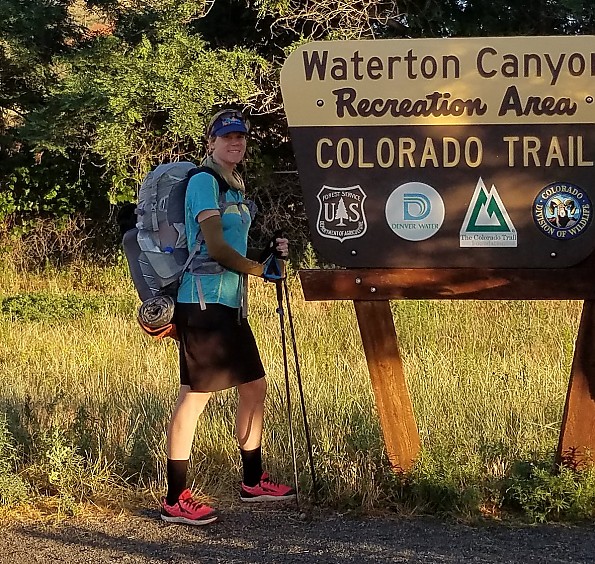 Testing Conditions/other uses:
I have hiked/backpacked in my skirt for over 800 miles this past year, mostly on section hikes of the AT and a thru-hike of the Colorado Trail. But this skirt is not just for backpacking/hiking. I have also gone kayaking and swimming in it. I have even pulled the waistband up over my shoulders to use it as a bib (to avoid spilling dinner on my down jacket). I'm sure there are other uses too.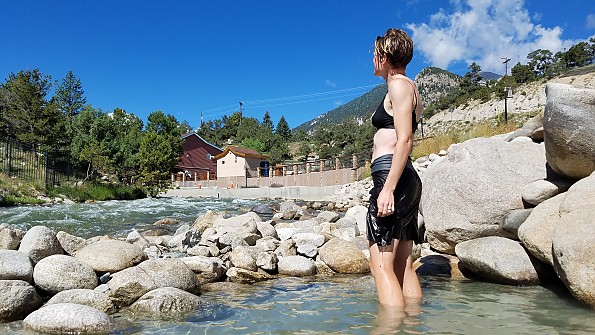 (works great as swimsuit bottoms for a side-trip to Mt Princeton Hot Springs, along the Colorado Trail)


In summary, the Purple Rain Adventure Skirt is one of the best articles of clothing for a thru-hike or just for every-day adventuring. It's simple, functional, durable, and versatile. It has definitely earned its place on my waist.
Source: bought it new
Price Paid: $65

Great skirt for hiking, backpacking, around the ranch, and around the office. Pockets are just right for a smartphone or headlamp. Material is lightweight, quick drying, and soft.

Ideal for walking, hiking, running, and backpacking for men and women.
Pros
Lightweight 140 g
Quick dry
Pockets on side
True skirt—no brief or short attached
Male or Female wear
Cons
Limited colors
Length with waistband is a bit long
No belt loops or drawstring
The Purple Rain skirt is a nearly perfect design for hiking and backpacking. In size "L", the weight is 140g (4.9 oz) and the length is 40.6 cm (16 in) below the yoga waistband.
As a male user, it hangs well, feels good against the skin, and dries quickly when wet. The flare is excellent for leg movement, offering considerable range in stride.
The pocket design is really neat, with a velcro closed outer pocket, and an open slip in pocket between the outer pocket and the overall skirt. A big plus is that this is a true skirt, rather than a skort, allowing you to wear, or not wear, something beneath.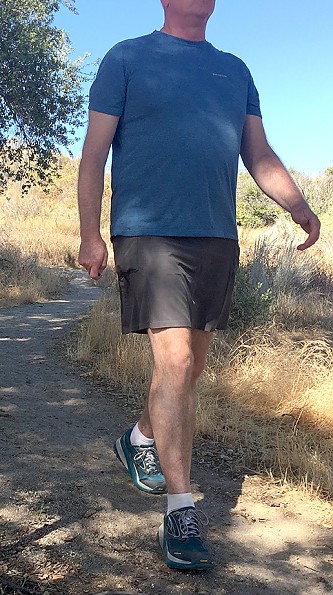 To feel more secure on a male, the only wish is that the yoga waistband had a drawstring in it or had belt loops to give that little more firm fit at the waist. Without belt loops, the skirt hangs from the 4" yoga band, and the elastic in the yoga band is not tight. However, when using my backpack hip belt, all is good.
Length is nice hitting me just above the knee, which is where I like it for walking.
Can highly recommend this walking skirt for MEN and women. Mandy has a superior product and offers the best, personalized customer service anywhere!
Source: bought it new
Price Paid: $63

Pros
Comfort
Quick dry
Flattering
I love this skirt! The material is lightweight and comfortable. I wear it backpacking and on my rafting trips as it dries very quickly. It falls at a great height right above the knee.
I would recommend this product to anyone that needs a skirt for outdoorsy applications.
Source: bought it new
Price Paid: $50

Love my skirt! The pockets allow for hands-free, purse-free activities. Super comfortable, wears well (can take a beating) and washes up great.
As far as active skirts go, I haven't found anything that works this well (and looks this cute!).
Source: bought it new
Price Paid: $45

Your Review
Where to Buy
Help support this site by making your next gear purchase through one of the links above. Click a link, buy what you need, and the seller will contribute a portion of the purchase price to support Trailspace's independent gear reviews.
You May Like
Specs
Price
MSRP: $71.99
Reviewers Paid: $45.00-$65.00

Materials
Polyester/12% Spandex blend and DWR finish. 130 gms

UV Protection
40+

Recently on Trailspace