Sierra Designs Silicone Trail Skirt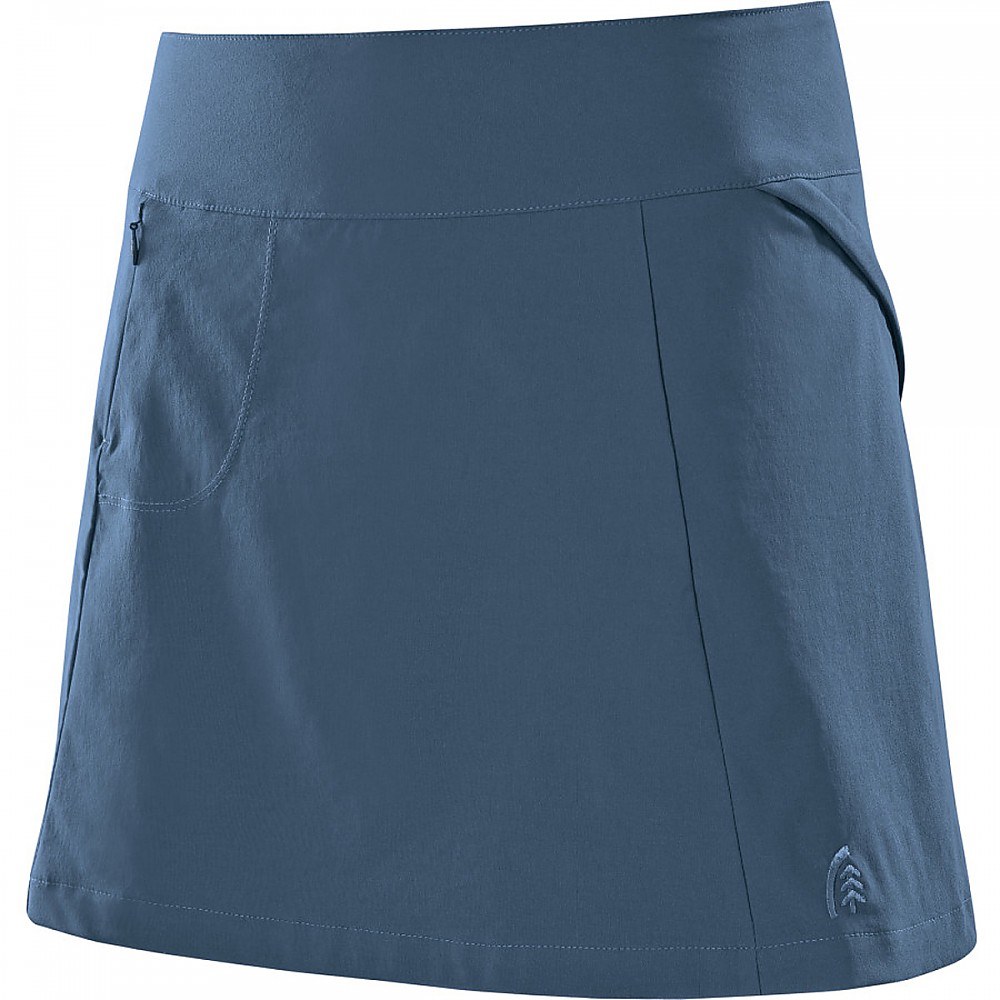 The Sierra Designs Silicone Trail Skirt is a fun and feminine outdoors garment and can be very practical in certain circumstances. In conceding some important factors such as protection from insects, vegetation, and the sun, great ventilation and freedom of movement are gained. These are tradeoffs that must be weighed depending on individual circumstances.

For hiking, backpacking, and watersports, I enjoyed wearing the skirt simply for the light, airy, and feminine feel. But fit was an issue for me, as I found it to run large around the waist and not be quite long enough to live up to its claims of keeping your bottom dry.

Pros
Quality, durable, stretchy fabric
Lightweight and great ventilation
Exceptional freedom of movement
Large side pocket along with smaller pocket for lip balm and keys
Cons
Appears to run large around the waist
Too short
Zipper sticks at one of the seams
(photo courtesy of JohnBobCarlos)

Tech specs from the manufacturer:
Inseam Length: 15.5 in.
Air Permeability: Main: 2 CFM; Seat: 0.1 CFM
Water Entry Pressure: Seat: 910 mm
Weight: 5.5 oz. / 0.16 kg
Fabric: Main: 90D x 300D, 94% Nylon / 6% Spandex woven, DWR;
Seat: 90D x 300D, 94% Nylon / 6% Spandex woven, Silicone treatment
MVTR: Main: 21,500g (JIS); Seat: 1,500g (JIS)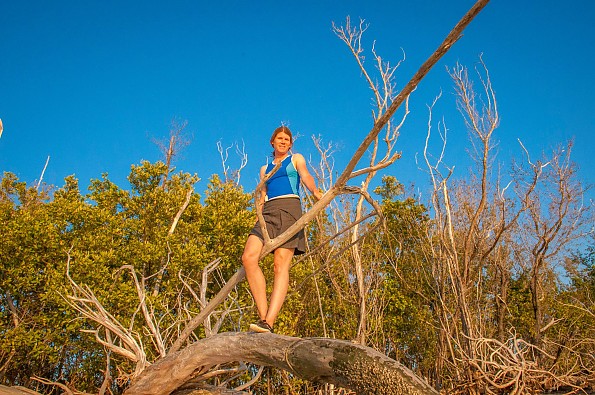 (photo courtesy of JohnBobCarlos)
Fit & Comfort: My biggest beef with this garment and reason for the average rating was the fit. Since this is always a subjective call, I'll start off with my dimensions: 5'9", 130 lbs, 26" waist. I'm also shaped more like a teenage boy in that I have no hips, so I constantly have to deal with the problem of downward slide-age. Almost all my pants require belts, especially when it comes to hiking apparel. So I can't completely fault the design of this skirt, given my unique dimensions.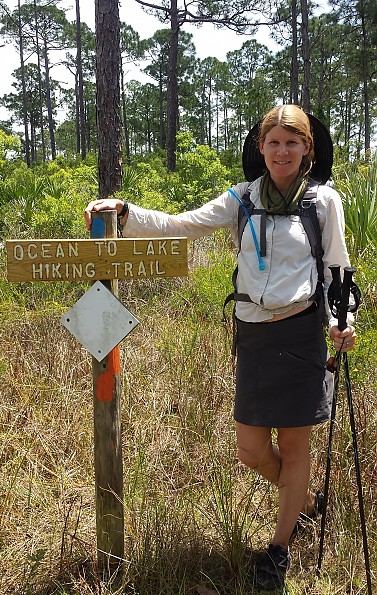 (In this photo you can see, I'm about as straight as the sign post! And consequently the skirt has slid down below my pack belt)
But I can somewhat confidently say that the skirt appears to run large and short, because I have seen the same comments from a few others. I originally requested a size 4, which proved to be way too big, so I moved down to a 2, the very smallest size it comes in. The second sample fit decently but I found that if I put anything with some weight to it, like a camera or phone, in the side pocket, the skirt would start to slide.
It doesn't help that it has no belt loops and thus no way to adjust the waist. The nylon material is also of the new 'stretchy' generation, and while I love the feel, it allows for even more flexibility in the waist.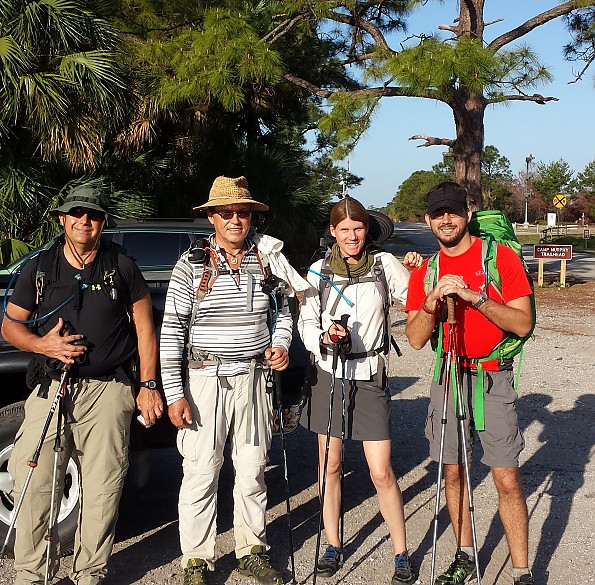 (Together with a few of my hiking buddies, as we set out for a 30 mile section of the Ocean to Lake trail)
Perhaps since I had to go with the smallest size, I also found that the skirt was not nearly long enough. My sample looks and feels more like a tennis skirt. So while I felt very uninhibited by it, I also had to be quite careful while sitting and climbing so as not to show too much. Given my lengthy frame, this isn't the first time I've found a skirt to be too short. So perhaps a more petite woman won't have as much issue with the length.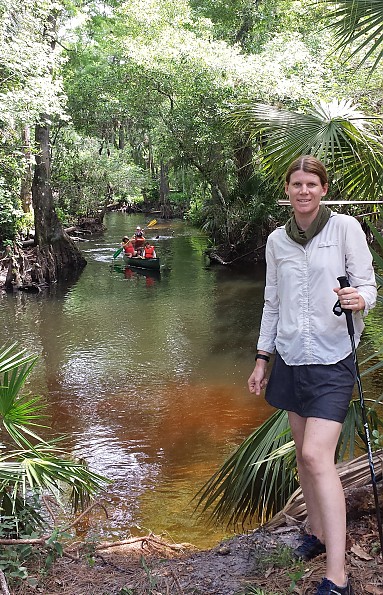 (A photo after just taking a dip in the Loxahatchee River...very refreshing in the middle of our 30-mile hike!)
Adjustability: The skirt has a 6-inch waistline zipper at the back and the nylon is also quite stretchy. As I've already noted, there are no belt loops or an internal belt. This makes the waistline very comfortable under a pack but doesn't allow for adjustability.
Water Resistance: The skirt is very water-resistant. I spilled water on my lap on one occasion and noted that is just pooled there until I finally shook it off.

Likewise, as the material doesn't really soak up water, it dries very quickly. I went swimming / wading in the skirt on quite a few trips, exercising my inner water buffalo, and it proved to be a great swimwear garment.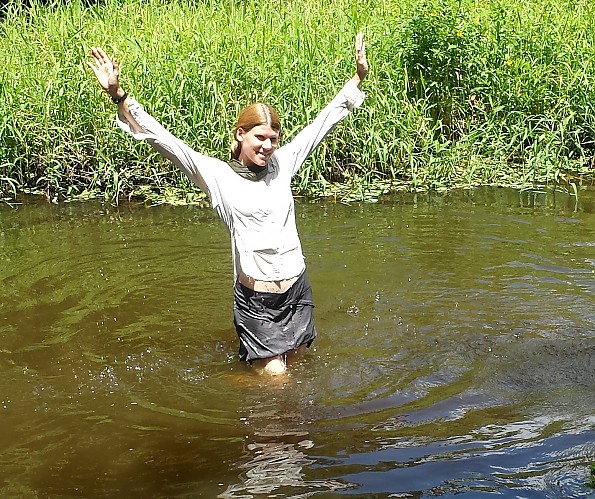 Breathability: Ventilation is the key feature of a hiking skirt, so of course it excels in this regard. It's kind of a no-brainer as to why, so I'll leave it up to your imagination. Or just ask the Scotts why they're so fond of their kilts.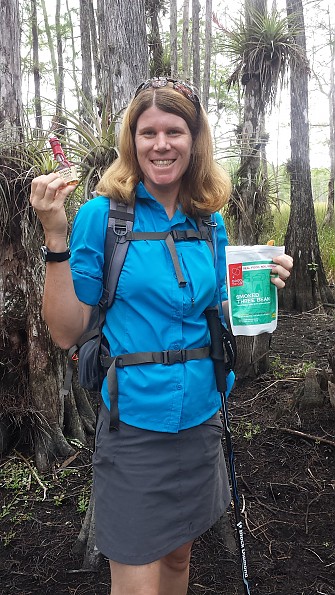 Warmth/Layering and Function: The skirt itself does not provide much warmth but does allow for a high degree of layering options. While I didn't have need to exercise any of these options in sunny Florida, long underwear, leggings, and rain pants could all be used in conjunction with the skirt.
Again, one of the selling points of a hiking skirt in that you can change into different undergarments while avoiding exposure. More discrete bathing and personal hygiene functions can also be accomplished with greater ease.
Ease of Use: Initially I found the waistline zipper to snag at the seam between the waistline and main panel. With repeated use, this problem diminished. But as you can see in the picture, there is a bit of a bow in the zipper at this point.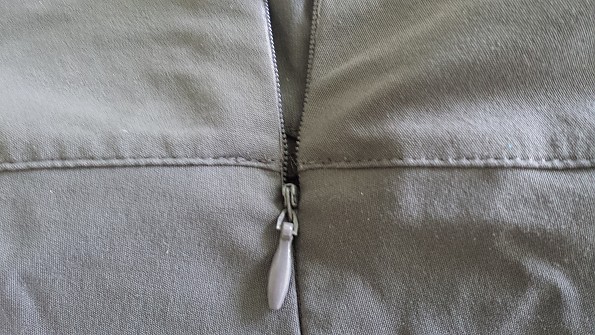 The pocket zippers functioned well. As noted above, I had to keep items in the pockets to a minimum so as not to drag the waistline down. But I did manage to come up with some creative uses for the pockets.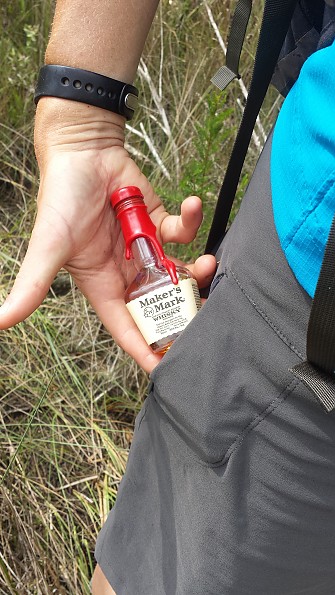 Features: The skirt's primary claim is that the silicone treated back-panel protects your butt from getting wet. While I found the material to live up to its waterproof claim, the back panel does not provide enough coverage to be effective in this regard, at least not for me.
(chilling on Carl Ross Key in Florida Bay...short skirts are at least appropriate at the beach)
Construction & Durability: Other than the issue I had with the zipper, the seams, stitching, and material are all of good quality. I subjected the fabric to a fair amount of wear with no apparent abrasions or snags.
Conditions: I wore the skirt over the period of about three months for a variety of activities, including backpacking, hiking, kayaking, swimming, and Everglades bushwhacking.
I raised the eyebrows of quite a few fellow hikers in this last regard. The general consensus in exploring south Florida habitats is to cover up and generally I would agree. Snakes, sawgrass, poisonwood and ivy, sun, and hordes of biting insects are all really good reasons to limit your exposure.
Yet I found going bare-legged to be quite liberating and lead to some unexpected discoveries. And sometimes I just like to live a bit dangerously. Fortunately the worst I suffered were a few sawgrass cuts and insect bites...well worth it for the level of comfort.
(I found that cypress dome mucking can make bare legs look pretty exotic! And to think, people pay good money for such mud treatments at spas! We ladies like like to do it the more natural way.)
(Alligator wrestling is also more fun in a skirt!)
Source: received for testing via the Trailspace Review Corps (Sample provided by Sierra Designs for testing and review)

Your Review
Where to Buy
Help support this site by making your next gear purchase through one of the links above. Click a link, buy what you need, and the seller will contribute a portion of the purchase price to support Trailspace's independent gear reviews.
You May Like
Specs
Price
MSRP: $59.00
Historic Range: $17.69-$47.00

Weight
5.5 oz. / 0.16 kg

Inseam Length
15.5 in / 39.4 cm