Altra Superior 3.5

The Superior 3.5 has been discontinued. It was replaced by the Altra Superior 4.0.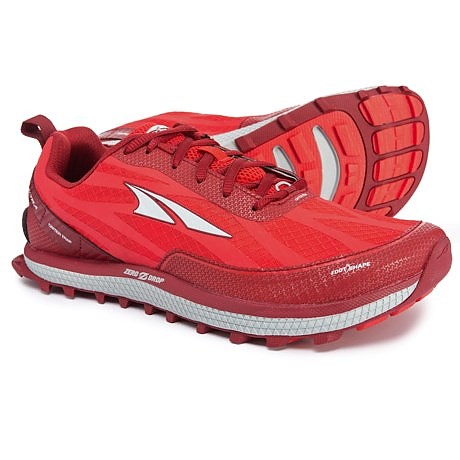 The Altra Superior 3.5 (and 3.0) are the best pair of shoes for thru-hiking that I have tried. With over 2,700 miles covered in them (four different pairs), I can confidently say that they meet my needs in being lightweight, durable, comfortable, responsive, and fast-drying.
Pros
Zero drop
Comfortable wide toebox
Lightweight
Dry fast
Good ground feel
Cons
Lacking arch support
Cause some chafing on my heel
Lining wears out prematurely in heel area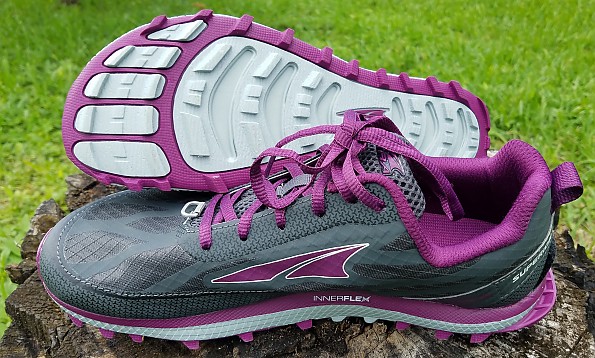 Description & Specs: The Superior 3.5 is the most recent version of Altra's low profile trail running shoe. It has been slightly updated from the 3.0 version, with the goal of improving upper durability, comfort, and more gaiter attachment points. It should appeal to those that value minimalist performance such as good trail feel and sensitivity, low-to-the-ground stability, and a streamlined, lightweight profile.
Weight (per pair, size women's 9.5): 16.7 oz. (w/out removable StoneGuard)
Heel-to-Toe Drop: 0 mm (Note: all of Altra's shoes are zero-drop, which means they have the same height in the heel as in the rest of the shoe)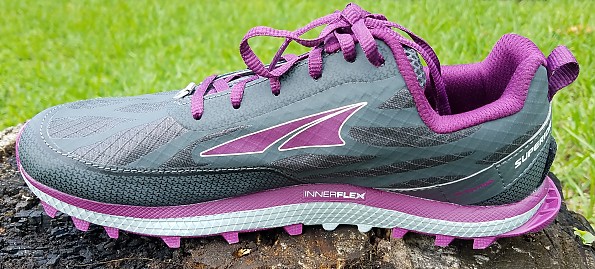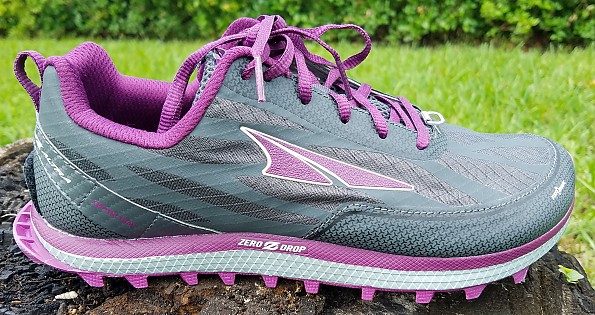 Disclaimer: Writing a review of trail shoes is difficult, in the sense that a lot is subjective. Opinions range all over the board and what works for me will definitely not work for everyone. The ideal amount of cushioning and the balance between underfoot protection versus sensitivity for the ground depend on the terrain, activity, and duration, but are also a matter of personal preference.
Background: I wish to describe my breath of experience with the Altra Superior and brand so that the reader can understand up-front how I have used the shoes and make my comparisons with previous versions/models. Though these shoes are specified for trail running, I have used them exclusively and extensively for long-distance thru-hiking. Their suitability for hiking and backpacking will thus be the focus of this review. Additionally, I will be making comparisons to previous versions of the shoe (2.0s and 3.0s), since I have additional experience with those versions.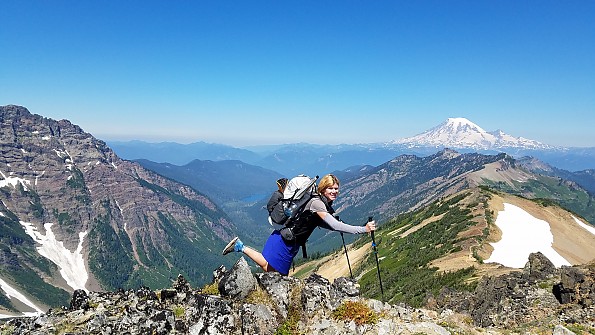 I learned about Altras based on the reputation of their wide footbox...they are very popular with other thru-hikers. In my first experience with Altras, I wore a pair of Superior 2.0s for the length of the Colorado Trail, summer 2017 (about 500 miles). With one major exception, I was happy with those shoes.
When I walked the Te Araroa in New Zealand (about 1,900 miles), I expected more of a beating from all the road walking, so I switched to the more cushioned Altra Lone Peak 3.0s. I went through two pairs to complete the trail. They were great thru-hiking shoes but they had kind of a sloppy feel on my feet, due to their wider build and higher stack height. They allowed my foot to shift around and an occasional ankle roll on rocky and off-camber trails. The insole would also slide and bunch-up when the shoes got wet.
I decided to go back to Superiors for my next thru-hike…enter the Superior 3.0/3.5.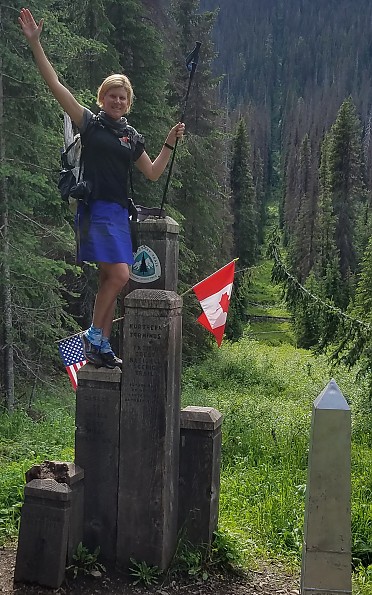 At the beginning of my PCT thru-hike, Canadian border, Altra Superior 3.5
The Superior 3.5s that I tested for this review were worn through their lifespan as my first pair of shoes on the Pacific Crest Trail, beginning July 2018. Including some training I did beforehand, these shoes lasted about 800 miles. I was very happy with their comfort and performance, so I stuck with the model for the remainder of my PCT thru-hike. I used three more pairs of Superior 3.0s...in part to test any differences between the 3.5 and 3.0 versions, and also because the 3.0s were significantly discounted online (about $70 USD).
I didn't notice much of a difference between the two versions, other than the additional gaiter attachment points. Because I found them to be so nearly identical, this review will also incorporate much of my experience with the Superior 3.0s.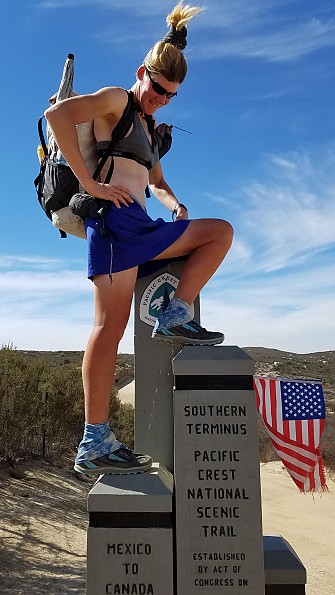 At the Mexican border, 2,700 miles later, end of my PCT thru-hike, fourth pair of Altra Superiors

Comparison of Altra Superior 3.5 to 3.0 and 2.0 versions: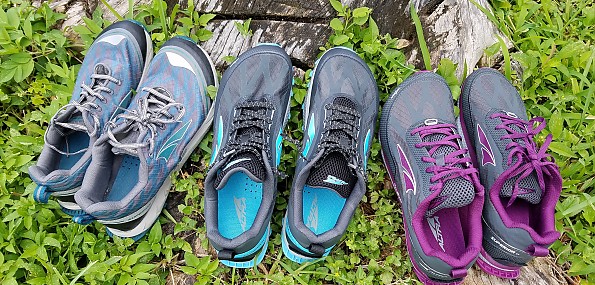 From left to right: 2.0 (light blue), 3.0 (dark blue), and 3.5 (purple)

The Superior 3.5s have changed a fair bit from the 2.0s but are virtually indistinguishable from the 3.0s. I won't outline all the differences but you can see some of the color and pattern details from the pictures. To begin with, the 3.5 outsoles (lugs, rubber, and pattern) are pretty much identical to the 3.0s and looks very similar to the 2.0s.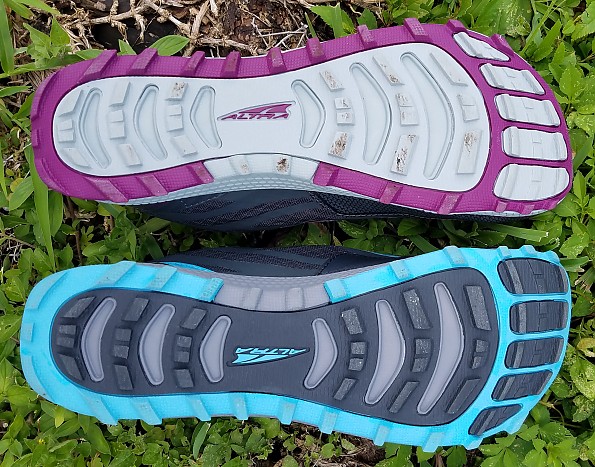 3.5 top, 3.0 bottom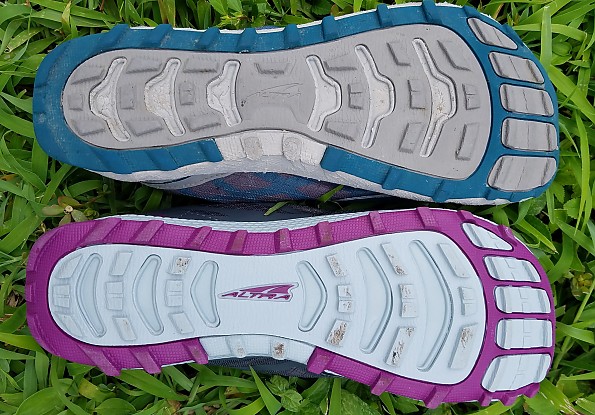 2.0 top, 3.5 bottom

One main improvement over the 2.0s is the more substantial toe bumper, which extends to the mid-foot and presumably helps to prevent blowouts on the sides.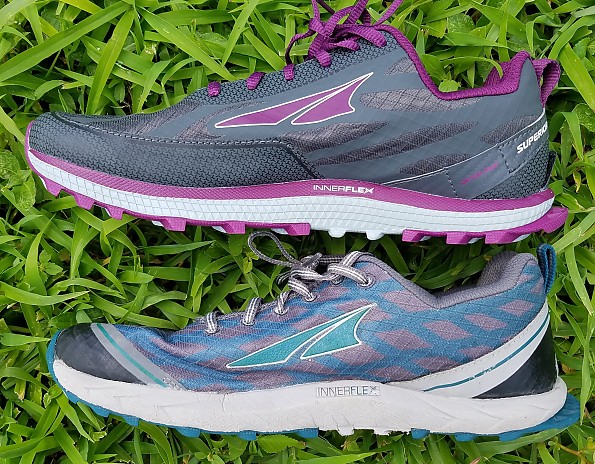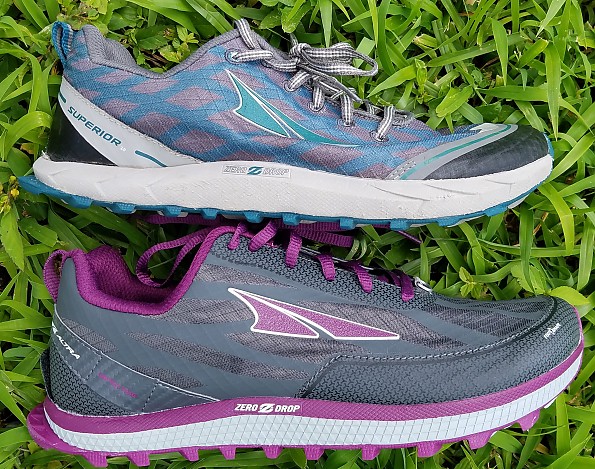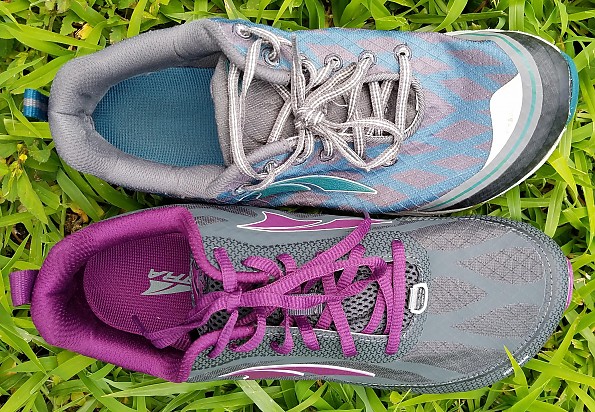 Comparisons of the Superior 3.5 and 2.0
Another significant improvement is the elimination of a hard plastic piece in the back of the heel cup. With the 2.0s, I experienced significant chafing and discomfort on my back heel (just below the Achilles area) while hiking the Colorado Trail. This resulted in lots of sock holes, a few blisters, and severe deterioration of the heel cup padding, to the point that the plastic piece was exposed and digging into my heel.
In receiving pairs of both the Superior 3.0 and 3.5s before my PCT thru-hike, I was extremely happy to note that the hard plastic in the heel cup had been eliminated. But this is not to say that the chafing in the heel went away entirely. Unfortunately, there has still been some discomfort and blistering, though it hasn't been as pronounced. This chafing remains the only thing that bothers me about the Superiors...more about this in the "Comfort" section.
A side-by-side comparison of the 3.5s to the 3.0s does not reveal much about upgrades to the 3.5. The designs, patterns, materials, and construction are about the same. Altra claims to have improved the durability of the upper but if anything, my 3.5s developed holes in the upper material more quickly and substantially than the 3.0s...more about this in the "Durability" section.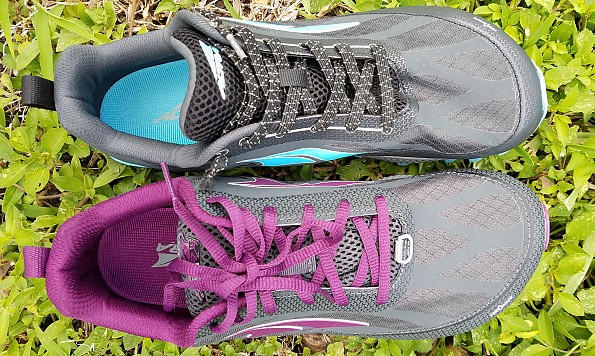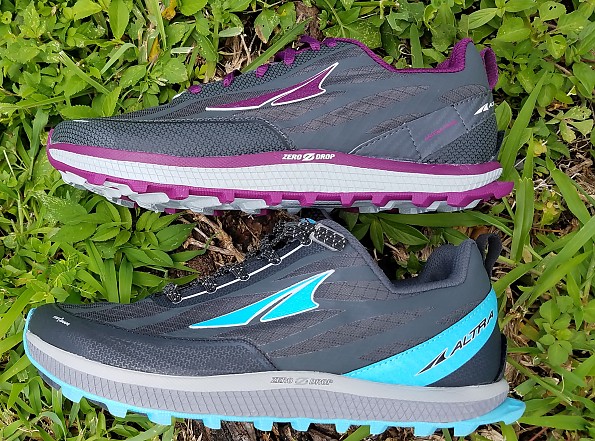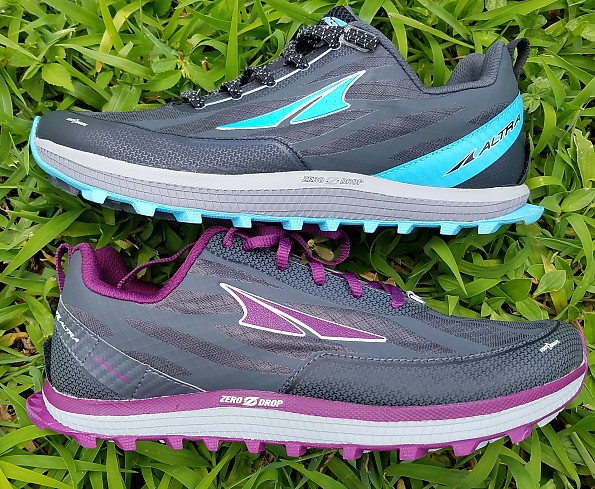 Comparisons of the Superior 3.5 and 3.0
Three additional gaiter attachment points were also added to the 3.5s...a metal loop on the front upper and loops in the webbing on each side of the heel. I describe this in more detail in the "Features" section.
Fit: I have a pretty narrow foot but appreciate a wide toe box when hiking long distances, to accommodate for swelling and spreading of my toes. The Altra Superior meets this requirement but has a more streamlined profile than others in the Altra line. For this reason, I prefer them over the Altra Lone Peaks.
In the Superiors, my foot feels pretty well locked down around the midfoot and the insole has never budged, not even a fraction. The shoe fits my foot about as good as any trail runner I have ever tried (save for the glove-like New Balance MT10s that are my favorite shoes for swamp-slogging in Florida). The Superiors are the best compromise of a minimalist shoe that has as low profile and also adequate cushioning for 30+ mile days.
As far as sizing is concerned, I wore a size 9 in the Superior 2.0s but have had to move up to a size 9.5 in the 3.0/3.5s. Granted, my foot has grown some during all my thru-hiking but I find that my 2.0s still fit comfortably, so I think the newer versions do run a bit smaller.
I have average to high arches and find the arch support in the Superiors to be slightly lacking. Many thru-hikers remedy this by adding supplemental insoles, such as Superfeet. But these insoles often don't play well with Altras because of the zero-drop build. Just to experiment, I tried a pair of Superfeet Copper insoles for about 1,200 miles on the PCT, in two different pairs of Superior 3.0s. I had mixed feeling about them.
On the one hand, they stabilized my minor overpronation and provided some cushioning and under-foot protection from rocks. But they also added weight to the shoe and caused premature wear in the heel lining and padding. Prior to trying the inserts, I wasn't really having problems or injuries, so I went back to using just the stock insoles for the last 560 miles on the PCT. I'm not sure if I would bother with customized insoles in the future.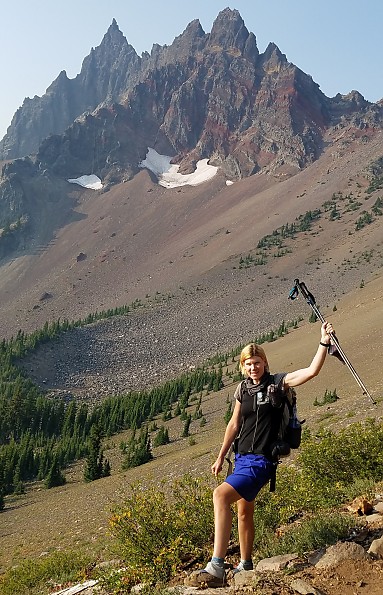 Comfort: Overall, I think the Superiors are very comfortable shoes. They have been on my feet for four months straight and I find myself not wanting to wear any other shoes now that I am off the trail. With the exception of the heel, they do not rub, pinch, or constrict my feet. I also like the zero-drop, having worn minimalist shoes for many years for running and hiking prior to thru-hiking.
I did many big-distance days in these shoes: 34 days of 26-30 miles and 30 days of 30+ miles. I had never done such mileage before the PCT and while not all attributable to the shoes, they were a part of the process. I also had no injuries or acute pain. Along the entire PCT, I only got three blisters, two of which were from my toenails rubbing the nearby toe and not because of the shoes.
Most trail runners do not require a break-in, and the Superiors are no exception. I have easily covered 30 miles in a day wearing a pair straight out of the box, with no complications from them being new. In fact, I love the feeling of new shoes because that is when they are fresh and springy.
The one problem I have with fit and comfort is that my heel sometimes shifts up and down when taking steps uphill. I think maybe the sole is just a little too inflexible and this results in heel movement and chafing. This has been a persistent problem in all Superior versions that I have worn, but it is less problematic in the 3.0/3.5s. It's still resulted in a lot of socks with holes, deterioration of the lining and padding in the heel area, and even a few blisters.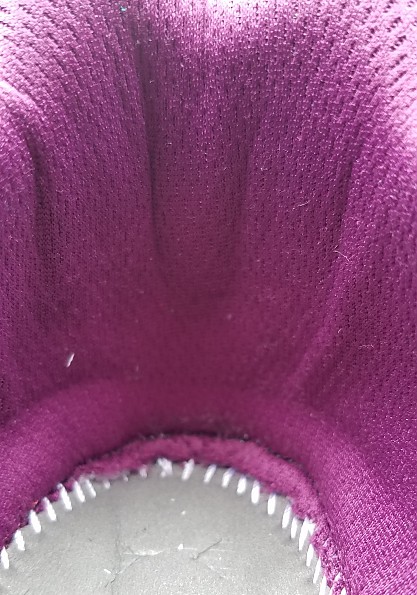 The heel cup of a new pair of shoes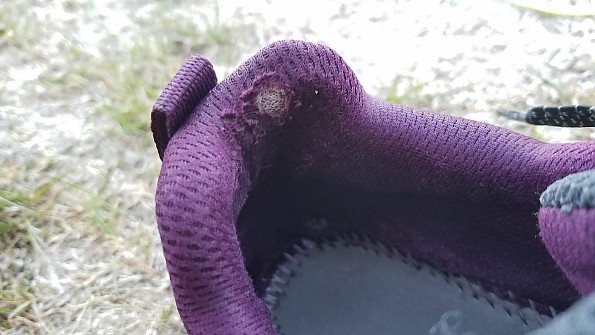 Beginnings of heel chafe at about 420 miles and my socks began to develop holes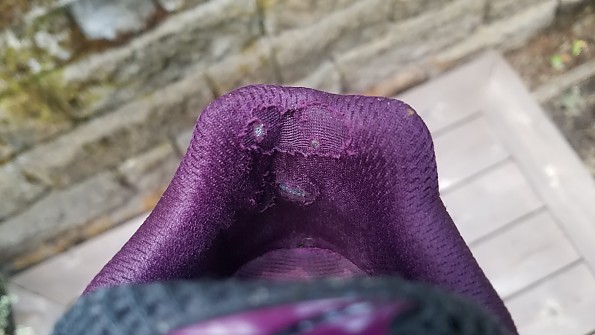 Progression of heel chafe at about 560 miles and I had to replace my first pair of socks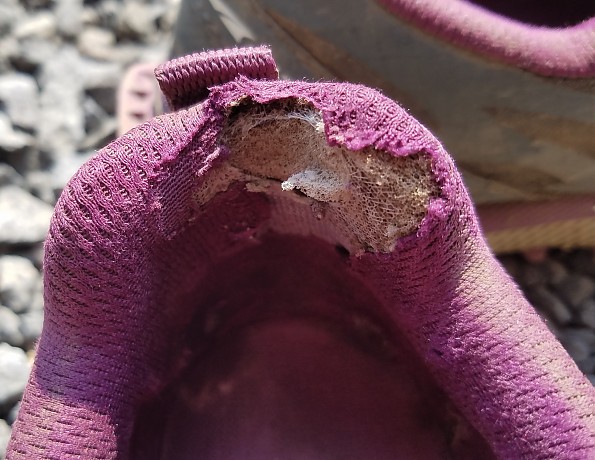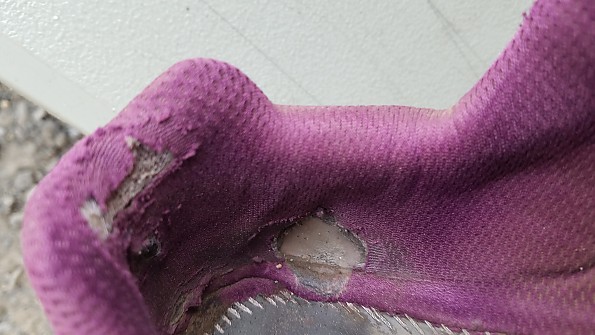 Significant heel deterioration at the end of the line for these shoes, 800 miles=ready for retirement.
This chafing was even more pronounced when wearing the Superfeet insoles because they elevated my heels, causing them to not fit properly in the cup. The insoles also rubbed against the walls of the shoes, prematurely wearing down the lining. Oddly, the heel wear has been almost undetectable in my last pair of shoes, through the desert section of the PCT. I wasn't wearing the Superfeet insoles by this time and perhaps the easier terrain helped. Whatever happened, I finished the trail with the shoes feeling better than ever. I would not hesitate to wear them again for another thru-hike.
Support & Protection: This is once more an area of personal preference and anatomy. I am very comfortable wearing minimalist shoes with little to no support. I supplement my stability with my trekking poles and have an ultralight baseweight (around 12 lbs). These shoes provide sufficient stability for me, but do allow my foot to slightly overpronate if I'm not careful. They are trail runners, not hiking boots, so they provide little ankle support. I would not recommended them for those suffering from ankle problems or with heavy pack weights.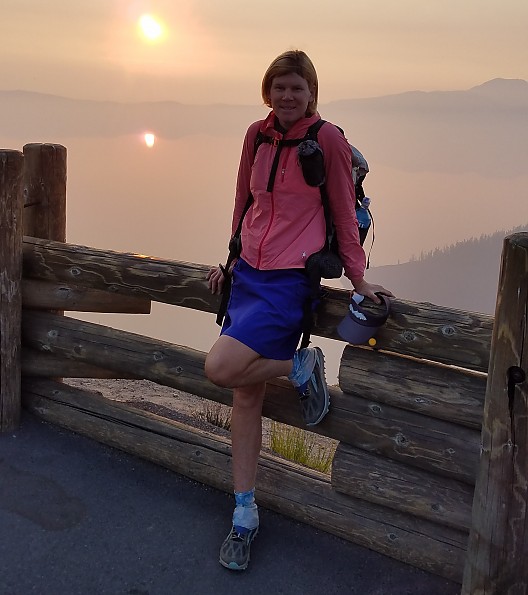 The Superior 3.5 has 21mm of soft EVA foam throughout the midsole, which provides basic cushioning and impact absorption.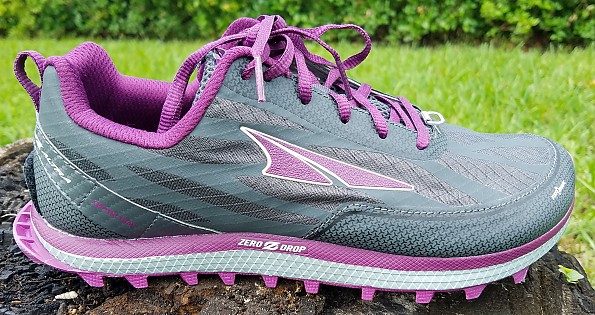 They also come with removable, hard plastic StoneGuard inserts, which go under the insole and help with underfoot protection.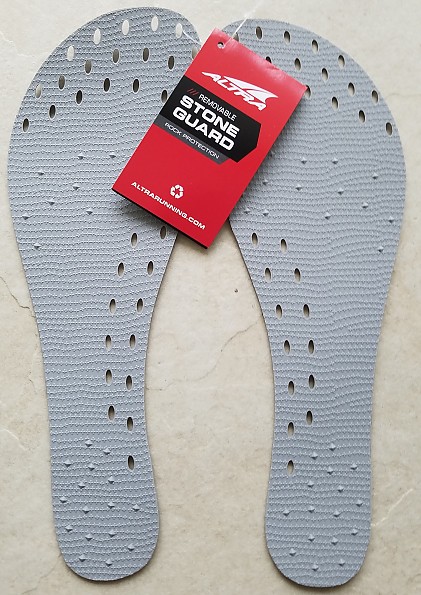 I have never used the StoneGuard inserts, as I find the shoes too constricted with the inserts in. I would probably have to go half a size up in order to use them. Personally, I find the cushioning to be sufficient and the rock impacts bearable…I made it through 500 miles in the Sierra, after all. I have had sharp rocks impale the softer parts of the rubber sole and poke into my foot on several occasions, but I simply pried them out and kept moving.
The soles are paired with a very lightweight upper that has rubberized overlays in places to prevent blowouts and a decent toe bumper. These features do more to protect the shoe material than prevent impacts to your feet on the front or sides. I don't stub my toe often, so I don't need much protection here, either.
Water Resistance & Ventilation: These shoes make no effort to resist water but at the same time, they dry extremely fast, which is very important to me.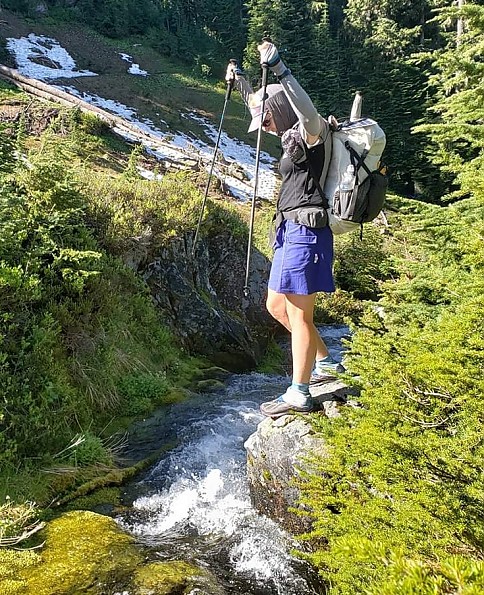 Trying to avoid wet feet by doing some stream and rock hopping in the Northern Cascades
My feet became soaked rather quickly when walking through snow and in heavy rain but even when saturated, the shoes never felt soggy. The upper fabric is a lightweight, dense mesh with welded overlays and the only cushioning is at the back of the heel. For these reasons, there is little material that absorbs water and they vent well.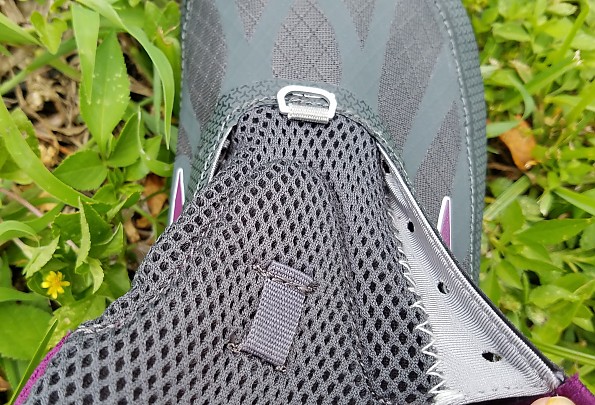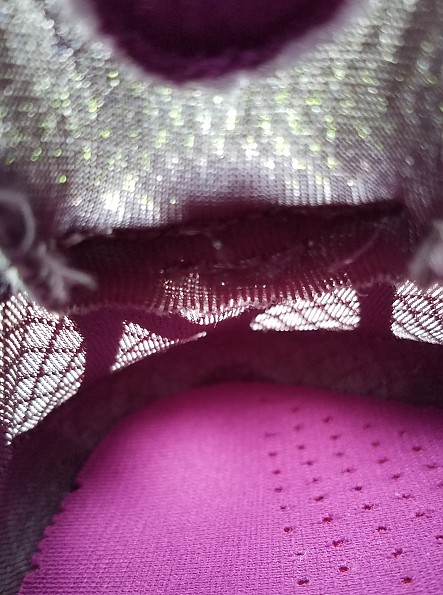 Interior shot of the shoe, showing just how airy they are!

Dust ingress through the upper's vented weave can unfortunately lead to pretty dirty feet, even when wearing socks.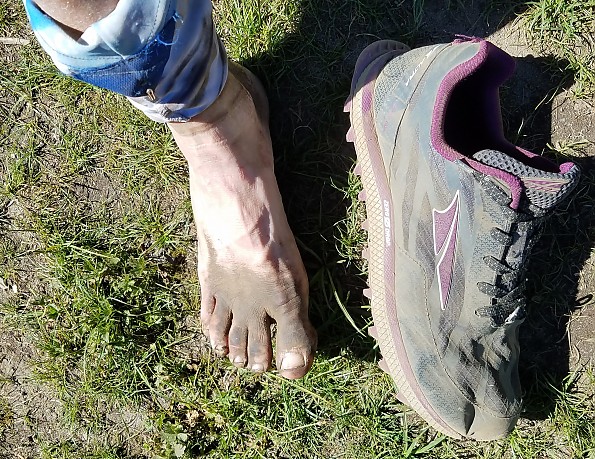 But this seemed to be a fact of life for all thru-hikers, despite what shoes they were wearing. The PCT can be a very dry and dusty trail. It can also be very hot! In the heat, I was happy for the ventilation. My feet felt comfortable even when walking in 100 degree F temperatures over lava fields.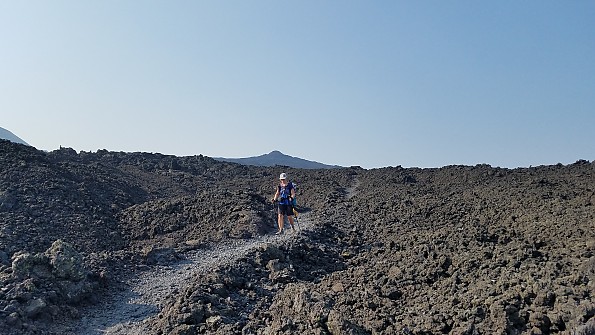 My friend Suvi walking through the lava fields in Oregon. Not only was it hot, the lava really eats up your shoes!
Traction: The Superiors feature a TrailClaw outsole with DuraTread rubber… effectively rows of reasonably thick (4mm) and aggressively canted lugs that feel pretty grippy in a variety of trail conditions. The heels grab the surface when I land my foot and I don't feel slippage when stepping-off from my fore-foot. I always feel quite stable on my feet and never fell once in over 3,000 miles on the PCT and CT.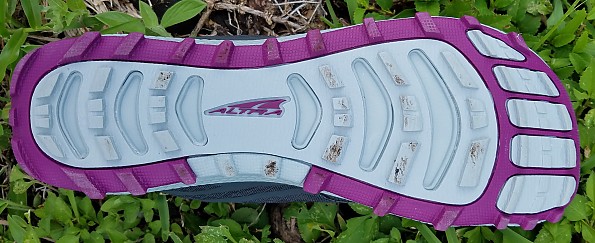 I was especially impressed by the Superior's traction on snow. I covered a fair amount of distance over snow patches in the first two weeks of my PCT hike, without the aid of Microspikes or ice axe, just my usual trekking poles. I found the edges of the shoes to be sharp enough to cut steps and anchor my foot securely. Only a few times did one of my feet slide in the snow. Overall, I felt very comfortable traversing snow and oddly discovered this to be one of the more enjoyable aspects of my journey.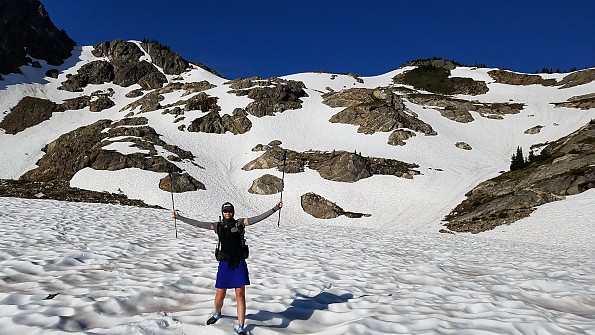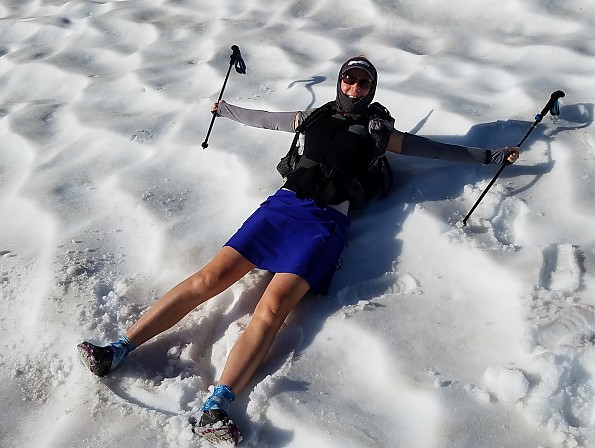 A bad attempt at making a snow angel...first take off your pack.

The only time I have felt the shoes slide easily is on slick, wet rock...a condition where few, if any, shoes gain much traction. Also, I would naturally notice a difference in the traction as the tread wore down. But even at the end of their life, all pairs still had functional lugs left, which is more than I can say for the bottoms of my Lone Peaks at the end of their life. The soles wear down at a pace that is consistent with most comparable trail runners.
I would add that because the lugs are fairly wide-spaced, they shed mud relatively quickly. I never experienced mud or clay balling up on the bottoms.
Features & Ease of Use: I'll simply list a few features and describe a few of the rest
StoneGuards (previously described)
Gusseted tongue, which helps to keep debris out.
Laces: The shoes come with quality laces but I am a big fan of No-Tie flat elastic laces. I always replace the stock laces with these because I like the ease with which I can don and take off my shoes, plus the comfort they provide.
Heel rudder: This is a small rubber fin on the heel of several Altra models and is said to improve stability and control when running downhill. I have never found it to do much other than flick water, mud, and pebbles on my calves and down into my gaiters. I began cutting it off with a pair of scissors beginning with my third pair of shoes on the PCT. I have not noticed any difference in performance and am happy to drop some unnecessary weight.

Gaiter attachment points: All Altra trail runners have a hook and loop attachment (Gaiter Trap) on the heel, which is one of my favorite attributes. Most of the newer models, including the Superior 3.5s, also have a metal loop at the head of the laces plus loops on the sides of the heels to accommodate Altra's proprietary 4-Point GaiterTrap System. 
Altra manufactures lightweight gaiters that complement this system, but as I was not provided with a pair, I used Dirty Girl gaiters that I had instead. Personally, I find two points of attachment to be perfectly sufficient…they rarely ride up above the sides and keep out debris just like they are supposed to. I like that they are very easy to put on and take off, since I frequently release my feet during breaks. I think I would find having to unbuckle side straps in a 4-point system to be excessive and annoying. Even the addition of the metal loop is nice but not totally necessary...earlier versions of the Superior do not have this feature, so I simply hook the front of my gaiters to my shoelaces.
One of the few significant differences between the Superior 3.5 and 3.0 (the shoe pictured above) is the lack of a gaiter attachment point in the front, simply negotiated by hooking the gaiters to the shoe laces instead. Also note, these are not the stock shoe laces but my preferred flat elastic laces.

Lastly, I like to cut off the GaiterTrap cover, as I feel it's pointless and just gets in the way. I'm always wearing gaiters with the shoes, so no need to cover the Velcro.
Superior 3.0s with both the heel rudder and GaiterTrap cover cut off...a few of my personal modifications.
Construction & Durability: From spending a lot of time looking and talking to other thru-hikers about their shoes, I can tell you that experiences in shoe durability range all across the board. Everything else being equal, I think some people just really are harder on their shoes. I met one guy that had to change his shoes (Hokas) every 200 miles. I tend to be on the other side of the spectrum in that all my gear seems to last me longer, especially my shoes.
I feel that Altra Superior 3.0/3.5s are reasonably durable and that they have a life-expectancy of about 700-800 miles when thru-hiking. This is based on my experience and also that of another PCT thru-hiker that wore the same shoes on his southbound hike. We started and finished the trail within days of each other, having nearly identical conditions and experiences. Interestingly, his four pairs of Altra Superior 3.5's lasted almost exactly the same distances as mine.
I do think that the Superiors are slightly less durable than the Lone Peak 3.0s that I used, since I got about 900 miles out of each of those, and on very rough trails. But please note that all the pictures in this section are of shoes that have been through the wringer…600 miles or more of walking on trails, day in and day out. It is not to point out defects or faults in the shoe but to show the typical progression of deterioration as they neared the end of their typical and useful lifespan.
Here is a summary of my four pairs' PCT performance:
1st pair, Superior 3.5: 800 miles (Washington and most of Oregon)
2nd pair, Superior 3.0: 800 miles (remainder of Oregon and Northern California to Tahoe)
3rd pair, Superior 3.0: 600 miles (from Tahoe, through the Sierra, and part of the desert to Agua Dulce…these wore out quicker because I was using Superfeet insoles and the ruggedness of the trail in the Sierra mountains)
4th pair, Superior 3.0: 560 miles (Agua Dulce to the end to the trail, with very little wear and roughly 200-300 miles still left in them)"Hiking" the infamous LA aqueduct
For me, typical wear on the Superior 3.0/3.5 includes:
Deterioration of the heel cup lining and padding (previously shown)
Compression and loss of cushioning in the midsole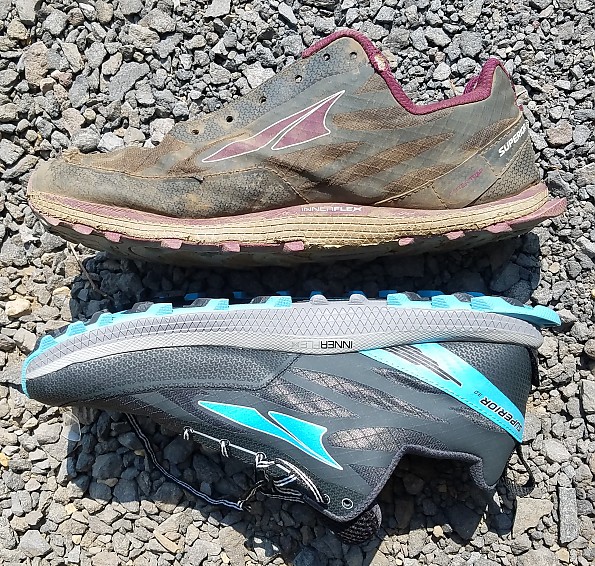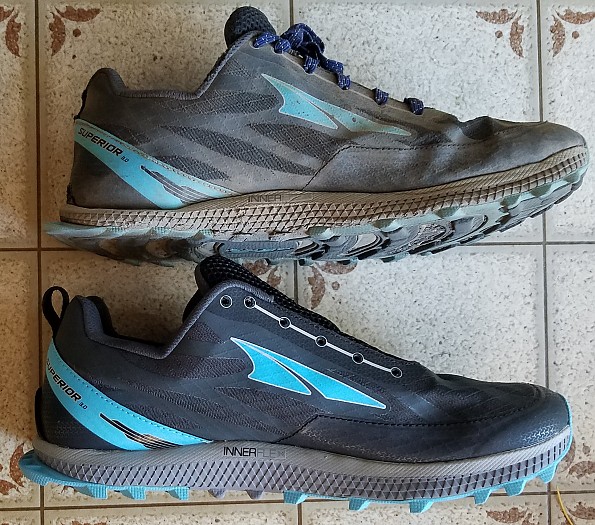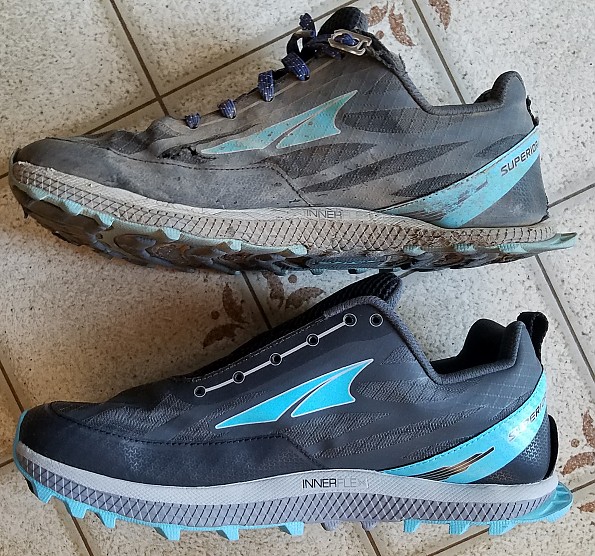 The above pictures show just how compressed the soles get after 800 miles, both in the 3.5s and 3.0s
       3. Wearing down of the outsole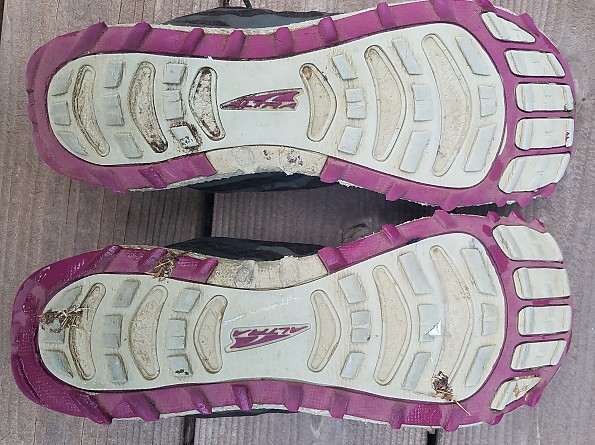 Soles at 560 miles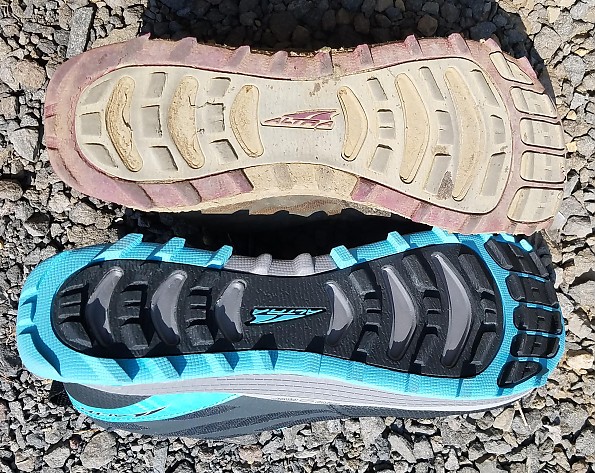 Soles at 800 miles and compared to new shoes...there are still some lugs left!
         4. Some breakdown of the upper material, especially where the material flexes next to harder overlays.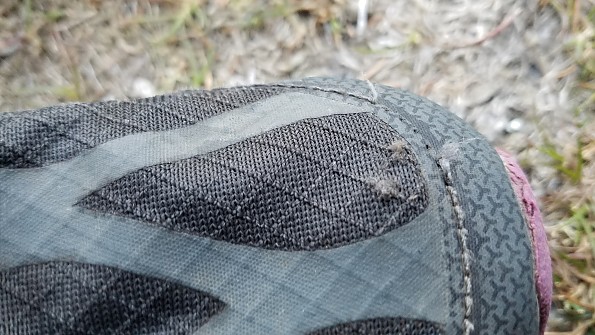 Beginnings of a hole in the toe at 400 miles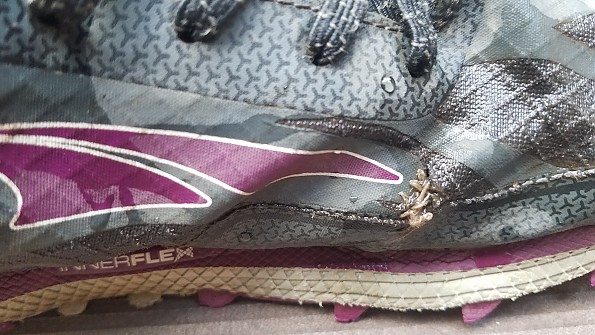 Holes begin to develop wherever the softer material flexes repeatedly next to the less supple overlay...plus my dental floss fix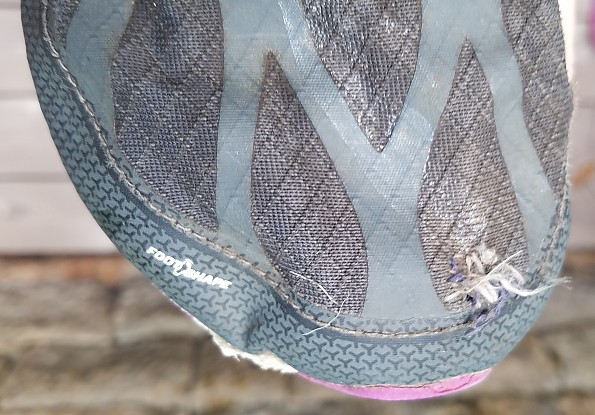 More dental floss repairs, 560 miles in
Of the four pairs of Superiors that I used on the PCT, the first pair (3.5s) showed the most wear on the uppers, with several holes that I had to patch and sew beginning at about 400 miles. To be fair, these shoes also had the most exposure to snow/being wet all day, plus rugged, rocky terrain in the Northern Cascades.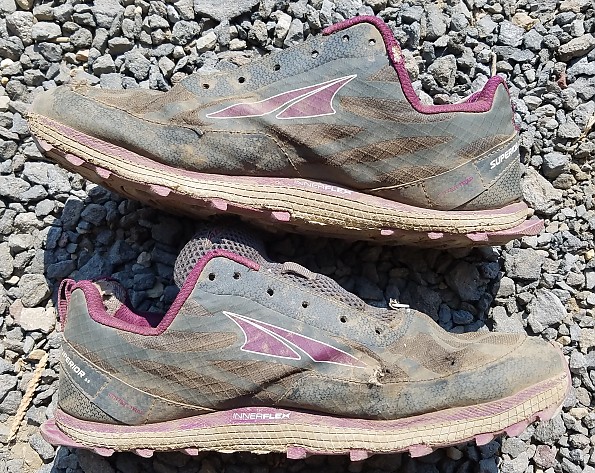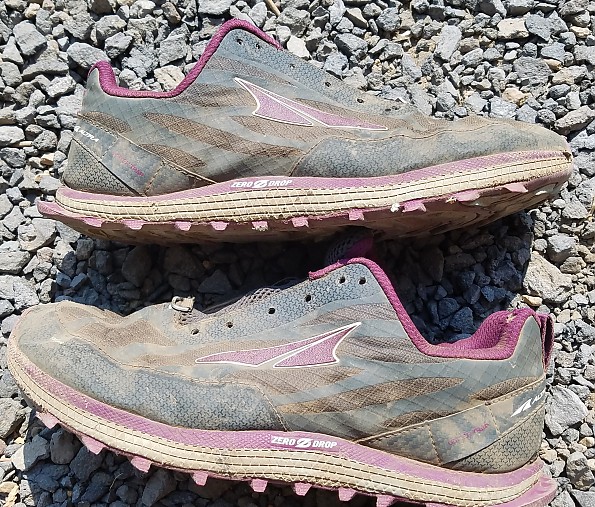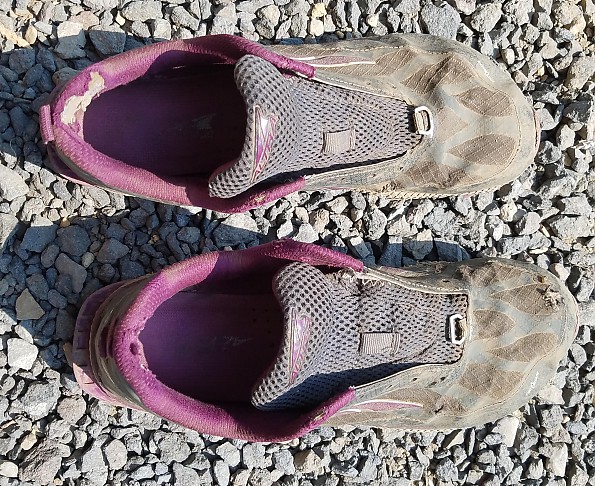 The 3.5s at the end of the line...not too bad considering all the abuse

The hole on the top of the right toebox developed from my big toe rubbing underneath. I didn't ever have any discomfort from this but if the toebox were just a tad bit deeper, I don't think it would be an issue. My big toe did rub on the other pairs of shoes but never to the point that I wore a hole in my sock or shoe. I made sure to keep my toenails always trimmed short after this.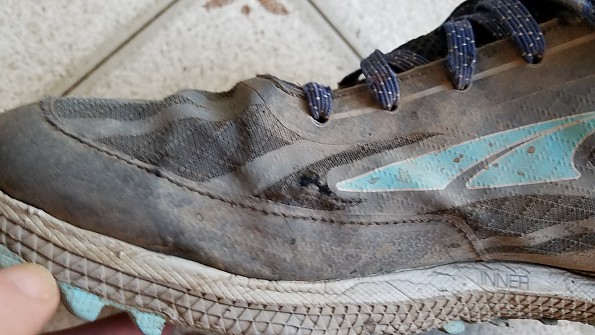 Another closeup of a typical wear point...pretty much all pairs developed holes in this spot after about 500 miles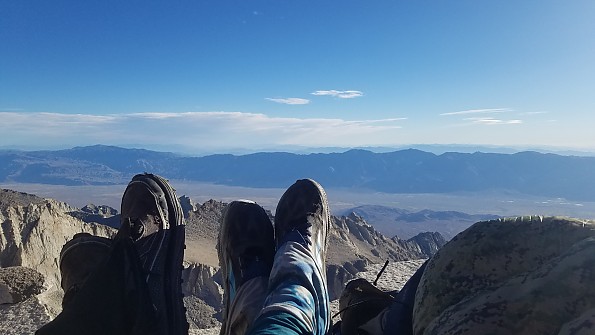 Relaxing on top of Mt Whitney, next to a pair of Altra Timps and Lone Peaks
Thanks to Trailspace and Altra for the opportunity to test the Superior 3.5s!
Background
Thru-hiking the PCT and Colorado Trail in five pairs of Altra Superiors, a combined total of more than 3,000 miles.
Source: received for testing via the Trailspace Review Corps (Sample for testing and review provided by Altra)

Best hiking shoes I've found yet!
Pros
Amazing fit for wide feet
Zero drop is great
Gaiter trap FTW!
Cons
Maybe not the most durable shoe ever
Still runs small
I am really loving these shoes! I've probably worn them almost 100 miles now this hot dry southern California summer. I have been training for backpacking trips with 4 to 5 mile hikes in Griffith Park Los Angeles with a 30+ pound pack. Then, I did a 17+ mile, 3700' elevation gain and loss three-day backpacking trip in the high Sierras with about a 37-pound pack.
I've used several different kinds of socks, including REI wool hiking socks, and the Injinji toes socks. Never a problem, hot spot, blister or anything. I've also been using the Altra lightweight gaiters, which are very effective at keeping dust, sand, and debris out of these shoes, and the gaiter traps work great for holding these on the shoes.  In between hiking trips, I wear them about 3-4 days a week at home or the office. 
I find that the "foot shaped toe box" is just that, and it fits my wide in the front, normal in the heel foot amazingly well. It is so great to have enough room in the front to spread my toes and not feel cramped, but still have the heel fit right, such that my foot doesn't swim around in the shoe. 
The footbed insert is better than most, and I have not felt the need to swap it out for an aftermarket insert like Superfeet. I have a fairly high arch, and the insole fits perfectly.  There is a hard plastic liner below the insole designed to protect the feet from sharp objects, and it works very well at that.
Sizing: Despite Altra's claims that they have normalized the sizing with the Superior 3.5, I still found that I needed to size up a half size from the size 11.5 that I normally wear with nearly all shoe brands that I have, including Keens. This is not as bad as the Altra Olympus 1.5s that I got a few years ago that fit just right in a size 12.5 Mens.
Also, they are very light, and the tread on the bottom is very widespread, such that I suspect it will wear out faster than shoes normally do. 
But overall, I am a big fan!
Source: bought it new
Price Paid: About $110

Your Review
You May Like
Specs
Men's
Price
Historic Range: $54.83-$110.00
Reviewers Paid: $110.00

Women's
Price
Historic Range: $54.83-$110.00

Recently on Trailspace