Eagles Nest Outfitters
DoubleNest
18

reviews

5-star:

8

4-star:

10

3-star:

0

2-star:

0

1-star:

0
One of the best things that's ever been given to me!
Rating:


Source: received it as a personal gift

Summary
One of the best things that's ever been given to me! I love the packability of these hammocks and how versatile they are!
Pros
Lightweight
Packable
Comfortable
Easy to set up
Easy to pack up
I absolutely LOVE my DoubleNest! I seriously take it on every trip I go on whether it's to the beach, to a conference, camping, or any other trip just in case I have the opportunity to ENO for a while (or all night). These things pack up pretty small and can go about anywhere with you. All you need is two sturdy hanging points (and straps) and you're good to go. 
As far as camping goes, I rarely sleep in a tent anymore. If at all possible, I'm going to be sleeping in my ENO. 
This hammock is super quick and easy to set up and has a built-in stuff sack that is easy to pack the hammock back into. 
The construction of the DoubleNest is very durable. It's made out of parachute material and the stitching is great. It can rub holes in it if you set it up where it is touching things below it (such as sticks, plants, rocks). 
I've had my DoubleNest since 2007 (I think, at least close to that long) and it is still going strong and still as comfortable as when I first got it.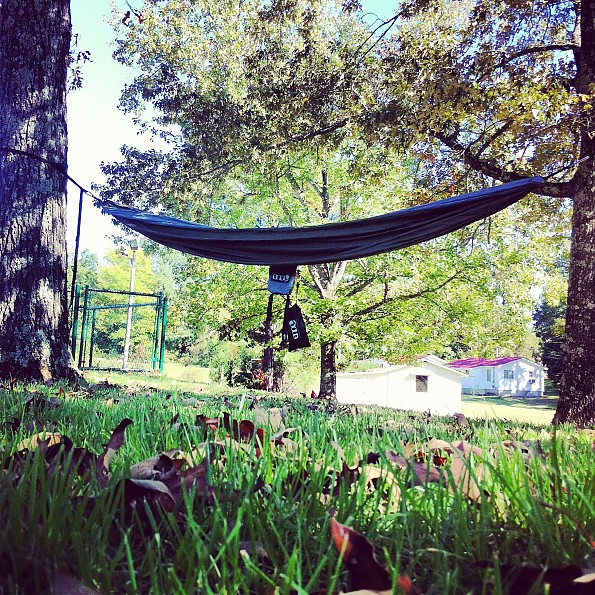 Great hammock, very comfortable. I take my ENO DoubleNest…
Rating:


Source: bought it new
Price Paid: $60

Summary
Great hammock, very comfortable.
Pros
Lightweight
Packs down small
Comfortable
Cons
Carabiners it came with too heavy
I take my ENO DoubleNest hammock on everything from multiday trips to day hikes. Only thing stopping me from giving it 5 stars is the carabiners that the hammock comes with. Quite heavy and kind of sharp. I would recommend replacing them right away.
Easy to set up. I use a set of ENO SlapStrap Pro with mine. The size of the DoubleNest makes it very easy to sleep on a diagonal making it comfortable to even sleep on my side. While the DoubleNest is big enough for 2 people, I wouldn't recommend trying to sleep overnight with 2 people in it unless you really, really, really like them.
Packs down quite small, about half the size of a 2 liter bottle. Great ventilation in the summer time. I have not used it in the fall or winter so I can't comment on it in colder conditions. If you interested in trying hammock camping, or just looking for a comfy place to hang out at the cabin I would recommend the DoubleNest.
The ENO DoubleNest hammock is a great and comfortable,…
Rating:


Source: bought it new
Price Paid: $80

Summary
The ENO DoubleNest hammock is a great and comfortable, yet extremely light way to camp. It is a comfortable way to camp and backpack, just string it up between two trees and you're ready to go! This hammock is an extremely light and fun way to camp!
Pros
Extremely comfortable
Ultra light
Great quality
The ENO DoubleNest hammock is a great and comfortable way to camp. The hammock is extremely easy to setup between two trees, it is strong and can be a great way to relax the day away.
The hammock is made from parachute material and is extremely breathable. This product is exceptional for backpacking because it packs down into the size of a softball and ways almost nothing!
I have used my hammock for a year and it works the same as the day I bought it! I typically use my hammock for backpacking and car camping because it is a great way to get away from the elements, but it works just as well inside my house where I hang it up in my room and use it as a place to relax.
Anyone who isn't sure if they want to buy should probably do some research because hammocks are not for everyone. This is one of the best products I own!
If you are looking for a simple lightweight alternative…
Rating:


Source: bought it new
Price Paid: $70

Summary
If you are looking for a simple lightweight alternative to your tent then this hammock might be just the thing for you. Overall the price and performance offered by this hammock is unrivaled by anything I have ever slept in.
Pros
Lightweight
Compact
Quick setup/teardown
Comfortable
Cons
Cold
Restrictive
Expensive accessories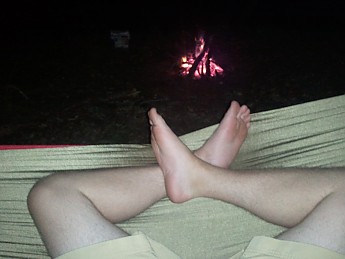 The Eagles Nest Outfitters (ENO) Double Nest is extremely simple to set up and the entire process takes about 2-3 minutes. The key to hanging the ENO is finding the right trees. The straps that are used to hang the ENO are long enough to extend about 6 feet on each side, but the further apart the trees are the more sag you hammock will have. Once I have found two decent trees and setup my ENO I usually spend about 5 minutes laying in it allowing the material to stretch before I get up and tighten the straps. This helps to get rid of some of the sag in the hammock. 
Once you are in the hammock it is a very comfortable night's rest. If you choose to sleep in a sleeping bag it can get pretty restrictive. I have used a quilt and much prefer that option. The first few nights in a hammock can be a little awkward, but once you get past the idea of dangling all night it is great. 
The Double Nest is very compact and once in its bag it is about the size of a grapefruit. The straps to hang the hammock are sold separately and won't take up much room in your bag either.
There are many different accessories that you might want to consider before purchasing a hammock. A rain tarp is a must if you will be using the hammock for anything besides laying in the backyard. The tarp from ENO costs about an extra $70. If you plan on camping on a cold night (anything below about 35 degrees F) you will more than likely want a under quilt (work a little better than sleeping pads for hammocks). These can be really expensive ($200-400) depending on how cold you plan on it getting.
If you will be backpacking and won't have a base camp you may consider the underbelly sling (a mini hammock that hangs under yours to put gear in). These help to keep you gear off of the ground and only cost about $25. The most important accessory, at-least in southern Mississippi, is the bug net. It costs about an extra $50 and fits right around the hammock with a zipper to let you in and out.
Perfect ultralight alternative to a tent! I never…
Rating:


Source: bought it new
Price Paid: about $65 (plus straps and new carabiners)

Summary
Perfect ultralight alternative to a tent!
Pros
Comfortable
Easy to set up
Ultralight and small when packed away
Cons
Slap straps (sold separately) are difficult to take down when wet
I never thought I would turn to hammocks until I borrowed a friend's on an overnight trip in the Appalachians.  It is a small, super lightweight alternative to hauling around a tent and stakes. I prefer the DoubleNest over the SingleNest, not for fitting more than one person in the hammock, but because you can flip the extra material over you during the night to keep out bugs, light, or just as an added layer to keep warm (it is a similar material to the Cocoon sleeping bag liners). 
These hammocks are super easy to set up, however the Slap Straps (sold separately) can be difficult to take down if it has rained (the cord when wet and pulled tight from body weight can be hard to untie).  After not being amused by the Slap Straps, I started using some longer nylon climbing Runners by just slip knotting them around the trees and clipping the carabiners to those and those work perfectly, with no problem when rain hits them.
The one other alteration I made to this set up was the carabiners.  While the ones that come with the hammock are perfectly strong, they are pretty heavy (if you are looking to shave off a few more ounces) and the clip part is kind of abrasive, so they can start to wear on cords or the hammock when hooking it up.  I switched to wiregate climbing carabiners, so they are strong enough to hold body weight, they are incredibly lightweight, and they are not abrasive to any fabric. 
Cost wise, my personal setup versus buying the ENO Slap Straps is about $10 or $15 more, but overall, the whole setup is still much less than a tent, and definitely worth every penny!  
I have been able to use my hammock in the Southern US during the summer, and stayed quite cool, and also in the Northern Cascades in late October, and have been able to keep warm.  It does take a little getting used to sleeping in that position as opposed to on the ground, but I have never been uncomfortable while using it!
Sturdy, comfortable, light, it really performs. Over…
Rating:


Source: bought it new
Price Paid: $75

Summary
Sturdy, comfortable, light, it really performs.
Pros
Strong and stable
Quick to set up
Light
Good looking
Comfortable
Cons
Stock attachment system leaves a few things to be desired
Can be tricky to pack down
Over the last few years, I've gotten a really good experience base with my ENO hammock, and I've become a nearly full-time convert (to the point of choosing it over the large family tent when we're car-camping — it's way better than an air mattress). 
One of the best parts of hammocking is how rock-solid stable it is. sure there's a bit of rocking, at first, but you rarely worry about the wind blowing your hammock down. granted, in heavy winds/rains your tarp will get noisy, but that's not the subject of this review.   
Like all single-layer hammocks, it doesn't do much for insulating you, and while the solid material keeps the wind off, you'll still shed heat without some sort of insulating layer. i've done underquilts, i've done sleeping bags, there's a lot of options to keep you warm out there.  being open-topped, the ventilation is stellar tho. 
Storage isn't a real concern. for small handy items, the stuff sack that carries the packed hammock can be used, as it's attached to the middle on one side and is very easy to get to. makes a great place to tuck your headlamp/watch/etc, so you don't wind up sleeping on them. 
This hammock packs easy, stuffing down to the size of a grapefruit. it packs and unpacks in less than a coupe minutes, and sets up easy enough.  
I personally chose the hammock for its weight rating of 400 pounds, as i'm a hefty guy and most other backpacking hammocks have weight limits of 200 pounds. if you're a wee skinny twig that's great but some of us hikers are built more like vikings.  the carabiners that came with mine were the older-style steel ones that feel like they could hold a car. they're sturdy enough but not exactly light. the new-style ones i've seen, i wouldn't trust and would replace with climbing rated clips ASAP.  
While the ENO Doublenest isn't any incredibly FANCY hammock, it's a sturdy, durable, long-lasting hammock that, unlike some of the really fancy ones, is much more customizable. 
After a long day hiking with a full pack, a comfortable…
Rating:


Source: bought it new
Price Paid: $70

Summary
After a long day hiking with a full pack, a comfortable hammock is far more relaxing than sleeping on the ground or in a tent! It is also a lot faster to set up a hammock than a tent and easier to locate a suitable campsite.

Like with any choice of camping gear, there are trade-offs, but the advantages outweigh the disadvantages. The hammock, even with a rain-fly and bug net, takes up less space in your pack than a tent. If camping in a region where there are no trees, you can still use the rain-fly with your hiking poles to set up a shelter.
Pros
VERY comfortable
Low weight and very compact
Suitable for warmer weather and forest hiking
Cons
Comfort requires 2 trees, 10-16 feet apart
Privacy is a little more difficult with a hammock
Lacks insulation underneath (not as good on cold nights)
I prefer a lighter pack and a comfortable night's sleep. I do this with an ENO Double Nest Hammock, tree straps, ENOs Pro-Fly Rain Tarp, ENOs Bug Guardian Bug Net, a sleeping pad (for insulation), a sleeping bag (bag varies based on weather), and a felt Kelty bag liner. I can set-up virtually anywhere that I can find two trees (they're everywhere). 
I do find it challenging to get dressed discreetly camping with friends of the opposite sex. I also like that I can hang all of my gear on the ropes, off the wet ground. 
The one time that we camped in a location with only one suitable tree, I used a hiking pole to setup the rain-tarp and ug net as a shelter.  I ended up sleeping on my sleeping pad on the ground (which is basically what I would have been doing if I used a tent...).
Still learning all of the uses for this hammock. Have…
Rating:

Summary
Still learning all of the uses for this hammock. Have overnighted, day hikes. This has been one of the best purchases I have made. We use them from spring into fall for camping and hiking
Pros
Easy to setup
Easy to carry
Easy to use
Cons
A bit pricey if you use all of the accessories
We have had two of these for two summers (this is our third summer). Originally we got them so we could take them on hikes and relax for a while before returning. That has been great, a three or four mile out, nap, and come back refreshed!
Last fall we used them for camping. The first try we were a bit chilly, (it was in the twenties that night) but the second trip, with a Therm-a-Rest under it was great. 
We have tried different methods of hanging, and the straps that are sold work great, but tiedowns work, and we are changing over to parachute cord for the backpacking trip and it works great as well. 
Great product. This guy is easy to set up, comes in…
Rating:


Source: bought it new
Price Paid: $70

Summary
Great product.
This guy is easy to set up, comes in lots of bright colors (easier to find at night), and is plenty strong. My first one tore open due to wear on the bottom from scraping the ground, so be careful there (REI replaced it).
Using the SLAP STRAPS is easy and quick. The carabiners are strong. It packs small using the stuff sack. I use mine all the time! I've slept in it in temps from 20F-95°F, no issues. Big enough for most sleeping systems. 
Great compact and well built hammock for lounging…
Rating:


Source: received it as a personal gift

Summary
Great compact and well built hammock for lounging or switching over to the world of Hammock Camping.
Pros
Very comfortable
Compact
Good quality
Cons
Suspension straps from Eagles Nest stretch
Suspension is heavy
When switching over from Tent Camping to Hammock Camping I found that the Eagles Nest Outfitters Doublenest gave me plenty of room for a good Diagonal flat Lay (I am 6ft tall and 260lbs.) It is very compact and stores in its own attached stuff sack.
I originally purchased the Slap Straps from ENO and was happy with the easy setup, but the nylon straps stretch (they have a new set of straps that are better from what I have heard throughout the hammock camping forums (hammockforums.net) I personally have changed to a different lighter set up.
I used this hammock along a 150 mile section of the AT last year and Loved IT.
Do some research if you are interested in ditching your tent, but this is also great for just lounging around in.
Does everything it was designed to do. Quick and easy…
Rating:


Source: bought it new
Price Paid: $50

Summary
Does everything it was designed to do. Quick and easy setup. Comfortable. And beats sleeping on the ground any day of the week.
Pros
Comfortable
Packs small
Lightweight
Cons
Doesn't REALLY fit two people.
The ENO DoubleNest is, in my opinion, the best bang for your buck in the hammock world. You can get add-ons to make it more expensive, but the hammock itself is cheap, so if you're using it for day hiking or in an area where flying bugs just aren't that big of a deal, it's an absolutely fantastic hammock.
Setup is easy, although DON'T buy the SlapStrap Pro.  I've heard that ENO is going to come out with new straps that don't stretch, but I'll believe it when I see it. At any rate, it's no problem at all to hook a carabiner to some tree hugger straps.  Voila.  You're ready to go.
You're likely going to want to get some sort of a rain tarp and probably some type of underneath insulation if you're going to be taking it in any sort of weather. There are plenty of lightweight options out there, and I know plenty of people have no issues with this.
The one drawback to the DoubleNest is that it doesn't really work with two people. Maybe for an afternoon backyard hang, or a short time relaxing. But there is no way my wife and I are going to sleep in that hammock overnight. A little disappointing.  Perhaps the DoubleNest Deluxe, with its extra two feet of width, would have been a better choice for that.
Otherwise, it's a great hammock to have with you for any occasion.   
A great summer buy. It does everything it promises…
Rating:


Source: bought it new
Price Paid: $70

Summary
A great summer buy. It does everything it promises with plenty of space for 2.
Pros
Plenty of space for 1-2
Lightweight and breathable fabric
Compact and easily pack able
Cons
Didn't come with hanging hardware
I love my DoubleNest. It has taken me and my girlfriend to the beach and kept us swinging in the breeze for hours. The fabric was breathable and let the breeze cool us off on even the hottest part of the day.
Only real problem was the lack of hanging hardware, but a set of straps can be bought easily or you can use a few lengths of Para cord (strong, cheap, and easy to come by).
Also, I've had mine for over a year and a few little holes have formed but I have read many places that as long as they don't get worse, they are normal and you are not endanger of falling though.
I hope you enjoy this product as much as I do and enjoy some happy hanging!
Great hammock that is easy to use. This is a great…
Rating:


Source: bought it new
Price Paid: $65

Summary
Great hammock that is easy to use.
Pros
Easy to assemble
Great for hanging out
Portable
This is a great beginner hammock that is easy to use and set up. I love it. I use it whenever I have an excuse to. You won't be disappointed by it. It makes me never want to use a tent or sit on the ground ever again. 
I used it for the first time on a backpacking trip…
Rating:

I used it for the first time on a backpacking trip in mid September of this year. It was unbelievably comfortable. The temperature at night dropped considerably, and even with a sleeping pad, I got very cold in my underrated sleeping bag. 
My backside was fine, but I was very cold everywhere else.  I simply lined it with a space blanket (the good kind, about $14 at REI), and I was fine. 
I have never slept as well on the ground as I did in my hammock, once I got warm. From now on, I'm going with a hammock. I also have the Bug Net, and the Dry Fly rain tarp. 
All total, it doesn't seem to save anything in weight, or packing size, over a tent.  But, the comfort level is no comparison.
This is a great hammock to start out with. It is comfortable,…
Rating:


Price Paid: $60

This is a great hammock to start out with. It is comfortable, easy to set up, and well built. I've been using mine for a couple of years and do not regret purchasing it. I still use it regularly when I'm not camping just to to relax and nap in despite having upgraded to a Warbonnet Blackbird (which is, by far, the best hammock I've ever been in). The Doublenest is very roomy and can allow you to lay very flat as long as you lay diagonally on it.
The attached bag compresses the hammock well and when you are hanging from the hammock the bag is big enough to hold a 1 liter Nalgene bottle. I've kicked back in this hammock with my girlfriend, who is 5'9" and weighs 120bs, and our son, who is about 40 lbs. The hammock was able to support all three of us without any problems. I weigh 200lbs, so given our combined weight, I suspect that the weight rating is accurate. Actually trying to sleep in a hammock with more than one person would probably not work very well, but if you're just reading a book together like we were it's fine.
Despite the quality of the hammock, there are a couple of caveats about Eno, which actually have nothing to do with this hammock:
1- Stay away from Eno's slap strap suspension system, it does not work well. I would advise just getting regular webbing or, better yet, woopie slings and a couple of shorter tree straps.
2- Their guardian bug nets, while very durable, are unnecessarily heavy.
3- Their tarps aren't the best. I would recommend Warbonnet, MacCat or Speer tarps over an Eno tarp. Look for silnylon or cuben fiber tarps to save weight.
That said, the hammock itself is rock solid and I highly recommend it. For information about hammock camping, come hang out at HammockForums.net.
I believe Eagles Nest is the preferred hammock manufacturer…
Rating:


Price Paid: $64.95

I believe Eagles Nest is the preferred hammock manufacturer of discerning Day Hammockers. Get their SingleNest for $49.95.

It's easy to get carried away with excessive gear, day hammockers travel light. The essential day hammocking outfit consists of: sandals, tank top (or shirtless), fanny pack with water, snacks, and a Speedo (it's the original banana hammock).
The only rule is that you have to leave your backyard. Otherwise you're just napping in a hammock, and that's not the same thing. "The SingleNest is great for a light day hammocking excursion, but I've since moved on to the DoubleNest. There are few things better in life than a tandem day hammocking experience. But it might not be for the beginner."
This has been a wonderful investment. I set one of…
Rating:


Sleeps: 2
Ease of Setup: Painless
Weight: n/a
Price Paid: $59.95

This has been a wonderful investment. I set one of these up for a Memorial Day Weekend party and left it up for the weekend. Needless to say, EVERYONE had to give it a try at one point or another. Set up is easy. Just bought the BugNet and looking forward trying it out. I do recommend using a Therm-a-Rest sleep pad for added comfort. Buy one!
i love this hammock except when the bugs bite through…
Rating:


Price Paid: ?

i love this hammock except when the bugs bite through it. permitherin (sp) helps out with that problem.
Where to Buy
sponsored links
Help support Trailspace by making your next purchase through one of the links above.
Eagles Nest Outfitters DoubleNest
currently retails for:
$58.44 - $94.95
MSRP: $64.95

where to buy: