Eagles Nest Outfitters Atlas Straps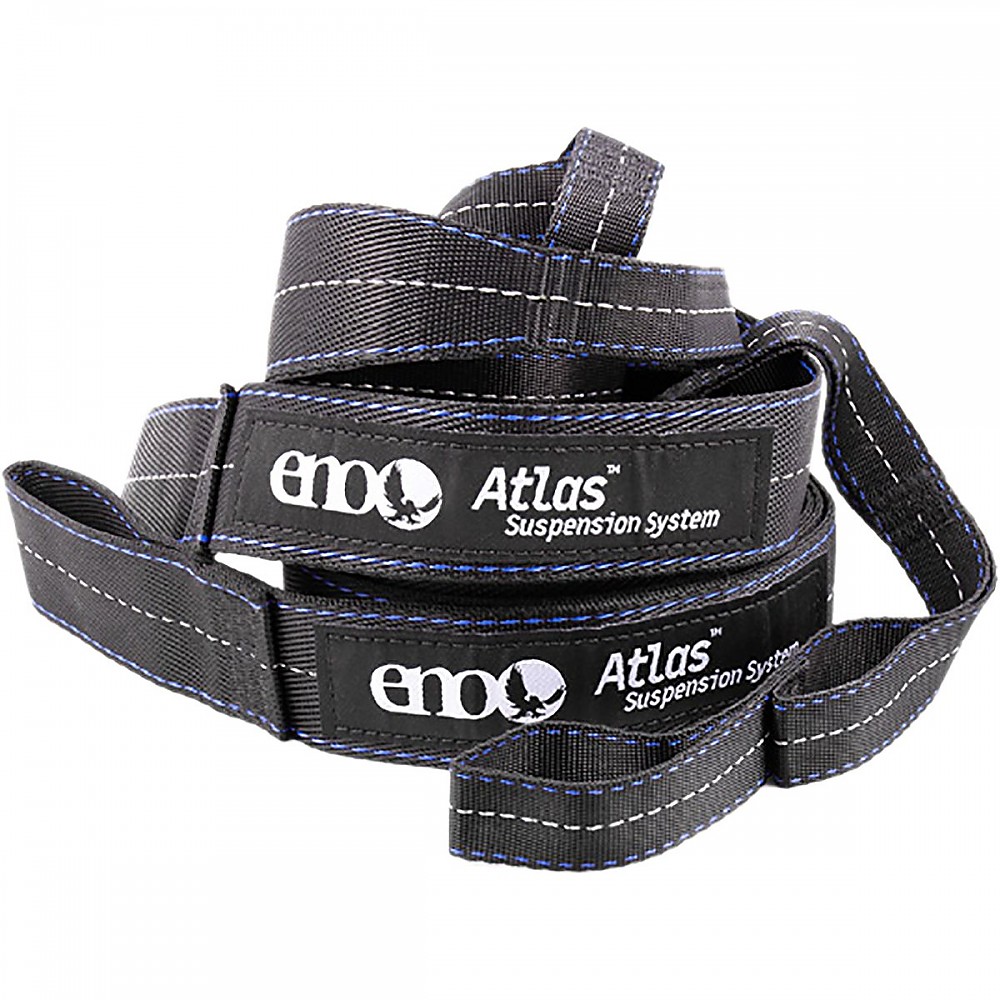 This is a major upgrade to the old Slap Straps and Slap Strap Pro. If you are buying new straps, get the Atlas straps and don't even consider the other ones!
Pros
Lots of hanging points
Strong
Durable
Stuff sack
My original hammock straps were the regular SlapStraps, then I upgraded to the SlapStrap Pros. When these Atlas straps came out I was pretty jealous of them and ended up asking for them this past Christmas. 
These are by far the best straps that ENO makes. The end loop is wide, which makes it easy to run the other end of the strap through. There are also lots of hanging points on each strap which helps for an easily customizable hang. 
With the multiple hanging points you don't have to worry as much about the size of the tree and you definitely don't have to be as particular about the width between the two trees that you are going to hang from. 
These straps are really tough and durable! They have a weight limit of 200lbs. per strap and seem to hold up well. They are really easy to use and easy to take down. They also come with a stuff sack that makes it easy for packing and carrying from place to place. I use a small carabiner and clip the stuff sack of the Atlas straps and the stuff sack of my double nest together just to keep them together. It seems to work well. 
I just wish they would have had these straps when I bought my DoubleNest. It would have saved me a lot of adjusting! 
Source: received it as a personal gift

The Atlas straps, in my opinion, are well worth the price. You have a wide range of positions to select, and an easy setup. Not to mention they makes it so much easier to "bunk" hammocks. So, if you want to hang in style and comfort without the hassle of a complicated setup, the Atlas straps are for you.
Pros
Ease of setup
Ease of take-down
Wide range of positions
The Atlas straps are a great solution for hanging. In my opinion, they far out run the other straps on the market.
The straps take about a minute, tops, to attach them to the tree, and maybe another 30 seconds to attach your hammock at the desired position. So they are VERY easy to set-up, and take-down. The only faster, and more easy option I can think of are the Warbonnet adjustable webbing suspension. I currently use the Warbonnet adjustable webbing suspension, with a double ended stuff sack, so I can simply pull the straps out, attach them to the tree, and adjust. But, the Atlas straps are the only rival in ease of use, and speed I can think of.
These straps are very durable, and can safely hold 400 lbs, 200 lbs per strap. But when are you going to have 400 pounds in your hammock?
One thing ENO prides themselves on is their earth friendly products. These straps are tree friendly, meaning they will not hurt the tree in any way, considering you are using a suitable tree for your weight. There is really no way to measure if a tree is sturdy enough to hold you, but I hope someone would have enough common sense not to hang on a sapling.
Speaking of weight, these straps are a little heavy at 110z, but I'd say it's worth the weight. See what I did there?
You may be wondering "How much are these straps gonna' me?" I bought my pair for 30$ at rock creek, but they are only 25$ on the ENO website, not including shipping. But, they usually have free shipping deals on orders a certain amount or up, plus, they usually send really cool bumper stickers...
I hope this review was helpful. I highly recommend the Atlas straps to anyone, and I hope you will like them too.
Source: bought it new
Price Paid: 30$

Easy to set up, but too bulky for camping.
Pros
Versatile
Easy to setup
Sturdy
Great straps for the ENO hammock. Very easy to set up and adjust hammocks, but these are too big and bulky to bring camping in your backpack. The straps weigh more than the hammock itself.
They are sturdy and supportive with no stretch or give.
Source: bought it new
Price Paid: $29.99

These straps are great for all types of camping. They allow you to raise and lower your hammock for excellent comfort. I would definitely recommend them.
Pros
They will not flex
Has attachment points every 2 inches
Holds 200 pounds per strap (400 total)
Length
Cons
It's a little pricey
They are heavy
These are the ultimate hammock straps. They allow you to easily fine tune the position of your hammock. They have a decent length that is good for most trees.
I bought them after three years of using ENO's SlapStraps. One thing that is great is that after a night using slap straps the straps will extend and often leave you touching the ground. Atlas straps don't extend like that so your hammock will stay in the same position the entire time.
Also the attachment points every two inches or so are an obvious plus. I would highly recommend them.
Source: bought it new
Price Paid: $30

Save time and relax!! These straps are so worth it!
The Atlas straps really kill time and you can get to relaxing in just a few minutes. You do need solid anchoring points though.
The straps really make you feel secure in your hammock. Before I used ropes and tiedowns and ended up falling right to my back on the ground thanks to them not holding or coming untied. They're super strong!! Each strap holds up to 200 pounds so you know you're good.
The straps roll up and pack away into their own bag, not much bigger then a baseball. They're super easy to setup. Just put them around tree or a solid anchoring point and attach the hammock to each strap and you're ready to relax!! There's multiple connection points on the straps.
The straps are super strong and you will feel safe using them! I have set up between lots of trees. I have only had the straps a few months but know they will last many years to come.
Source: bought it new
Price Paid: $29

These Atlas Hammock Straps will open up your possibilities for your hammock setup locations. Now you will be able to enjoy the sound of flowing water, birds chirping, and many other sounds while you hammock amongst the rest of nature.
Pros
Easy setup
High weight limit
Multiple different height options
These straps are perfect for setting up your ENO hammock. When you want to go hammock, your straps are easy to quickly set up and when you are finished with your afternoon hammock session then they are easy to roll up and store in their included storage bag.
The straps hold up really nicely and provide many different height levels for you to set up your hammock. I would recommend this product to anyone who owns an ENO hammock because it vastly expands the versatility of your hammock experience.
Source: bought it new
Price Paid: $29.95

A lightweight and trustworthy hammock suspension system.
Pros
STRONG
Packs easy into any backpack
Lightweight
Well constructed
Very adjustable
Easy set up and take down
How many times has your rope broken while you were in your hammock? How many times did your knot come untied? And how many times did your ropes wick rain water on to your hammock? 
Well, using the ENO Atlas Suspension system, you won't need to worry about that anymore. With a combined load capacity of 400 pounds, they're not going to break.
I found that the setup was as easy as reaching around a tree. With all the loops running down the strap, leveling out my SingleNest was a breeze. Plus, the extra loops gave me a place to hang my ENO HiFi and water bottles. 

When in rainy weather, the straps wick water down away from you and your hammock. So no more midnight rude wake up calls. Well worth getting for your "Nest."
Source: online

Many many more loops than the other straps I've used, and they don't stretch, which means you don't wake up on the ground, in a bush, or anything else you hang your hammock over.
Pros
Strong, no stretch
More loops for more hanging options
I've owned both the original SlapStraps and the Pro. The Pro is thinner, lighter, and has more loops, but stretch is worse than the original.
No more waking on the ground. I'm 210 and have had to reset my hammock to tighter loops on both the other straps after letting them stretch. The Atlas straps have little to no problem with this and have way more loops, so are infinitely adjustable.
Easy to set up, no knots, just throw them around the tree, post, etc and feed the end through the first loop, repeat at other end, hang hammock, and nap!!  
Source: bought it new
Price Paid: $29.99

Very easy to set up. The pouch is very convienent and makes the straps super portable. Many loops for easy adjustment.
Pros
Strength of the webbing
Portability
Ease of adjustment
Cons
Price 30<
Sometimes slips down tree a little
I got my first hammock a month or two ago and I loved it. At first I struggled with suspension then I built my own straps that worked fairly well. I had to tie a slip knot every time though and they were made of heavy polypropelene webbing.
I ditched my Chinese hammock and bought a nice ENO SingleNest and these Atlas straps. They are sweet but slip down trees sometimes, Not a often problem on oak trees, but recurring on a birch or another tree with less bark.
I would recommend this product to a friend.
Source: bought it new
Price Paid: $30

The easiest way to rig up a hammock.
Pros
Lightweight
Simple setup
Easy to select level
These straps come in a parachute material bag. It can't get any simpler. You simply wrap the strap around the tree and put the strap through the loop that is already sown on. That's all for rigging to the tree.
All along the strap are loops like a Jacobs ladder. Attach your hammock to the selected loop (I use a carabiner) and you are done with this side. Repeat for the other side.
If you need to adjust the height of the hammock, it can't get easier. Just choose a loop one up or down until you have it where you want.
So much better than rigging up para cord knots or doing multiple wraps around a tree to try and get a strap to the correct length.
Source: bought it new

Way better than any other strap ENO makes and better than any other strap that I have tried! It's almost not worth buying any other strap!
Pros
No stretch!
Continuous loop!
Long!
Easy to get the perfect hang!
No snagging!
These straps are by far the best straps around! Being 10' long each and having loop almost every 5-6" makes them easy to get the perfect hang that you are looking for!
And forget about hanging your hammock over your before you get so that you're not lying on the ground with these straps because, being made of poly instead of nylon, they don't hardly stretch at all! They are worth every penny and I wouldn't buy any other strap!
Source: bought it new
Price Paid: $27

Much better than the Pro straps and super convenient.
Pros
Better adjustability than Pro straps
Don't sag as much
Cons
None that I have found yet
I'm a fairly large person at over 6 feet and nearly 275 lbs. These straps sag much less than the SlapStrap Pros. The trouble I had with the Pro straps is that no matter how taut I had them, when I woke up in the morning I was either on the ground or near it.
These don't give much at all. They are very beefy straps and very easy to use. You'll be much better off to go ahead and spend the extra money for these as opposed to purchasing the SlapStraps or SlapStrap Pros.
Source: received it as a personal gift

Very simple to set up. If anyone is interested in getting a new style hammock I highly recommend getting these. Even if you don't go with ENO (though I am not sure why you wouldn't) ;)
Cons
Some strands
Not many colours
Source: bought it new
Price Paid: $20

Do what they're supposed to do.
These straps are excellent, especially for someone who has not much experience with hammocks. They are obvious and easy to set up and adjust, and provide lots of latitude for adjustment.
I have used both the regular and XL varieties, and find both very sturdy—the XL are really overkill, and the regular are not light.
Source: bought it new
Price Paid: bought at retail

Super strong, don't stretch like others! Super quick to put up and take down, clean up fast!
Amazing straps! They set up so fast and hold so well! I trust these straps sometimes with my life! Recommend these over any other right now!!
Source: bought it new
Price Paid: $40-ish

Love these straps. Super easy to use. Compact and lightweight for easy carrying. Recommended over SlapStraps.
Pros
Ease of use
Lightweight
Caribener loops
Highly recommend with ENO hammocks. Easy to use and lightweight.
Source: bought it new
Price Paid: $29.99

Best straps on the market! Give plenty of options to hang the hammock as tight or loose as you want!!
Best option on the market!
Source: bought it new

Your Review
Where to Buy
Help support this site by making your next gear purchase through one of the links above. Click a link, buy what you need, and the seller will contribute a portion of the purchase price to support Trailspace's independent gear reviews.
You May Like
Specs
Price
MSRP: $29.95
Current Retail: $29.95
Historic Range: $12.99-$39.95
Reviewers Paid: $20.00-$30.00

Weight
11 oz

Length
9 ft

Width
1 in

Capacity
400 lb

Best use
Family/car camping and backpacking

Recently on Trailspace