Eagles Nest Outfitters Guardian Bug Net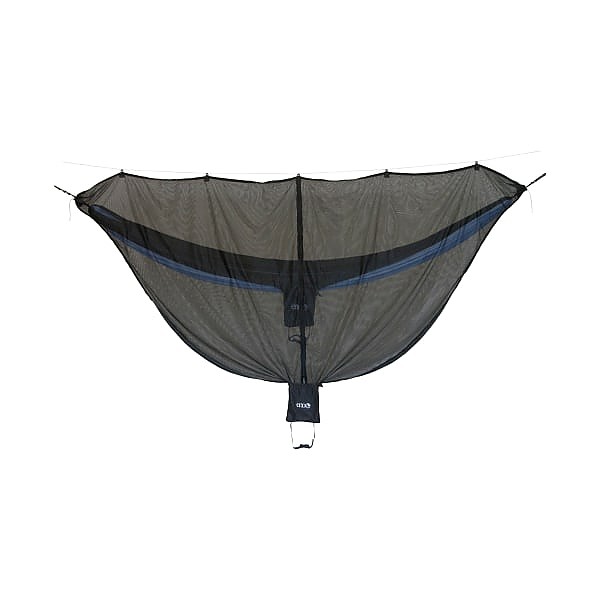 Mosquitos are just flat out annoying. This dandy tool for hammock camping can help make your experience in the backcountry (or anywhere) a lot more enjoyable by keeping the pesky little bugs off of you during your peaceful slumber.
Pros
Fine netting
Attached stuff sack
Packs small
Roomy
Well built
Cons
Provided ridge line is very short
Could tear easily
The Guardian Bug Net is a great thing to have if you plan to hammock camp during months when insects will be out! Being bitten by mosquitos all night long can turn a good trip into a miserable one pretty quickly. With the bug net you can sleep worry free without having to cake on the bug spray. 
The super fine netting keeps even the smallest of insects out of your space all night! Both ends of the bug net have draw chords to synch up the ends making this really a great protection from bugs. 
Down the middle of the net is a zipper to allow you to climb in and out of your hammock with ease. This also ensure that there are no openings in the net. 
When spread out, this bug net is pretty big. I have not ever felt cramped in it or felt like I wanted any more room. It will hang high enough above you that you can sit straight up in the hammock without ducking your head and it hangs low enough below the hammock where the bottom of the hammock will not be restricted by the net. 
The only drawback I have with this bug net is that the provided ridge line is very short. Unless you are hanging between two trees that are very close together, you will want to bring along an extra strip of parachord or something. Just make sure that the bug net clips will fit on there before you take off into backcountry. 
Source: received it as a personal gift

If you are looking for a custom tailored bug net for your Eno hammock, you've come to the right place. The Guardian Bug Net comes with a ridge line to ensure quick, and easy attachment. And it will keep out even the most viscous of mosquitoes and flies.
Pros
Easy to set up
Keeps the bug out
Custom fit to Eno hammocks
The Guardian bug net is a great solution for keeping out those pesky mosquitoes and flies. 
The Guardian bug net is easy to use and takes about 3 minutes to set up. It comes with a ridge line to keep the net off your face. The ridge line can be tied each use to the desired length, or you can do what I did, and tie a noose knot attach the free end to one end of the hammock, and attach a caribiner to the loop of the noose knot, which can then be attached to the other end of the hammock allowing you to adjust the ridge line without any untying.
I use my bug net sometimes in place of a tarp, because it will keep the dew off of my face, but not limit my view of the stars. A cautionary note though, this will not replace your tarp. In a heavy rain, with only the bug net, you will get soaked.
A side effect of keeping bugs out is that it some times feels a little warm, and even stuffy inside the bug net. I fixed this by simply attaching a small fan that I purchased at Wal-mart with some Nite-Ize twist ties onto the ridge line, and it circulates the air on my face nicely.
The Guardian bug net is a made with the same great quality we've begun to expect from ENO, but if you fall out of your hammock, I don't believe it will hold you. So, don't fall out. Haha!
The Guardian bug net is a little pricey at about 60$, but that's about the best price you're going to get for a bug net. The bug net is a little heavy at 16 oz, but I think it's a fair price to pay for a good night's rest without waking up itching like crazy.
I hope this review was helpful, and I hope this product will keep you happy, and mosquito free on your next adventure.
Source: bought it new
Price Paid: 59.95$

After a long day hiking with a full pack, a comfortable hammock is far more relaxing than sleeping on the ground or in a tent! It is also a lot faster to set up a hammock than a tent and easier to locate a suitable campsite.

Like with any choice of camping gear, there are trade-offs, but the advantages outweigh the disadvantages. The hammock with a rain-fly and bug net, takes up less space in your pack than a tent. If camping in a region where there are no trees, you can still use the rain-fly and Guardian Bug Net with your hiking poles to set up a shelter.
Pros
Makes sleeping in a hammock more comfortable
Lightweight and compact
Hammocks are great in warmer weather when bugs become a problem
I prefer a lighter pack and a comfortable night's sleep.  I do this with an ENOs Double Nest Hammock, tree straps, ENOs Rain-Fly, ENOs Pro-Fly Rain Tarp, ENOs Guardian Bug Net, a sleeping pad (for insulation), a sleeping bag (bag varies based on weather), and a felt Kelty bag liner. 
I can set up virtually anywhere that I can find two trees (they're everywhere). Hammocks are intended for camping during the warmer seasons when bugs are a problem. The Guardian Bug Net fixes this problem. I also do like that I can hang all of my gear on the ropes, off the wet ground. 
The one time that we camped in a location with only one suitable tree, I used a hiking pole to setup the rain-tarp and bug net as a shelter.  I ended up sleeping on my sleeping pad on the ground (which is basically what I would have been doing if I used a tent...).
Source: bought it new
Price Paid: $60

This bug net will save you the madness of being a feeding ground for all the lovely little bugs in the woods! It is lightweight, and once you figure out how to set it up, it's a no-brainer!
Pros
Lightweight and small
Easy to set up
Keeps all the bugs out!
Cons
Net material can snag (not super easily, but be careful!)
I purchased this bug net specifically for a two week trip in the Sierra Nevadas, which can definitely be a buggy place! One morning I woke up, and before getting out of my hammock, I noticed a layer of bugs on the outside of the net—not one bug had attacked me during the night—and knew that my $60 was well spent!
The setup for this bug net is super easy—it's just a matter of figuring out where to place the cord to suspend the net, so it isn't too close to you while you are in the hammock.  If you hang it too low, then while you move around in your hammock, you can bump the net and make it unhook from the cord, which will just make it lay on your face--it will still work the same, it will just be annoying. 
Another thing to note--the ENO bug net will only fit ENO hammocks perfectly. It will fit other hammocks inside it, but the ends of the ENO hammock will meet up with the exact measurements of the ENO bug net, which helps to keep bugs from getting into the ends of the net.
My friend (on the same Sierras trip) had an ENO bug net and a different brand hammock. The hammock was a bit longer than the bug net, so the hammock stuck out of either end of the net a bit, which worked fine, but we just had to rig it a little bit to make sure that no bugs could fly through the ends.
Overall, I would say that I am completely happy with this product! It is very light, and when packed, is a little bigger than a softball.  
Source: bought it new
Price Paid: $60

This net keeps all the bugs away but takes practice to get it set up quickly. I would recommend this to anyone with an ENO hammock.
Pros
Keeps bugs away
Lets breeze through
Plenty of room to move
Cons
Difficult to set up
Heavy
I bought this bug net to go along with my ENO hammock set up. I have used it with the DoubleNest as well as the SingleNest.
This net keeps the insects out. I wake up looking at all the creepy crawlies that would have otherwise been on me and I'm thankful for it.
Setting up the net is not the easiest thing. I have found that if I set up the bug net before anything else I am able to make the set up go much faster.
So far I have not had any issue with the net snagging or tearing and I've been using it for 3 years now.
My only issue with the net is that it is somewhat weighty. It does pack small however.


Source: bought it new
Price Paid: $45

This has been the best bugnet I have found to date. So easy to put up and easy entry and exit from the hammock.
Pros
Easy setup
Ease of entry and exit
Compatible with most hammocks
I use my hammock system as often as possible. Everything from trips to the lake, to full blown camping trips, to weekend trips on the motorcycle. The Guardian Bug Net keeps every bug off me while I sleep. And Texas bugs are pretty vicious lil guys.
Bug Net will happily accept any width of camping hammock and person I've seen so far. Packs down to a ball about the size of a grapefruit. Has lasted me so far about three years. and doesn't look like it's gonna wear out anytime soon either.
Unit also combines with other items such as rain flys and the undersling very well to boot. 
Source: bought it new
Price Paid: $55

Keeps the bugs off. Easy setup. Nice add-on to the Double or SingleNest.
Pros
Easy setup
Really works. Keeps the bug off of you.
Good value
Well constructed
The ENO Guardian Bug Net is a VERY valuable addition to ANY hammock setup. It easily slips over your hammock, allowing access through a large easy working zipper. Once inside, zipped up, I found it very roomy and it didn't give me that smothered feeling like being wrapped up inside a bag.
And best of all, it works. Bugs WILL NOT get at you. It truly guards you from all those nasty, biting, buzzing creatures of the night.
Source: Online

Great bug net. Easy to set up. This is perfect anyone wanting something easy to put up with little direction. It kept me and my ENO DoubleNest hammock safe all night.
Pros
Full protection from all bugs
A great, impenetrable bug net. I had no issues with bugs while using this in a highly bug occupied area.
Source: bought it new

Love the fact that I have won the fight against bugs while sleeping in the Guardian Bug Net! I have no issues with any type of bugs thanks to this product!!
Pros
You don't have to deal with bugs
Cons
You don't get to play with bugs if you buy this product
Works better than you could imagine!
Source: bought it new

Work great to keep bugs out. Small and compact.
Pros
Lightweight
See through material
Cons
Rigid line given is small.
Was disappointed in the rigid line provided, although works great for intended purpose.
Highly recommend for buggy situations.
Source: bought it new
Price Paid: $49.99

It's big and durable, but it's also heavy and doesn't have any pull-outs on the sides to keep the netting away from the hammock. There is also a small space on each end that mosquitoes and other insects can get through.
Overall, this bug net is OK but there are probably lighter bug nets out there.
Price Paid: It was free.

The Bug Net hangs far enough above you to keep you from getting claustrophobic, to keep the bugs from biting you through the net, and to make entry/exit easy, with just a little practice.
Your Review
Where to Buy
Help support this site by making your next gear purchase through one of the links above. Click a link, buy what you need, and the seller will contribute a portion of the purchase price to support Trailspace's independent gear reviews.
You May Like
Specs
Price
MSRP: $54.95
Current Retail: $59.95-$64.99
Historic Range: $35.71-$64.99
Reviewers Paid: $45.00-$60.00