Eddie Bauer
First Ascent Downlight Sweater
4

reviews

5-star:

2

4-star:

1

3-star:

1

2-star:

0

1-star:

0
The lightest, warmest insulation. Period. Our next generation Downlight has deep roots; its ancestor was a favorite of Jim Whittaker's when he became the first American to summit Everest in 1963. Classic.
Reviews
This being the first puffy down jacket I have ever…
Rating:


Source: bought it new
Price Paid: $70

Summary
This being the first puffy down jacket I have ever owned, I do not have a lot to compare the Eddie Bauer First Ascent Downlight to. But, I must say, this jacket is incredible. Never have I had such a warm jacket. I almost feel myself starting to become overheated while wearing it indoors. Outdoors, even a biting winter wind does not cut through it. Additionally, it feels as light as air.
Pros
Extremely warm
Very lightweight
Compacts down to almost nothing
Water-resistant
Stylish
Cons
Runs a little small in size
Feathers poke through often
Zipper gets stuck on occasion
Details
The jacket itself is relatively simplistic in that it has minimal pockets with no inner storage compartments. It can compress down nicely, and actually be stuffed into its own pocket to be put in a backpack, etc. It has quality zipper pulls that work great with gloves, and tight elastic around the sleeves and waist to keep air from coming in. The zippers are a little hard to zip sometimes, but I don't think this is anything that can't be cured with some lubrication or soap. The construction seems to be of above-average quality.
Sizing
I normally wear a large in just about everything I purchase, but for some reason I had to get this one in XL.  The L was rather tight and just did not look good on me. Additionally, there would have been no way to get any other layers underneath it. I know it is typical to not have to layer as much when wearing down, but I like to have the option. If considering purchasing, do not assume it will fit without trying it on first.
Cons
My only major complaint with this article is that the feathers tend to push through quite often. Since I am not used to down, maybe this is just a standard thing no matter what the brand. I used to have a down pillow that did the exact same thing—and stopped using it. Sometimes, it can be very difficult to push the feathers back in, and the last thing I want to do is pull them out (but have done it). I think this is the exact reason why I have avoided purchasing an expensive down sleeping bag (that and the issue with down and moisture). In some cases, synthetics just make more sense.
Summary
There are many puffys on the market by many well-respected brands, and many true outdoor fanatics might not take the Eddie Bauer name seriously as opposed to Marmot, Mountain Hardwear, Patagonia, or others.  However, the First Ascent line is very high-grade quality recommended by Backpacker magazine and has really made a name for itself in recent years. Even better, I live close to an Eddie Bauer Outlet store, and found this on sale at the beginning of the season for under $75. For me, it was a no-brainer purchase. It is definitely a quality down jacket that will make any cold-weather excursion a much better one.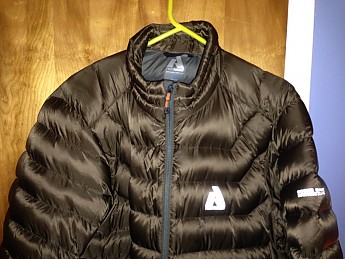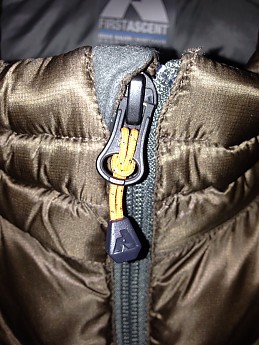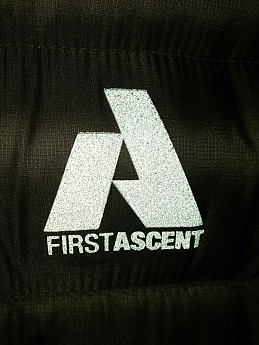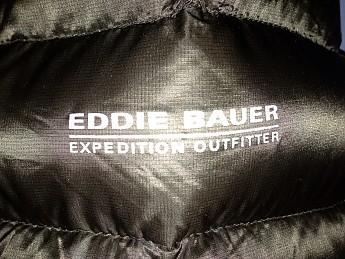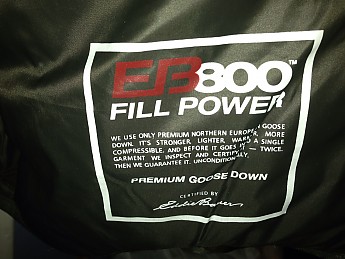 I prefer this jacket over Patagonia's down sweater…
Rating:


Price Paid: $135

I prefer this jacket over Patagonia's down sweater primarily due to the price point — the construction, material, and fill are almost the same, and the durability to date seems equal.
That being said, I'd just rather spend much less for a jacket that will perform the same.
There are lots of lightweight down jackets or sweaters…
Rating:


Price Paid: about $120 on sale

There are lots of lightweight down jackets or sweaters around these days -- seems like every major brand has at least one model.
I shopped around and opted for the 2010 version of the FA Downlight Sweater. It presented the best balance of functionality, weight (less than a pound), overall construction quality, loft, and fit.  I felt it was the best value.
Medium fits my 5'9", 170lb male bod great. Have made good use of it this winter, in snow, wind and around town.
Easy to recommend.
This was my second purchase of FA gear after a very positive experience with their Hangfire Hoody. Take a look at their stuff - you might be pleasantly surprised.
The Eddie Bauer First Ascent Down Sweater is an excellent…
Rating:


Source: bought it new
Price Paid: $89 (on sale)

Summary
The Eddie Bauer First Ascent Down Sweater is an excellent example of the design and quality of a light down jacket that is becoming "standard equipment" for many backpackers. Its 800 fill European goose down is what made Eddie Bauer down gear famous "back in the day" of the '50s and '60s.

What you get with the EB Down Sweater is a no-frills light down jacket that, when worn alone or combined with a waterproof/breathable parka, is a lot of warmth for a little weight.
Pros
Excellent weight-to-warmth
Great quality of materials and construction
Moderate price (and often on sale)
Cons
Newest versions lack the inner pockets of the beta model.
The Eddie Bauer First Ascent down jacket is in a class of lightweight down jackets that is becoming a "basic item" for lightweight and U.L. backpackers. The First Ascent down jacket easily falls into this category, being light and made of 800 fill down inside light nylon ripstop.
The EB jacket is reasonably water repellant and water pooled on a seam will leak in only very slowly. The jacket has elasticized wrists and two zippered pockets and that's about it for extras.
To keep it light it has to be made with very few extras. But the inside of the jacket does have the pocket material stitched into inner pockets that could be a place for your map or for warming up a frozen pita bread. :)
Patient buyers will usually find Eddie Bauer First Ascent gear on sale. I got this jacket for an amazing $89. plus shipping. But even at its regular retail price it's still a bargain.
As a former Pennsylvanian now living in Nevada I see the light down jacket as a "shoulder season" item for Easterners and a summer item for Westerners going above 7,000 feet in many of the western mountains. Plus it is great for extending the range of the ubiquitous 30 degree summer sleeping bag. Worn under a waterproof/breathable parka it can provide enough warmth for all but the most bitter weather.
But don't forget your gloves if you do expect cold weather. Don't ask me how I know.
Update: July 8, 2012
Eddie Bauer's First Ascent line of clothing and gear has been field tested and designed by professional guides. It shows in the design, functionality and quality of their products.
The EB Down "Sweater" is far more than a sweater. It's a light down jacket that is very water repellant and quite warm. If you want a "state-of-the-market" light down jacket the EB Down Sweater is it. It will compare very favorably with any equivalent offering from "brand name" makers.
I've worn mine with only a T-shirt and light polyester long sleeved shirt in temperatures of 30 F. and was quite comfortable just standing around. I have also worn it under my eVent rain parka in cold, windy weather and had to ventilate my parka when walking uphill. It's that warm.
The sleeve cuffs and waist are lightly elasticized to keep out drafts. The stand-up collar also easily virtually eliminates heat loss from the neck in cold weather when fully zipped. The zipper has a light sueded chin/neck protector, always a thoughtful touch.
I bought my EB Down Sweater a few years ago after a VERY cold August (yes) morning on the PCT heading down from Olancha Peak in 16°F weather with only light poly hiking clothes, a light fleece vest, and a GTX PacLite parka. Lesson learned! When backpacking the Sierras, Rockies or even my own Las Vegas' Spring Mountains above 7,000 ft. take a light down jacket.
The only improvement I could recommend for this jacket is that Eddie Bauer use the new Dri-Down treatment to make down much more water resistant and faster drying.
BTW, I'm wearing this jacket in my avatar photo.
Eddie Bauer First Ascent Downlight Sweater
The Eddie Bauer First Ascent Downlight Sweater is not available from the stores we monitor. It was last seen September 24, 2013 at Eddie Bauer.
If you're looking for a new down insulated jacket, check out the best reviewed current models.