Gerber
Big Rock Camp Knife
6

reviews

5-star:

3

4-star:

3

3-star:

0

2-star:

0

1-star:

0
Reviews
Great knife that you won't be afraid to abuse as a…
Rating:


Source: bought it new
Price Paid: $25

Summary
Great knife that you won't be afraid to abuse as a reliable tool.
Pros
Inexpensive
Durable
Lightweight
Good grip
After considering purchasing a more expensive knife like an Ontario or KaBar (which are both great knives), I settled on the Big Rock. I picked mine up for $25, which can't be beat. For that little money you don't have to worry about losing it, and won't think twice about using it hard. 
I've used it for everything from splitting kindling to slicing food.  It is still razor sharp. The grip is good.  If you so wish, you can peel the grips off and wrap the handle in paracord.  I've heard so many people complain about the sheath.  Yes, it is cheap, but it is also light.  That gives it points as a backpacking knife. 
I am not disappointed with this purchase. 
For the money...unbeatable. Thought I'd add my two…
Rating:


Source: bought it new
Price Paid: $30

Summary
For the money...unbeatable.
Pros
Light
Thick blade, full tang
Comfortable handle
Thought I'd add my two cents on this blade. I've had it for a couple years now. I paid $30. It's a substantial knife that will baton or pry if required. The rubber handle is comfortable for large hands and very grippy. Has a lanyard hole. Made from Gerber mystery metal but it's good quality for $30. Will throw sparks from a firesteel very well.
If you want a tough knife with a quality feel for $30-ish bucks, this is it. I've seen much worse for more $$ but not much of this quality for so little. The sheath is of decent quality with a snap to retain the blade.
I own more expensive knives but on a limited budget I would not hesitate to recommend this knife.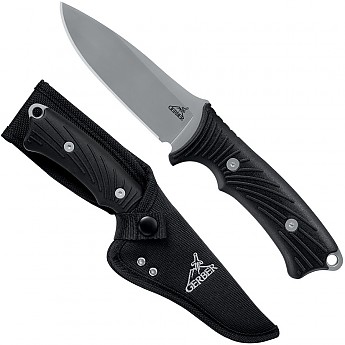 Great all-around camp knife. Beefy enough for the…
Rating:


Source: bought it new
Price Paid: $25

Summary
Great all-around camp knife. Beefy enough for the tough work, but small enough to work around the camp kitchen.
Pros
Durable, full tang blade
Holds an edge pretty well
Nice sized grip that really sticks to your hand
Blade width is thick, nice for batoning fire wood
Cons
None found so far
Do agree that a flatter butt would be nice for hammering
I got this knife after first ordering the Gerber Freeman Guide. I have the Freeman Guide folding knife with the wooden handle and it is a fairly beefy knife. I thought the fixed blade version would be too, but it was actually smaller than the foldable and the handle was too small for my hand.  
I kept it as a backup knife and ordered the Big Rock for about $25. This is the knife I thought I was going to get beforehand. It is nice and sturdy, with an oversized handle that is really grippy. I wanted a knife that I can use to build a campfire and then use it to prepare food and this one does exactly that. Plus at $25, if I end up losing it or damaging it I won't feel bad about having to buy another one.
The sheath is a bit chintzy but it is functional and lightweight so I really don't want to downgrade it. Again, for $25 I don't expect some nice leather sheath. I do recommend keeping a sharpening stone in your backpack. The blade can still get nicked and does dull up some over time.
Update:  Here are a couple of pictures showing relative size as compared to my hand.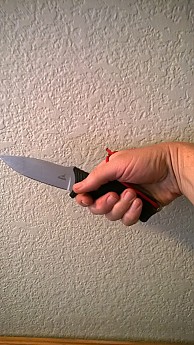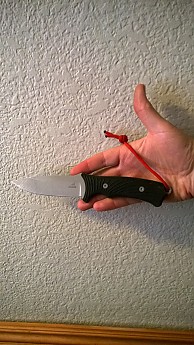 Meant to slice and dice Excellent strength and durability,…
Rating:


Source: bought it new
Price Paid: $39.45

Summary
Meant to slice and dice
Pros
strong
durable
440A SS
not too big
durable sheath
Cons
benefit to have a flat (sqare) butt for hammering
clasp needs maintenance
could easily be a little 1/2" bigger
Excellent strength and durability, especially with the knife being one plate of steel all the way through the tang to the super strong lanyard hold hole.
The overmolded handle is very nice, almost gripping your hand as much as your grip it.  A very good fit.  Altogether the knife is just the perfect (relative) size.
Sheath, is also a great fit for the knife with a belt loop that holds it just right at slightly above belt height. The clasp / press stud lock will need a little maintenance to reduce corrosion and is at a perfect position for quick release with thumb.
For any improvements,
it could have a sharpener pouch with stone built into the sheath.
the blade could benefit by being 1/2" long to then be 5" long
A flatter end section on the butt, for hammering and the lanyard tie underneath or recessed a little
Yes, I do recommend and would buy again at REI.
Awesome knife. I have had it for about 3 years now…
Rating:


Price Paid: forget

Awesome knife. I have had it for about 3 years now and it holds an edge, sharpens nicely, and has hacked through almost anything I've needed it to.
Just as the other person said, for the money - you can't beat it.
Ive been using this knife for about 2 years. It's…
Rating:


Price Paid: $35

Ive been using this knife for about 2 years. It's cut, hacked and used as a hammer, and it's still my favorite knife.
This is the best knife for the money. And it's cheap enough to replace if you lose it. Trust me on this one.
Where to Buy
sponsored links
Help support Trailspace by making your next purchase through one of the links above.
Gerber Big Rock Camp Knife
currently retails for:
$39.95 - $48.30
MSRP: $37.00

where to buy: