Reviews
This is a fresh, healthy and tasty alternative to…
Rating:


Source: received for testing via the Trailspace Review Corps (Sample provided by Good to Go for testing and review)

Summary
This is a fresh, healthy and tasty alternative to the every growing line of pre-packaged backpacker meals. The taste and ingredient list are excellent but the re hydration period is quite a bit longer than other similar products.

I would highly recommend this product for those looking specifically for an all-natural, gluten-free option. And since I'm a huge fan of Thai food, this is a well-received addition to my outdoors kit.
Pros
All real, natural ingredients
No chemical preservatives
Made in Maine/America by a small family start-up
Comes in 1 or 2 serving size packages
Reseal-able package can be used directly to hydrate contents (no need to dirty dishes)
Slim, durable packaging
Cons
Some ingredients take a little long to rehydrate
Only 3 meal options (for now)
Not as long of a shelf life as others (due to the lack of chemical preservatives)
A note: I've included some of the same commentary for all three Good To Go reviews—Smoked Three Bean Chili, Thai Curry, and Herbed Mushroom Risotto. For particulars of each meal, skip to the section titled 'Taste'.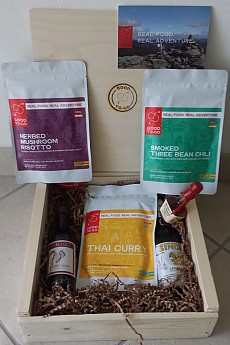 Here's what was included in my sample box...note the bonus 'happy' beverages!
About Me:  I have progressed somewhat in my backcountry cuisine habits but will never achieve true greatness. You won't likely ever catch me porting fresh, raw ingredients into the wilderness to ingeniously craft baked goods in a dutch oven. I'm just not much of a cook at home and so my choices in backcountry foods are even more basic. I also like to travel light, fast, and for long distances, which just doesn't equate to grand culinary efforts.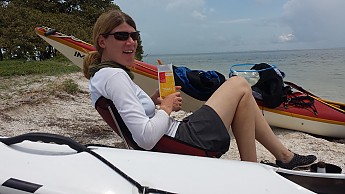 For years, my budget for three square meals on a backpacking trip consisted of 1-2 Clif bars for breakfast, 2 for lunch, and a pasta side mixed with tuna for dinner. Oh, and don't forget the desert chocolate! I've added in the usual suspects such as dried fruit, nuts, beef jerky, etc., but my strategy has always been very minimalistic. Where many are willing to carry more weight in order to have fresh food, I always saw this as an opportunity to cut weight.
Fortunately I've also been able to get by doing more for less in terms of caloric burn/ intake, at least for periods up to a week. But I realize this won't work for everyone nor would it probably work for me if I were to ever take on an extended thru-hike.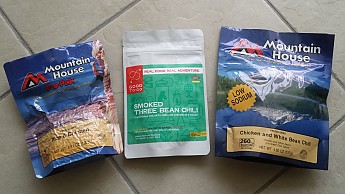 A size comparison of Good To Go meals to other market competitors

The area where I stand to realize great improvement is in the quality of the dehydrated foods that I carry in my pack. A few years ago I started upgrading from the ramen and pasta packets to the trendier purpose-made meals, the likes of Mountain House and Backpacker's Pantry.
While it's true that most of these options provide very lightweight, quick, easy, AND tasty/filling meals, they're still not exactly what you'd call healthy. Mainly they're chocked full of sodium, some with as much as 45% DV per serving!  These, like so many packaged foods, also tend to have a lot of artificial ingredients and preservatives.
So I am glad to see a small, family owned start-up company like Good To Go filling the niche of healthier, more natural backpacking meals. They have taken all the benefits of the self-contained packaging and filled it with more nutritious, better-tasting, real food.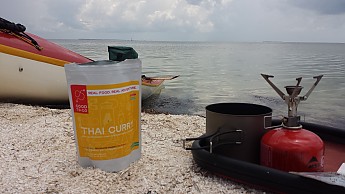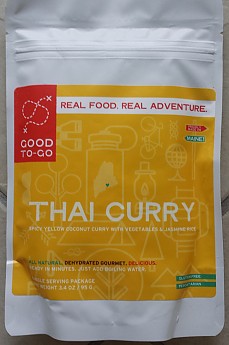 Taste: I must admit that I'm a huge fan of Thai food and curries in general. So I had to exercise constraint in not ripping into this sample immediately. Finally after a 10-mile paddle (one-way) to one of the most remote Florida Keys, I felt satisfied that I had earned the right to do my taste test. And the wait and effort, plus view, were worth it!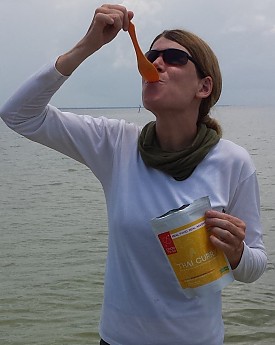 First, I was surprised to find that the powdered coconut milk comes in a separate packet, I guess to preserve freshness. Upon discovering this incredible product, I now want to know where I can find more of this stuff! It is delicious by itself but adds a lot of richness to the meal. It would also go great in drinks, mixed with oatmeal, etc. But I digress. I also enjoyed the large chunks of vegetables. It really did not feel like I was eating a backpacking meal.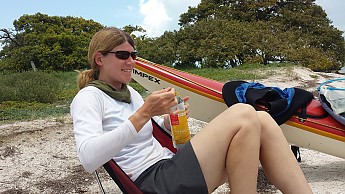 I enjoyed this meal at high noon on the beach, with a cold Singha beer to accentuate things. The medium spice from the curry and the heat of the sun were not quite quenched by this, so I later took the show into the water. It was nice to be able to enjoy these flavors in such a lovely tropical setting...I could almost envision being back on the beach in Thailand from my travels years ago.
Prep: The long re-hydration period is probably the biggest downside. Instructions call for a full 20 minutes after boiling water has been added. This wouldn't be a big deal if one is settled down in camp for the night. The package can be sealed and set aside while various other chores are accomplished and the time will go by quickly. The package suggests that you ponder 'how big the universe is'…good advice I think.
Even though I made the meal for lunch, I had some time on this trip to be able to enjoy my meal. All the ingredients re-hydrated well, perhaps because I also made sure to add plenty of water. It ended up being a little runny but this is close to what curries are often like.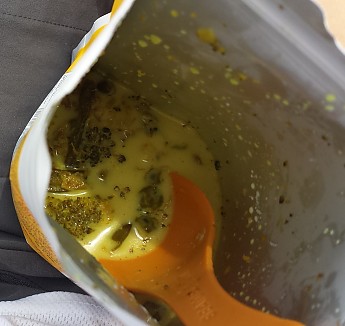 Packaging: The packaging is top notch. I didn't struggle to open it, it sealed easily, and the bottom expands sufficiently in order to stand upright unsupported. I was impressed by how slim and compact the package is compared to other similar products.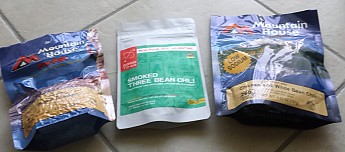 I would note that in this picture, the sample is being compared to double-serving packages, so it's not a fair comparison. But it does give you an idea of scale if you're familiar with these other products. My only suggestion would be to include a fill line on the packaging to know how much water to add. I tend to just pour water in until it 'looks good'…so perhaps it's time I invest in marking lines on my pot.
Satiety & Energy:
I had the curry for lunch as part of full day, 20-mile paddle. I ate another small item with lunch but now I can't even remember what it was. I had brought a lot of food but after the meal, I wasn't hungry anymore. Essentially it was the curry that lasted me through the day. It was a long and very tiring day, but my exhaustion was more due to the heat and the fact that I hadn't paddled that distance in over a year. In fact, I hadn't even paddled a short distance in months.
So all things considered, I felt the curry was very satiating and energy rich. I didn't even feel hungry until later that night, but perhaps this also had to do with the couple of beers that we downed after we got back to the marina.
Since I'm used to eating very little during the day and then splurging on double-serving meals for dinner, I would probably opt for the same strategy with this product. That or bring other foods to pair it with. I'm not a vegetarian so I would probably consider pairing it with beef jerky or some sort of packet protein like tuna.
I did note that of all the various meal samples I have on stock, the Good To Go meals have by far the most calories per serving, from 340 to 410. If you're looking for better bang for your buck in terms of caloric density, these would be a good choice. However, at around 3.4 oz per serving, they are not quite as lightweight as some of the others (though still plenty light for backpacking).
This weight per serving would probably be reduced slightly if you opt for the double-serving package and plan to split the contents between meals or two persons (does anyone actually do this in the backcountry, I'm curious to know?)
Claims:
All three Good To Go selections are both gluten free and vegetarian (except the Thai Curry, which is pescatarian). They are advertised as being 'real food' and in reading the ingredient list, this claim is not exaggerated.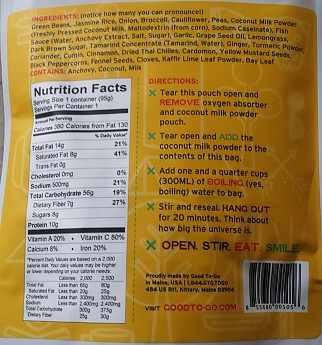 In fact, just looking inside the packets, you can recognize actual food stuffs…in the case of the Thai Curry, there are whole chunks of broccoli florets!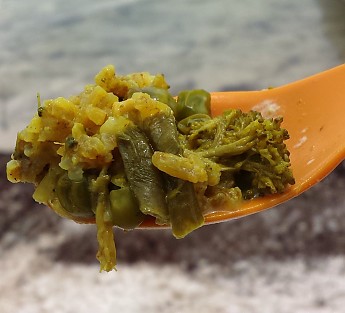 Mmmm...look at those chunks of vegetables


I would also point out that the three selection are generally much lower in sodium than their counterparts. The Thai Curry has the most at 500mg, the chili has only 360 mg and is also pretty is high in protein at 16 g. So in my experience, these meals did provide a fresh, healthy and tasty alternative to the every growing line of backpacker meals.
Best For: I would recommend these products especially for outdoors people that are particularly conscious of food ingredients. My friend Megan is a good example. She loves the outdoors and also enjoys spending hours prepping amazing foods for the trail. She is vegan and thus has to essentially create all her own meals from scratch. Knowing this, I asked her to try the Smoked Three Bean Chili on a hike and after reading the ingredient list, she agreed that she could eat it. She also agreed that the taste was great for a pre-packaged, dehydrated meal.
Final thoughts: Aside from the good taste and nutritious nature of the products, I also like the idea of supporting small American businesses. The co-founder of the company, Jennifer Scism, is a former New York City chef who now resides with her husband and business partner in Maine. It's the little things, like a handwritten postcard from Jennifer included in my sample package, that impress upon me the sincerity and genuineness of such small businesses. 
As always, I thank them and Trailspace for the opportunity to do some TASTE-testing (my favorite kind of gear testing!) and I wish them all the best in their new endeavors.
Excellent taste, easy to prepare, with just enough…
Rating:


Source: bought it new

Summary
Excellent taste, easy to prepare, with just enough bite on a cold evening.
Pros
Excellent taste
Actual food for ingredients
Easy to prepare
Cons
Some of the veggies don't rehydrate well
This is the second Good to-Go meal I have tried. On a snowy Lassen campout last weekend, it sounded like the perfect tummy warming dinner. The taste did not disappoint. Just the right amount of bite to warm things up without being oppressive.
Prep was easy. Empty the coconut milk packet into the pouch, add boiling water and stir, wait 20 minutes (beer time!), and eat. I finished feeling completely warmed and satisfied.
The packaging is fairly minimal for a meal this size, and wouldn't be that difficult to pack out (though in this case, I just put it in a trash receptacle). Their meals come in both single and double serving sizes.
My only complaint, and I've experienced this with another Good to-Go meal... some of the vegetables did not rehydrate, and I found myself crunching on some of them, even after allowing an extra five minutes to cook. I did an earlier review for their pasta meal... which again, was delicious, but after allowing double the time to cook, some of the pasta was still hard to eat.
If Good to-Go could figure out how to solve this, they would be perfect meals... tasty and satisfying!
This is G2G's Gastronomical Leader of the Pack. I…
Rating:


Source: bought it new
Price Paid: $11/bag

Summary
This is G2G's Gastronomical Leader of the Pack.
Pros
Easy to prepare
Portable and light — yet very filling!
Spiffy bag, too!
Cons
The big bag is two servings, but you really won't want to share!
I have eaten a lot of trail food, and this bag of mouth-watering, then pleasing+genuine THAI flavors, is the epitome of a really great, out-there dish!  AND, leagues beyond the typical over-dried, salty, flavorless trail fixin's you find in most backpacks (including all of mine, up until G2G!).   
Here's the thing: I want to really LIKE — and feel connected to —  the company (the people!) who make food and other goods that I prefer to eat and to use. Before this company gets really big, please try to meet David and Jen, Good To Go's co-owners, founders, and better yet: husband and wife team.  They are salt-of-the-earth normal, creative, fun, funny and just all-around lovable folks.  
Can't get better than that. Try a Good To Go meal....you'll never go back. 
DISCLOSURE: I fully disclose that I have done business — and am friends — with the founders of Good To-Go.
AWESOME camp food! By far this is the tastiest camp…
Rating:


Source: tested or reviewed it for the manufacturer

Summary
AWESOME camp food!
By far this is the tastiest camp food I've ever tried!!! Better yet, it's not full of sodium or other nasty stuff. Real Thai curry flavor and lots of veggies. Great texture too, not all mush like some other options. Would recommend again and again!
Full disclosure: I am friends with the owners of Good To-Go. I've had the opportunity to sample these recipes as they were evolving before production, and Jen keeps making them better and better! What you've got here is the best recipe yet. 
Love the Thai Curry. Haven't actually tried it in…
Rating:


Source: tested or reviewed it for the manufacturer (Ate it.)

Summary
Love the Thai Curry. Haven't actually tried it in the backcountry yet, only in my home. Who cares though? It's delicious no matter where you are.
Pros
Real food
Easy to prepare
Delicious
This can be used on any kind of trip where weight is a factor, but the real bonus here is how tasty it is. No more ramen for me.
This is some of the best food regardless of fact that…
Rating:


Source: tested or reviewed it for the manufacturer (Ate it)

Summary
This is some of the best food regardless of fact that is camp food...this one is my favourite.
Pros
Super tasty
Fresh ingredients
Lightweight
Easy to make
Cons
It may not make it out on a trip cause you may eat it before you go
Jen and Dave are good friends, but I don't think I am biased. Jen is an amazing chef. This is a brilliant idea and frankly I'm shocked that there is no real competition. Dave is the whole reason she came up with the idea.
Thank you, Dave! I'm truly excited for my next backcountry trip cause I know exactly what I will be eating and it will be amazing.
Good enough to eat with candles and a tablecloth.
The author of this review is an investor in Good To-Go.
Source: received it as a personal gift

Summary
Good enough to eat with candles and a tablecloth.
Pros
Fantastic taste, not trail food....real food
Good packaging and easy instructions
Cons
Doesn't come in a barrel!
I'm not an outdoors guy at all, save a few walking tours where a taxi brings your packs to the next B & B in England.
But I am somewhere between a glutton and a gourmet, and we got three packs of this food recently and decided to make all three at once for dinner.
I was completely blown away by the flavor. I'm not a lightweight, I cook, I have two personal friends who are high-end chefs, I've eaten at a dozen of the nation's best restaurants. This stuff is out of this world. This isn't freeze dried; it is real high-end food made by a prize winning NYC chef — seriously — and dehydrated. Easy instructions.
I'd eat this at home, in fact, I'd have no qualms about SERVING this at home to guests! Easy prep, just needs boiled water. Totally filled me up, very dense (in a good way), plenty of high quality calories. I still cannot believe something like this is dehydrated.  
DISCLOSURE: I am in investor in Good To-Go and have a relationship with the owners.
Where to Buy
sponsored links
Help support this site by making your next gear purchase through one of the links above. Click a link, buy what you need, and the seller will contribute a portion of the purchase price to support Trailspace's independent gear reviews.
Good To-Go Thai Curry
currently retails for:
$10.75 - $11.50
MSRP: $6.75

Recently on Trailspace