Libby's Seasoned Beef Crumbles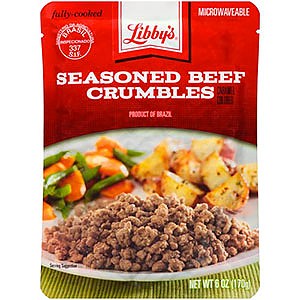 Unlike the reviewer who gave this product a single-star, I found this product to be good and consistent with my expectations. It is essentially 6oz of cooked ground beef sealed in a vaccuum-package for long shelf life with no refrigeration. It is great for camping, backpacking, safety-rations, and/or quick-prep meat for spaghetti or tacos.
I recommend this product however recommend purchase at a grocery outlet as it is a better value when purchased below the retail US$2 per unit price.
Pros
Pre-cooked
Vaccuum-Packed
Long Shelf Life- No Refrigeration
Ideal for Camping, Backpacking, RVing, etc.
Great alternative to SPAM or other canned beef products
No fillers or chemical additives
Cons
Bland - Requires Seasoning
Appearance - Requires pre-heating before serving
This product is consistent with my expectations and I believe the reviewer to compared it to "catfood" was not objective in his review.  To date, I have used 5 or 6 packages of this product, all from different production runs with different expiration dates.  I have used some packages of this product up to 6 months past the expiration date.
When opening the package and prior to heating as recommended on the package, you will find a square "block" that is admittedly not appealing.  I would challenge the naysayer that if one was to cook a potion of fresh, lean ground beef and immediately seal the entire contents of the cooking pan into a food-saver bag, they would basically have the same result when taking it from the refrigerator a couple of weeks later. The contents will be a compressed block of greyish-brown crumbles.
In contrast, if one preheats the bag in a pot of boiling water before opening OR opens the bag and cooks in the microwave for 60 seconds, and then empties the contents into a bowl, you will find the product to be consistent in texture and color to freshly cooked ground beef.
The product is BLAND direct from the package.  The term on the label "Seasoned" is a misnomer.  The product seems to contain a minimum amount of salt.  This is not necessarily a bad-thing; the product can be seasoned based on its intented use.  The beef crumbles product works great in Spaghetti sauce or chili.  Add plenty of spices to it and it is great for fast tacos or loaded nachos. 
The product normally sells for US$2 per 6oz package; while perhaps this is a fair price for being a pre-cooked, long shelf-life product, it is not competitive with DIYers who pre-cook ground beef and store in the freezer for later use. However, it is complement to vaccum-bagged tuna or chicken when camping, back-packing, RVing, or where food provisions need to be stored without refrigeration.
I was able to find the product at a grocery outlet at US$1 per bag; at this price it is an excellent pantry staple.  
Source: bought it new

While technically qualifying as food, Libby's Seasoned Beef Crumbles is a pre-cooked meat product more closely associated with canned catfood. The odor is "unique." The flavor is abhorrent.
Pros
Pre-cooked
Nice packaging
Cons
Actually swallowing it takes a force of will
So...apparently I have a fan of my gear reviews. So much so that Carrie bought me a 16oz package of Libby's Seasoned Beef Crumbles and asked me to post a review of it. [For those who don't know, Carrie works closely with disaster services teams in our region (think "Red Cross" without the financial mismanagement), and is the Emergency Preparedness Queen. Each of her 4 kids have their own bug out kit. She teaches survival classes to our homeschool coop group. Nearly every homeschooler in our county knows how to build a fire thanks to Carrie.]
Here is my edited, but uncensored video of that experience:
What we were unable to record was our hiking partner, MuhKeeTah's reaction to this product. When we handed the bag to him, he took a whiff and shouted, "Ugh! It smells like dog food!"
For the love of all things good, DO NOT TAKE THIS PRODUCT WITH YOU INTO THE BACKCOUNTRY or you may starve to death.
Source: received it as a personal gift

Trail Tacos beat chicken and mashed potatoes any day. Yes, it does look pretty gross coming out of the package... the spicy version looks and tastes better. Add it to red beans and rice and enjoy an outstanding meal.
Pros
Portable
Inexpensive
Not chicken or salmon
Opens up way more recipe options. So tired of chicken and mashed potatoes and salmon and couscous. Been taking more dried beef or salami but dried beef gets expensive fast.
Now granted you're not going to mistake this even for a McDonald's Burger, but after a few days on the trail, this is a great alternative. Love the spicy beef on a tortillas with a bit cheese and taco sauce.  
If you actually cook on the trail adding this to a red beans and rice recipe and along with some fresh bread or biscuits is just sublime after ramen and curry or some such typical trail meal. Or crumbled beef, a strip of bacon and a bit of cheese on a tortilla with a squeeze of packet BBQ sauce for a trail BBQ bacon burger .
This has even replaced Spam in my pack as my emergency/replacement ration. 
Source: bought it new

Hiked an eighty-mile mountain trail earlier this spring (nine days because I got rained in for a couple) and took two packages of this product with me, FANTASTIC! Adds variety to your meal-packing smorgasbord, you can just open and consume straight from the package (inside the tent) when it is raining and you can't fire up your stove, and, to me, it is very flavorful.
Pros
Precooked
Flavorful
Quick
Doesn't need refrigeration
Compact
Perfect packing food. Excellent flavor. Great shelf-life. Easy to consume. Precooked. FANTASTIC!
Source: bought it new
Price Paid: Around two dollars

My son and I actually like this as a complimentary ingredient.
Pros
Pre-cooked
Packable, vacuum-packed
Compliments other ingredients
Cons
Appearance
Not meant to be eaten straight out of the bag
Despite the appearance, my son and I like this stuff.
We always mix it in with another ingredient. We will either mix in with our dehydrated re-fried beans and rice for making burritos, or we will mix it with bag of instant potatoes for a "hamburger casserole" recipe.
We have never eaten this straight out of the bag. Does anyone eat crumbled hamburger as a main dish at home?
All in all, my son has used this on several trips, and is currently planing on using it as an ingredient again.
Source: bought it new

I liked this very much, bought all Dollar store had. Makes good tacos, and just right size for one person. Bring back to stores; can't find any.
Tastes good, easy, yes, yes, yes,yes, all.
Great, put more in stores.
Source: bought it new
Price Paid: $1.50

Your Review
Where to Buy
Help support this site by making your next gear purchase through one of the links above. Click a link, buy what you need, and the seller will contribute a portion of the purchase price to support Trailspace's independent gear reviews.
You May Like
Specs
| | |
| --- | --- |
| Price | Reviewers Paid: $1.50 |
Recently on Trailspace