GSI Outdoors
Ultralight Java Drip
Specs
Weight
0.4 oz

Dimensions
4.20 in x 4.20 in x 0.50 in

Reviews
Another, even lighter weight way, to make decent coffee…
Rating:


Source: received it as a sample, freebie, or prize (Trailspace Top Reviewer of 2015 prize)

Summary
Another, even lighter weight way, to make decent coffee in the backcountry.
Pros
Weighs almost nothing
Folds flat
VERY fine mesh
Works on most cups
Makes pretty darn good coffee
Inexpensive
Cons
Allows cholesterol into your cup unless you add paper filters
I'm still getting the scoops-of-coffee-to-mug-size ratio perfected, but I can already say that this coffee maker is my new favorite. I used to use the H2JO but that required a Nalgene bottle to use and it is heavy compared to the GSI UL Java Drip.
The GSI UL Java Drip is a mesh cone with three legs you attach to your mug of choice. You fill the conical bag with ground coffee, pour hot water over it, and there you go, fast coffee. 
What could be easier? After you are done, shake out the grounds, rinse it, fold the legs up and slide it into your pack. Using paper filters would even make cleaning easier but I just used the sock alone. If you want you can even skip the rinse step and let it dry and shake the coffee dust out. 
One other way to save coffee; dip the sock into the coffee mug filled with water (like a teabag) to steep every last bit of flavor out of the grounds. And along that same save money line, did you notice that this gem costs only about ten bucks? Awesome!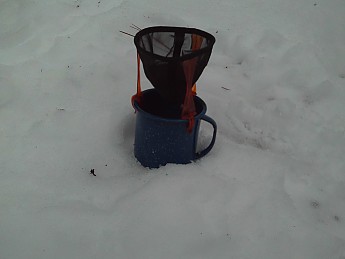 I think you get the idea of how it works. 


Test Conditions: Took it skinning (overnight ski tour) in the Icicle Creek area near Leavenworth, Wash.  About 33 degrees and raining (miserable). Coffee was a must this day.
Quality: The materials hold up to the abuse of being stuffed into my pack with the rest of the "kitchen." The legs are reinforced and stiff and the mesh is tough. I have not seen anything to worry me here yet.  I also tried placing it inside my GSI Ketalist to keep it safe and it works too.
Function: So easy, anyone can figure it out. If you worry about cholesterol you can add a conical paper filter to the mesh and you're good. 
Weight: Essentially weightless.
Size/Bulk: About the size, weight and bulk of a Pringles lid when stored. Just don't lose it, it's small.

The mesh sock is finer than frog's hair and lets no grounds into the cup.
Issues: None, just the cholesterol thing. 
Who needs this: Coffee drinkers who are against carrying heavy stuff to make it. I know the Aeropress makes good coffee but damn, that's a lot to carry around. Truly, the only lighter option is instant coffee and no one wants that crap. 
Great product! I used to use a solid molded, one cup…
Rating:


Price Paid: $12

Great product! I used to use a solid molded, one cup coffee drip that required a small paper filter.  This thing requires no filter, and I have had no problem attaching it to any of the cups that I've used, and the coffee tastes good.  I've actually used one of the legs as a coffee stir on occasion.  I've also had several other campers "double-take" as they watched my coffee brew in process! 
The only negative thing I can say is that it seems to take a bit more grinds to achieve the normal strength coffee that I am used to. Perhaps if the rate at which the water filtered was just a tiny bit slower, it would not require so much grinds. However, with my second cup, I just add onto the first set of grinds (a bit less) and achieve the normal strength, relative to the amount of grinds, that I am used to. Keep in mind, this added amount of grinds also slows the rate of water filtration, so your second cup will take maybe a minute longer.
I've used this thing on multiple trips and it seems pretty durable as well. Clean up is simple enough -toss the grinds and rinse with water.
Bottom line - great lightweight / space saving product!
GSI Outdoors Ultralight Java Drip
currently retails for:
$9.95
MSRP: $9.95