Sea to Summit X-Brew Coffee Dripper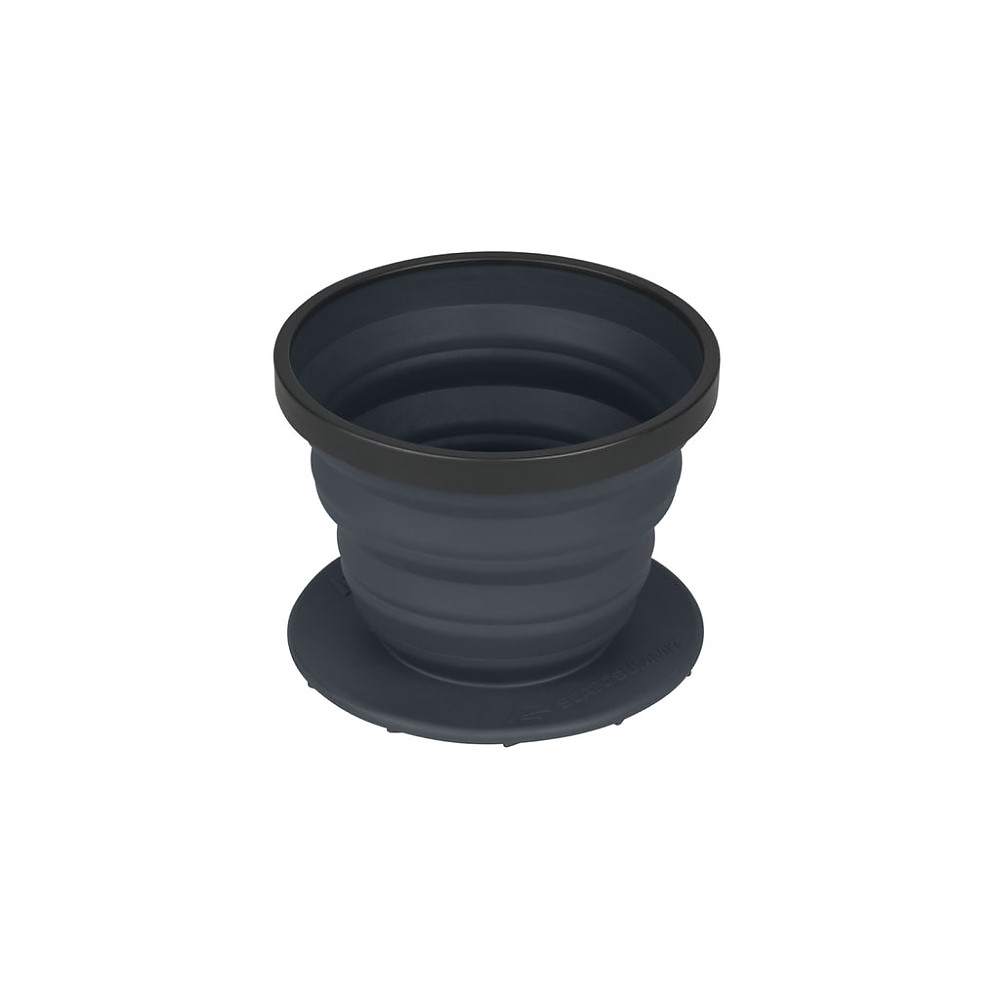 Not quite idiot-proof. And I can be an idiot—especially in the foggy end of the morning, ha ha. I am no javanista, but I can recognize that this pour-over has the capacity to make an EXCELLENT cup of coffee. Or with a minor error in judgement, it can make an awful mess.
Cons
fussy
not good for backcountry use
Long story short, this is an excellent coffee maker—if you really know what you are doing.
Background:
Let me be upfront—I am a tea drinker. I like a good cup of coffee, and I like to think that I can recognize a good cup of coffee, but I am no expert on the subject. Whereas I can tell you a few things about tea.
A word of reference: my favorite cup of coffee is Kona—roasted, freshly ground, and freshly brewed right in Hilo on the Big Island of Hawaii, right at the source. The first time I experienced 100% Kona brewed up as freshly as that was absolutely revelatory. This became my gold standard for coffee. I have been pursuing the re-creation of that experience ever since.
In spite of not being a coffee guy, I own a percolator, a French press, and a higher-end (but not top of the line) Breville drip machine—and have begged the use of a fancy wood-and-glass pour-over setup from a friend. Some days I want a nasty, dirty, bitter cup of joe, and that's where the percolator steps in. Some days I just want a quick, easy, reliable cup of coffee and the Breville delivers. And when I want to chance coffee nirvana, that's when I pull out a pour-over system—even as I recognize that I don't have the experience to truly get the best out of said system.
Which brings us to the Sea to Summit X-Brew.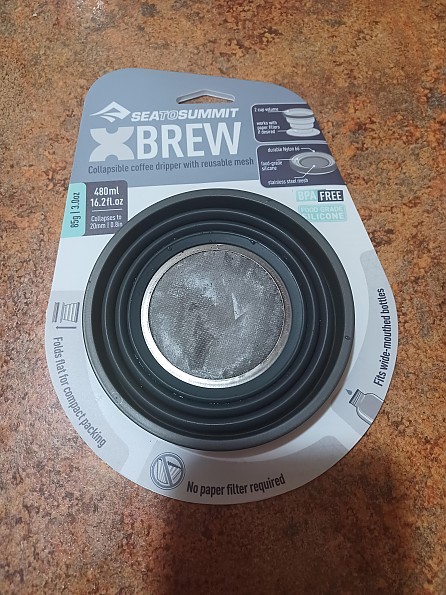 Experience:
Collapsible and constructed of silicon and stainless steel, this promises to be durable.
I undertook a semi-scientific study of this simple machine in order to get to grips with using it.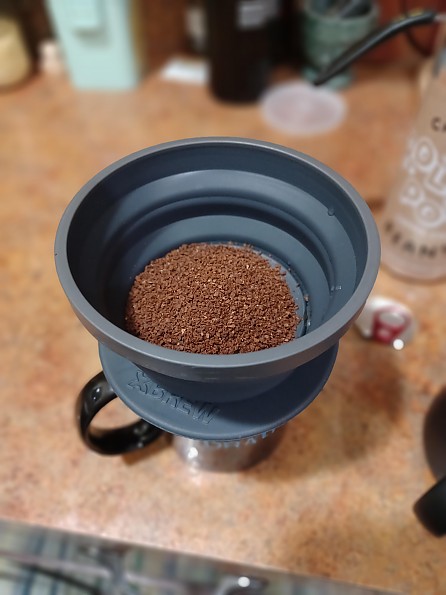 My first attempt followed the directions included with the X-Brew itself—2 tablespoons of grounds to 8 ounces of not-quite boiling water. Pour over slowly, using a spoon to agitate the grounds until all the water had drained through.
This first cup was an unqualified failure. The water poured straight through the grounds with almost no steeping, no extraction. I had to pour the water/coffee over the grounds three times to produce something that came anywhere near "coffee." I chalked this up to inexperience and user error. It was messy, and a right pain when all I wanted was some hot caffeine to get the day moving.
My second attempt followed the instructions of the coffee roaster—3 tablespoons of grounds to 8 ounces of water. Bloom the coffee for 30 seconds (wet the grounds with about 3 tbsp of hot water) before pouring the hot water over. After five minutes, the water had finally passed through the grounds and the filter to produce a very, very good cup of coffee.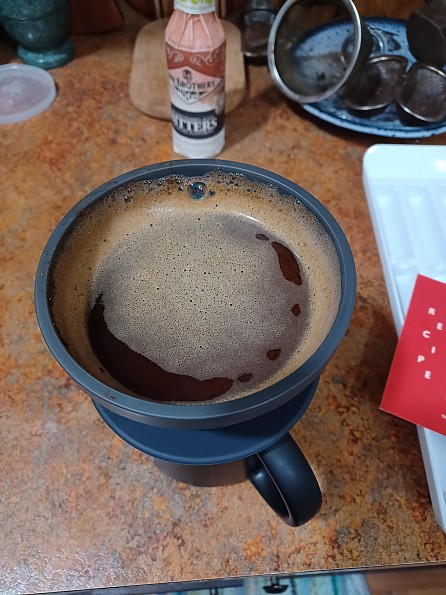 Now, a word on the grounds. The X-Brew instructs one to use a medium-fine grind. My Krupps grinder runs from a grind of 1-20, finest to most coarse. So, I worked under the assumption that medium-fine should be about a 7 or so.
Over the course of five cups of coffee, I ran the grounds from a 7 to a 12.  The coarser the grind, the more likely the water was to simply drain through the filter without properly steeping. The finer the grind, the more bitter the result. While the bitterness tracked pretty well linearly with fineness, the too-fast drain was not absolutely linear.
There is something about the stainless-steel filter that makes this system more difficult to use than a standard paper filter. If one gets it right, it makes a much better cup than a paper filter, but it is also far easier to get it wrong.
Additionally, the X-Brew delivered perhaps the best cup of decaf I have experienced.
Coffee can be decaffeinated in a variety of ways, but they all start by dark-roasting or even over-roasting the beans—caffeine degrades with high heat and so dark-roasting means that there is less caffeine to be removed, making the decaffeinating process quicker and cheaper. However, dark roasts tend to be more bitter, more sort of "dirty."
The X-Brew has the capability to produce a cup of decaf with flavors other than "bitter." Flavors that actually approach nuanced. If the user gets everything just right.
Backcountry use:
Here is where things get truly difficult.
It is not recommended that one disposes of coffee grounds in the backcountry, which means that one is expected to pack out that "waste." The reasons for this are manifold, but boil down to two basics.
First, while coffee grounds are 100% organic and 100% biodegradable, they have an extremely strong odor which will draw the attention of wildlife, even if one dumps them into a pit toilet. Obviously, this is not good. 
Worse, the caffeine in coffee, like the capsaicin of chilis, is a plant defense mechanism. Each evolved as a defense against insect and animal predation, with caffeine in particular being literally toxic to a wide range of insects and animals and in sufficient concentrations even to plants. So, dumping grounds in the wild has implications for the flora and fauna that we as hikers and backpackers spend so much time and effort getting out to enjoy. This is of course unfortunately entirely counter to the intended use of a collapsible, backpackable coffee filter system.
Recommendation:
If you are a coffee connoisseur, there are better ways to get an excellent cup of coffee. If you are caffeine junky, there are more reliable ways of getting the stuff into your system. If you are a gearhead, a techie, an experimenter—this is a challenging and potentially rewarding piece of kit. On the whole, I like it and look forward to the continued quest for mastery. But I cannot in good conscience recommend this for backcountry use, quite the contrary, given the available science.
Source: received for testing via the Trailspace Review Corps (Sample for testing and review provided by Sea to Summit)

Disappointing. The X-Brew isn't all that lightweight and without modification it makes a lousy coffee.
Pros
Collapses to a fairly compact size
Kind of lightweight
Permanent filter, so no paper to dispose of
Cons
Filter is too coarse to stop the water running straight through. It is possible to improve this though.
Heavier than claimed (93 g measured, 85 g claimed)
Filter mesh can pop out and is hard to get back in.
I have been on a quest to make good coffee outdoors with minimum weight. I don't expect to get the result I would with a high-temperature, high-pressure espresso machine in something that weighs less than 100 g. What I do expect is coffee with a flavour like that of a French press (plunger). French press coffee is not worse than espresso, it's different. In my quest I have had some successes and some failures. This is one of the failures. 
Sea to Summit gear is usually marked by its quality and design ingenuity so when I saw this I thought it was the answer to my quest. On paper (actually on screen) it was:
Compact when collapsed

Robust

Light weight

Didn't use paper filters which are not biodegradable
The problem with the X-Press is that without a lot of care it produces dishwater coffee.
In use you open up the collapsed X-Press, sit it on your cup, put coffee grounds in, and pour water over. To make a good brew the water should seep down slowly (a couple of minutes). With the X-Press the act of pouring the water in stirs up the coffee so it doesn't seep through and runs straight out the bottom in a few seconds.
After a bit of experimentation I found I could get a reasonable result by putting a plastic disk (75 mm diameter) over the coffee so that it didn't get stirred up. For next to no cost or extra weight Sea to Summit could have done something similar. I also found it best to pour the water in in a few steps rather than all at once.
Experience
I have only owned the X-Brew for a short time but I have been experimenting with similar coffee makers for at least 10 years.
Source: bought it new
Price Paid: $A25.95

Your Review
Where to Buy
Help support this site by making your next gear purchase through one of the links above. Click a link, buy what you need, and the seller will contribute a portion of the purchase price to support Trailspace's independent gear reviews.
You May Like
Specs
Price
MSRP: $19.95
Current Retail: $9.73-$19.99
Historic Range: $9.73-$21.95

Capacity
2 Cups

Weight
2.9 oz / 85g

Depth
3.5 in / 9 cm

Diameter
4 in / 10 cm

Materials
flexible food grade silicone and stainless-steel mesh filter

Best Use
Backpacking, Camping, Overland, Bike Touring

Recently on Trailspace